Attended the Maybelline Blogger/Fan Event on Sat morning.
Was happy to receive their email in my mailbox on the event on Thursday!
Have attended other beauty workshops (ZA, Shisheido, Aqualabel etc) before and the
last event attended was Maybelline's hyperliner launch at Bugis for their eyeliner.
This time round, it was a brunch session held at
Covelli (Italian bistro & wine bar) @ Orchard Central
There were so many pretty bloggers all dolled up, as well as beauty bloggers around.
Maybelline will be launching their newest products - Magnum Ultra Comb Mascara, BB Cream, Jelly Glow Blush, and the Masterliner White and we were there to try them out first hand before the launch!
Here are the awesome products that we could try and feel whee! (mascara & eyeliner not shown in picture)
Maybelline BB White - They have launched their BB cream previously but this time round, BB white promises to whiten and make your skin fairer, with the same BB cream functions like moisturising, reduces pores etc. Basically, a 5 in 1 high protection Anti UV light weight cream that can be used after skin care. It can be replaced by liquid/powder foundation if you want a sheer finish but looking radiant.
Maybelline Jelly Glow - The cutest blush ever and first with such a texture. Instead of the powder or cream texture, its like rubber/dough and absolutely fun to play with! Comes in brown, pink and orange. Swatched on hand but it wasn't obvious due to the yellow lighting at the cafe. Can't wait to try on cheeks soon, so fun to press it haha.
Magnum Ultra Comb Mascara - Love Maybelline mascara esp the yellow and purple bottle. And this time round, they have launched the exact same yellow one, with added functions and the ultra comb! Instead of combing in a zigzag way, you do not need with this mascara. Combs nicely and promising defined and sleek lashes as well! No more clamps!
Maybelline Masterwhite liner - A cream liner in WHITE, not black which is not as common in the market. Meant for applying on top outside corner and waterliner to make the eyes bigger. Smurge-proof and really long lasting, tried on my hand and it refuses to go off until end day when I washed it with soap!
Here's our branch served - soup, pasta (choice or chicken or pasta) & strawberry short cake!
After lunch, they had Love Bonito to do a fashion runway show!
Tried my best to take clear pictures of the fashion show as they were walking really fast.
Most of the items are launched except for a red blazer (which I didnt capture in time argh). Really vivid red just like the one on Rach's blog :)
LB generously sponsored 5 outfits to the girls as well but I forgot to fill in the lucky draw form haha.

I'm sure most shopaholics can recognise most all of the outfits in the picture heh.
So looking forward to the blazer!
There were the local artist- Wanton Doodle to do a live sketch of their products as well and make-up artistes who gave us useful tips and how to use their products well.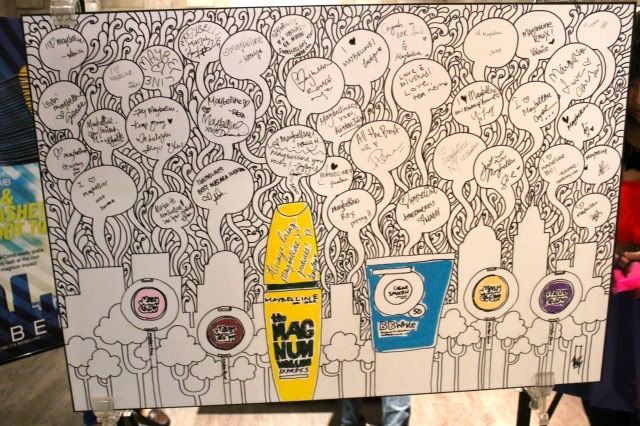 Enjoyed myself and made new blogger friends, really pretty & friendly ladies! :)
We also took pictures with
Sarah
, beauty guru. Awesome seeing her in real life, love her make-up!
With Sherrill :)
We let with a goodie bag each as well, with their latest products to try as well!
It contained Jelly Glow Blusher in pure orange & soft brown, Maybelline BB White, Ultra comb mascara in black, Masterliner in White & vouchers from the cafe as well :) These products will be launched in April 2012 so stay tuned!
I will be trying these products out in the next two weeks or so (hopefully!) and do a more detailed review.
***
Anyway, I have tried the Maybelline BB White today! I wanted a sheer look since I try to avoid makeup on weekends and its perfect for the sheer look with UV protection without much coverage & lasts till at night!
Didnt adjust any lighting so colours can be shown best! Pardon the bare face with eyeliner only and BB cream :) Took Natural shade and skin looks radiant after applying it after skincare. The whitening effect for the skin will take effect after few applications i hope! For photos, skin looks slightly fairer I thought.
Outfit of the day - Nautical Stripes!
Second time wearing this MGG wrap skirt and I really like it alot :)
Would love to try with a red top next time!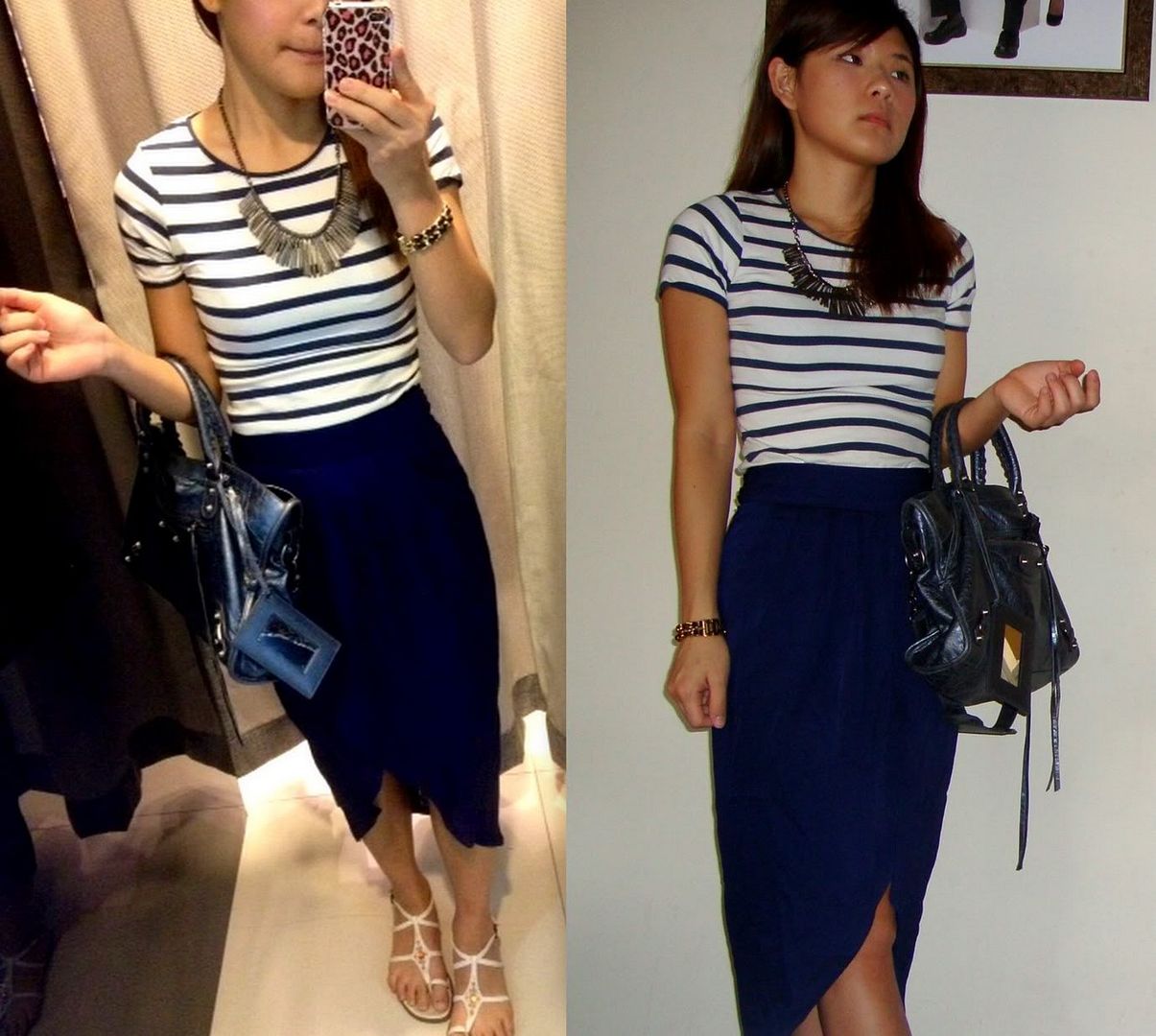 Pic taken last year when wearing it for the first time:)
Okay this must be my longest entry so far because I took an hour to do so heh.
Bed time to welcome another week, weeks by weeks flew past that we are done with 2 months in 2012 :(
Alright, have a great week everyone

!!