Hitting 1 year into my current job today :)
Cheers to another anniversary!
Joined my company a year ago in March 11 & time flies so fast seriously.
During the first month, it was a honey-moon & warming up stage, trying to get used to the culture and procedures;
Next three months was the hands-on part and getting into the job, while trying to apply your experience from the previous job since its the same line;
then, it was totally into the complete full jobscope & now its 1 year before I know it
... so I thought I will do up this entry today! :)
It was also my first time attending a D&D in 2011,
the theme last year was
"Its a Great, Great World 大世界",
which brought us back to 1950s, retro night!
Event was held at the Raffles City Convention Hall, since there were so so many people.
Inspiration probably comes from the movie;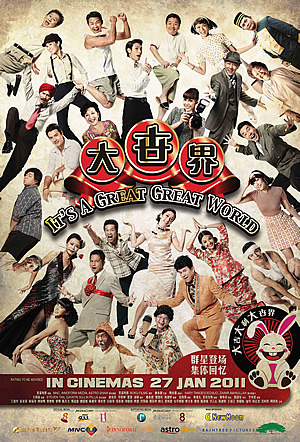 I'm loving the D&D's atmosphere & dressing up part in accordance to the theme.
The year before was "Back to School" with everyone in school uniform
Think: large earrings, colourful agoago outfits & platform heels!
I had fun dressing up in colours and thinking of what to wear, with fellow colleagues all being so sporting as well!
It was also great seeing so so many people filling up the entire Raffles City convention hall, of different sectors & whatnots.
Colourful us!

Outfit was put together quite last minute from the wardrobe - vintage belt from a random BKK dress, Zara skater dress, Gojane ribbon heels, F21 polka dot scarf, ASOS colourful bangles & earrings, MDS polka dot hair-tie.
With dearest Val from ACP :)
With Sandy from TCP!
Love this group outfit from CWP best - kampong style; so cute!
Here's TCP!

NP + YWP

my fav fav bff at work from acp! :)

***
Other fun moments at work:)
One of my favourite was the sup
er cute Smurfs promos in Sept & also attending the various fashion/ launch events (Aeropostale, City chain etc).
Helped out in various events as well for a good cause and its great seeing kids being happy around the mascots and getting shopping vouchers.
the kids whom we made a difference to by allowing them to interact with mascot smurfs, workshops & macdonalds :)
citychain @ ion, with plenty of stars :)
(lol -.-)
Aeropostale grand opening at citylink, posing with our goodie bags haha.
At taka for Metro's Xmas launch preview with their funky specs :)
With dear Ashley who accompanied me for xiao ba wang raffles place launch, founded by jeff wang on sunday :)
Happy 1 year *pats on back*!