OFTD - polka dots meet fuschia :)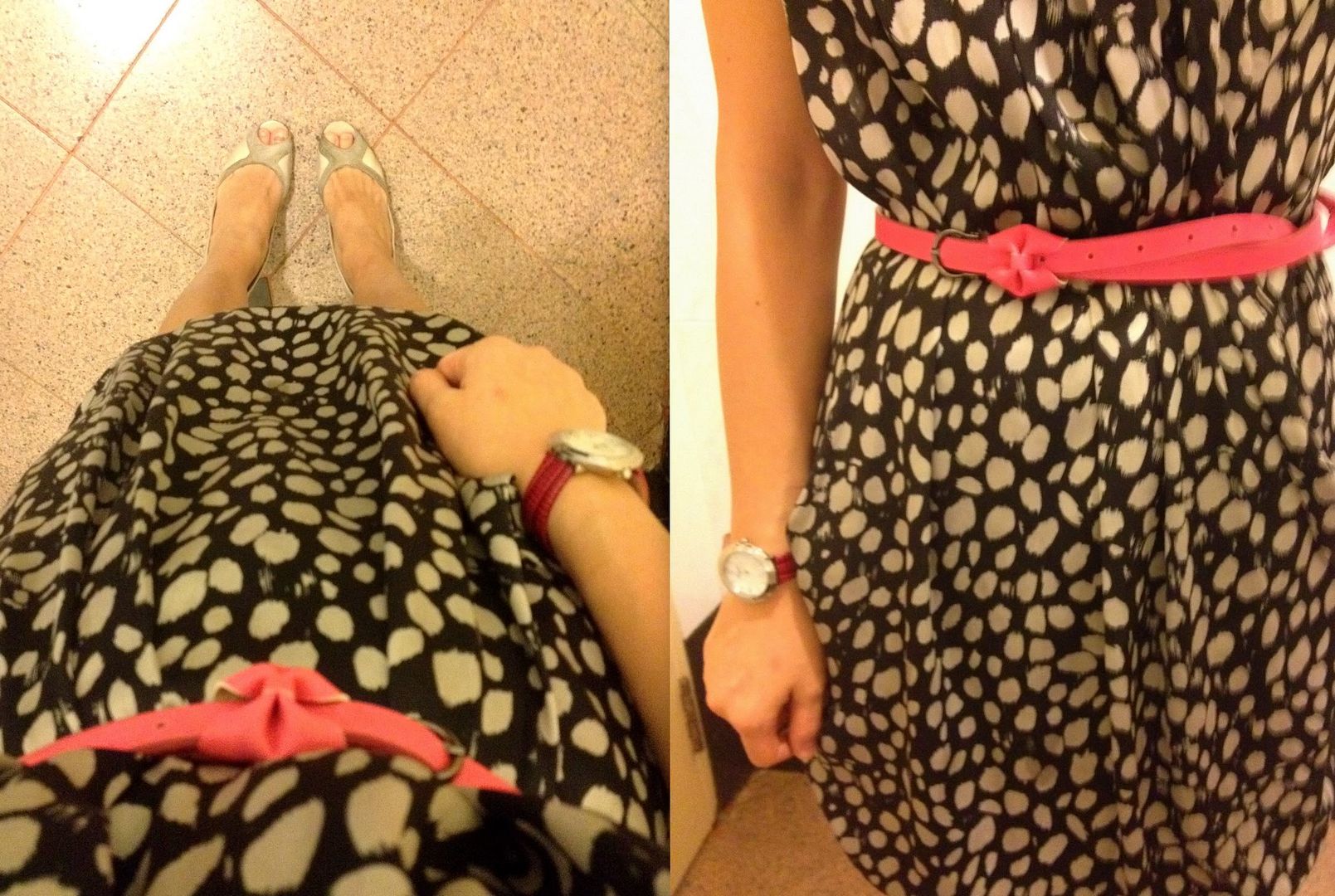 Love how the fuschia pink contrast against black polka dots to make it look more cheerful :)
***
Review - KristineYunny Strawberry Cardigan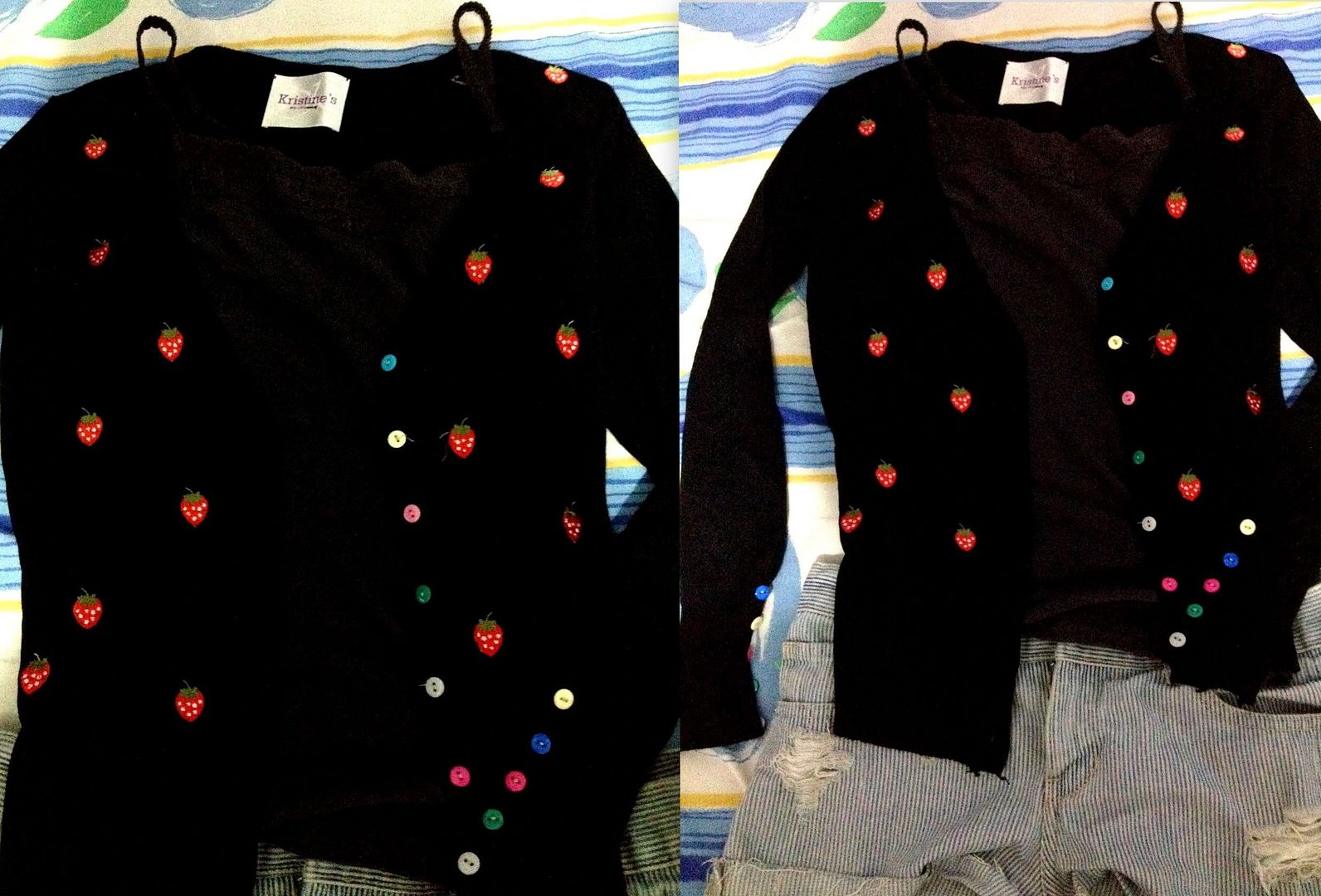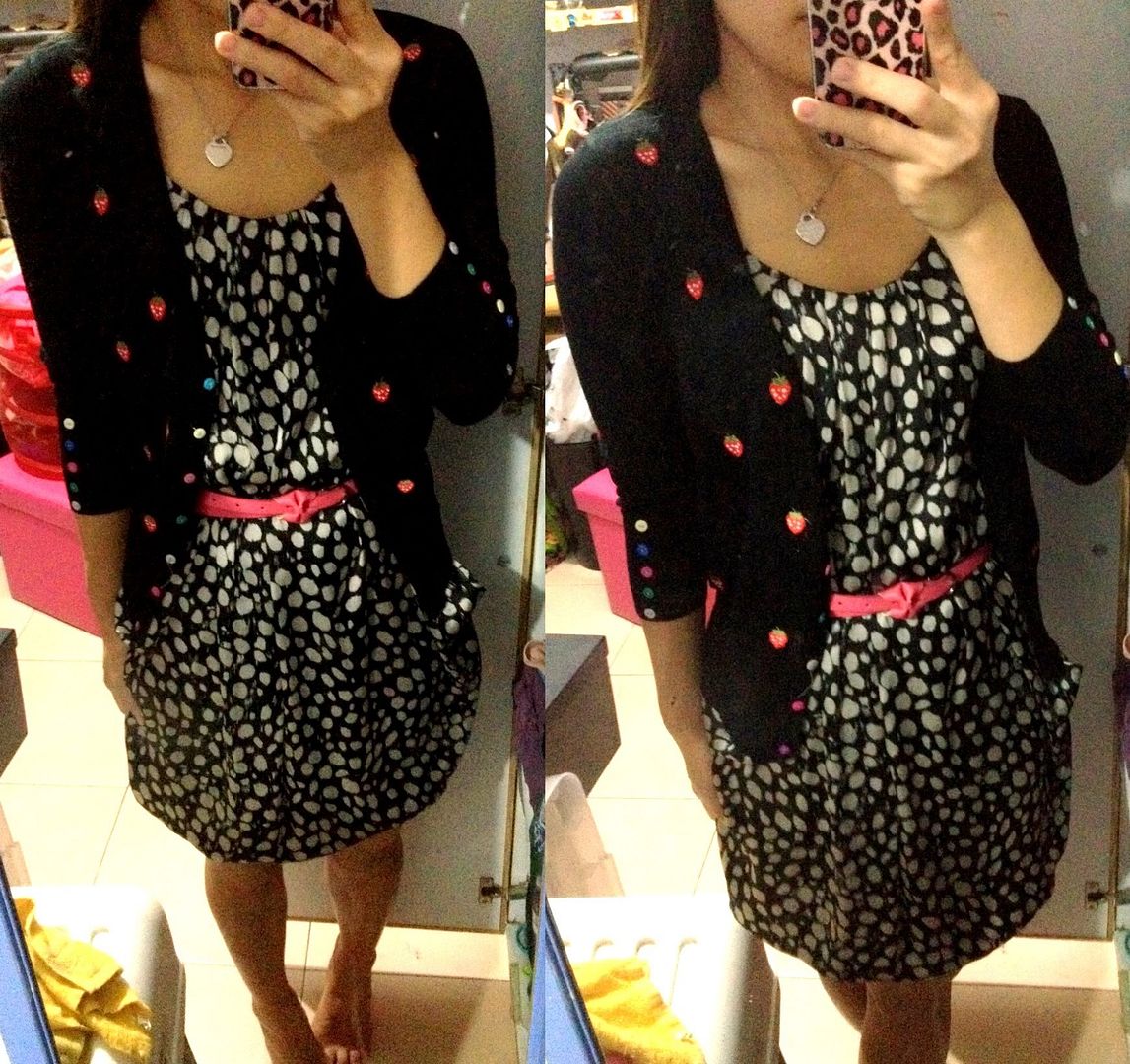 Its been a long time since I bought anything from KY ever since their stuffs started increasing price to $35-$40 price range. Bought this at $27.50 mailed. Couldn't resist getting this cardigan because I love strawberries loads, and the contrast against black on the cardigan with colourful buttons was super cheerful!
Quality of it was not bad as well though with loose threads inside. Looks really cute with shorts and tank tops. A keeper!
***
Review - Agneselle Moto Skirt in Cream (S)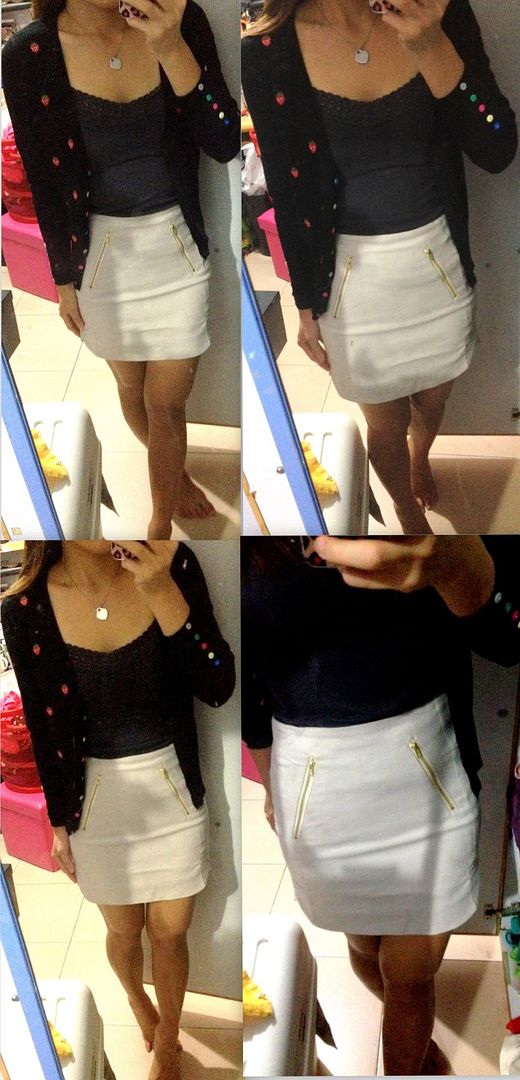 Havent been buying from AE from a long time before they shifted to dot-com as well.
Was looking for a shorter skirt with zips and cream for a long time so I got this! On the website, it states that material is luxe and all, so I was crossing my fingers it will be and not sheer.
Surprisingly, material was really luxe and super smooth, better than CWC I must say. Not sheer and not much VPL as well, very chic gold zips. Love the curve hem at the side profile :)
Sizing wise, S fits me okay, not loose or too snug, just nice at waist.
Can't wait to wear this out soon!
***
Review - Agneselle Melinda Cardigan in Navy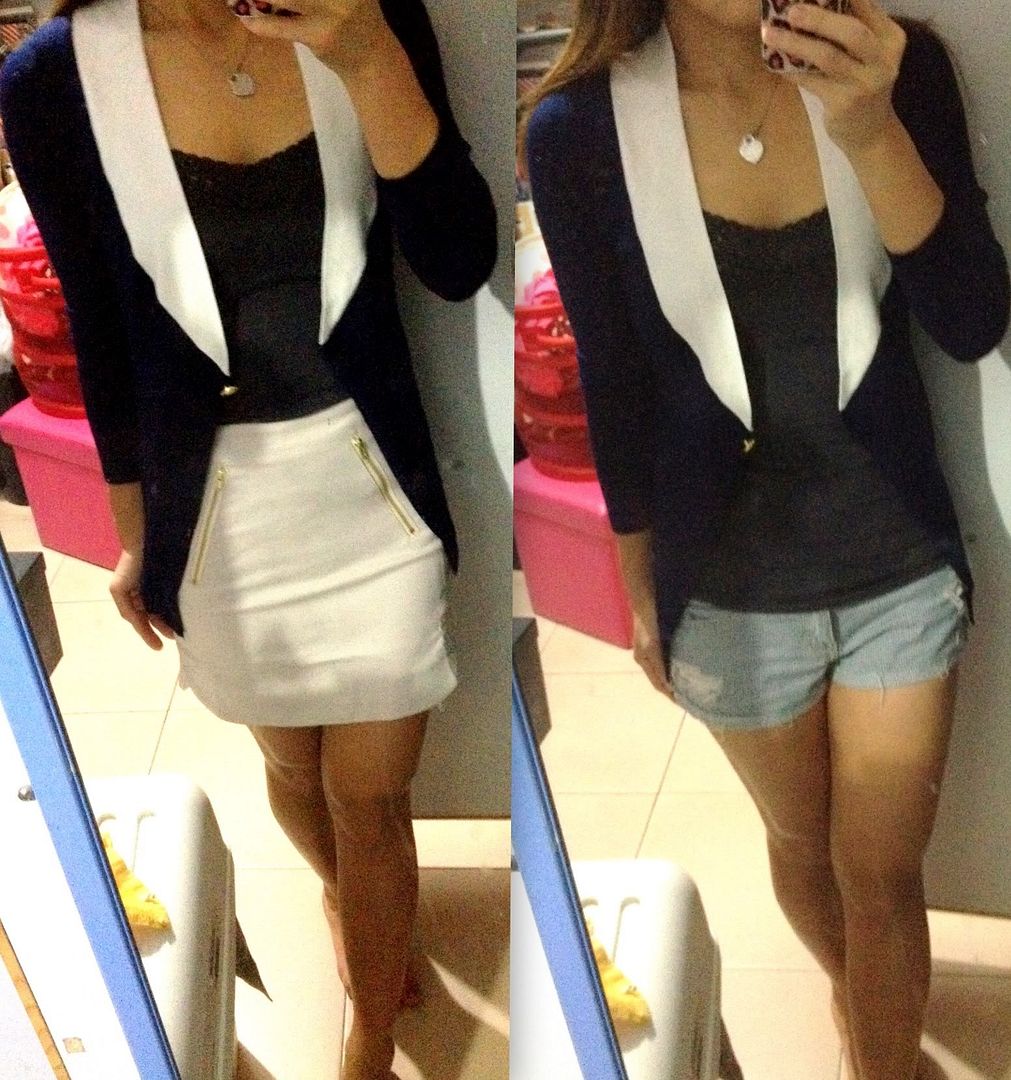 Bought out of impulse because it looks quite comfty!
Very stretchy and flattering :)
Good quality knit and similar to the ASOS one that I have but at a much cheaper price. Comes with a gold button and contrast details, quite chic I must say.
Kinda prefer the blush colour now for a different look but will be keeping this for movie-dates :)
***
Review - Agneselle Star Struck Black in White (S)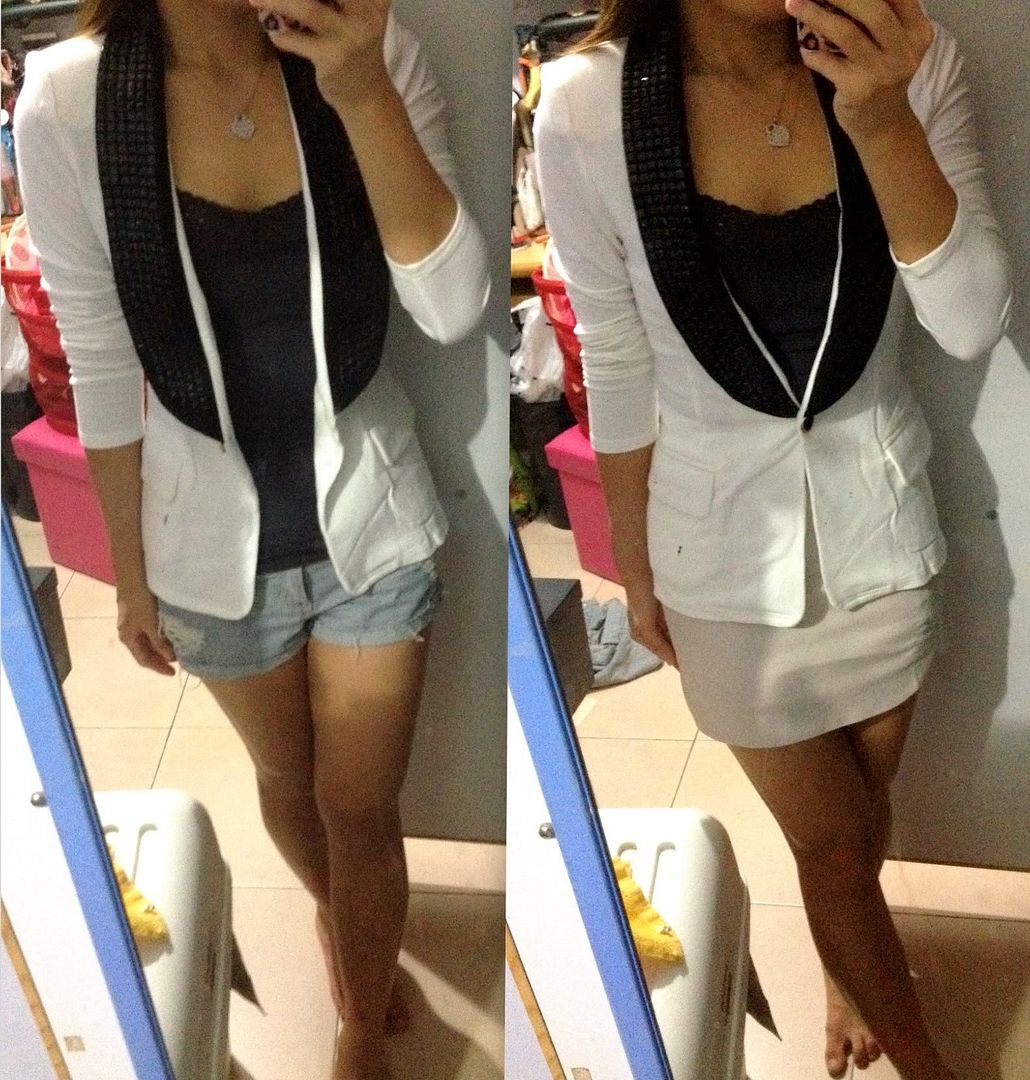 Bought a similar looking blazer in Suede from TVD (and sold it because too hot) last year. Couldn't resist this coz it has studs and I'm looking for a white blazer.
Material is quality cotton and without the studs, its exactly the same as the famous BC shoulder pad blazers, exactly the same really! Thick material and not sheer though no lining. Quality studs as well and S fits me okay though I would have prefer a M for this blazer.
Will be selling this because my office is too hot for any outer-wears basically *guilt*
item sold!
Bought at $32 shipped
Selling at $30 shipped, Brand New In Bag :)
email me - rainbowbangles@gmail.com
***
Hope the reviews help & apologies on the grainy pictures from the iphone4s, rushing for time so I didnt match it well or put in much effort :(
Its my soccer finals tomorrow *gulps*,
hopefully we will do relatively okay!!!!