Finally its Friday tomorrow, the well deserved (very) short break!
Ending work with mum's cooked food daily & i try to eat at home as much as I can.
She cooks daily and is a good chef, so diets are almost impossible for dad & i!
Looking forward to street soccer training after work tomorrow. HR does organise sports events like bowling and this time round its street soccer! Hopefully there will be a netball tournament next time since quite a few of us have netball background. Our mall signed up for it with about 7 people and we will be competing with so many colleagues & teams of other malls, condos, residences etc. I'am a soccer fan since P6, watching almost every Arsenal match.. but playing, its a different story altogether. It takes alot of stamina and skills to control the ball, not to mention accurate passing & all. Slim chance of winning (since we are the only girls team & 3 guys) but its the process that counts and bonds the team I hope. Quite fun learning new things like dancing teehee. Finals are on 24 Feb and we are doing weekly trainings at Sports Planet @ East Coast Park right now. Hopefully able to sneak a 5km run at the beach tomorrow as well :)
Some of our pictures taken during the last few trainings!
the quite dirty street soccer court.
Recent outfit posts & instalgram pics!
Bysi waterfall top, HVV satin pants, Zara heels, ASOS earrings, Bal city bag, BCBG cuff
Inspired by Smooch's peachy launch last night, so I paired the peachy waterfall top with olive pants, a colour combi that I havent tried before. Love how the mustard heels complement the other colours!
Love pants for work as they are so comfty and wearing them with heels make me feel taller than normal.
I get them mainly from zara, uniqlo & m)phosis as the cutting fits perfectly. Seldom buy them online but amazingly this purple checkered & olive pants from HVV fit like a glove :)
(selling the exact BN HVV black one here btw at $18)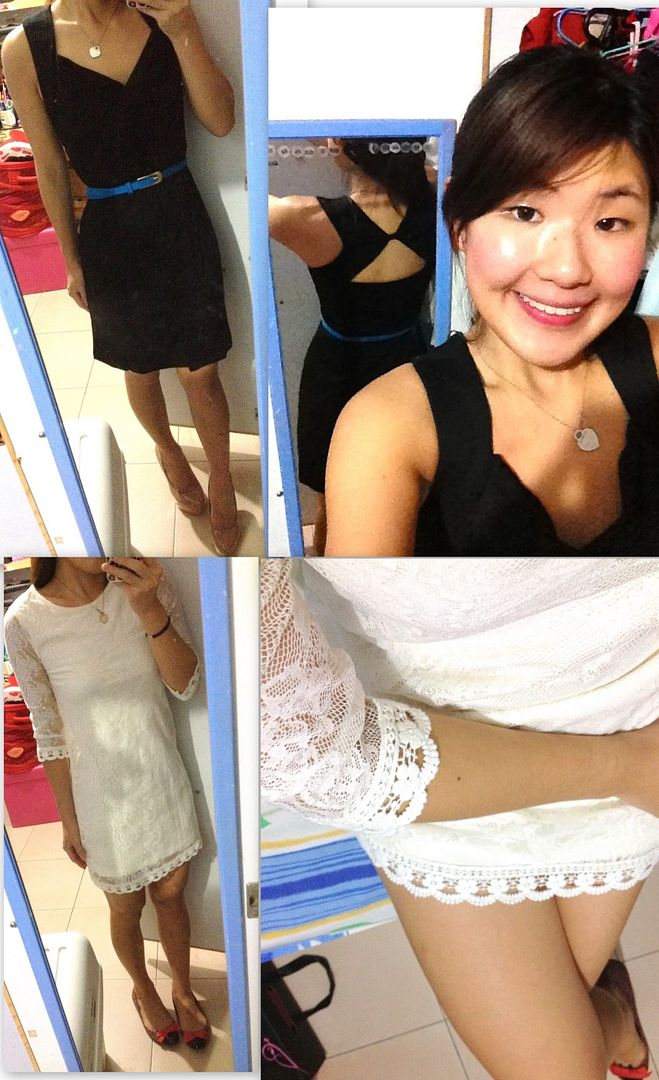 Black dress from
Moochemooche's
recent sale and super worth the $15 price tag. The black dress is buttoned from top down, of decent length and with cute back details. Came with a sash but I paired with a turqoise skinny belt for that contrast. Anther LBD I like!
White lace dress from Dorothy Perkins that I found in the cupboard. Got at a sale at $49 2 years back and its still with tag. Very white and of great fit, can't wait to wear it out and its really feminine!
Was spring cleaning my blushers recently & here's some pics of my favourite blushers.
If there's just one item I can use, it will be just blusher, not concealer or eyeliner.
Love how it just makes your cheeks glow :)
Benefit - Coralista, Bella Bamba & thrrob.
NARS - Orgasm & Deepthroat (Love their kinky names haha)
Been a fan of Benefit since they launched, especially their box blushers. Used up their dandellion previously and would love to try their latest
hervanna
. Much cheaper to buy online with free international shipping, spree anyone? :)
Bought NARS Orgasm from a spree last year after hearing all the raves. Its pigmented & very pretty colour. Couldn't resist grabbing another NARS blusher in HK and the SA recommended deep throat, which is a very natural colour. One thing I didnt like was their packaging which gets dirty extremely easily.
MAC
(top row) Rphasopy In Two, Petticoat, Peachykeen, Prim & Proper
Hellokitty1, Hellokitty2, Stunner, Triumphant Blush Kit
Been a secret MAC blusher fan & they can last really almost forever & forever. Top fav will be Petticoat, Peachkeen and Stunner. Hello kitties are cute but not my kind, I'm trying to finish it so I can throw.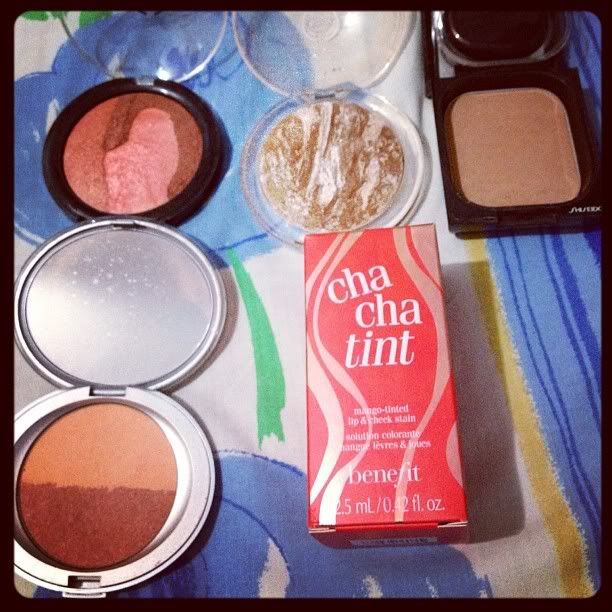 Trusty bronzers from The Body Shop & Shisheido & Benefit Chachatint
Fake the tan and look like you have been back from Bali! Love the Chachatint from Benefit as well, an orange stain. A little goes a long way so I'm trying to experiment with it still.
Others not in pics are the cream blushers from Sephora which are extremely long-lasting as well. Need to stop buying coz blushers are the hardest to finish really and you can barely hit pan.
Alrighty, have a good Friday & weekend, I can't wait!! :)
Vday's next week!