Been so busy recently with work & all that alone time is really really precious
But despite those silent wishes of having more chill time instead of running here & there, I'm really glad I STILL like what I am doing, especially the interaction with people from different walks of life and making a difference in my own way.
In primary school, I used to get "talkative and should learn to be quieter" remarks in my report books but now, I've learnt how to turn that negative trait to a slightly more positive one haha.
I'm targeting to finish this entry within the next 5 minutes so here goes the outfit spamming.
Here's my default outfit on weekends apart from dresses, basically a tank top and bandage skirt and necklace!
I have too many bandage skirts of different colours and they are super duper easy to match. Used to tuck my tops in but now I kinda like the tops tuck out so the torso won't look so short :)
Paired with a leopard prints flats to add prints to the whole look!

American Eagle lace top // Gojane Skirt // HK flats// C&K Mustard Bag // Diva Necklace // BCBG Watch
Balaclava @ ION
Met up with W & T for a quick dinner and then drinks at Balaclava.
First time at this awesome drinking place in Ion (accessible from carpark at L5) and its such a cozy nice place, I really like the atmosphere. The feeling that you can just lie on the comfortable sofa seat over drinks and fries, without a care and just sitting down forever, just soaking into the music by the band.
& Ngak is awesome as usual, he still plays at Wala, definitely an under-rated local talent.
Here's us with Ngak!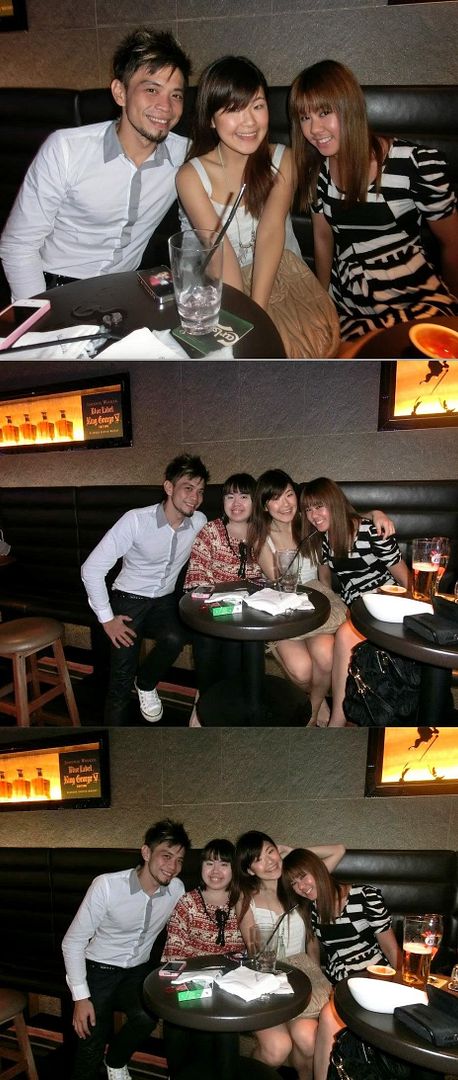 ***
A Shimmery white shift dress that I bought on sale at $39.90 from Ion's Bershka last year.
It was during Xmas period and I was in that glitter/ shimmer-y mood that I got shoes and clothes like that haha. I like how simple it is and the leather trimmings that outline the silhouette, slimming effect! There is a curved hem at the side as well.
Only thing was that it came in L size but I still bought and altered it to fit anyway. Tried to convince myself that it is still cheaper than the original price at $79.90 after alteration. Oh wells, silly things I do at times, hope to wear it for the 3rd time to maximize the cost per use. Probably with a scarf or outerwear :)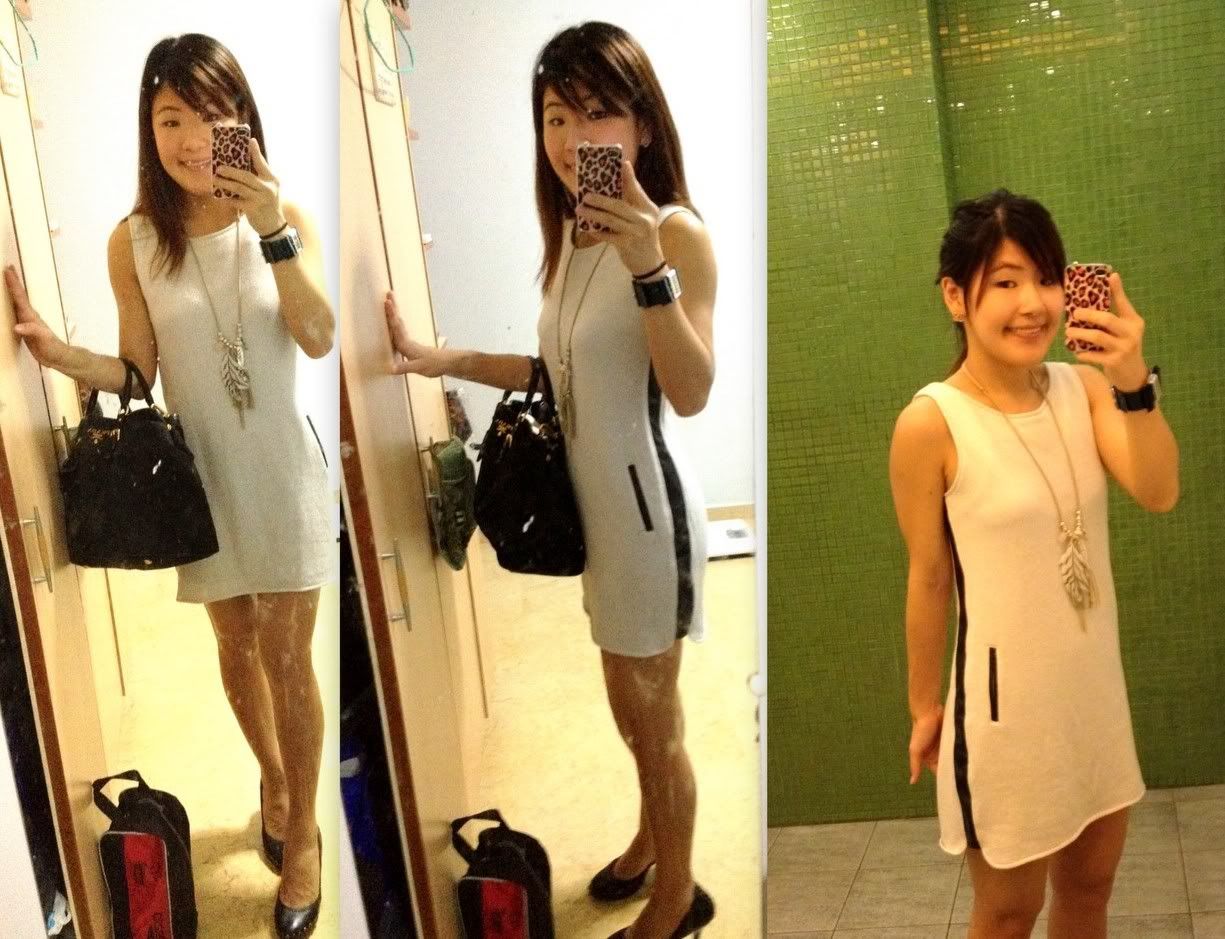 Bershka shift dress // Diva Necklace // HK Heels
(Please pardon the dirty mirror and gym bag)
Here's a new peplum top from Bysi that I bought over the weekend. The perfect white top I have been looking for actually, with peplum design (!!), white collar (!!) and leopard collars (!!!!)
Grabbed it immediately and it was about $35 only. Really happy with the quality and all :)
Worn it with the trusty olive pants for a contrast and mustard heels!

Bysi leopard Top // ASOS earrings // HVV pants // Zara Heels
Wore the LBD floral dress from VRG again, this time with a Bysi hot pink jacket.
This jacket is terribly under-used mainly because it is below $40. I wanted something bright to contrast again the black colours and a jacket not too long as well.
I quite the simplicity of the outfit and colour contrast!
I don't like too matchy colours, so I like that the hot pink shoes and pink jacket are of different tones, while the black dress is different tone from the shimmery-black Bysi bag. Finally, paired with a Moschinno scarf watch for some prints :)

VDG dress // Bysi Jacket // Bysi Silvery Bag // Gojane raspberry heels // Moschino scarf watch
PS/ OFTD pictures taken by TC above. He's getting really really good at it, whipping the cam like a pro when I go "baby otd!" and he started snapping the details. Now I barely need to tell him the angle or to go to details haha.
***
Wanted to blog about the H&M Exclusive Conscious collection but have met my five minutes target mark for this entry. Shall keep it for the next post! :)
Bed-time for a long day ahead, can't wait for the evening!