This is what I have been to up to recently other than work!
Taken in the spinning room with cool blue lights! Quite addicted to the exciting
spinning lessons x3 times a week and it really pumps the heart alot. It helped that blue, yellow and green lights were installed in the room so the whole session looks like a discoball with the music and us pumping on the one-wheel bike haha. Unlike the usual bike, this only has one wheel and stop turning when your legs stop pedalling. Its fun trying to learn the new tactics and standing up cycling for an hour with hair in your face. I'm still trying to learn the tactics and be better at it, hopefully won't get bored soon! Of course, nothing beats the real cycling outdoor still :)
Been running outdoor and training hard as well, for the upcoming 2 races in April & a full marathon in May. They are about 79 km when combined and I hope I survive! Signed them all up early in the year so I'm trying to find new ones to sign up for the later half in the year. Its a never ending cycle and absolutely hooked.
***
Subscribed to my first beauty box-
Bellabox
in March due to the wonderful reviews online.
Its like subscribing to a magazine monthly where it will arrive in your mailbox and you will eagerly await the contents. Just that this comes in form of beauty products, super awesome!
Suits me alot since I really like beauty and skincare products, so this is my first month. I stopped all my Cleo / Her World/ Shape subscription so this is sort of a replacement.
Subscribed at
$15/month
, you can stop your subscription any month. After subscription, I completed my beauty profile, stating your skin-type,

preferences

, hair type etc.
This is really a slow review but pardon me. I r
eceived the registered slip at my doorstep, but finally collected it 8 days later after 2 reminders due to my schedule now, its impossible to reach my sk postoffice before 6pm.

Tada!
Here's the secret contents this month:-
Royal Cosmetics Royal Herb EX Cream
A'kin Lavender, Geranium & Jojoba Hand and Nail Creme
Caudalie Vinoperfect Radiance Serum
Pure Therapy Intense Nourishing Body Moist
Dermalogica Multi Active Toner
Love the super pretty packaging, all girls love that! Comes in a nice box and ribbon which is like unwrapping a present, exciting!
The contents are definitely not the pathetic sample size, but travel size bottles which can be used for at least 2 weeks i supposed.
So far, I have tried the Dermalogica Toner and like it, as you can spray it over your face instead of the usual bottle toner which needs a cotton pad. Replaced it with my SK2 toner for fun, so I doubt that I will be purchasing the Dermalogica Toner.
Honestly this month, I wasn't too pleased as I hoped some useful make-up items to be in it. Like an eyeliner or a make-up remover. Not that toner and serum are not good, but I have my own set of skin-care that I kinda rely on, so will be more apprehensive to replace any with the products. However, I read that it is good to try out new products occasionally, as reliance on your skincare over a long period of time will make them lose its effect on your skin.
Can't wait for April's box since April is coming soon! Will probably be trying for 2 more months before deciding if I want to continue.
Overall, I thought $15/month is quite reasonable for products which valued to much much more and allows you to try out new things before purchasing :)
Met the girls on a laid-back Sat over a very fun Sushi tei and Nike shopping!
Thanks to Mel's BFF Nike race, we had 25% discount off our stuffs whee. New sports wear and it looks like a set that I wore it out for spinning & attack class the next day :)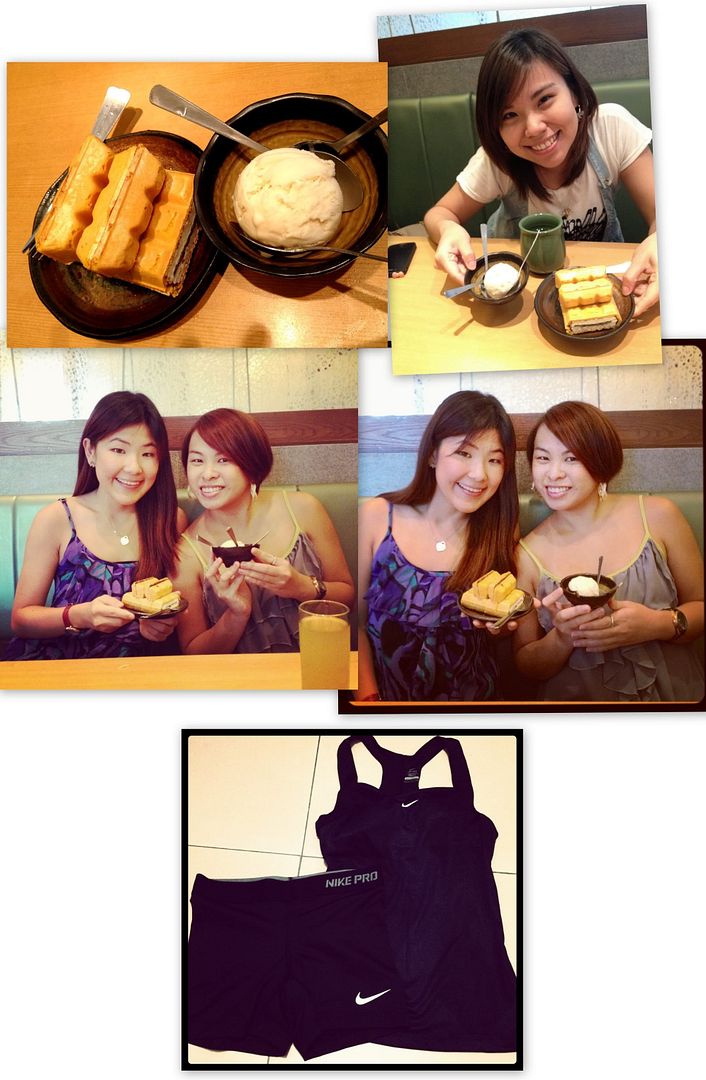 A pretty LBD with chio blings, thanks to emmy :)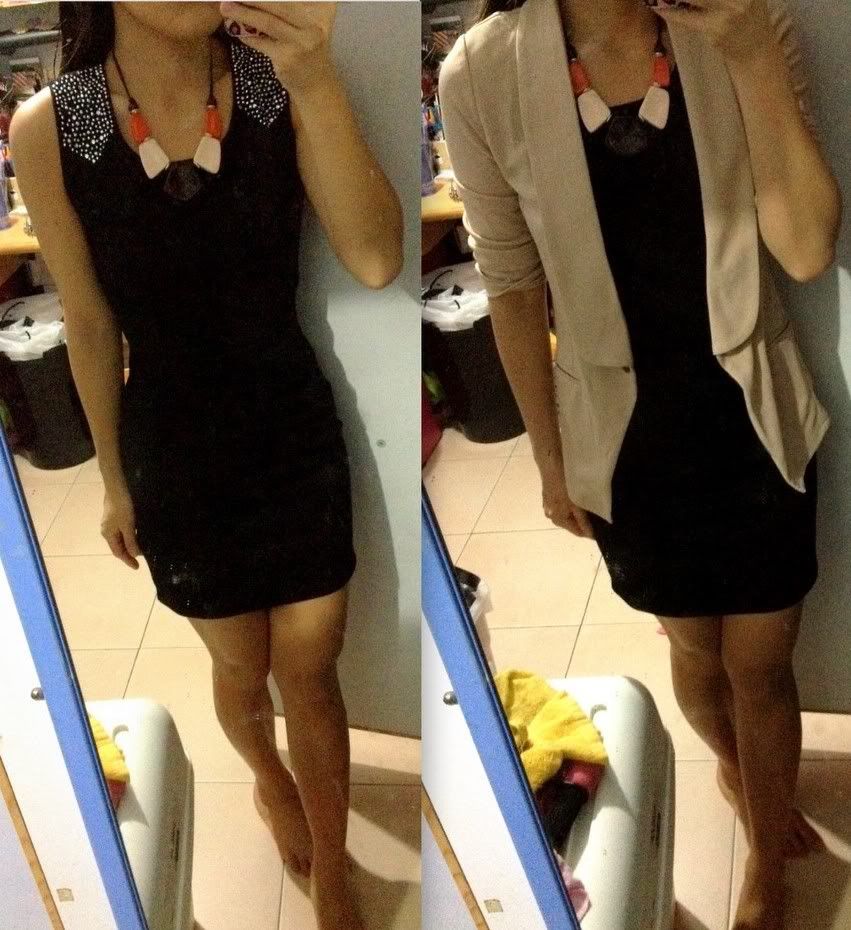 LBD from Australia // Swivelle Nude Blazer // Diva Necklace
Wore this crochet skirt out and took less a minute to piece them together. Looking at it now, it was quite sloppy which reflects my mood back then.
Feeling really sick that day with eyes infection once again and it sucks more than having fever or flu. Not able to see with blurry vision is something I hope would not happen again, not worth it give them up for vainity really.

BC white tank dress (altered to top) // Labellavita Crochet skirt // Bugis reptile flats // Diva necklace // HK sling
Oh yes, went to Newlook and there's so many printed stuffs that I was really happy! These two dresses caught my eye, the first one was wore by Sheila Sim during the fashion show and the second look prettier in real life!
Somehow, I'm steering towards the second one as its more comfortable and looks good with a contrast belt. First dress is really pretty but the combination of prints + bodycon is not really my style and I might not even dare to wear it out though its pretty!
Might return to get the second one though!
First one costs $49.90 and second costs $64.90 i think.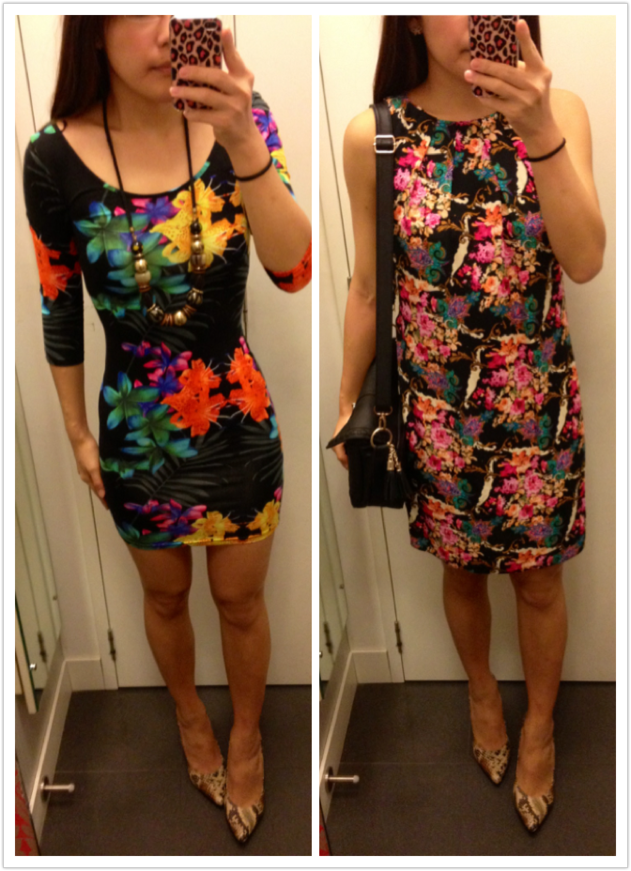 In case you were wondering, I got the above heels because I love such prints on heels and pointy design adds another 10 more points to it haha. Can't wait to wear it with pants & shift dresses next week! :D
***
H&M's Conscious Collection: Spring 2012
Absolutely cannot wait for this collection!
The Conscious Collection will debut on April 12, with vibrant colours and red carpet looks.
Some of the pieces, I really like the neon green, pink maxi and floral dress.
So cheery and can be toned down with black outerwear and accessories :)
\
Random though, You know the thing about online, it can help to foster relationships or break them, depending on how it is used. Its amazing how I foster new friendships and renewed old ones online. Also, it is also via MSN that I talked to TC for months before we first went out for a date. Tech is kinda amazing in that way to combine with fate as well :)
PS/ Decided to just post this up instead of the combined AE / AA / CWC review as my camera went out of battery at 1.43am, telling me its time to sleep!