Quick entry before heading to bed.
Usually it will turn out to be a super-not-quick entry because I have the habit of re-reading and making sure everything is all in place like a compo, html in-tact, pictures loading etc. Bad habit because it should be more candid I guess!
***
With my favourite friends at A's baby shower.
Two years ago we attended his wedding and now really glad to see their baby girl Shannon out and turning 1 month old :) Mad sweet.
Amazing & awesome for ex-colleagues to have all "graduated" and turning good friends, keeping in close contact.
BBQ session this weekend and next wedding would be Felicia's woohoo!
The graduation picture:)
My fav shopping buddy!
We had a cosy hang-out at S's lovenest after that over beer, pizza and chips and watching TV. What could get more shiok than that on a Sat night with happy people, happy food and plain chilling? :)
Can't wait to start the house-hopping session really soon when our flats are all ready!
Her baby girl, Mere is an absolute sweetheart and she's super duper smart for a 2yo.
Was in a

cheery and chirpy mood this week, so most of my outfits are in a

red-pink-

CNY tone!
Its that kind of feeling when the crows do not seem that irritating, MRT waits do not seem that long, sun seems brighter and air seems fresher. All in the mind that influence your perspective.
No particular reason though I suspect a one day leave can make that difference.
A casual hot pink mesh dress one day.
& I wore this pink ASOS ribbon back dress on Monday.
Super love the back design though it was kinda loose even being a size 6. Looks kinda like LB Taia Kate Dress in front, with the slight flare design and meant to be worn like that.
It comes with black but I took pink so that it won't be more fun and less formal!
Went to alter some dresses as well and aunty told me it can be altered smaller and less flare, yay to that!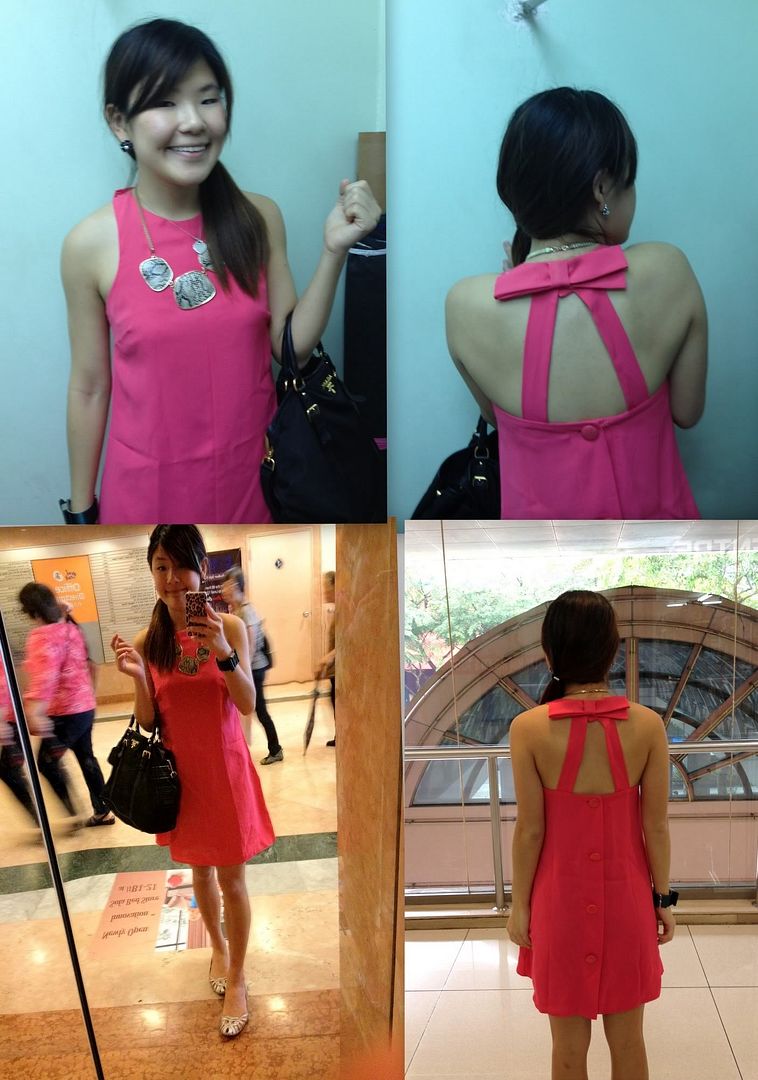 Before and after fringe hair-cut at Maison@FEP (absolute longtime fav!)
Jeremy cuts the best side-swept fringe and very dedicated, making sure everything is in place, blow-drying to make sure it curls and wax it in place.
I've changed a couple of salons due to convenience & work, but Maison is still my fav.
3rd pic before cut
Here's my mold teeth by my dentist - before & after braces.
I did my top row braces (plastic) for 10 months last year impulsively without much thinking.
Its quite minor adjustment for 2 tooth on the top row, didn't put braces for bottom as its pretty straight.
There was no extractions and very little discomfort, eating goes on as normal :)
(Before VS after)
Went up with the sec sch gang at Ding Tai Fun for dinner & here's with pretty grace!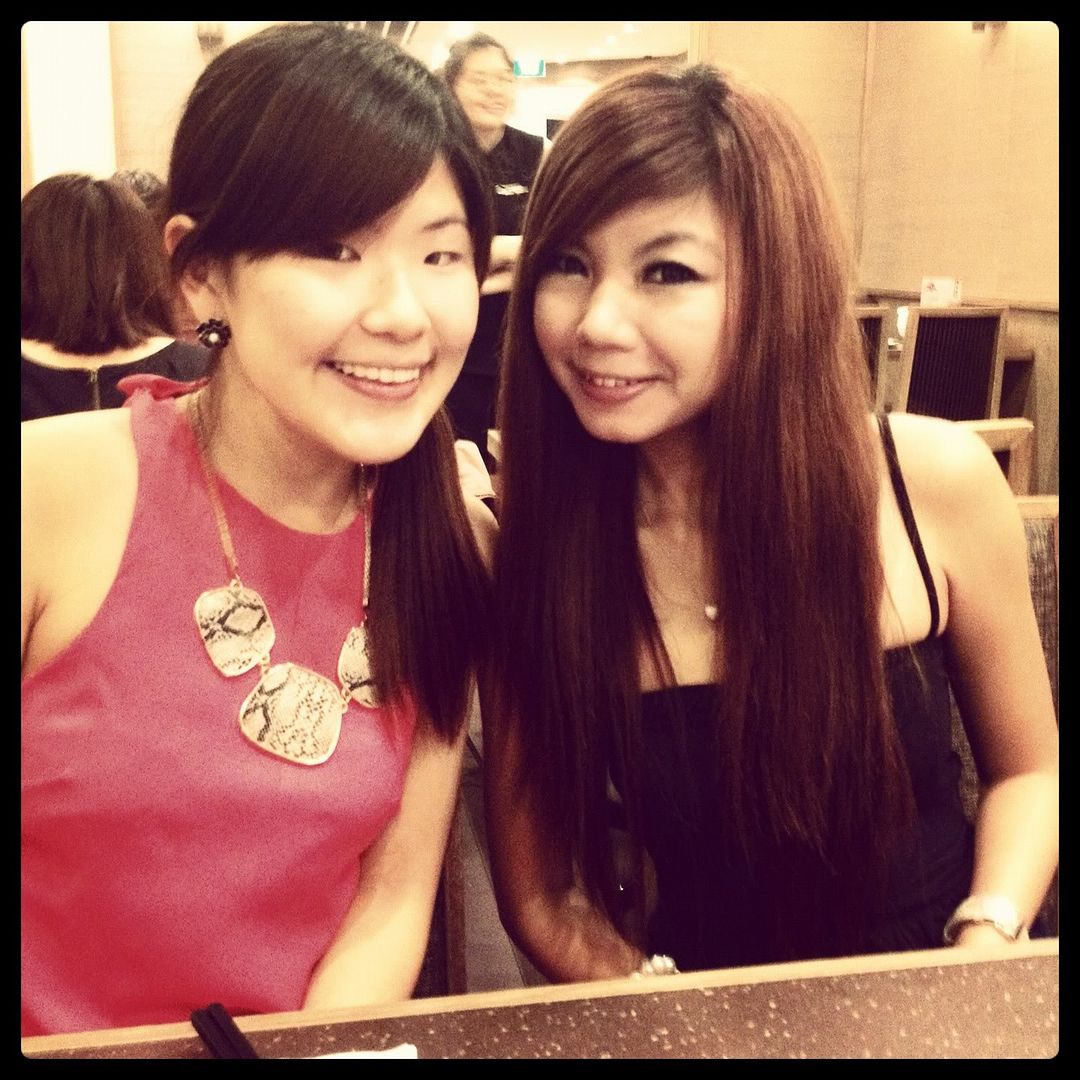 & another ASOS red dress for work again.
The shade is different from the previous two dress, more work appropriate & structured.
Paired with black accessories head to toe & red-black is one of my favourite combi
Rotating my shoes abit to air them and here's a GoJane black studded heels!
Finally went to work today with a LBD after the reds :)
Its a super old dress that I can't rem where I buy it from. Normal cotton but the halter-cut-out-design makes up for it, even the back part is cut-out! Love it as no necklaces are needed at all:)
Paired it with a ASOS cut-out belt and my trusty mustard heels!
Skipped the blusher and went with just bronzer & concealer & eyeliner
Kinda like the tanned look!
Colleague passed me the
GEO lens
she helped me to get from KL!
Feel safer buying from authorized dealers than online.
Read from it from dear MH's blog and her recommendations never go wrong! :)
I ordered the
GEO Angel, Fresh Colour, Nudy lens in mainly brown, black and grey.
They had the buy 5 pairs-1 pairs promos so I got 6 pairs in total at 35RM each, total being about SGD73, which is really quite cheap with each being less than $14.
Came in really in time since I am using up my last pair and usually buy them half-yearly at the cheap Hougang place!
As I have different degrees for both sides, I have to buy minimum two boxes each time.
I'm currently wearing the
Sparklers Pink Series from Freshkon
btw, though it looks like brown in all my pictures LOL. So far, I swear by Freshkon (alluring/dazzlers) and GEO as they are most comfortable for me as I tend to wear them for quite long hours (not good!)
Here's the address if you are interested!
Can't wait to try them soon! :)
***
My Gojane parcel has arrived and I'm loving both heels and skirts!
Absolutely gorgeous heels!
The gold one looks way prettier in real life, resembling mermaid's scales with the scallop design. Pink cut-out looks awesome against black as well.
Been wearing Gojane shoes for few years. One thing is that they are really quite high but however with the platform and cushion inside, its really

comfier

than it looks.
Comes with anti-slip at the bottom and of good quality so I'm a fan of their heels :)
Shipping is 35USD for items between 50USD - 100 USD. All shoes were on sale but after calculating the shipping, it works out to be about $35 each, since the USD currency is really in our favour, as compared to UK's ASOS. Even with shipping, I thought they were still cheaper than our local shops (Aldo, Pazzion etc)
& I got these
crochet
loving from the mail today, absolutely loving both the skirt and shorts.
Will review them in another post as its 2.30am & I really need to stop like now!
this is so not a quick entry at all, good nights!