Back with reviews once again!
I'm not expecting any parcels after these two items as I'm on my saving mission for bigger items & future ahead. Yes, no ASOS, no GoJane, nothing at this point in time.
So hopefully reviews will be kept to a minimum (i hope) though outfits of the day remain.
Love Bonito Tazelle Top in Sand (S)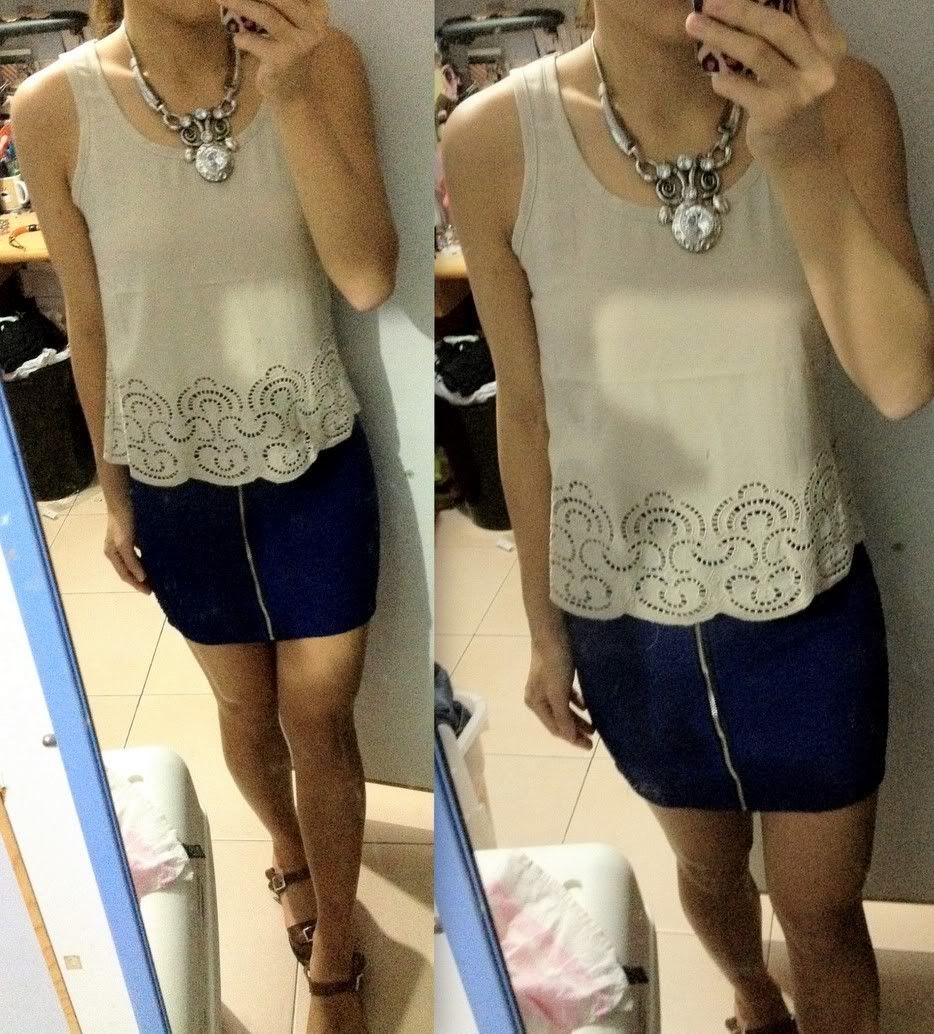 (Paired with: ASOS sandals, Gojane skirt, Aldo necklace)
All thanks to dear
mh
again for helping me get it and passing it to me when it arrives, so sweet! She looks really fab in the tank top so I can't wait to see it.
A plain tank yes, but I have the habit of collecting basics because they are so versatile. This top had eyelets at the bottom and I love eyelets (which explain my twitter nick!). Price for the tank may be slightly steep considered its an internet apparel, but definitely worth it as compared to retailers like Topshop and Zara.
Reason why was the material used was really good and not the usual thin Cotton-on kinda cotton. Slightly sheer but not obvious under strong lighting at all. Sizing wise, S had allowances on me, though XS might fit just right. Would prefer S fora comfty fit and to layer with skirts, tops etc :)
Will pair this item with bandage skirts, tank dresses and fitted pencil skirts. Chose this as I have too many white tops! Heard that the colour was the least popular, but I really like it as its versatile and can be match with almost every colour. Would love to get a vibrant coral next, but one colour is definitely enough (rule of thumb for now!)
Kristine Yunny Drapey Cowl Dress in White (S)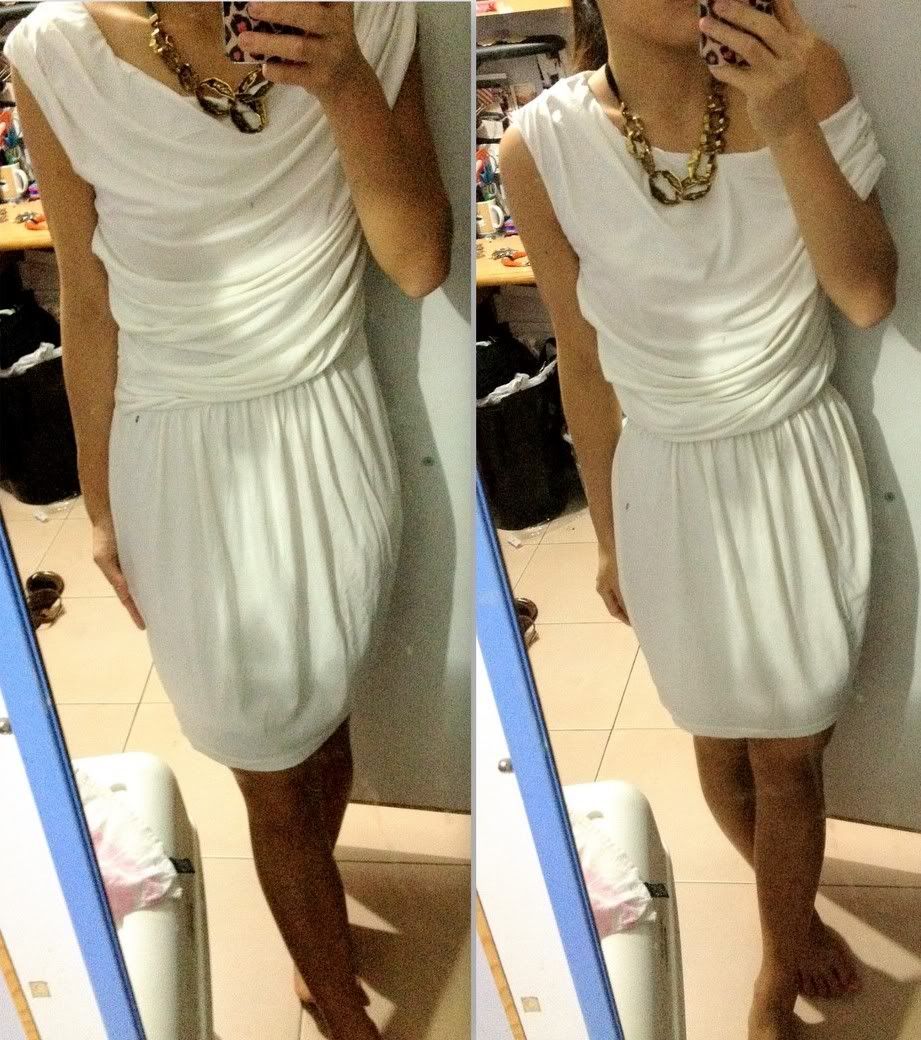 Up next is this white cowl dress, which really kinda exceed my expectations. It looks kinda sheer on the website and I wonder if I will really wear this out.

When item came, I was happy at the material used and how it looked on me. Length is nice above my knee and able to wear for work. Quality of dress is relatively good and not very sheer, though nude garments are recommended. The cowl details are front and back and nicely done as well without adding bulk to the frame.
Able to wear with one side draped and that's the versatility about cowl dresses. First cowl white dress and it looks quite grecian and angelic, so I may be keeping it though on second thoughts, its abit too demure for me.
Can picture this in gold accessories and heels, with the hair up! Priced at $35.50, I though it was not as expensive as her other apparels since the quality made up for it. Only thing was that Size S was slightly loose though still alright. Pretty glad KY will be launching more XS items.
Interested buyers email me at
rainbowbangles@gmail.com
The Tinsel Rack Maxi Skirt in Cobalt (XS)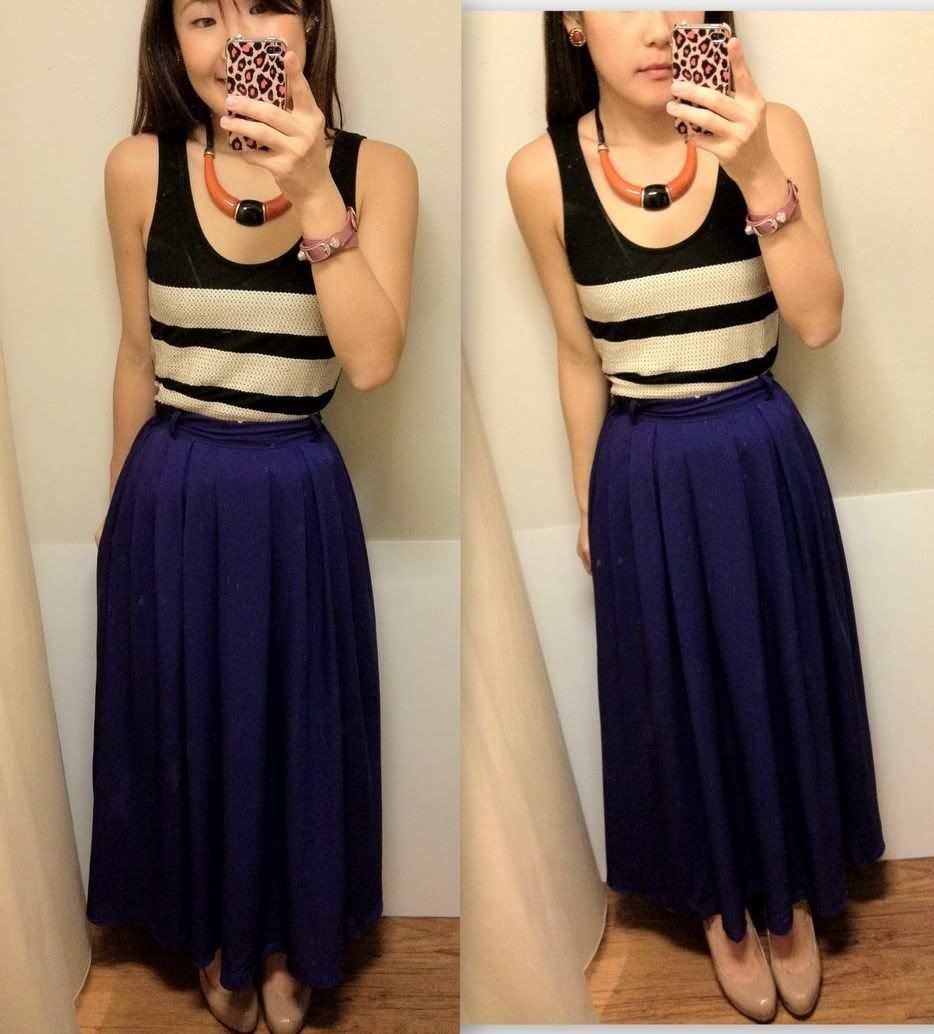 Was at KissJane earlier and nothing caught my eye in the shop surprisingly. Funny how online items look more appealing, with the lighting and all.
However, this maxi skirt caught my eye as it looks fab on Lihan and several others! Tried the cobalt piece in XS and it is really pretty. Love how flowy it is and requires no alterations at all. Very nice colour and rich!
XS fits me alright but I would prefer a S for a more comfty fit. There's only L in the shop so I didnt really try it. Didnt get it coz I have too many maxi skirts (in white, cream, forest, burnt orange, brown, green for reference) and on weekends I normally wear shorts.
Still a very lovely piece!