Anyway, it is really really encouraging to hear feedback that my last post on running is inspiring and helps alot!
Started with the intention to share and recap for memories sake and it really makes my day knowing that it helps :)
I guess we inspire each other in different ways, I get my exercise motivation from the peers around me and try to spread the

positivism

around.
That's why I like to read blogs and get ideas here and there :)
If I have the time, I will do up a post on basic exercises and how to get started be it in the gym or home etc.
I don't usually plan my outfits in advance unless I'm going out after work!
A colourblock outfit with

separates

pieced in 1 minute in the morning, with a statement necklace to end them all.
Usually I would skip the necklace if there are details on the top, with bright colours in accessories if the outfit is dark.
Currently on a mission to utilize more pieces in my wardrobe!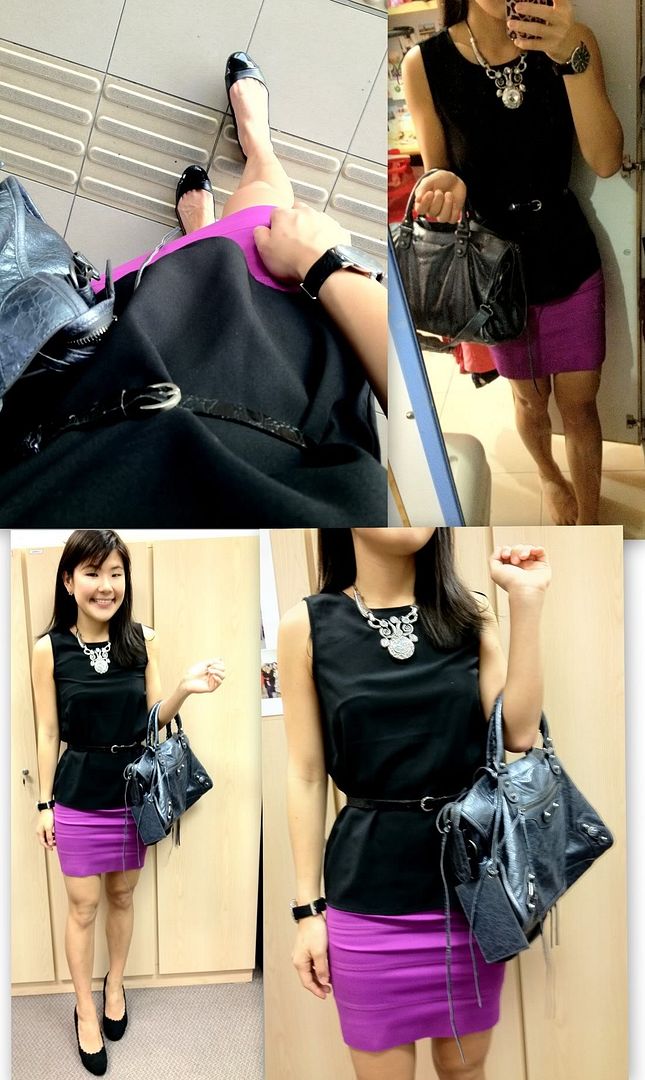 GG>5 Purple Bandage Skirt // Bysi Black Zip Top // Newlook scallop heels // Aldo Necklace // FCUK watch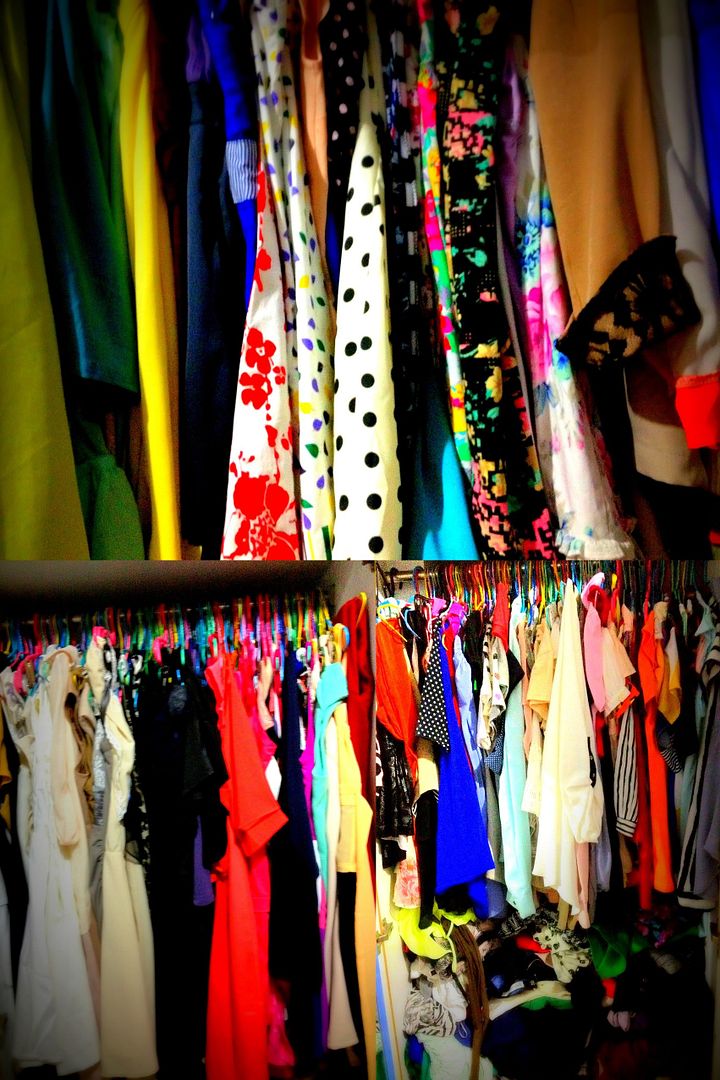 My wardrobe has became such an organised mess right now.
I try to organise them nicely despite the space limit so now I can almost locate everything :)
I have a separate wardrobe on dresses, another on tops, with the rest being seperated into storage boxes for my shorts, office skirts, casual skirts, exercise wear, scarves, pants/jeans, clutches.
Still I gonna admit, they are kinda giving way.
So... I have decied to slowly add
more clothes for sale (mostly with tags or worn once), from ASOS / Bysi / Zara/ H&M/ Mango basically which are my fav brands.
I love them so much but they are lying

prettily

since forever so its such a waste really.
The problem is that I buy faster than I wear them :(
Basically my style like shift dresses, bodycon skirts, printed tops, cardigans, jackets etc etc.
Accessories as well I guess, since I've only one neck! :)
Everything will fit a Uk6/8, let me know if you are interested I will keep you posted!
Everything will be cheap so keep a lookout here!
I
ts quite a chore to take pics and all, but I will do so, since my selling journal only consists of online clothes due to laziness.
Oh yes, do quote my blog URL if you are interested in anything in my
selling journal
and take an
additional $2 off even for the sale post with all at $15 shipped
.
This month, theme was FLAWLESS BEAUTY, focusing on clear, moisturized & healthy skin.
So true, a good base is the most important, not any make-up in the world.
Of course, the best of both worlds will be awesome!
Here's a sneak preview and I really love how it is packaged again.. girls love surprises!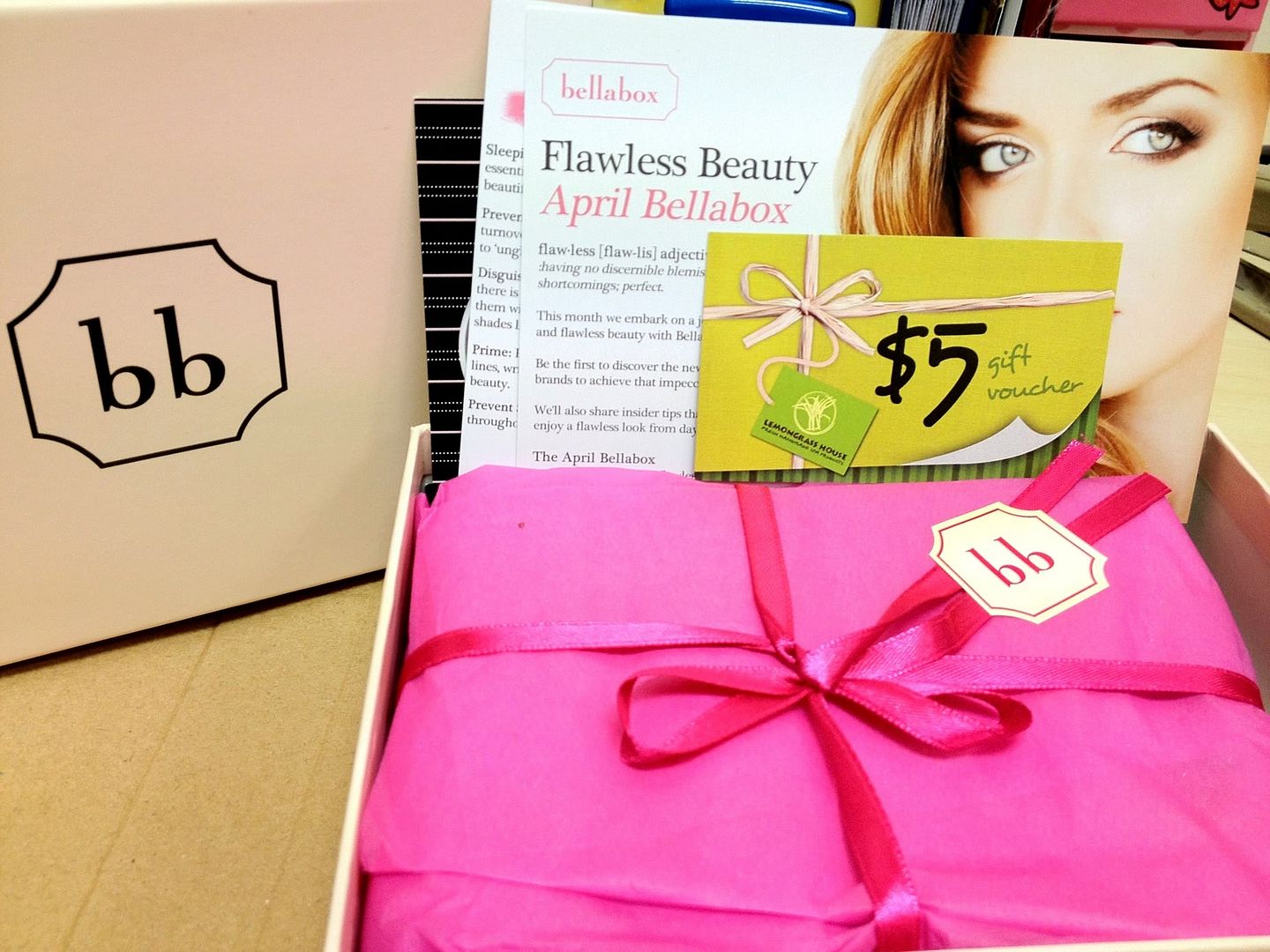 f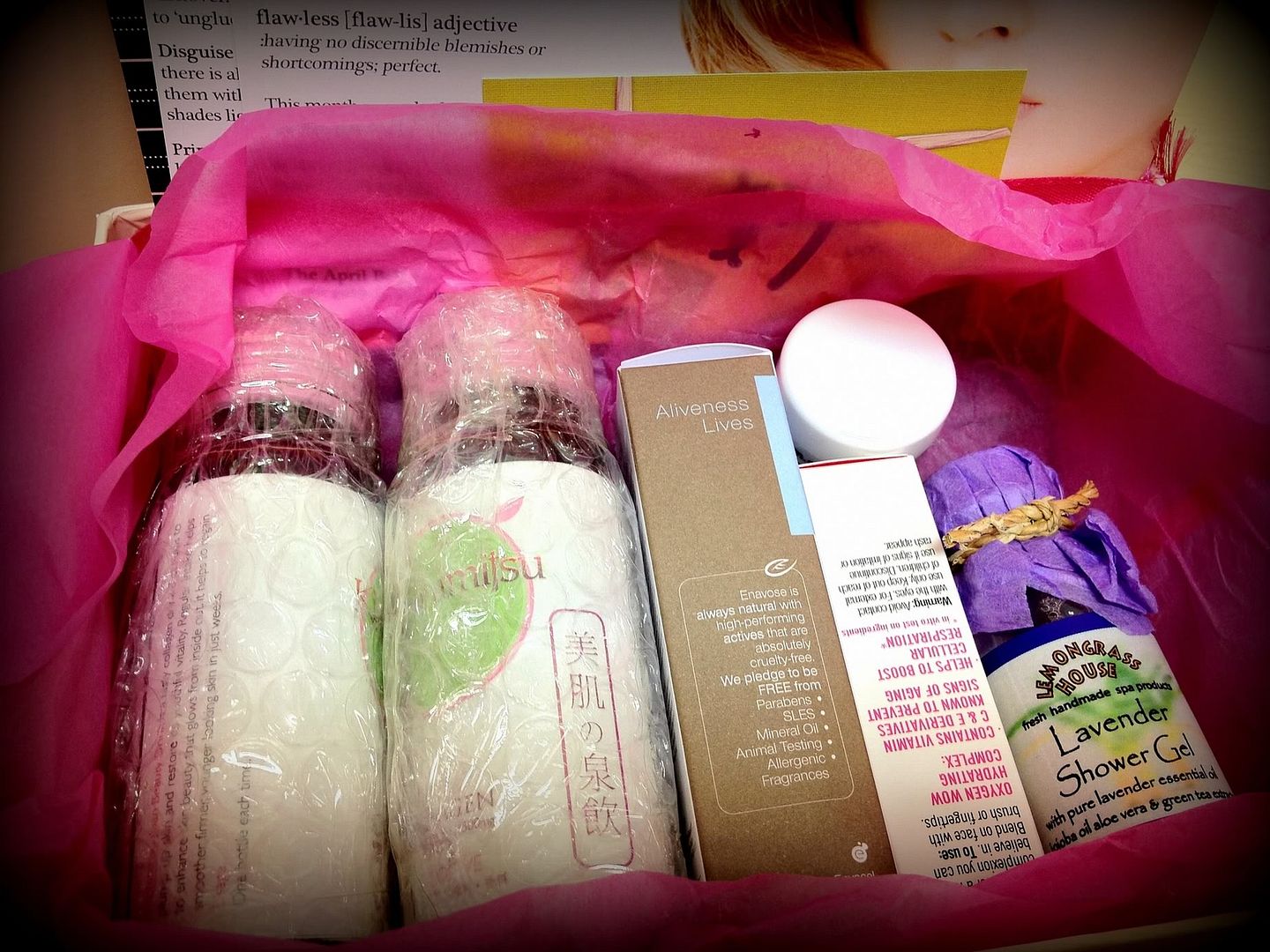 Instructions and introducing the products, this is really important :)
f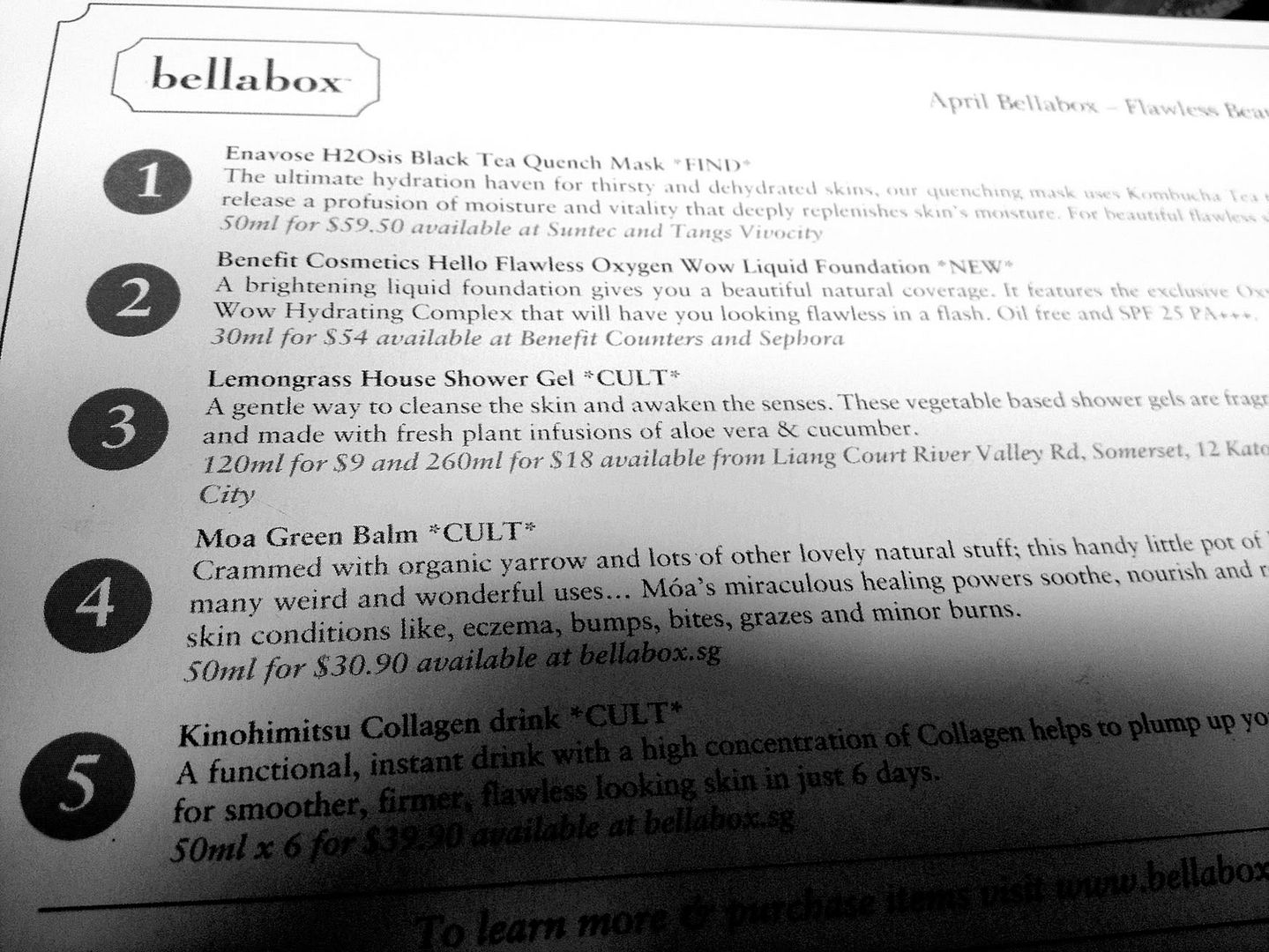 Okay, here's the FULL ITEMS & vouchers!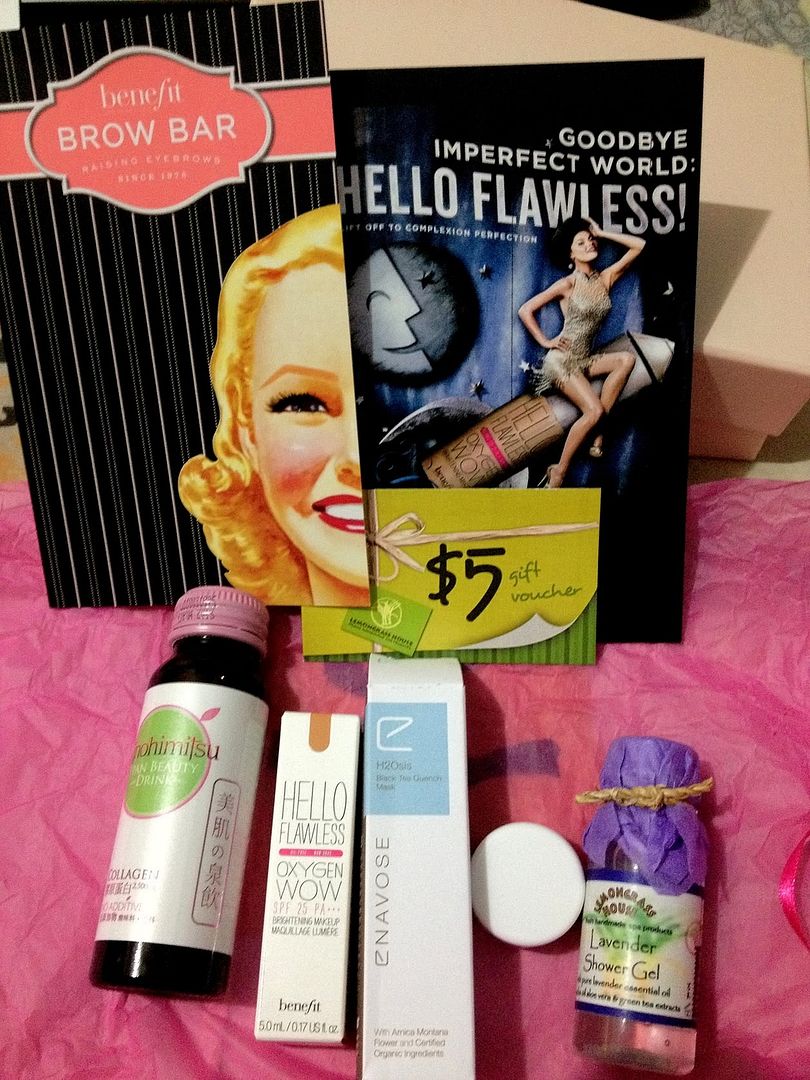 1. Enavose H20 Black Tea Mask
2. Benefit Cosmetics Liquid Foundation
6. Vouchers - 1 for 1 Benefit brow session, $5 lemongrass
To be honest, I'm quite disappointed since I do not need any of the above. The benefit make-up was too dark for my skin. I have too much shower gels from Bodyshop for travel purposes though the lavender smells quite good :)
As for the collagen drinks, I have never tried them before. Tried one bottle and surprisingly they taste okay and not as bitter as what I thought. Two bottles are not enough to see the effects though knowing they are healthy drinks make me or happy, but I will still not buy them to drink.
Will try out the mask to see its effect. As for the balm, its meant for bites so hopefully I wont get bites to test it out haha.
The best will probably be the Benefit Liquid Foundation and the Benefit vouchers! I've always wanted to try Benefit eye-brow trimming after hearing the raves so this will be good to try out.
Honestly, I'm going to try for another month to see if I like it, and then switch to VaintyTrove for something new. Its a good concept but its hard to please every subscriber I guess :)
Oh yes, I couldn't resist some ASOS loving during lunch time...
Its up to 70% so I feel less guilty :(
The perfect peplum dress I have been looking for and a floral bralet!
Very busy weekend ahead, being one of the sisters for Kel's wedding & then the race!
Gonna miss my sleep so much but can't wait!