Did my first
Run350
run this year, due to the exciting racepack
& that its Earth Day!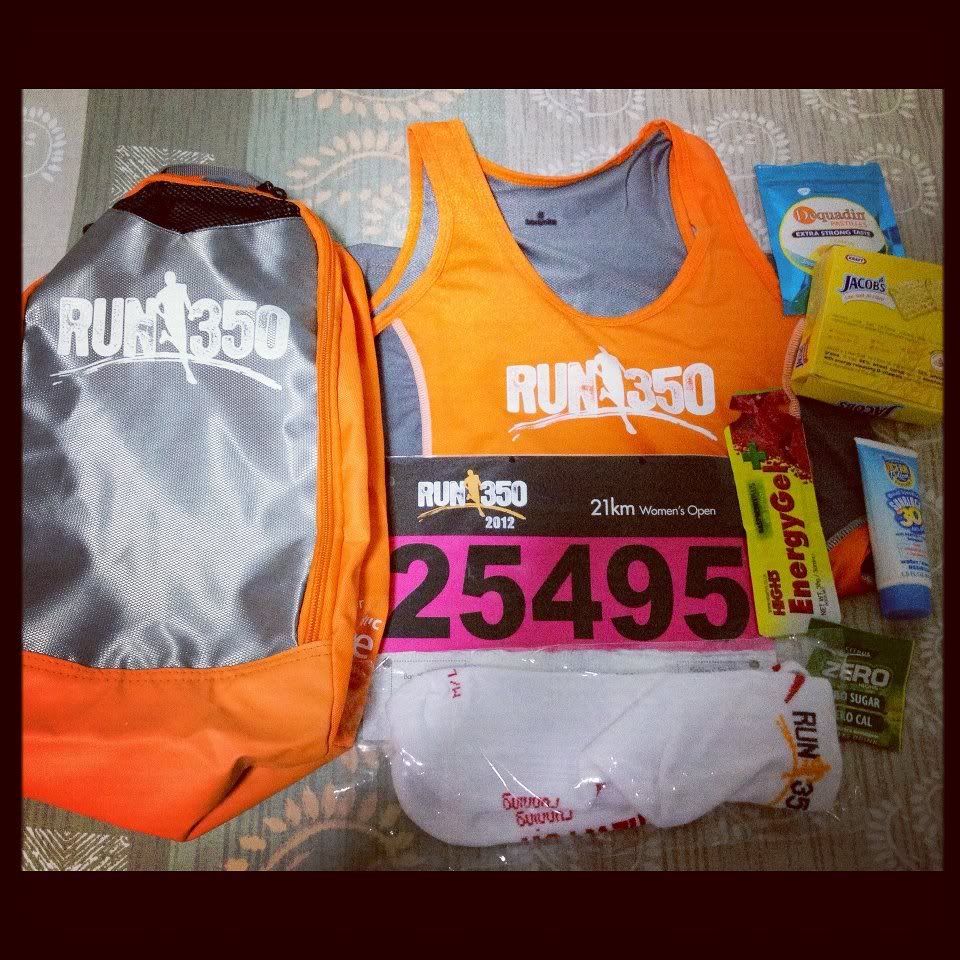 Happy Earth Day!
Everyday should be
Earth Day in fact and we should not take our resources for granted.
Lets do our part for the Earth, every little initiative helps!
So.. I signed up for it sometime last year, for the half marathon category.
***
It was such a memorable run this year for myself to look back.
I was involved in Kel's wedding the day before as one of the sisters from 5am to 2am. We were partying after the whole ceremony at Raffles Hotel and drinking.
(Will blog the pictures soon!)
Mad tiring and I was drained! My parents & TC were persuading me not to go for the 6am half-marathon since I do not have any sleep at all, not to mention the necessary water.
After all, there might be more runs coming up and health is definitely more important. This I definitely agree.
So, I woke up at 4.30am with less than 3 hours of sleep and somehow, I finally decided to make my way there after thinking about it on bed. TC was mad sleepy and sick, but he accompanied me which I felt really bad.
It turned
out that the transport system was down and we waited close to 45mins for a dumb train, which I was so tempted to just go home and sleep, since its not my fault that I couldn't make it right? Not to mention that the flag off at 6am has past when the train finally arrived at 6.05am. World class transport indeed.
However, we made our way there and reached before 7am, with ALL the 21km runners being flagged off and running already. It was then the 10km flag off (first wave) and I joined the batch.
I thought, it might actually be a good thing since there were no 21km runners running already, and I can just do the 10km in a comfortable timing. At the end point, I will still be able to collect my finisher tee and medal due to my bib, so what is there to lose right? I made up my mind to do that, since I have no idea where the 21km route was honestly.
The first 15 mins run was quite enjoyable. Weather was good, my legs felt good and I went on going. Then, it came the 4km mark at the turning point, stating 21KM proceeds forward and 10KM turn to the left. I noticed that there were some people with the same colour bib but turn left probably due to the same transport problem.
Not knowing why, I actually went straight forward for the 21km route all by myself with noone in sight. It shocked me and there were no turning way. I was all by myself, along the stretch so I thought it wasn't that bad I can try to catch up to make up for the lateness for an hour. I realise the reason of me doing so is because it issn't really the finisher tee nor medal that I want, but more of the process to shape myself, no matter how difficult the situation was.
Then, it came the daunting part. Thousands of 21KM runners started to appear on my right and I was the only person going in the opposite direction. It was quite embarrassing really, and I figured that they were probably doing their U-turn and on their 10km++ mark. I was alone and going against them for about 5 km had loads of thoughts going through me. I look quite silly like running in the wrong direction. I doubt I have done something like that in my personal life even. Somehow, it made me run faster and I was so determined to catch up.
Managed to run fast enough to finally spot at least 20 runners in front of me. With all the adequate water points and fantastic weather, I started to catch up and found my way in the middle close to the 16km mark. It was really well organized and better than SCM in fact. However, the route was pretty challenging with alot of up and down, with sharp turns & funny parts that I had to concentrate so as not to injure myself. Quite like the Kallang & Bugis part which were refreshing.
Also, it was really refreshing to see runners making a point to throw the drinking paper cups into the bins as encouraged for Earth Day instead of throwing everywhere like the normal practice.
Was really really happy to finish this run despite all the odds and I got a personal best timing as well, shaving about 15 mins from the last half-marathon.
Timing is not everything. It made me realize how stubborn I am to insist on certain things, to complete it even if noone insists on it, just because I want.
Such a special run to look back and I have never done something like that before.
***
Looking so pale without sleep haha.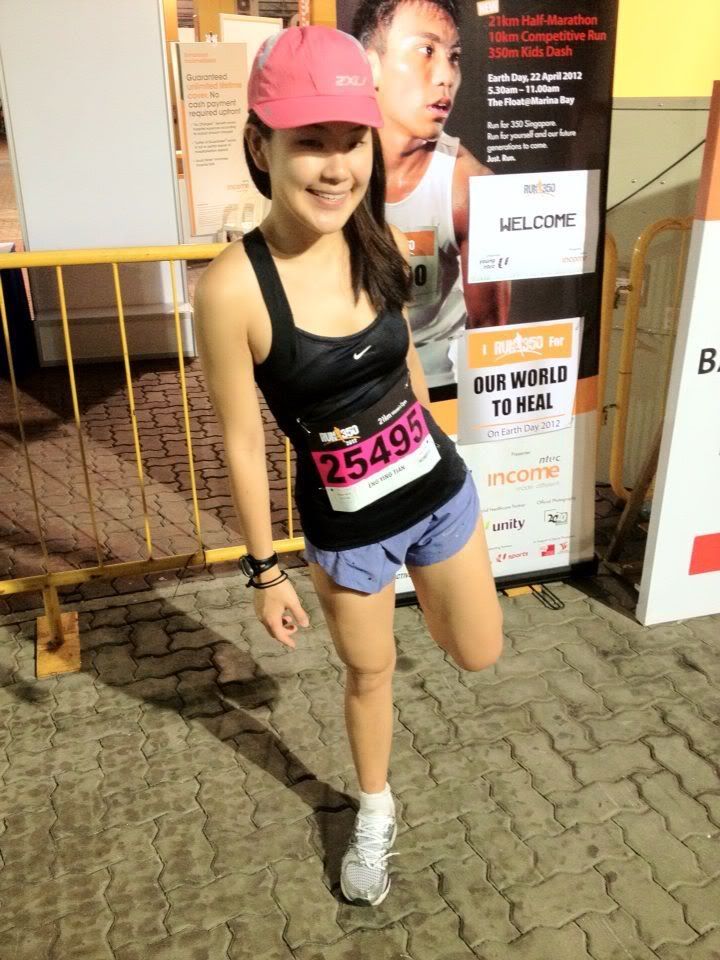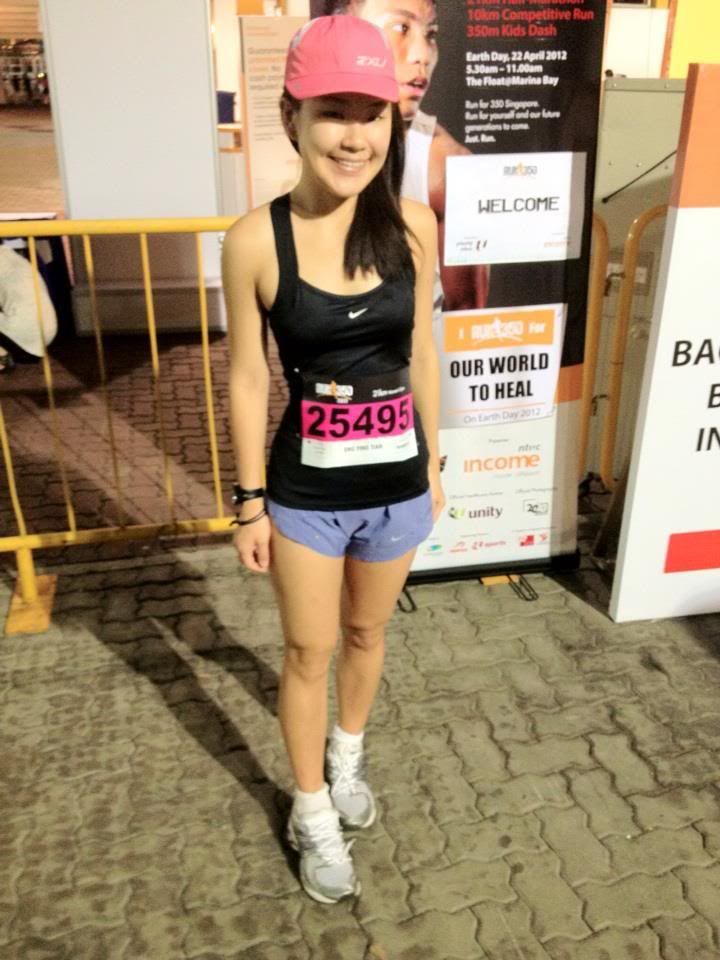 Finally completed my half!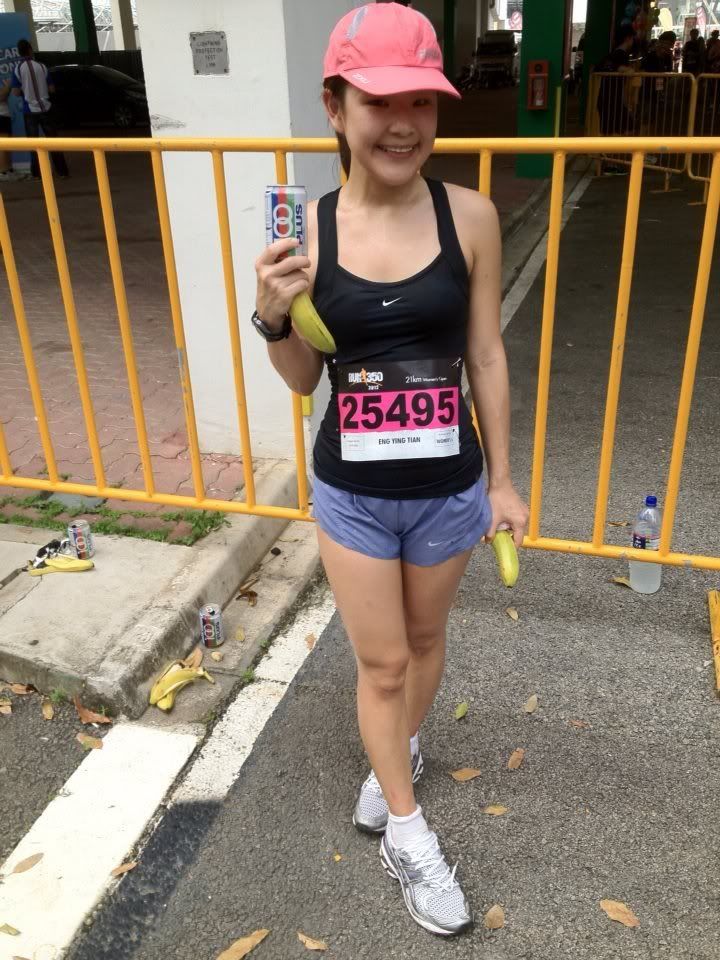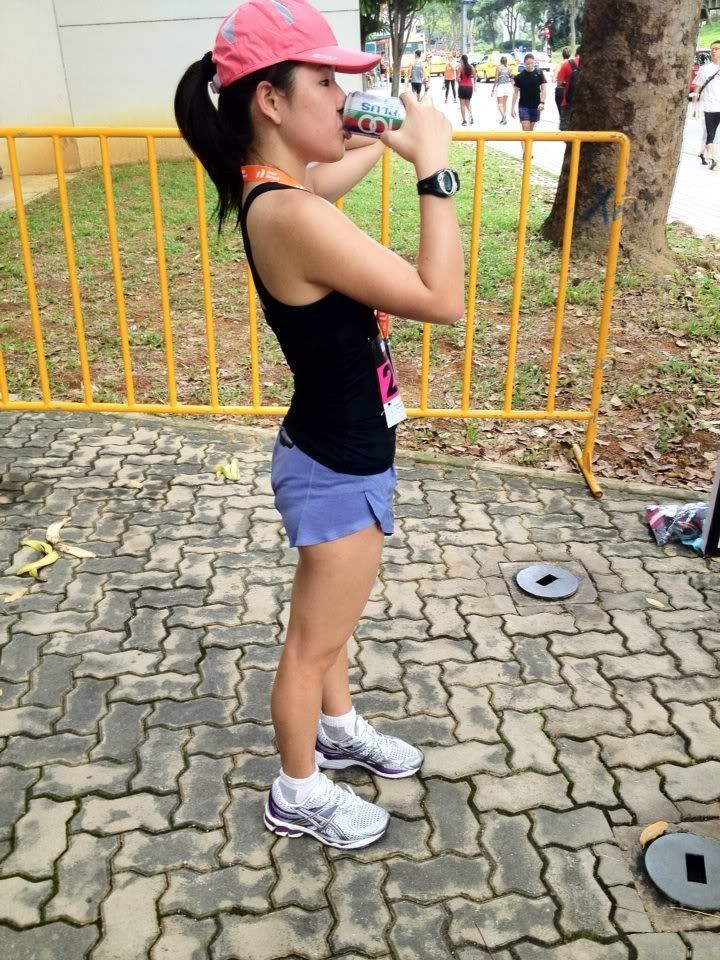 Final shot before leaving :)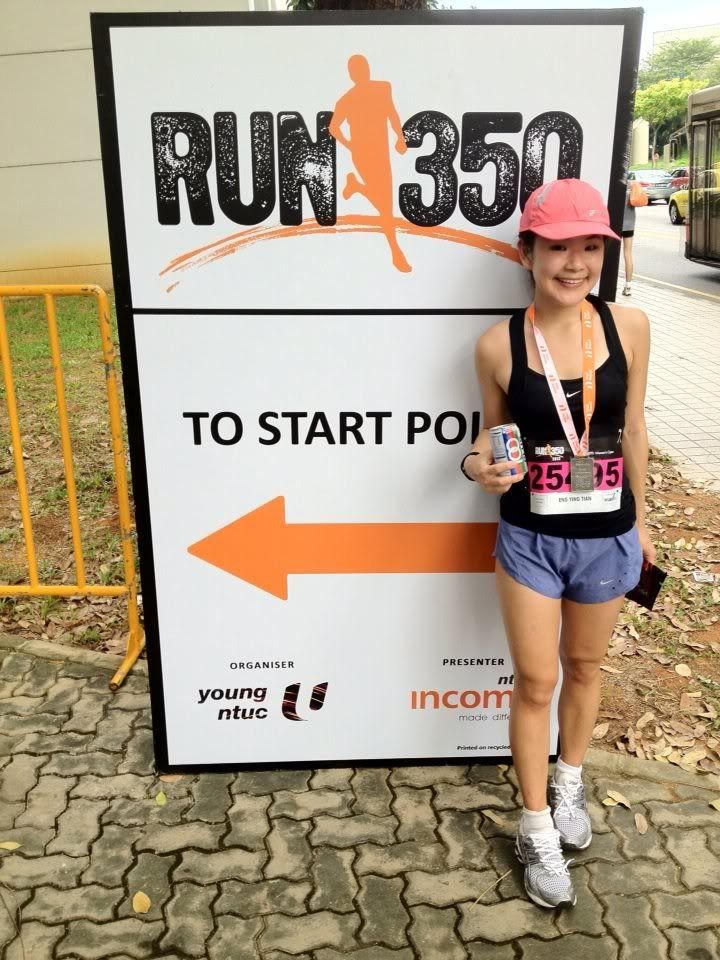 Finisher tee & medal for memories sake.
I really like the earth design, it's kinda special!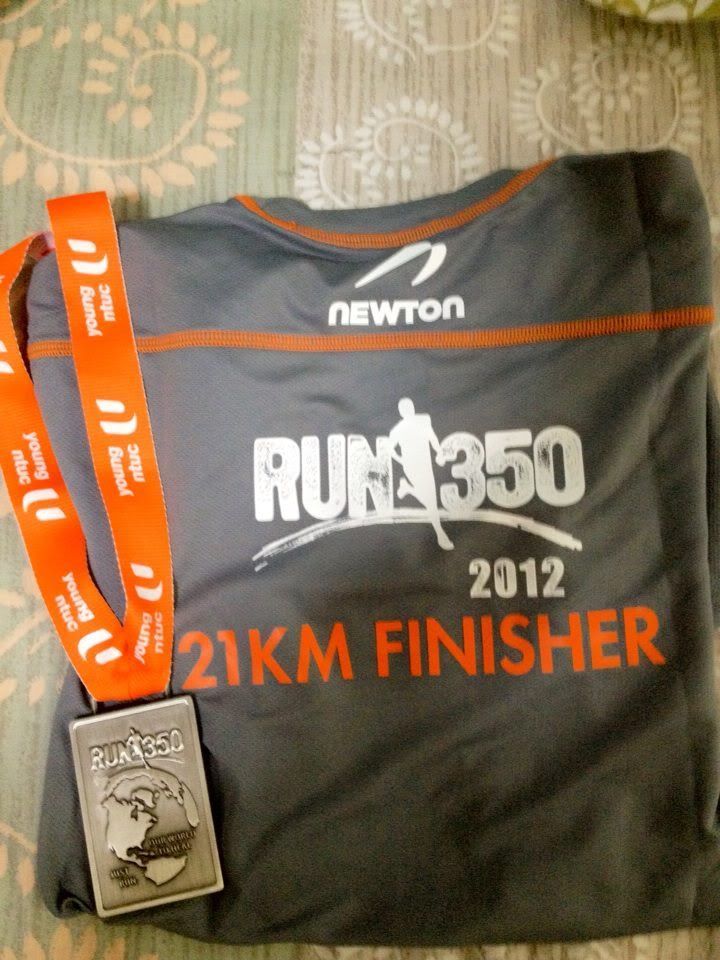 Thanks to TC as well for waiting once again for 2+ hours despite being tired and sick. :)
Till the next Sundown marathon! :)