Went for my first race in 2012 on Aprils Fool - 2XU Compression Run
Did the 12km 2XU run last year and I was really impressed with the wonderful logistics and smooth organising (very impt), quite a fan of 2XU apparels as well, so I decided to pre-joined it again this year round :)
For every run, waking up at 5-6am is always a challenge and even tougher than the run itself
Part of me would want to go back to sleep, but I'm glad I've not back out for the last 3 years, probably due to the money paid and the pride haha :)
TC went again with me despite the lack of sleep, thanks dear!

About 10,000 people joined this time, for both 10k & 15k category
It was really really hot when it started at 7.30am and it was a sea of black-blues
Crossed the finishing line with a satisfactory timing so I'm really glad to combat the mad hot sun!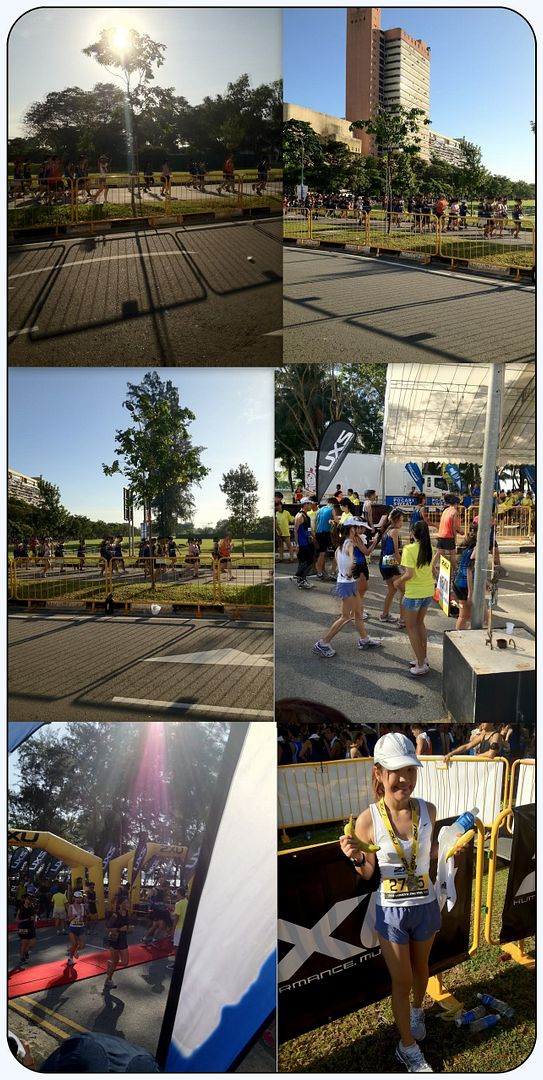 The 2xu medal this year :)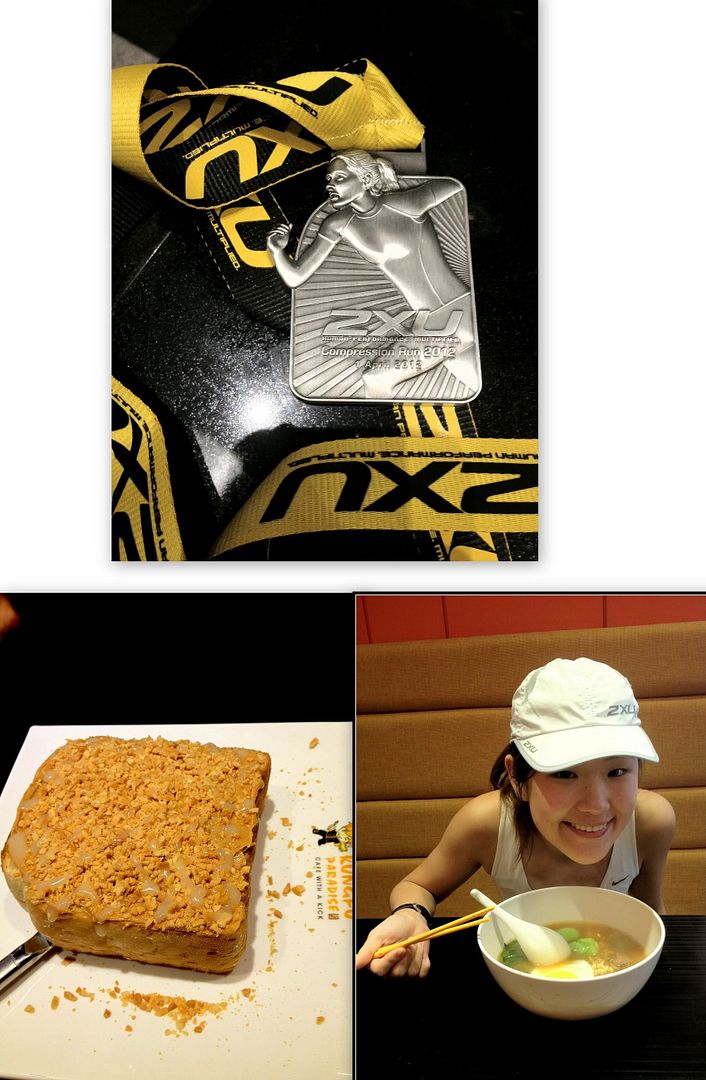 & its brunch time for us who are mad hungry!
Really appreciate how TC woke up so early, waited patiently, take pics, walk around and carried my bags without complaining for all my races. <3
During the last 2 full marathons, he waited patiently close to 6 hours under the sun which is really tougher than running, delivering me water during several checkpoints
Biggest supporter ever!
To me, every run is not the same which is why I'm so damn addicted
Each run IS an experience and even for the same route or distance, your body condition and mood that day differ and its all in the mind to push you through
I like training for them and even if after putting in effort and the race timing didn't meet my expectations, I will know what to improve on the next time round :)
Each run makes me learn something more about my body & the thoughts during the run are always different, and I like how you push yourself through the end, looking at the distance markers, finding water points to reach the destination
There will be slight thoughts on giving up or to just heck it and walk, but ultimately the mind will overcome these weaknesses hopefully
To me, that's probably the best thing about running, it trains the mind- I find that I overcome obstacles in life much better, without the fear or constant thought to quit.
Life is like running, you stop, you take breaks, you gain support from friends/family/ partner along the way, but you have to decide the way to proceed to reach the destination yourself without giving up.
Can't wait for the next run in 3 weeks time, its gonna be my second half-marathon! :D