I'm so glad its the weekends, weekends :)
Even with work tml, I'm fine, because I can finally take my slight break.
It has been quite a mad rush running around that I haven't been exercising much :(
Happy bday mummy - 14 April, i love you!
***
OFTD today -
Received the Swivelle Red blazer from a girl yest and I love it so! I have the nude and this is a refreshing colour from my usual nude/pink/black blazers :) Paired with a H&M floral top and crochet shorts for the weekends. Mad hot today, why so? :(
***
& because I love my friends so much, this entry will be up today, mad efficient!
Partly because photos have been uploaded from last night :)
OFTD
Finally wore this burnt orange jumpsuit bought from Val like a year ago. Bought it because I saw a girl in it at Tamp and she looks like a million bucks. Not very easy to wear on a daily basis so Friday its fine :)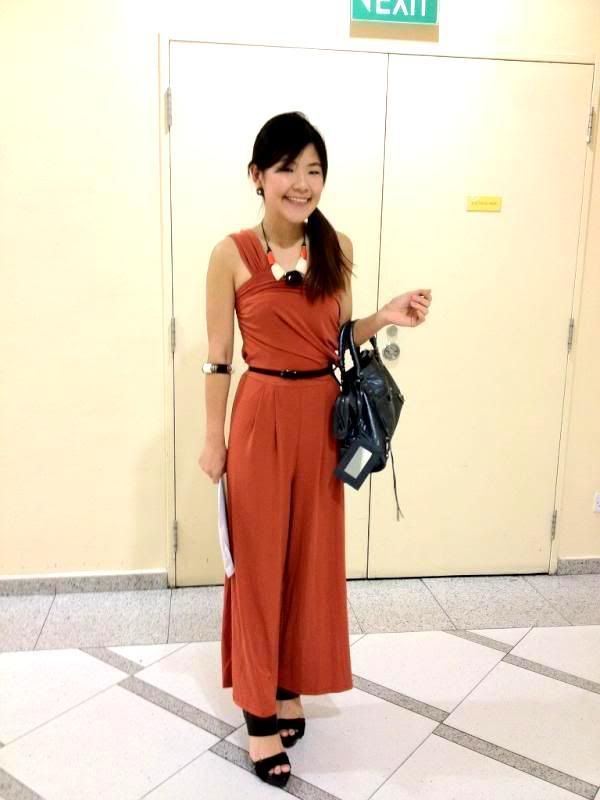 HVV Jumpsuit / Aldo Wedges / Bal City Bag / Diva Bangles & Necklace
Celebrated Shaun's bday once again with the girls yesterday.
Since JC, we have had this tradition of celebrating bdays beside the regular meetups. It has been 9 years and nothing seems to change. It seems like yesterday that we were cladded in our JC green uniforms, sitting at TMart for Mac breakie, hanging out during breaks and laughing at each other.
More CNY visiting and all to come buddies!
Here's a pic of our matching trendy HP in school hahaha :)
Had EWF at Orchard Central.
Frequented the Katong outlet pretty often and glad they had more outlets right now, with Bugis & OC right now, so convenient!
Love the fries and its quite price-friendly at $9.90 for the whole set meal.
Coincidentally

, we were given 26 Y tags, which was "26 Years Old!"
Our set meals, with additional nuggets! I ordered Pork Katsu with Garlic fries :P
And the Nutella cakes & Cheesecake came with candles whee!
HAPPY BDAY BUDDY!!!!
Presenting our presents awkwardly hahaha...
Here's our DIY card to recap our friendship journey from JC & NTUC vouchers to show Shaun's stage in life!
Uncle Shaun grows older again.
With the fav Scorpio girls, love our smiles & colours!!!!
Headed to KPO for drinks & here's us with our free icecream (courtesy from KPO!)
Mel looking so cute!
Love this pic of us, so carefree with the wind in our air!
Group pic to end the night - love love!
Cheers to our friendship, 9 years & counting :)
i'm so glad i outgrew certain stages in my life and they remain as gd memories, to welcome new chapters and stages in life, but one thing for sure, old friends remain. :)