Really in a happy mood typing this right now.
Today has been such an awesome day and I finally had some me-time.
I love spending time with my friends, family & TC but I do value personal time alone.
Finally able to take a breather and its amazing how one day leave makes such a big difference.
i will probably get bored if i have too long leave, since I like to be on the go all the time.
Finally able to wake up today without the need for an alarm clock nor any schedules
Not needing to follow any appointment timings checking if I'm late and following my iphone calender, just waking up and deciding what should i do next.
Dolled up, went to town without anything in mind, had my fav lunch, wandering into shops to try and buy clothes, then going for Bikram before heading home.
Actually I secretly like shopping alone and eating alone, just people-watching, though I'm no loner but quite hyperactive in fact. irony irony.
I wanted to catch a movie alone as well which I have not been doing for many years, but too bad there are no suitable timings for "Mirror Mirror"
Its really a carefree and awesome feeling, I need one day like that every month!
Casual #OFTD.
One of my fav floral dress from Topshop that I have worn the most, because I like how vibrant it is and easy to don on :)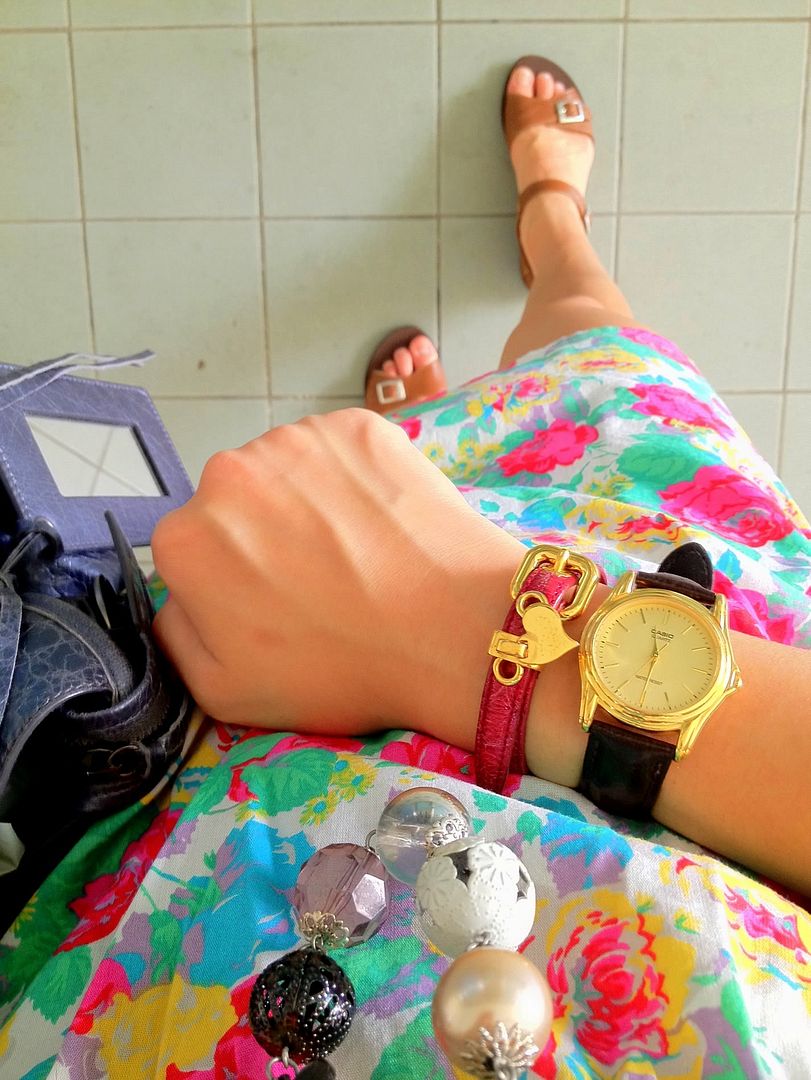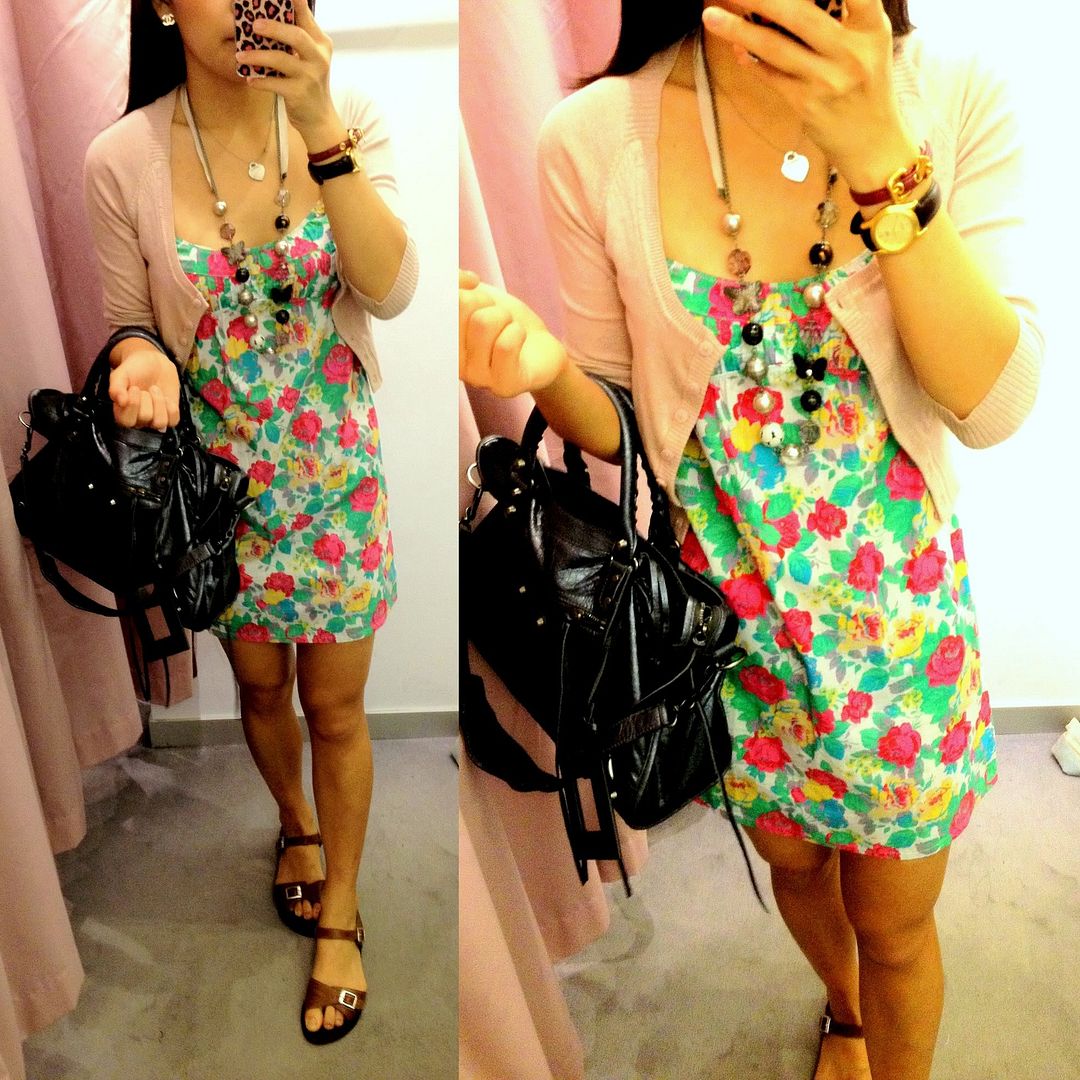 Topshop dress / Newlook Necklace / ASOS sandals / Casio Watch / Miumiu bracelet
Yummy lunch @ Covelli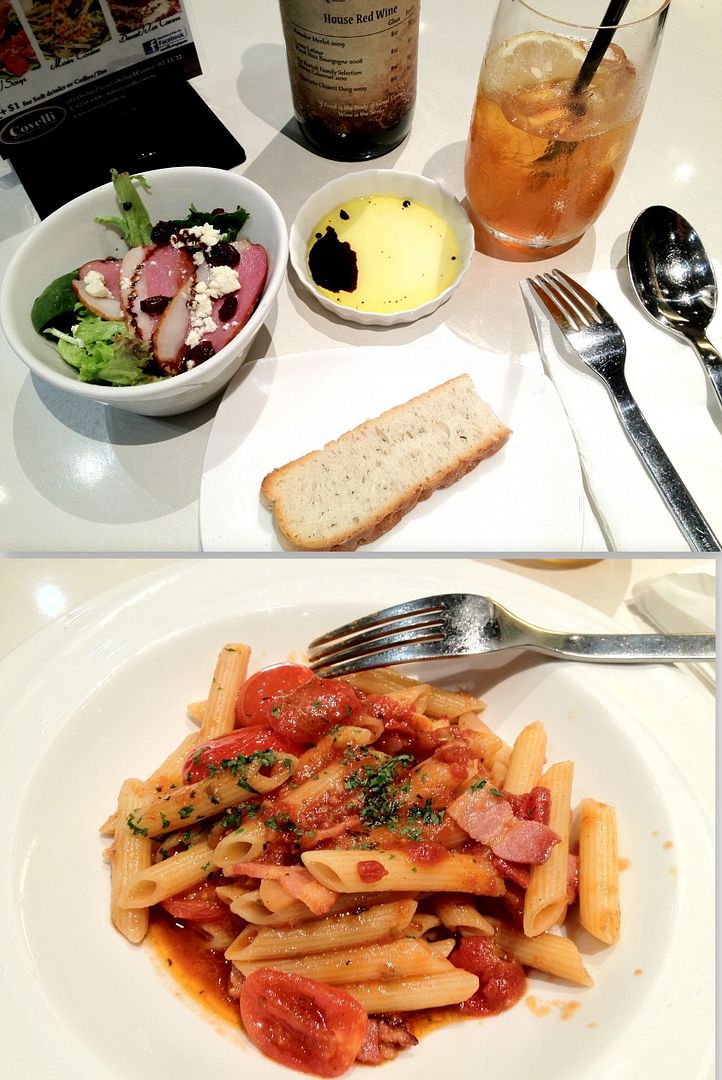 Was at H&M and I really like the Conscious Collection.
My fav section was the full white section!
Alot of white classy basics and White has always been one of my fav colours. I really like how the design, fabric and cutting work for each pieces and even a all-white outfit can look so classy and clean-cut :)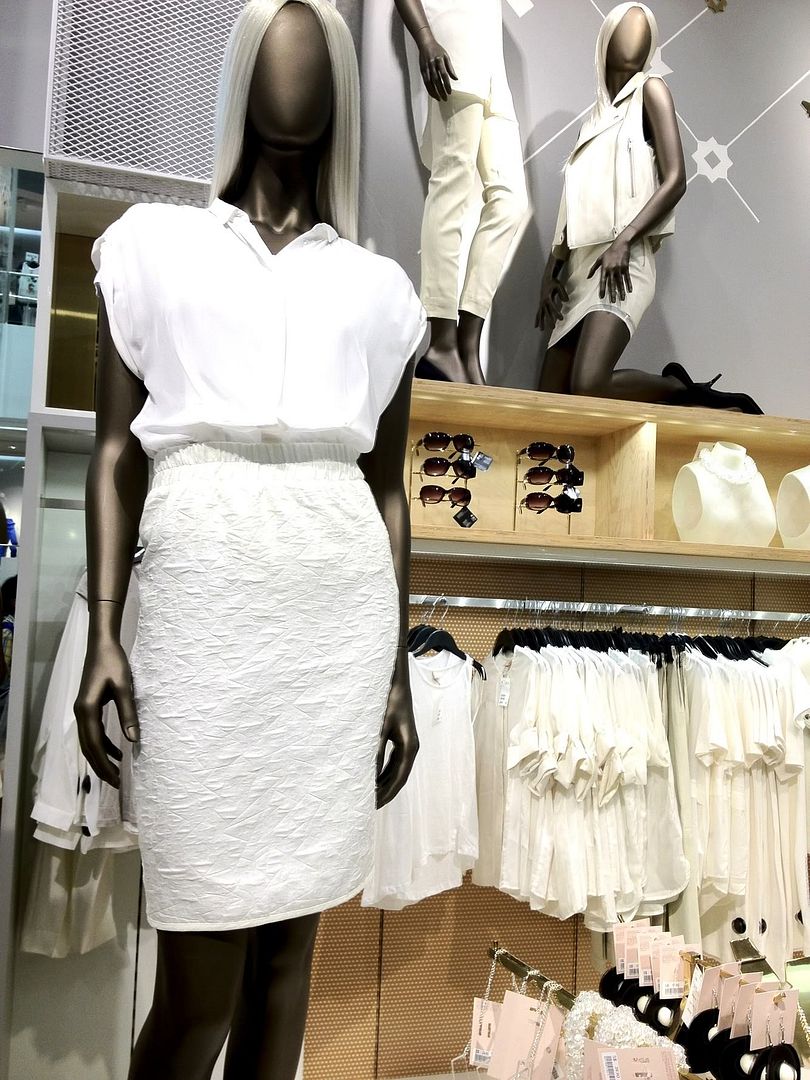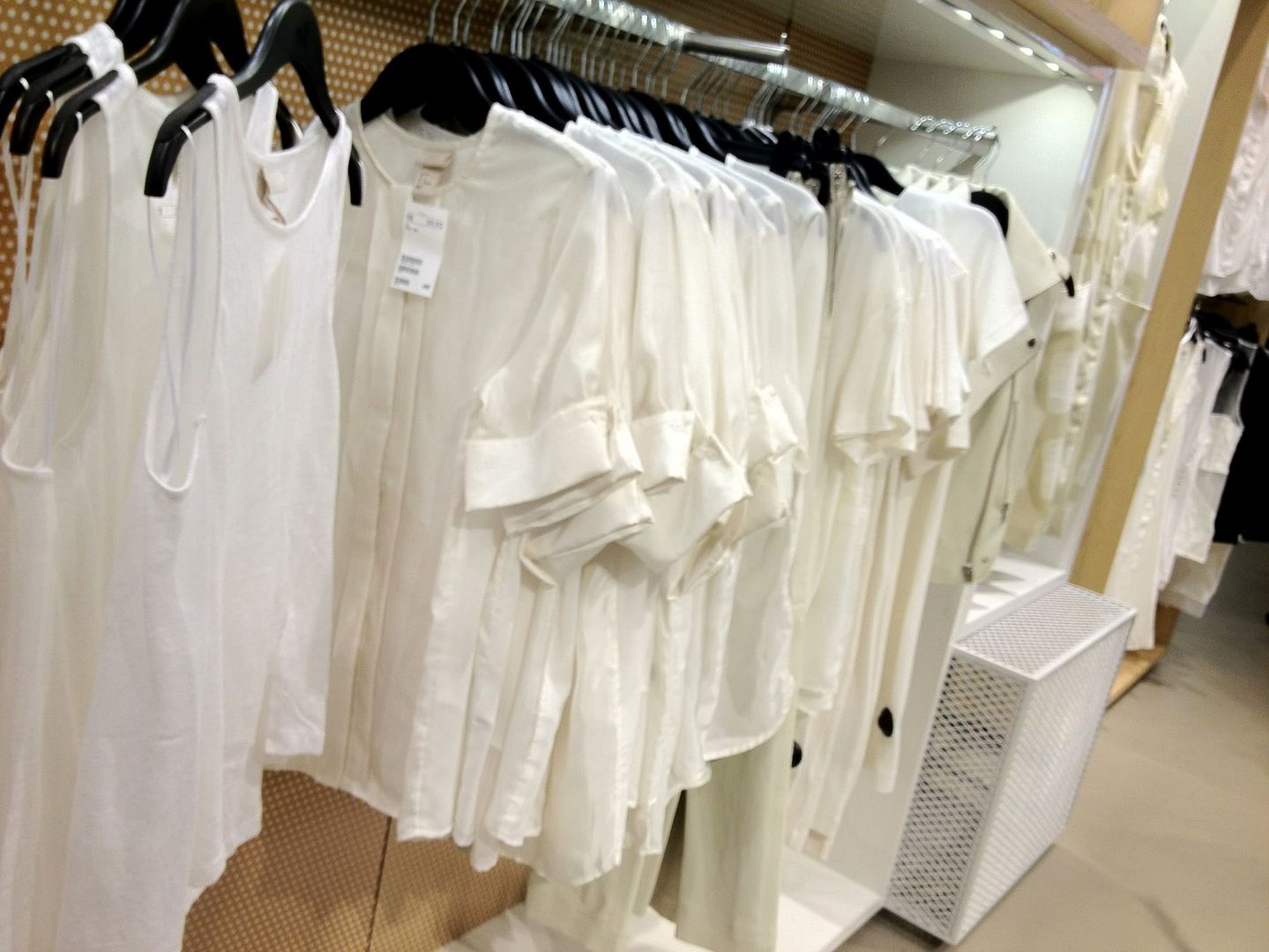 Window shopping at H&M, Topshop and Forever New.
The bustiers are really pretty but I didnt get any of those in the end except for the lace shirt. Been starting to get items not just because they look good, but something I can picture myself wearing frequently and years to come. /lesson-learnt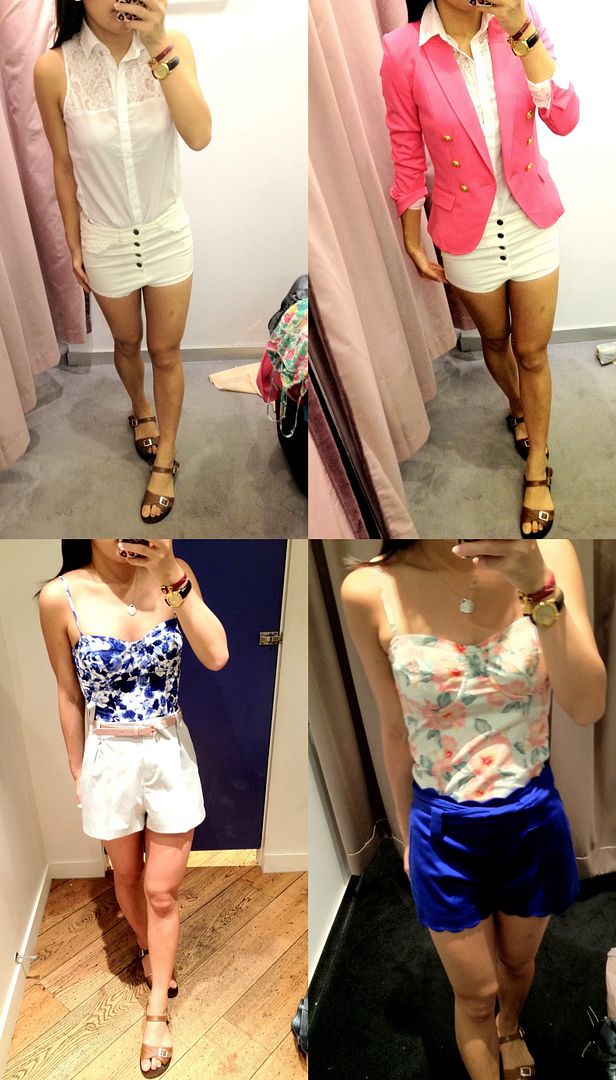 ***
I have known Kel since JC as we were both from Arts Fac. Being in different classes, we were not close but in recent years, we hung out quite alot as he was one of TC's best friends. She introduced us to Wes and I thought they were really compatible, both being equally petite, very fun-loving and had the same values.
During Oct last year, Wes secretly
showed us the ring he brought for Kel and we were really happy for him. Then, he proposed after that and we were really happy for our friends turned official couple.
I was one of her sisters for her big day, while TC was one of the brothers for Wes's big day.
It was really fun, doing the preparations with the other sisters to make sure Wes & his brothers go all out that day for Kel.
The sisters reached Kel's place at 5am for preparations!
We were all cladded in wine red!
The super cute nieces/nephews of Kel :)
Gorgeous Kel after the make-up & hair.
Absolutely loving her classy white gown and shimmery heels!
With the beautiful bride!
Okay, here's our evil preparations for the brothers.
We prepared
Wasabi peas + Wasabi paste,
Lime juice + Sour Plum and
Chocolate + Condensed milk etc, together with love poems, dance and songs items!
Here's big wax stripes that I cut for their legs lol.
The brothers then arrived in their

Hawaii

shirts and shorts!
Was really funny "torturing" them and extorting angbaos hahah.
Finally into the house and it was more sabo-ing including "kissing"
Then, they finally entered the room after all the 6 missions whee!
Me with my fav hawaii boy haha.
Brothers group pic!
The sisters, love the pics!
Here's my #OFTD for the gate-crashing!
Does the hat blend in well? :D
First time wearing these Newlook glittery heels, really bling in real life!
***
Solemnization
Held at Raffles Hotel and a out-door garden concept :)
It was the rose/maroon theme once again, as the sisters and brothers had to hold hands and dance in to Victoria Secrets fashion show song, before the couple arrives.
Was quite fun rehearsing and dancing again!
Can't wait to see the video where we all danced in seperately! :D
Our #OFTD that day for the night dinner.
In Smooch dress, love the assymetrical hems!
Light make-up that day with falsies!
G2000 suit / Topman shirt/ ??? Tie / Pedro shoes
With TC in his maroon shirt :D
Absolutely loving Kel's night gown as well, with the lace and all, super classy!
At the wedding reception helping out :)
Pics at the photobooth with the couple, love the funky pics!
Honestly, I did not really quite like the ballroom of Raffles Hotel and find it over-rated on the whole, with the low ceiling and yellow-ish decorations.
Would prefer Sheraton Hotel and Crowne Plaza and Hotel Intercontinental.
Service was not too good that day as well
As Wes is from Mauritius, all his relatives flew down and were really very friendly!
It was a multi-racial theme and with Mauritius dolls on each table.
Really an interesting wedding and Kel's relatives were cladded in Peranakan outfits!
***
Here's wishing my dear friends - Kel & Wes a happy marriage and loads of happiness and love as well.
Will miss them as they will be flying over permanently to the States to settle down, but I'm really really happy for their true love.
Congratulations once again.
***
Will be reviewing alot of items in the next post after collecting ASOS tml!