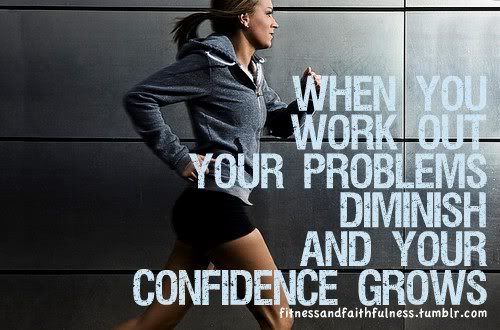 I have been wanting to dedicate a blogpost to running for ages, a subject that I'm enthusiastic about (still less than shopping though).
I have gotten emails on where I get my energy, how I train, why I pick it up, so this post will help to recap and summarize my running journey, as well as some of my thoughts.
It's mind over body really, and its by chance I picked it up.
Its my 17th running event since 2009 and how time flies!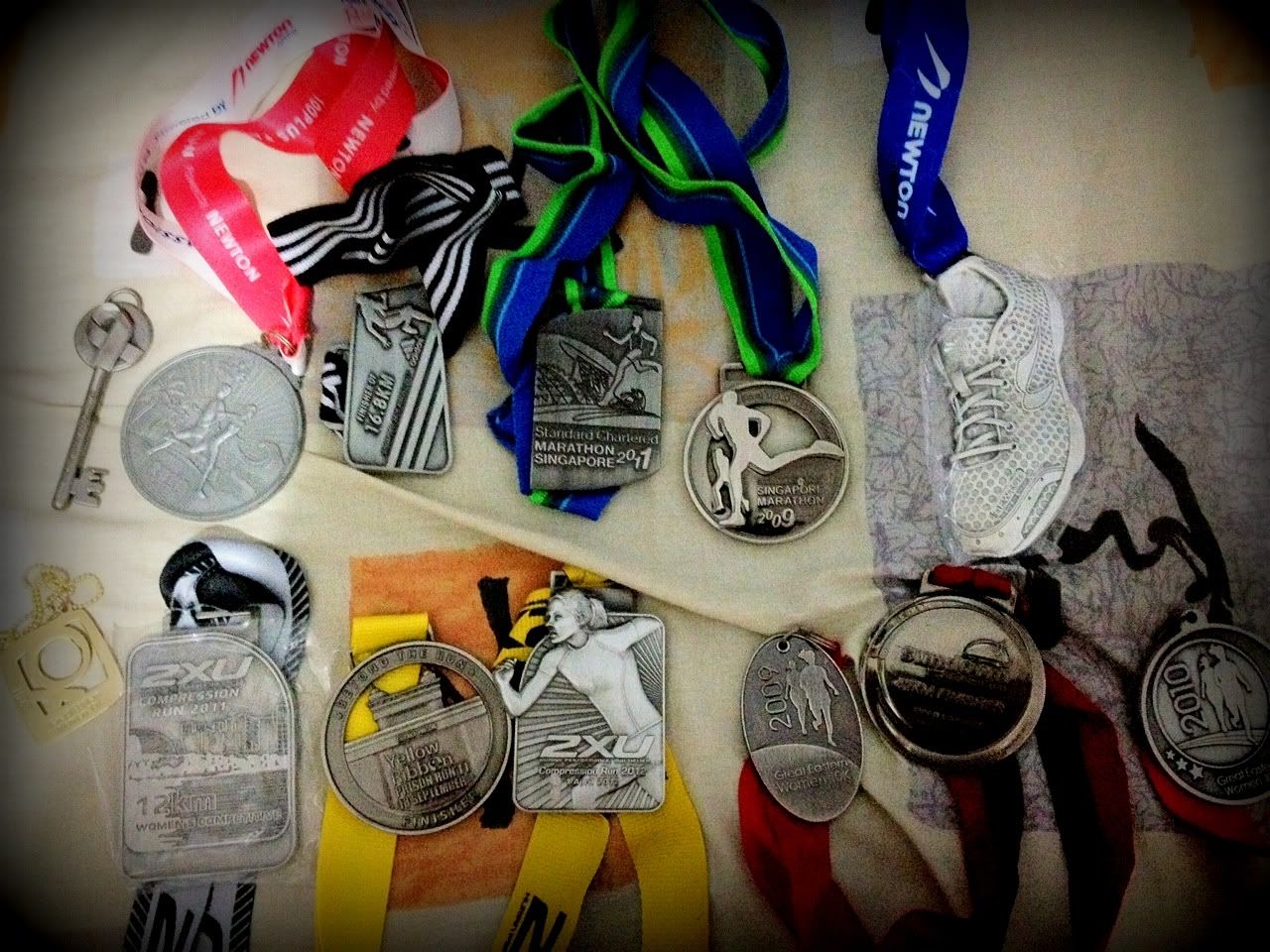 I was part of the netball team during my JC days and ran alot. However, I stopped after graduation and lost touch with exercising and running. Those were the days where we ran up to 5km x3 times a week during training under the hot scotching sun. By chance, I signed up for a gym membership at Planet Fitness (now known as True Fitness) in 2009 at $99/- (student price). Somehow or rather, I quite like it and proceeded to renew for another 1 year. Cal lent me his credit card since I was still studying and I paid him back in instalments. I would visit the gym after school for Body Pump, Body Balance, Body Combat lessons and go for the occasional runs on the treadmills. That was the first step to regaining my fitness back.
***2009***
In 2009, I took part in my first running race, Shape Run 2009 (10k) with Grace. She informed me that the goodie bag was $30 and if I wanted to join with her. It was a good deal so I agreed out of impulse even though 10km sounded really intimidating as compared to the 2.4km that I dread in school.
I started training for my first 10km and ran up to 5km to see how it was like. Surprisingly, I finished well and got a timing of
1 hr 6 mins
for my first race. I didn't stop at all except for the water points and that spurred me on to my second race.
After which, I proceeded to join Great Eastern Run 09 and did my second 10km.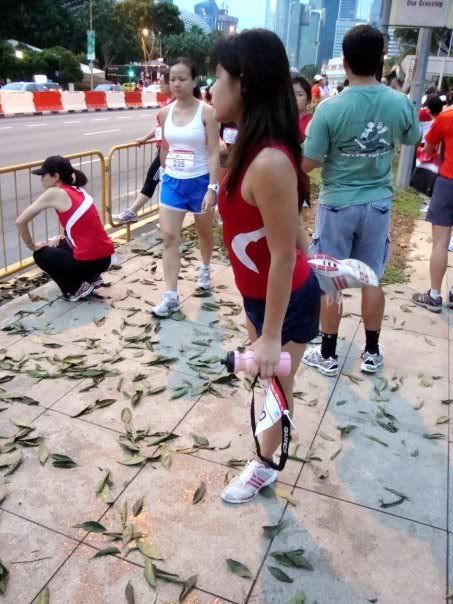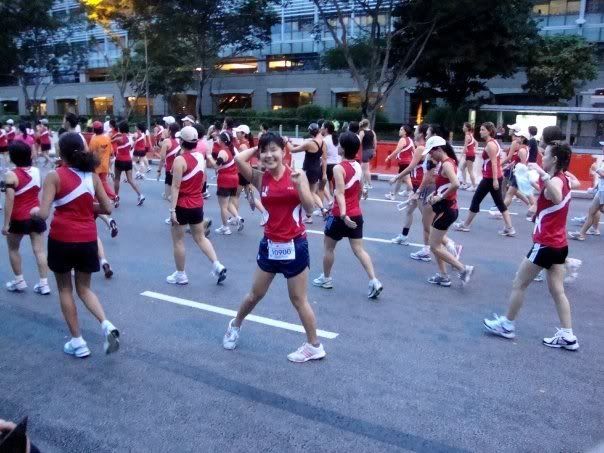 It was bearable and so I signed up for the Standard Chartered 09 half marathon (21.1km) for my third races. The thing about me was that I do things impulsively and according to gut feel. I was already together with TC at that time and he was a experienced marathoner and ironman triathlete who spurred me to attempt a half-marathon.
I thought to myself that since the price difference was just $3 for the 10km and 21km, I will attempt and at most walk half of the distance. Then, I started to run on the treadmill after work up to 10km 3 times a week.
However on the actual race day, I got severe bad women cramps. I still decided to turn up for the race for my first half-marathon and jogged throughout, finishing in 2 hrs 37 mins that day. Not too bad for my half-marathon and part of the reason was that TC did the full marathon that day and I was too anxious about catching up with him on time since I do not have a mobile phone with me.
It was my first SCM race and being the official marathon of the year, I knew it was not my last.
After the half-marathon, the rest is history. I regained my confidence and officially fell in love with running.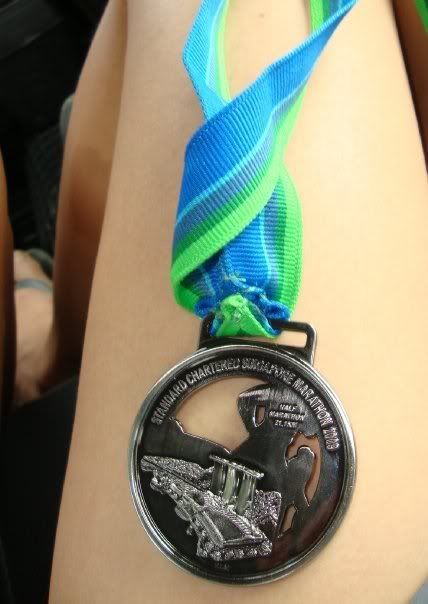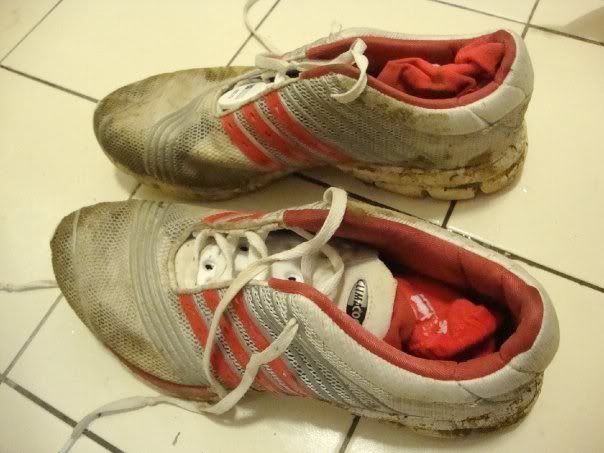 ***2010***
In 2010, I convinced TC to join the Passion Run Duo (50km), thinking it was romantic to be clad in couple yellow tees running as a team. The race was at ECP and each of us had to complete 25km each. We did so hand-in-hand though he was extremely bored with my pace but still followed me. He was supportive and so, we finished the 25km alternating between walking and running which was my longest distance at that point in time. It was also our first race together.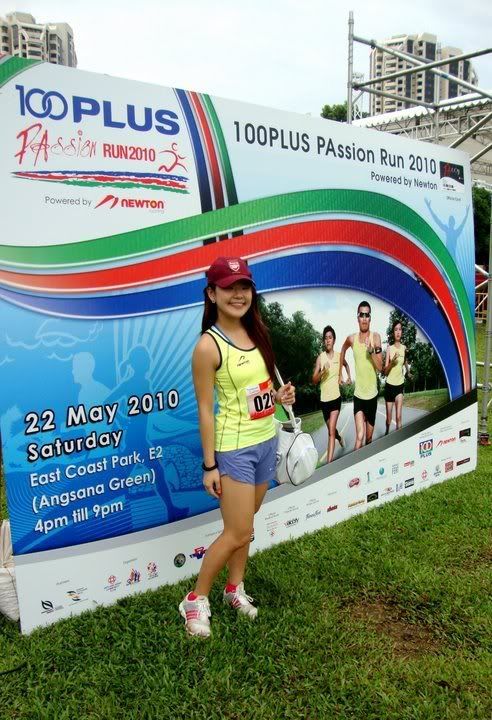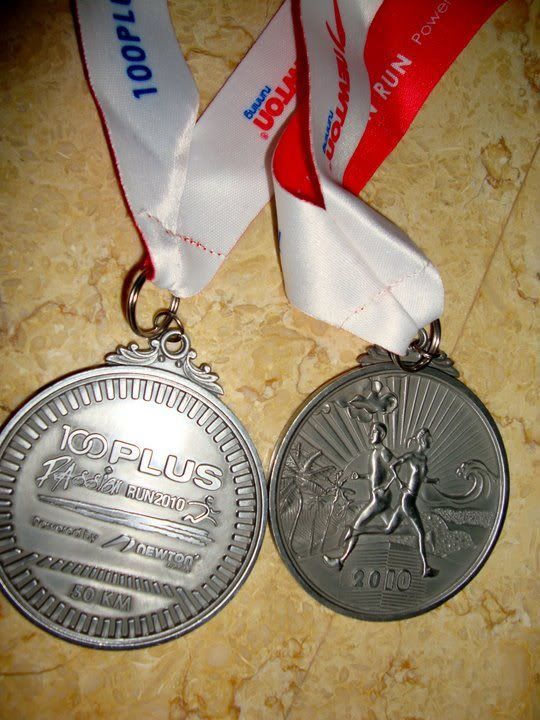 Afterwhich, I did my first Yellow Ribbon Run 2010 which was for a good cause. It poured heavily that day and became my first run in the wet rain. Such a different experience and that's what I like about running, every race is different and I learnt something new about myself. I wore a raincoat throughout the first 5km but there were still rainwater coming into my eyes. I finished 1 hr 8 mins that day looking really unglam. Nonetheless, it was really memorable as TC "ran" with me in his slippers though he was a supporter that day as there was no bus service from Changi to Changi Prison. I felt really loved that day seeing him running at the walking lane in his slippers and trying to take pics of me. We were both soaked and my camera went crazy with the foggy lens.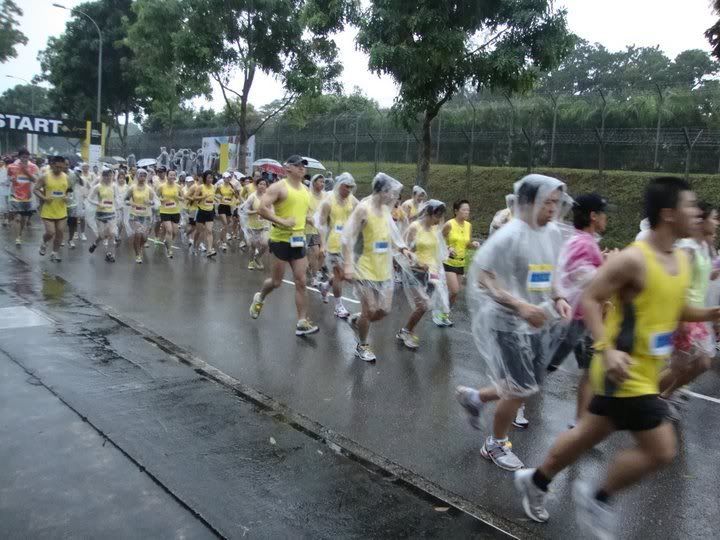 (this passerby asked to take of us coz it was a funny sight)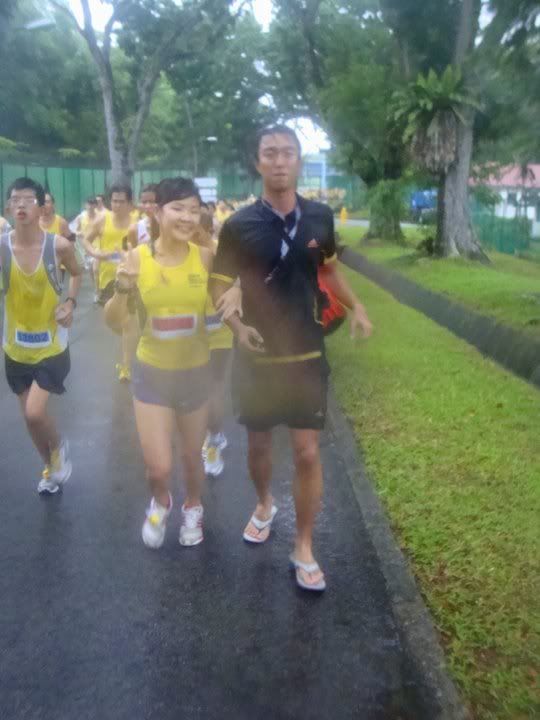 This was at my second Great Eastern Run and I looked slimmer than before!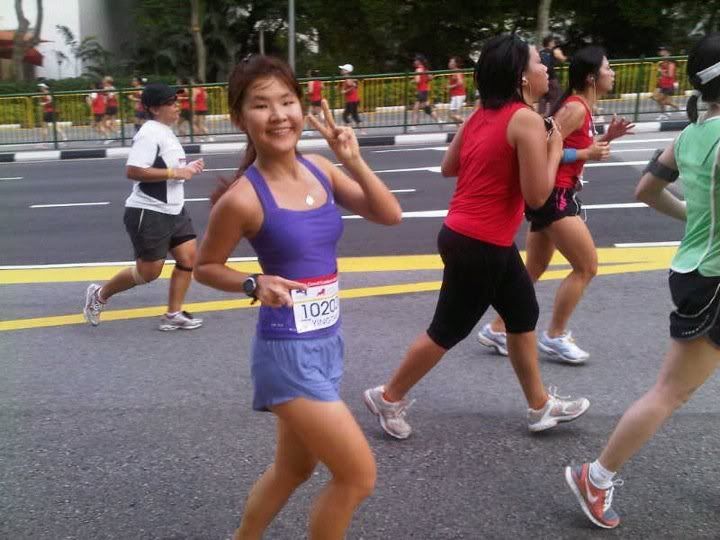 After another Great Eastern 10k, I finally puckered my courage to sign up for my first full marathon in 2010 - Standard Chartered Marathon. It wasn't easy but I was curious to know how painful it was like running the distance and TC was as usual egging me to doso. It was really intimidating just seeing the numbers "42.195" which I have always admired runners who have finished their full marathons. To encourage me, TC did the race with me and sacrificed his own timing.
This time round, I put in more effort in the training, running outdoors with the longest distance being 18km. On the actual race day, I took it slow and steady, using the strategy fof walking-running after 21km. TC was mad encouraging in the journey and was my faithful companion Cityhall to Kallang to Clarke Quay to ECP and finally back to Cityhall. It was such an experience and life-changing experience despite the timing of 6 hr 24 mins. I was mad proud of myself and that was one of my milestone in my life to finish a full marathon. Nothing is impossible since this was never among my "achievable goals" and have not crossed my mind before. At that point, I felt that I could do anything in life and its all in the mind really. Nothing could get in my way at all.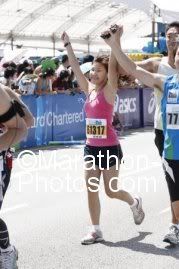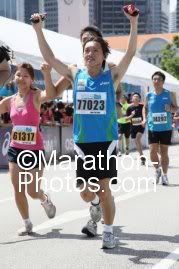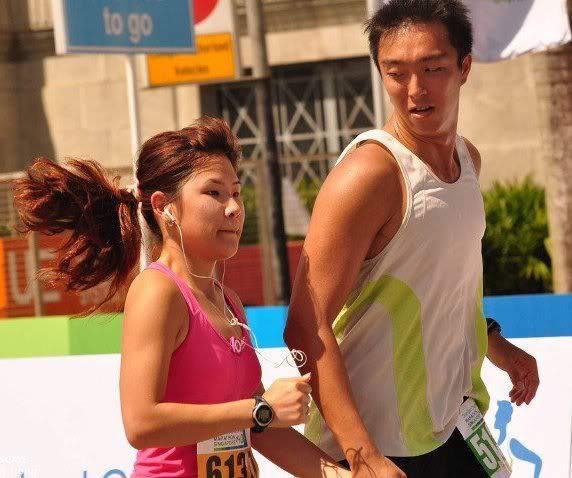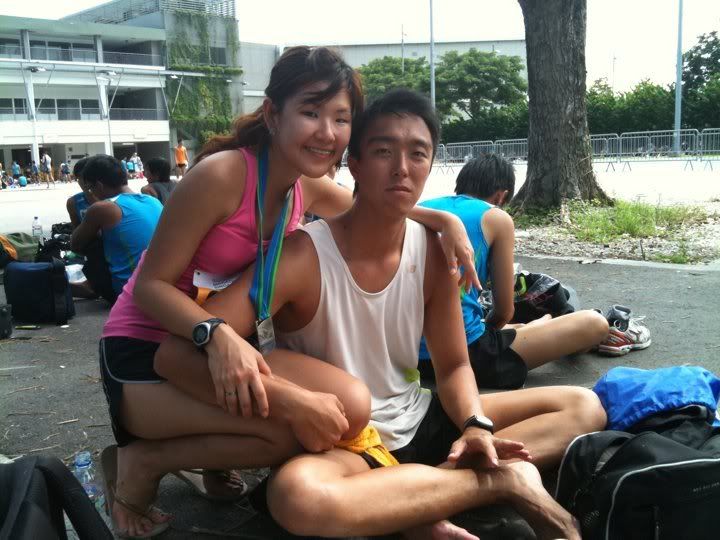 ***2011***
In 2011, I went on a running-high, being crazy and went for 7 races straight. First up was 2XU Compression Run (12km) which I ran at my fastest constant pace ever.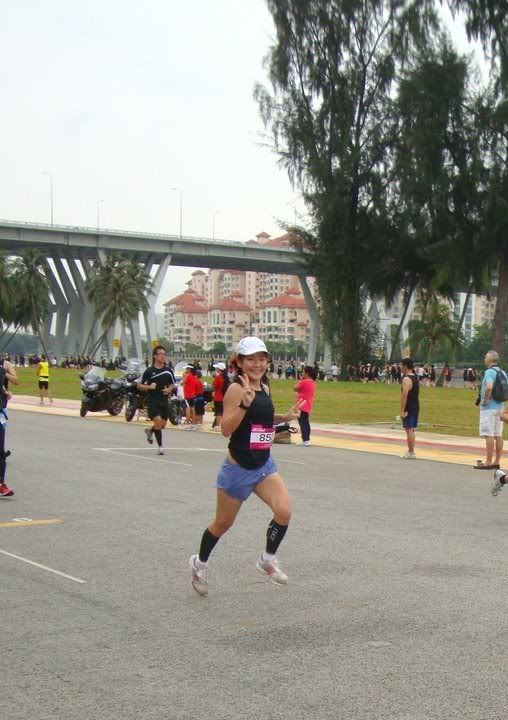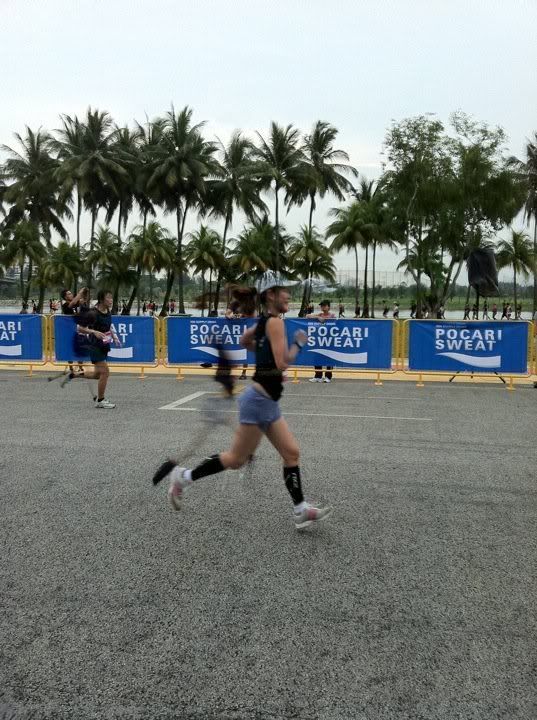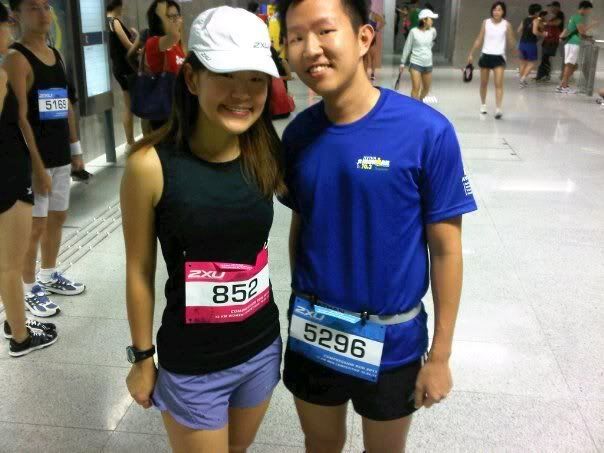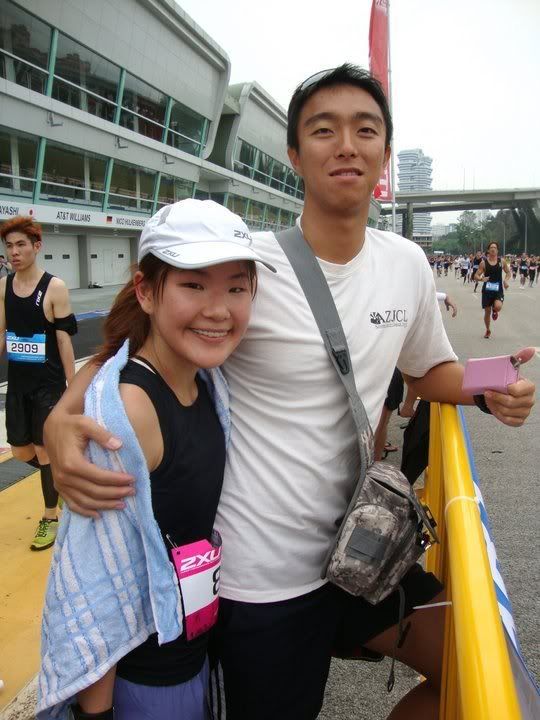 Next up was my second full marathon - Sundown (42.2km), this time alone. After my first full marathon last year, I decided to venture into my first Sundown. Running at night at 11pm is such a challenge, not to mention the super long distance. I decided to do it on my own and all by myself.
It was late at night and I got tired at 2-3am but decided to continue going on. My bed was basically my motivation that day. TC was extremely sweet to cycle for 5+ hours to wait for me at the clocking points since he was worried that I may not make it. It was glad to finish it in 5 hr 45mins, which is 45 mins off my previous SCM marathon. Weather plays a part and it was an extremely cooling night. Dad picked us up at 4-5am and I'm really blessed with these two wonderful men beside me.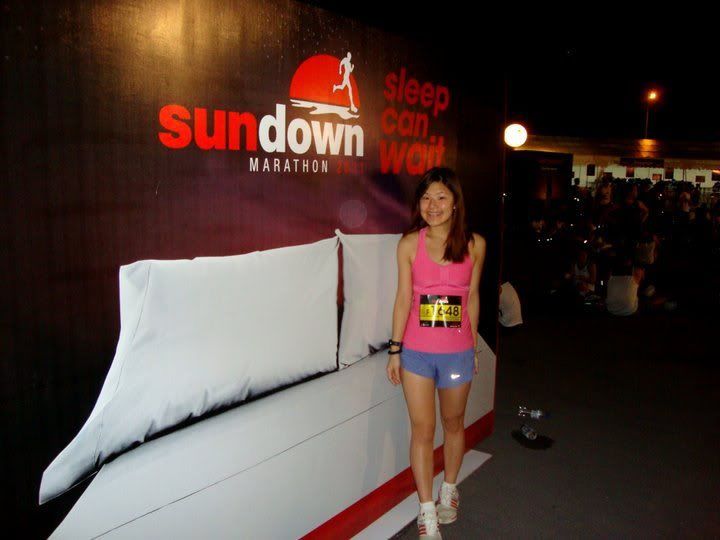 (Sundown - with the pillow before the race; half-way through the journey)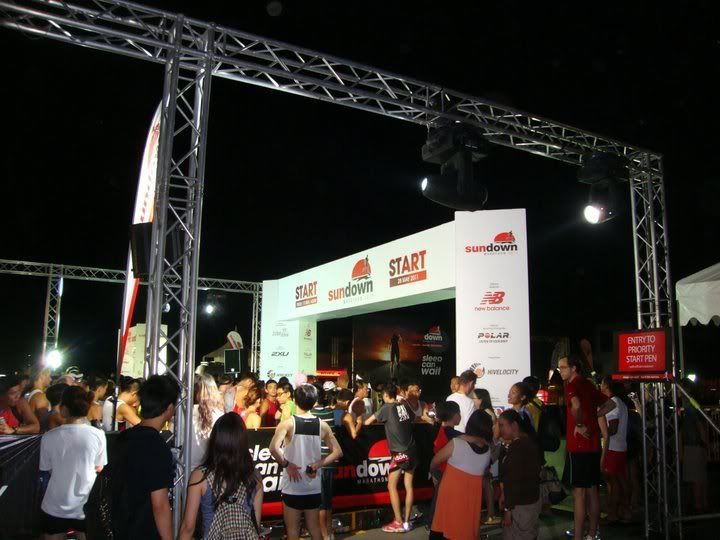 (Sundown - finally finished beside a guy at finishing point who waved armpits hahah)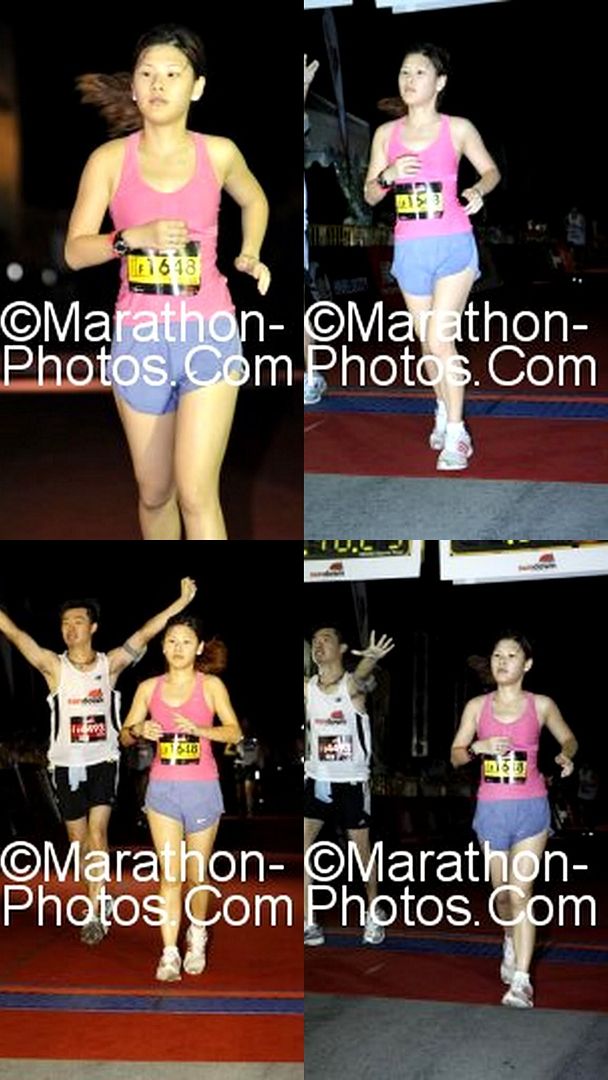 Afterwhich, I did the
Great Eastern 10km, Adidas 16.8 KOTR Race, Yellow Ribbon 10km and Newton Run 30km.
It was like a race every 2 months and having targets like that kept me going so I do not slacken in my trainings too much. Each race was an experience and I discovered more things about myself.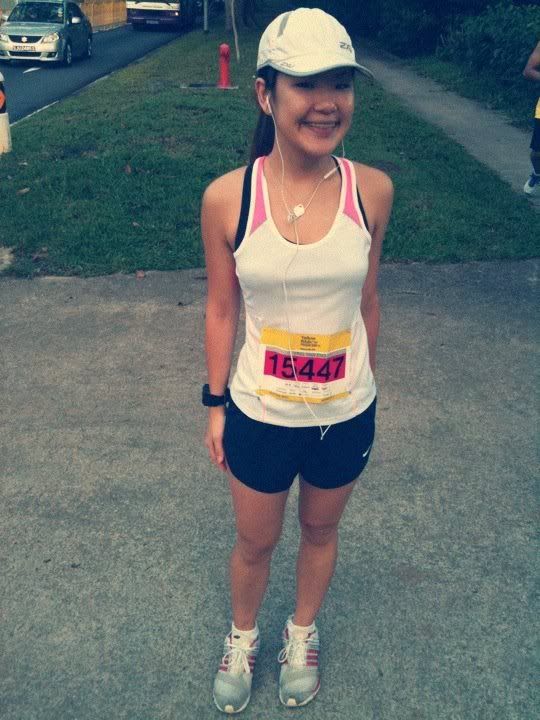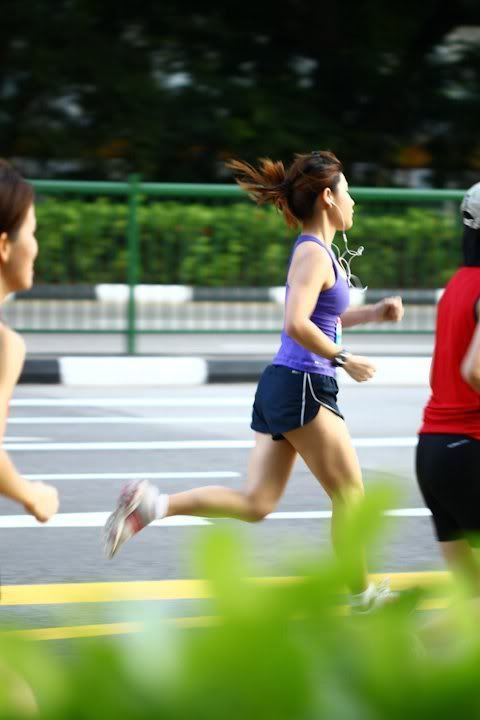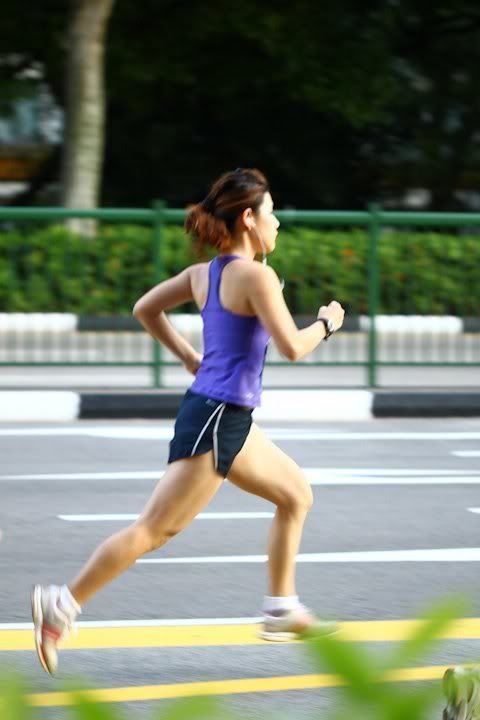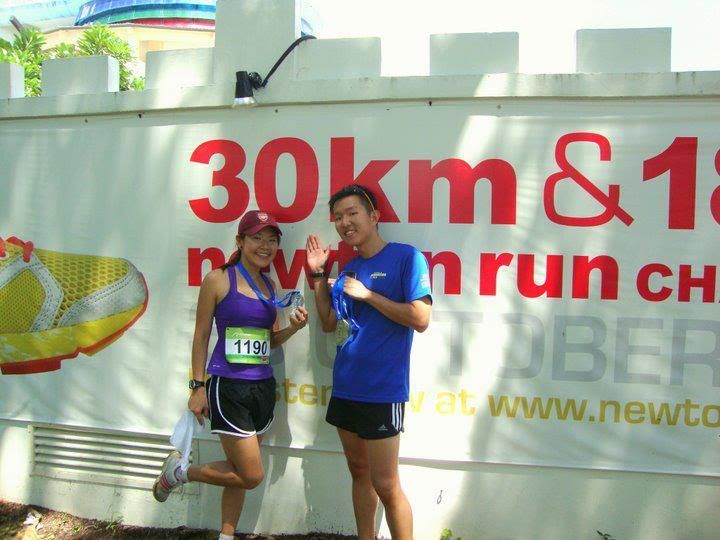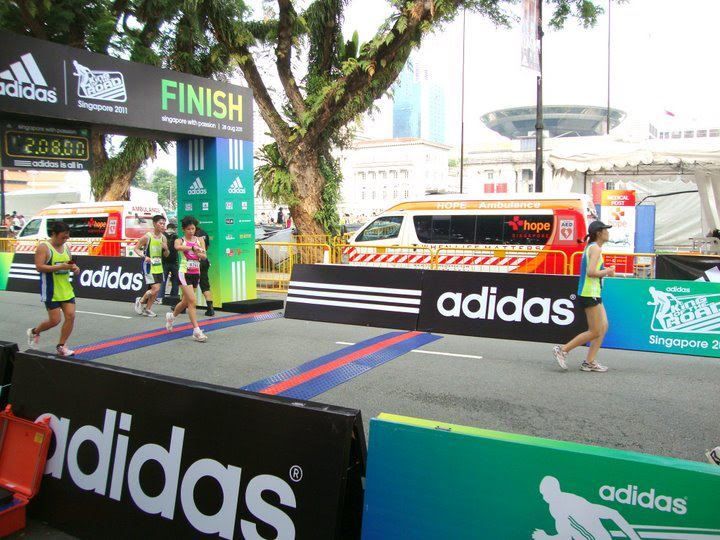 I attempted the Standard Chartered 42.2km again, being my 3rd full marathon and all by myself this time. It was tougher than I thought as the sun got to me despite my cap, especially at 30km mark. It could have killed my passion for running all in one morning. Also, it didn't help that I was experiencing cramps once again.
The route started at Orchard Road which was exciting being surrounded by my favourite stores. After arriving at Keppel Rd, it got challenging with the numerous slopes and curves, which made me feel like giving up. Not to mention the Benjamin Shears Bridge which I almost died and the hot sun that almost dehydrated me. Every km felt never ending and I kept questioning myself non-stop on why I was running that distance and when I could see the finishing line. There were lots of demons in my mind and I was glad to toe the finishing line in 6 hr 4 mins all by myself. It was a 30 mins improvement from last year SCM but a deprovement from the Sundown. It wasn't the timing that made me happy, but how I could complete another the third time in such the weather.
The finisher tee & medal didn't come easy but it was definitely one of my most memorable race so far.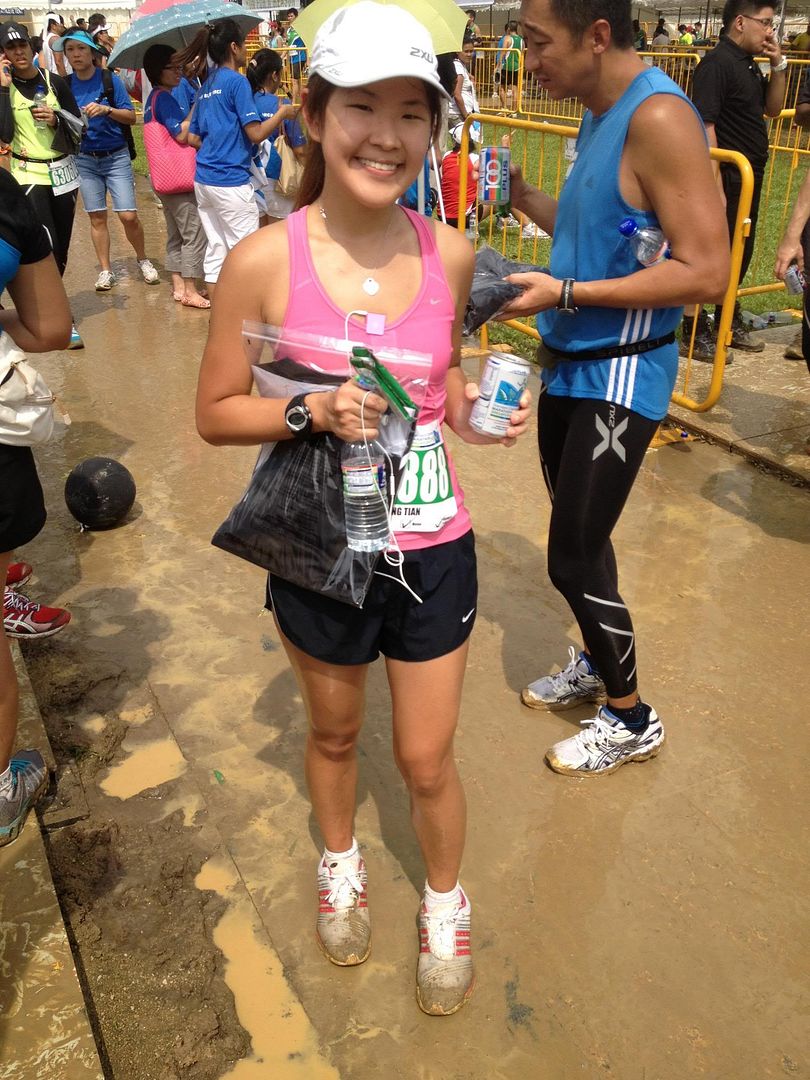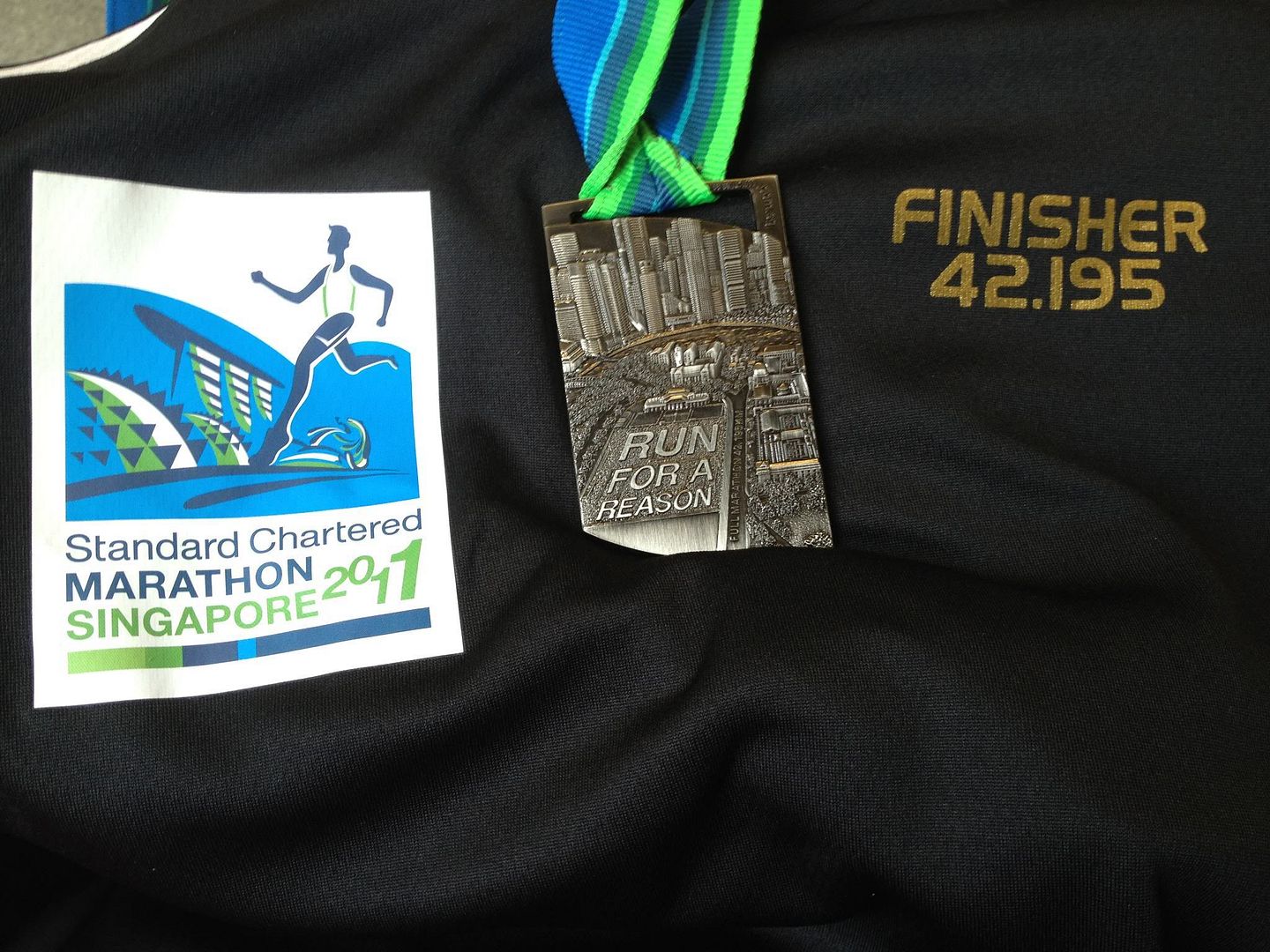 Okay, so this is the end of my long-winded story *finally!*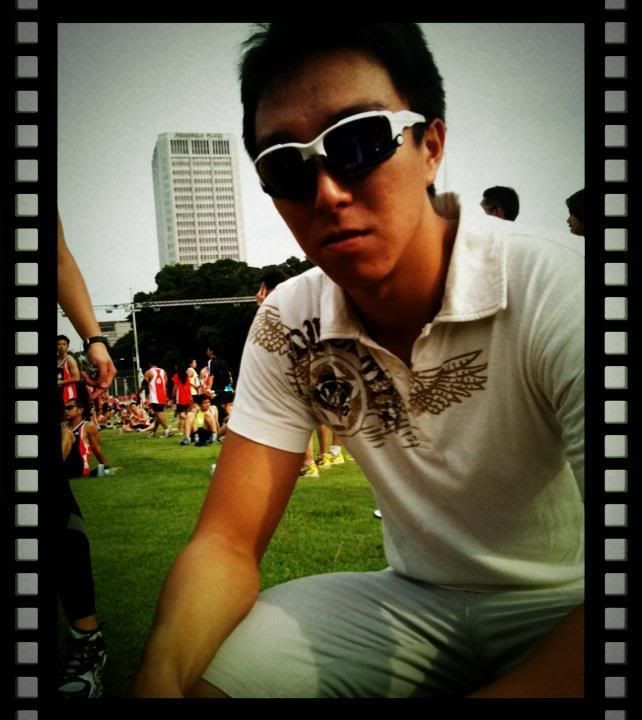 PS/ Thank you baby for being there for all my races early in the morning without complaining, waiting up to 6 hours under the sun, carrying my bags (so i do not need to deposit any), taking pics for me, making sure I am hydrated and telling me how proud he is of me despite my timing & always treating me to breakfast after that. Thank you for being my mentor with your never-ending encouragement.
Everytime before such a race, I would contemplate to head back to sleep or worry about how the race would be like with butterflies in my stomach. This year, I joined
2XU Compression Run (15k), upcoming Run 350 Half-marathon, Sundown Full marathon, Shape Run 10k and Great Eastern Half Marathon
. Feeling excited for my 2nd Sundown marathon, hopefully it will turn out well.
Like what I mentioned earlier, running made me a stronger person, not just physically but mentally. It helped me feel better when I was down and it tided me through my break-up periods and down moments which I do not have to share with anyone or fear any judgement. Its just you, yourself and you. I do not give up so easily and have learnt to be more optimistic in life. In any path or journey we take, we can do short-cuts but ultimately we will have to figure the way to reach the destination. Which is why crossing the FINISHING LINE for all the past races could made me happy the entire week because they don't come easy, the journey and process are really worth fighting for, at least for me. Its like success in life, it takes alot of effort and work, but worth it at the end issn't it?
For weight wise, I think I look toner than before, though I was initially fretting on why the numbers on the scale do not drop. I felt more confident and beautiful from within and even my skin looks so much better now. Even with the increase in weight, that's muscle mass because I fit into my clothes much better. And that to me is enough.
This is probably why I am so addicted to running and it is a never ending cycle. Once you complete one and at the top of the world after toeing the finishing line, you will anticipate another. I do not know when I will stop, maybe soon or maybe not so soon. I will just enjoy the process along the way.
As for training, it takes determination and time management. I have a tight work schedule, so I tend to book days in advance for running or gymming. Usually, I try to run twice a week minimum, 5km-10km each time. When I was still working in town, I would travel to my nearest gym outlet just to run on the treadmill since it would be late by the time I reach home. It was good for interval trainings but it became very monotonous after awhile. I was glad to resume my outdoor running after a job switch and it became more exciting. I did my own running routes, listening to music, feeling the fresh air and exploring the neighbourhood on my own. Of course, there's the weather to consider and I had to change it to gym/yoga workouts last minute. Sometimes, I would stop my regime due to laziness or dinner dates. Ultimately, I went back to running as there's nothing compared to the feeling of sweating and running with freedom. It takes more determination and self discipline than I thought to follow my exercise schedule which I'm still trying to improve on.
I started meeting new friends from the running community who are more into than I do and their words and attitude spur me on. They are experienced and really fast as well, fishing out useful advice which can be really inspirational. During races when I see senior citizens running, it motivates me to continue and I really respect their sheer determination.
Earlier this year, I ran together with E and her running group for a 12k CNY run around Hort Park area in Jan at 6.30am. I am usually shy but the ran turned out to be really fun!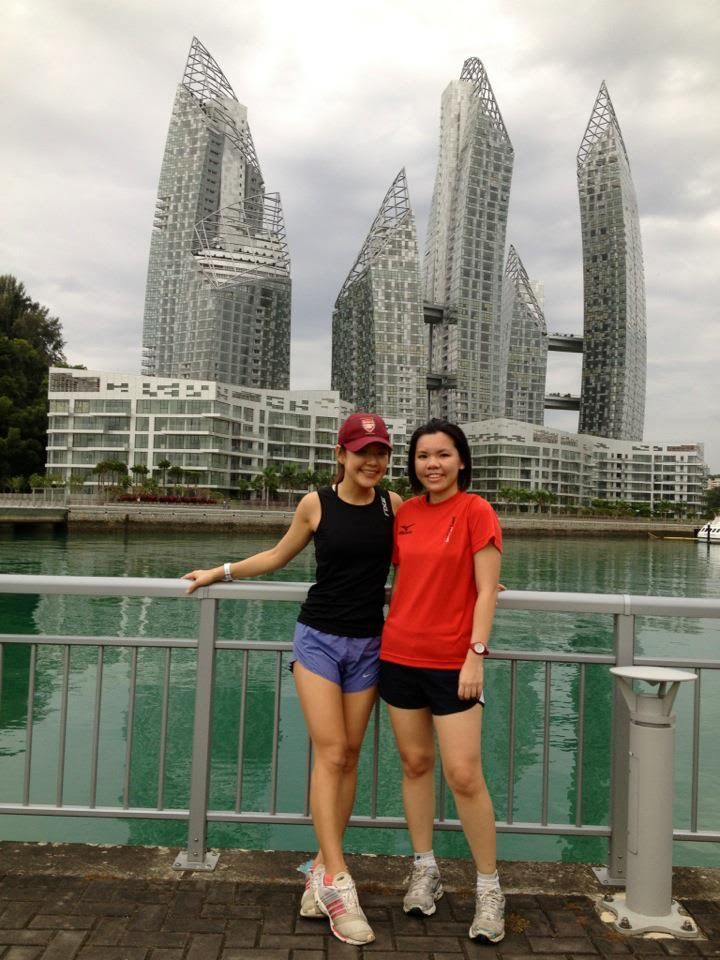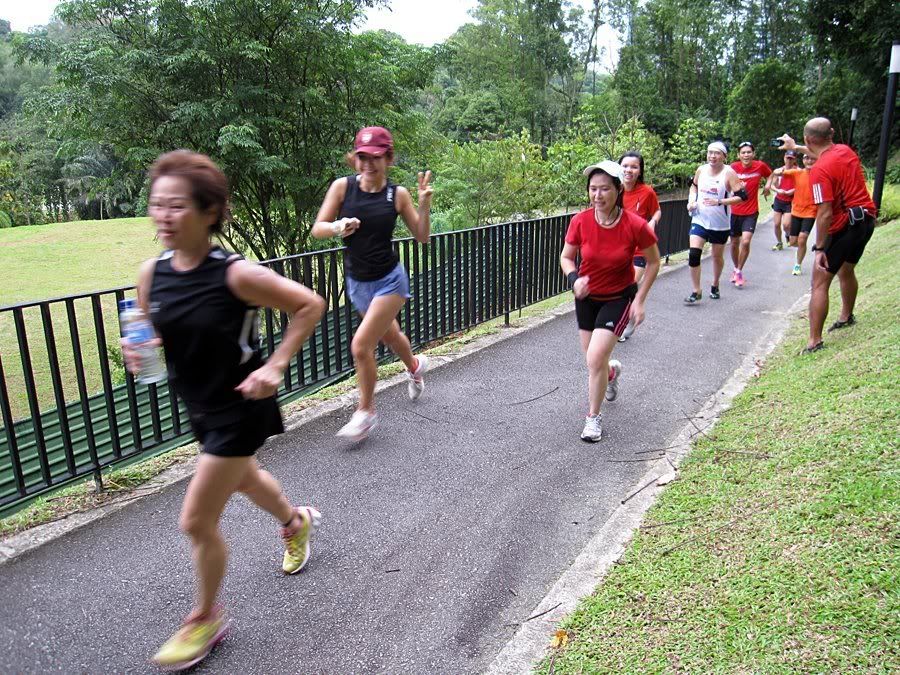 Love this group pic of us, some were clad in dragon props to usher the new year and holding oranges!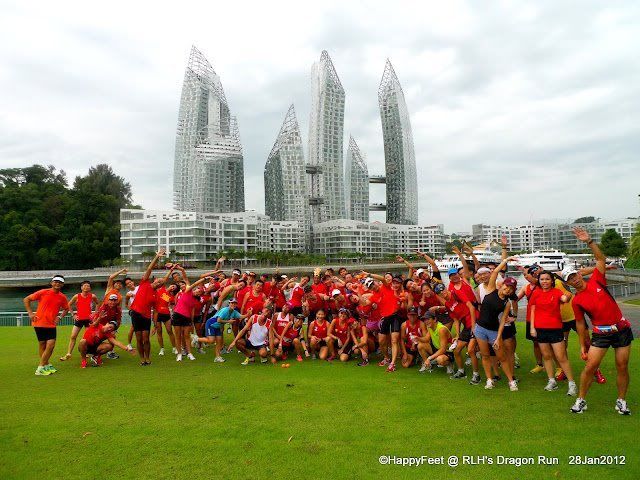 Ending point at Haw Par Villa!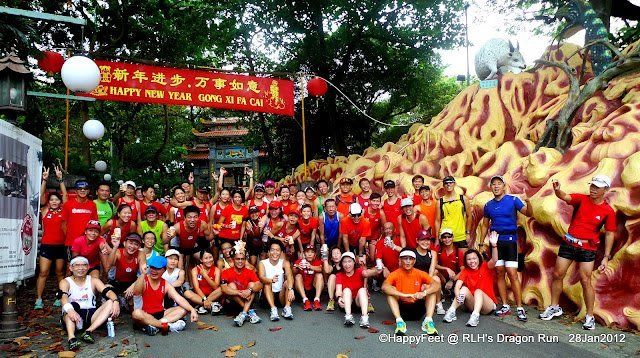 I would do an ultra-marathon or a triathlon event one day, maybe within the next ten years aas it seems pretty out of reach right now.
Most importantly, it is important to like what you are doing, be it running, gymming or even swimming. Do not do it purely because you want to lose weight as the activity will become tortuous and the passion will die down. I fell in love with the exercising lifestyle and incorporating them into my schedule became automatic. It didn't became a chore as it was something I enjoy, just like shopping. Once you like it, you will not make excuse to avoid it like your hated capsicum vegetable. The lack of time would not be a reason, because no matter how busy you are, you would set aside time for your favourite hobby right? :)
It's mind over body all the time, so do not give up, do what you like and lets live a healthy life!
Remember, run faster before your excuses can catch up with you... lets jiayou!
Hopefully this lengthy post would help and wouldn't bore you too much :)
Please share with me tips on how you stay motivated and feel free to ask me anything, I will love to hear more from you.
Sharing some of my favourite quotes from the running gurus!