Best thing about working is that time flies so fast and its mid-week already, soon weekends, then another week, another month and before you know, its year end!
Not that I'm complaining but sometimes time flies so fast I feel that I barely have enough to do everything I want and spend time with everyone whom I want to, yet have personal time.
That's why I'm relying on my phone on personal tasks reminders and schedules beside completing of work schedules.
Life of an adult I guess to manage your time and live your life responsibly :)
This week, I went for the Pap Smear test and jab as well against Cervix Cancer.
Honestly I never really knew much about it but after my sister's influence, this year, I thought I should since I'm already in my Mid 20s and prevention is better than cure really :)
Used my medisave money for it and claimable up to $300, so why not really?
Would recommend all to go for it, it is most suitable for girls aged up to 26.
Health is gold, without it alot of things in life wouldn't be possible.
Besides shopping, I'm h

ooked onto Diablo3 thanks to my bf's influence
Played gunbound during schooling days and was never a gamer, but I must admit its quite fun and addictive (for now)
#
Project Shoes - One of my fav
Prettyfit nude wedges
to date because despite its height, its still comfty without breaking my legs the whole day. Goes well with almost everything. Paired with a printed dress for a semi-casual day!
Cotton On dress / Swivelle Blazer / Prettyfit Nude Wedges
Met Candice & Wendy for lunch that day before running errands!
It was

scorching

hot but was awesome to have a short-catch up :)
Both of them are looking as sweet as ever despite being a Monday.
Quick yogurt to combat the heat!
Shopping alone is really destructive before going for a second round of crazy shopping spree with Tess!
Resisted the jeans but hello to the last pair of floral shorts and first yellow necklace.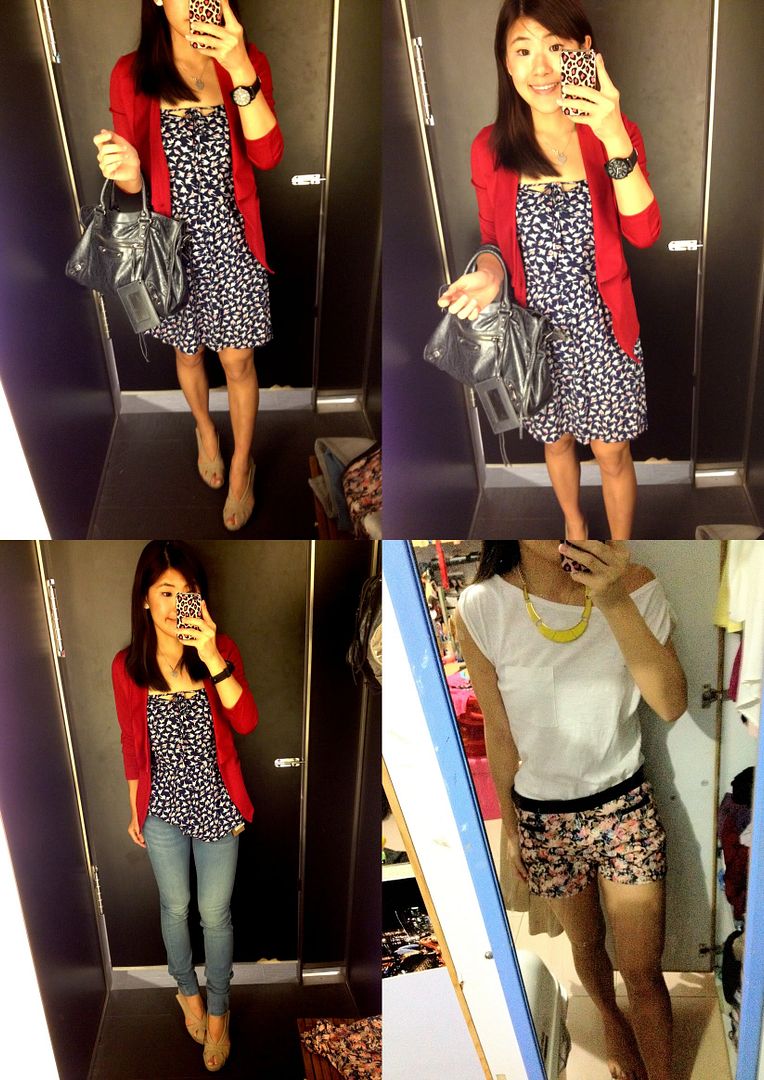 Our fav polka dot bag with iphone case for supporting them so much haha
***
#Project Shoes - Finally wore my new Ferragamo red heels today before it collect dust.
Prior to purchasing, I heard about how uncomfty it is. Before wearing, I sprayed the leather softener and it stretches better especially in front and I had no blisters the whole day.
I have broad feet so its tough to get a nice peeptoes without my feet screaming too much, but I was surprised that it was alright despite wearing it for the whole entire day. After a couple of wears, it should get softer and expand slightly :) Love how the red pops really.
Paired with an ASOS navy jumpsuit that day. Absolutely jumpsuits though I have only two, coz its hard to get one that fits you and flatters your figure. This is really flattering, making me look taller than I am and skims the entire figure so there's nothing to complain really :)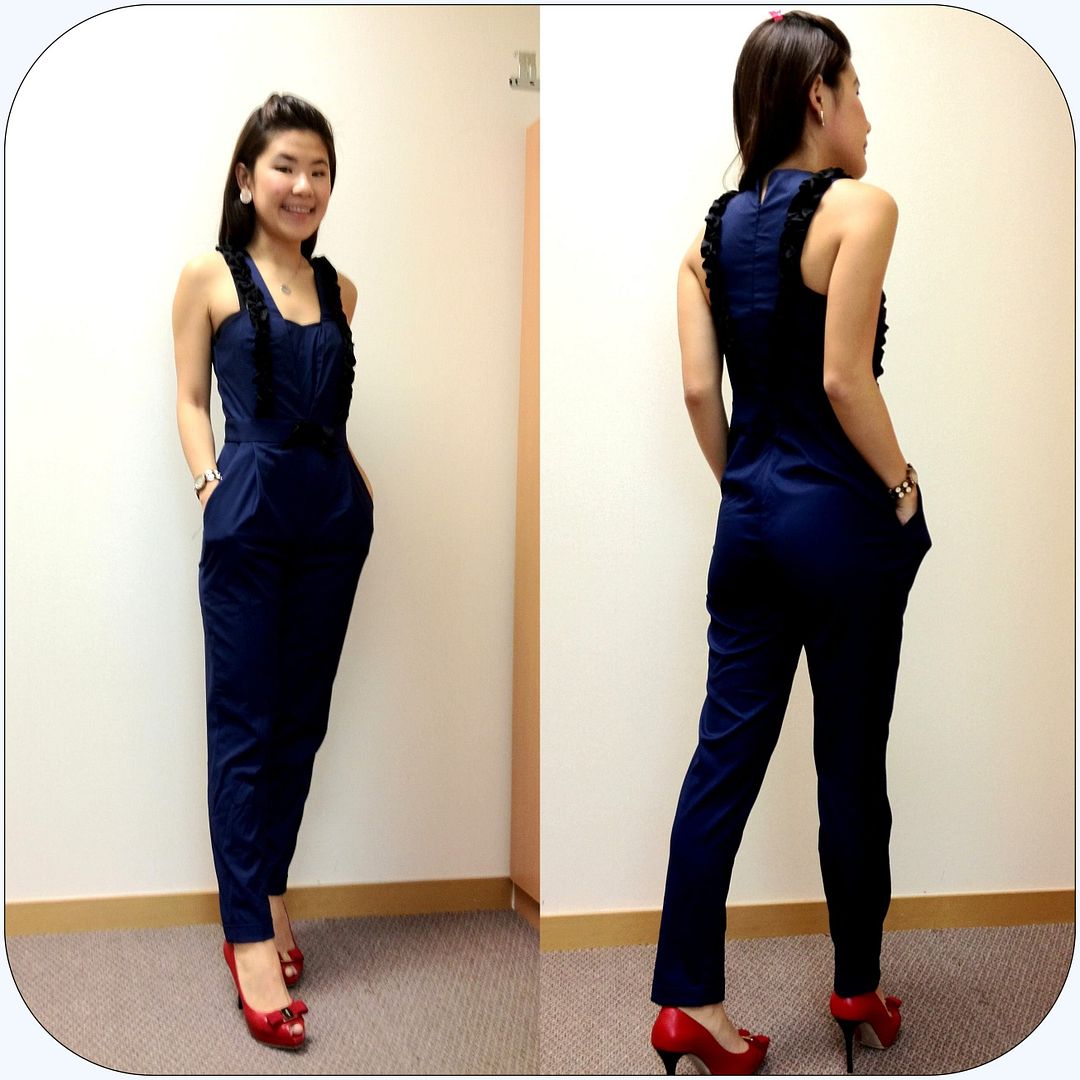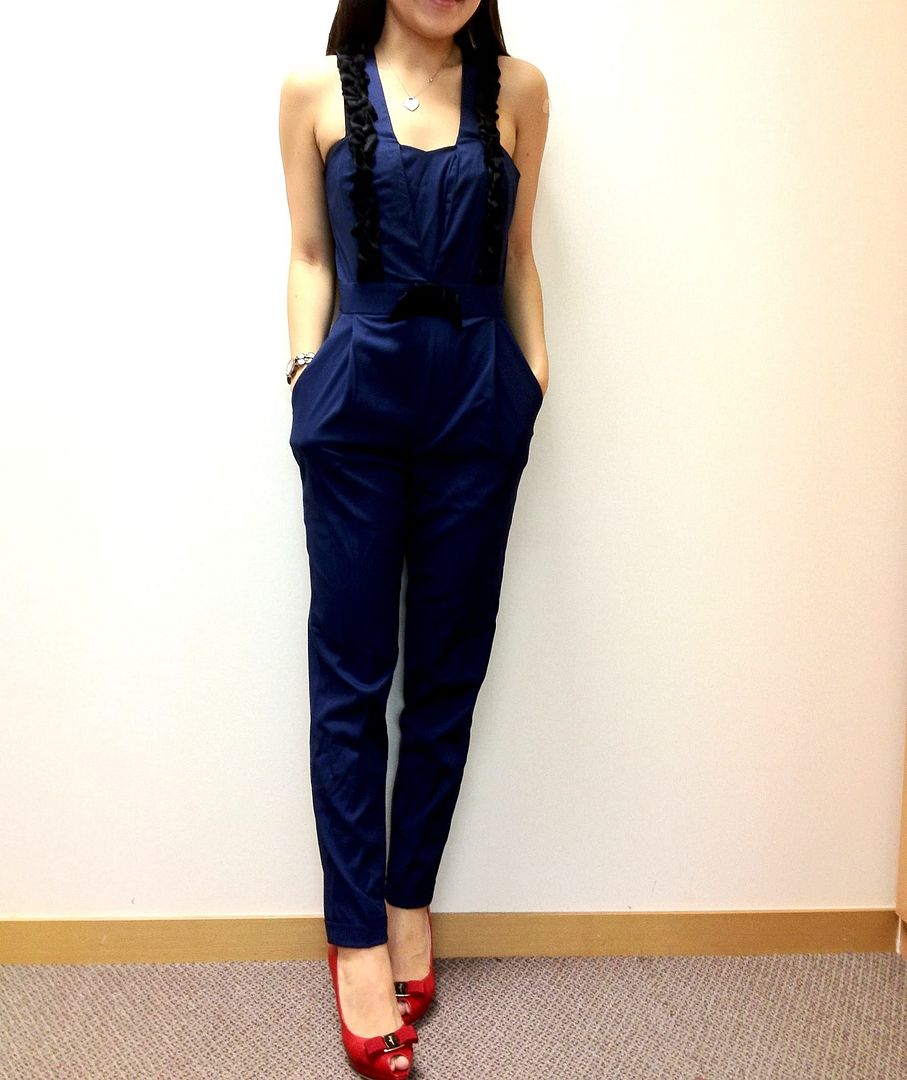 Dinner with the shopaholics at my favourite Marutama Ra-men @ Central, Clarke Quay.
Tried the Liang Court outlet and this outlet is equally good.
Totally love the soup and the yummy eggggg *drools*
Finally, the awesome spicy ramen!!!!!!!
We were clad in different styles as usual with a mix of colours for photos teehee :)
Waffle icecream at Haato & Co, which was average coz it melts really fast ! :(
With Val, we had to take a pic since we were both in superman's blue-red colours! :D
Ending the pics with the most glam pic we ever took, fail review pic of clothes by jumping hahah.
Recent obsession with tip-collar tops & bright colours :)