So Project Shoes resumes....
One of my basic heels for work from

Gojane that I swear by. I like that its just 3-4", super stable, patent, pointy and has a V-shaped in front. Bought it at a sale back then and I just add insoles coz its slightly loose after a while :) Black pointies are my staples for work!
Wore it with the famous LB Edinburg in teal dress finally, first time wearing! Didnt wore this out previously coz I was conscious about it being too body hugging but I'm glad I didnt sell it, its quite flattering and hides my tummy well. Was wondering if I should make it shorter but I'm glad I didnt coz it looks best at this length, very sophisticated

and OL! Added a scarf to it to make it less plain, will try it with other accessories next time. Can so picture it on weekends as well with a bling sandals and hobo bag.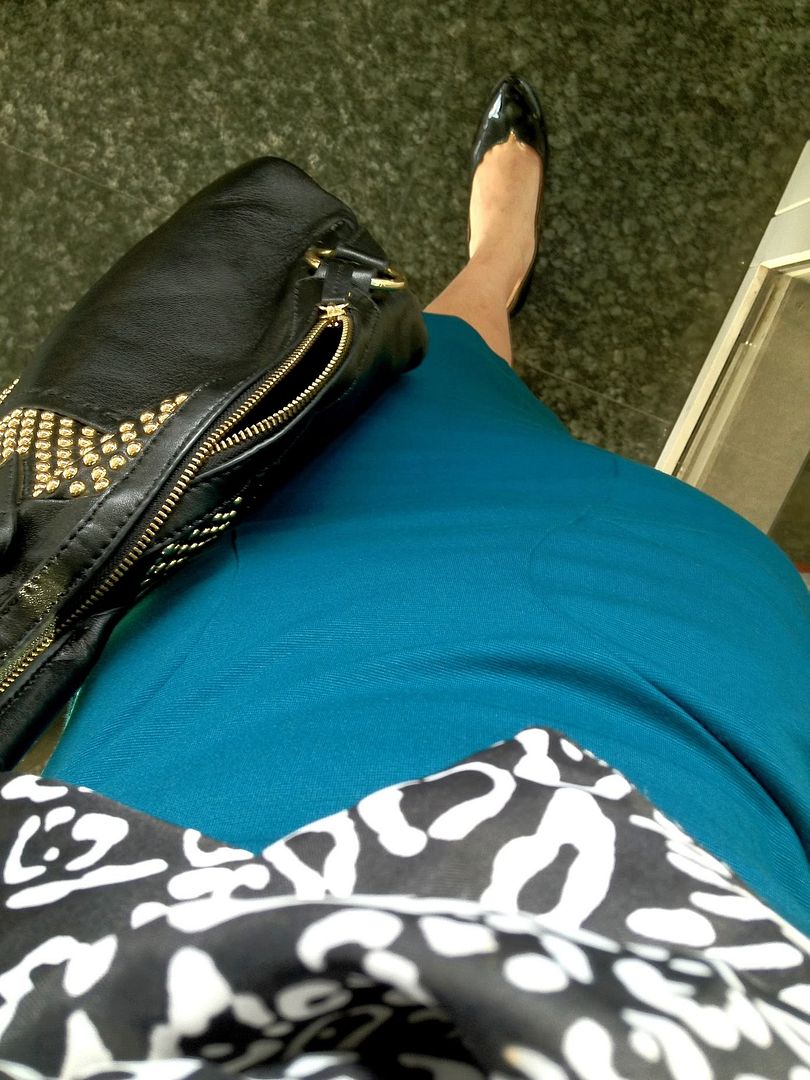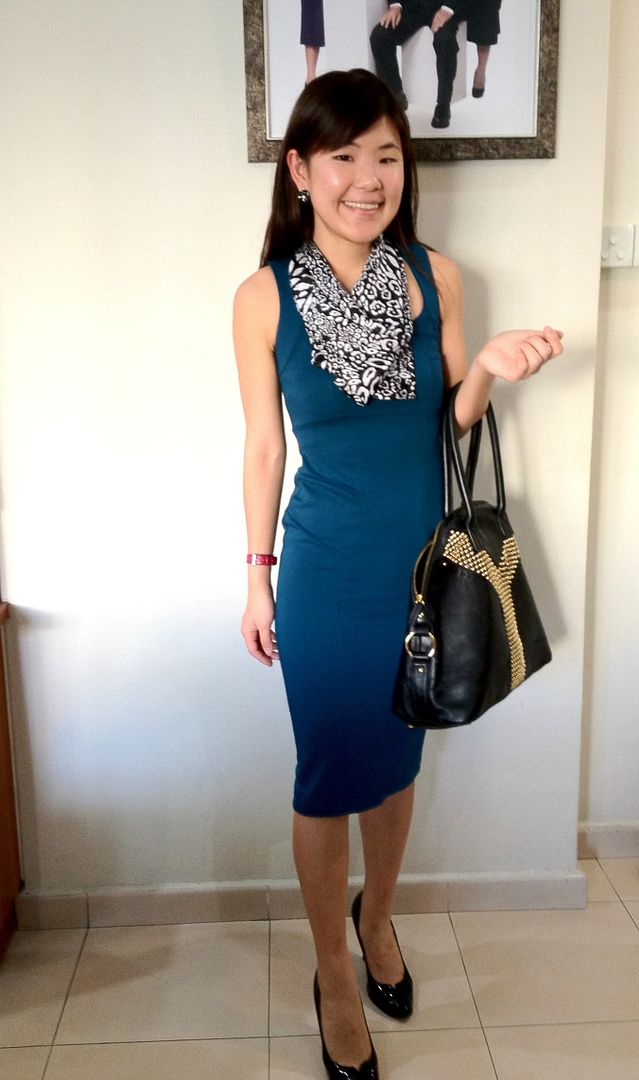 LB Edinburgh Dress / Gojane heels / Kenneth Cole watch / 'Little things she needs' scarf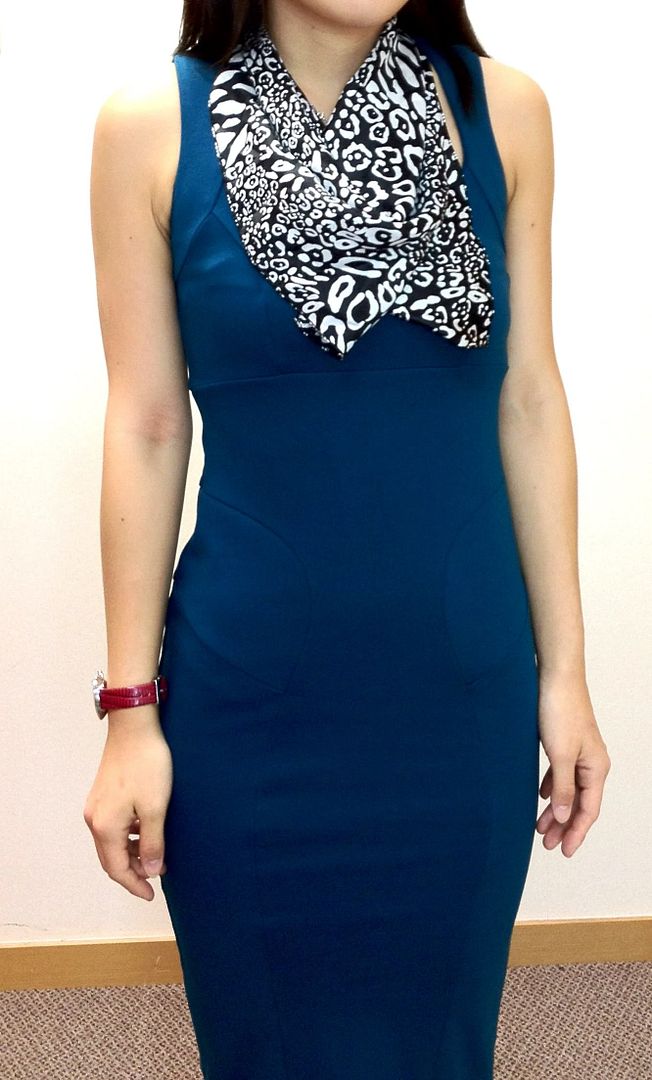 My mum takes quite good photos in fact teehee :D
Another work staple - nude pointies from Mango. Its of the perfect height, comfortable with padding inside and nude colour elongates the legs!
Something different today, paired all whites with animal prints. One of my favourite vest from Bysi from my vest collections haha. I quite like how it all turned out to be and not PAP-ish I hope. Its quite fun experimenting with different pieces and how they can turn out to be on a whole.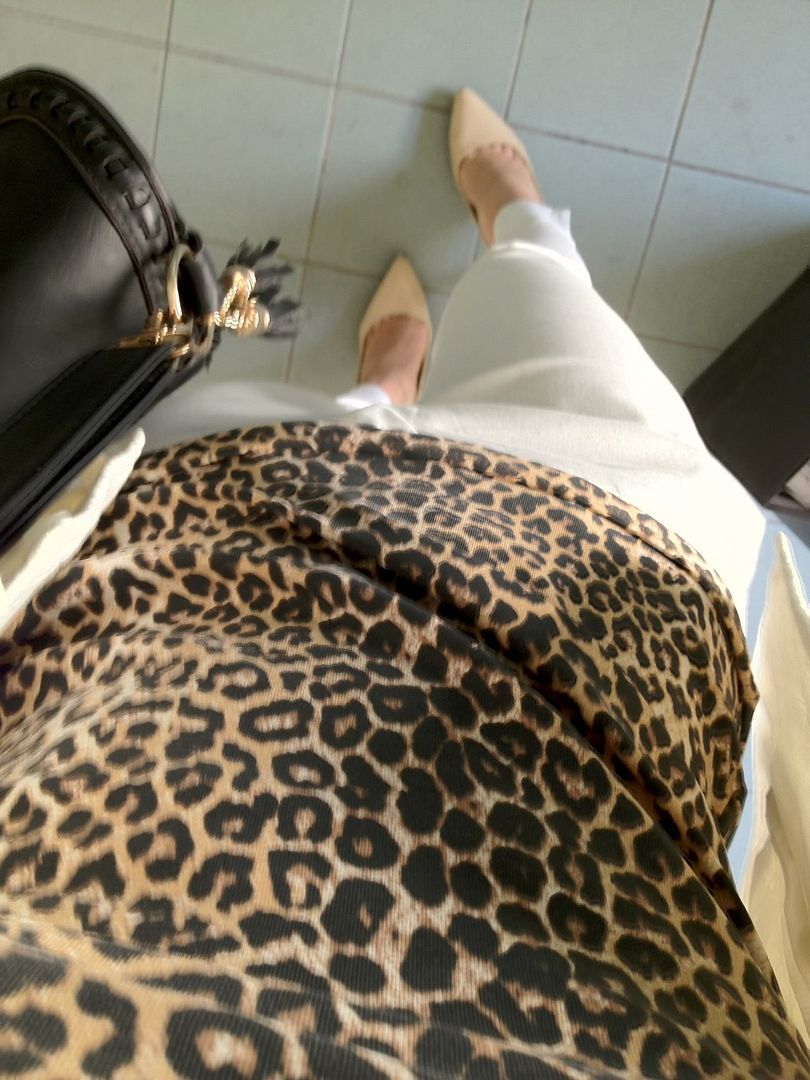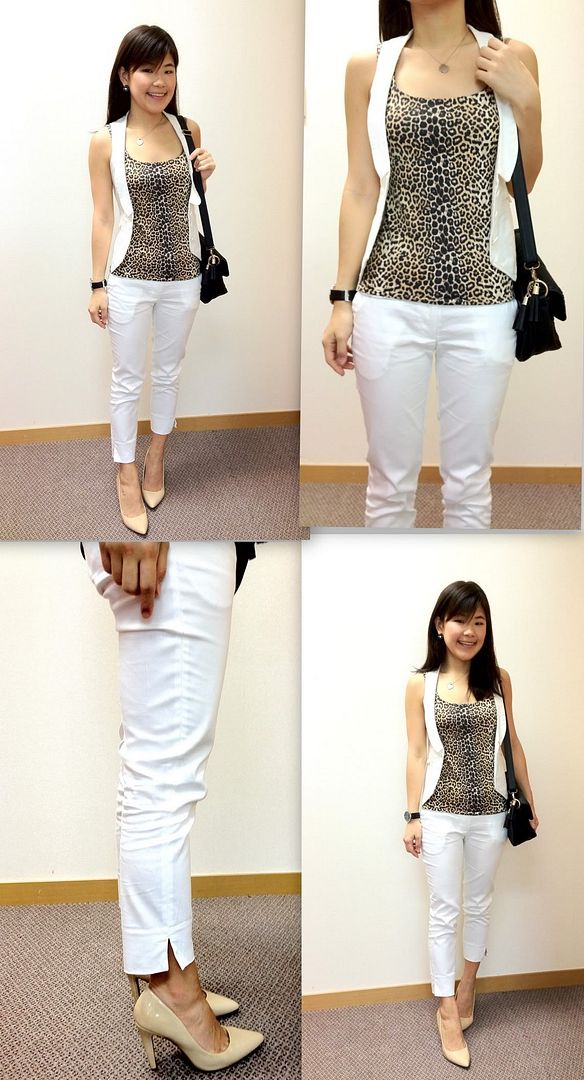 Zara Top / Bysi Vest / H&M White pants / Mango Heels / Kenneth Cole Watch
One of my old heels from C&K, which runs big so I seldom wear it. I like how chic the orange cap-toed heels stand out and at the back as well. Made of cork and very unique!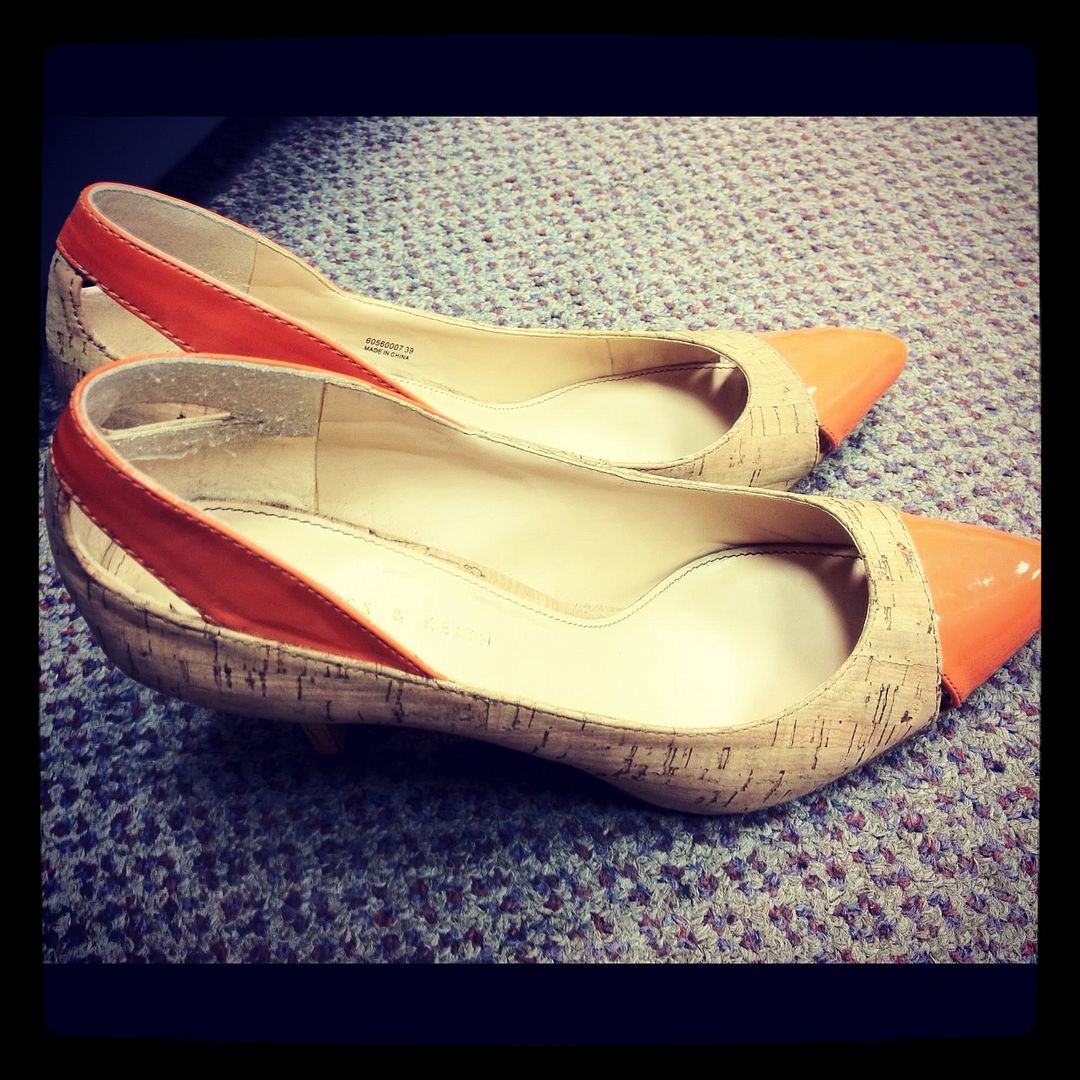 Inspired by Val, I finally dug out my white shirt for today :) Bought it from Bysi and I love how cooling it is and comfortable the chiffon is, with the right length for sleeves. Finally wore out the MGG skirt (reviewed previously) with a necklace to match the heels. Professional but not boring I hope.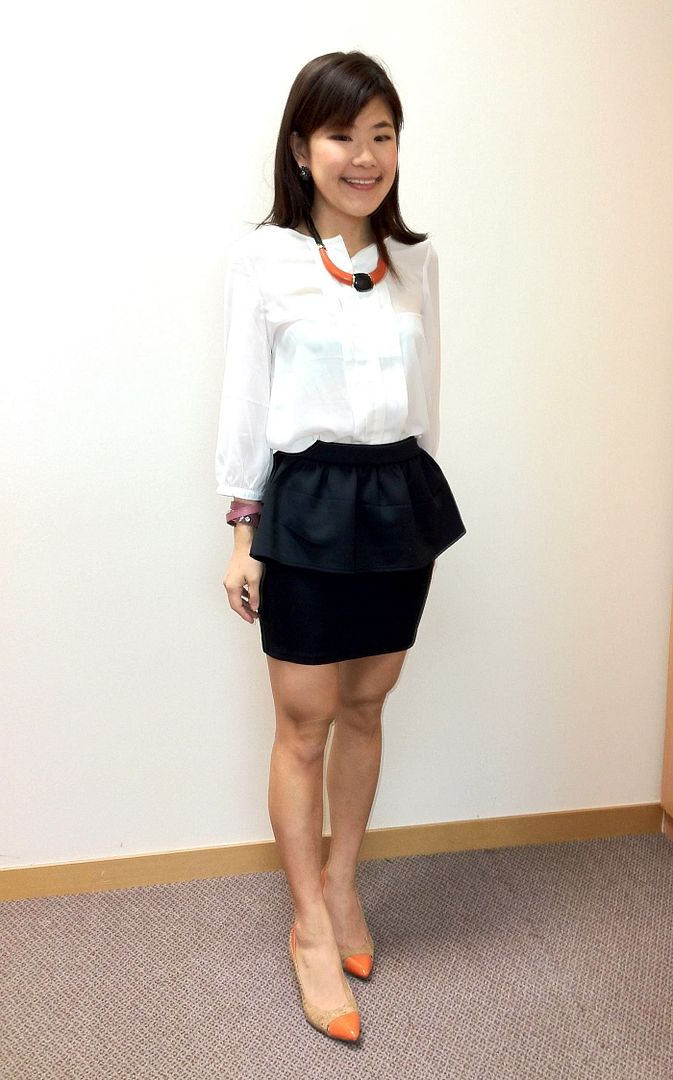 Bysi shirt / MGG Peplum Skirt / C&K Heels / Balenciaga Triple Rose Bracelet / Diva Necklace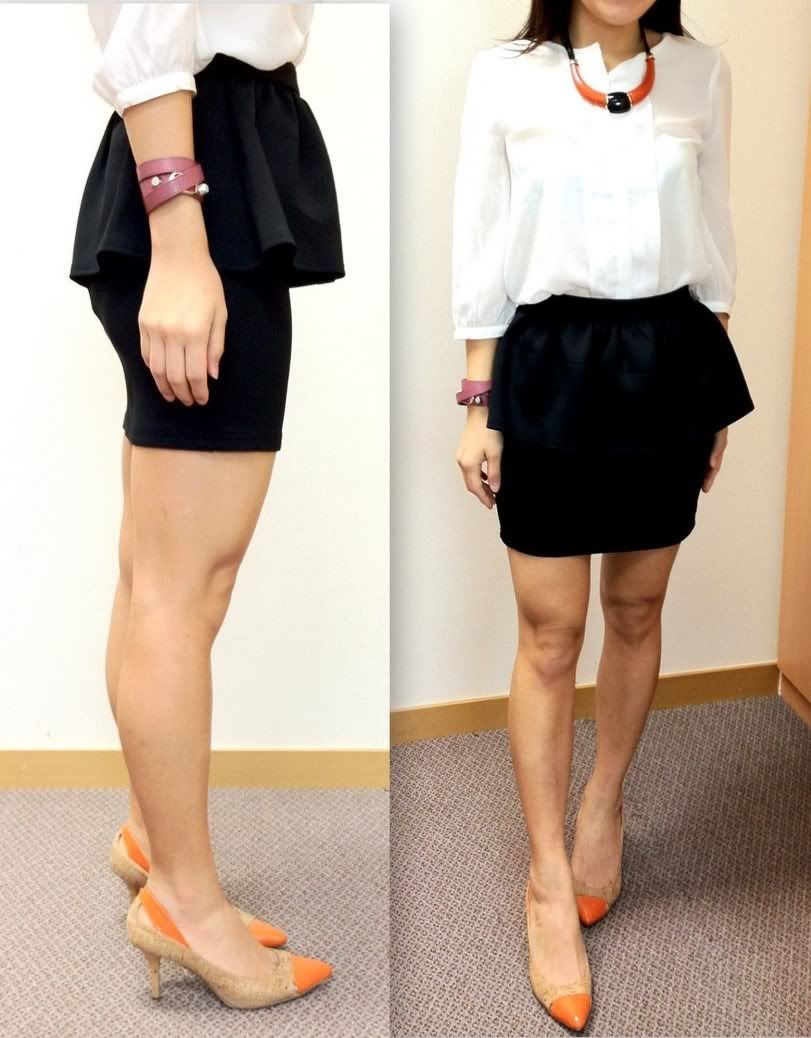 It was dear A's last day as well and we took some photos :) She's part of my soccer team previously.
Also, glad to get my Bellabox for May and this time round, it didnt came so late.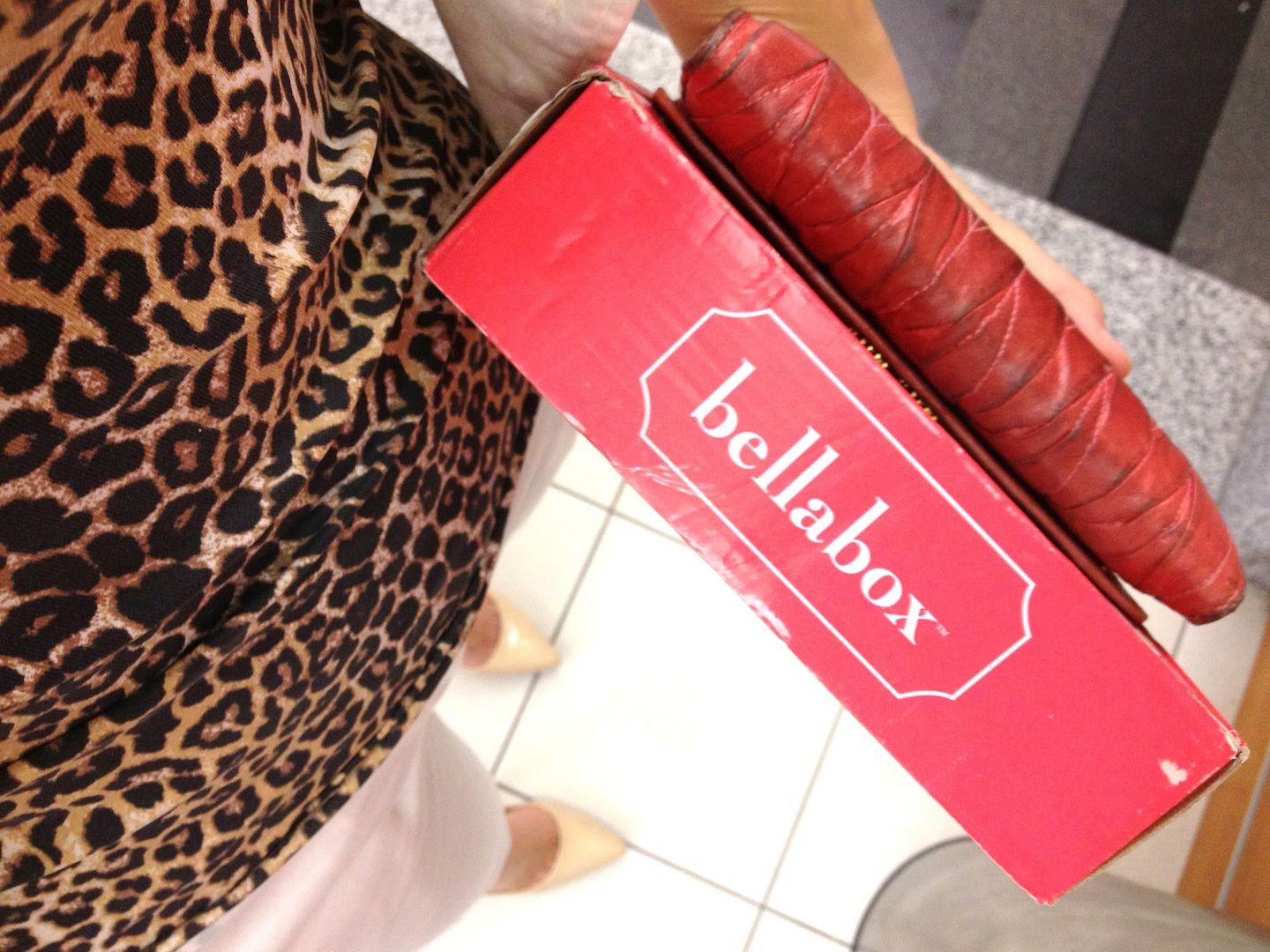 I'm glad for new brands and the environmental friendly bag as it is more useful to me than the pink box really :)
Here are the contents in this month for me:-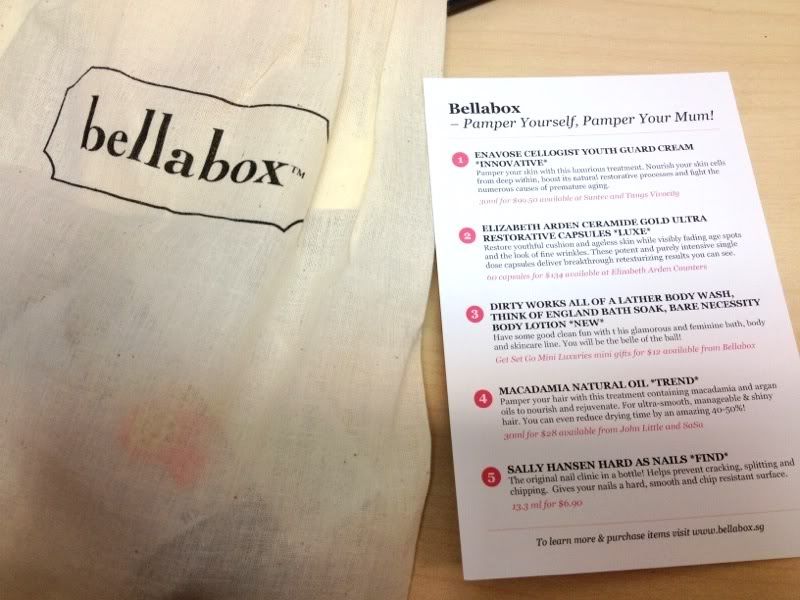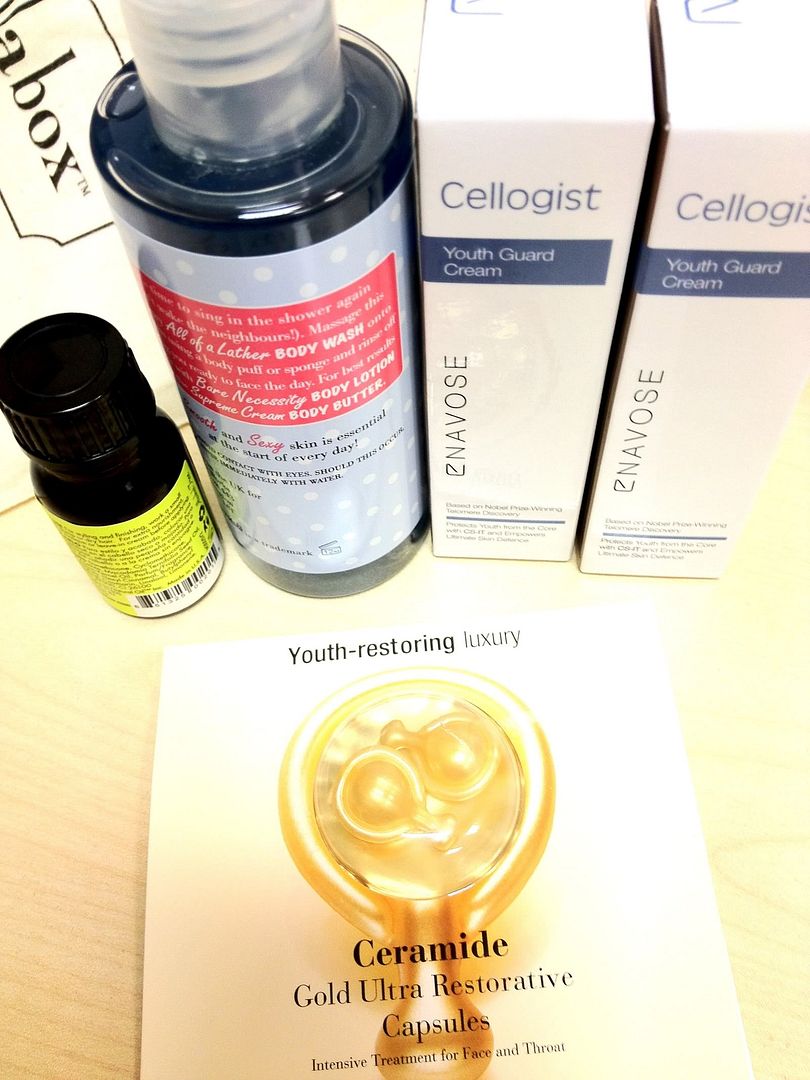 My fav would be the Macadamia Natural Oil for hair and Elizabeth Arden capsules!
Like what I mention earlier, I have my own skincare regime so honestly the extra moisturizer or toners wouldn't really help me much, so I would prefer more hair care, masks or make-up really. It wasn't that bad this month so I think I will continue for a month. Can't wait to try the above products.
However, I was disappointed when they missed out the Sally Hansen nail strengthener though it was mentioned in my box that it will be in it. Have emailed them and they apologised for the error and will send it separately to me soon :)
It came with some vouchers in a pink envelope, which includes a $20 Elizabeth Arden voucher.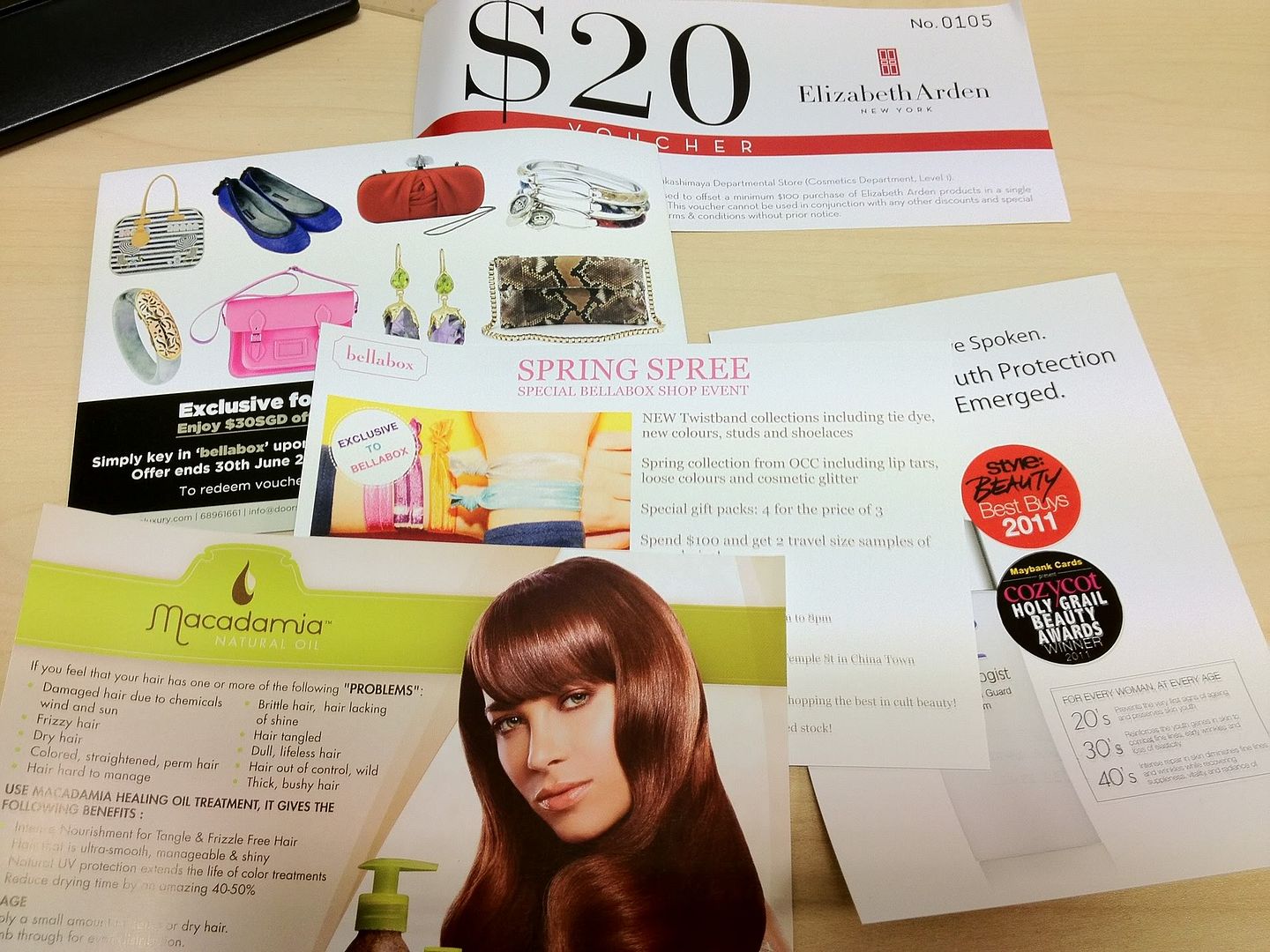 Finally got my first red box after looking at it for quite some time -
The perfect little red heels from Ferragamo.
To be honest, I don't invest in expensive shoes because I do not take care of them well and I simply have too many shoes! My most expensive pair would be an Aldo pair at just $100.
I've been looking at them in stores for quite some time and because of my credits with Reebonz that would expire in less a month and their FB's promotions, I decided to just get it because it was $300 off retail price :)
Its so gorgeous in real life that photos do not do it justice.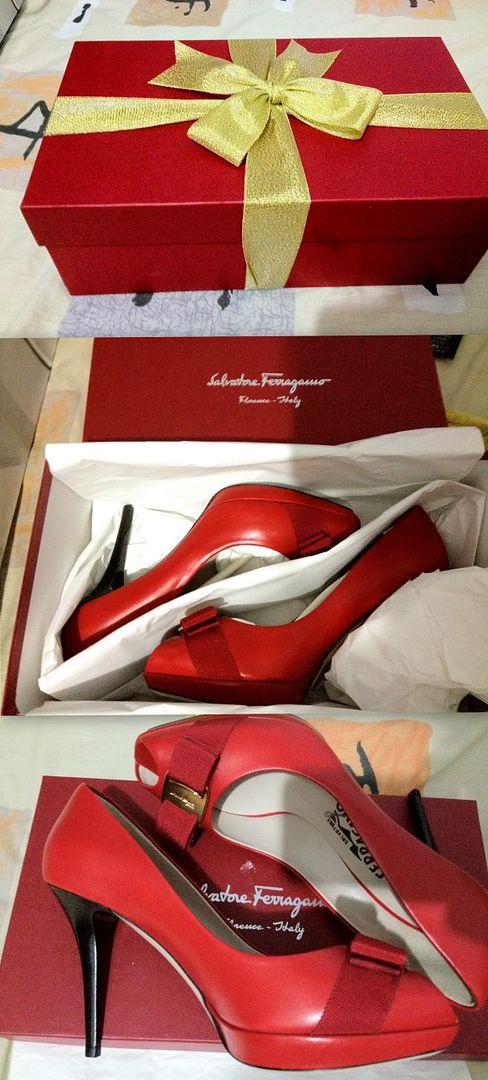 Wanted nude or black all along but this time round I decided to pick red because it simply stands out and goes well with my wardrobe. Red shoes go best with black dresses I feel!
Glad its leather and not patent, which means easier to take care. Went to do resole it at Mister Minit to protect the heels. Also, I bought the leather stretch spray on bottle because it was quite stiff in front and after spraying on, it is much softer :) I suck at protecting my shoes so hopefully this pair can last quite long *cross fingers*
Spent few days staring at it and hopefully I will wear it soon... hopefully!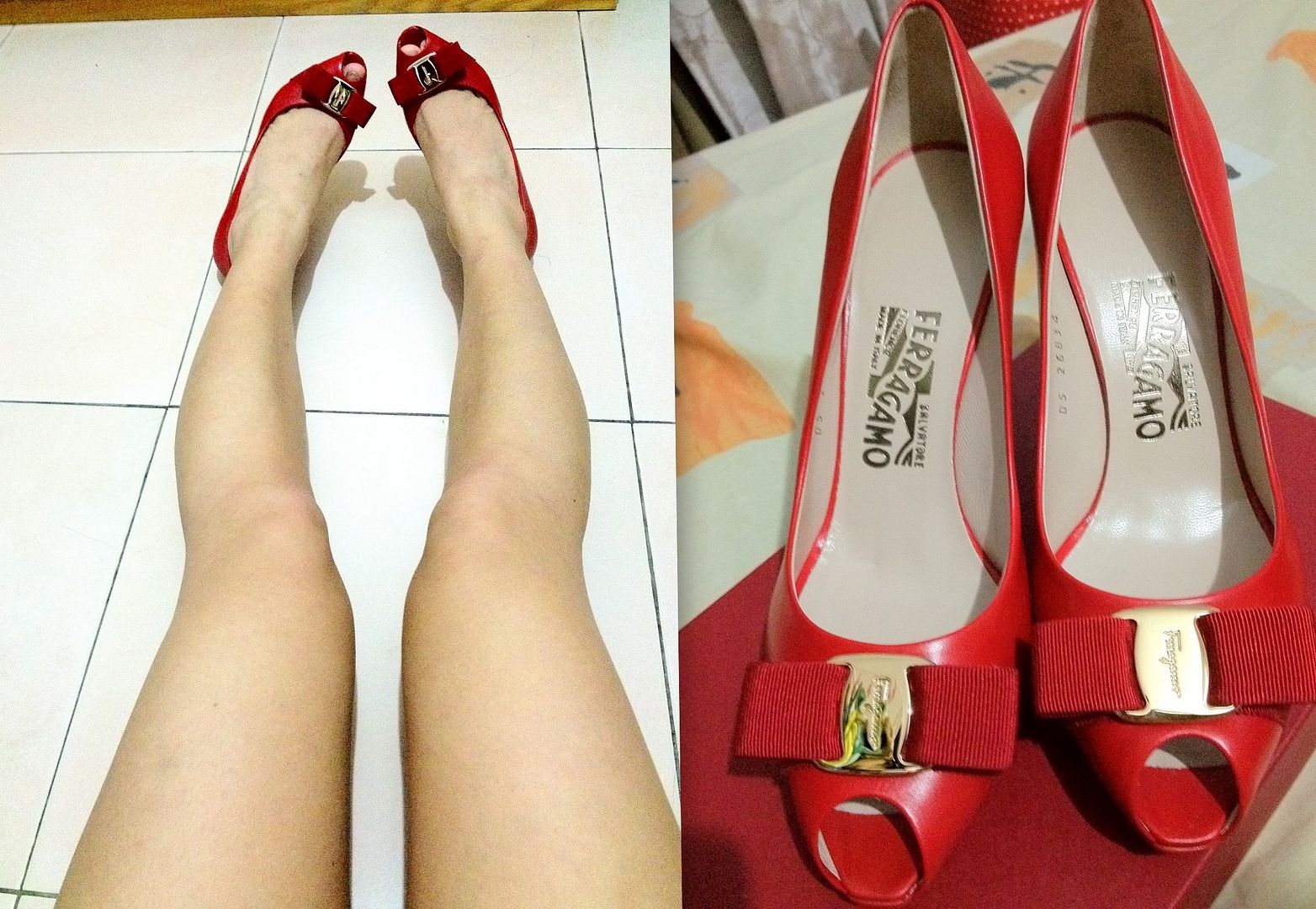 Ending with some random instagram photos!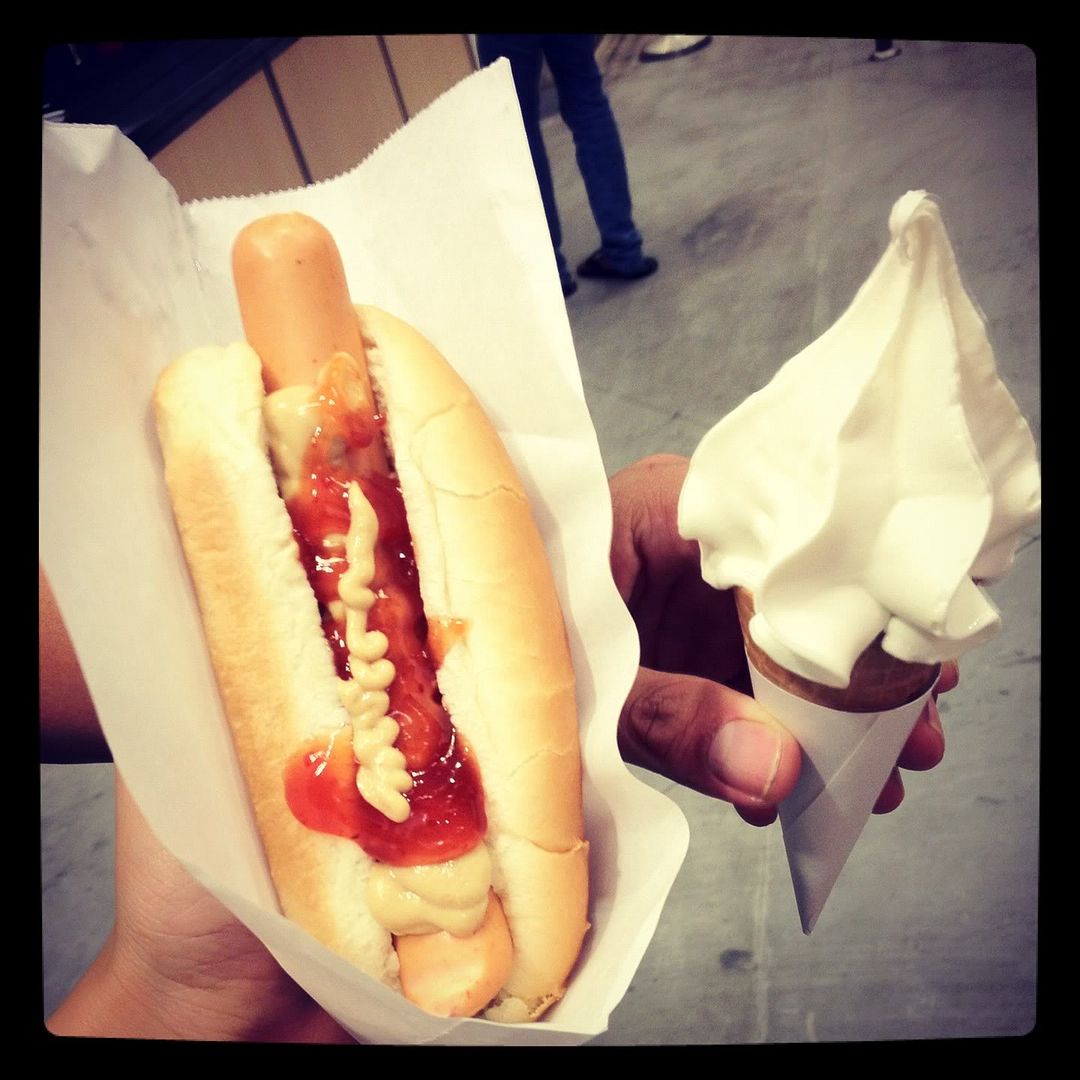 Heading for gym later after running consecutively for the last few days!

PS/ Any idea how to resize pics properly? I absolutely dislike how photobucket compresses the photo that it looks weird and pixelated but I do not have photoshop in my computer :(