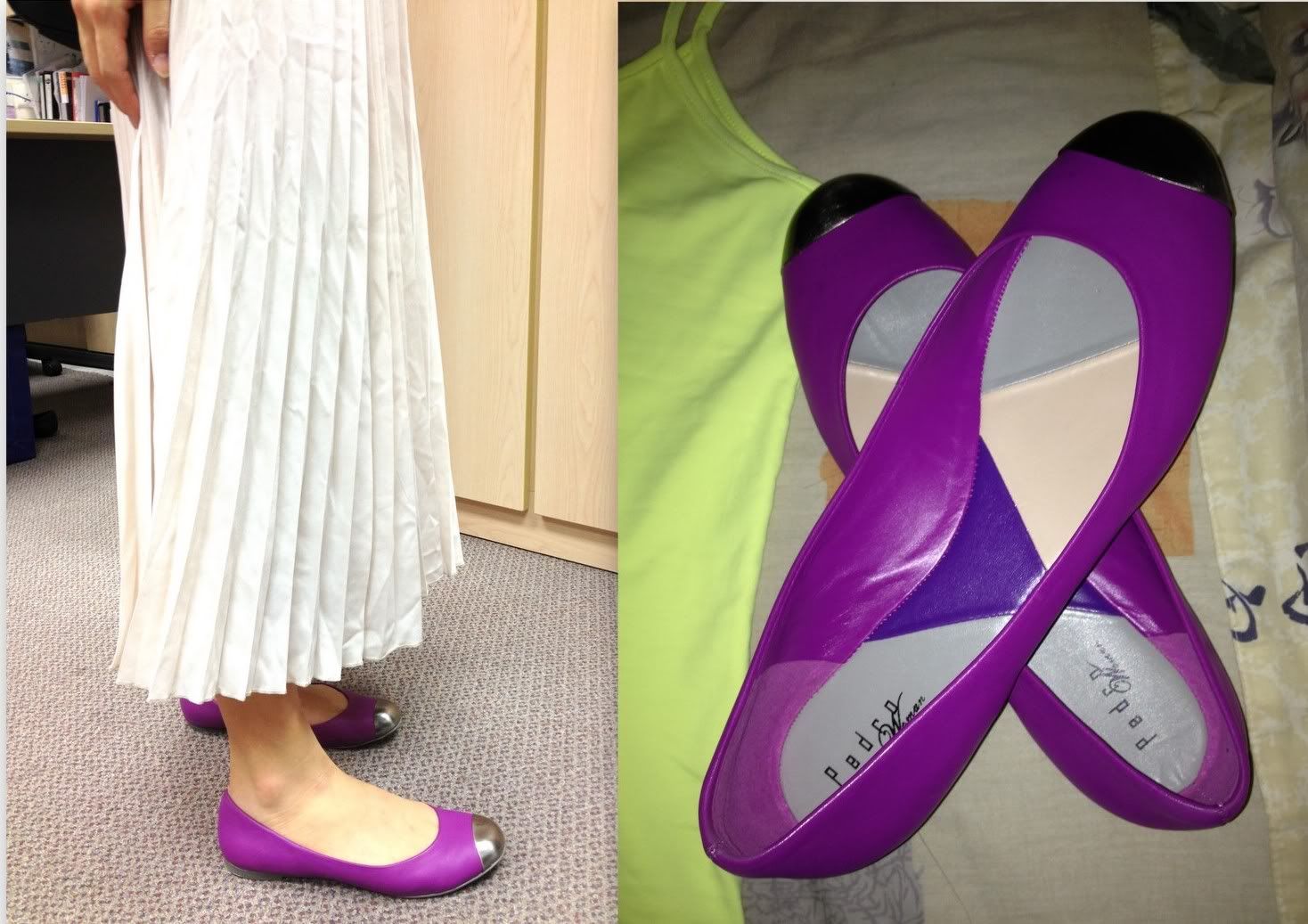 #Project Shoes - First time wearing this cap-toe purple flats from Pedro and its quite comfty. Glad I got it when they had the 15% sales. Enough to satisfy my fetish for cap-toe shoes for now!
I have tons of maxis because they are so flowy and pretty, but seldom wear them because work wear has to be formal and during weekends I usually wear shorts! First time wearing this
LB Oasis Maxi in Cream
and I really like it, esp the pleats! Mad awesome and can't wait to wear the burnt orange one already.. Contrasted it with a highlighter yellow spag to make it more cheery for my Friday! Perhaps I should do a Project Maxis next haha.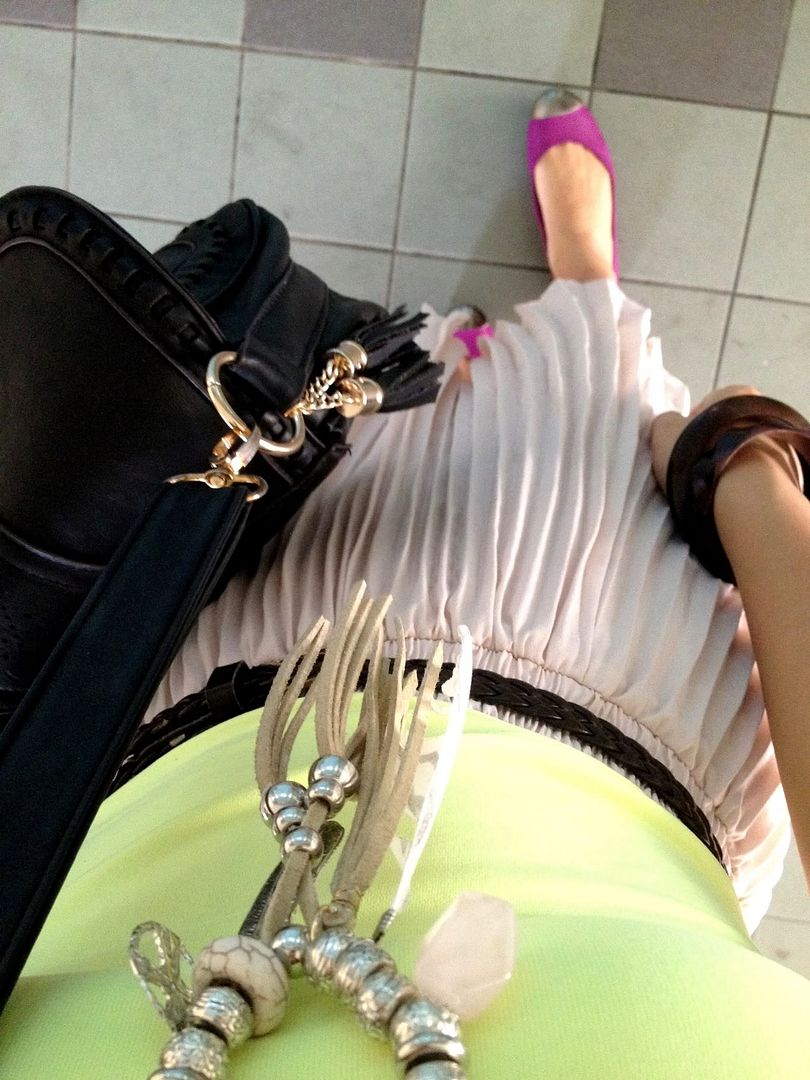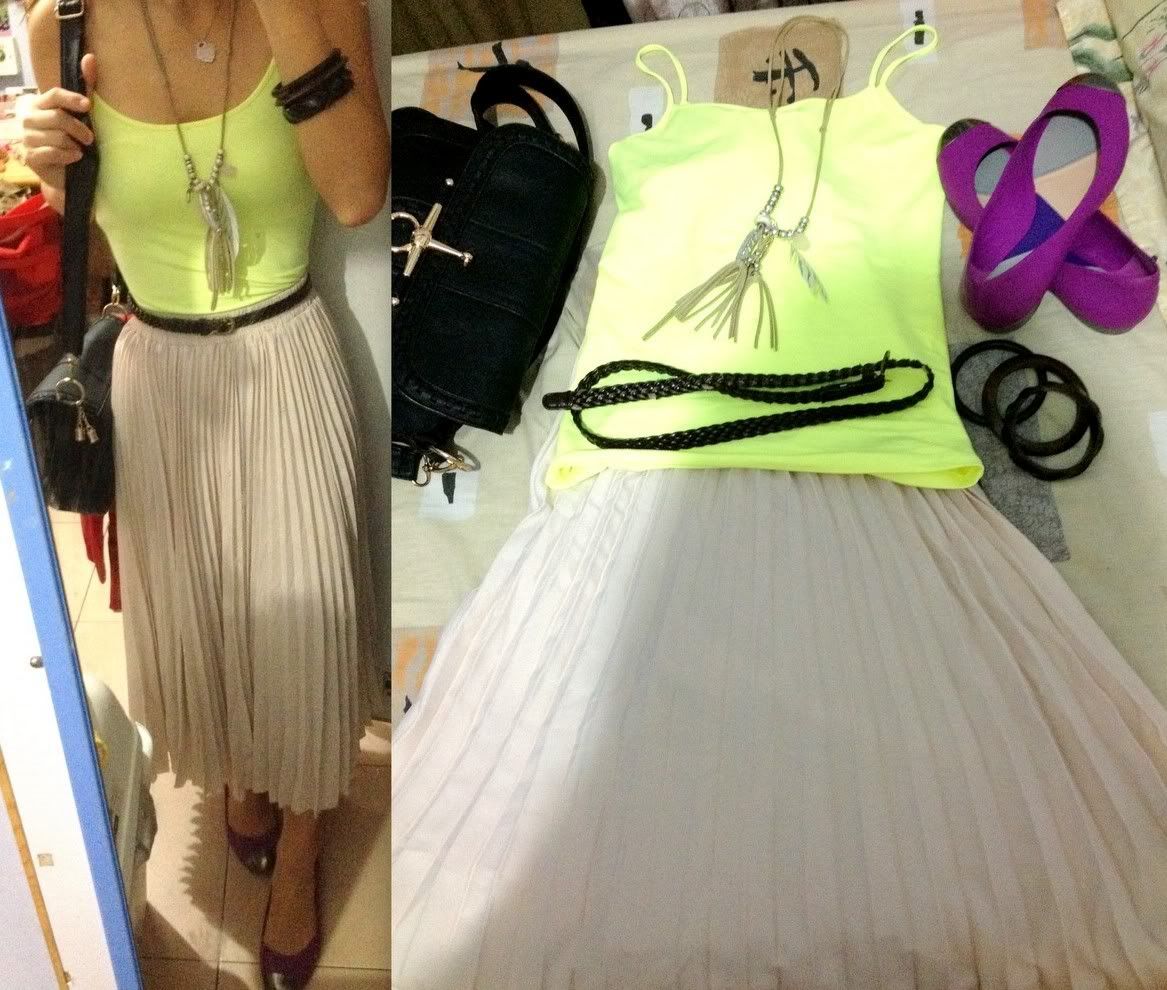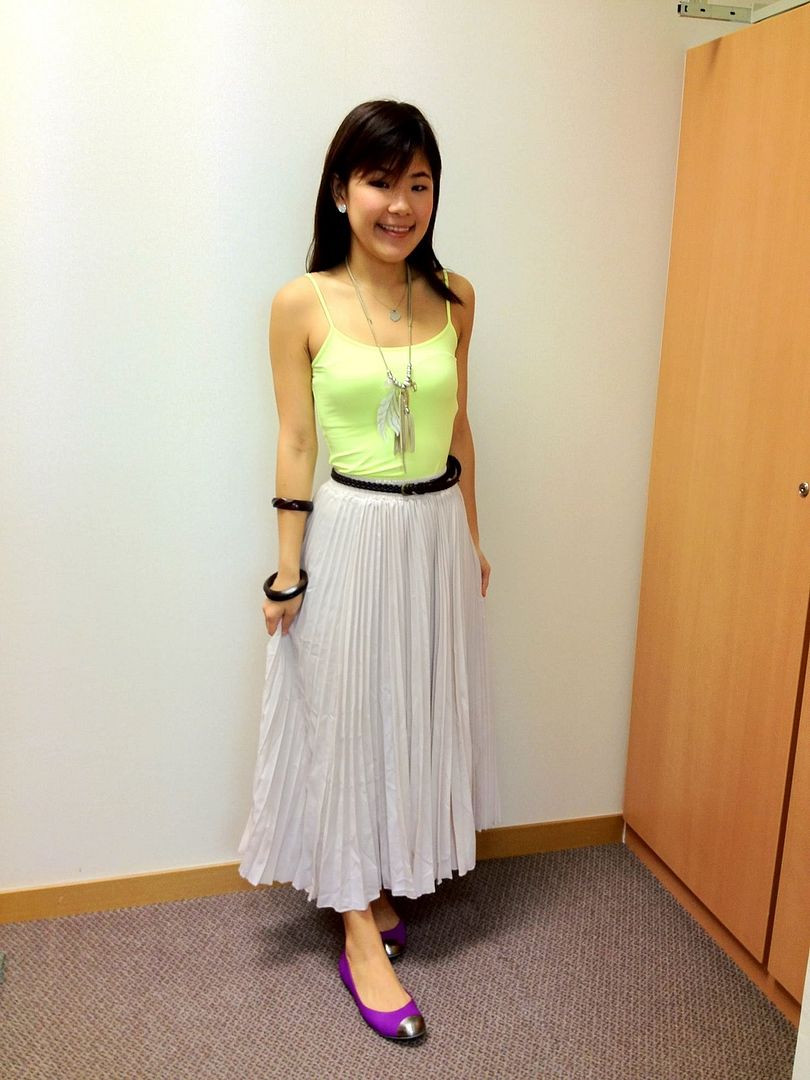 Zara spag / LB Oasis Skirt / Pedro Flats/ Bali Bangles
The best thing about maxi would be how flowy the skirt is and its hard not to look feminine really. Really like the pleats and I don't find it making me larger, but a smaller torso instead. It is flattering and hides the problem areas and looks good with any fitted top tucked in. Had fun swaying around in town that day haha.
***
Did some shopping damage as usual and went for hair treatment at Hair Sense Gallery @ FEP. It was my first time patronising it because of the Groupon deal, and its nice to try out different salons other than hair cuts (too risky I feel).
Honestly, I wouldn't recommend it at all for its service. When making appointment on phone, I got an ultra rude reply and got cut-off before I said bye. My appointment was at 4pm and I had to wait till 5pm, without them apologising for the delay or what so ever. Didn't want to make a fuss and I was in a good mood that day so I let it pass. There were few people outside who made the appointment but at 5pm still not seated and were making a big fuss. Oh wells.
During the hour treatment, the staff were rude without the lack of smiles or greetings. It was quite a rush job with so many people outside waiting and I didnt feel relaxed at all.
However, t
he hair and scalp treatment was good though and my hair feels so pampered, smooth and soft today even after gym session. But service means alot to me and I do not think its wise to pay for service that makes you angry. I wouldn't mind paying full price for a salon which gives you the hair I want and service, but not one without the latter.
I will stick to my favourite salon thank you very much.
Here's the end result and hair looks so much tamer!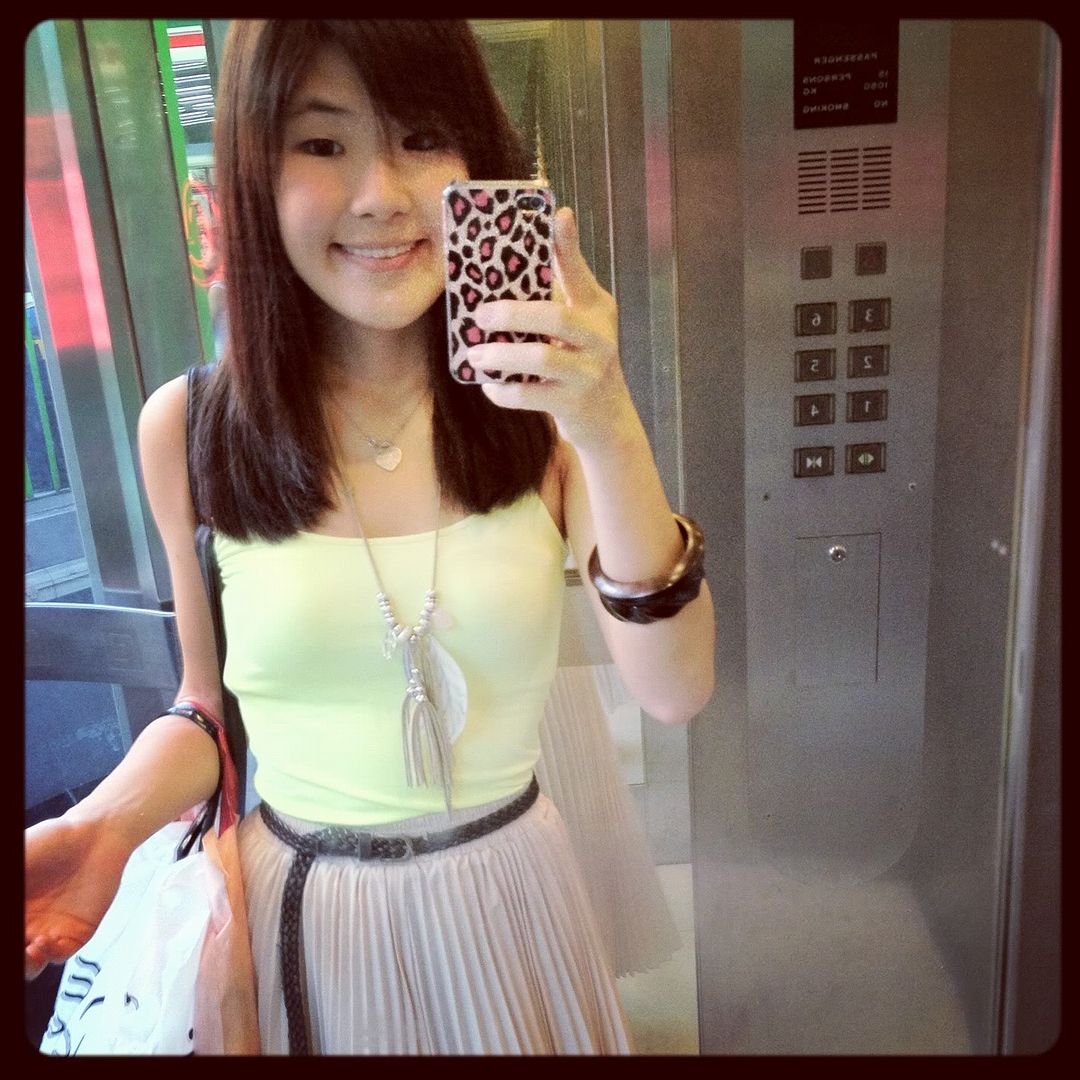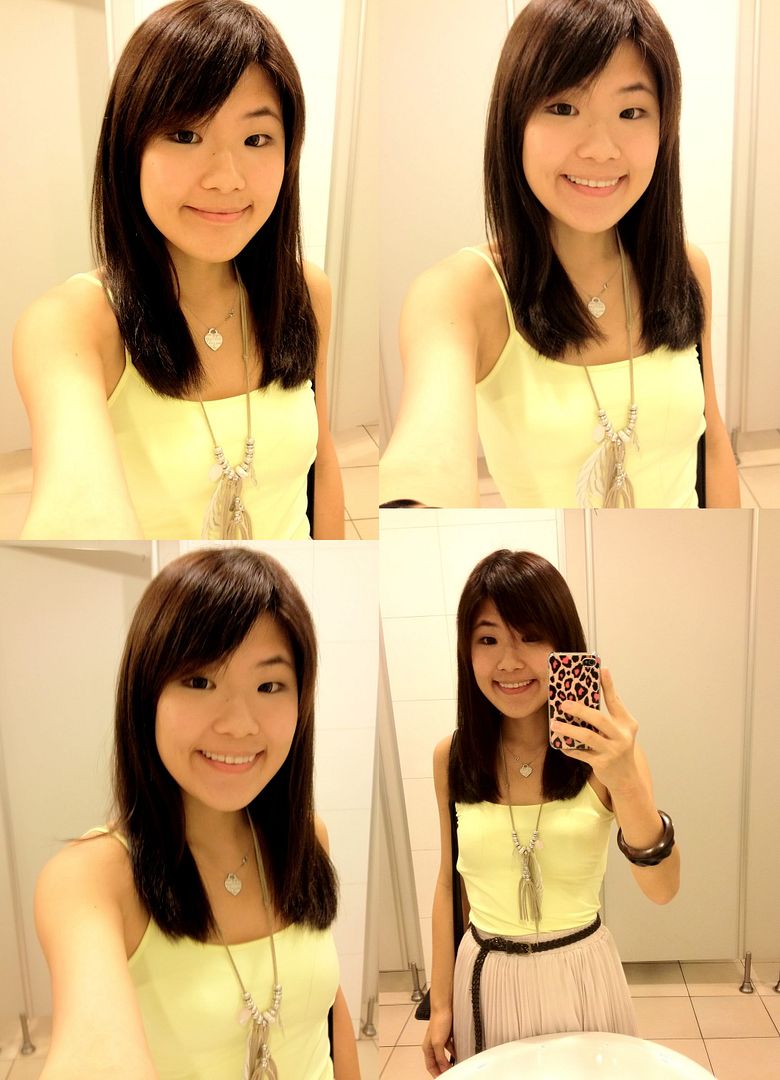 Cousin's bday party after that and changed into Smooch scallop shorts!
We took pics using sis's ipad :)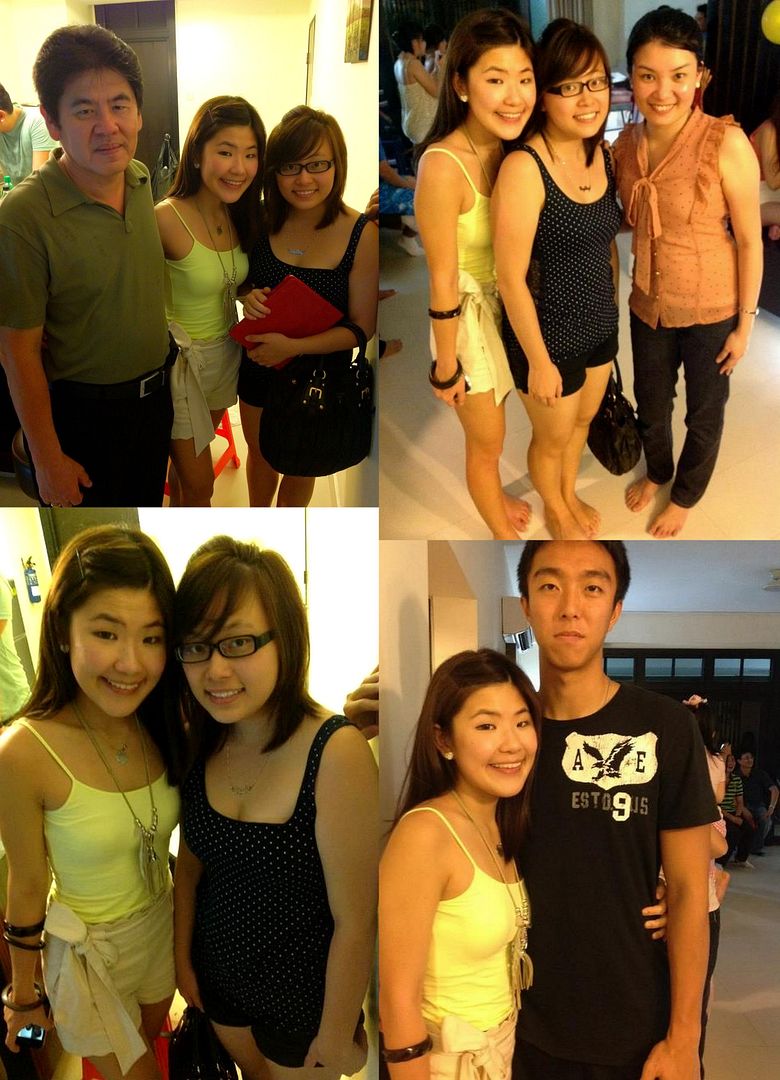 ***
Wore this new top immedately, which is really a steal at $7.90 from H&M. It comes with gold buttons, front pocket and in gorgeous prints, what else to fault for really?! Even cheaper than Cotton on! I would very much prefer the clothes from H&M over F21 really, coz there is really a vast difference in quality. Now, I only get accessories from F21.
So thankful H&M entered SG really. Used to think that was a bad thing because it means the lack of exclusivity, but with online purchases right now, the chances of bumping into people wearing the same thing is much higher issn't it? So just rock your pieces! May more brands enter SG soon which means more choices for us consumers and girls!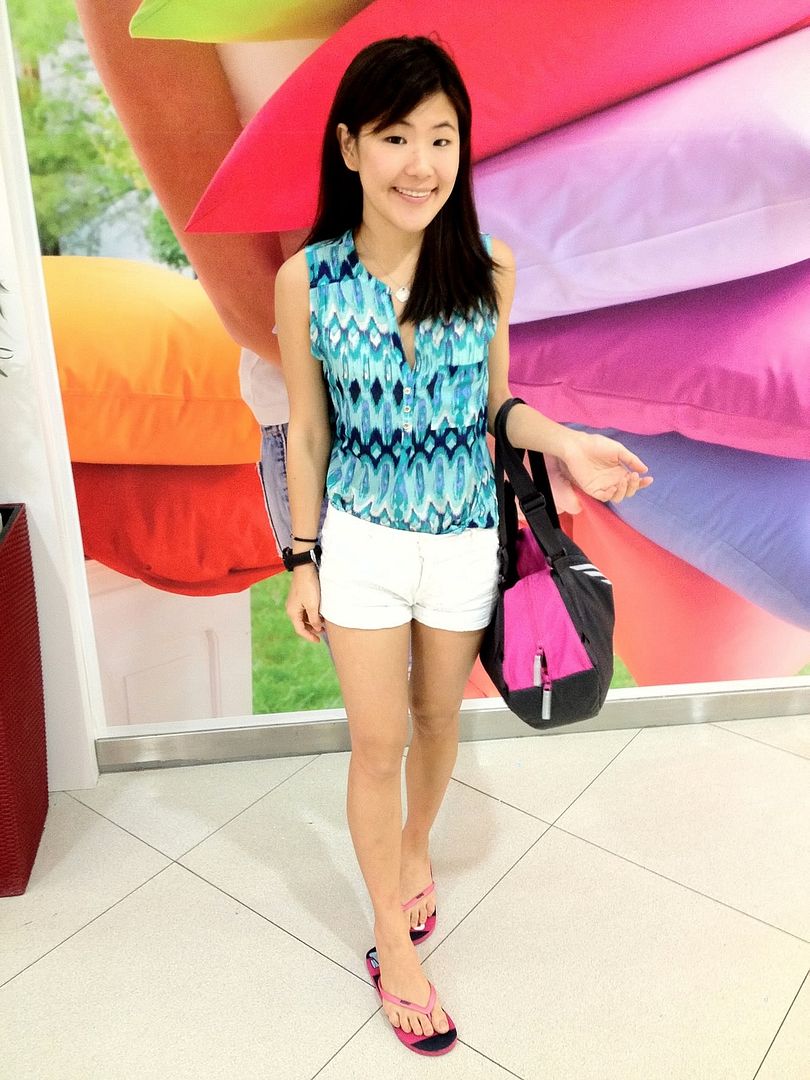 ***
Ending with instagram shots! (add me @ eyeletskirt)
Shoes heaven; cheap top; Sat gym; Cousin's bday; couple watch; diablo3 forever
Sundown is in 1 week exactly and its time for tapering.

Its important to cut down on your mileage during the final week so that you will be fully recovered from previous workouts and be completely rested.
So go easy and do short and relax runs before wearing your sports shoes on Sundown!
It seems like a test and I like that kind of anticipation, so exciting!