Hi, I'm back & its going to be a really long post ahead *waves*
My week has been busy so far and quite fab.
I have been meeting friends, working out, teaching, shopping and doing my daily work routine (& I love my job), reaching home late and all.
Everything is fab except for the fact that I'm STILL

sick after so long , and it seems to be getting worse really (
So pardon all the pale pics below)
Honestly, I hardly have any rest nor sleep but still I stay hyperactive as usual and this could be a sign of aging!!
It all s
tarted with fever and cough which I got from TC (he has recovered), but now it seems that I'm coughing even more than last week, which really suck because I have to stop exercising until I recover fully
*sad face*
HAPPY LABOUR DAY to all of us, the laborers!
Had a "double" date with BFC & TC today at Changi City Point :)
The PH today came as a bonus so early in the week really!
The cheapest lace shirt I ever bought from
H&M
, love how it goes with casual outfits and so appropriate with pencil skirts & pants on work days!
H&M lace top / Zara shorts / Bershka cardigan / Havaianas / HK Bag / Kenneth Cole Watch
Our yummy Soupaholic sets from Soup Spoon
With dear Mel who passed us awesome goodies from Korea. THANK YOU!
We got our
NIKE
items as usual from the factory outlet, and they are having an additional 20% on top of all the sale price for $150 purchases and above, which is a good deal!
TC took our BFC picture for us against the recycled backdrop, missing Serene ;(
OH YES, really really happy to see our big recycling project being accomplished and hanging up in the middle of the atrium at our sister mall!
We went to HQ months back to learn how to cut these from bottles, and submitted all our cut-out bottles to combine them together :)
And they really look quite beautiful in the middle of the atrium, especially with coloured lights!
It really went well with our CCP's branding of being the first eco-mall
*happy max*
so please support all our malls and spend generously hahaha :)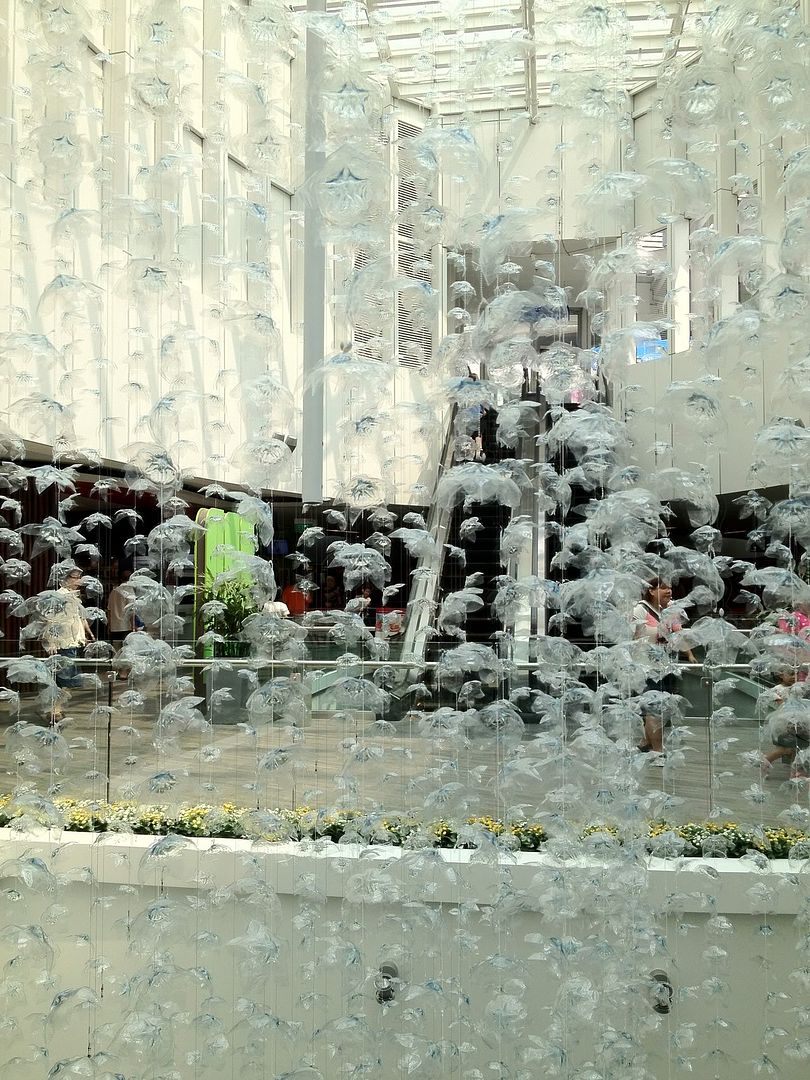 Pics of us playing with the scissors to cut them up last year hahaha.
Another of the eco-series project that will be hung up as well :)
I have always been a pastel/nude colour kind of girl and really happy wearing my fav colours on a Sat with my fav boy makes me happy :)
F21 basic / LB Skirt / Pazzion Flats / Bali Necklace / Bal Bag / F21 Cuff
Treasuring the time spent with B, just walking around and chilling in town.
We used to meet really often like min 3-4 times a week, but due to our work schedules now, we can only see each other on Sat & Sun for at least one year to come.
I have sort of got used to it after a month though it is still difficult and hope it will end soon :) Somehow or rather, absence made the heart fonder. We really cherish the happy quality time together, and focus on more positive things than nitty-gritty things that irk each other that honestly didnt matter :)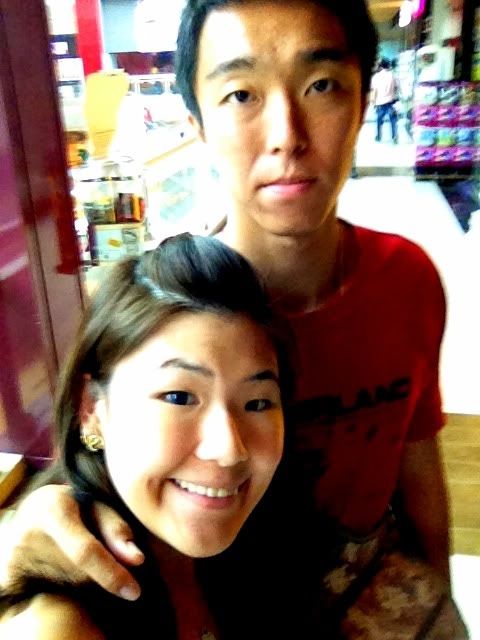 AE Melinda Cardigan / TE Bodycon Dress (Selling this) / Pazzion Flats
Attended Star Awards at MBS this year.
It is really different this year, as an audience and to accompany a friend this time.
Felt so surreal sitting down at the audience, calm and watching the awards ceremony live again.
Watching the fans around me getting so excited and jittery about the next name to be called & seeing this fanclub to the left crying because their idol didn't get into Top 10 Female zzz
It feels really weird since I have been in that shoes for few years, on how anxious and the amount of money put in not to mention the time and effort put in.
It felt really silly and liberating recalling everything and knowing they are just still funny childhood memories.
I'm so glad I'm no longer feeling that way anymore and grew out of that silly phrase and crush
For now, the only people I idolize are my family.
They are the only ones whom matter and I care about and they are award winning parents in my heart, no need for any top ten.
It was a fashion show galore that night seeing all the stars again in their glam outfits and showing their skin.
My fav outfit that night would once again be from
Ruien
, she's absolutely classy!
She never goes wrong and stay true to her style for the past few years :)
(Credits: Xinmsn)
Love her last week outfit as well, in classy white and sleek ponytail!
Previously, URBAN had a contest on our favourite RED CARPET outfit and I submitted Ruien's picture below, for her last two years oufits. I actually won in the end!
Its a shame that we do not have any glamorous awards ceremony other than Star Awards, and my favourite style locally would be non other than her.
Instead of the usual cleavage baring dresses and similar gowns, Ruien stick to her usual style and knows what works for her. She looks good in almost everything, be it her long dresses or jumpsuit.
She never tries too hard and she always stood out for the RIGHT reasons.
And she is one of those who looks absolutely gorgeous in black particularly :)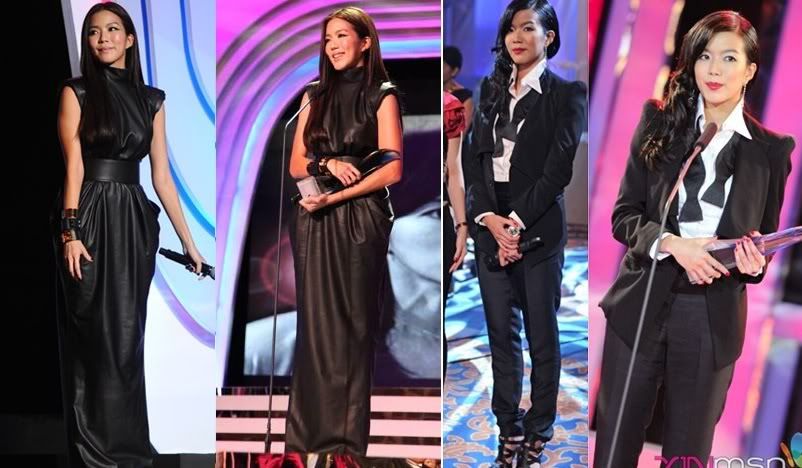 Had dinner with the shopaholics at Manna Korea Restaurant :)
101 Telok Ayer Street, Singapore, Singapore
They ended my day much better, as I was feeling giddy the entire day and coughing my lungs out :( It really awesome seeing them once again!
Can't wait to see more shopaholics this Thursday! *whee*
I like the sides alot, which were more generous than Seoul Yummy.
Fel said the beans are good for hair and body, and I keep eating it lol.
Kimchi, tad ex at $45 for the whole plate and it wasnt extremely tasty i thought
With pretty Val & Meiho!
So colourful and we were all wearing different things :)
Meiho passed me the LRH blazer as well whee, love it!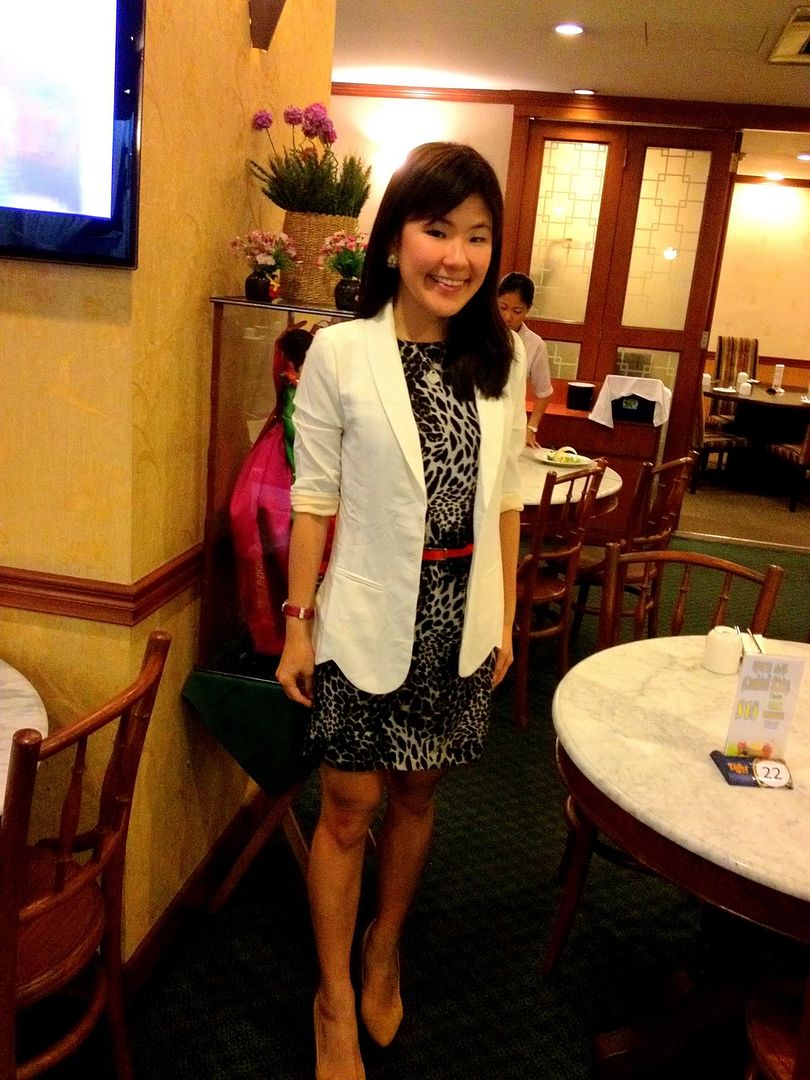 Pretty Fel in yellow!
We look taller here thanks to fel's photography
Ending with a pic of Val finishing all the food on the table alone haha. Still so slim!
Okay, mega review time finally after a long time!
Actually it is not too much since I have not shopped much online, but spent too much in retail shops actually :(
Have received all my parcels including those from ASOS *yay*
ASOS FLORAL BUSTIER TOP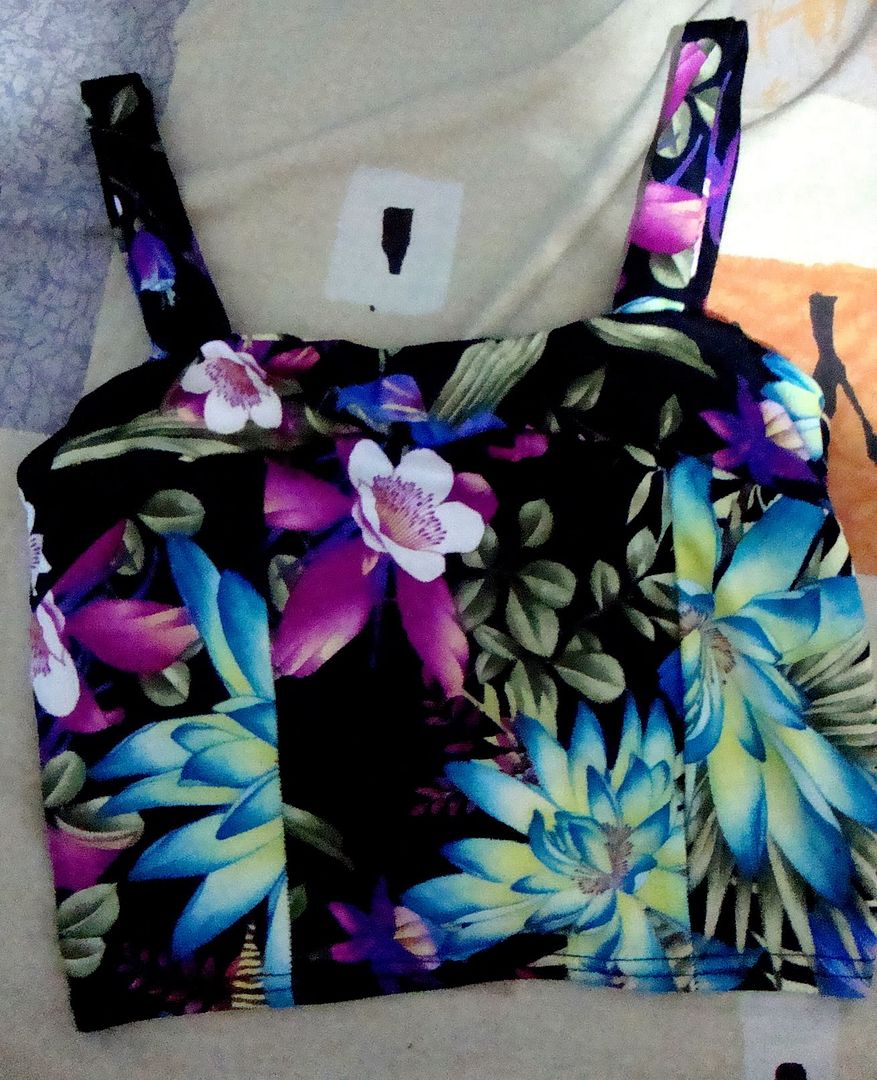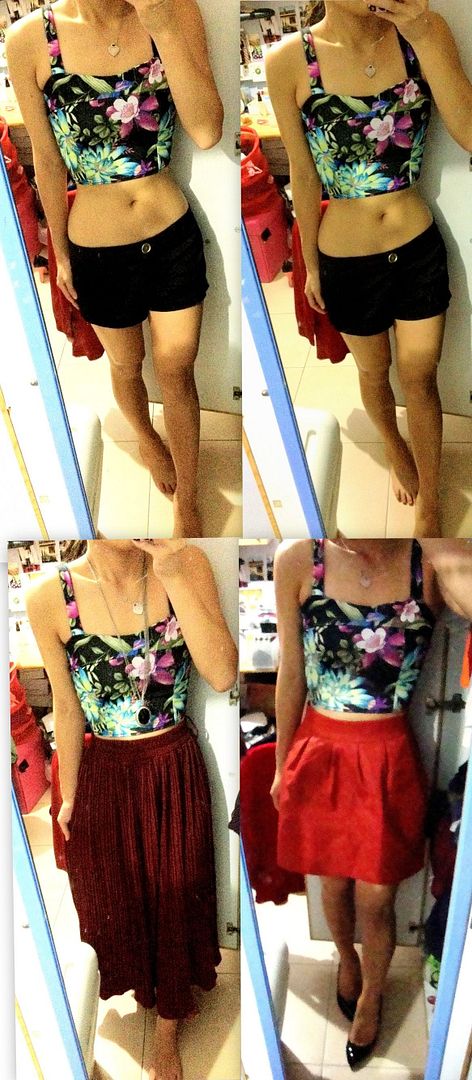 Got this at 15 pounds, which is about SGD 30, which I find it to be pretty reasonable :) I got it at UK 8 and honestly when it came, I was shocked but how tiny it was. It was just 13" across and glad I managed to fit.
Being sort of a bralet/ cropped top and the latest trend supposedly, it is shorter than other tops and the sports bra kinda length. I will never wear it on its own (picture taken after my korea dinner so pardon the bloated pic) coz I will never be comfty showing my tummy haha. Looks perfect when paired with high waist shorts, maxi skirts or high waist skirts.
The back part is really pretty as well, being ribbons and having sexy holes haha. I like how vibrant it is and thankfully, the floral prints arent weird since every piece differ. Imagine on two flowers being placed in front of the boobs, how awkward will it be!
Can't wait to wear this out on a weekend teehee.
ASOS PEPLUM BLACK DRESS (SIZE 8)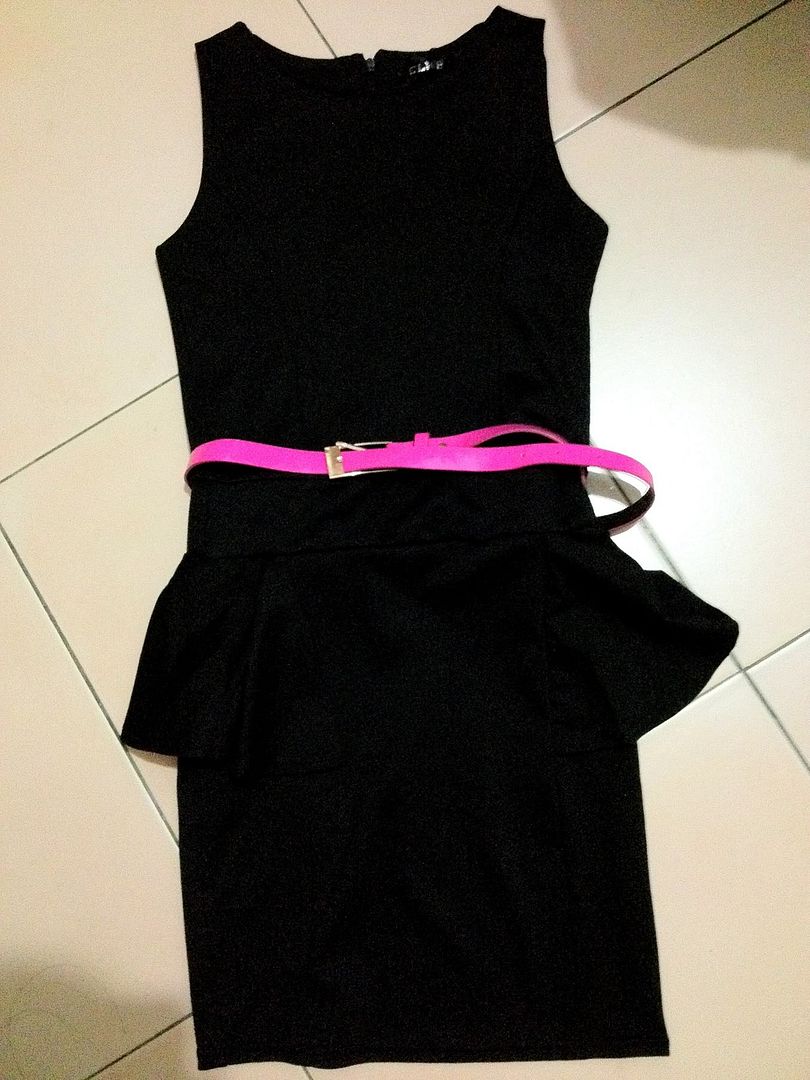 Very gorgeous black peplum dress that I have been looking for a long time.
This was in its smallest size at UK 8 (they do not have 6) and is mega tiny. It probably fits a UK 4-6 and is too short for me unfortunately. Even smaller than the usual Size 6 items I bought.
Thick material, flattering and comes with a hot pink belt (love it)
Kinda disappointed how the sizing didnt go true for this item and I'm going to continue my black peplum dress hunting! :(
Bought at 22 pounds, selling at $40 shipped
Size 8, fits UK 4-6 best
14" across, 31" down
email me at rainbowbangles@gmail.com
INTOXIQUETTE PEPLUM DRESS IN APPRICOT
Yes, another peplum dress!
I got this dress quite sometime back but didnt review as the pictures were too blur.
Wanted something different so I took peach and quite like its contrast against the black skirt.
Top part is of chiffon with tie back, while the bottom is bodycon and more structured.
Fits me well with some allowances for the top and I really like how simple but elegant it is.
Not too flare as well and perfect with black accessories :)\
Can't wait to wear this out!
SMOOCH MILLY PEPLUM DRESS IN MOCHA
Yes, another peplum dress!
Got this from the extra from Backorders recently.
Honestly I didnt like it when it was launched previously and it grew on me after seeing Sarah upload the review the picture of it and the review on FB :)
Was considering if I should get mocha or black, worried about mocha being too brown and dull, but yet do not want black as it is kinda formal. Went ahead with mocha and I was really pleasantly surprised at the lovely colour. It was not brown but more beige/nude and the colour that I like and is flattering!
Quality material and very smooth, fits well with some allowances as well.
I like how flattering the flare part is and not making me look huge as like normal peplum designs.
Will look good with statement accessories (too lazy to put during review) and heels :)
A keeper!
TVD CROCHET SHORTS IN BLACK (S)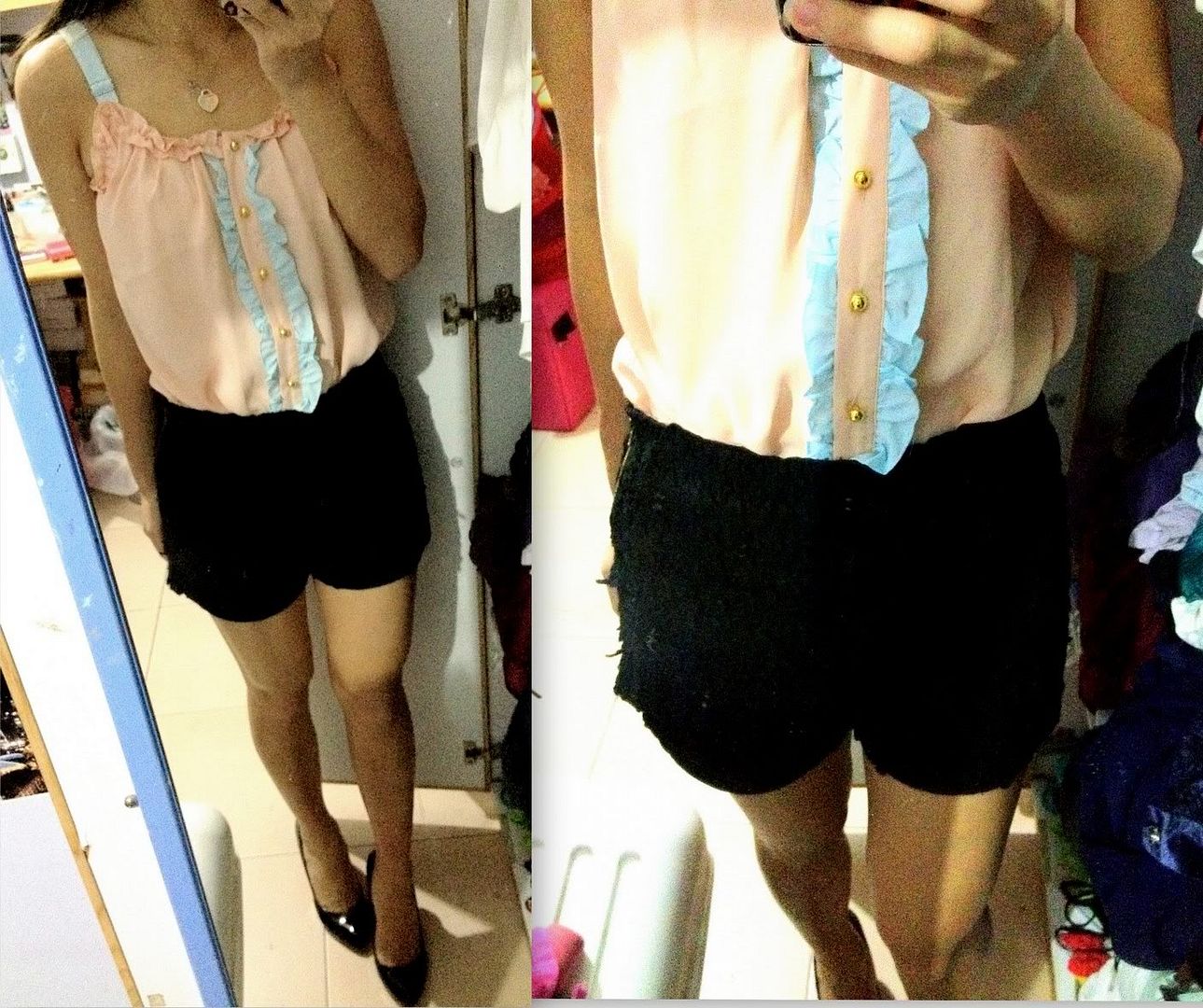 Very lovely crochet shorts that are really trending right now.
First crochet shorts that I seen which are not too short, perfect for those who do not like too short shorts.
Crochet details are really thick and nicely done.
Its tagged S and free-sized I think, fits UK 6-10 nicely and sits at the hip bones likely.
I'm letting this go as I have too much black shorts :)
Letting go at $28.50 shipped
email me a rainbowbangles@gmail.com
LRH SCALLOP BLAZER IN WHITE
]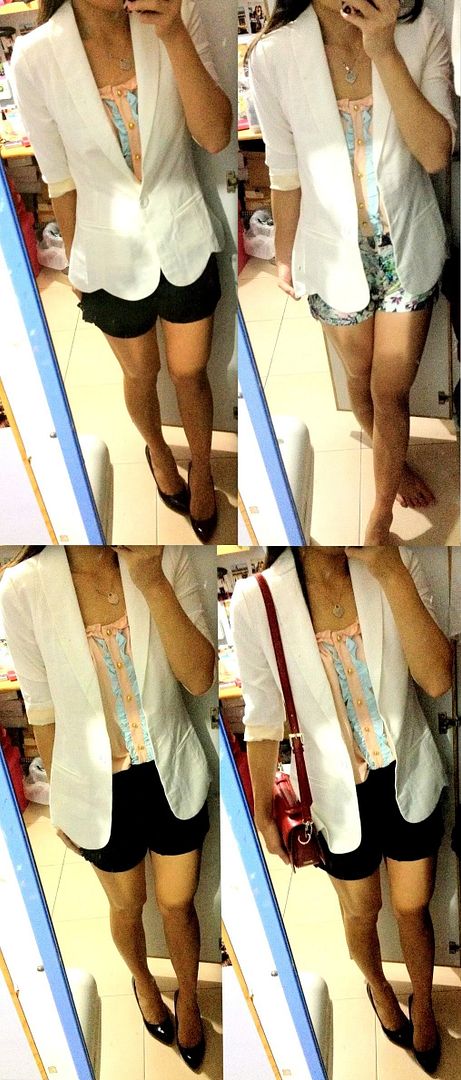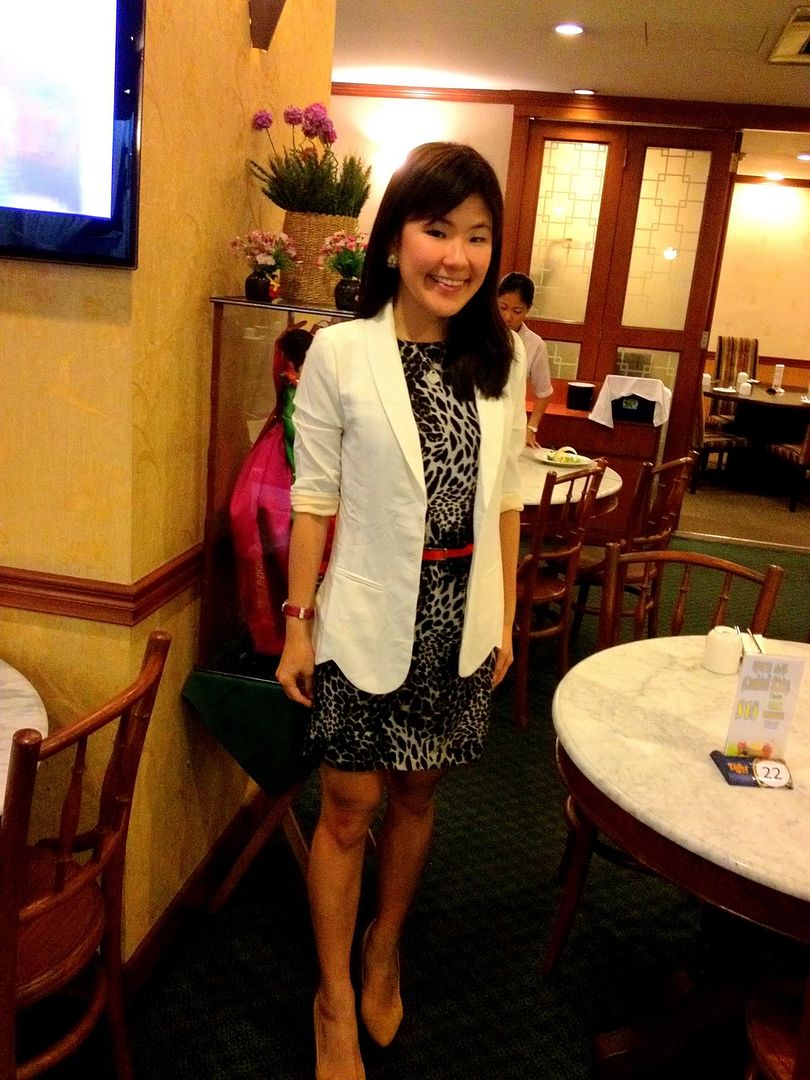 Saw it on instalgram before its launch and have to get this, as it fits the bill for the perfect white blazer!
Was so happy to get it thanks to MH's superb fingers!
Its mad love really. I love how white it is with its contrast cream inner lining and cuffed sleeves.
It fits comfortably with some slight allowances and super comfty with its inner lining.
It is not thick at all, but just nice for our local weather, like what MH mentioned in her review. Doubt I have came across any blazers that had similar comfort so far.
Best of all, it came with scallop hems and make it look really really cute :)
For girls who like long sleeved blazers, this might not be for you as it came with 3 quarter sleeves for you to fold just nicely on to the arms.
My favourite blazer for now!! :)
New accessories & shoes recently!
Lovely blings from Aldo. Not that bling in real life and classy for work with really stable heels!
Finally, the awesome toe-cap purple flats and red bag I got from Pedro!
Very sad that the toe-cap Zara flats went out of stock islandwide after I made up my mind to get, so I got this beauty from Pedro. Purple with silver toe-cap, enough to satisfy my toe-cap fetish for now :)
Loving how cute the red bag is for days where I do not need to bring so much things.
Shall end the entry here :)
***