31.05.2012 -
Amazing, it's half way through 2012, can you believe it?!
Months by months flew and its true that life in SG is so fast-paced that we are rushing to keep up with it constantly, yet there's a need to take stock and reflect.
Procrastination is a common habit with countless "tomorrows" that will never come..
So far, I've managed to accomplish some the items I've secretly want to do in Jan
1) Set up a blog and blog regular (I've done that since Feb 12)
2) Continue running and improve my timings (Got a PB for 21 & 42 km)
3) Spend more time with my family
Okay the list ends there, kinda pathetic so here's more for the

remaining

year
1) Continue to wear retainers (I currently wear fixed retainers so am too lazy to wear the removable retainers though its a good option to do)
2) Save more (Set aside more money ever month for new house!)
4) Learn driving (No urge to do it don't know why)
5) Continue running, never stop
Setting realistic goals help I hope. :)
Really looking forward to June for our 3 years anniversary teehee.
Managed to influence my sis to sign up with me for the upcoming
Yellow Ribbon Run
in Sept, mad exciting! :) It will be her first race woohoo!!
As for me, really looking forward to the 4 runs in the remaining 6 months to push myself more.
So how have your past 5 months in 2012 been?
Lets gear up and charge ahead in the remaining months!
An OFTD for Tues, slightly different as its the Gaga concert day!
Paired with the bling top from Smooch and i love it!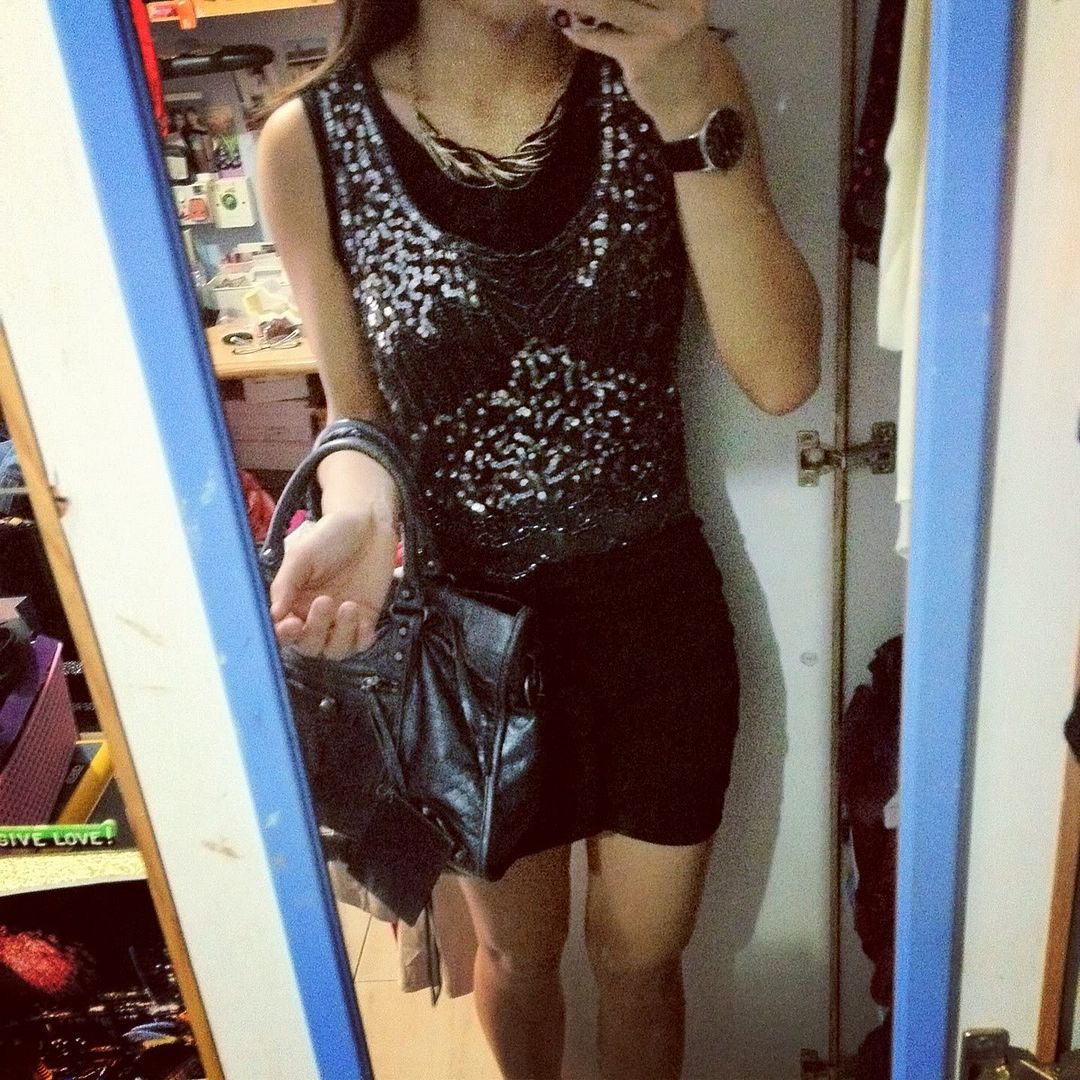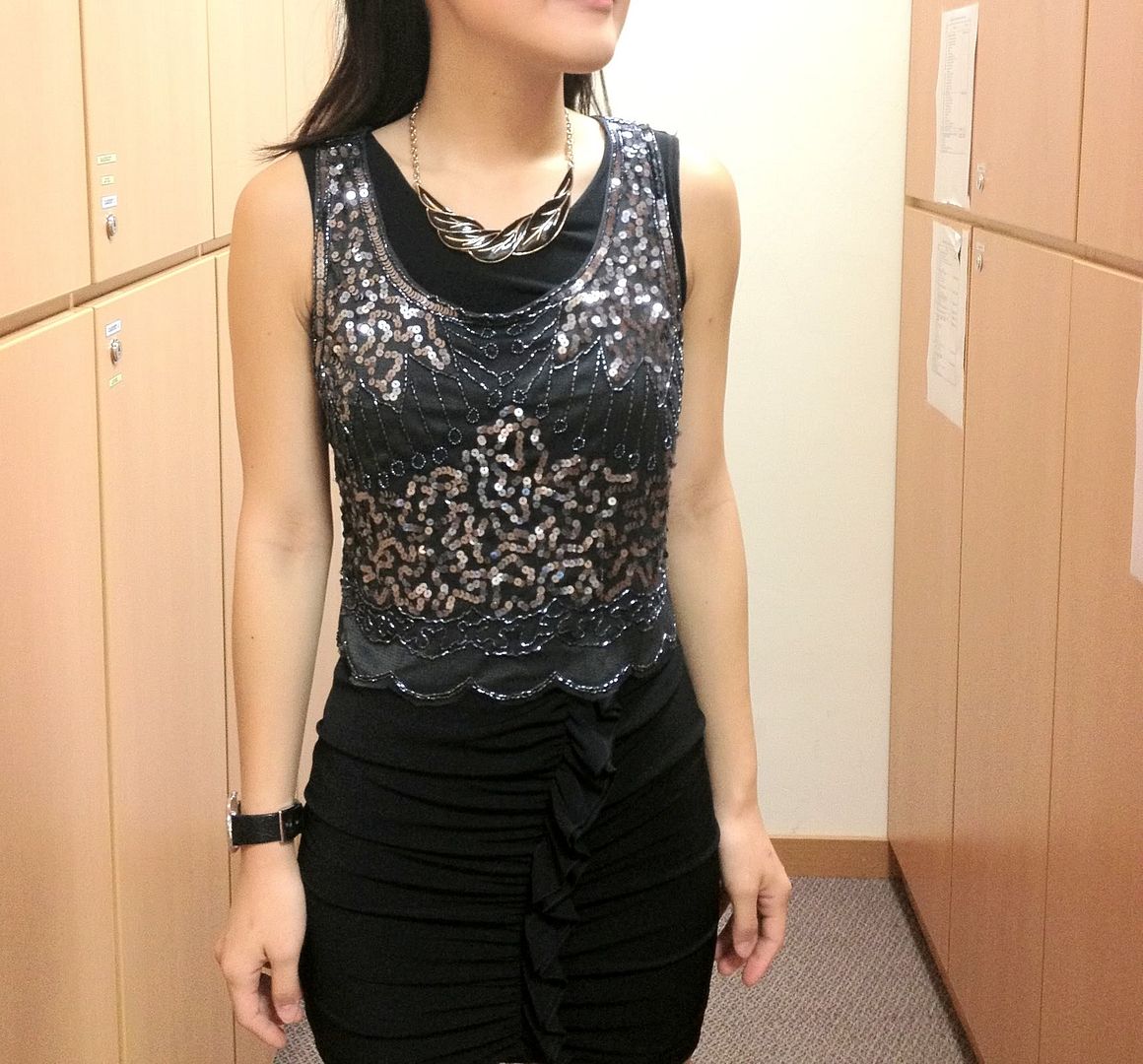 Smooch bling top / CWC Ruffled dress / TE Necklace / FCUK Watch
Attended Lady's Gaga stay real concert with Tess and its really awesome.
Tess's Gaga shoes, absolutely perfect!
To be honest, I am not really a fan as I find her abit over the top. But gonna admit she is a good entertainer and sings live throughout, without any signs of fatique. Right till the last song with 2 more songs during encore section, the song was sang perfectly with dance moves. Not to mention the changing of outfits during every single section, just plain fantastic! If there's any concert worth the bucks, it would be none other than Gaga. She don't just sing, she practically rock the whole house down!
I like the part where she talked and shared personal thoughts with the audience, on staying real and to live the life we want and to believe that there is a spotlight around us all the time.
Thoroughly enjoyed the concert with Tess, thanks to J! :D
Here's us in contrast with the other dressed up fans.
We had awesome seats right in the middle so it was really a good view :)
Too bad I didnt bring along my cam so had to use my iphone
Here's Gaga's
wonderful castle, super duper awesome props!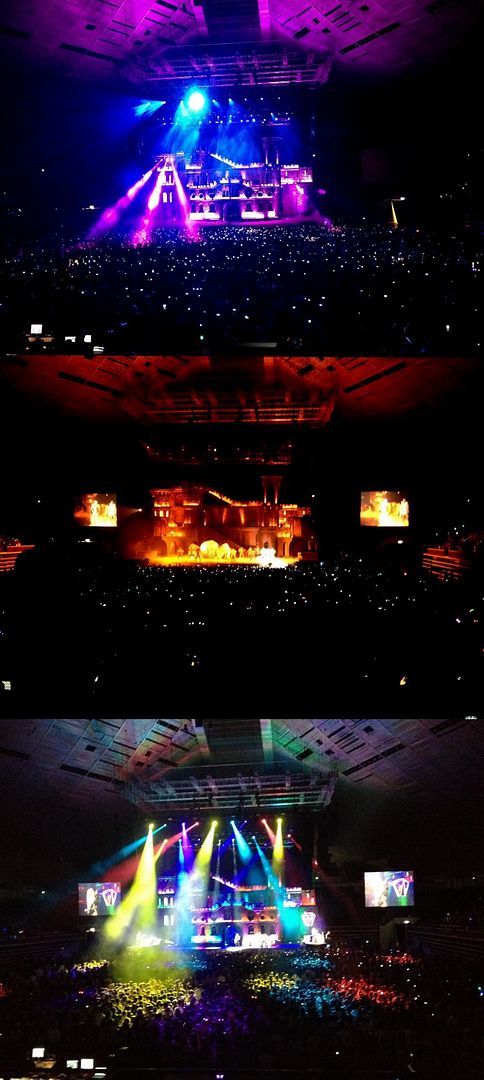 Pictures from Maxine's fb to share (hope you don't mind! :D)
Lazy #OFTD - Mango Snake-print dress with flats.
I never hide my love for such animal prints, be it reptile,

python

, snake, zebra and especially leopard because it is kinda exotic in a way haha, though I am scared of these animals haha. Bought this during a sale and not sure if I can pull it off without looking too old but luckily it seems alright :) With bright accessories for a contrast.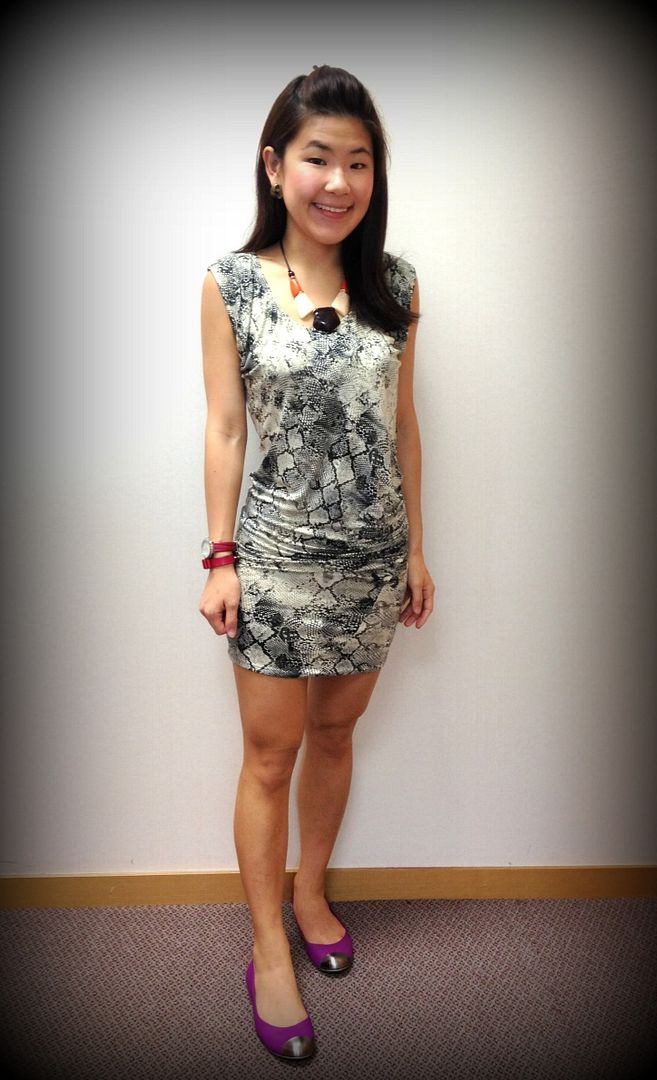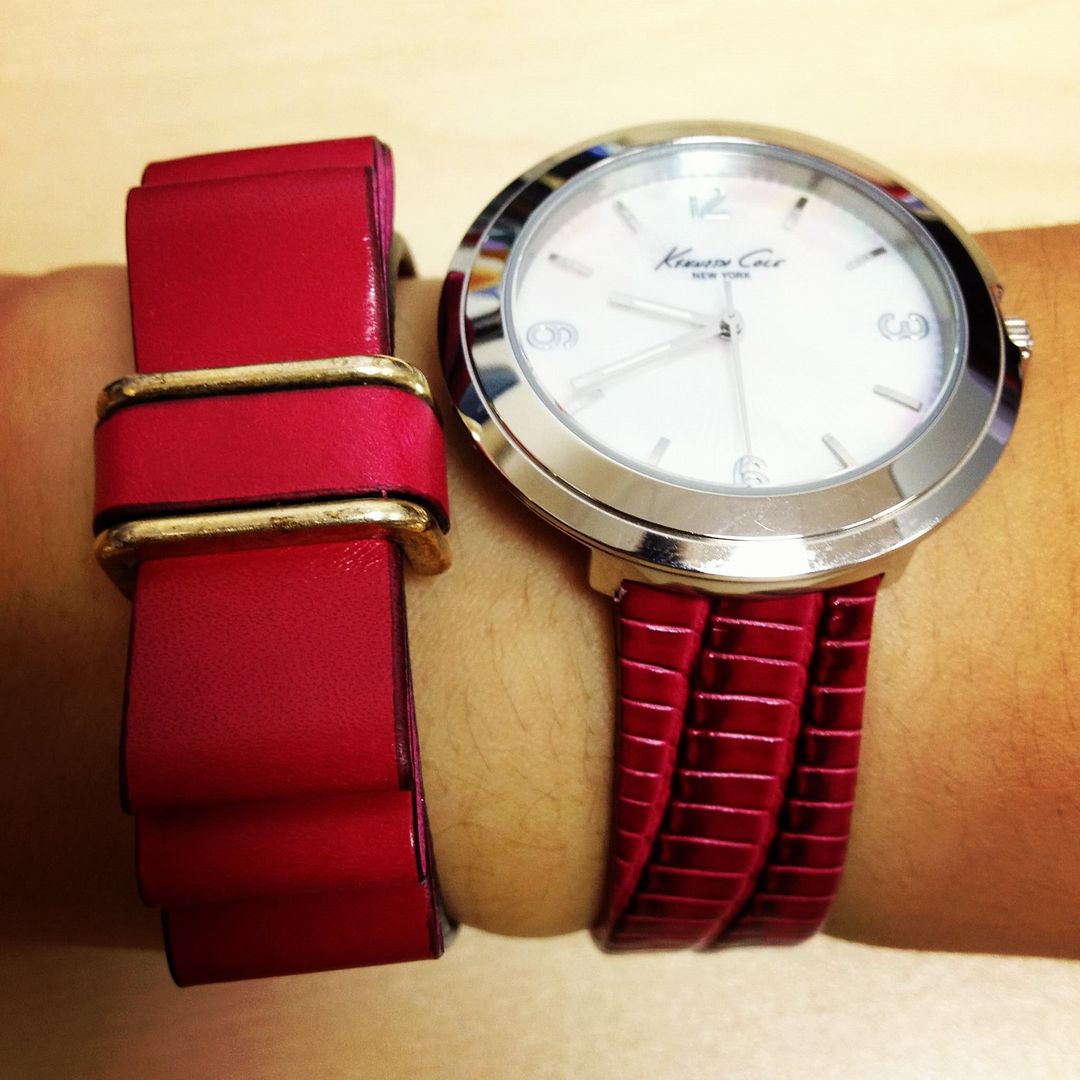 Mango dress / Pedro flats / Kenneth Cole Watch/ MD Cuff Bow
It happened to be dear Sham '
s farewell as well, a girl with the best smile and most sincere personality ever. My fellow soccer team mate and we have lack another netball player as well. However, we have gained another awesome friend to meet after work :)
Okay, here's the reviews of some items :)
SMooch Sheer delight in black / cobalt
Tough choice selecting the colour but somehow I turned to black/cobalt though I liked the hot pink, but this seems more toned down and refreshing for a change :)
To be honest, the length is too short for me and the only reason why I would sell it away. Sizing wise, it has allowances but I'm fine with it.
Length aside, the dress is fab with two looks. I paired a bling ASOS belt in the first with the mesh down and it looks so chic! Remove the belt and hitch it up for a casual feel, what's there not to love? Material is average and cooling for the weather. I love how the blue peeks out for the dress subtly :)
A steal at $25.50 and I love the design!
Email me at rainbowbangles@gmail.com if interested, I will still think about it haha.
Love Bonito Peplum Skirt in M

alachite

(S)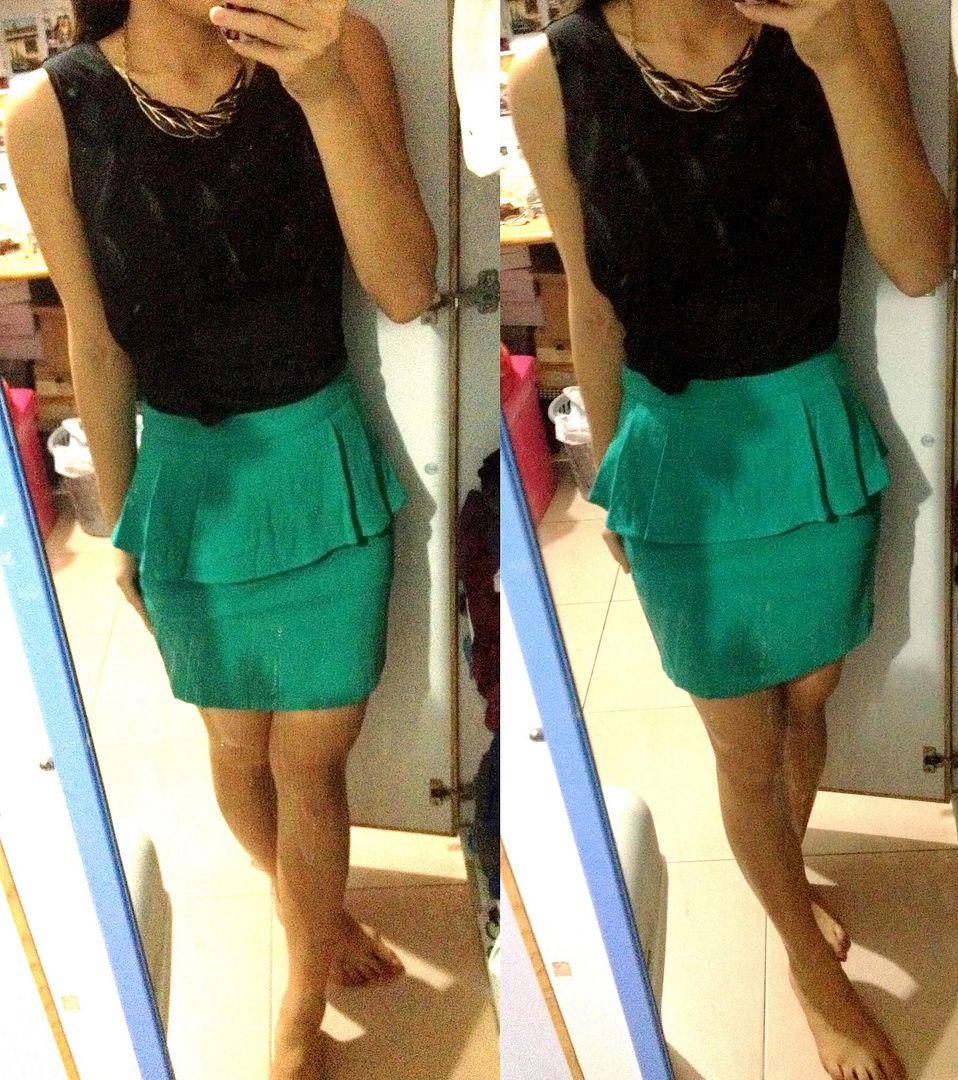 The fourth peplum skirt I've own so far after having a white, black and nude version. I wanted cobalt but it was OOS so I got this colour instead. On a sad note, didnt manage to get the bralet as well, fingers getting really slow now haha :)
I love the design of the skirt, its less poofy than the MGG one that I have worn it here. This is less stretchy as well. Hard to decide which one I prefer coz both has different feel. This is more suitable for work while the MGG one is cuter and more casual.
Colour is duller than the website and more toned down. A pretty shade of green! Looks good with cream, black and yellow I thought. Size S fits me well with some allowances and very comfty. Nothing to fault at all.
Will be letting go of this because I have too many green skirts!
$30.50 shipped
Email - rainbowbangles@gmail.com
Oh yes, I've got a couple of enquiries and emails on my Gojane orders.
I have ordered it for the last 4 years and really love them to bits haha.
For some who emailed me, apologies if I am unable to take in your orders but I will definitely try my best next time.
Been a naughty girl and there were two batches in two days again for my friends & i..
They had the discount code (Memorial31) which takes 25% off entire order. And those codes have lead to me being such a loyal customer from them over the years haha.
I have only two pairs though, coz my pretty mint ribbon skirt went out of stock! :(
More pretty shoes for my friends and colleagues yay!
Here's the tweed pink cap-toe (yes again!) & reptile heels that I've ordered.
Love at first sight for both that there were zero

hesitation

really.
For now, I will try to curb the shoe-aholic in me to keep my hands off that website for a few months and refer to my reflection above haha :)