Highly anticipated marathon for me, because this year its held in the city -"Live up the city" instead of the boring changi costal route
It was my
4th full marathon
as well and how time flies!
Did not expect it to be the most memorable 42km ever, so this is going to be an emotional blogpost that I have to pen down before I forget :D
***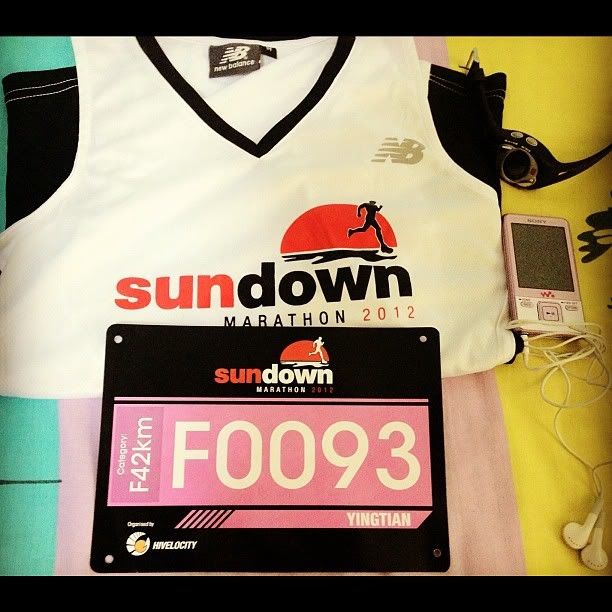 Prepared my essentials (Mp3 and stop-watch) and taping on toes/body before heading for the race. That day, I slept the whole afternoon, had a carbo-load dinner and was feeling okay until PMS finally struck again 2 hours before the race. Always like that ever since the first SCM, so it kinda made my tummy felt weird for a second but after a hot bath that made me feel calmer, I felt ready to go.
Wasn't feeling confident actually, because my training sessions were up to 12km max. I trained 3 times a week, two short 45 mins sessions and one 1.5 hour session. During the last week, I did tappering, with 2 30 mins sessions and that's it. Glad the previous
15km 2XU race
and
21km RUN 350 race
gave me extra training and confidence.
It commences at 12.30am at Cityhall and it was really exciting to see the lights in city around.
Its going to be quite a long and dark night alone I thought.
The first 20km was generally okay, I went at my usual 10km pace and it was smooth. Weather wasn't exceptionally cooling with the thin air but the sweat cooled our bodies down. Then at 20km, we reached ECP after the 21km and 42km routes were separated. The breeze from ECP was good and I felt lighter and happier.
Then, it came the drizzling!
Thought it was just some dark clouds passing by so I went at a faster pace and the wind felt good against my face. By 23km, the rain has became so huge that it really seems impossible to continue. The raindrops beat furiously against my face and eyes, and I had to wipe the rain off my eyes when I run. We were all soaked drenched and I was so tempted to take shelter at the pavilion with the other runners. After all, there is still more than half to go, with at least 3 hours, so I cannot run and get sick like that right?
Decided to continue running as the rain seems never ending really. It became a thunderstorm with lightings. Went faster to try to "beat" the rain, but it got heavier and heavier up till 30km. The longest 10km journey and after a while, I kinda like the coolness of the rain which wipes my sweat away. The runners around were mostly male and quite motivating, going forward and splashing water with their sports shoes. At the drinks point, I've no idea if I'm drinking rain water or H20/plain water. Shoes were soaking wet and I look super duper cui that I'm glad there are no photographers around in the rain! Glad I wore blue (:P) that day and not the white Sundown singlet, so that saved me some modesty haha :)
Found the whole scenario quite amusing and romantic, seeing some couples strolling in the rain and holding hands. Just that I'm alone with all the muscular men and TC is alone waiting for me at the endpoint. That kinda spurs me on to be back to his arms! The markers along the way spur me on and instead of being too bothered by how much more to go, I focus on being engrossed in the process so that the mind will perceive it as less daunting and painful. All in the mind!
Didnt really help that some parts of the route was dark and scary with the lack of lightings. I had to look out for stones or holes in the floor at 3-4am. Lots of concentration despite the fatique. Music from MP3 was really comforting with lots of songs I like which made the whole journey much better. Rain got better at the 37km mark. I sprinted, as I realised the 5:30 pacers were behind me.
Finally, I reached the ending point at 6am and got my personal best at 5hr 27 mins, which was a 18 mins improvement.
All thanks to the rain that made me run much faster, without any breaks and my crazy mind.
Its not the timing that I'm happy about, but rather the whole process, how I defeated the
unexpected
thunderstorm and pressed on to the ending point.
Its such a memorable experience to run in the rain for long hours alone, to go on without giving up.
Looking back I think I'm really nuts and hope I don't get sick tomorrow!
Also, super touched with TC for waiting so long again, stoning and doing nothing and yet not complaining at all. He said he wanted to go and find me at ECP but didnt know which part I am. Treated me to breakfast to reward me and I'm so blessed really :)
***
Heading to Cityhall at 12.30am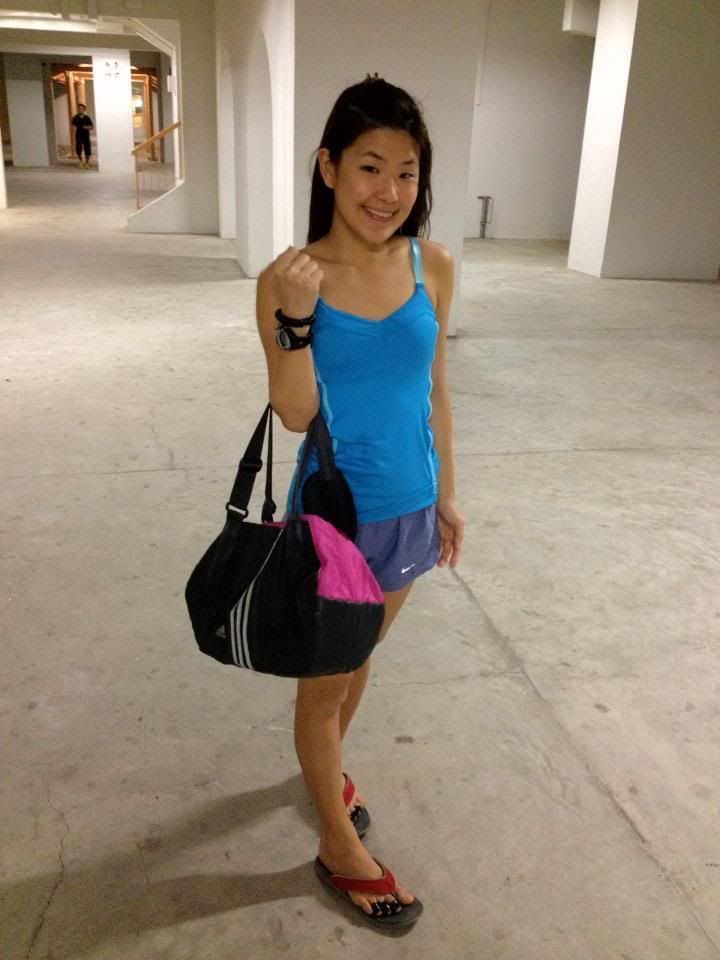 Usual stretching before the long run!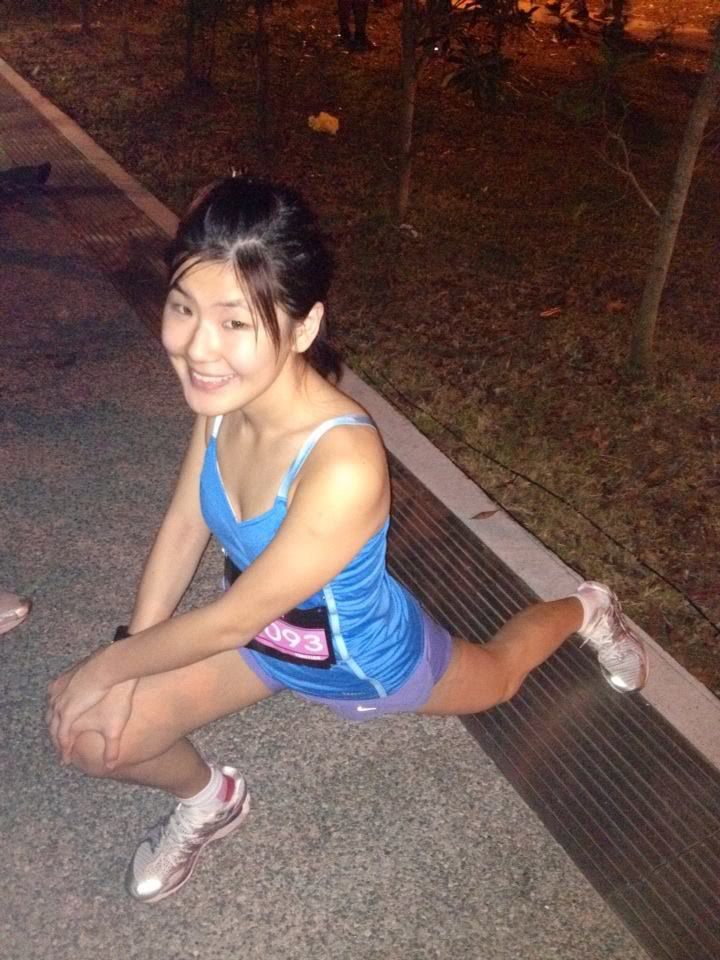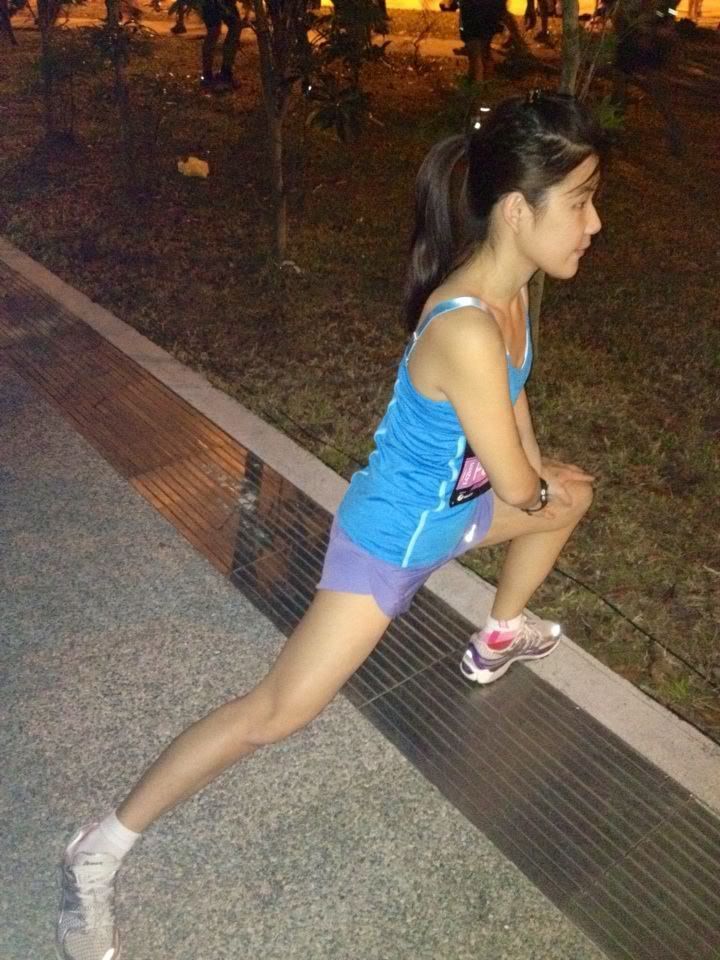 Pre-race happiness without knowing what to expect. Love races because no need to doll up, no make-up needed!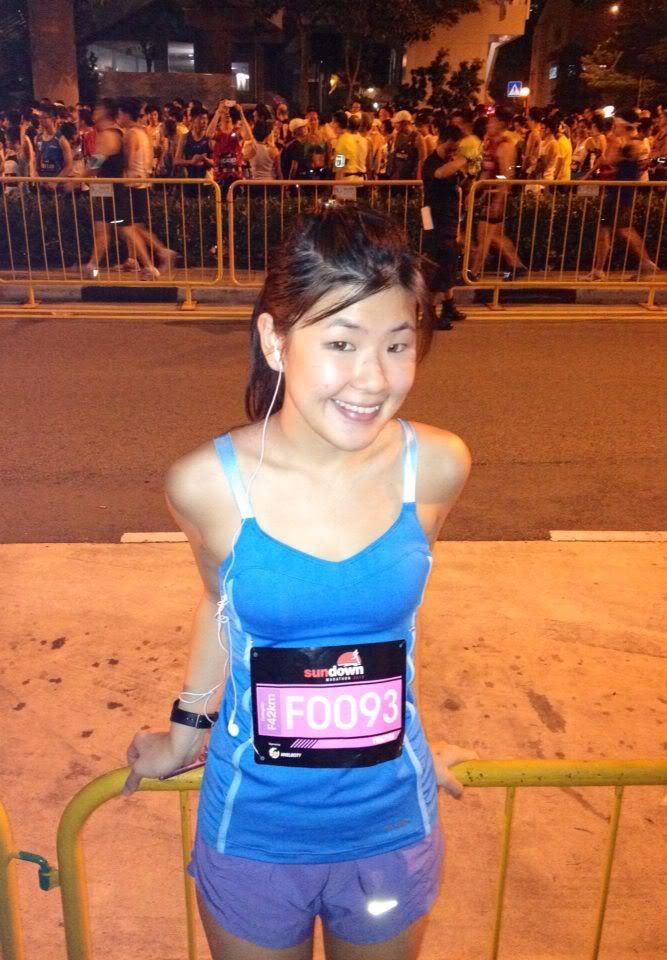 Flag off for 21km/42km, huge turnout!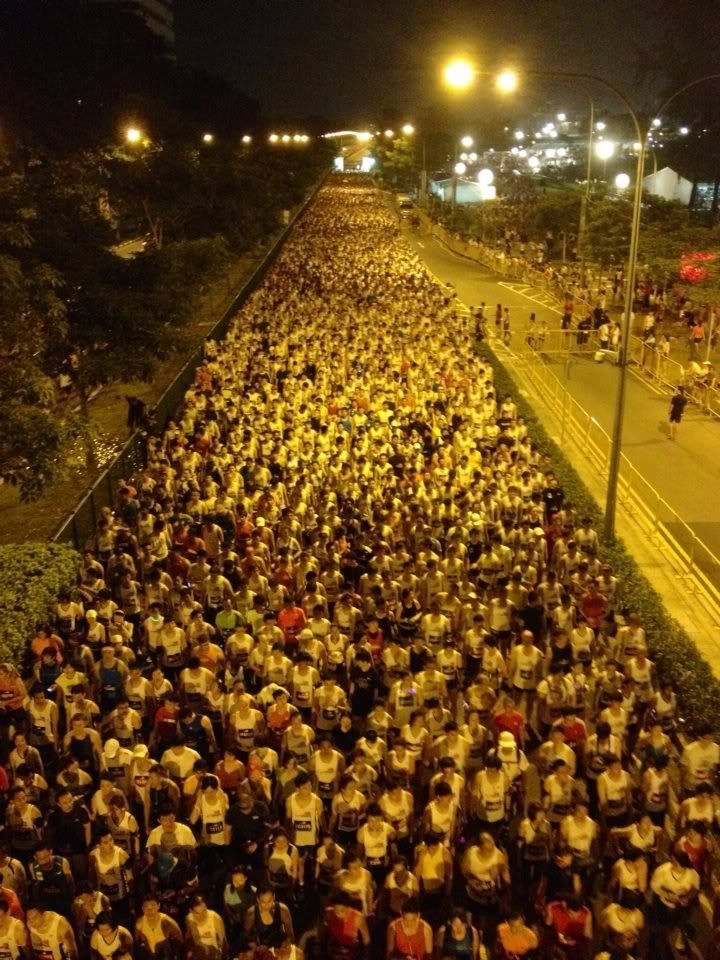 After the rain and long journey, most cui photo ever! Still super glad to finish :)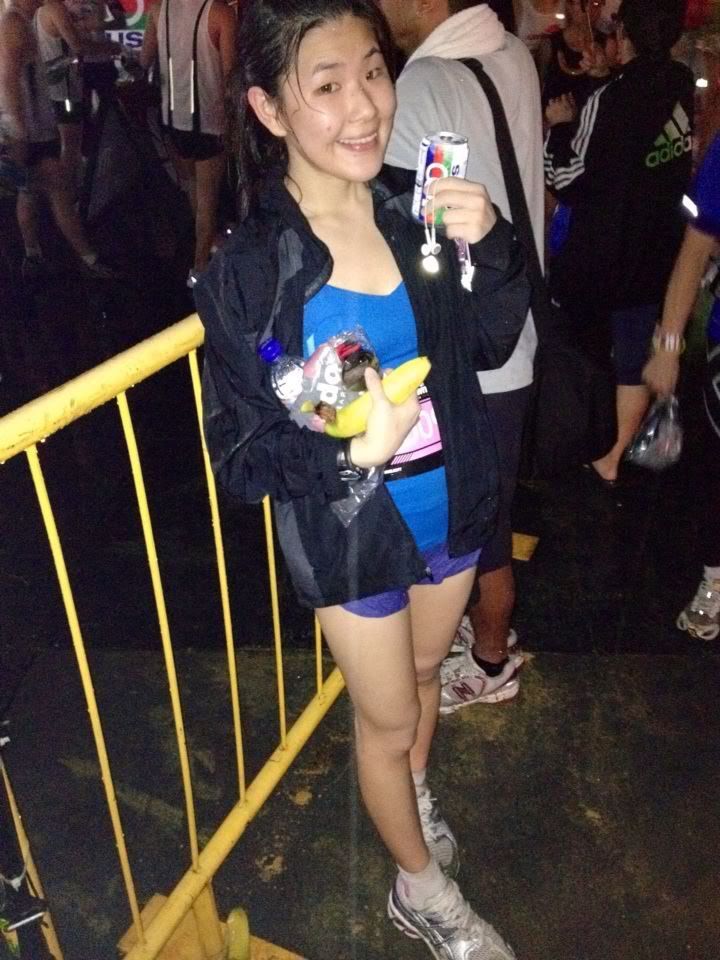 PB thanks to the rain!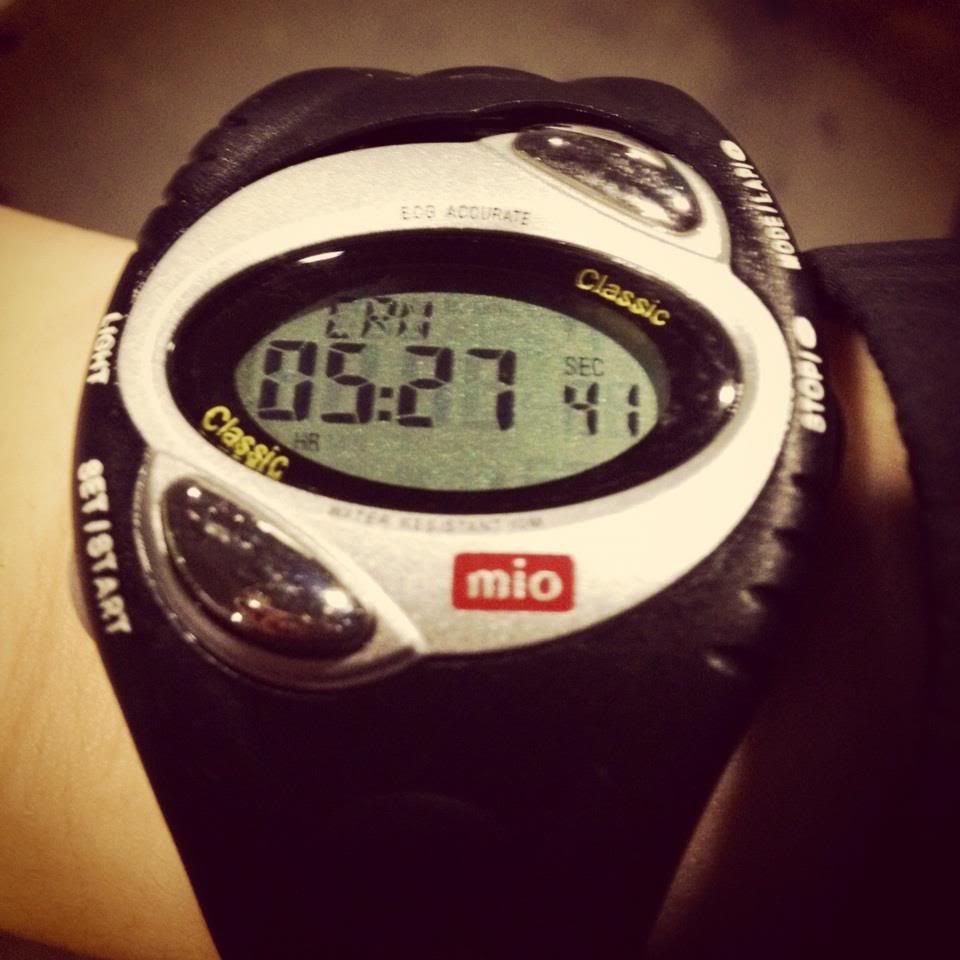 With my top supporter :)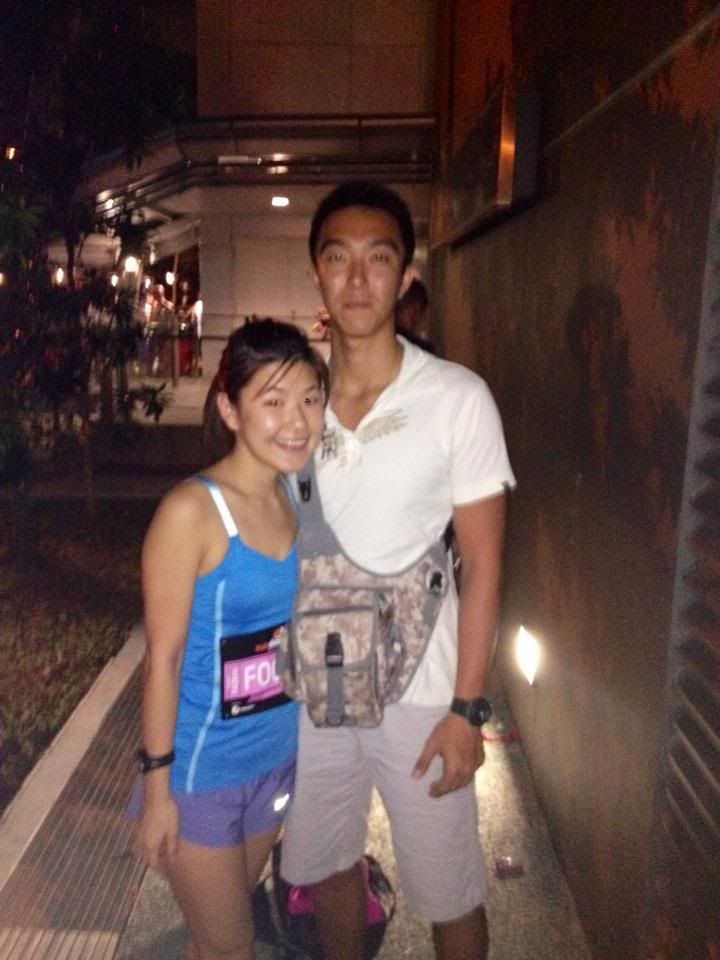 & finally, the medal and finisher tee that I got with my sweat mixed with the rain haha..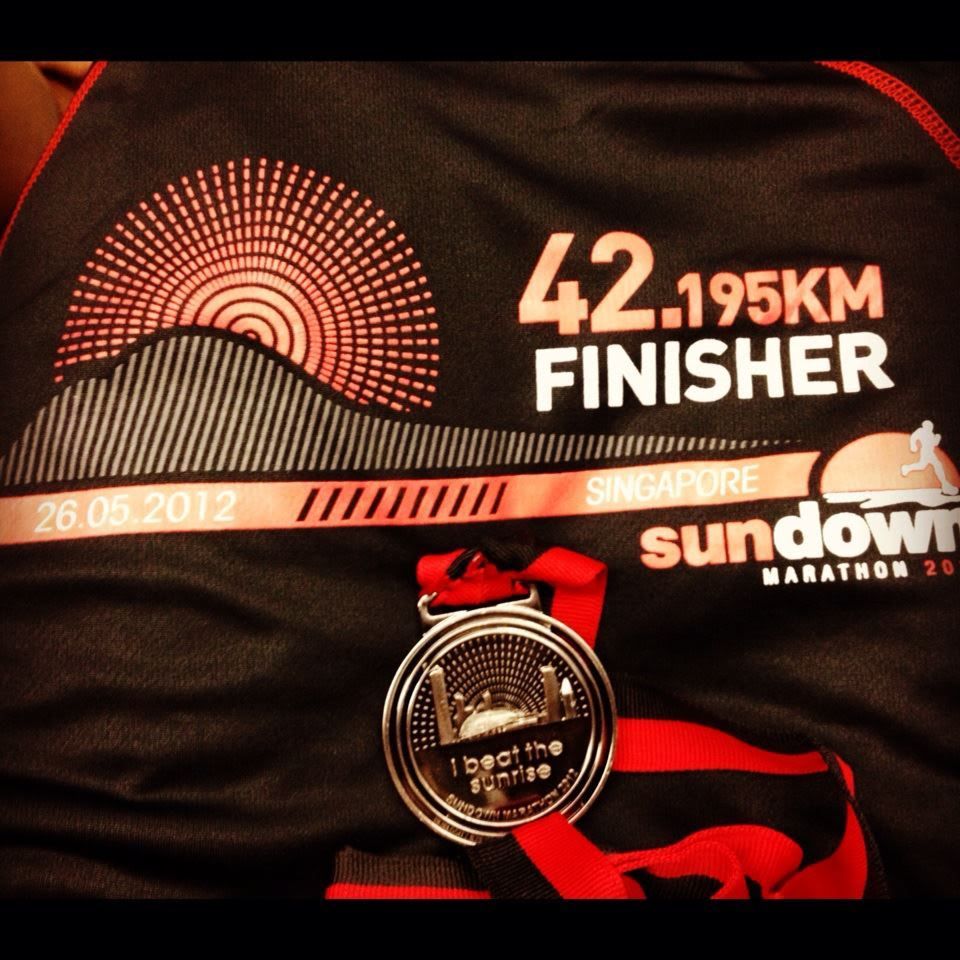 YES, I BEAT THE SUNRISE, RAIN AND THUNDERSTORM!
What an emotional run that I actually teared after that LOL, it certainly made me stronger this time round.
Till the next Shape Run in July! :D :D