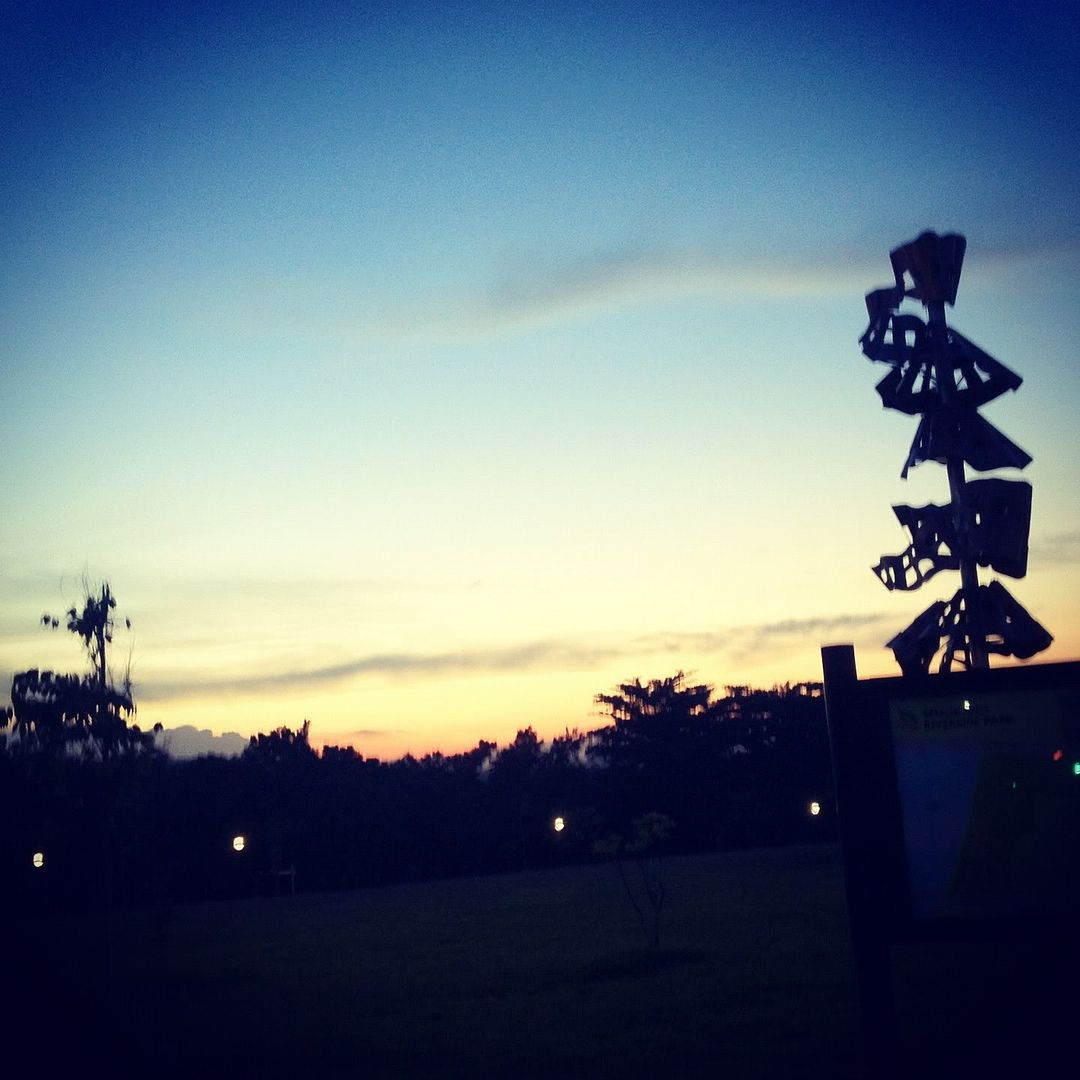 I never run with my iphone because it's too distracting, I would be so tempted to check my emails (email fetish haha), twitter and the notifications would probably defeat the purpose of running..
And running to me is getting some personal time, away from everything and my reflection time, so

I usually just run in my trusty Sony mp3 player and my stopwatch.
Usually i try to keep it as light as possible esp for longer distance & m

any times I would wish I had a phone to capture the sunset or river or certain things..
So yesterday I did a relax run with my phone and managed to capture the pretty sunset! :)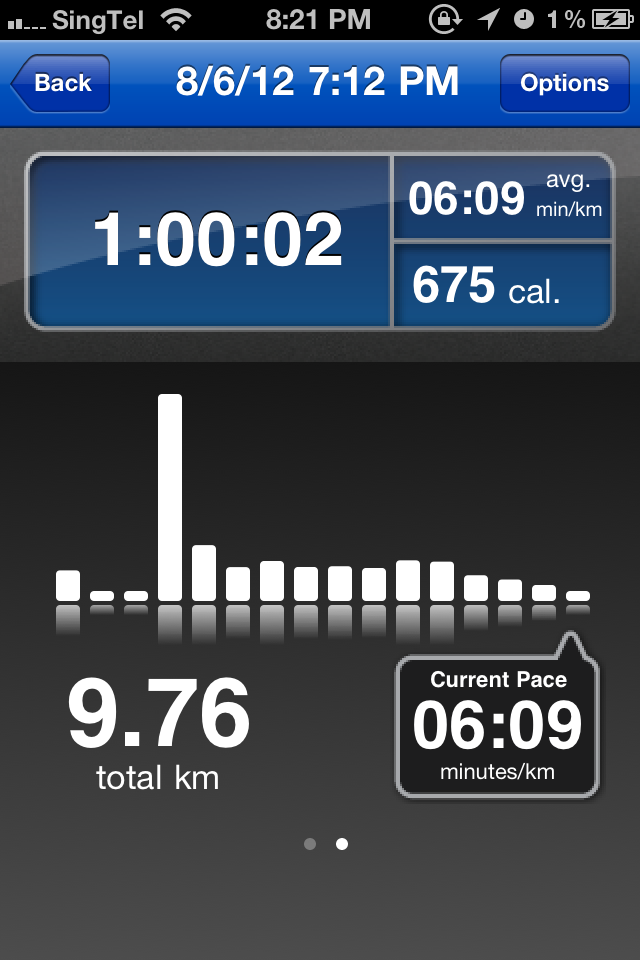 I have three favourite routes of 5km 10km 15km that I go by according to mood, weather and time so usually I try to alternate them as much as I can
With the traffic accidents case right now, I'm becoming quite paranoid when i run, usually steering away from roads. Even on pavements, I look around in fear that some car might ram onto the pavement and try to wear bright colours at night
I've met big dogs barking at me at night or even weird strangers but I managed to get away from both without getting hurt...so running safe is really really very important..
You can miss a training session or two and there will be more to come.. but there's only one life!
Wore my

The Tinsel Rack Fishtail skirt in Black (S) so here's a OTD and review!
I have been eyeing this skirt since forever and ever with so many pretty reviews and super slow on that but didnt get it, because 1) I was too slow 2) none of the colours appealed to me except for the blackberry colour
Finally got it in basic black though I was so so tempted to buy in purple!
Loving it max max because its so floaty and I felt so feminine that day haha
Wore it with a orange top for contrast and with my fav comfty Melissa flats for Project Shoes.
Mango Top / HK necklace/ TTR fishtail skirt / Melissa Flats/ Vintage belt

On the skirt, I really like it thought the material is not super fantastic, but the design really makes up for it.
Size S fits me perfectly at the waist with some allowances. For this version, its slightly different as stated on TTR web and you can wear it in different ways! :) I like the long part to be behind because I rarely wear

asymmetrical

items except for togas haha :)
Really a fantastic skirt to own and play with so its a keeper!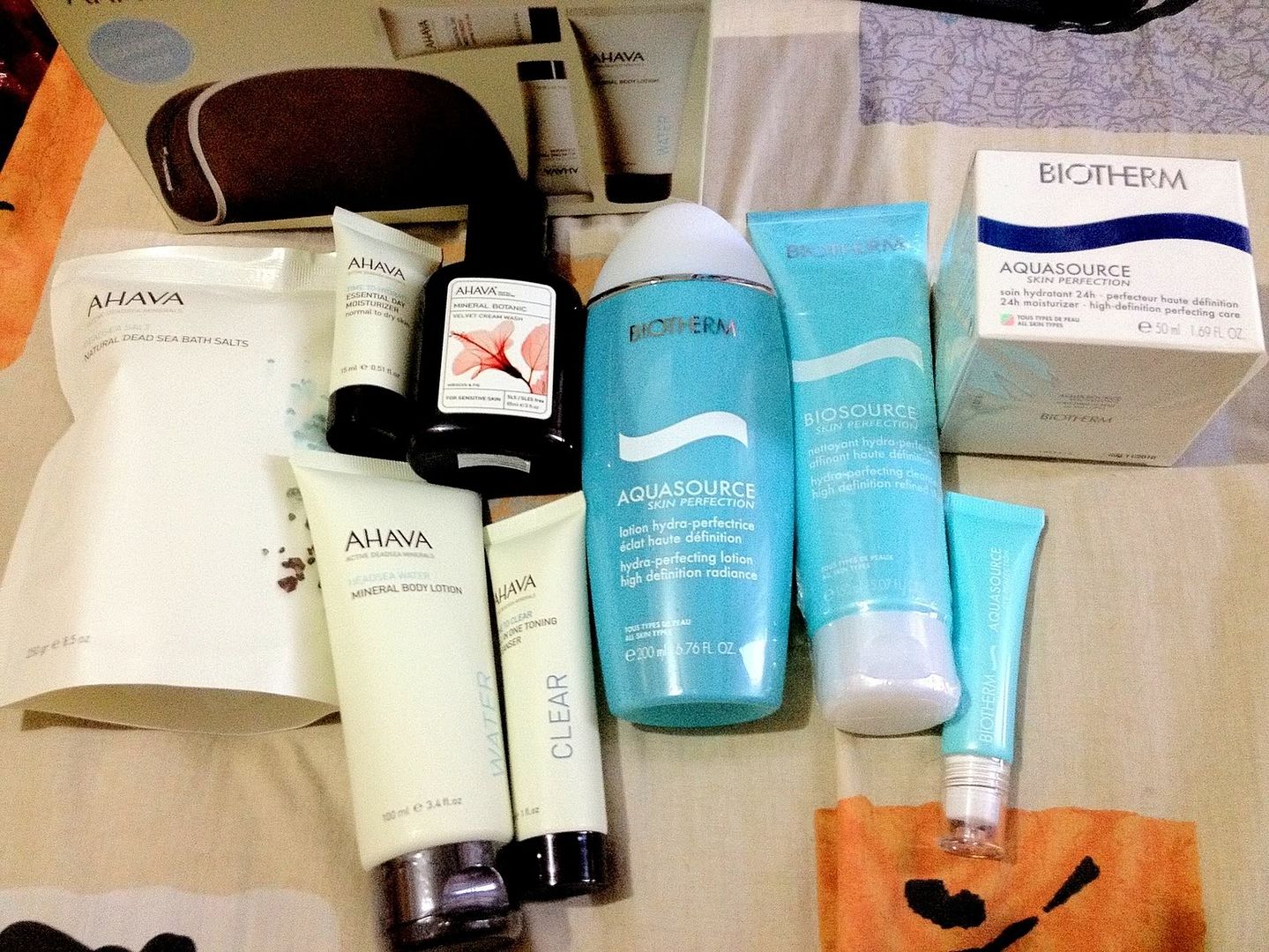 It consists of full-size skincare products from Biotherm and Ahava.
I tried both last night with my usual skincare regime and its mad fantastic, woke up to baby skin today morning.
The eye massager is super awesome, googled some tutorials on how to massage the area and did it to hydrate the eyes portion and it feels so hydrated this morning.
I do not have any eye circles or eye bags since young probably due to my small eyes because I still sleep quite late haha but really happy to see it hydrated whee.
Will try out the other products when I have finished my usual cleanser and body wash which may take ages!
Thank you herworld once again :)
***
Received

June's Bellabox

and this time round, its a bumper box with 8 items!
I was honestly feeling abit tired of it after the
May
,
April
and
March
boxes with similar items and delivered late, but this time round it made me really happy so I will probably continue with the subscription.
Here's the goodies this month and I love EVERYTHING!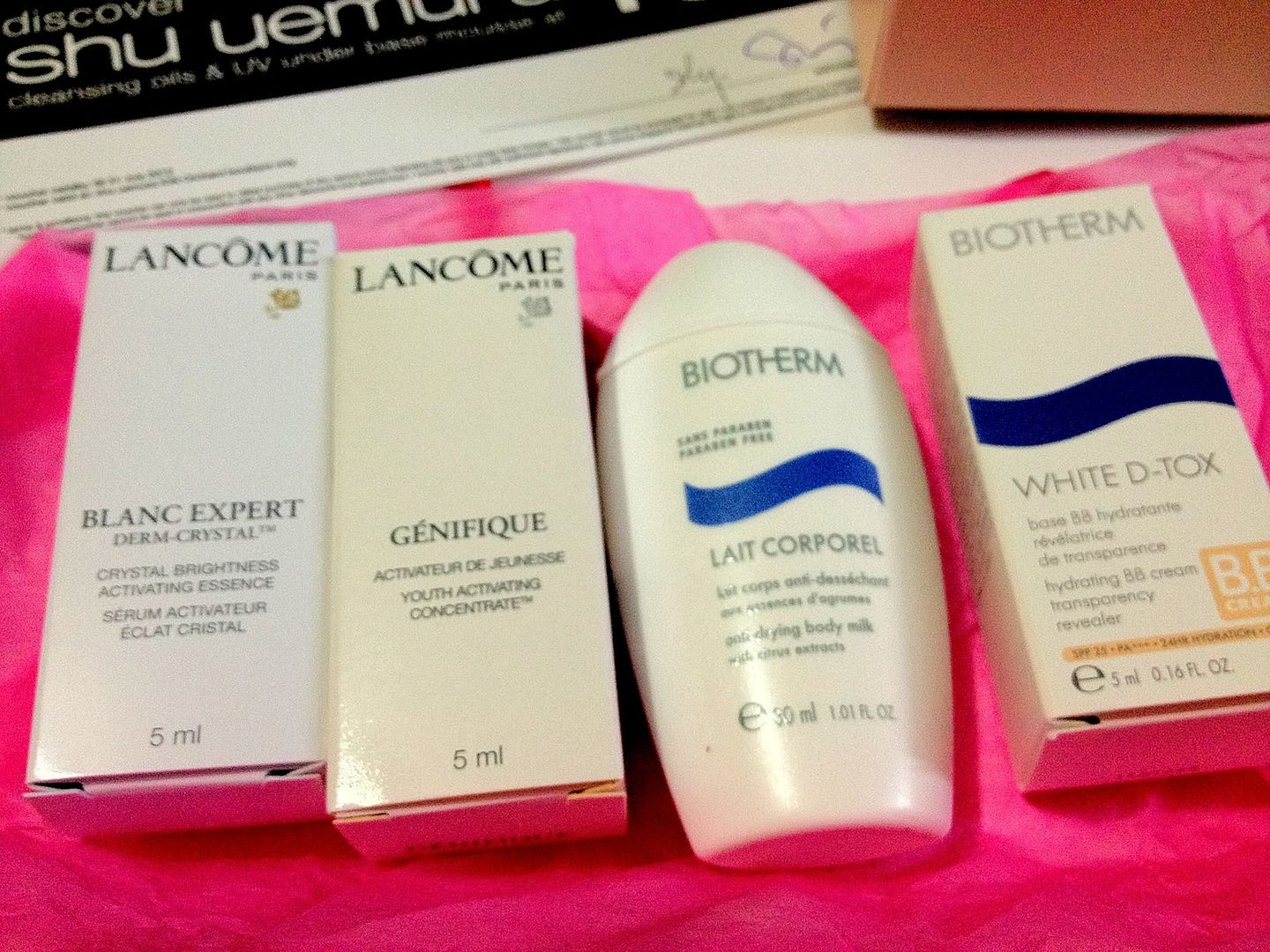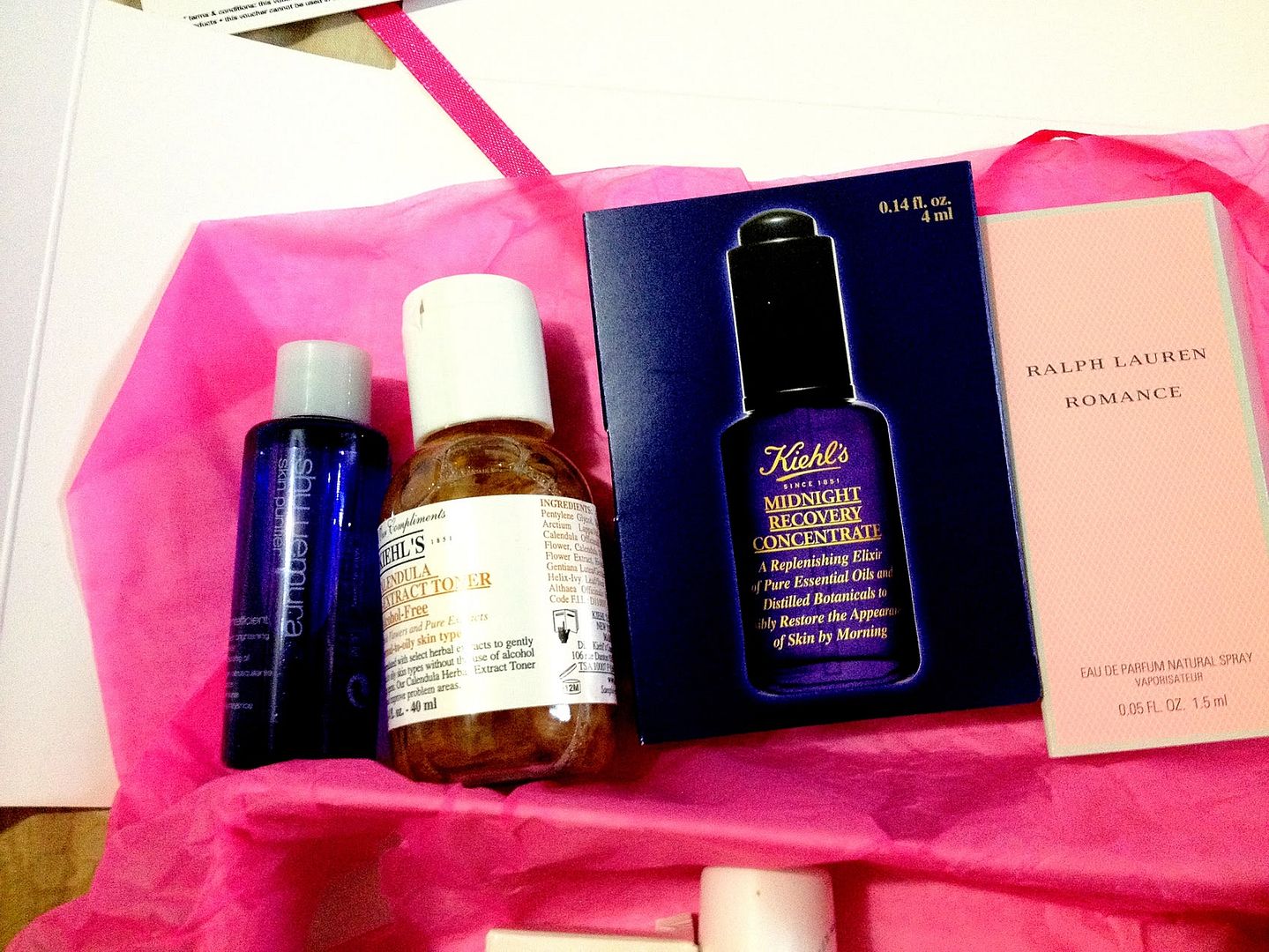 KIEHL'S CALENDULA HERBAL-EXTRACT TONER *
KIEHL'S MIDNIGHT RECOVERY CONCENTRATE *
LANCÔME GÉNIFIQUE YOUTH ACTIVATOR
LANCÔME BLANC EXPERT DERM-CRYSTAL
BIOTHERM WHITE D-TOX BB CREAM
BIOTHERM LAIT CORPOREL BODY MOISTURIZER
RALPH LAUREN ROMANCE PERFUME *
SHU UEMURA WHITE EFFICIENT GENTLE CLEANSING OIL *
Highlighted those in * for those products I have been wanting to try since forever but it was way too expensive. It came with vouchers from Kiehl, Lancome, Biotherm, Ralph Lauren and Shu umerura for those thinking of repurchasing so its quite a good deal.
I love perfumes and Ralph Lauren Romance smells so good just that I wish the sample size is kinda bigger haha. Also, been wanting to try Shu Uemera cleansing oil so it is really a happy surprise this month.
Also, been hearing alot of raves for Kiehl's Midnight Recovery Concentrate.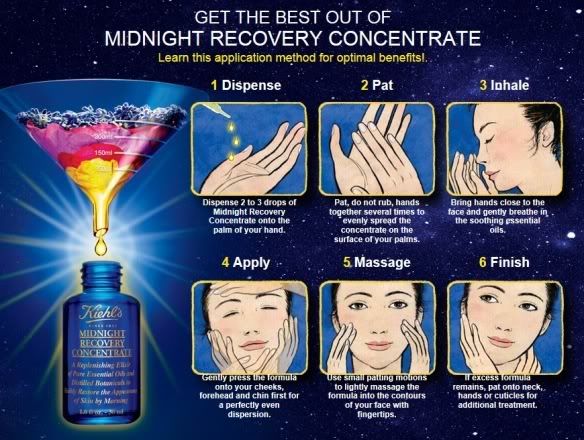 At $15/month with no minimal subscription period, Bellabox is really good and worth to try for girls who like to try new makeup or skin care products! It delivers straight to your door step and is packed nicely with an element of surprise :)
June's bellabox is still available for purchase so get it at
Bellabox
!
***
Seriously, so many skincare products to try that I can really stop buying them for quite sometime, especially when I have alot of back-up items bought previously in Hongkong.
Went crazy in HK so I have 3 big bottles of SK2 Facial Treatment Essence because its so much cheaper, anyone wants it?
I'm quite a lazy girl when it comes to skincare but have become more hardworking in these years, because with good skin you dont really need much make-up and its so important!
I have average skin with not much problems except for blackheads on my nose currently.
I have tried many brands from Watsons or counter brands and after so many years of experimenting, I've realised that my
diedie must-have items are currently
SK2 Facial Treatment Essence, SK2 Cellumination Essence, B-Liv Off With Those Heads and Queen Helene Mint Julep Masque
!
The other items like toner, cleanser, sunblock or moisturiser I usually alternate between brands.
May blog about my boring skincare regime next!
Ending with the lovely skies from my window :)