It has been an awesome weekend for me to have luxury time to catch up on my sleep, exercise and spend time with the partner & family :)
Such things meant alot to me and are enough to make me smile and help to tide through another week.
Despite our crazy schedules, we had a proper date this time in town
I feel that the thing about couples are that over a period of time when they get too comfortable with each other, they start to show each other their true or not so nice shelves and take each other for granted, basically just hanging out without spending much quality time together
This is as compared to the first few dates which you take the effort to dress up, say thank yous, excited over the next dates or get butterflies in your stomach..
I'm guilty of that too, throwing tempers or showing PMS-y moods at times when I in general do not show that to my friends out there..
Which is why keeping the sparks going is always a conscious effort to keep the relationship going and really crucial even if it's ten years down the road etc :)
Weather was crazily insane but I still decided to wear a light blazer over shorts :)
I love love this blazer because this outerwear is so suitable for our weather, unlike the heavy cotton blazers.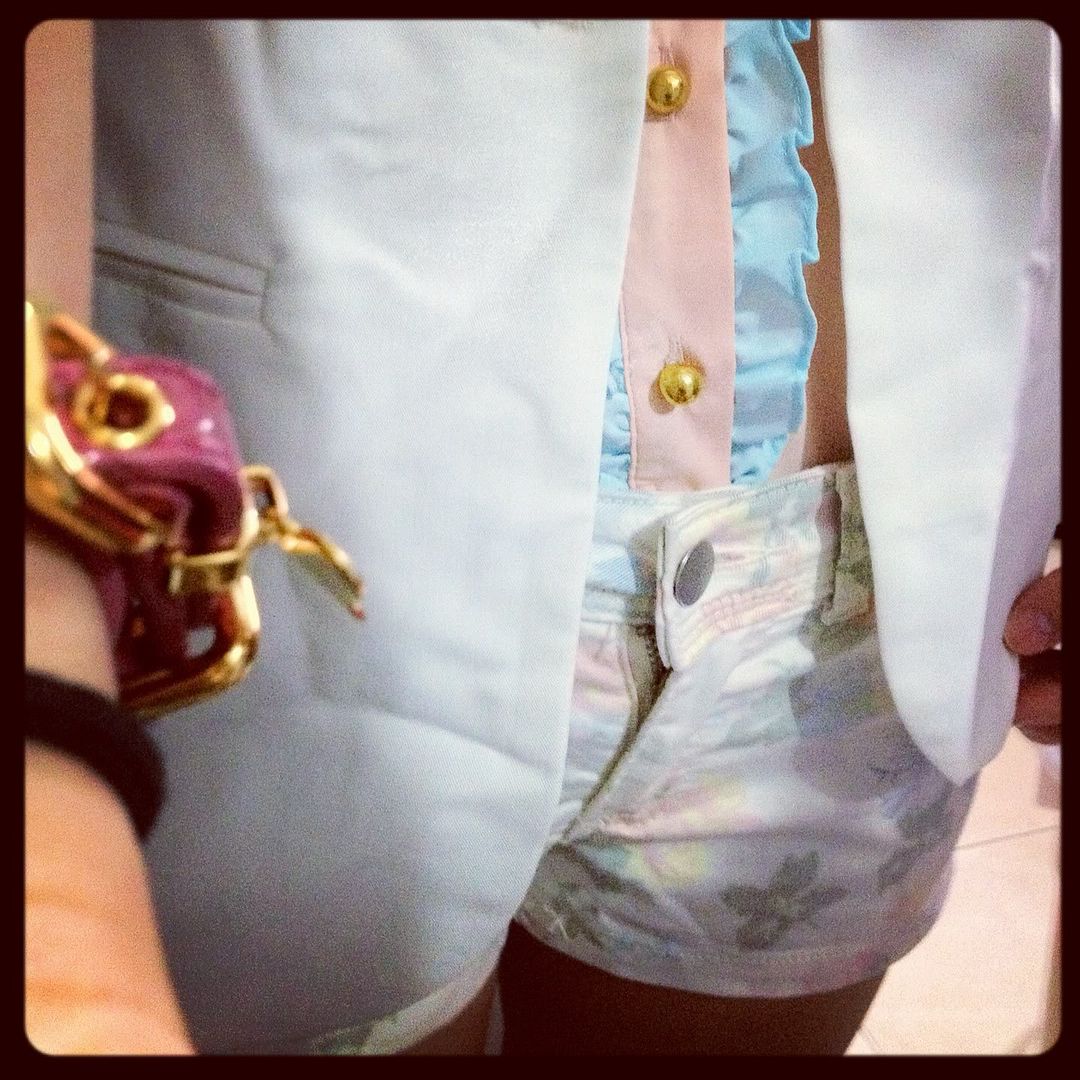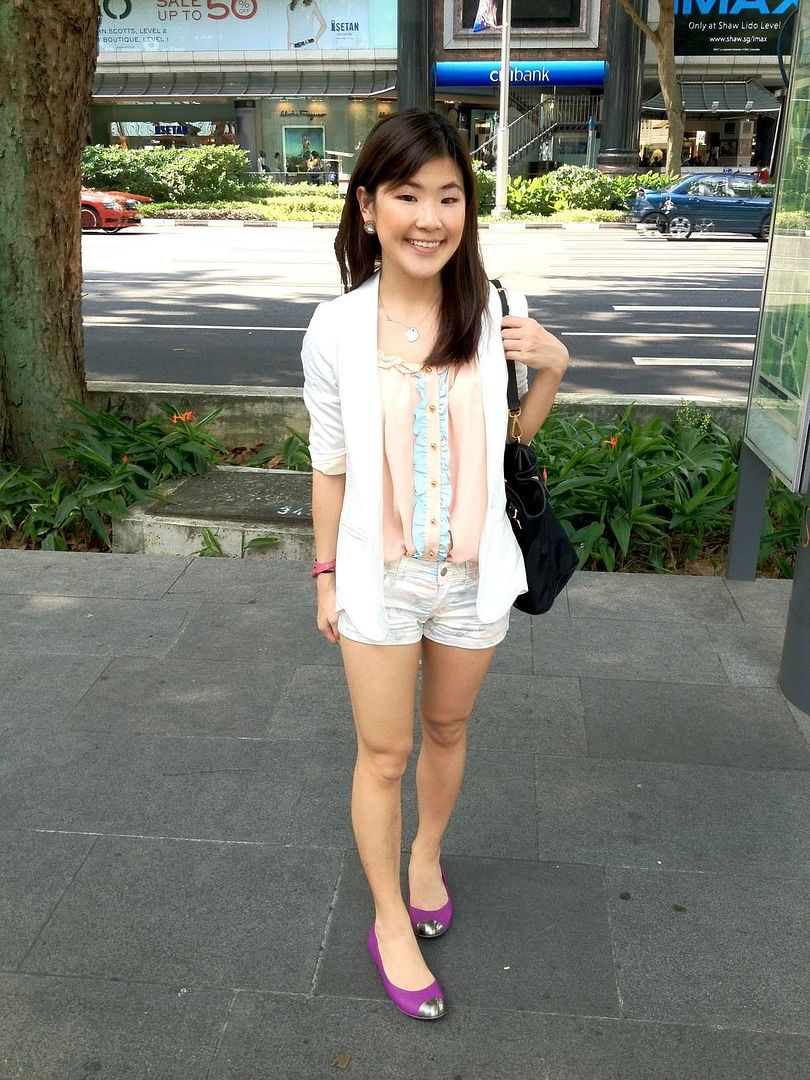 LRH white blazer / Mango shorts / ASOS peach tank / Pedro flats/ Miumiu bracelet
Love the pastel get-up; white over peach and floral combination :)
Melting in the sun!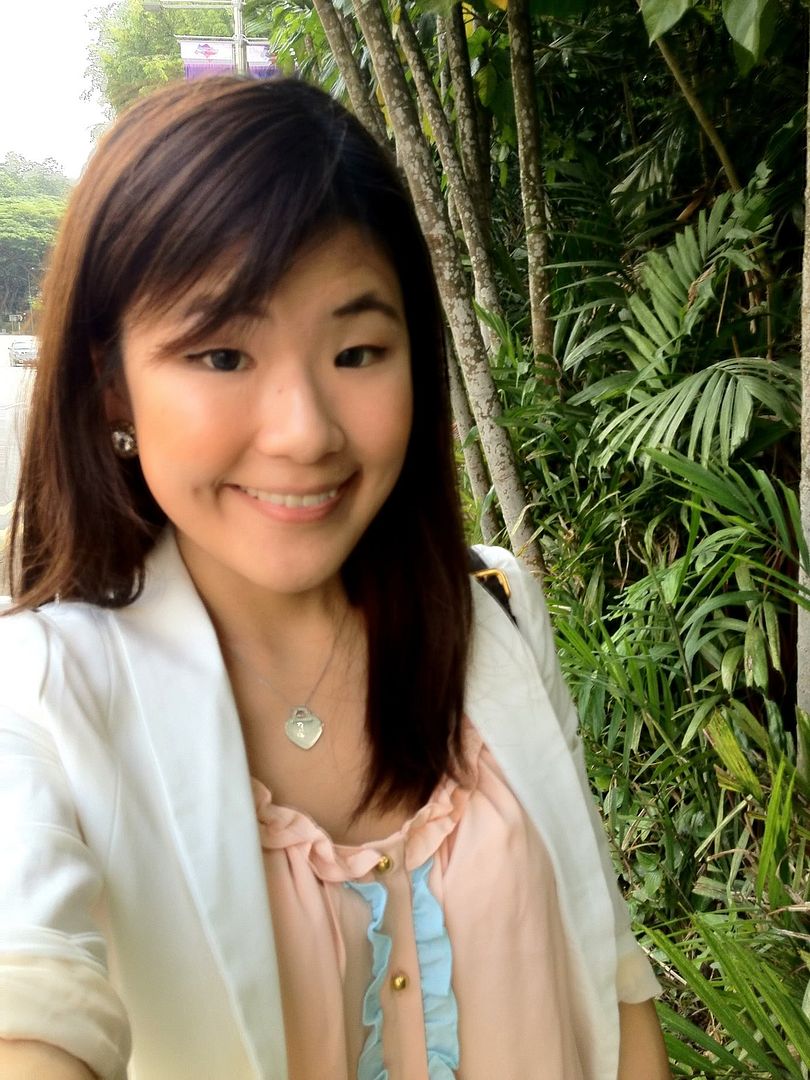 We went to
Chili @ Tanglin Mall;
it was a place with special meaning as we celebrated our first birthdays and anniversary at the Sentosa outlet.
Love love the food and it was worth the price I feel as the proportion is huge like mad and the quality is super good. Super like the free-flow nachos with cheese, ribs and honey chicken especially!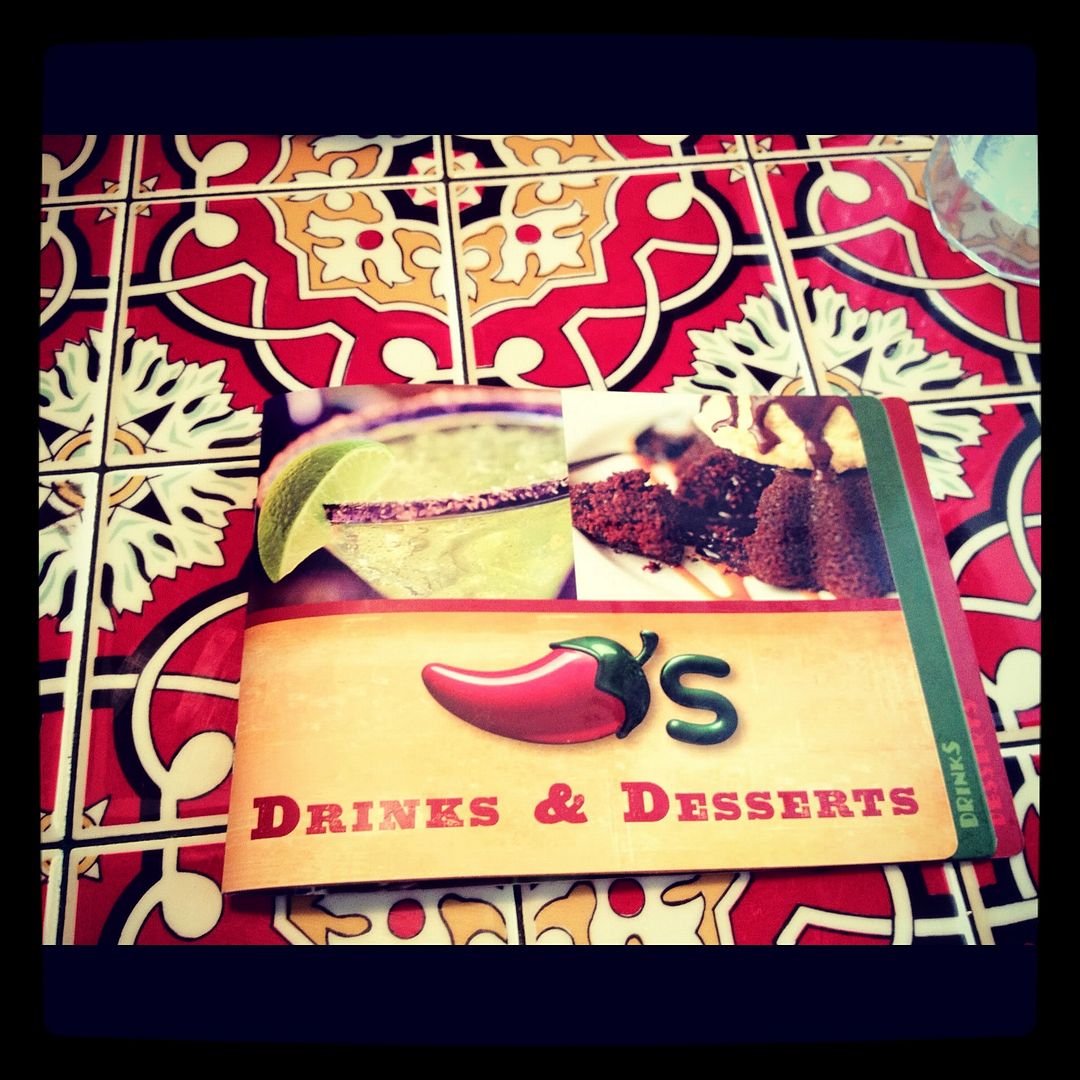 Resorts World Sentosa
#01-072/073/074
The awesome ribs & honey chicken which came with two sides each.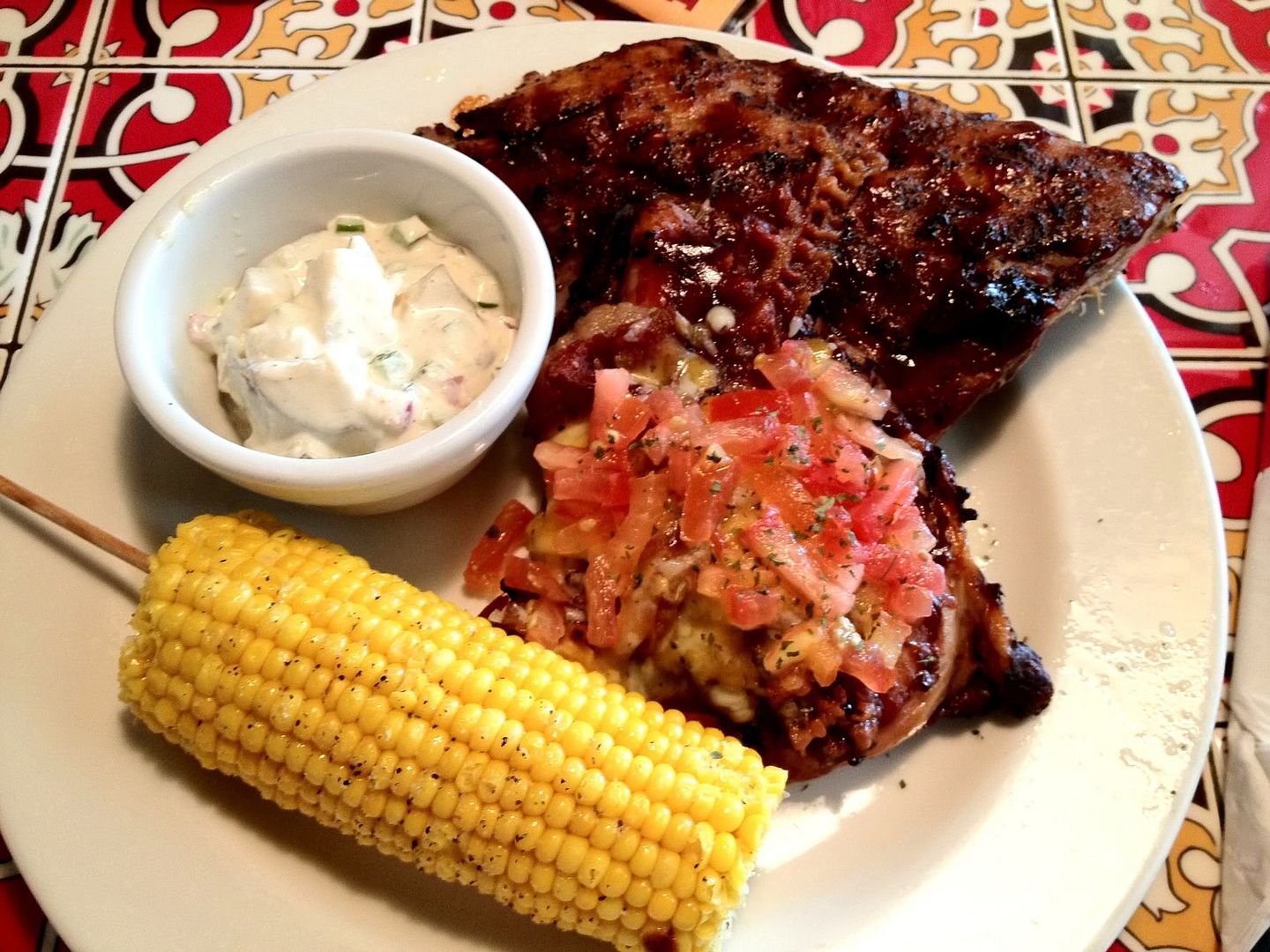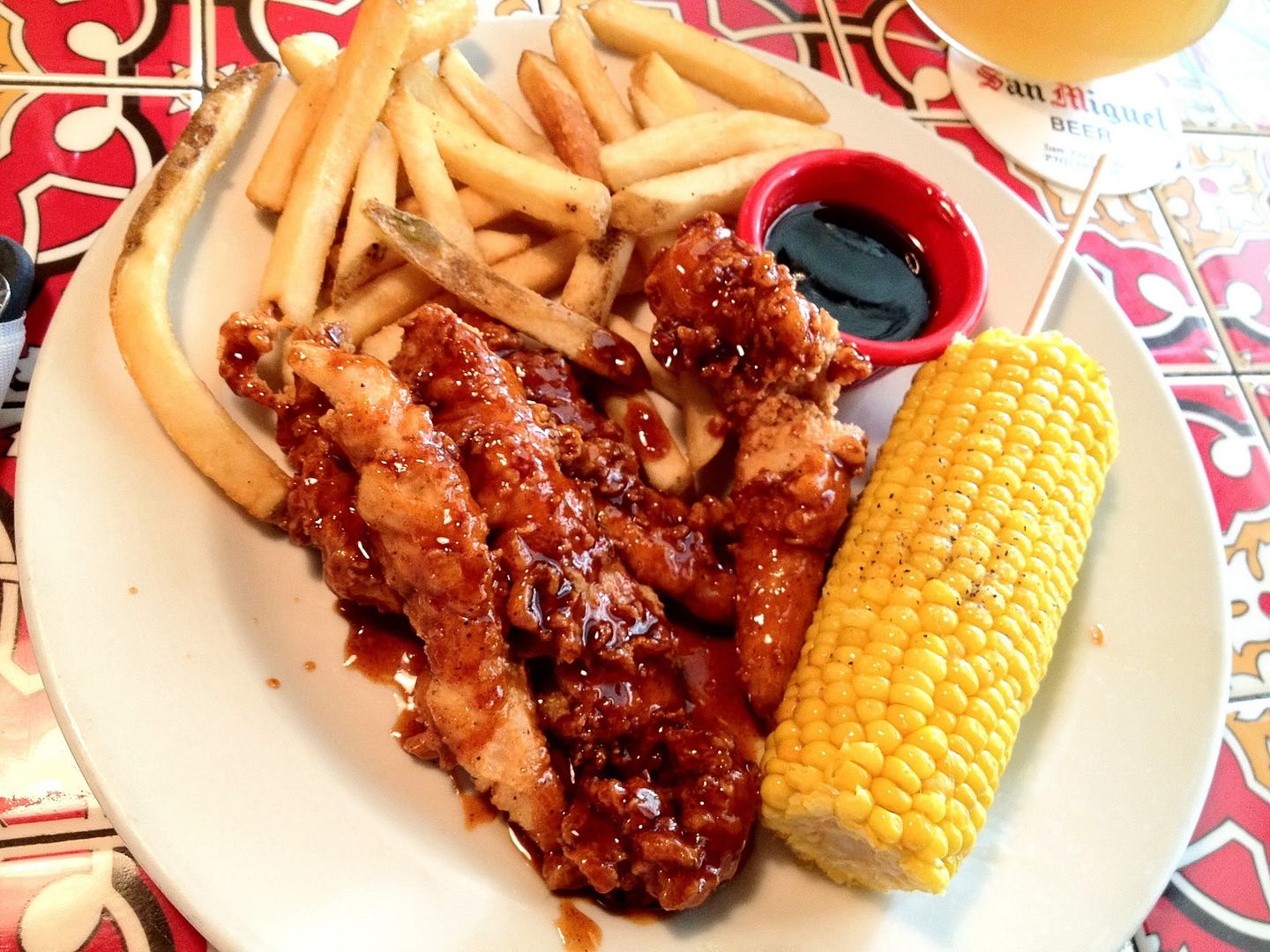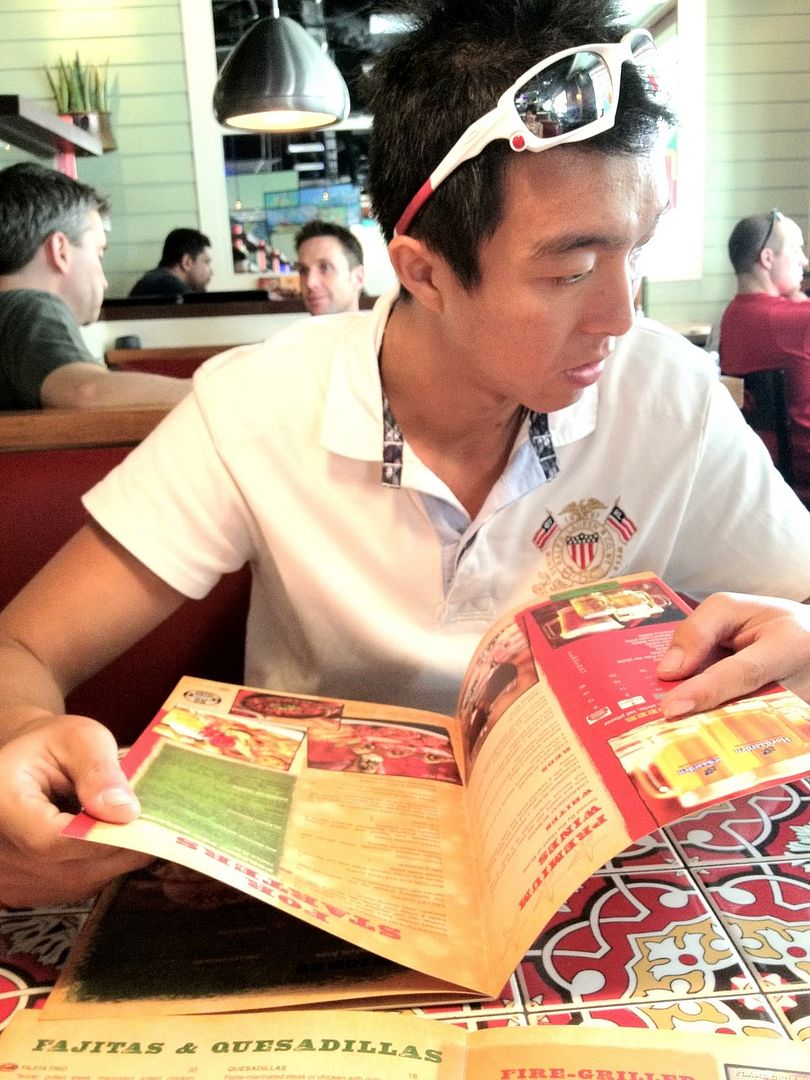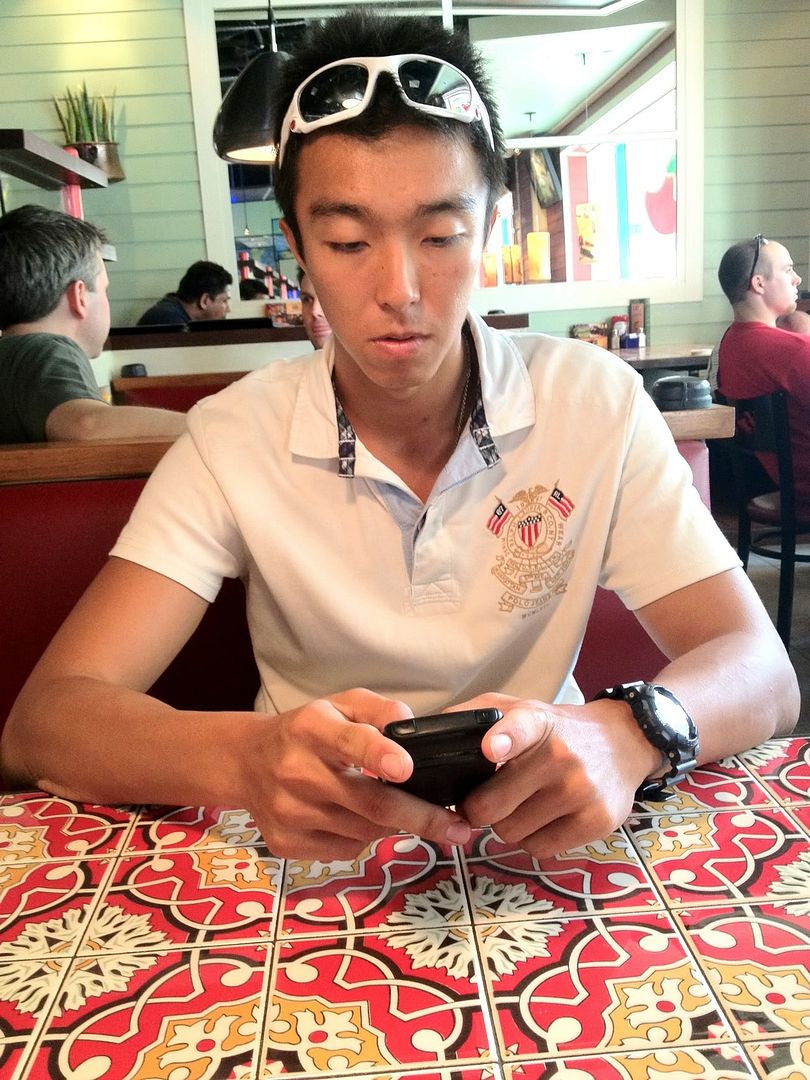 We decided to order a jug of Hoe garden to combat the crazy weather. First time doing that at Chilis in the afternoon and it feels quite shiok and high hahaha.
The service was excellent and the waiter volunteered to take "Cheers" pictures for us haha :)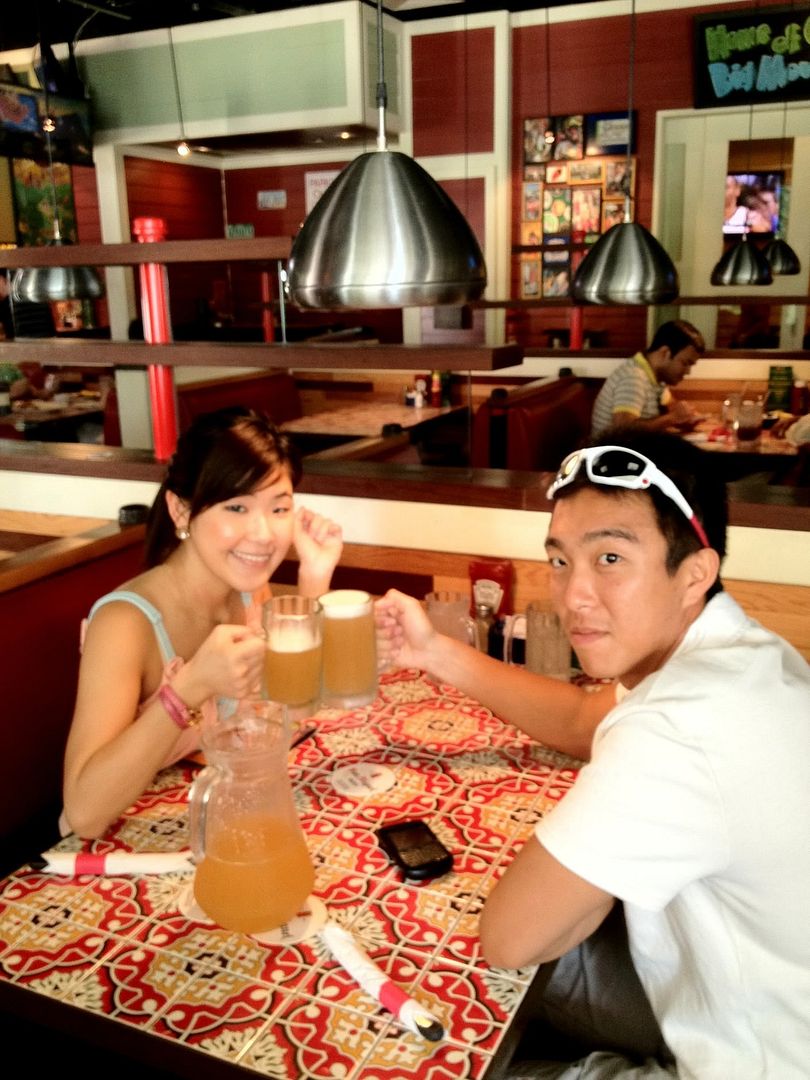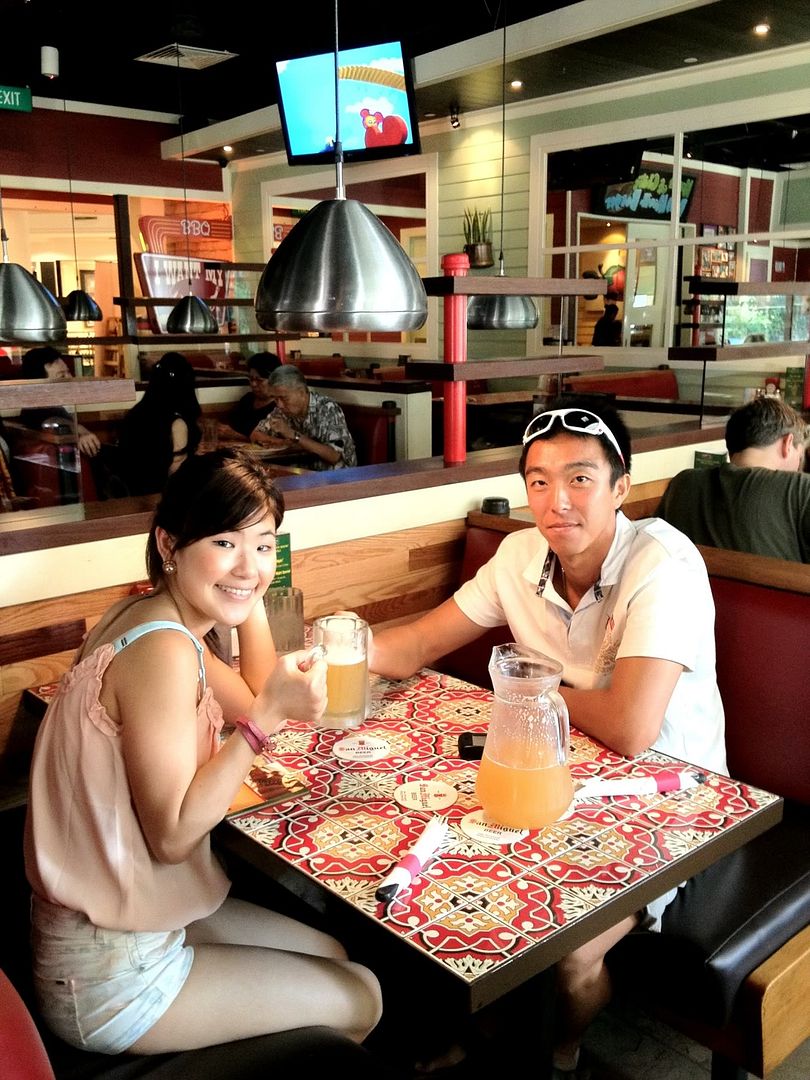 So we spent 2 hours drinking, talking and catching up on the entire week.
He even replied my Formspring questions and was amused at the questions hahaha, but left the shopping related questions untouched because he didn't understand them.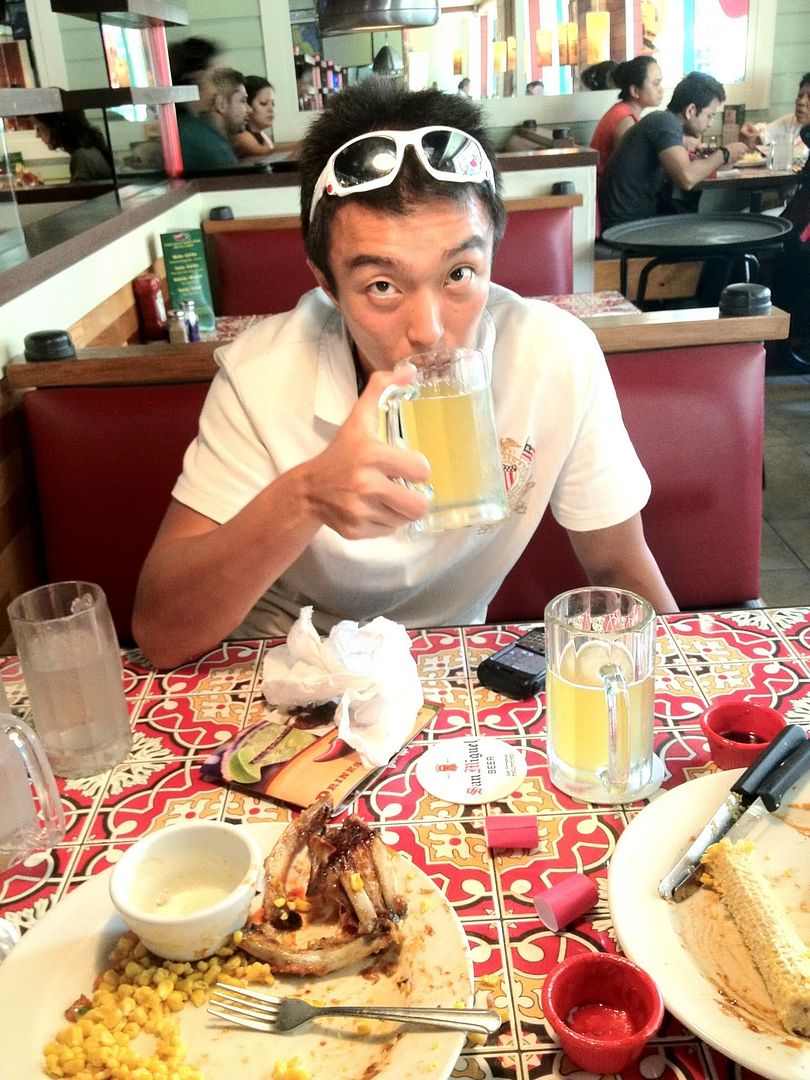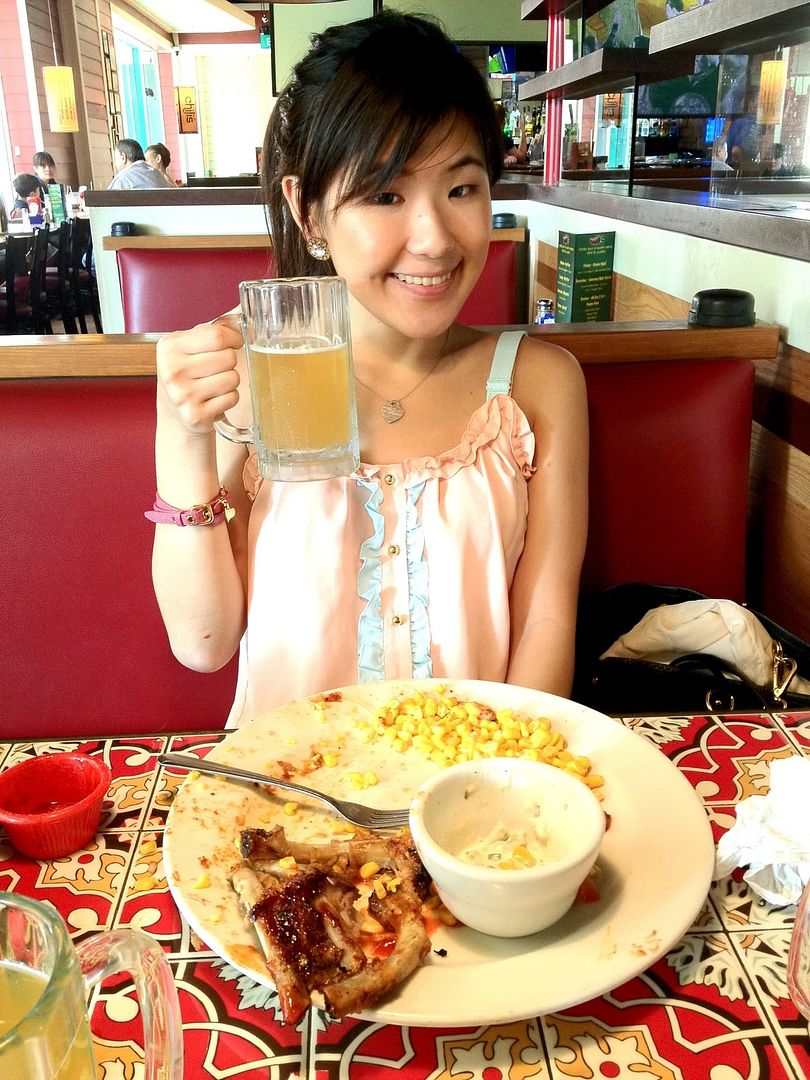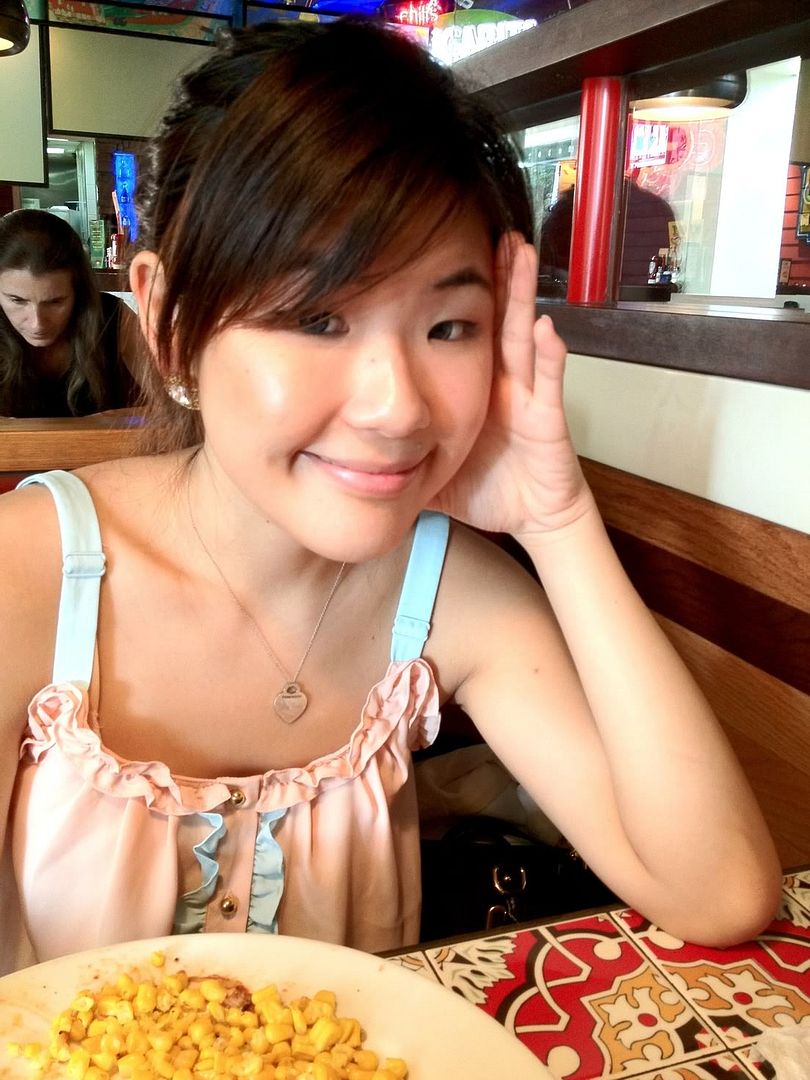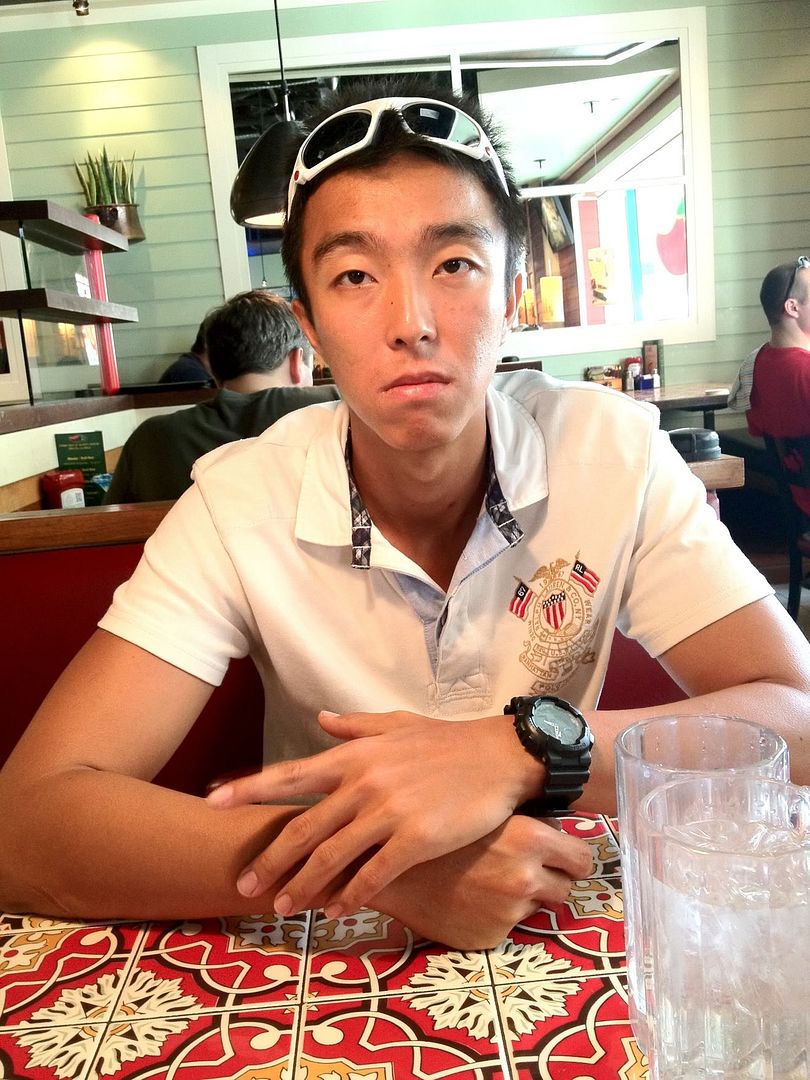 The jug was quite huge for two so I was floating in town after that while shopping haha.

The bill came out to be $100 in total ($50 each), with two mains ($25-$30 each) and a whole jug of beer ($33), pretty okay for celebrations I thought :)
Ending shot!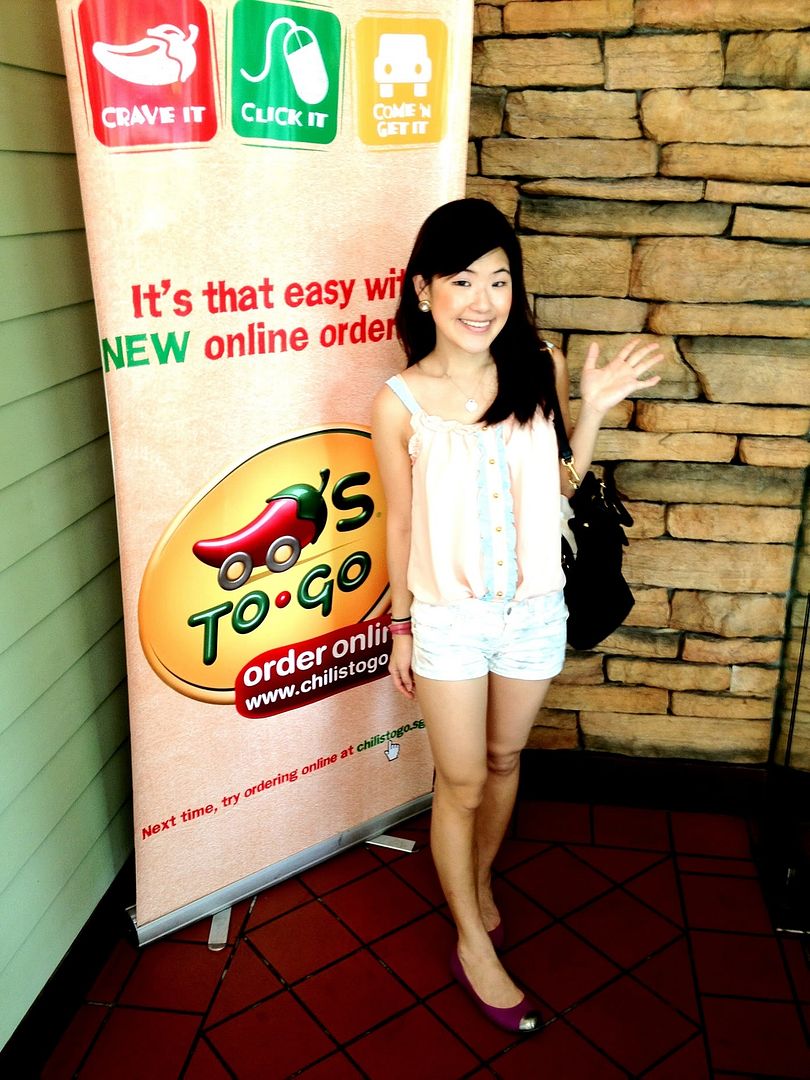 ***
Spent our Sunday exercising as usual, it's a never ending cycle to eat, exercise, eat, exercise.
Post exercise glow with the hot sun again and non-existence eyes!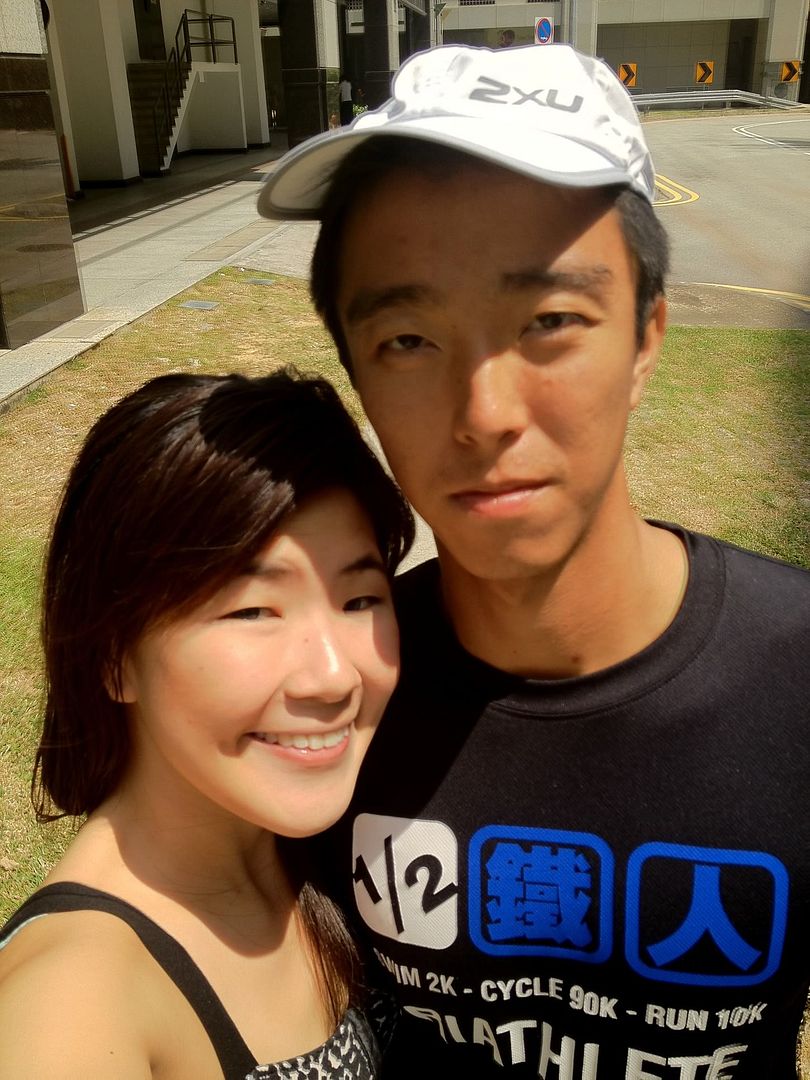 Had Fathers' Day celebration with the family at Soi Thai @ Tampines St 81
Sister suggested that Thai place that is newly opened, so we decided to give it a try :)
The food is seriously MAD CHEAP, being $42 for 7-8 dishes for 6 pax excluding drinks. However, it is abit difficult to locate and the outlet is small with less than 8 tables, so many people did take-aways instead.
Also, it was their first outlet and first week of operation so everything was super duper not smooth and we waited up to 3 hours for everything to be served.
That aside, the food was quite excellent if you are willing to wait. I will prefer Ah loy Thai @ Tampines Mall / Shaw Tower really, as it can be very frustrating to wait for dishes to come one by one like wedding dinners, with no sequence. Also, they are unsure of what we were ordering and up to the billing part, it was quite frustrating.
Highly recommended for Easties, but hopefully they sort out their logistics soon!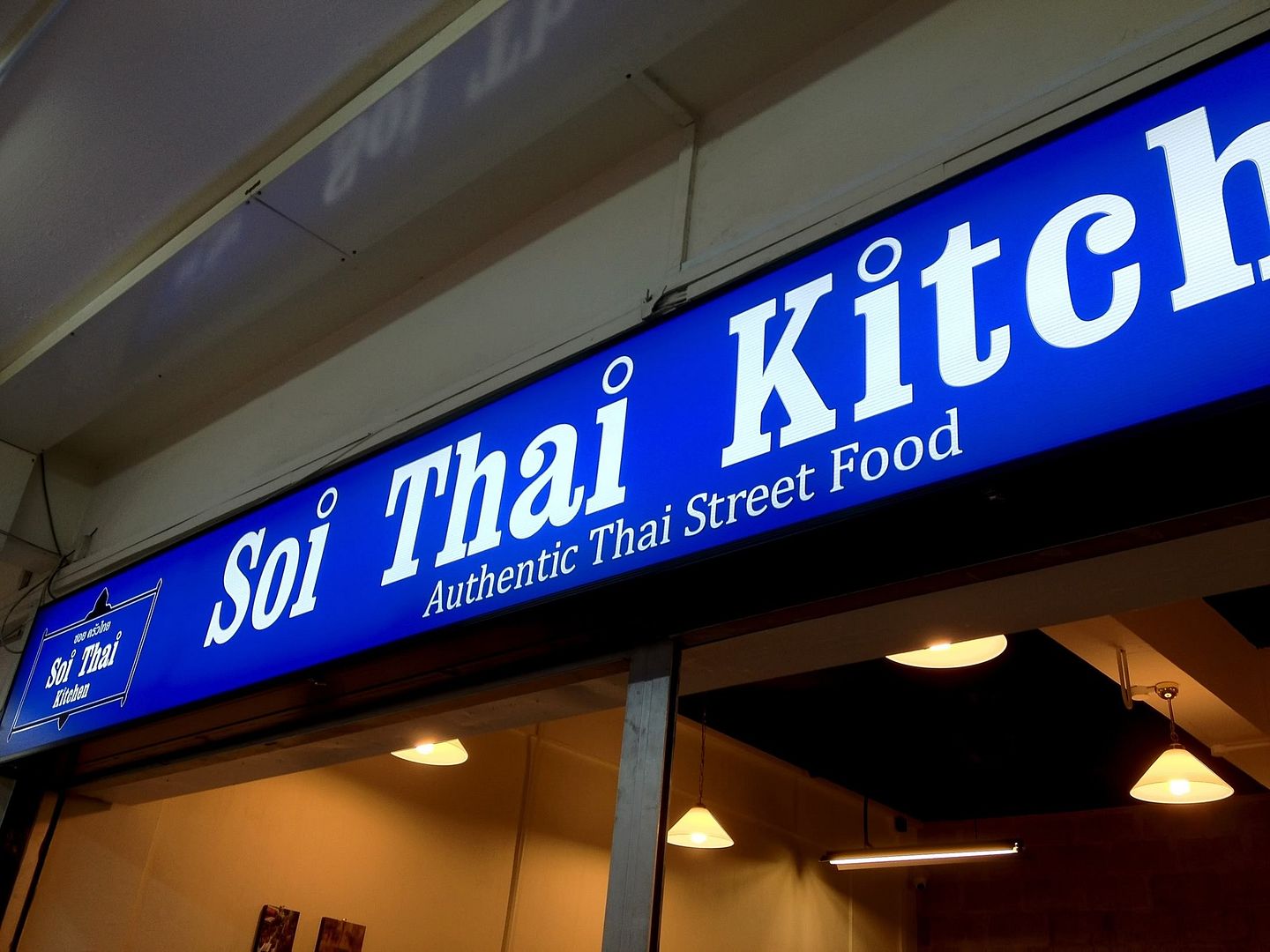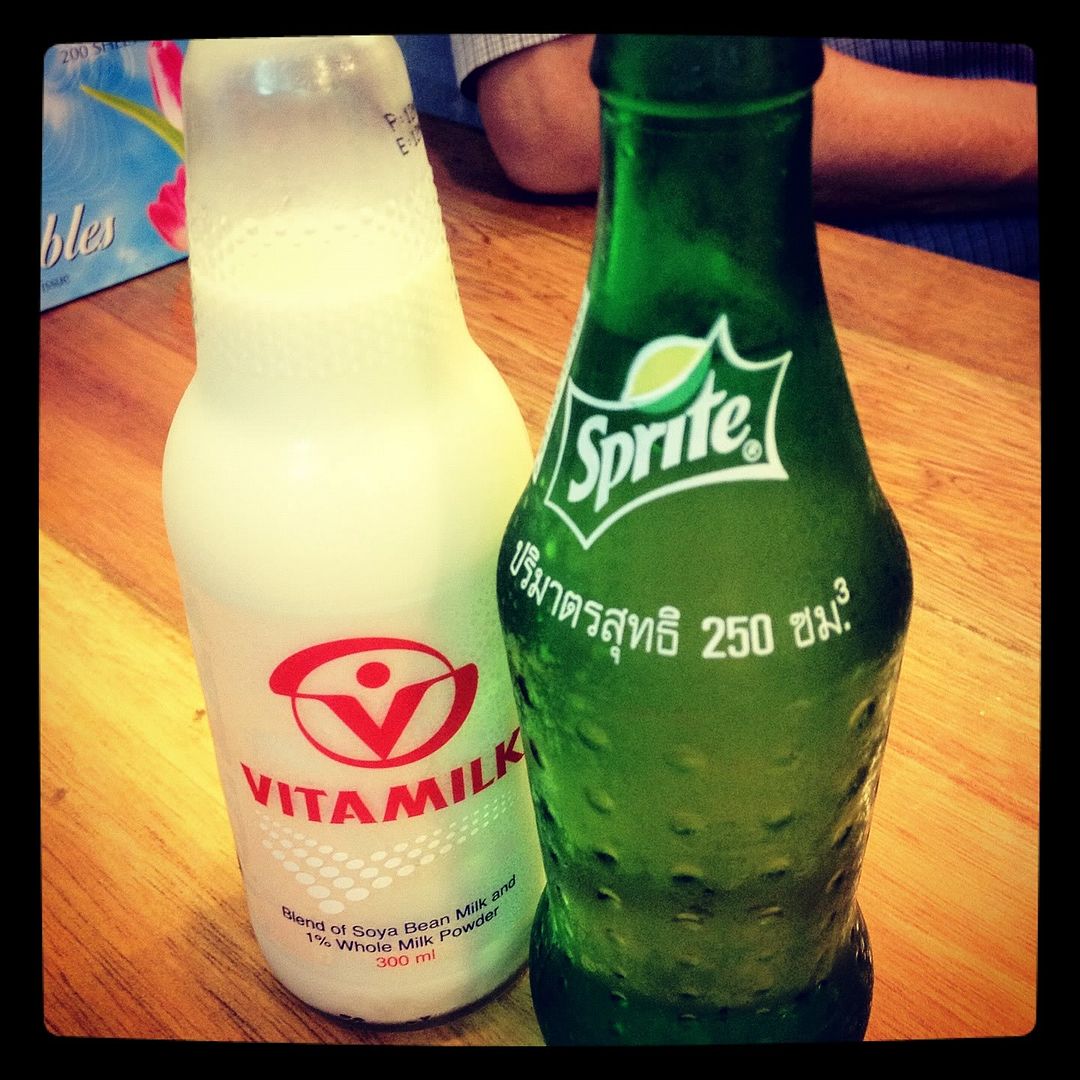 We ordered the usuals - Mango salad, Phai Thai, Pineapple fried rice, chicken, pork, kangkongs, Tom Yam Soup and they were excellent :)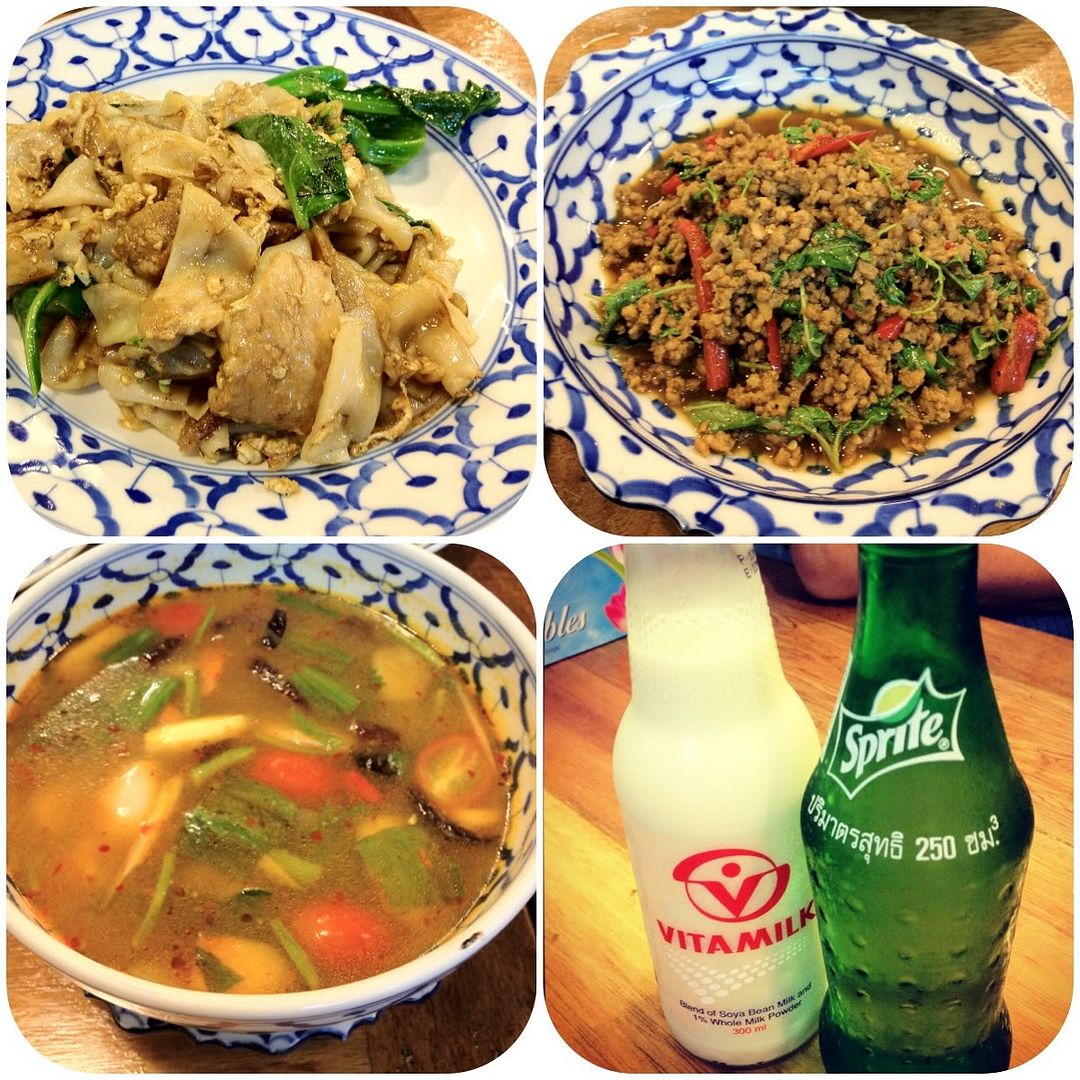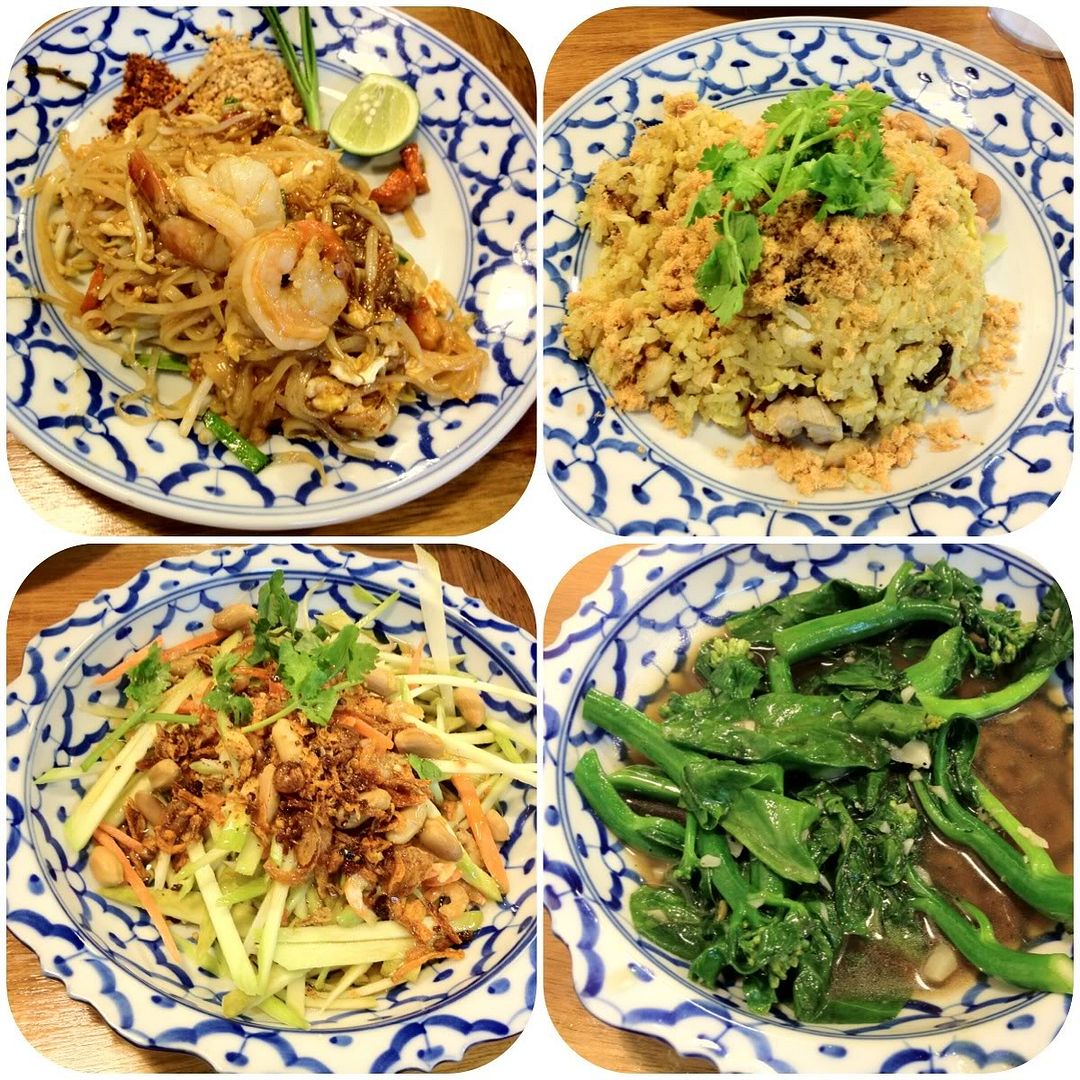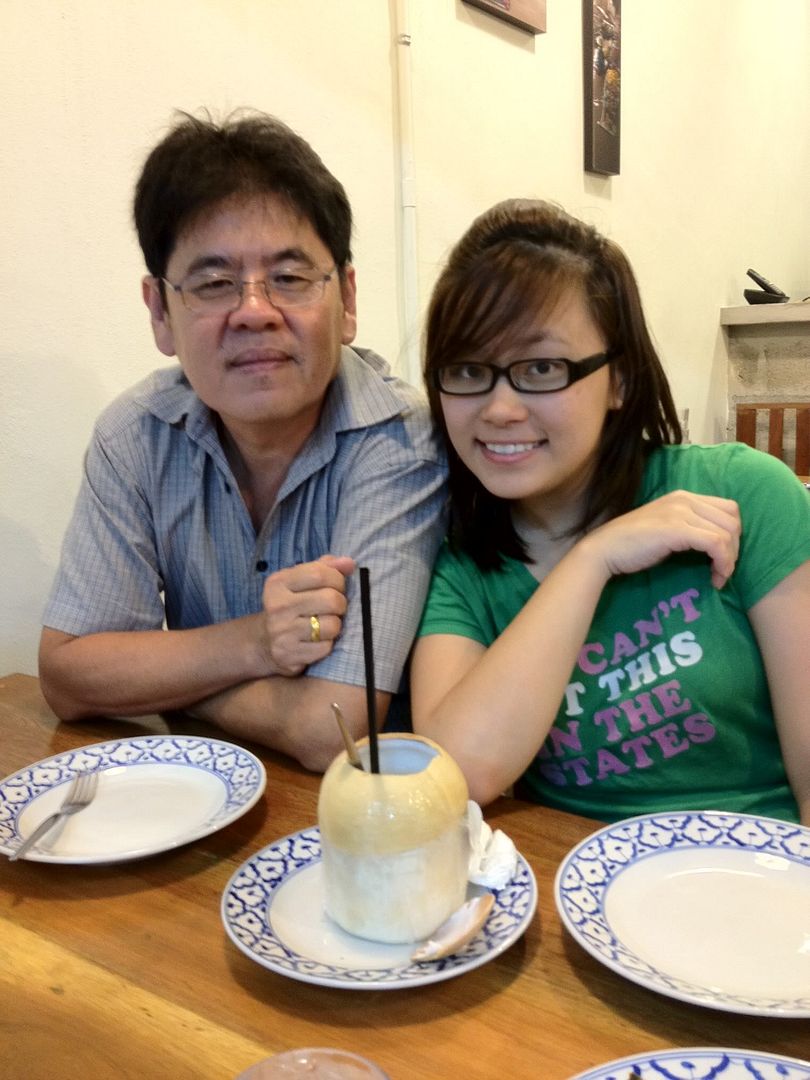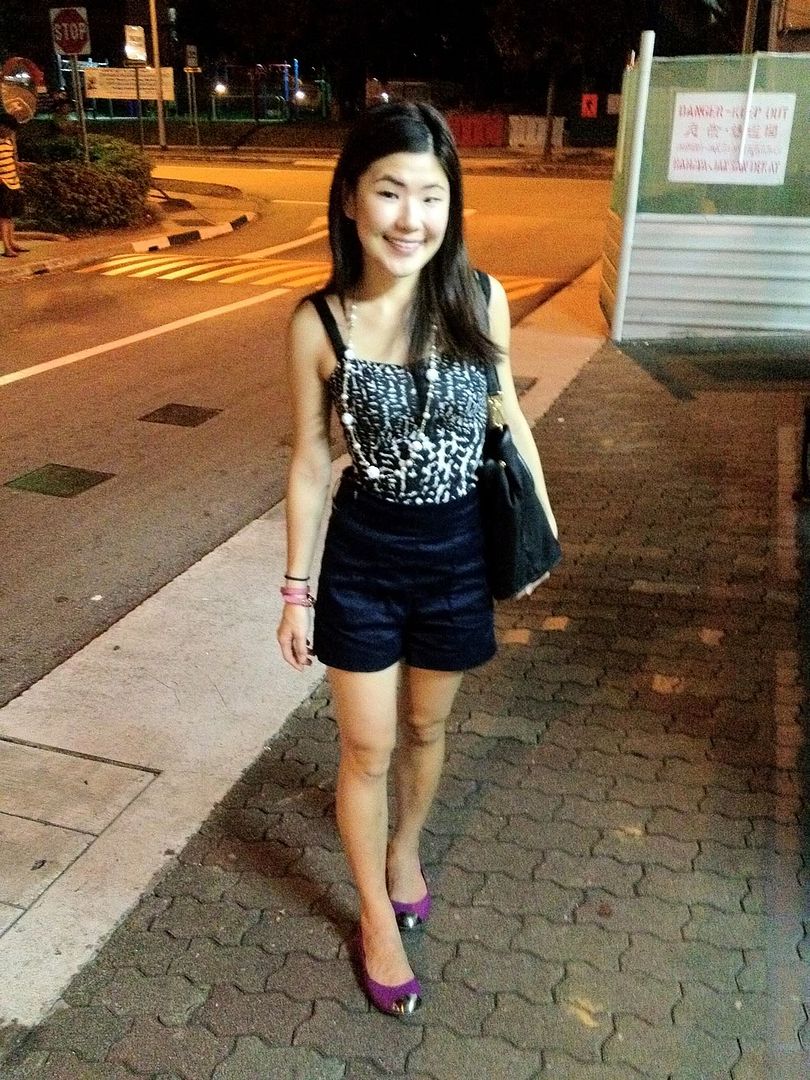 Can't wait for the authentic Thai food in 2 weeks time!!


***
Other pics for the week :)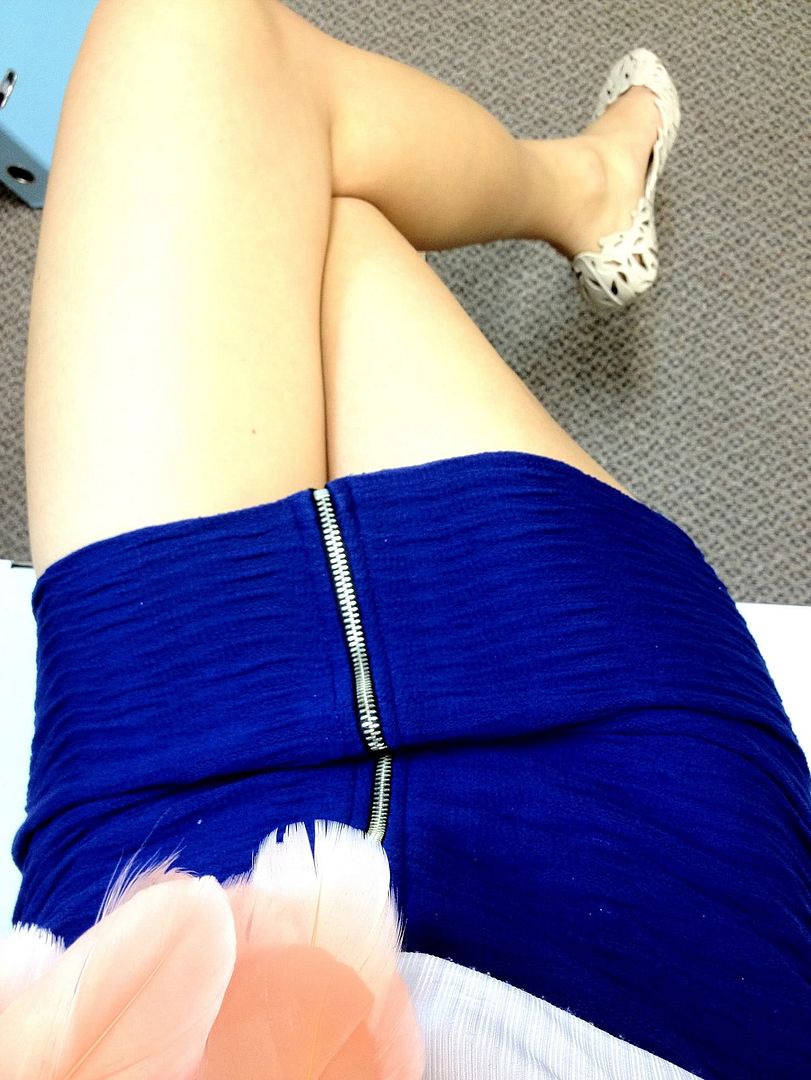 Perfect v neck white basic from Bysi at $9 that goes with everything, including this zipped cobalt skirt from Gojane.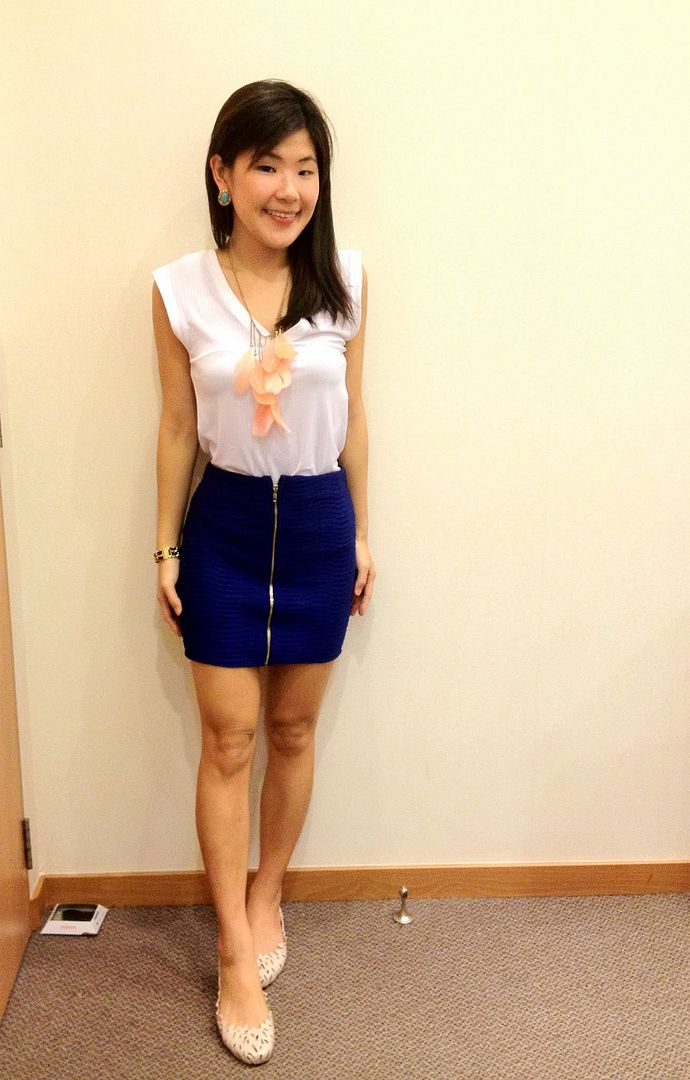 Never ending scarves and a Lady Gaga dress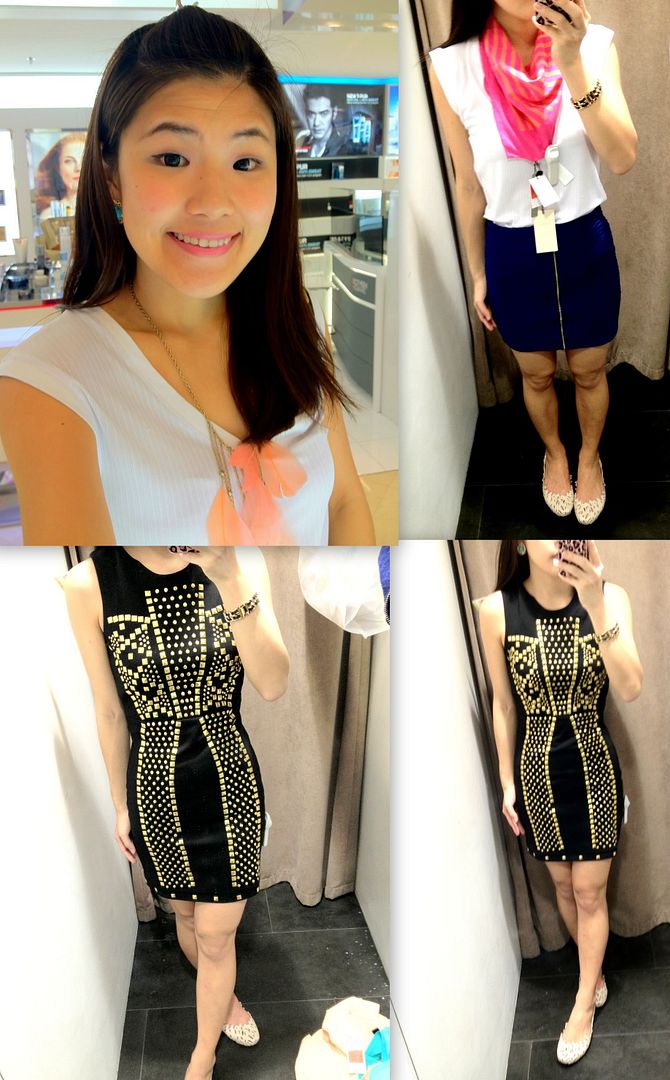 Hot pink pointies!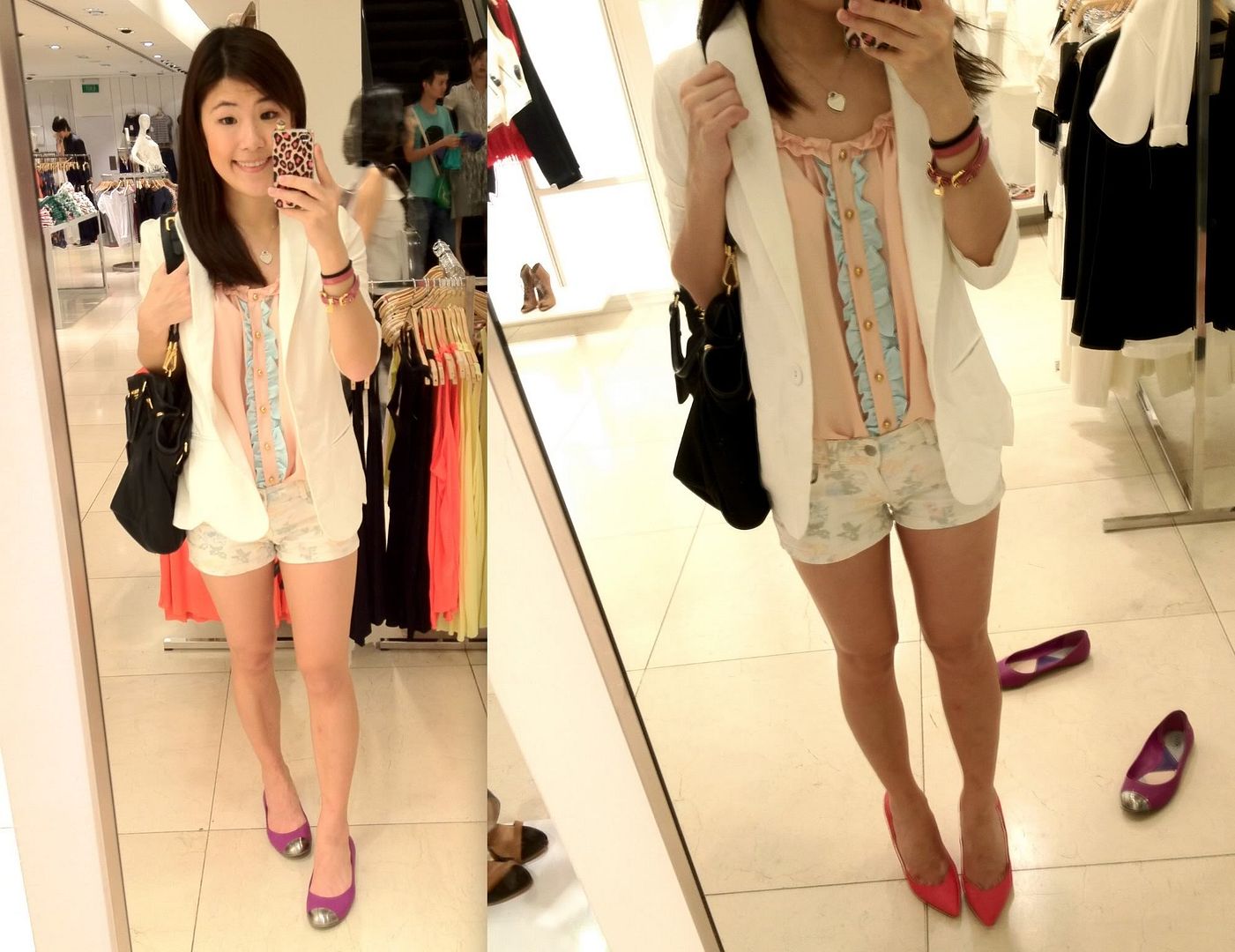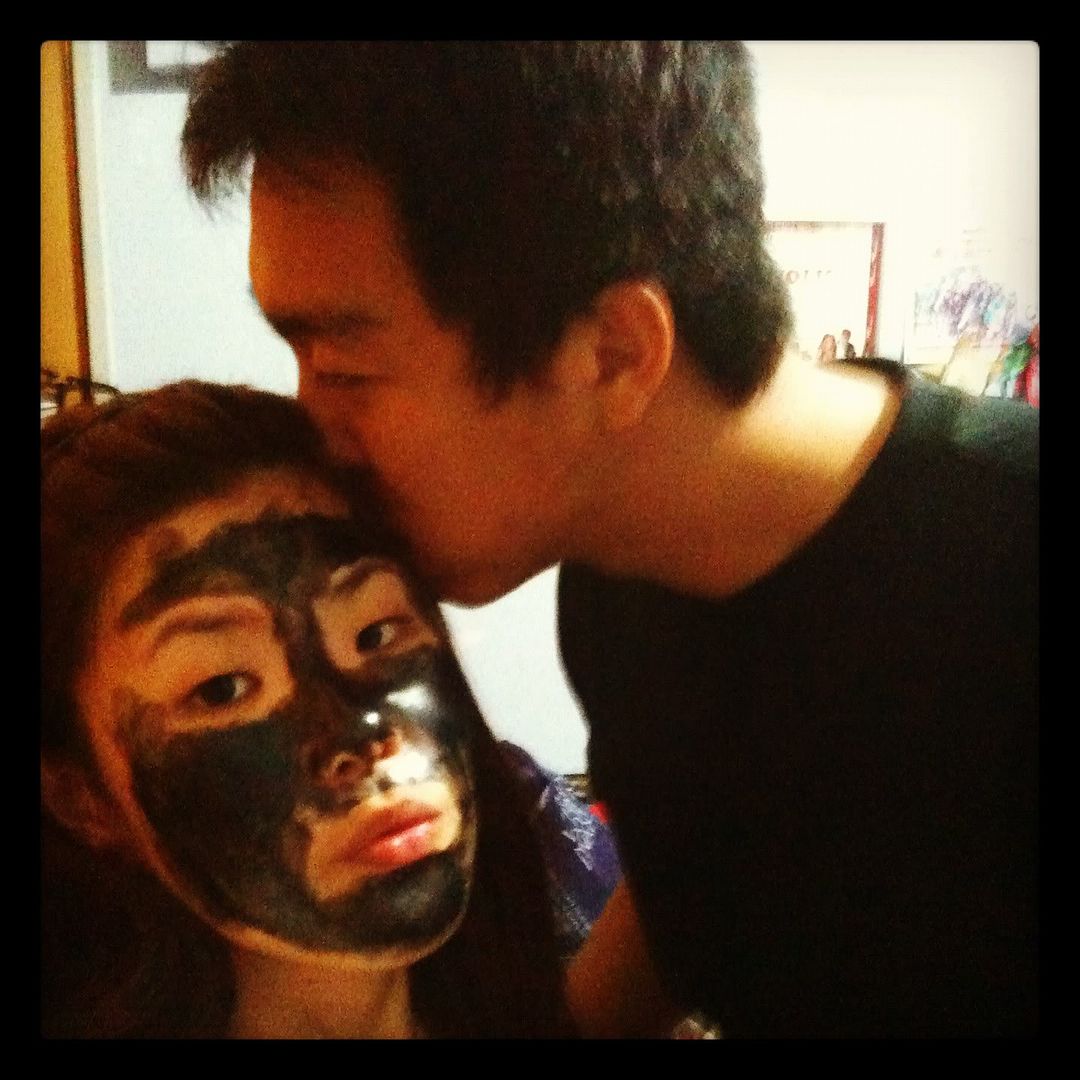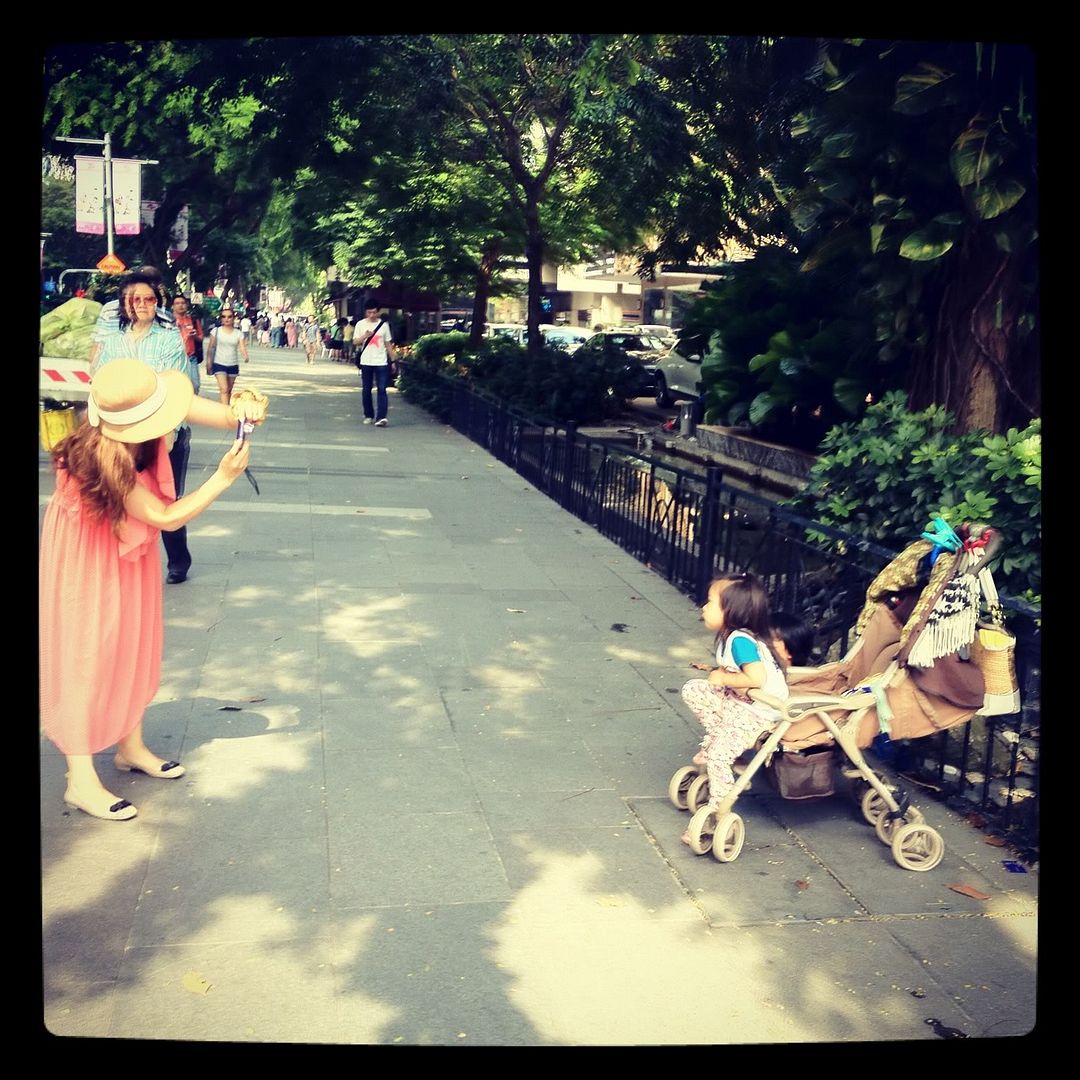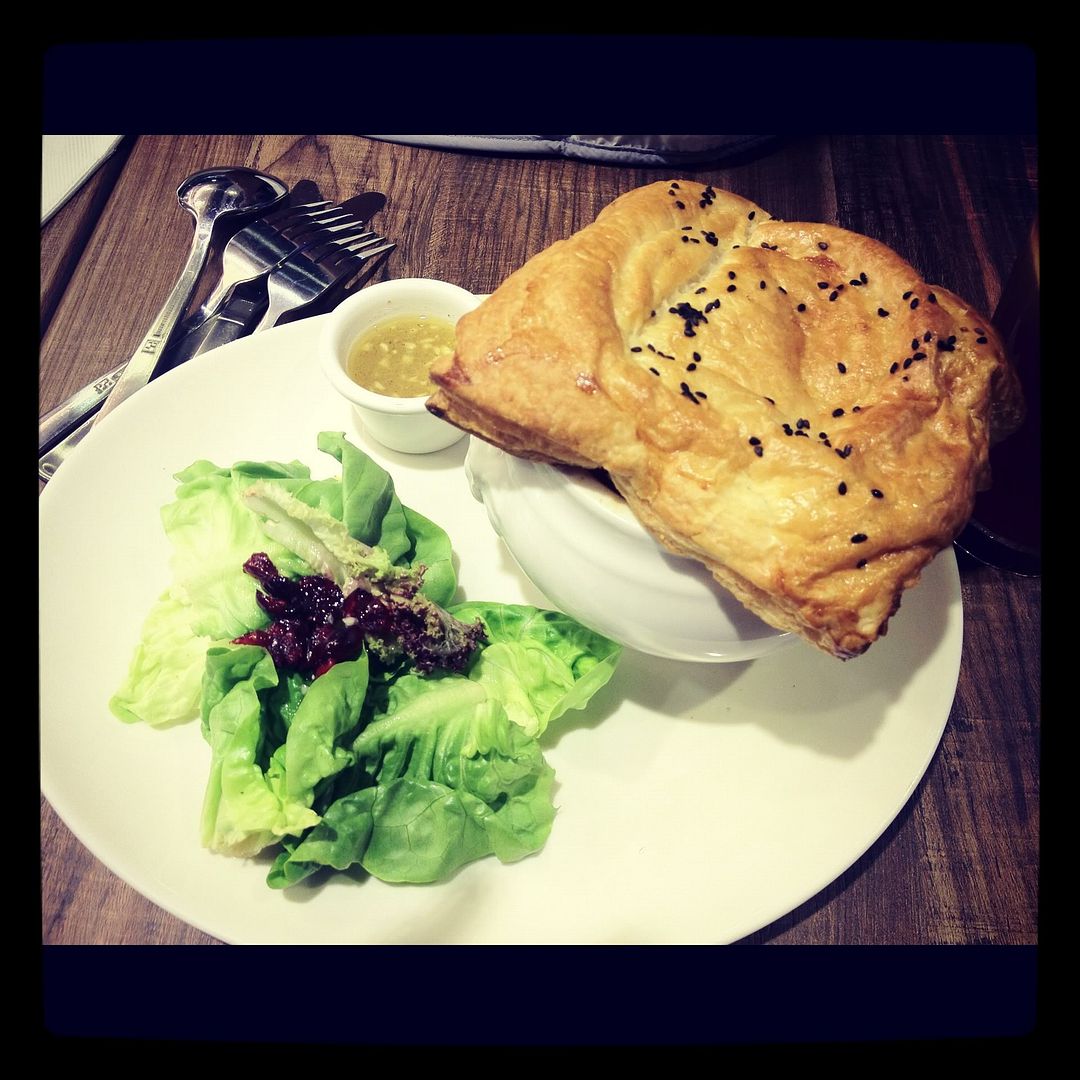 And buys of the week, neon yellow belt from Mango sales, Shishiedo cream eyeshadow (the best ever, stays whole day and I have three colours already) and Shishiedo lipstick (perfect pink colour!) :)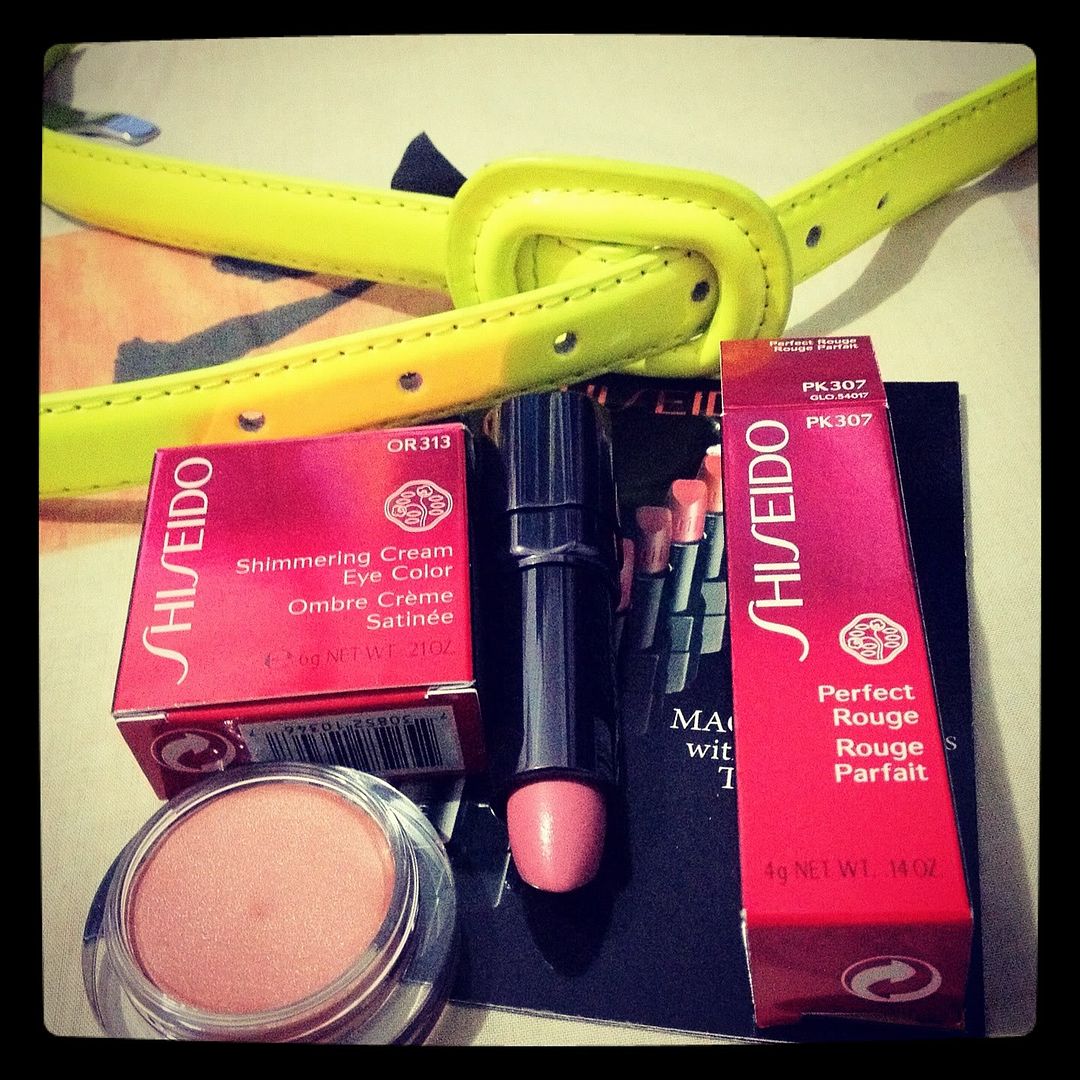 So loving the pink shade which matches the pink feathers (Y)