Whee, it definitely feels good to be back today!
It's been my 4th trip to BKK so far and it still feels different but familiar somewhat and it felt good to take a breather from everything once in a while.
It was a good trip to just chill, eat alot, shop abit, massage and do nothing.
Kept to my shoe ban so no shoes for me at all, since I have been GoJane-ing super hard in SG recently but have stocked up quite abit on accessories and clothes, though shopping has been relatively controlled as compared to the past BKK trips. I guess after a while, I kinda get tired of just spamming clothes and start to question myself if I would wear them more than 3 times, quality, whether it matches my style and the other pieces in my wardrobe..
So basically everything that I got this time round is quite me, with loud colours, alot of studs, animal prints and some floral stuffs! Most of the items ranges from $10-$20 and I super love the three blazers (green, blue, mint) this time round. Really love everything I bought this time round and things I will really really wear!
Quite alot of photos so perhaps I will skip the whole travelogue thing so as not to bore everyone or maybe just a summarize version.
Wore my new yellow top from BKK (love the sewed on gold plate) with the snake print Zara bag to town after touching down. Was glad to be able to make it to Bikram class on time to sweat, gained like super alot of weight from excessive binging. So gonna to exercise hard to burn them off next week!
Speaking of gyms, I w
ent to the BKK TF outlet since my membership could access the international outlets and it is super breath-taking with their mega big and polished gym/yoga centre!
Photos with the dearest BFC gang at Ion for dinner
We laughed so hard till we are out of oxygen as usual and they made me less tired. Old buddies are still the best. They are the ones who have seen you through your silly side in school days up till the working days, people who won't judge :)
& Introducing my male fashionista buddy, Shaun for our OFTDs today.
Partner-in-crime for all the shopping and ASOS sprees. He is always so well-dressed all the time that put us to shame at times. Main reason why I start this blog because he was complaining about the lack of blogs to read from friends hahaha.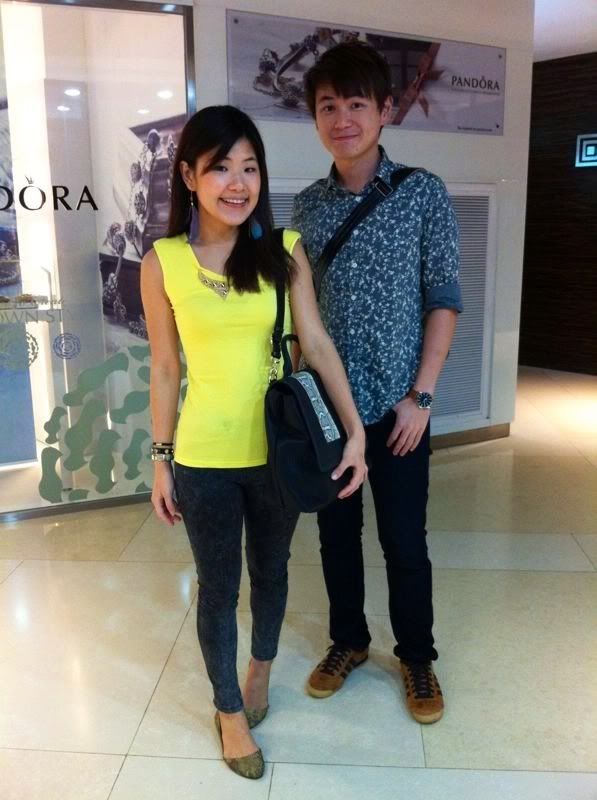 Me - BKK top, uniqlo jeggings, Bugis reptile flats, Zara bag, ASOS earrings, CC Skye bracelet
Shaun
- ASOS floral shirt, Uniqlo jeans, Adidas London Shoes, Fred Perry Sling
What's a night without drinking and chilling? :)
At Harry's Bar later on and Kel is absolutely glowing after her marriage!
Signed up for the full marathon; the last race for me in 2012 and I hope to survive it!
Will reply to FS and emails tml, good nights!!!!
PS/ This marks my 100th post in this blog whoo I can't believe I have been writing so much already!!!