One of my secrets is that I secretly hoard quite abit of make-up even though I do not use as much (laziness perhaps since I usually spend less than 5 minutes on the process.) Will talk about it in my daily make-up products post next time.
So much that I have been trying to solve the storage problem for ages until I acquired the Muji storage thingky last year. It's very easy to buy and hoard, but difficult to finish especially you rotate and they have expiry dates!
Blushers are my number 1 ultimate favourite and I have a soft-spot for them.
If there is only one product I can use, it will be blushers.. I can do without concealer, foundation, eye-liner etc but I need blushers! I usually go for bronzers or peachy-pink blushers. Been starting to use orange one recently after realising how natural they are as compared to on pan.
Which explains this blusher talk blogpost after the perfume one.. did one before but I decided to do a detailed one since I got the

MAC Heavenly Creatures blushers recently.
Wendy did a MAC swatch post which was mad informative as well, go read!!! :)
Been waiting for Heavenly Creature collection ever since I saw the preview online and my heart stopped literally. I love MAC blushers because they are so pigmented, long-lasting and value-for-money! Most of my blushers are from there, otherwise it's from Benefit and NARS.
Here's some of my blusher collection for this post:-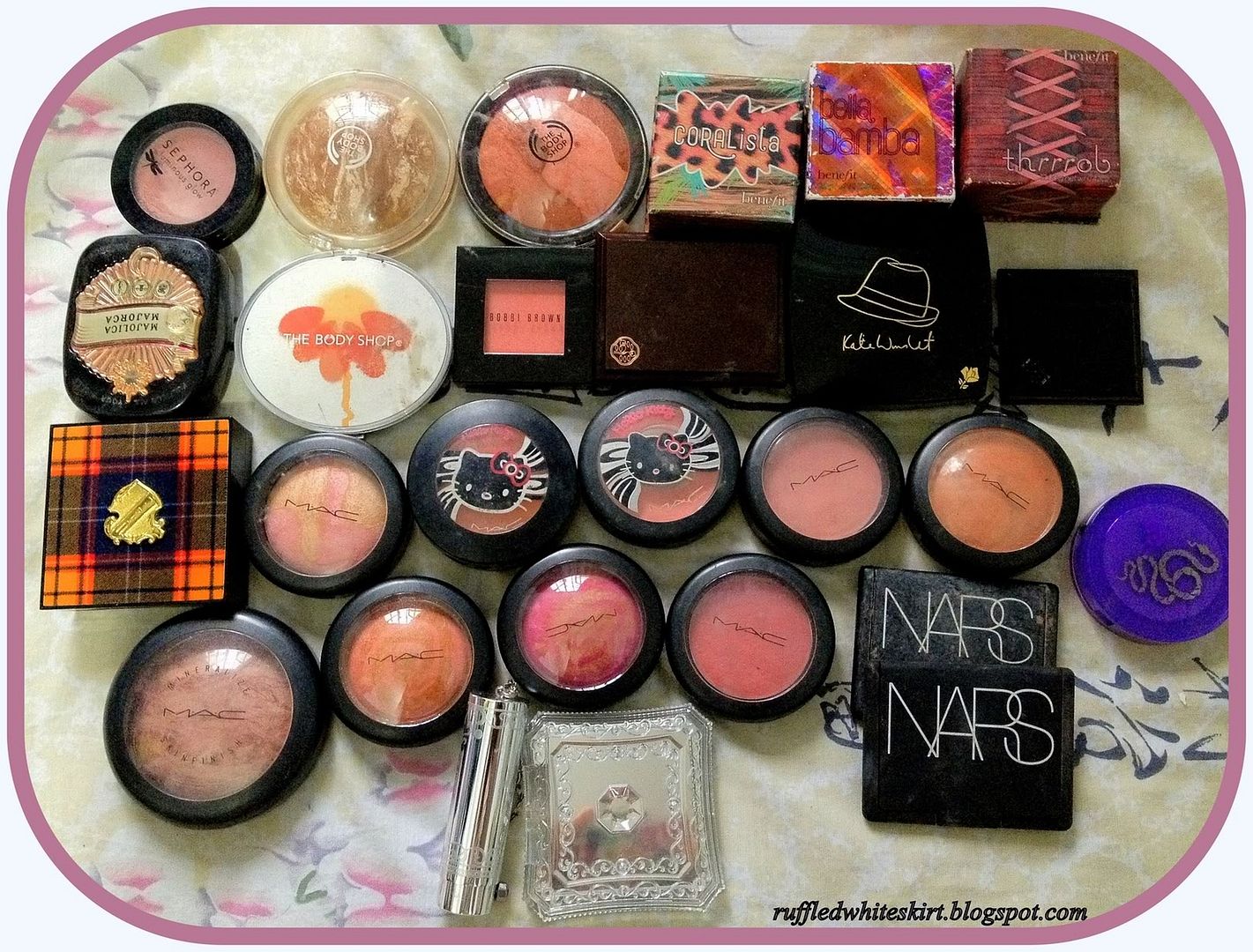 Thanks to Wendy who informed that it was launched on Wed in SG, that I immediately head to the MAC counters at BKK to check it out, since I was at Centralworld. Turned out they had launched them the day before and Supernova is already OOS! They are selling it at 990 baht (SGD 39) at the BKK Zen / Mac counters.
Solar Rays was still instock but they advised me to get at the airport on Friday when I returned as duty-free price would be 840 baht (SGD$33) which was cheaper as compared to SG price of $44. Supernova was still OOS so I managed to get Supernova at Orchard Tangs (everything is still in stock at that outlets now due to renovations maybe).
As for the Mineralize Skin Finish, even the duty-free price was SGD 56 in BKK so I got it at Orchard Tangs at SGD 48 instead :)
So glad to get them this time round and here's the beautiful blushers!
Mineralize Blush - MAC Solar Rays & MAC Supernova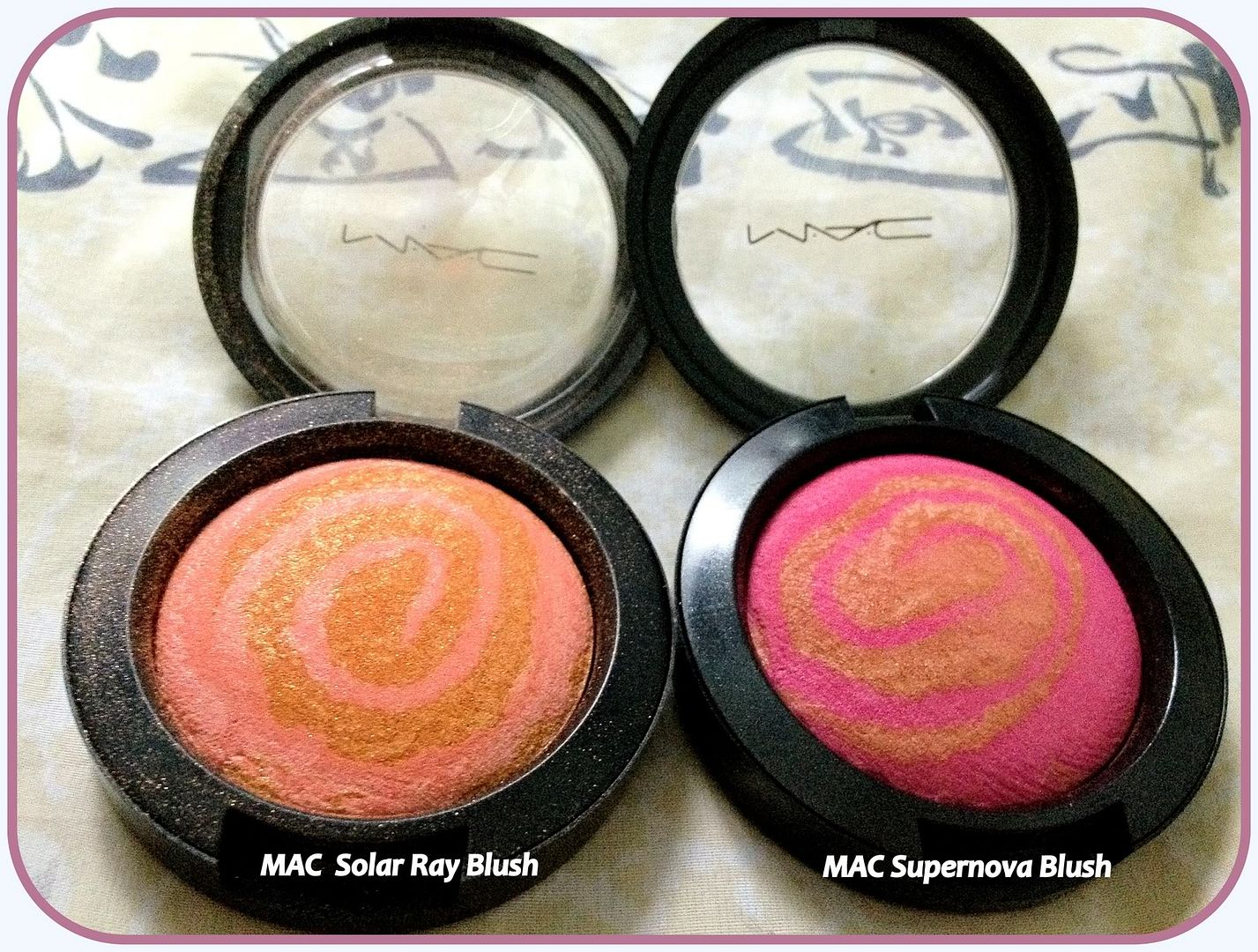 Both came with swirls and you can use it

separately

or mix them together, prefer the latter for a perfect colour.
Both are pigmented especially for Supernova, which is best used with a stippling brush and light hand, otherwise you will look very dramatic with pink cheeks.
So less is more for these blushers, you can build it up slowly instead of applying them heavily the first time round. Supernova is probably the loudest shade I have since mine are usually lighter tones, so it was a good change.
As for Solar Ray, I like the

warm, peach-shimmered orange and remind me of fruits. Gives me a healthy

glow and I have used it twice so far! :)
Mineralize Skinfinish- MAC Light Years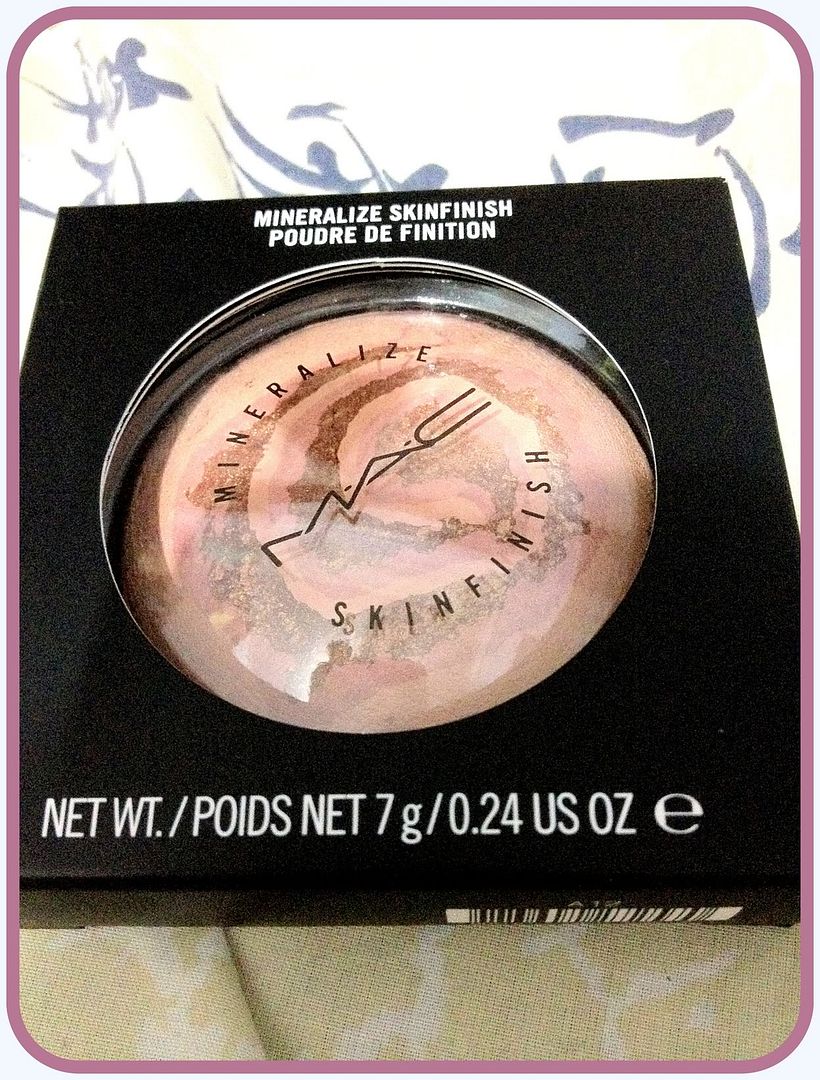 When I tried this at the BKK airport, it didn't show up so well due to the lighting so I decided to get Star Wonder as I usually prefer pink colour instead of nude peach highlighter colour.
However at TANGS, I was sold when the SA tried it on me and it was so natural and perfect for daily use especially for work. It can be also used to highlight the cheekbones area and used with other blushers.. simply perfect! And it was a refreshing change as well to complement the other blushers I have. Not very light, but able to use for alot of years.. so light years.
I like that it is pigmented but super natural!
Okay, introducing the other blushers I have, just start with my fav MAC first.
Most of them are $35 except for the limited editions or MSF.
From MAC in the groove collection.
The perfect HG blusher for me just that too bad it's limited edition so I am not able to stock it if it finishes, but i doubt so because it is such a huge pan and seems never-ending.
Love the rasp-berry pink with slight shimmers.
MAC Peachykeen blusher & MAC Stunner blusher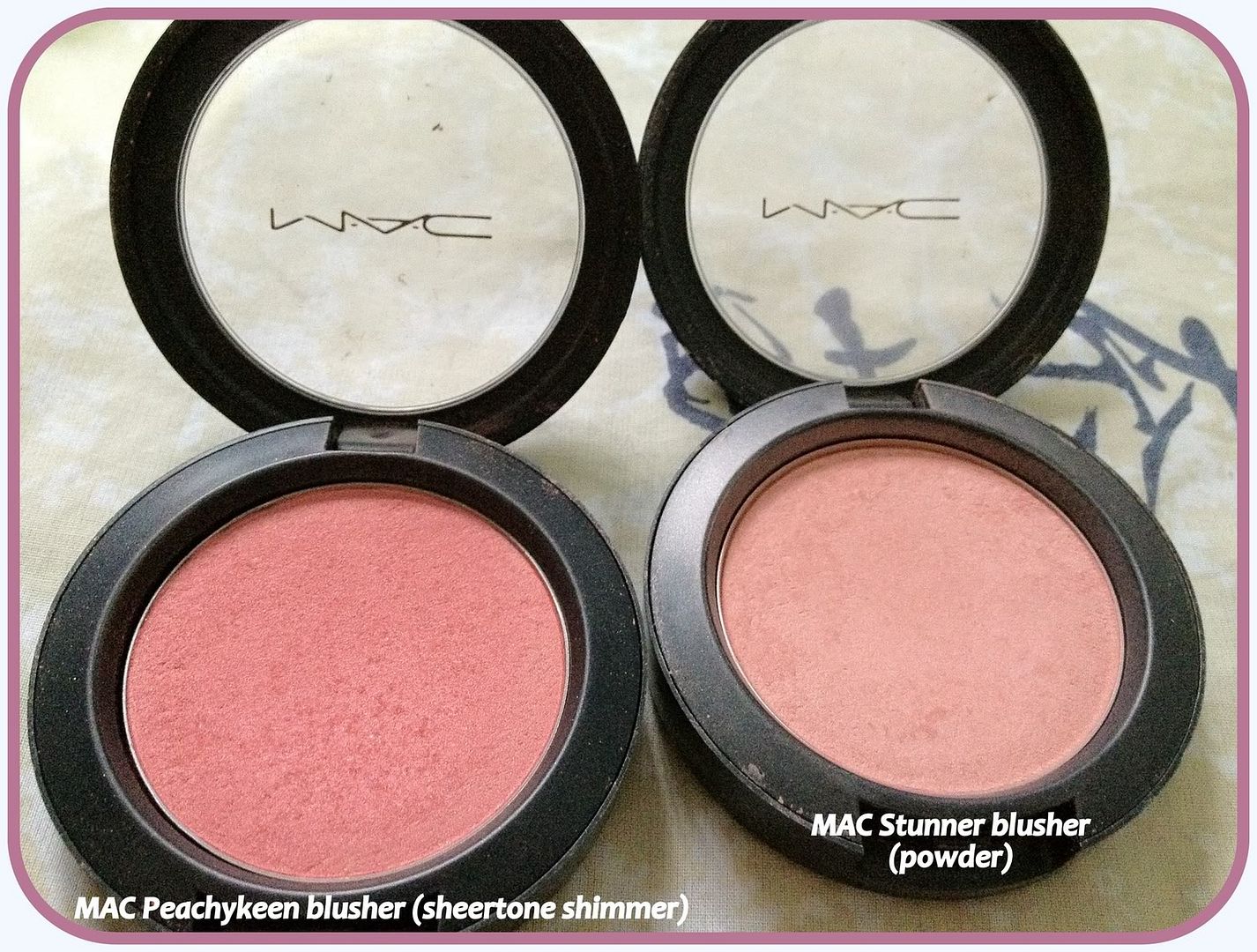 Both are super natural colours for daily use and neutral looks.
Peachykeen is a lovely peach colour, not very sheer and gives a beautiful peach flush. This is a permanent item so please grab it!
As for MAC Stunner, it is Limited Edition and I love it for its sheer strawberry pink colour.
MAC Hello Kitty Tahitian Sand & MAC Hello Kitty Pretty Baby Blushers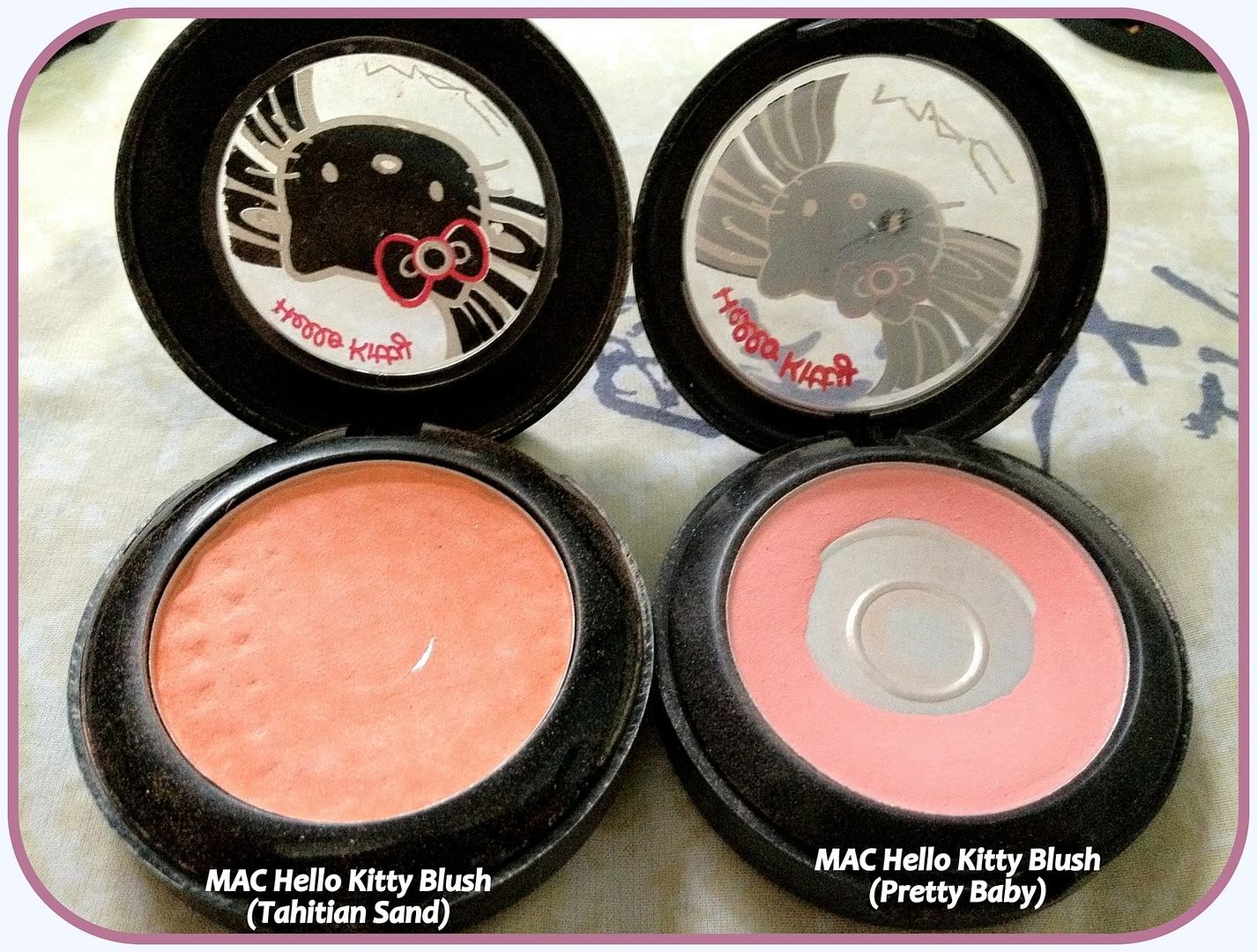 Packaging is key for these two blushers though I'm not a Hello Kitty fan haha.
I'm trying to finish both to free up space!
MAC Prim & Proper Blusher
From the Liberty of London collection. In a very beautiful brown shade and I use on days if I do not want pink, as it gives a nice sheer finish and tanned look, without being too in your face like bronzers.
MAC Rhapsody in Two Blusher & MAC Fresh Honey
From MAC Too Fabulous Collection. Rhapsody in Two is abit too frosty for my liking so I usually layer it as it is perfect for highlighting instead of a blusher I feel.
Reviewed Fresh Honey before and it's a perfect orange shade with shimmer. Too bad it broke again! Went back to exchange the first time round because it broke while in my bag, and I found it broken right now in my make-up pouch. Limited Edition so I shall just keep it and put it at home.
MAC Tartan Tale: A Triumphant Blush Face Kit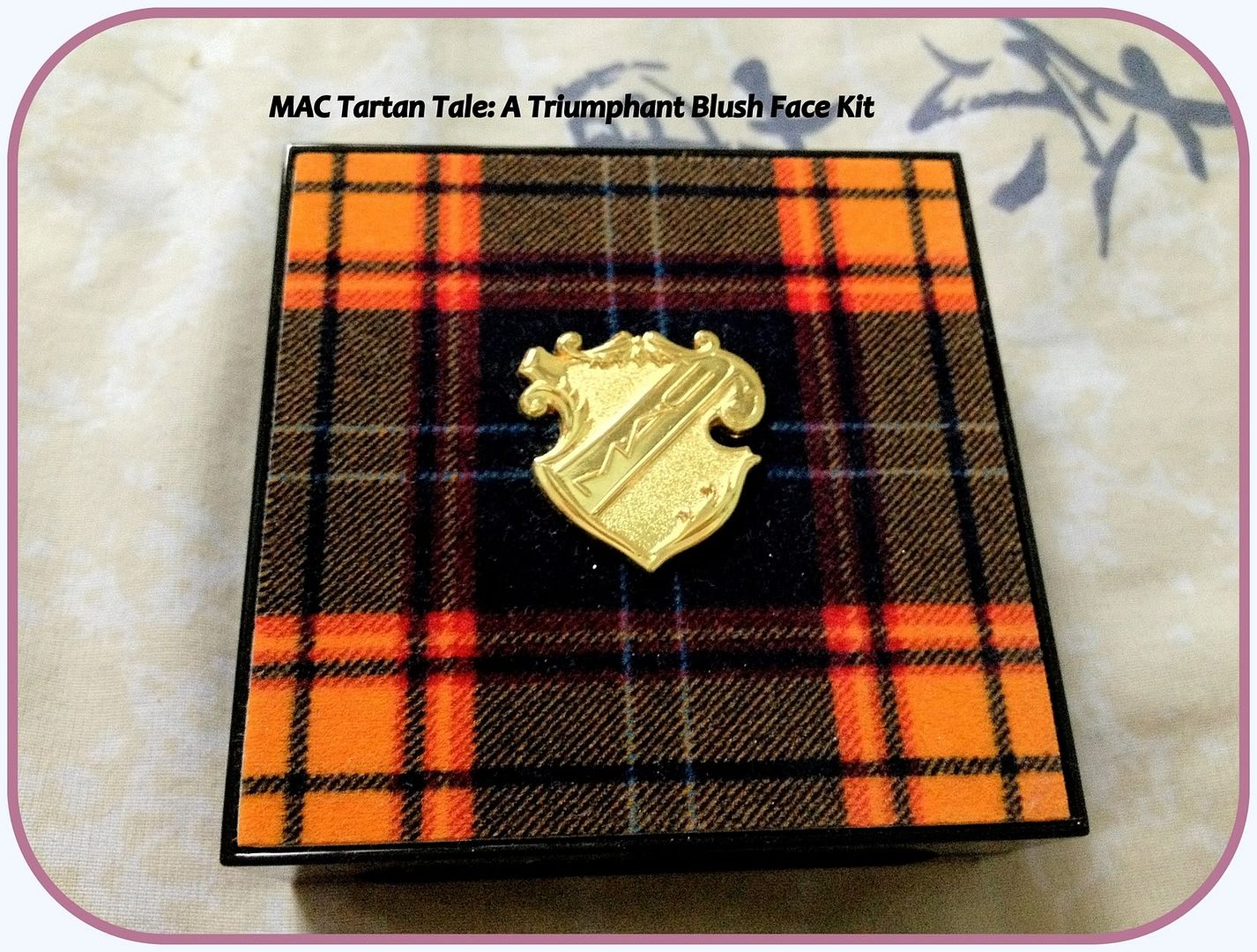 Present from dear Mel and I love the Burberry Packaging so much!
Three shades inside, good for trips with contouring, blusher and nude colour all in one.
NARS Orgasm & NARS Deepthroat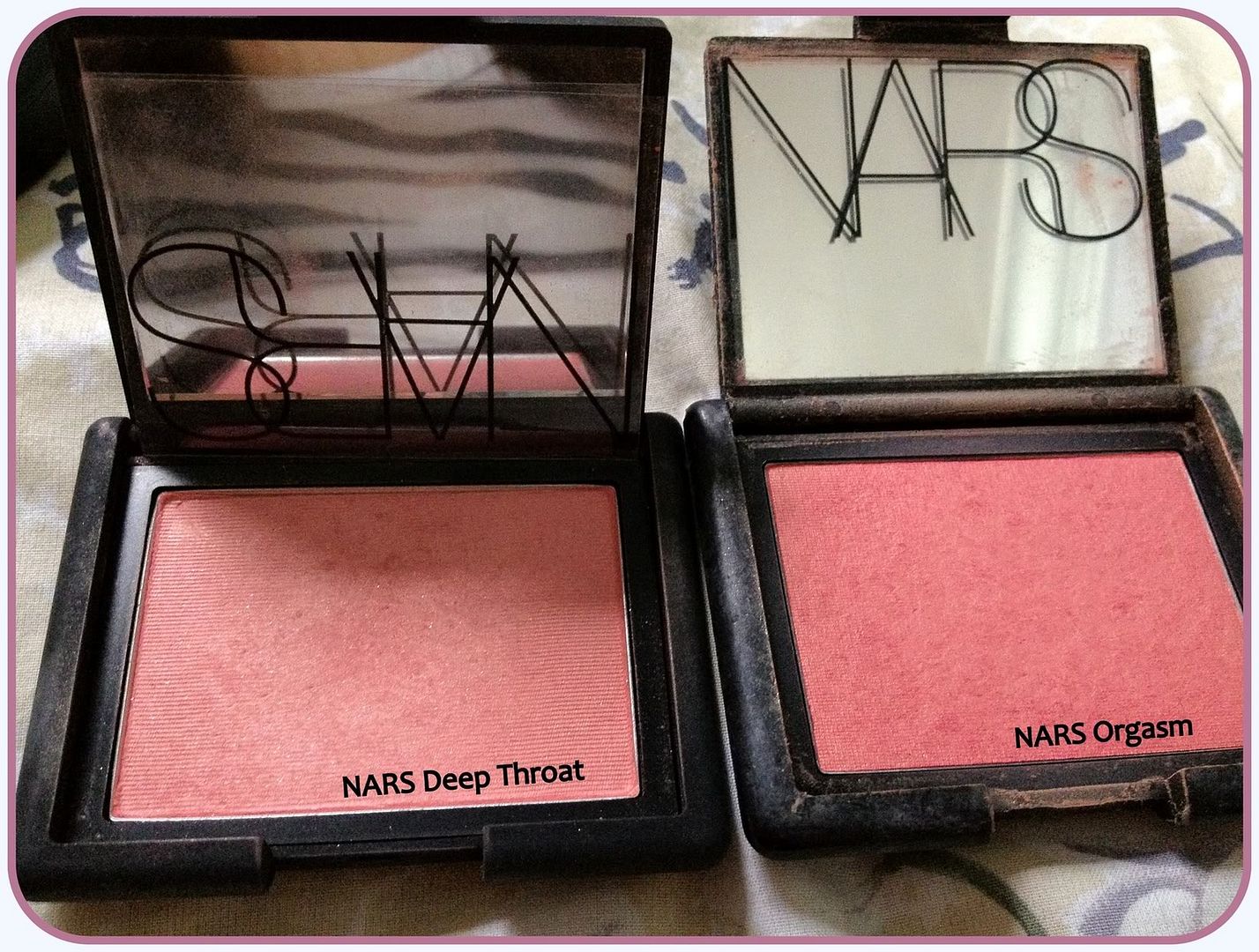 My next favourite brand beside MAC. NARS blushers are pigmented, long-lasting and I'm so glad they are coming to Singapore end of the year!!
Got the Orgasm blusher from a spree and Deepthroat from Hongkong.. naughty names haha.
Orgasm is the super popular blusher from NARS so it requires not introduction. I like Deep Throat because it is extremely natural and perfect pink!
Benefit Coralisa, Benefit Thrrrob, Benefit Bellabamba
I started with Benefit as my first brand of blushers and I still like them alot. Ordered myself from Benefit website and it is local free shipping above USD100, so usually I combine with friends. 20-30% cheaper than stores prices!
Costs $40 during sprees and $60+ in local shops.
I bought Dandellion first but somehow mislocate it so I move on to their other blusher boxes. It can be quite bulky but I like that it is pretty to look at and came with brushes inside (though not the best brushes to have).
Benefit is excellent for their unique colours, long-lasting colours and pigmentation. Somehow I cannot find any replacement for them so I still love it! It smells super nice and glides onto the skin, so there's nothing not to like.
Benefit Coralista is the perfect orange-pink shade and gives you a sun-kissed look, like you just came back from a vacation. Benefit Thrrob is the sweetest pink with shimmer for dates. Benefit Bella Bamba is a gorgeous pink.
My first cheek liquid stain. Prefer it over the red Benetint so I ordered it from a spree. Honestly, I am quite noob at it at the blending part so I only used it once. Still trying to figure how to blend it well and dot it and not look weird.
It is a beautiful colour and looks natural, unlike the bright orange colour in the bottle.
The Body Shop Hot Brights Blush & The Body Shop Baked to Last Bronzer
I quite like Body Shop as they are against animal-testing and its quality products.
Got both at the Body Shop sale at Suntec seperately. Quite into bronzers because I like the tanned healthy look without needing to heat yourself in the sun haha.
Can be used for contouring and they are for different purpose. The first one is more for highlighting, with the natural colour on top and the bronzer below.. very natural brown that makes the face look slimmer without any shimmer in it.
The latter is more shimmery and gives a tanned glow, very pigmented and used as blusher instead of contouring. Permanent item.
Shiseido Desert Rose Bronzer & Body Shop Blush Trio
Got the Shiseido bronzer this year at the sale since it was just $20, mad cheap for its brand. And I like it better than Body Shop bronzers because it is more natural and perfect for contouring or as a blush. No shimmer in it at all as well.
The Body Shop blush trio is a lovely pinkish-brown colour when mixed together, without being too light and gives a healthy look.
Lancome Golden Hat Illuminating Highlighter & Bobbi Brown Shimmer Blush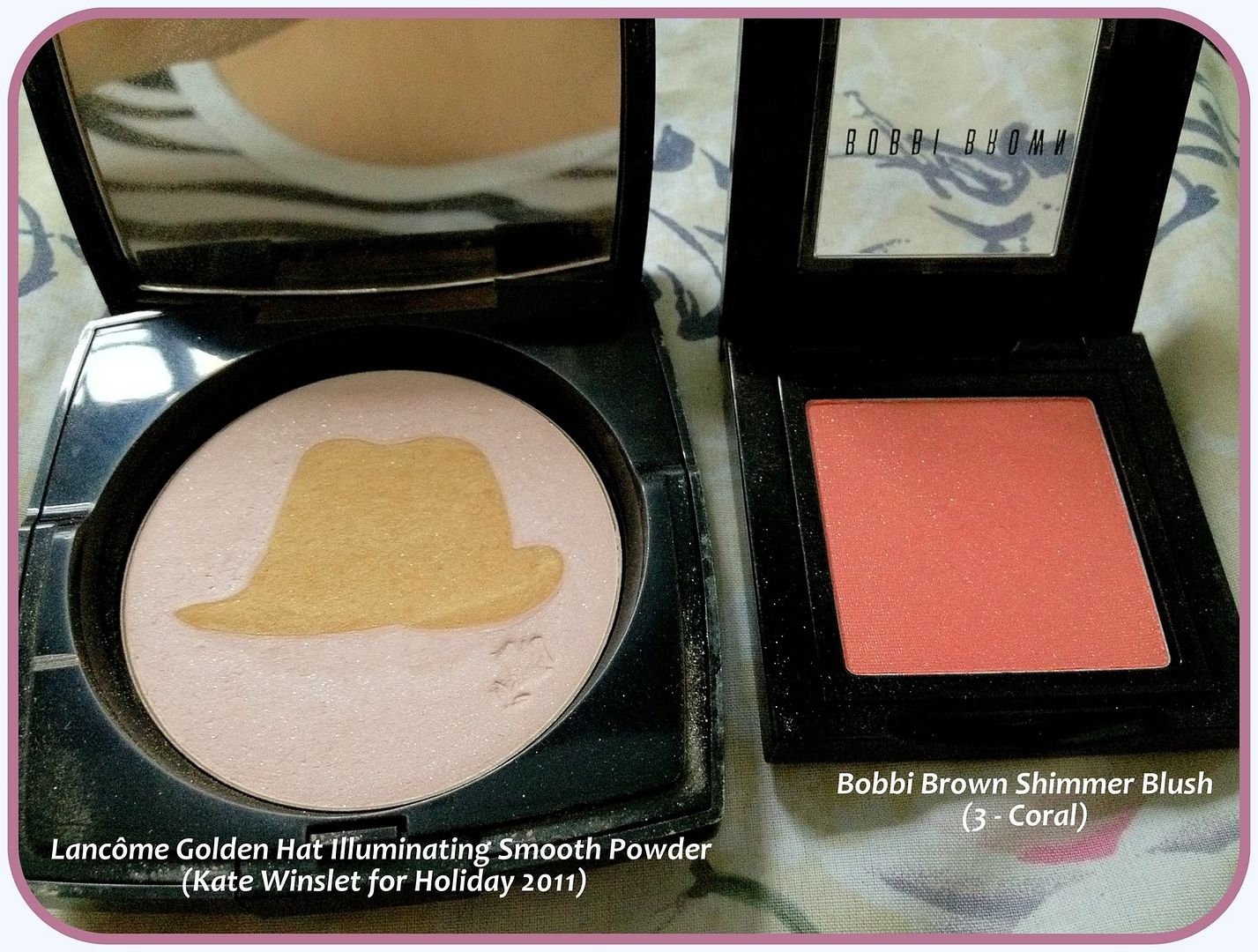 These are bought on impulse. Lancome Golden Hat is the limited edition highlighter from Kate Winslet's collection and the perfect highlighter especially when mixed with the gold part inside. Gives a glow immediately.
Bobbi Bornw shimmer blush is super long-lasting with a coral colour.
Urban Decay Glide-on-cheek Blusher
Three very different products but of similar sizes.
Got the Shiseido blusher as a free gift during the recent purchase with lipstick and mum's cleanser. Yet to try it yet.
Sephora highlighter was picked up during Body Shop's sale and perfect for highlighting. But I'm usually too lazy to do it haha. Used to use it over blusher and it gives a nice glow!
Urban Decay Glide-on-cheek is somewhat special, you just blend the gel thing to your skin and it is easier than Benefit's cheek stain. Sheer pink finish that last whole day but somewhat I still prefer powder blush.
Jill Stuart Mix Compact Blusher
Saving the prettiest and chioest blusher for the last!!
Got it in HK and the packaging itself blew me away haha. Too pretty to use so I've just used it three times.. very pretty and can be used seperately or together. Comes with a pretty blush with rhinestone as well.. what more to be said right?
Didn't come cheap so honestly MAC/NARS blushers are still my first choice.
Phew finally finish this blusher talk, not as much as what I thought but not a small collection either. Need to stop buying until I see chio ones that are hard to resist..