Short update on my recent and not-so-recent outfits.
Shall do a proper entry really soon i hope, been really quite busy recently and I dislike rushed entries so here's a short update first :p
Today's outfit, wearing yellow and white for Veron's McD party.
Usually I pair black with yellow for work. Really like how the colours go together with dark accessories :)
Altered this yellow top from BKK to make the shoulders part much smaller. Love it coz it's so unique though the fringes look like french fries. Paired with a lace skirt to make it less plain :)
BKK fringe top / Bershka lace skirt / Bellabox twist band / CC Skye bracelet / Melissa Flats


Slack day with H&M floral dress
H&M dress / Diva gold necklace / Gojane flats
Here's one of my fav studded dress from BKK that I got for $10, but I spent about $12 altering to get the perfect fit which was quite worth it I feel coz my fav seamstress did such a fab job changing from the UK 12 dress to a UK6/8 dress :) The shoulder and ptp were made much smaller.
She chided me for spending more on the alteration than the dress itself, but it was of good quality and a classic dress that I will wear alot so I didn't mind.
Been getting alot of FS questions so here's the details:-
1) East Point - Chia Yi Alterations #02-37
(I went twice when I'm at Tamp area and she's good - SMooch Moroccan dress)
2) Far East - Lay Hwa Alterations #03-77 (just opp the lift)
My usual tailor and she's very good though price is not super cheap (average $10-$20)
Wore it with the Gojane snakeprint heels, glad it didn't give me much problems even though the sizing for this pair runs slightly small.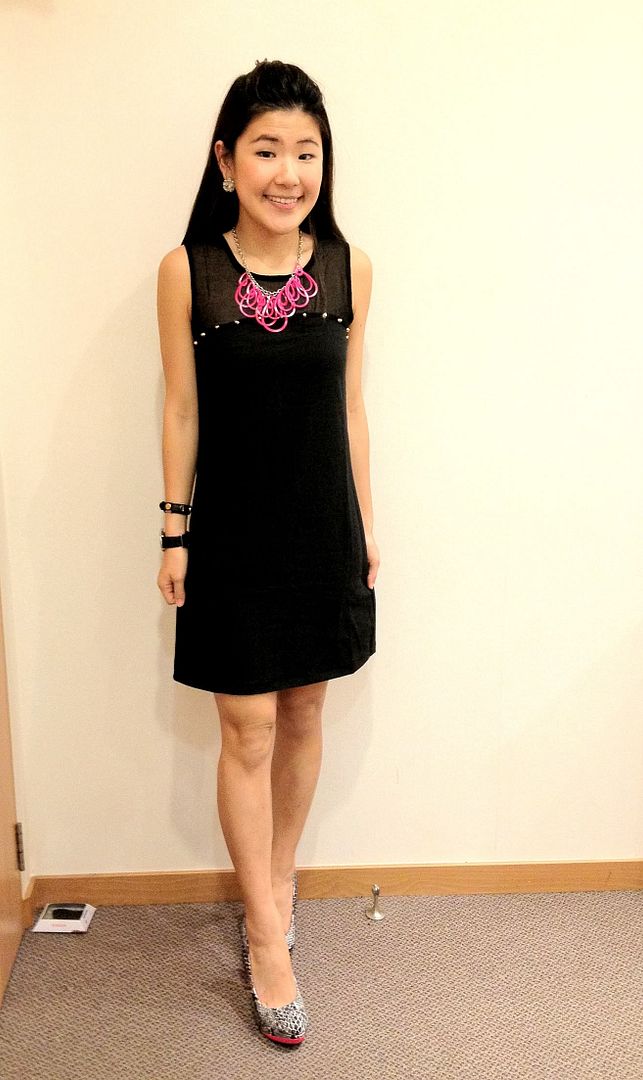 BKK dress / FCUK Watch / CC skye bracelets / Gojane heels / "Little things she needs" necklace
Finally wore this ASOS navy lace dress bought months back and glad I dug it out. Determined to wear the new ones before I start buying! Love the hems and how elegant it looks.
ASOS lace dress / Red Ferragamo heeels / F21 accessories
Into studs recently so I couldn't resist this neon pink studded top at BKK. Wore it with the Gojane charcoal cap-toe heels and a pencil skirt for work
The heels were way too big so I bought the insoles from Watsons (2 for $8 i think) as recommended from Shermaine & a blog reader, thank you! Now it's comfty and my feet didn't slip out as much :)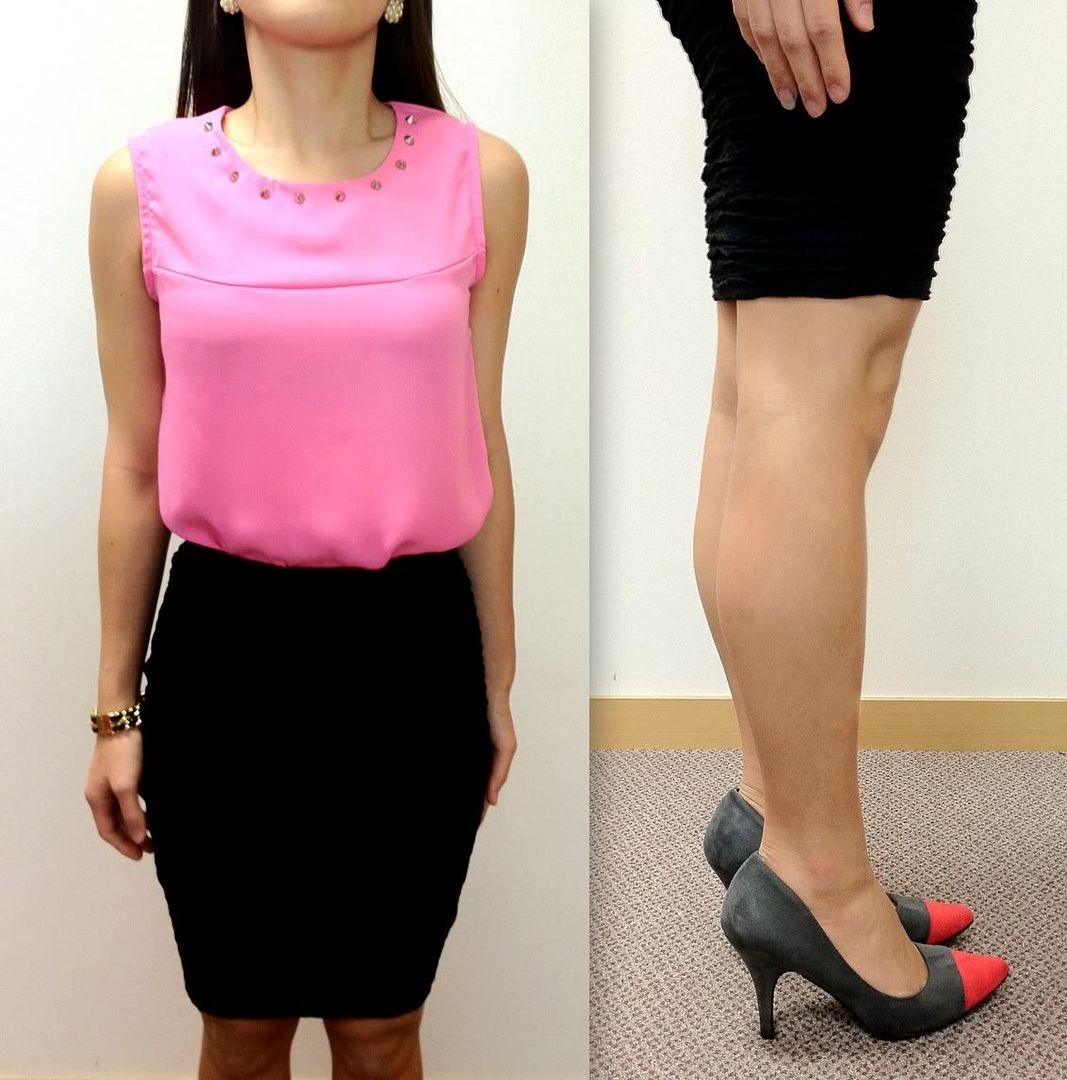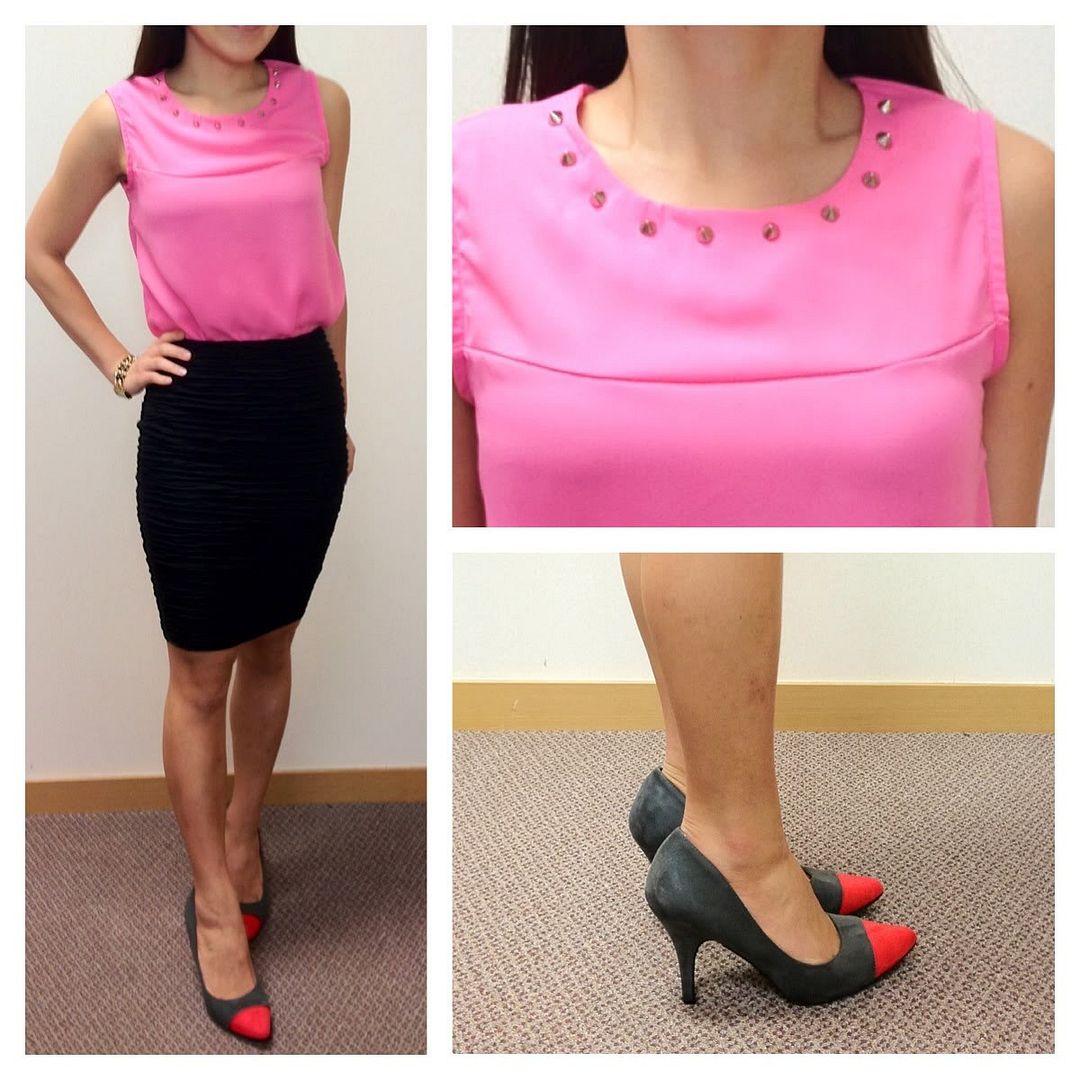 BKK neon top / CWC skirt (selling this!) / Gojane Cap-toe Heels / Zara bag
SMooch delight dress in cobalt, first time wearing because it's really quite short on me. Love the mesh part that makes it unique :) Wore it with yellow accessories and flats on a Friday :)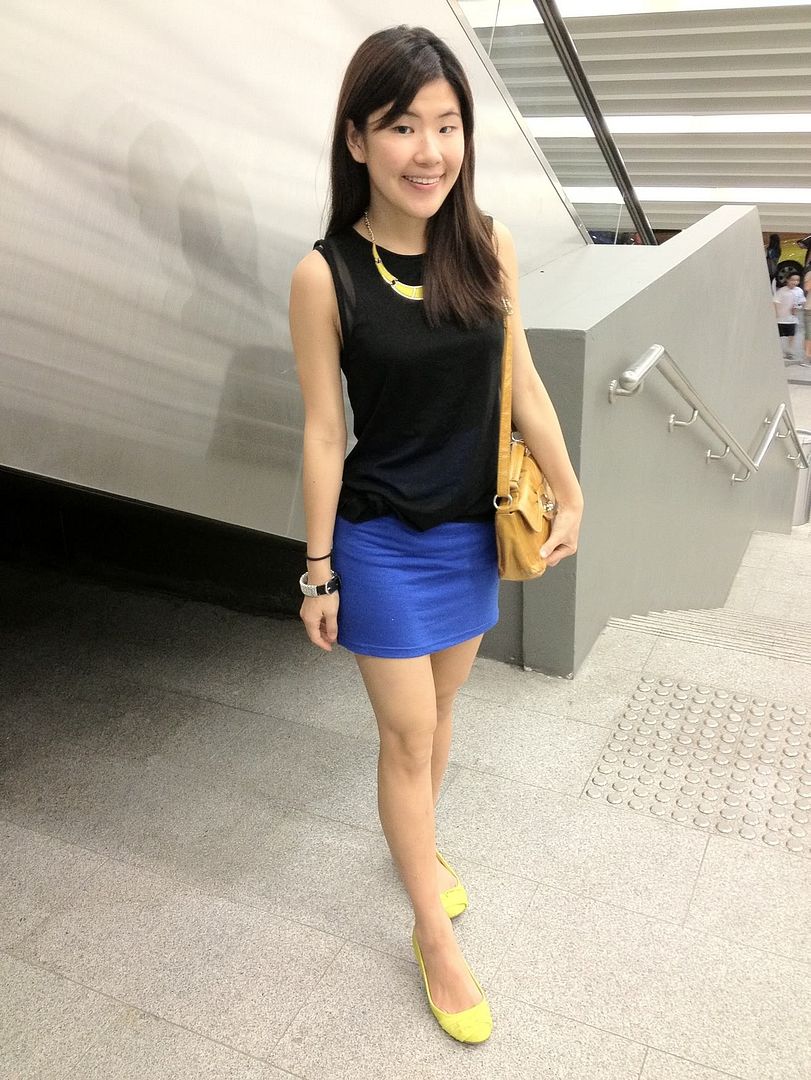 SMooch Sheer Delight dress / Gojane flats / Bershka necklace / Newlook sling
Another work outfit, everything from H&M!
Speaking of H&M, I'm so glad they are in SG right now so we didn't have to scoot to HK or other countries for the brand, even if it's not as exclusive. It's affordable and it can last much better than F21, what's there not to like :)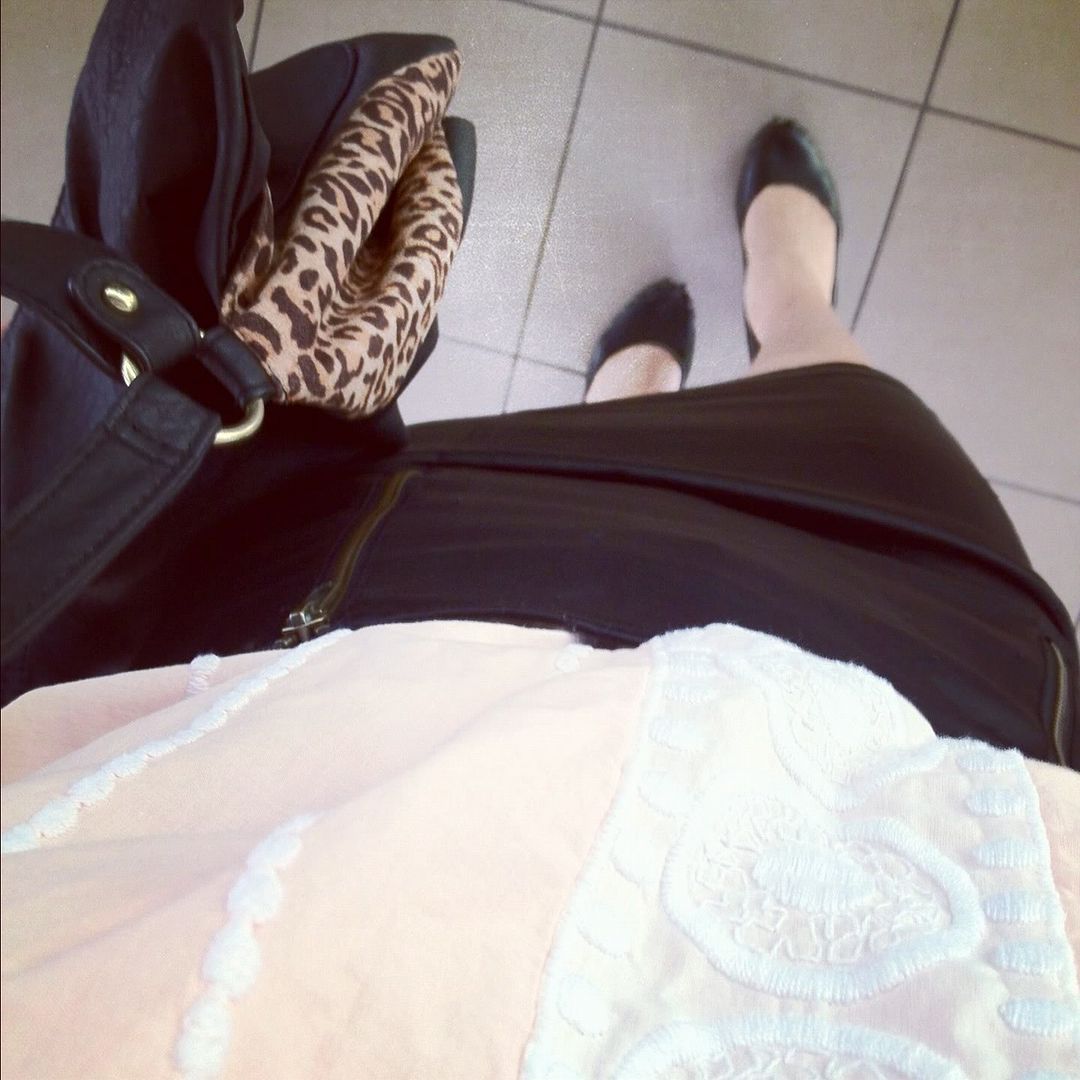 H&M eyelet top, H&M pencil skirt, H&M leopard print bag, HK heels

---
Here's the reviews of items received, not alot as I haven't been purchasing online items except for ASOS (who can resist their 70% + additional 10% sale right?!?!)
Love Bonito Bejou Bralet in White (S)
I rarely join Backorders because by the time the item comes, I would have forgotten about it or not like it.. fickle minded probably. The only item that I'm willing to join BO for because of its lace and how versatile the top is.
Size S fits nicely with allowances and it's comfty! Goes very well with pencil skirts and high waist skirts, I'm too shy to show my naval so hopefully I will keep it and wear it haha. Mad pretty!
Love Bonito Pattison Pants (Navy XS)
An impulse buy because I have navy and white pants at home already, but I couldn't resist not buying since LB said the material is good. It didn't disappoint and it's a good basic to own.
XS fits me well with some allowances and comes with a belt. Length is perfect and it's comfty so I will keep this staple for work!
Love Bonito Sandusky Skirt in Burnt Orange (S)
Paired with my slack "Award Winning Girlfriend" tee from Gojane same as above because I was rushing my reviews haha.
Got this from restocks since I love the black piece to death and been looking for another colour. Khaki was OOS so I got burnt orange and it's equally pretty. Love how it makes the waist seems small and absolutely perfect for work! :)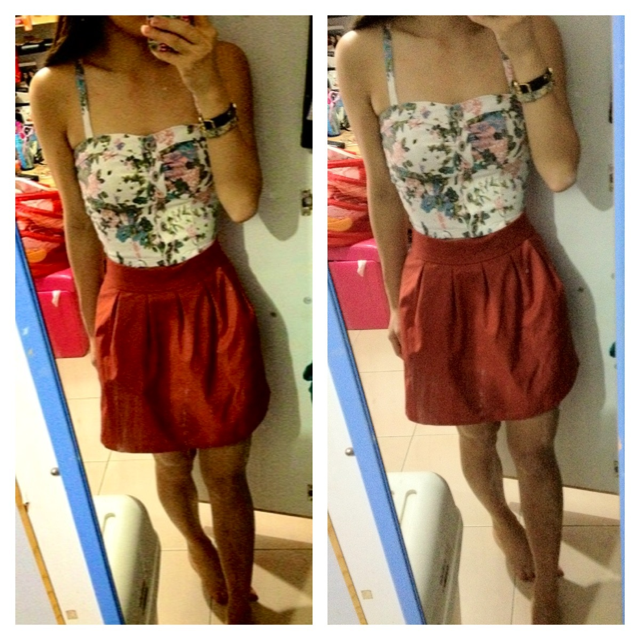 A corset that I got from BKK and similar to SMooch's version. Really pretty and sizing runs small. Can't wait to wear this out! :)
Leopard x Floral prints - i can't decide between either of it so I paired it together haha :)
Flowers on my hair are too feminine for me, so I had flowers on my feet that day :)
And latest purchase on impulse, in love with the colour and can't wait to take my new baby out soon! :)
Ending with the

interval training I saw on Shape magazine to share with runners out there, for those who want to improve their stamina and speed. Yet to try it out but it looks pretty challenging and very effective, will feedback soon! :)
Basically it will target the heart more and will make you sweat much more as compared to a constant pace of an hour run.. so no harm trying this 30 minutes routine! Basically, you start with brisk walking at a moderate pace, then increasing your speed and then decrease your speed but at an incline (higher gradient = slope surface) etc. Perfect for treadmill training since you can control the incline and pace. But you can still try out outdoors by increasing your speed and then decreasing etc on a 5 minutes interval.