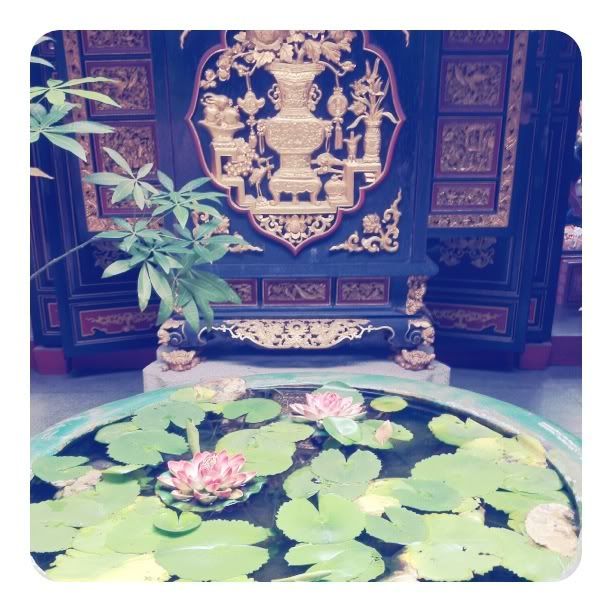 So I took two days leave for fun and had a long long weekend, partly to clear leave and also to spend more time with TC.
Felt better from my stupid flu and fever after running and drenched in the rain almost instantly. I guess what I learnt during my psychology days are right.. happiness and love have such positive effects for the brain and physical body that it's even better than medicine or placebo.
It feels really good to take a break once in a while, loosen up abit and just have some time for yourself, even if it is just staying in Singapore. We just went on our usual dates, had our fav food together, nothing too special but it feels good. My yellow ribbon race was this morning as well and he was my biggest supporter as usual.
It was a good break for myself and I feel (almost) recharged again! :)
I rarely blog about anything personal, but I had this really morbid dream last night about death. I was on a huge ship with my loved ones and I jumped into the sea just like that within a second without any

hesitation

, coming into contact with the ocean and was

nibbled by all the fishes. Funny thing was that I was quite conscious and had alot of reflections when I was nibbled but it was all too late. The dream freaks me out the next day as it was so real and yet, suicide has never ever crossed my mind. The next day, my family

and I had to give prayers to my late grandparents at the temple. It has been at least two years but again at the temple, it feels like yesterday when my grandfather would wear his usual white shirt and attend all the family gatherings once again. It feels very surreal indeed. During the entire day,

I spent the whole day feeling really weird and a brand new person.. it's almost like I had such a close encounter with death and I was given a second time to live once again so I better make use of it.

Life & death cannot be avoid so as cliche as it is, let's make the best use of our time instead of dwelling too much on unimportant people or insignificant issues. :)
Okay on less serious issues, these are the outfits recently!
Wore the SMooch noveau dress and it was absolutely great, I like it even much more than what I reviewed it earlier. Perfect length for work and not too loud prints.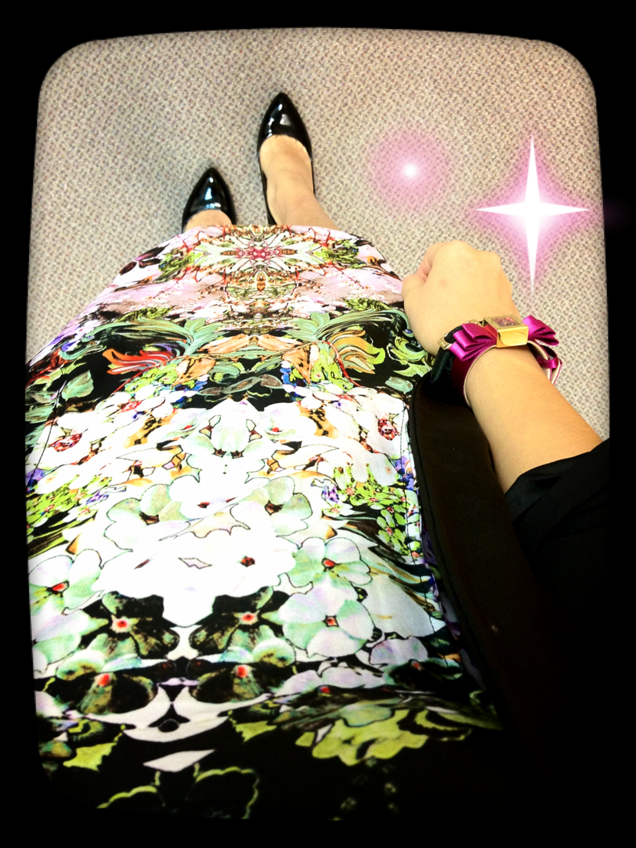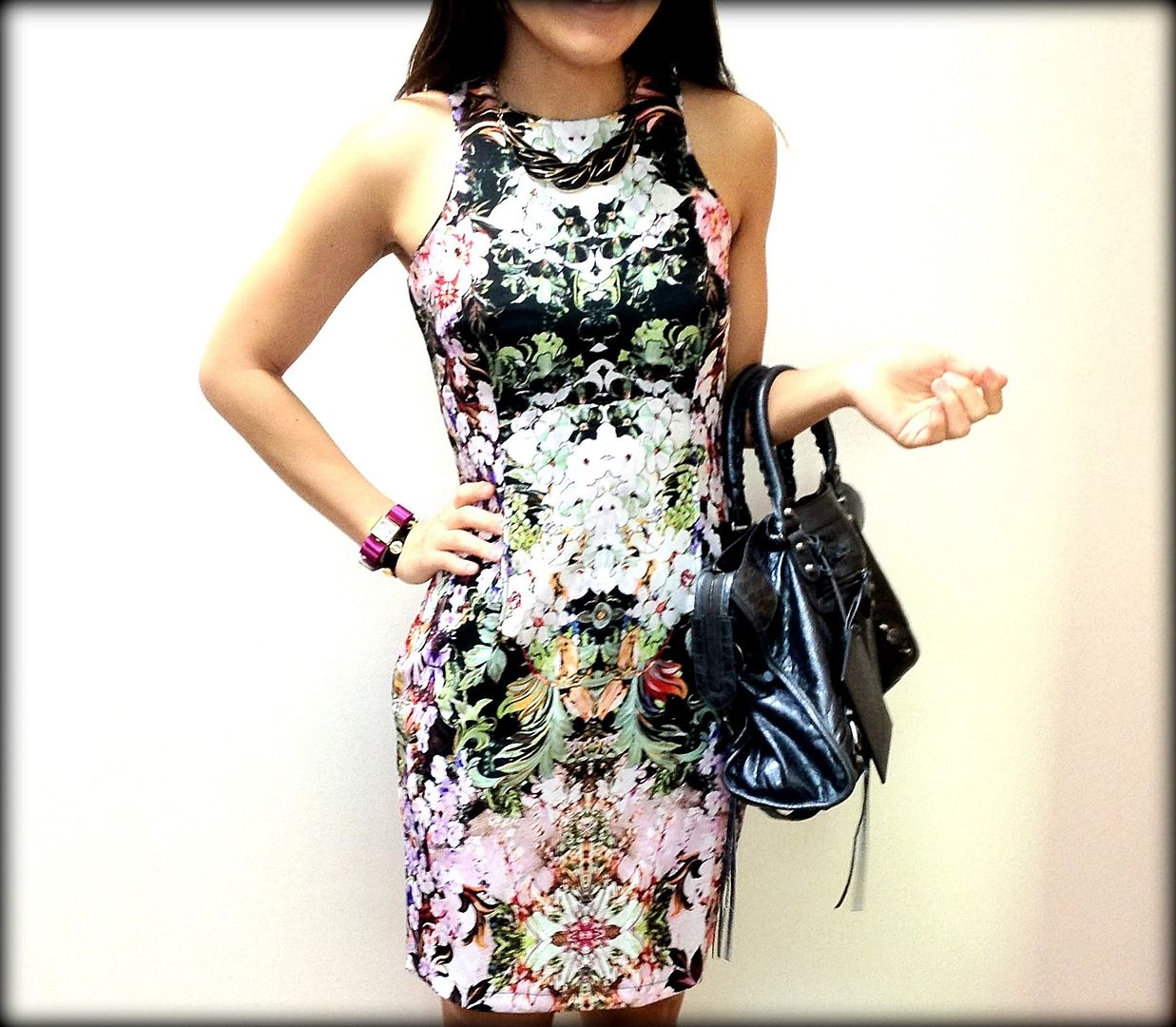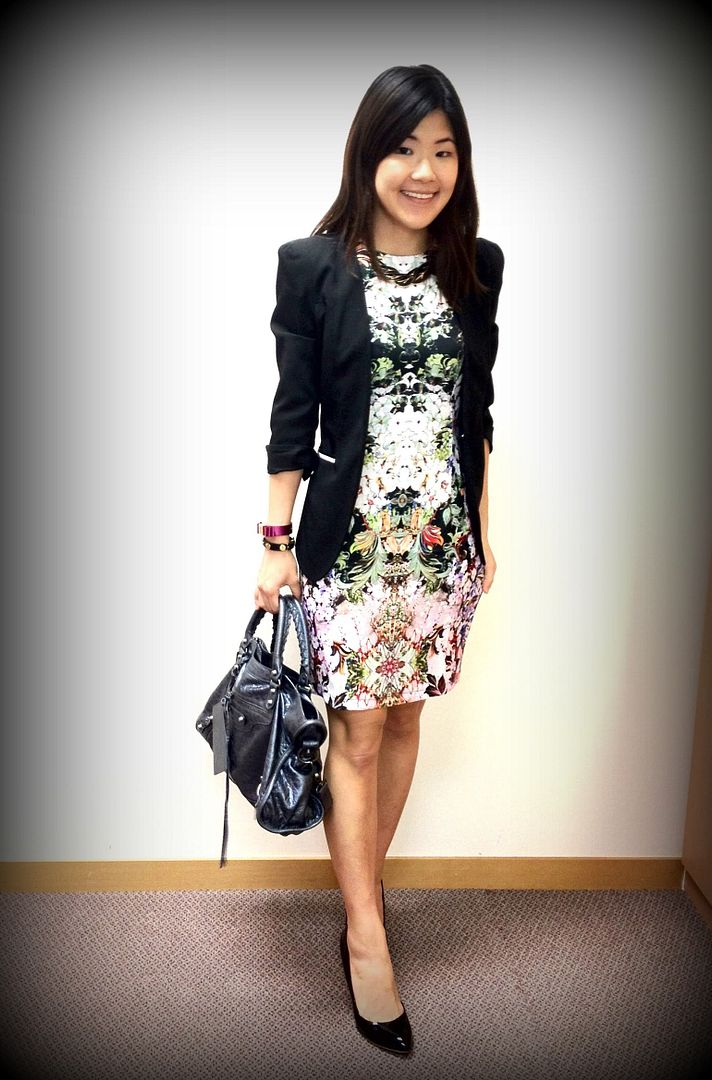 SMooch dress / Bysi blazer/ TE necklace / BCBG Watch/ Gojane Heels
Met up with dear Val & Sher after work and yes.. we are going to flea soon (cross fingers)! It's been at least a year since I had a flea market to sell everything at dirt cheap price even for new items.. it's a never-ending cycle of being a shopaholic i guess. The other time I sold shoes, clothes and accessories but this time round, I doubt I can bring all my shoes over...
At Nandos with the real chicken feathers on the wall with dead chickens served on the table haha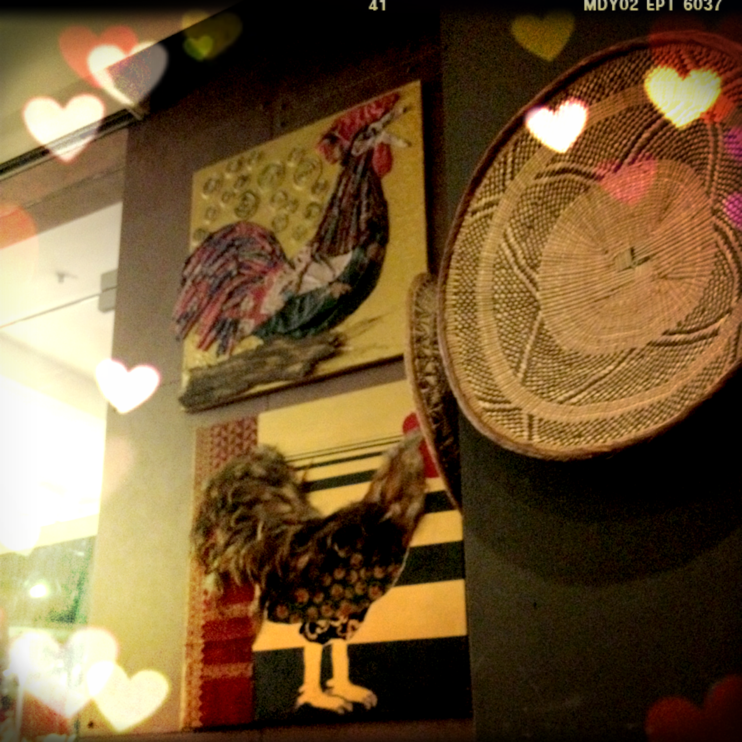 & Val was wearing the LB Violet blazer that was launched recently and I'm super tempted to get it as well but I have too many blazers! *chants* It's really gorgeous and I like violet the most. Didn't really fancy the cotton lining inside but the colour and cutting made up for it :)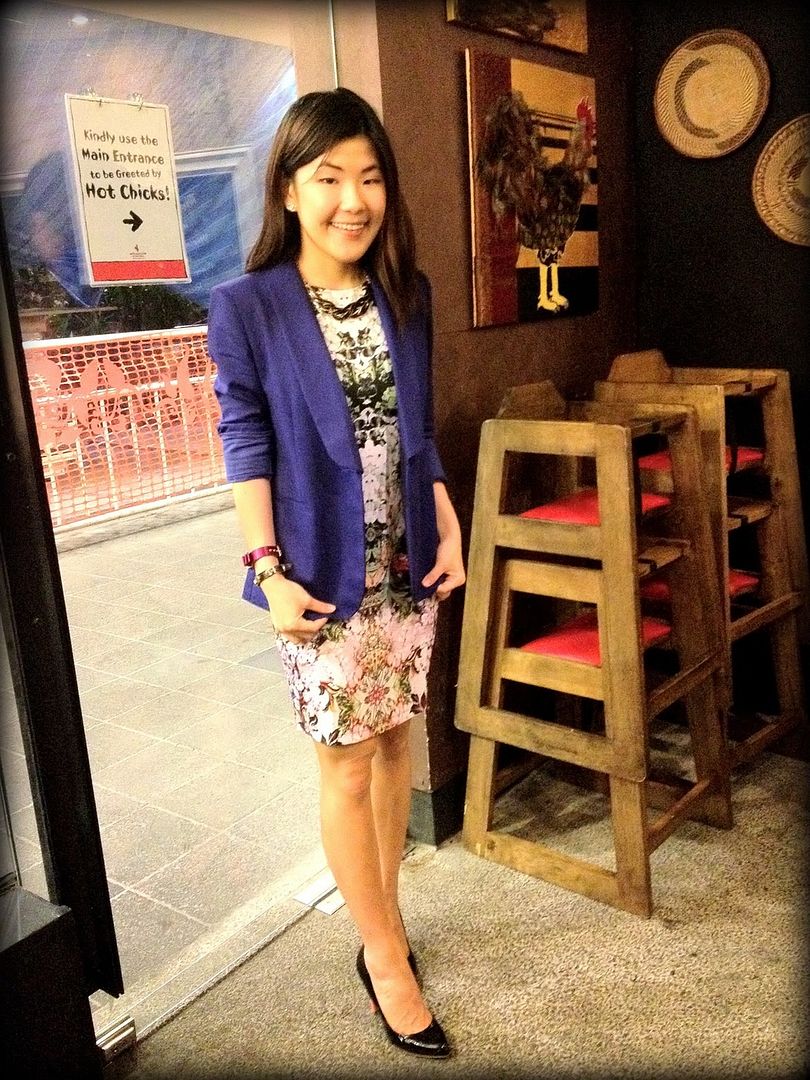 & Pics with the babes, dinner again! :)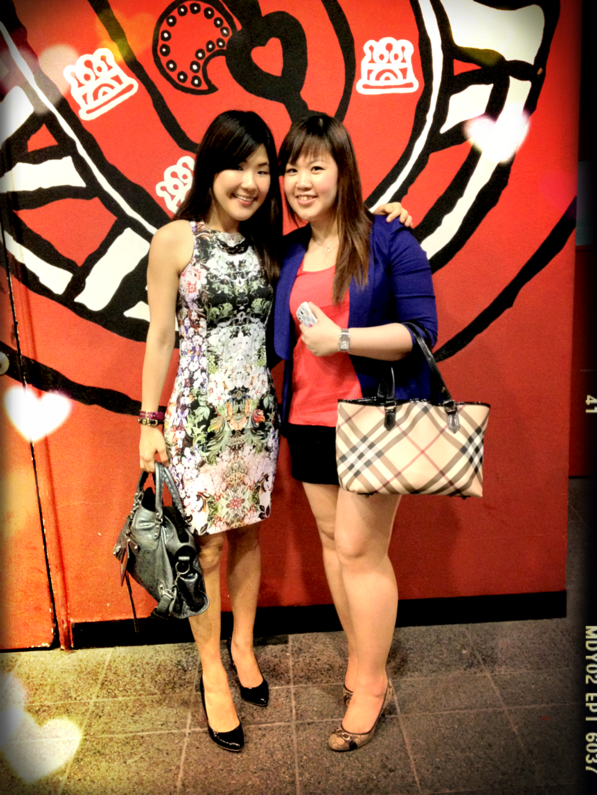 Finally out my studded Zara heels out that day which reminded me that the Gojane studded ones are not worn yet haha.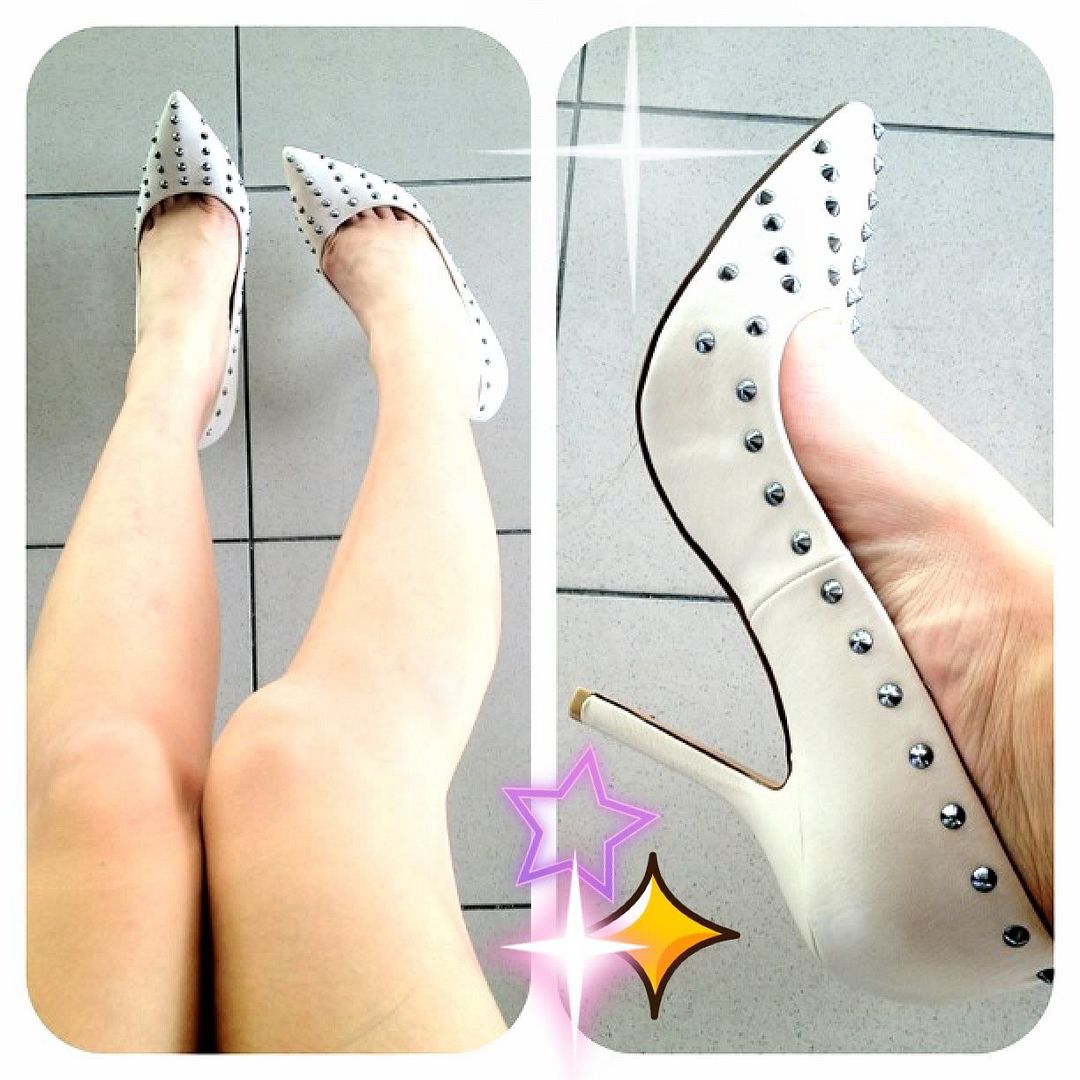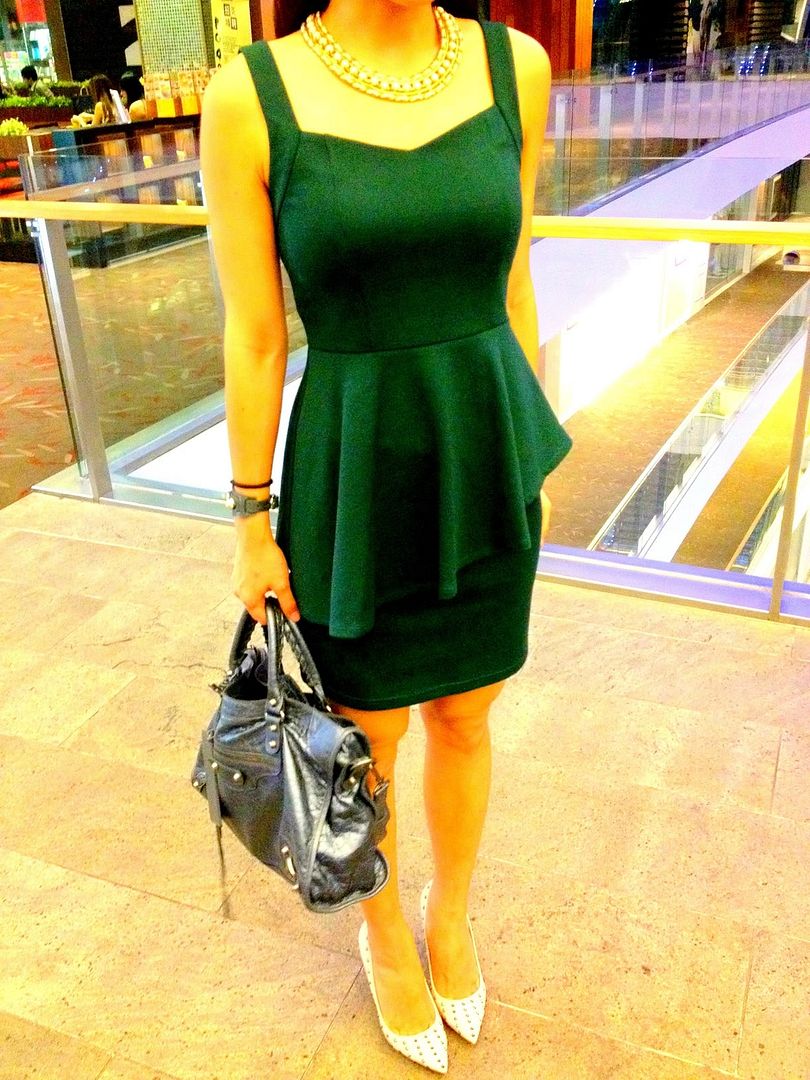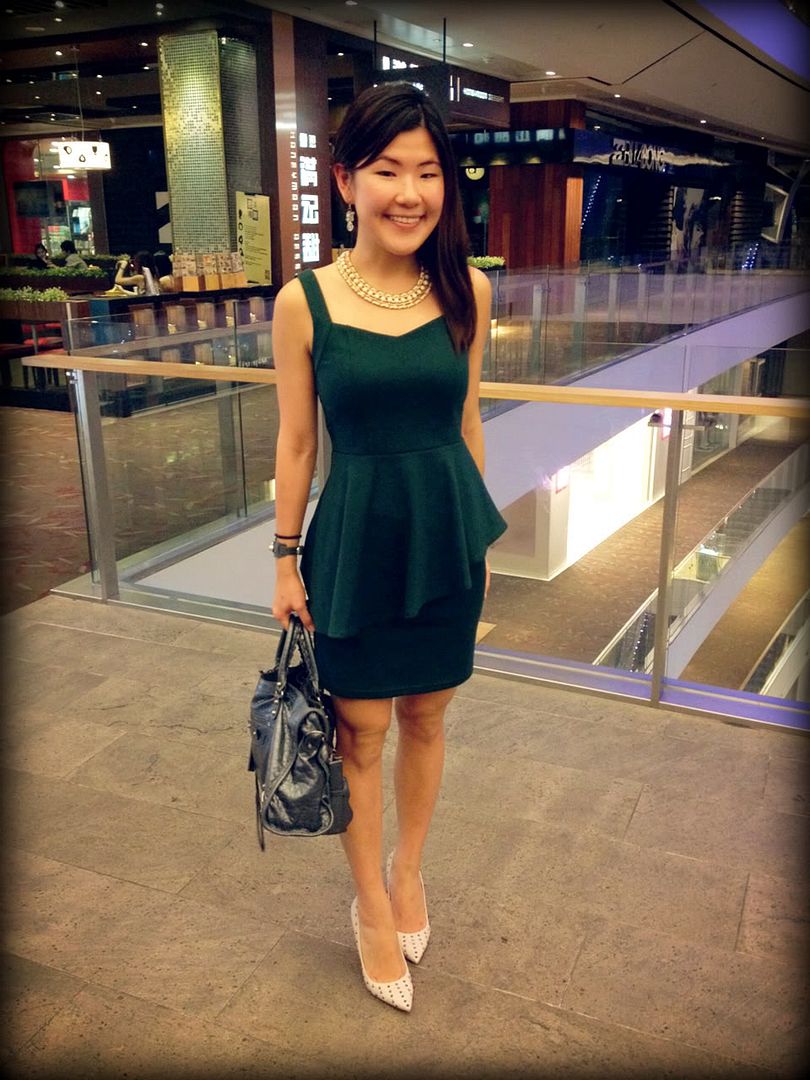 With my chio gfs for a mid-week dinner date :)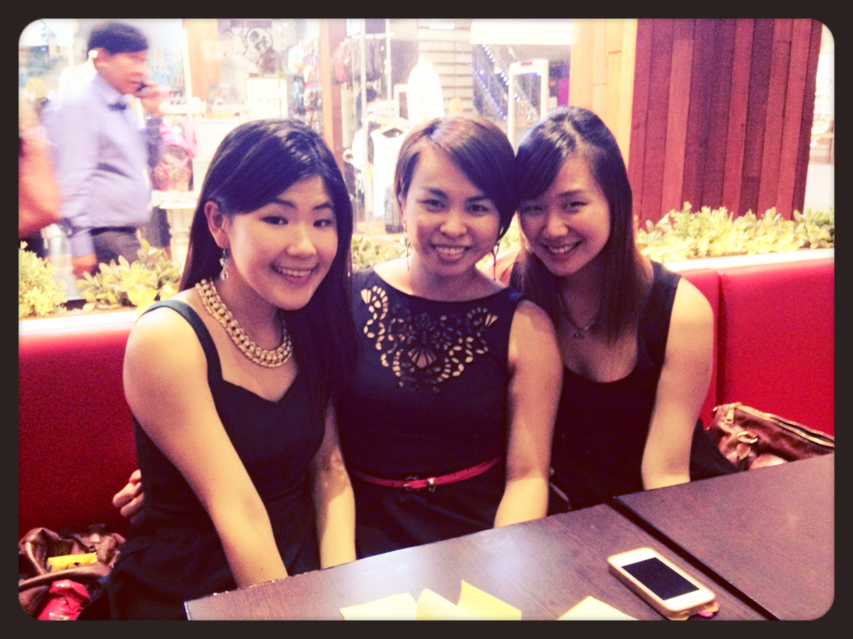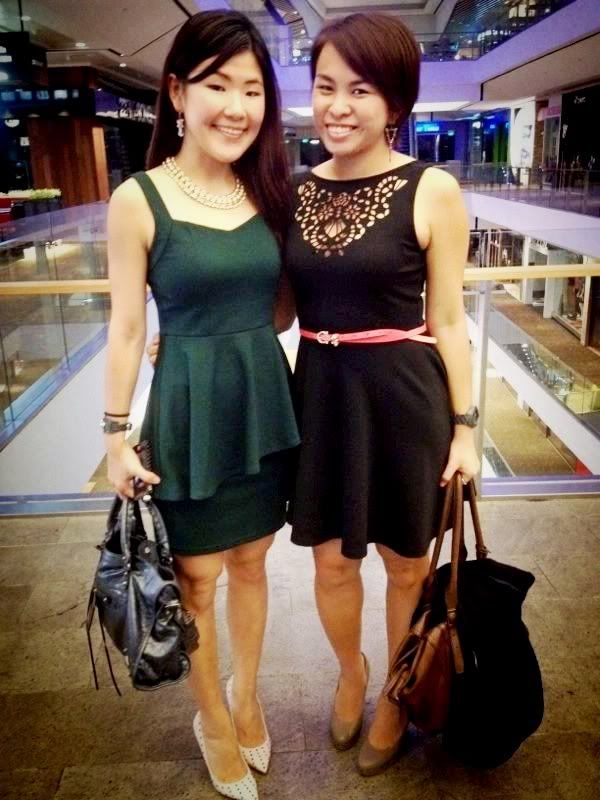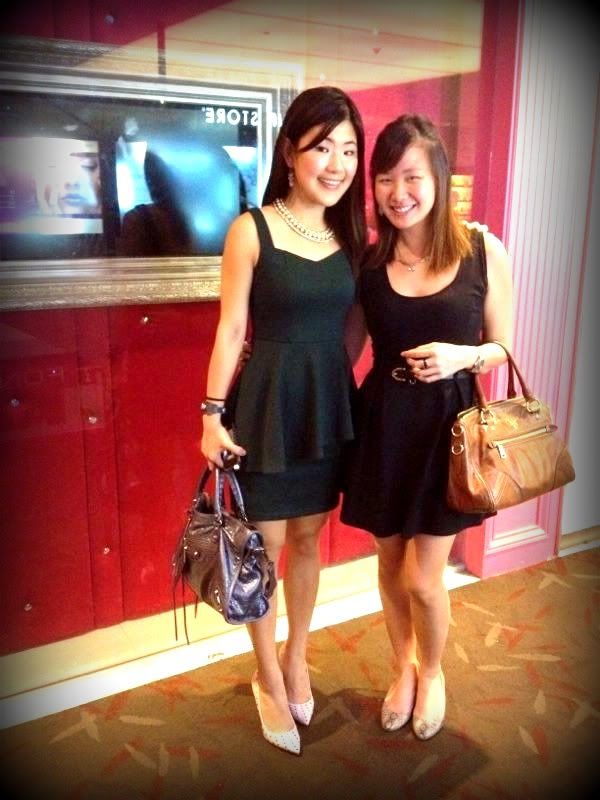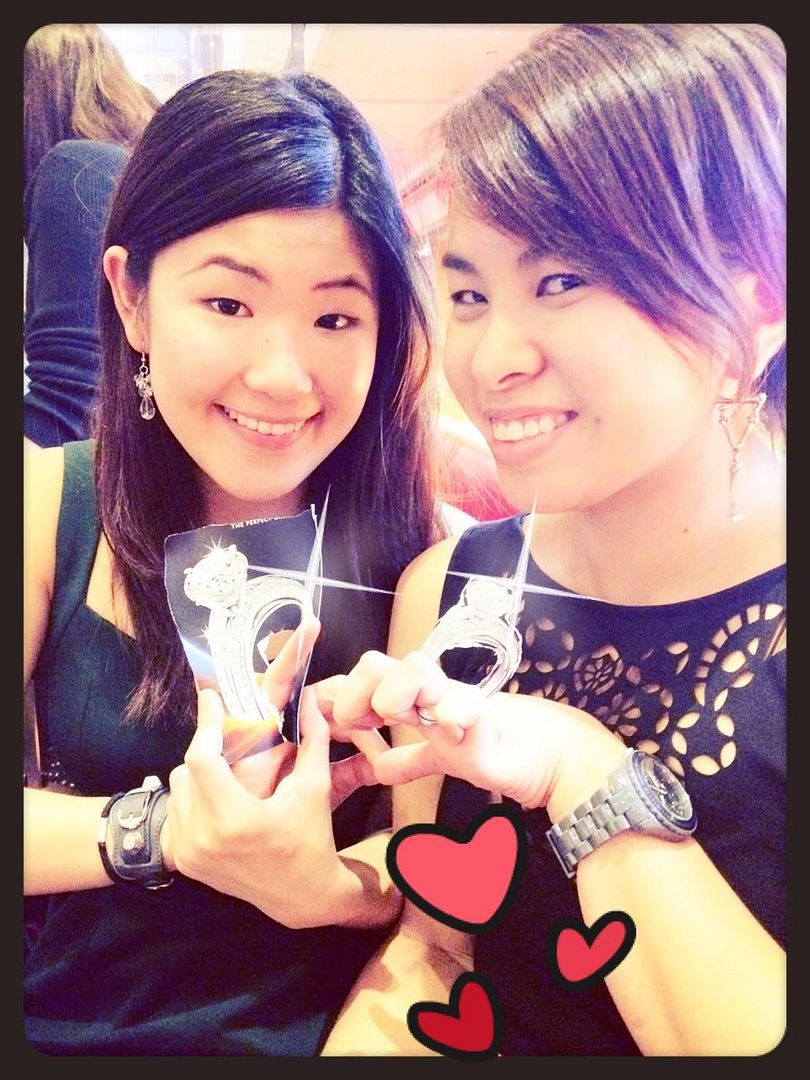 Another SMooch day in the liberty bandage skirt for a casual day out in town.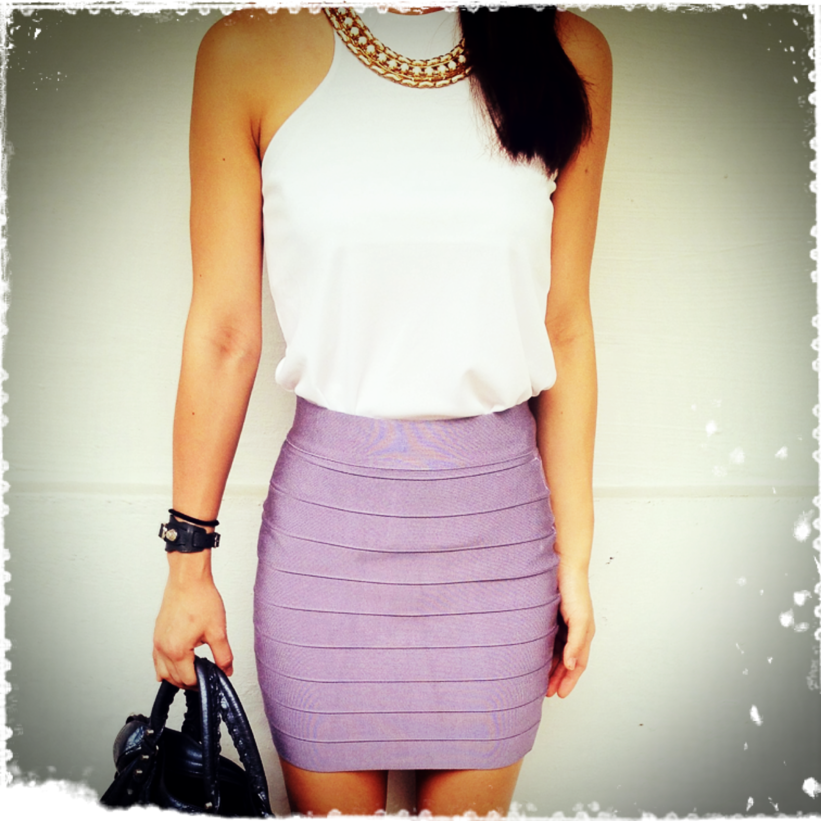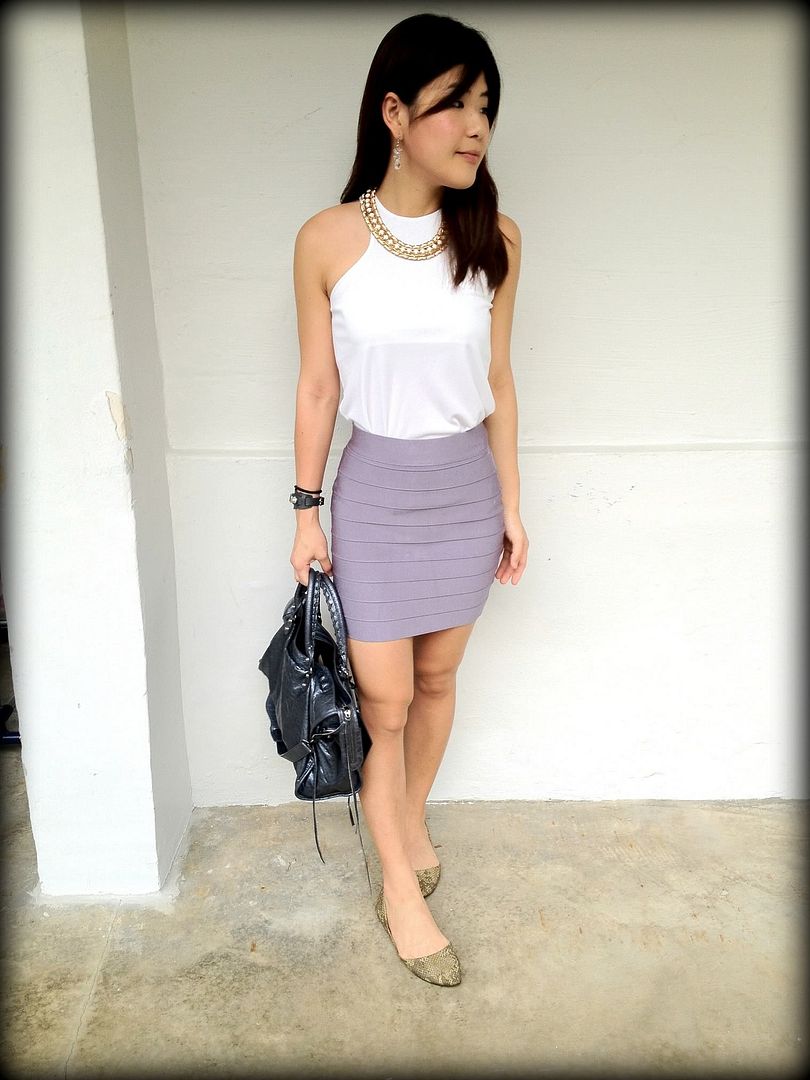 Agneselle Top / SMooch Skirt & Necklace/ Bal City / Bugis flats
Burgers & Fries at handburger that I can never resist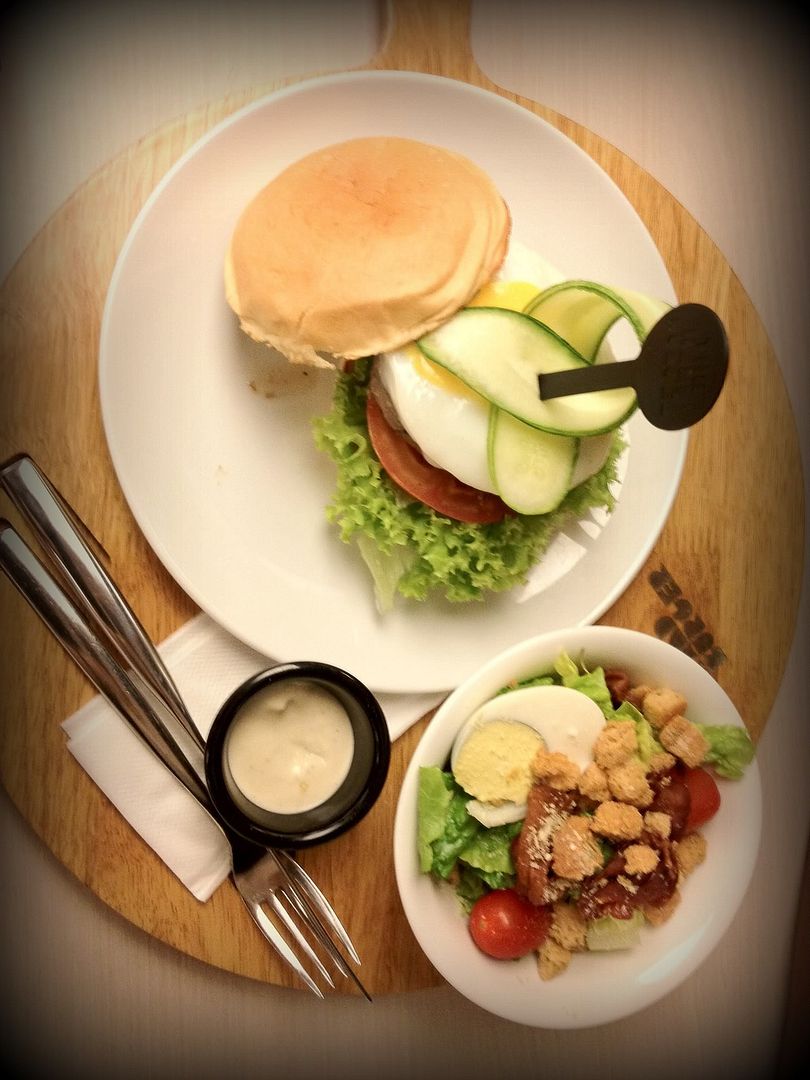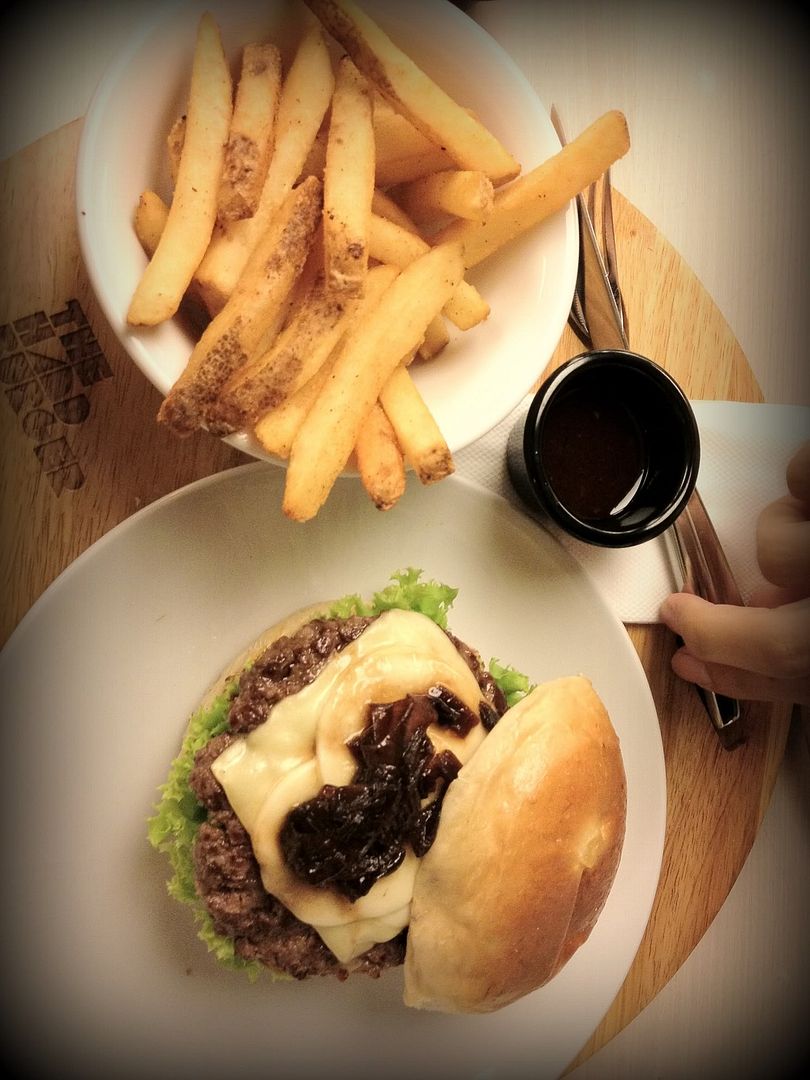 & the heavenly but damn sweet nutella shake with mashmellows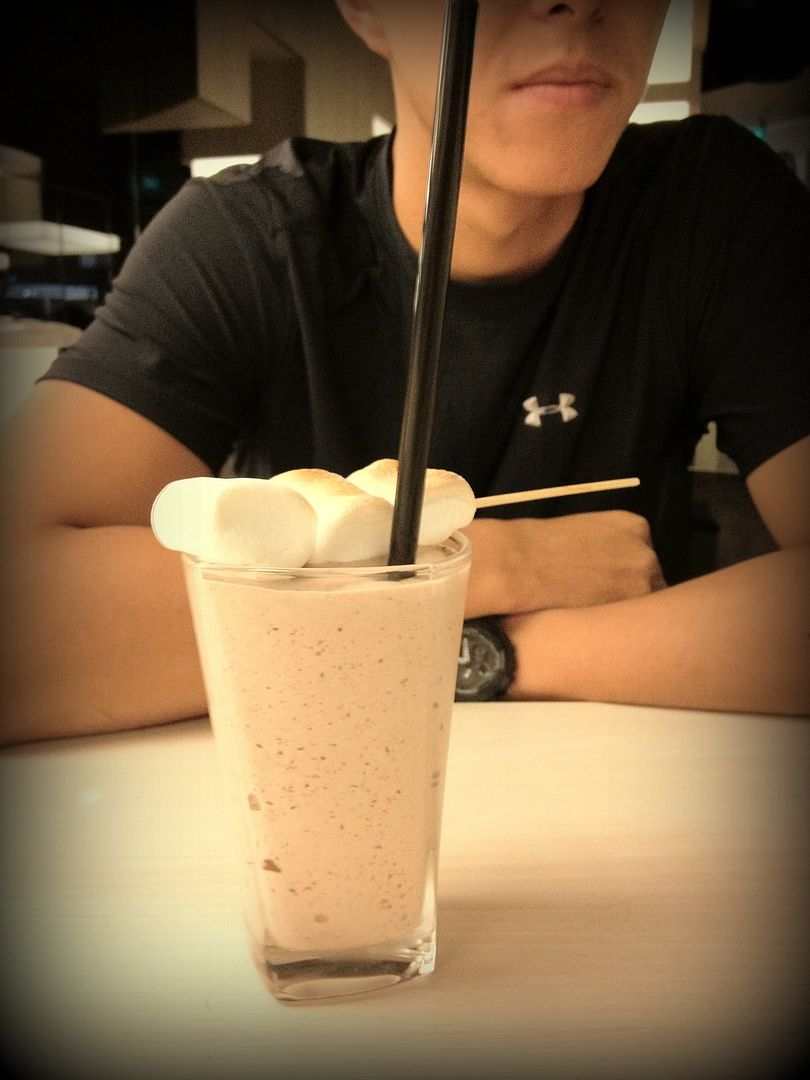 & I didn't look like I had a fever that day..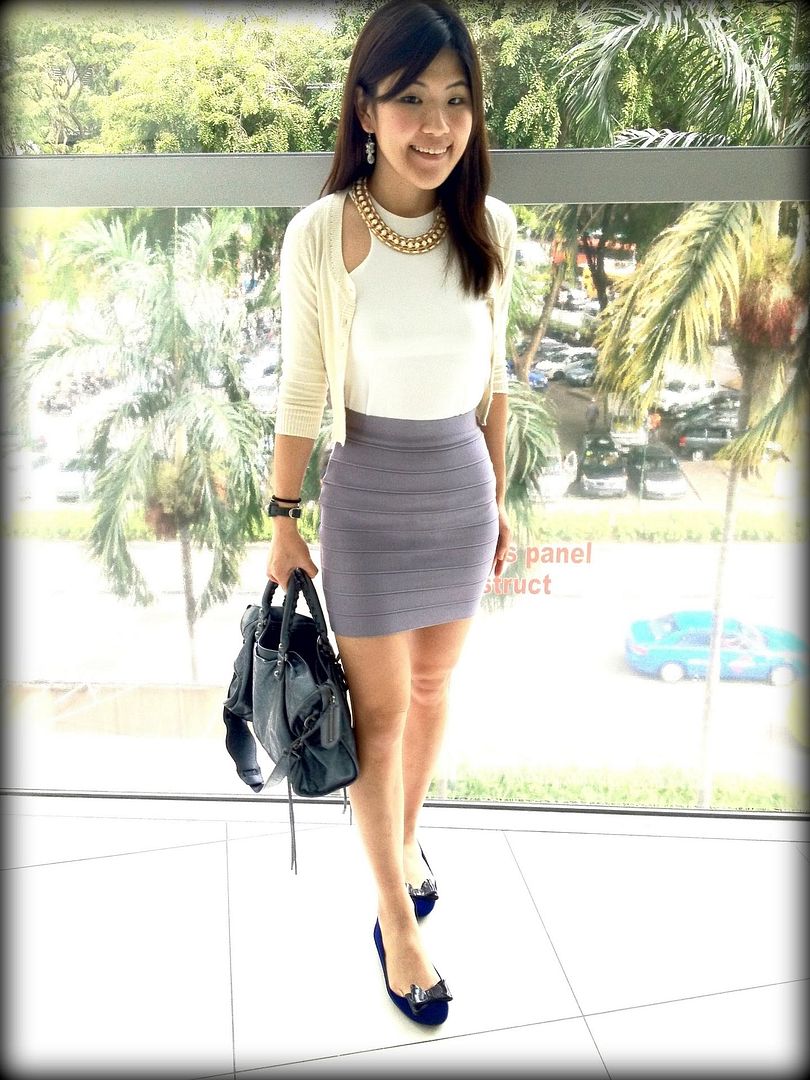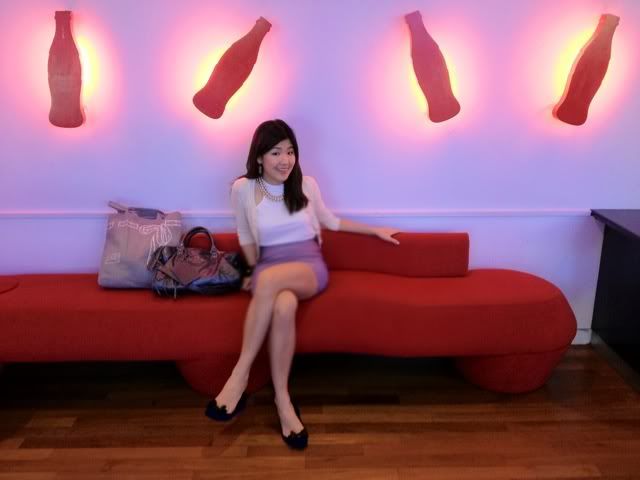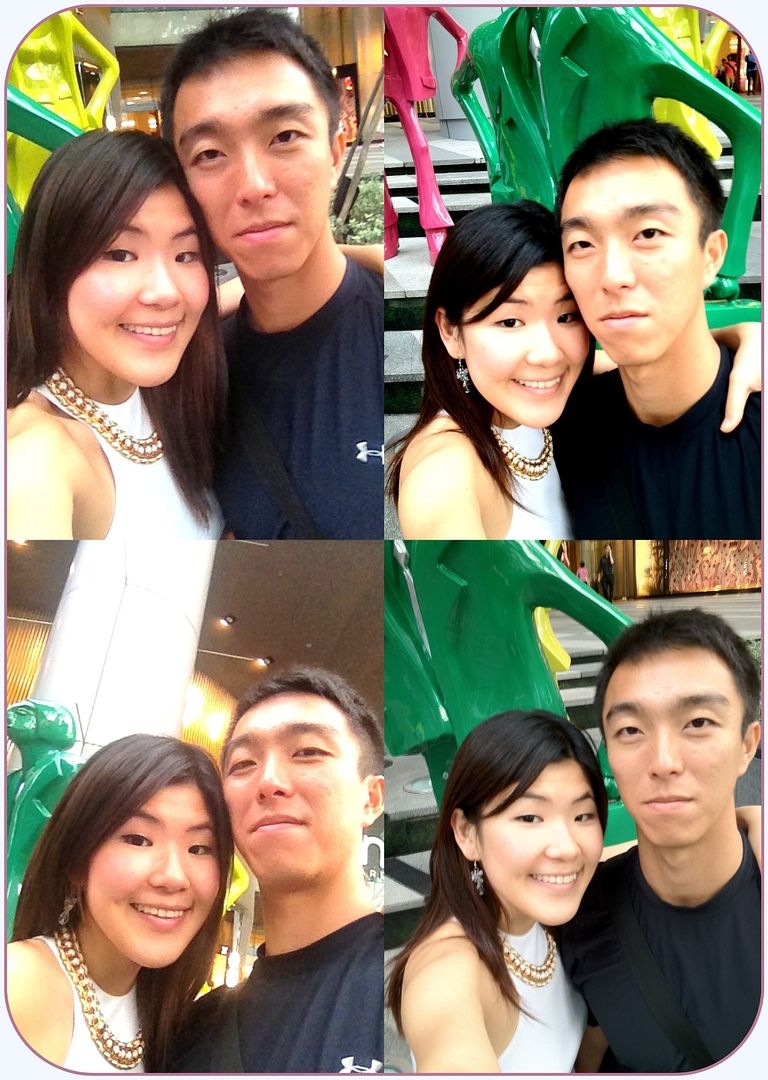 And as requested, here's the accumulated reviews from the items bought online for the last few weeks.
Love Bonito Pieret Peplum Dress Black S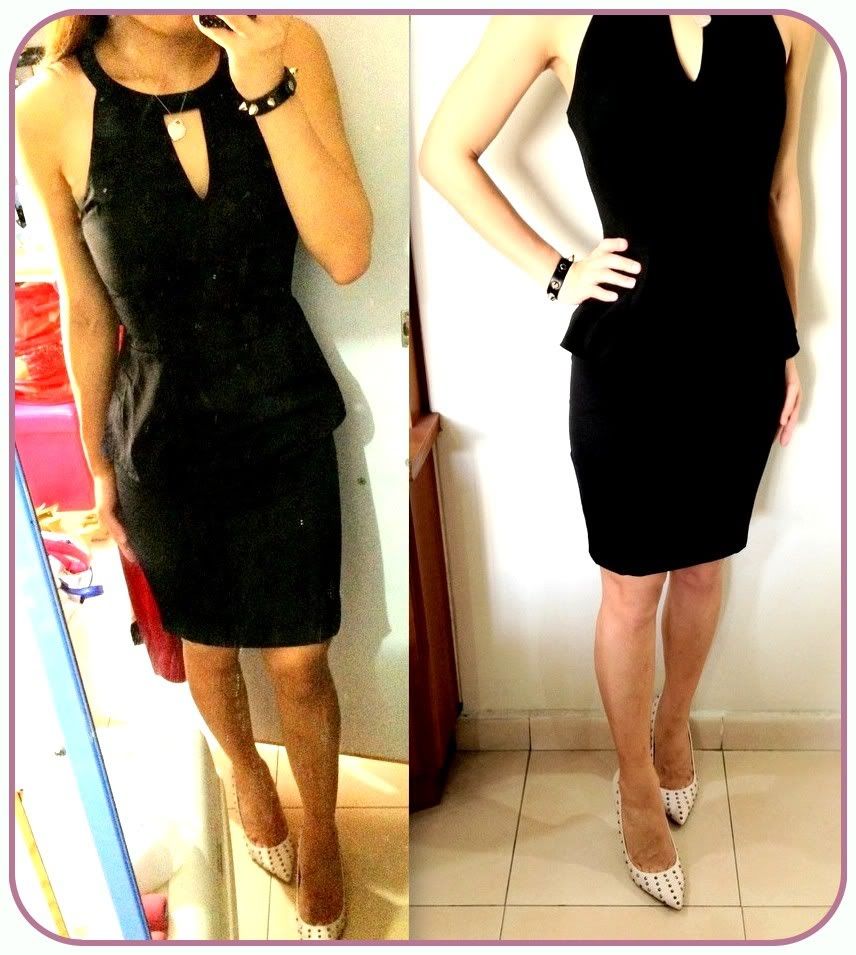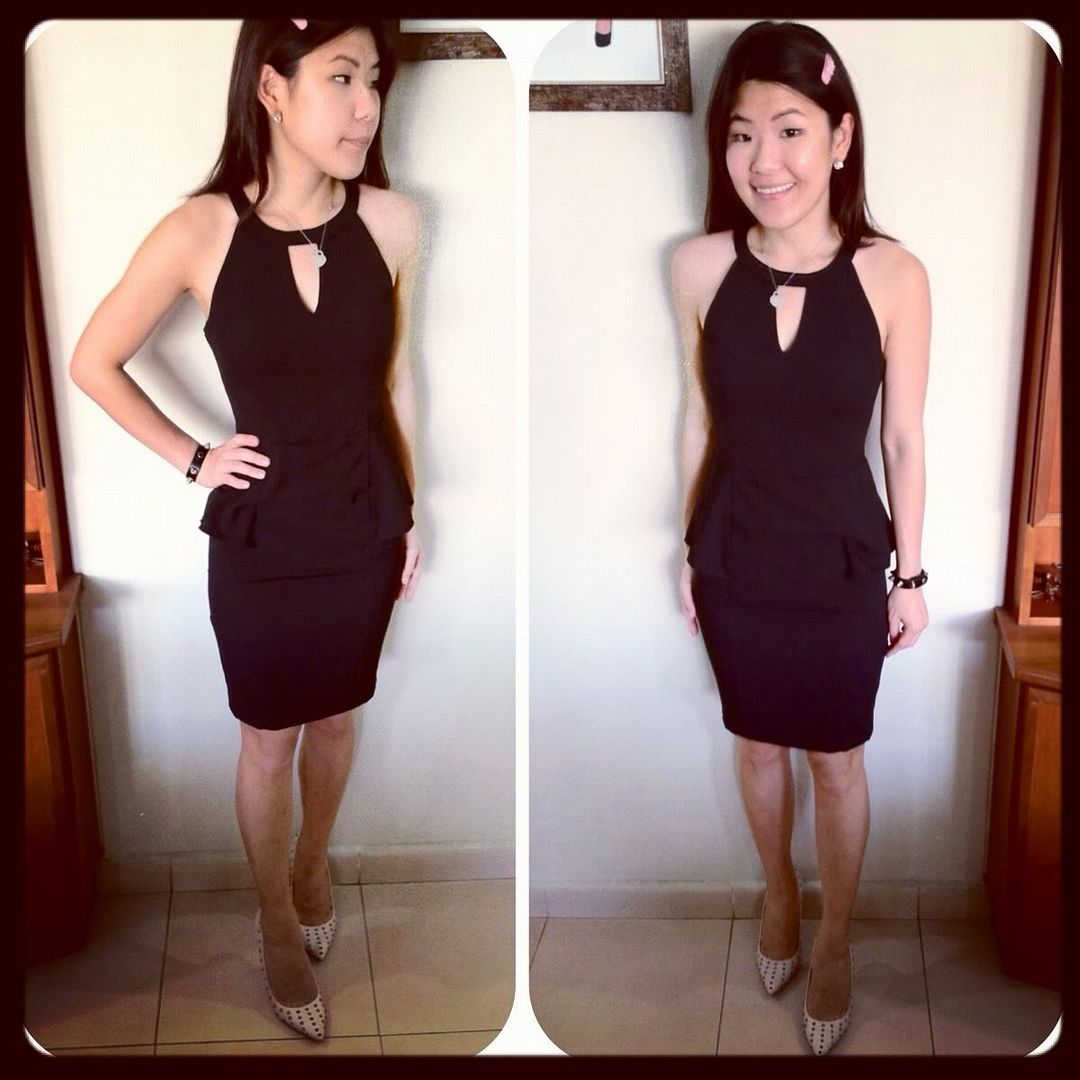 I know I have alot of peplum dresses collected over the years but I told myself this will be the last one. Absolutely classy for any events I thought.
It didn't disappoint as the material was good and thick for work and any events. Kinda formal as well especially for black. I took Size S and it fits just nice without much allowances. For this item, it looks better fitter also. I love the keyhole part at the front and length so it's a keeper for me :)
Helping my friend to sell same item in NAVY M.
Love Bonito Miranda skirt in Sunshine S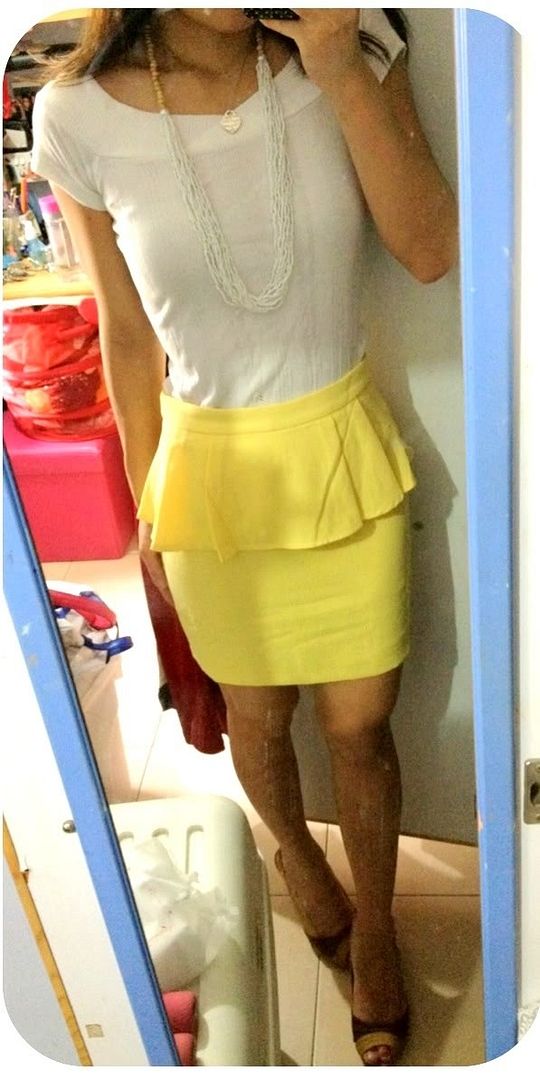 The famous skirt from LB that needs no introduction really. Bought it in green previous round and I sold it as I didn't really fancy its colour.
Keeping it this time round as I do not have any yellow skirt and it's so sunshine. Took S and there's allowances for me to pig out haha. Very pretty and I like the material this time better as it is more structured and like a pencil skirt instead of a weekend bandage skirt.
Love Bonito Franca Blouse in Black (S)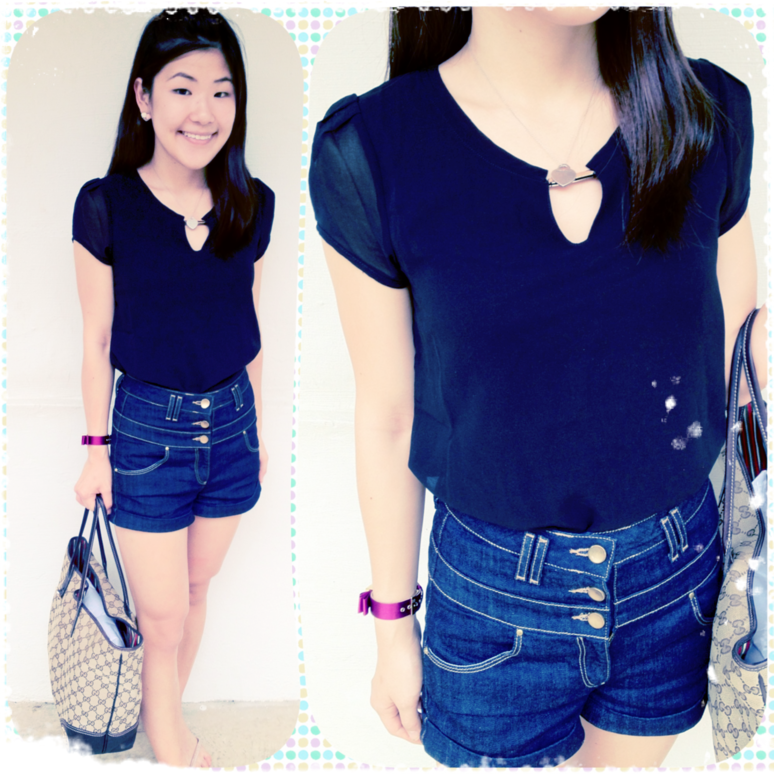 The Zara Inspired top that I have been eyeing for quite some time but didn't buy because the material at Zara was kinda sheer for its price. I got the exact same one from Bysi in mustard colour, but in a different material.
Black is my least favorite colour but I picked it for its contrast with gold and is extremely easy to match. Good quality and I am surprised by its thick inner lining. Thought S would be loose due to its measurements but the shoulders part fit nicely so I'm extremely happy. Able to wear on weekends on weekdays, so I'm thinking of getting it in white this time round. I like it so much that I wore it out the day I got it with a denim high waist shorts. Love basic tops like that!
Love Bonito Delvigne Peplum Dress White S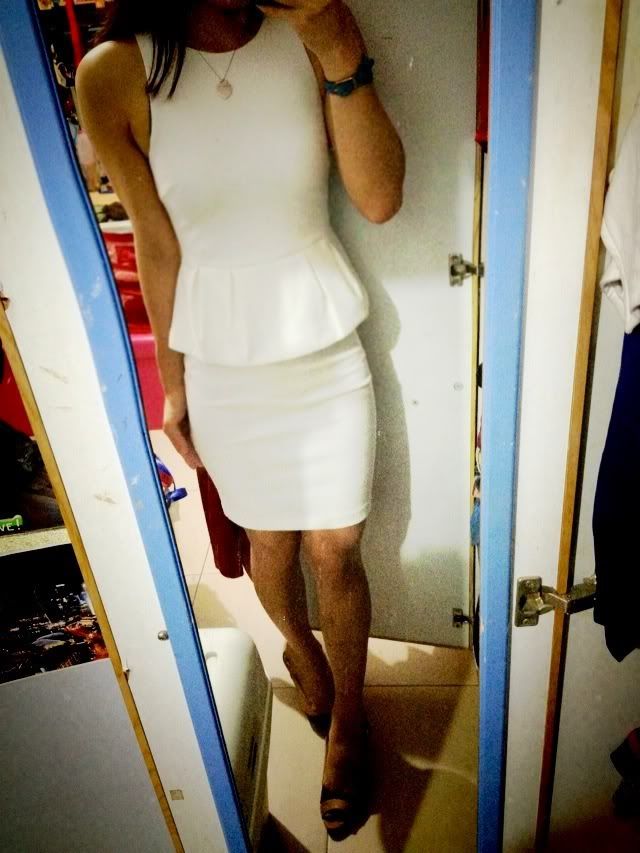 Another peplum dress to the wardrobe. Much thicker than the previous Pieret one and of superb quality.
Very classy. Sizing wise is exactly the same as it fits nicely without much allowances as well. Perfect length and comparable to the ASOS and boutique items. Letting this go as I have too much peplum items and very clumsy with white dresses haha :)
Missypixie Racerback Tank top in Cobalt Blue (S)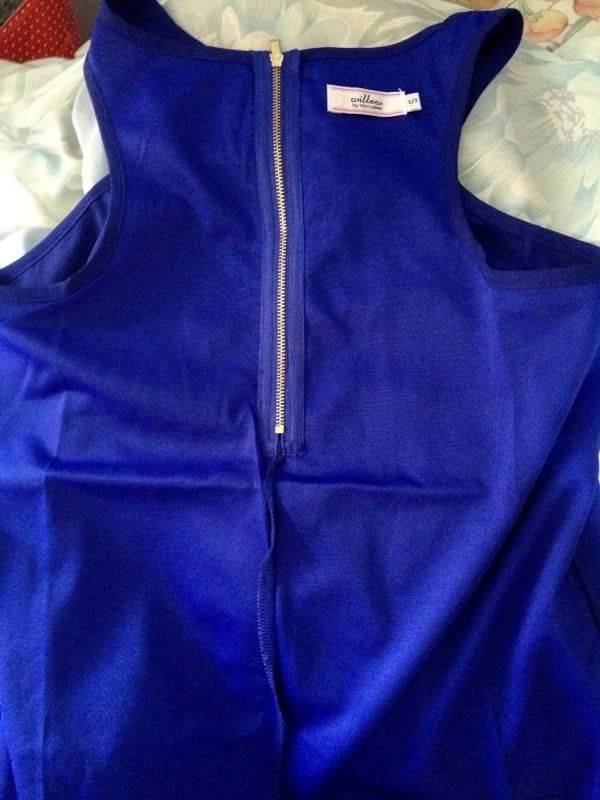 I was on a lookout for bright racerback tops and decide to pick this over the LRH one as it is of longer length and looks more comfty.
Justify for the price as for this MP top, it came with inner lining and is comfty. Size S fits comfortable with allowances as well, not to be worn tight. Looks similar to Jamie top but I like this better. Wish it came in smaller size though so I can grab more colours :) A very nice top to jazz up for weekdays or weekends.
Missypixie Alixe Tulip Dress in Indigo (S)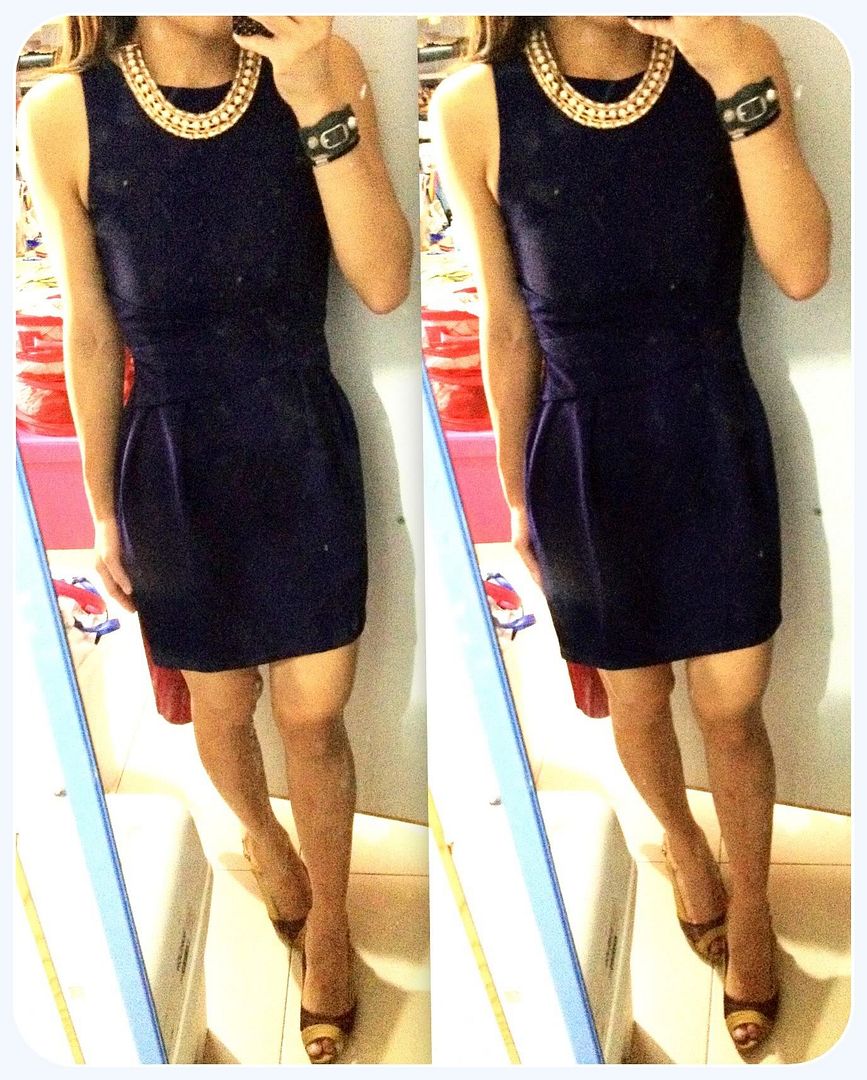 Actual colour is in between first and second pic, in a very pretty dark shade of purple. Was deciding between white or indigo but I decided to go for indigo as it is mad classy.
Very good fit and perfect for work as well. Very flattering with the waist details and one of the best manufactured items from MP till date I feel. However, I sold it because I have something similar and I find this dress slightly short if paired with my killer heels haha. Still, I totally recommend this dress for its quality and the perfect work dress to just slip on and go.
SMooch Britannia Dress in Peach (S)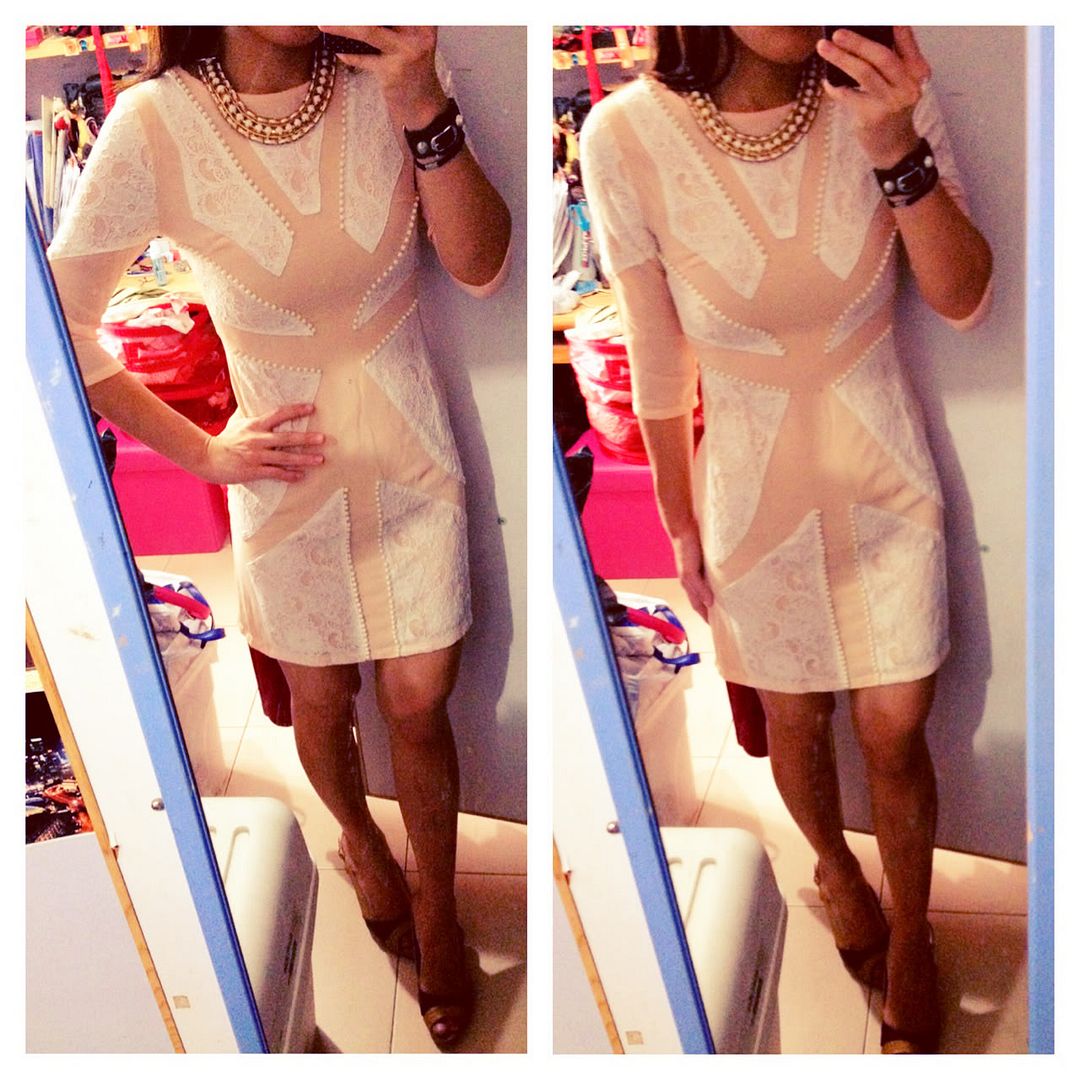 A very classy Kate Middleton dress from SMooch with superb quality. The embellishment and pearls were not flimsy and extremely well-made!
However, Size S was a tad snug at the pit area so I should be either selling it or returning it to get M.
Very pretty dress for functions and worth for its price definitely.
Amber Avenue Black Leather Jacket (S)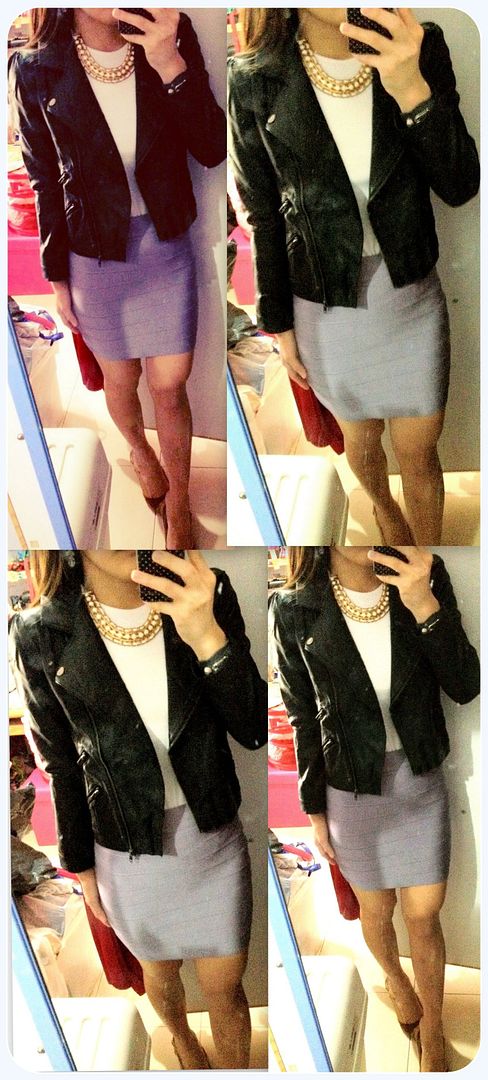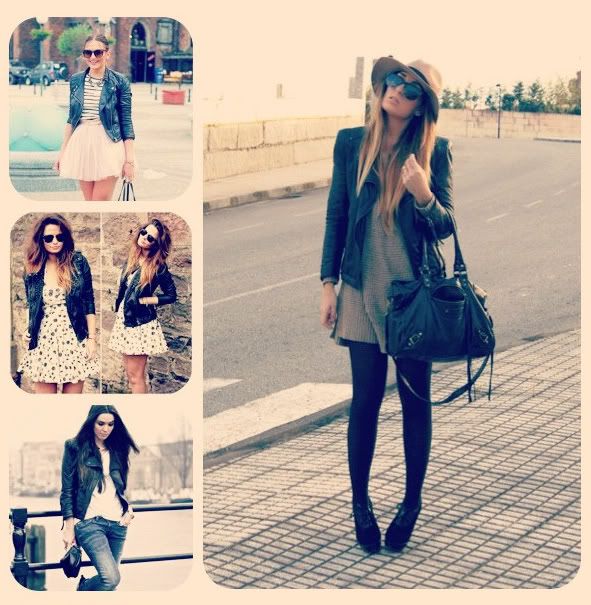 And lastly, my favourite item - the perfect leather jacket! I've seen those at Cotton On, H&M, Zara and F21 but they are too thick for the local weather.. and this is perfect for our air-conditioned areas without trying too hard. It is super soft, buttery and worth the price.
Perfect fit and very flattering.. can't wait to wear it out too! :) Took the second pic from Val's IG for fashion tips on pairing this little black jacket. Digging all the looks and it's mad chic, even when paired with skinnies or a white floral dress.
Size S will fit up to a UK 8 nicely.
Till the next entry and have a great week all!