I have blogged about my skincare regime previously.
To me, face masks is a must-to-do step at least once a week to keep the skin hydrated esp with our island's humid weather. It's great for those who do not have the time to go for frequent masks and so, DIY masks is the best way to do in the comfort of your house while relaxing after work.
Secretive has sent me some face masks for reviews and first up would be
Sexylook Intensive Repairing Black Cotton Mask.
I normally used Lovemore, Whitia , SKII, ZA, Neutrogena masks so I was really excited to try Sexylook to see the effect on my skin.
I noticed that it is a BLACK mask instead of the usual white mask. I used to be quite obsessed with black masks like those from Kose and from Taiwan because they seem to have better effects on the skin. They are usually more effective in removing impurities but the pain when removing it can be a bitch at times.
The repairing black mask this time round came in the form of a mask sheet which is black and claims to absorb dirt, excessive serum so as to rehydrate and repair the skin.
Here's my skin before applying and after proper cleansing.
Basically because i have dry skin and I work & sleep in an air-conditioned environment, it is not very well hydrated.
The 100% cotton mask fits quite well on my skin and cover most of the areas of my skin except for the upper lip portion and some parts of the nose. It is rather delicate so proper handling is required.
The whole masking process was comfortable and my face felt very relaxed. Was not sure if the impurities were removed as my blackheads are still there. However the skin definitely looks brighter and more hydrated than before.
My blusher & concealer the next day glided on more smoothly that I can even skip foundation :)
I will recommend the masks ($3.50 per sheet) for those who wants to cleanse their face to
remove the impurities but do not like the pain from removing the usual black masks.
Personally, I will prefer my other black masks as the blackheads removal part was more visible and cleansing part is more thorough as compared to this. Also, this was abit too flimsy for my liking. However, I MAY repurchase this for moisturizing and repairing the skin in the future, but not for thorough scrub or cleansing function.
Here's the second mask I tried - Lovemore Soymilk Enzyme Moisturizing & Soothing Mask
I love to drink soy milk esp those from Mr Bean so I certainly would not mind putting it on my face this time round. I have tried milk masks before but soy milk is a first and I wondered if it will smell like the actual soy milk!
This mask is made of Soy milk Enzyme or Natto for Japanese and the ingredient is especially good for combating aging.
I am a fan of Lovemore masks especially the duo lifting green mask, so this time round I was glad to try one more to see if it suits me.
For Love more masks, the Super 4 upgrade ensures the following:-
1. More Hydrating
2. Best Fitting
3. Intense Moisture
4. Deep Penetration
Tried it on my face for 30 minutes. The smell was pleasant but maybe I'm biased since I like soy milk! For those who do not like soy milk, do not fret as the smell is not empowering. At the start, it was rather sticky but it went away after awhile.
Upon removal, the skin felt tender and soft, just like it was soaked in a tub of soy milk.
Skin looks hydrated today morning as well :)
I will recommend it for people with normal skin and like soya milk.. this will definitely be good for you to hydrate and pamper your skin. For non-soya milk fans, there are other hydrating Lovemore masks to try out there.
Will DEFINITELY repurchase
Lovemore
Soymilk Enzyme Moisturizing & Soothing Mask
($8.90 for a box of 5)
to use it for hydrating and moisturizing to rotate it with my usual masks.
For those who are clueless like me, these face masks can be bought online at Secretive website. I usually get mine from Watsons and Sasa. For the workaholics, it provides the convenience of the masks reaching at your doorstep. Also, it is priced lower
than in-house stores. *aunty mode on* Will try purchasing online when I have finished my current supply which will probably take me at least a year or so.
Here's the other Sexylook masks. Beside those from Sexylook, they have various masks from Taiwan and Lovemore as well.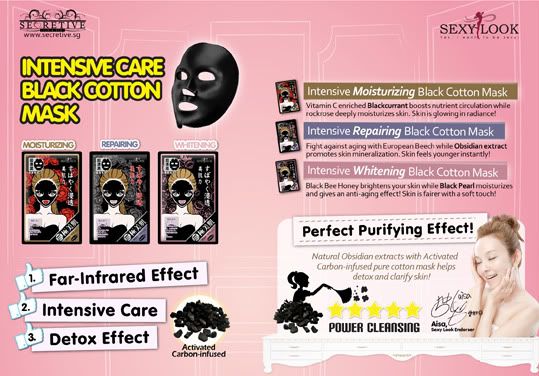 Here's the links to Secretive FB & Sexylook FB to check out their promotions on their Facebook walls :)