It's my 3rd Yellow Ribbon Prison Run once again!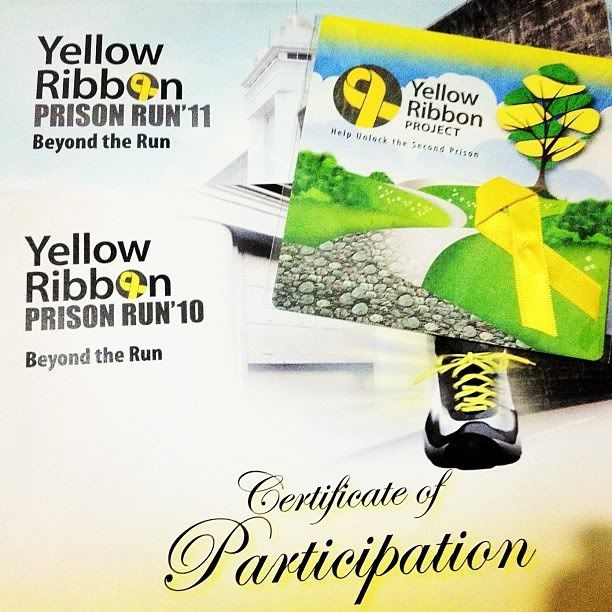 It is organised b
y the Yellow Ribbon Project with three goals in mind.
1)
To create Awareness of giving second chances to ex-offenders,
2) To generate Acceptance of ex-offenders and their families into the community,
3) To inspire Community Action to support the rehabilitation and reintegration of ex-offenders.
Sounds easy but honestly it really issn't, I'm guilty of that at times. It is due to our human nature having innate stereotype views and the societies' deep-rooted perception of an ex-offender. The challenges that the ex-convicts face in the world for that matter is indeed a daunting one. What if these are people whom we know personally and not just a stranger?
So, s

hould we pause for a moment to reflect on our own process of perception?
We want to promote a more society to get them a second chance to make good and it takes conscious effort to do so.
Noone is perfect and everyone deserves a second chance, right? :)
On the race, the only disappointing part is that the flag-off was earlier by about 15 mins. I was still on the bus and saw the Nigerians flying past the road against the heavy traffic. They were awesome really, who needs cars with them around.
Pretty familiar with the Changi route this time round already after the past few Yellow Ribbon Runs. There were plenty of hills and slopes which made the run to the Prison more challenging as compared to the usual town routes. This time round, I trained for it by running up and down slopes with steeper gradients at the park near my place, so that I can control my pace and breathing better.

Nevertheless

, the cheer leaders were wonderful as they seemed to be at the top of every hill.
It was a good run and I enjoyed myself even though I didn't get a PB for 10k this time round.
Felt bad as poor TC had to walk for an hour with my things just to reach the ending point; simply because there were no transport from the starting point to the ending point at Changi Prison. I was doing my run and he was doing his walk alone. He didn't mind at all which made me feel even more bad. :(
Here's my sleepy 6.00am shot, all ready to go!
Flag-off in front of the gates!
Met Jace as well :) It's her first race and well done girl!
Ending with the meaningful medal on the road to acceptance :)
Completed my third Yellow Prison Run and I can't wait for next year already.
In a month time would be the Adidas KOTR 16.8k race, train train train!
"I'm really still in prison and my love, she holds the key, a simple yellow ribbon's what I need to set me free..."
Lyrics by Irwin Levine and L Russell Brown (1973)