The Great Eastern Women's Run 2012 is one of my happiest & best run ever and I'm glad I made it to the starting point at 5am!!
This wonderful run was only made available to women, making it very unique. Catering for 5km, 10km and 21km runners, there's a distance that will appeal to women runners of different age groups.
All thanks to the F1-taxi uncle, I reached the venue super early though the flag-off for Great Eastern half marathon was at 5.30am. Honestly, I had butterflies in my tummy the previous night and didn't feel very prepared at all. I have not been running much for the last two weeks due to crazy weather and stupid girl cramps. I had just 3 hours of sleep the night before due to Jam Hsiao's concert and even setting the 4am alarm the night before took me some effort. All I wanted to do was to just go, finish the race as part of training for SCM and get & done with it.

It was my 4th GE race but this year it's different. As announced by the emcee, this was the very first "all women's half marathon" to have been offered in the region and he said we are part of that history. So kudos to all the females who signed up and made it happen!
There's really something different about a all-women run, seeing all the female running and gathering together on a Sunday morning. That is GIRL POWER!
The 21km distance took the female runners along a beautifully scenic route encompassing of Gardens by the Bay, MBS, Esplanade, Singapore Flyer, the new Sports Hub before finally terminating back at The Float, Marina Bay. Even the route offered a degree of luxury itself, mixing the hard surfaces experienced with road races with a some grass patch to ease the pressure and provide some relief to our weary limbs. A feast for the eyes, music for the ears while the legs are working hard.
This positive female energy is extremely infectious and motivating especially at 5.30am in the morning. I didn't thought I will enjoy it so much but I did. The sun wasn't up so the weather was really cooling. I was smiling and enjoying myself throughout even though it may sound crazy. I was running with a whole bunch of females who didn't stop so I ran as fast as I could. My feet didn't feel heavy, I feel that I can take even wider steps ans so I did. When I could feel the sun, I was at 16 km and realised it's just another 5km to go. I didn't think of the distance nor timing and all I knew was that I was enjoying the whole process, sweating and running my own race. That to me matters.
It's your life, your race, your mind, yourself. And really, once you enjoy something without pressurizing yourself to do well, you tend to do better.
So do something you like and it applies to life!
At 7.45am, I was greeted by a beautiful law of astroturf at the glorious finish line and euphoria swept over me.
Looked at the timing and I am pleasantly surprised to get a personal best for this race of 2 hrs 18 mins.
It was really unexpected as I did not focus on it so it came as a bonus and encouragement for myself .
When I got my last personal best during this year's
Run 350 half-marathon
of 2 hours 25 minutes, I told myself that was my best attempt and limit already. I ran with all my might and didn't thought I could improve any further.
In this run, I learnt that there's never a limit or a best to what you can do as even 1 second is an improvement.
This applies for life as well, you may do something super well this time round but it doesn't mean you cannot improve slightly the next time round. That I think is one of my weakness, I get quite satisfied easily. :( Your mind is the limit and it determines what you can achieve. Shaving 7 minutes off may seem nothing but for a runner, every second is everything. Every step during the race counts, be it a positive thought, a deeper breath, a wider stride during the first 3km or the sprinting at the last lap.
Also, I must give thanks to the organisers for making everything possible
. Despite it being held for the FIRST TIME here, this was the best organised half-marathon I have ever attended.
Everything was flawless and this has set a high standard for other runs to follow. My expectations for future runs will definitely be different. The routes for 5k, 10k and 21k were all separated and there were no narrow paths at all. That definitely made running much easier and I feel more relaxed than squeezing with different genders on a tiny path. Distance markers were there for every km with a quote. The whole route was scenic, with some slight slopes and I was smiling in my heart during the whole race The early starting time was a fab idea as the weather was good and shields the runners from the hot sun as well. There were sufficient chilled refreshments, muscle rubs and viper gel packs at 17km. The volunteers and cheerleaders did a good job as well with their claps and that makes a big difference. To sum up, there's nothing to fault about at all and thank you to the organisers for making this happen. It takes alot of hard work to do something so well at a big scale!
I saw great quotes along the way like "Never give up and great things will happen". Also, this quote at 20km is so true -
Run faster, so you can eat all the crab you want
. LOL. My sister would definitely agree with me I thought. Indeed, there were muffins, icecreams, bananas and hot-dog buns at the ending point. GE is mad awesome, taking care of our stomachs while providing a "Powder Room" for us to freshen up with wipes and deodorants.
Each race is different and I learnt something new about myself this time round :)
The crowd at 5am, sky still pretty dark.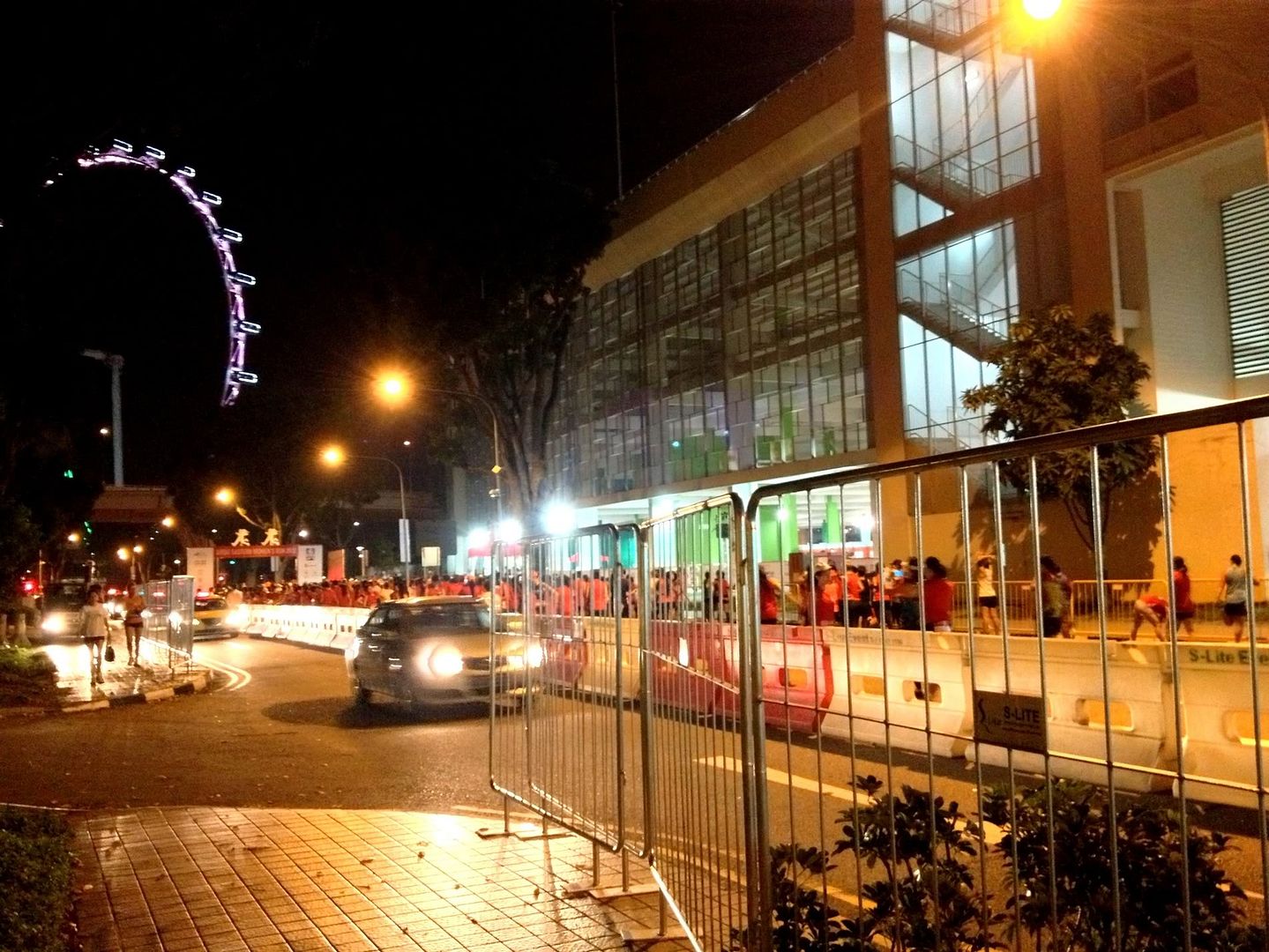 With very little sleep, I made it on time!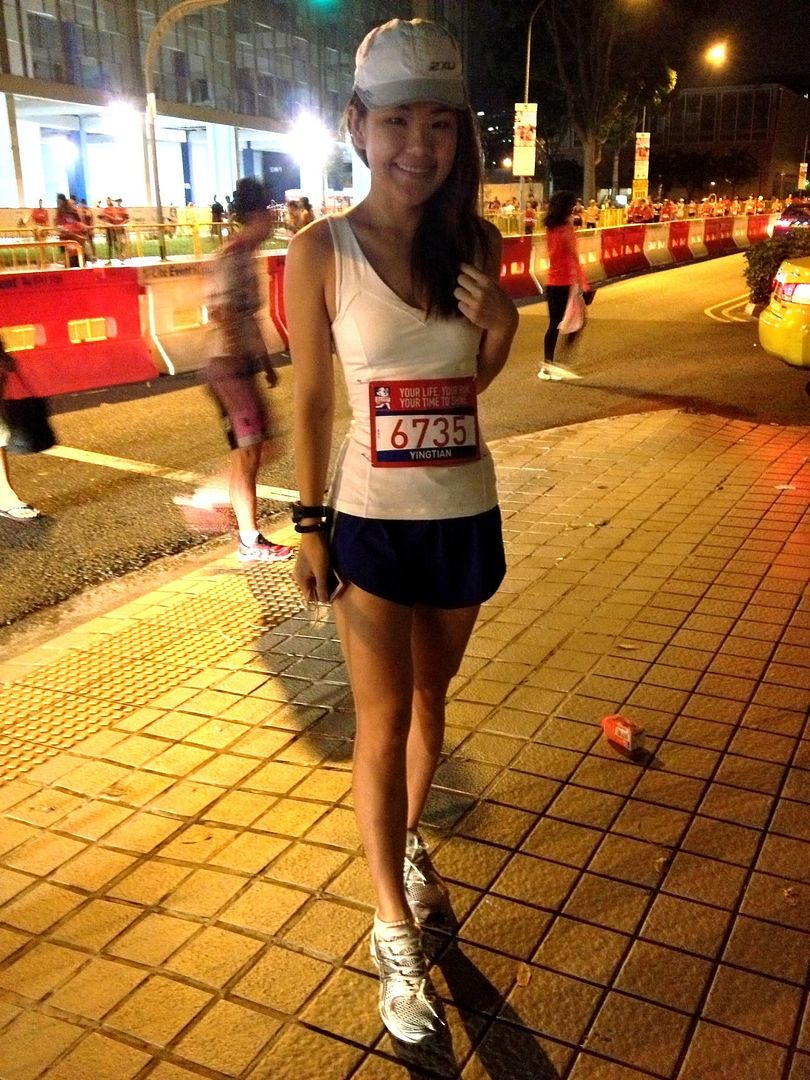 6735 this year.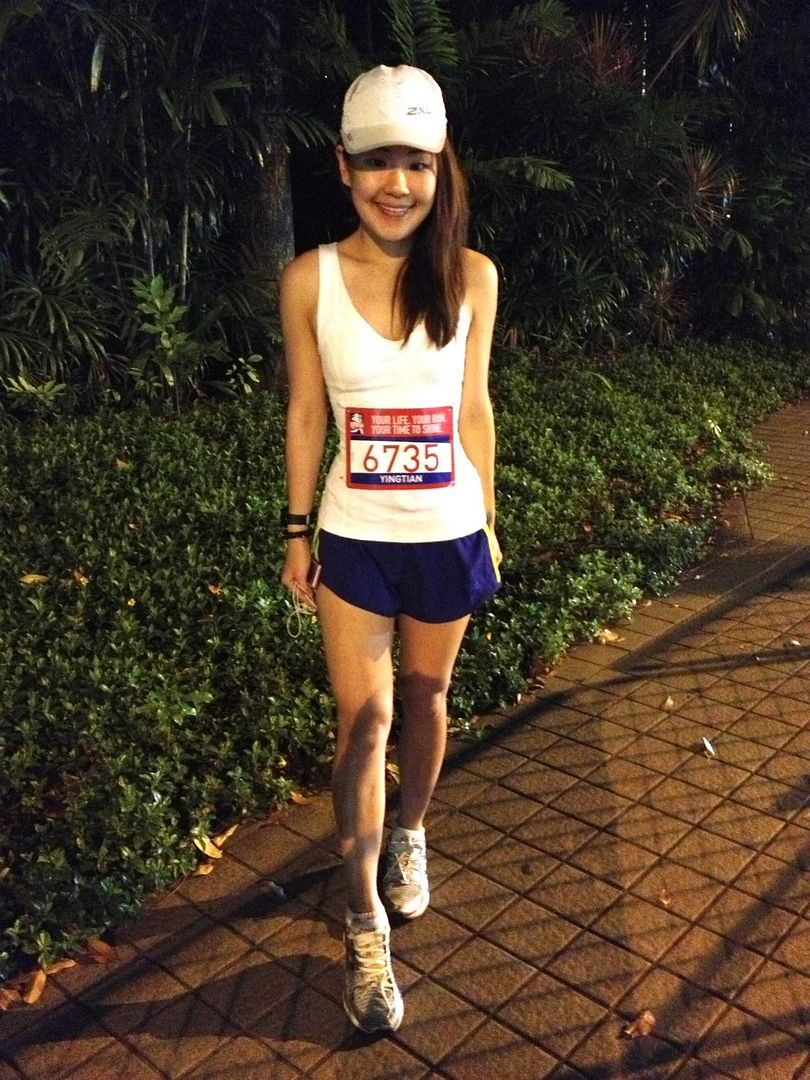 This picture was taken by Outdoorshots during the 10km mark I think.
I like this picture because it really reflects how I feel during the whole race, happy, at ease and with red running glowing cheeks!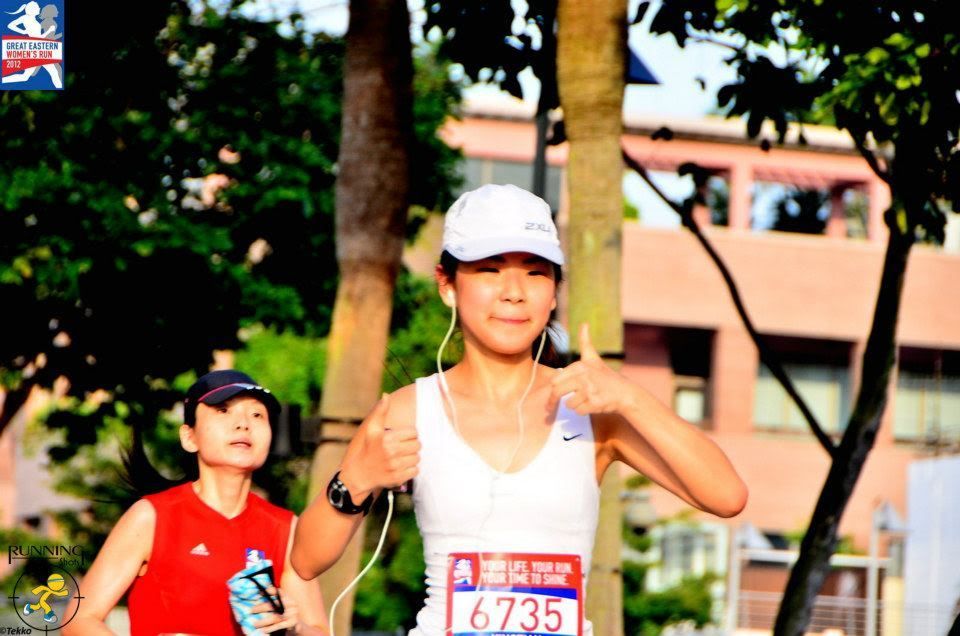 FINALLY spotting the finishing line and running on the lawn happily & trying to spot TC!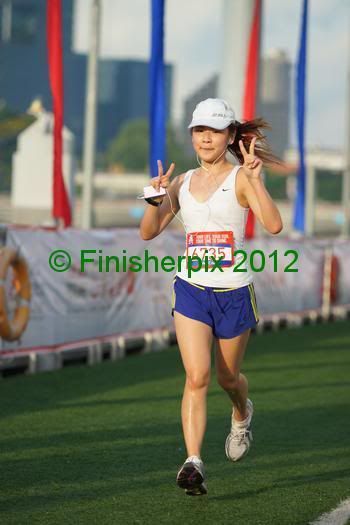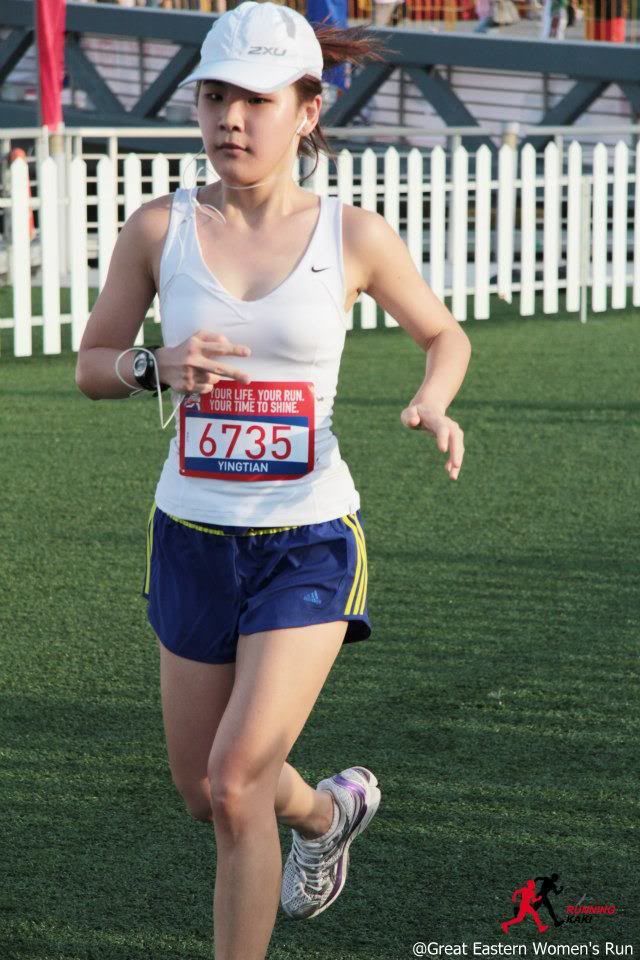 Crossing the RED ending point!
Hello legs, time to rest!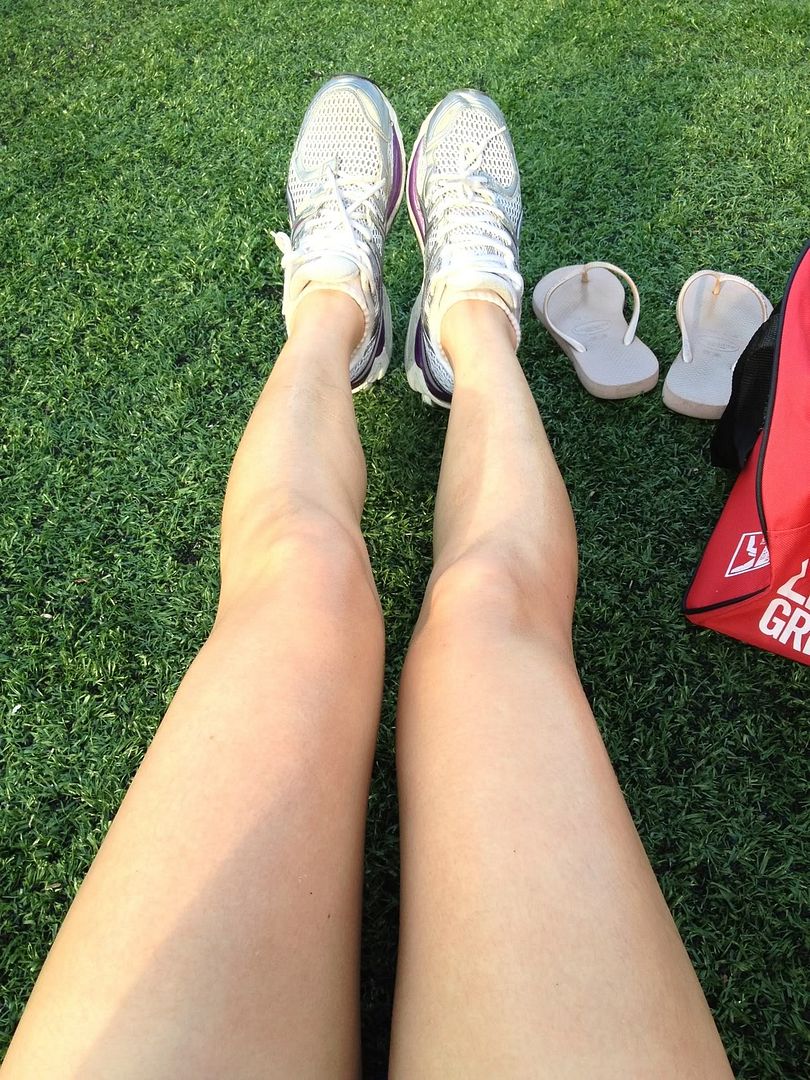 TC took this shot and he's getting better at it haha. Look at the fluffy clouds!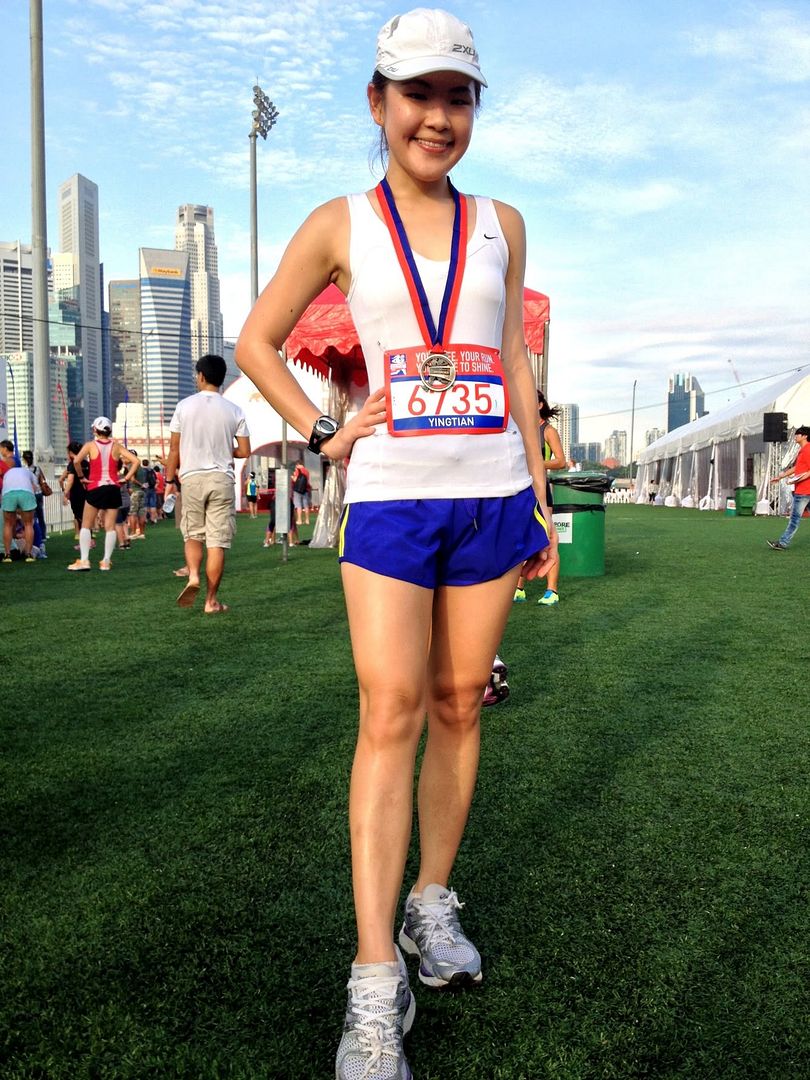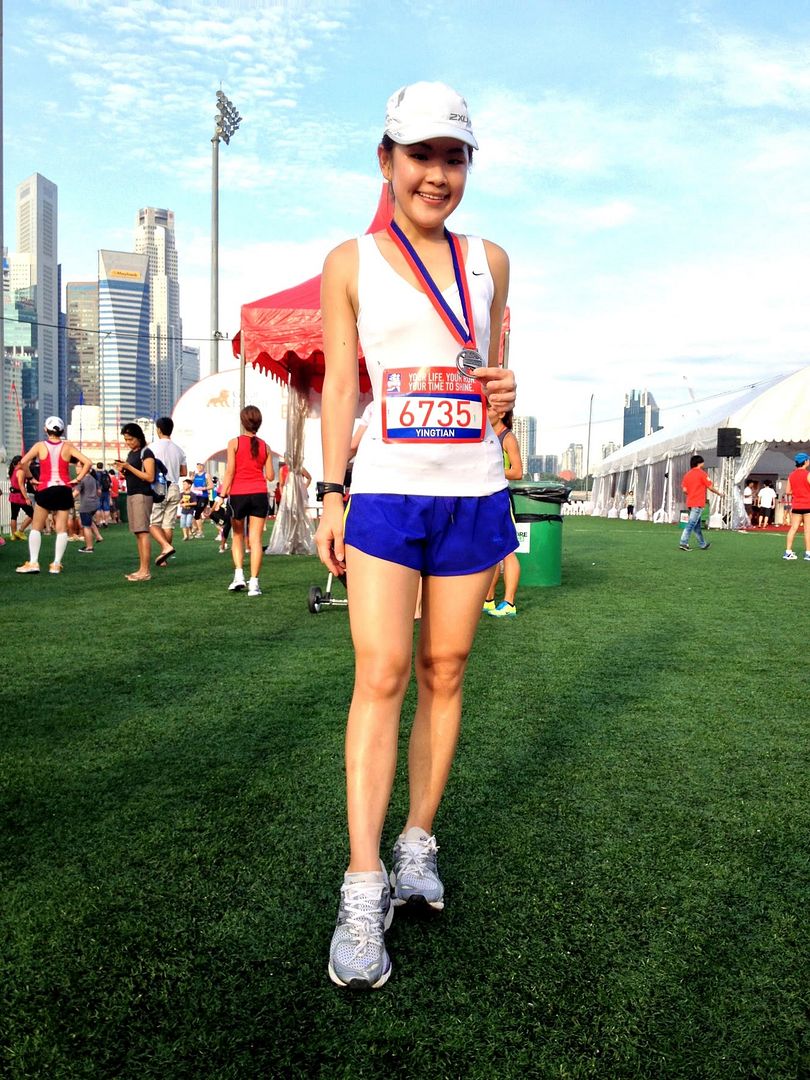 With dear Noi & Jaz who completed as well! So happy to spot Noi coz I spied that she just completed via twitter. Congrats both! Ahh, social media rocks.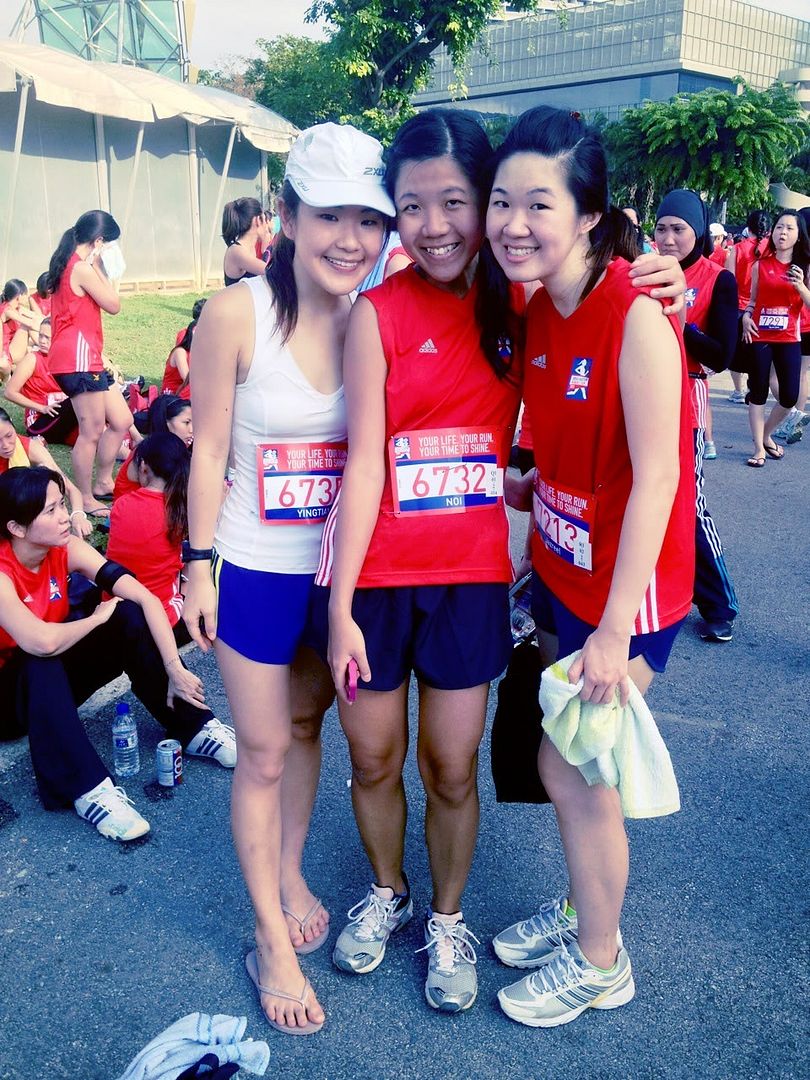 Waited for the 10k girls and finally spotted them! With my dear Rene who completed the run on her birthday so here's a card for her! <3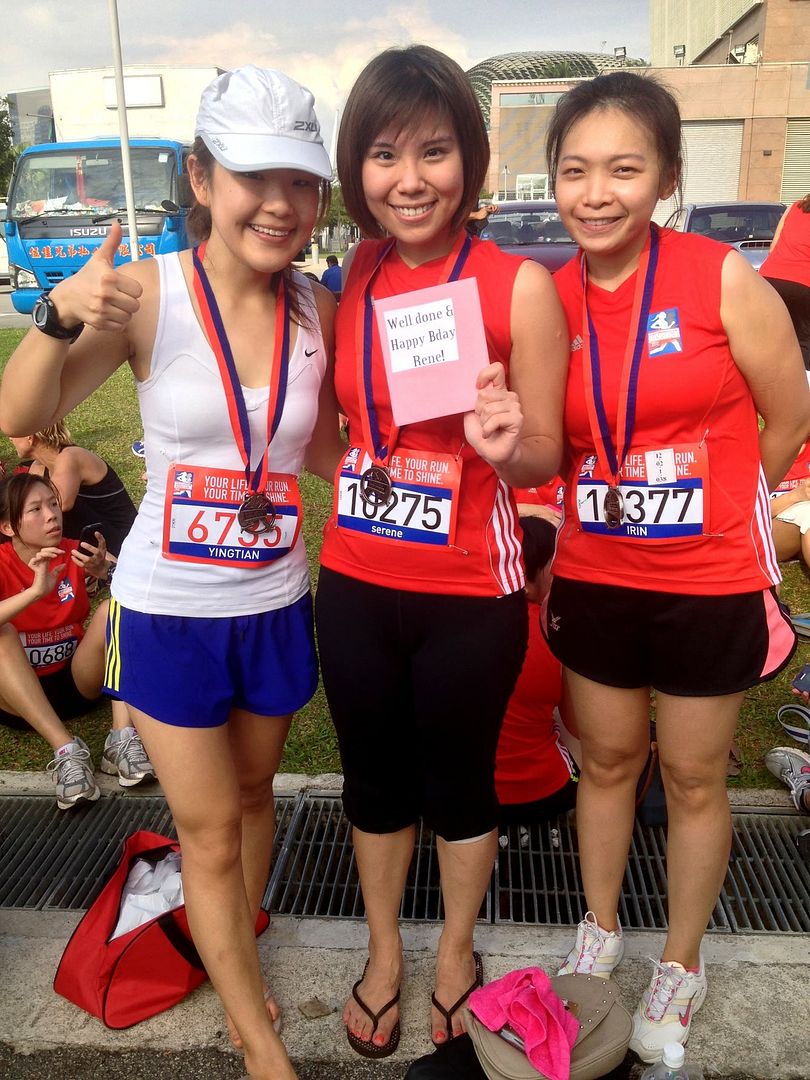 Happy bday buddy, friends for TEN years!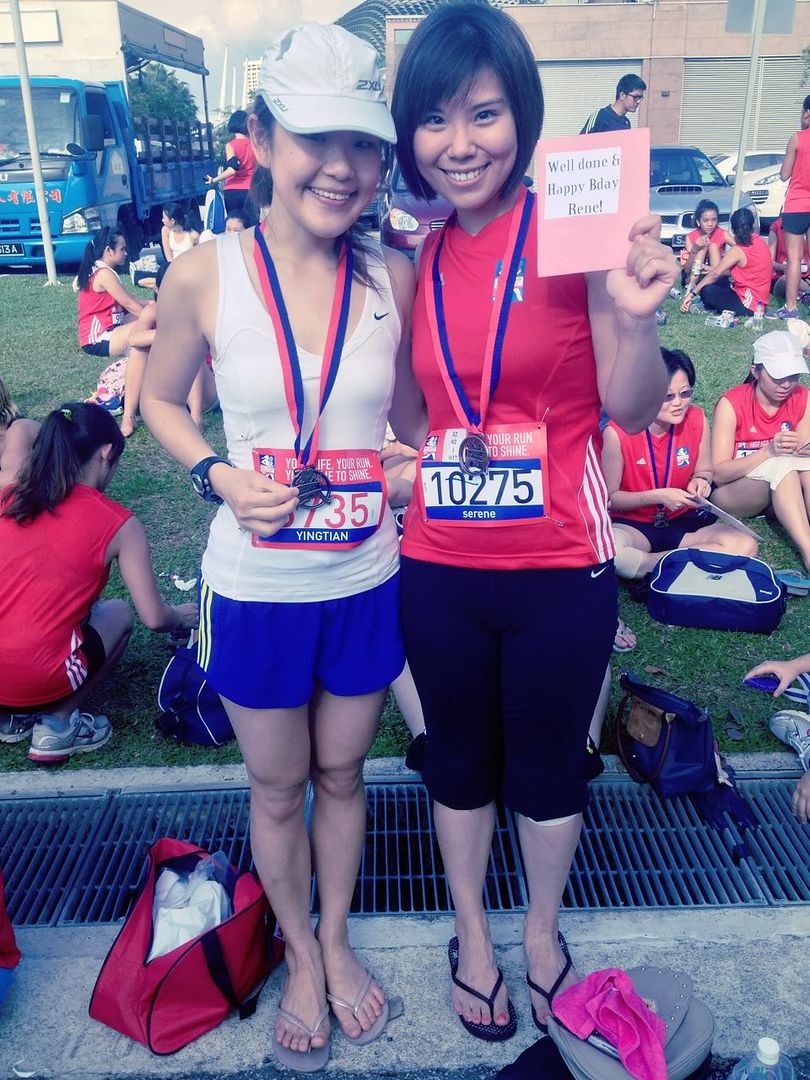 & lastly, with TC who was extremely sweet. He slept for just three hours the night before and while i was running, he slept on the bench for two hours before going to the end point to find me. My bag as his pillow, his bag as his bolster and alarm clock to wake himself up! <3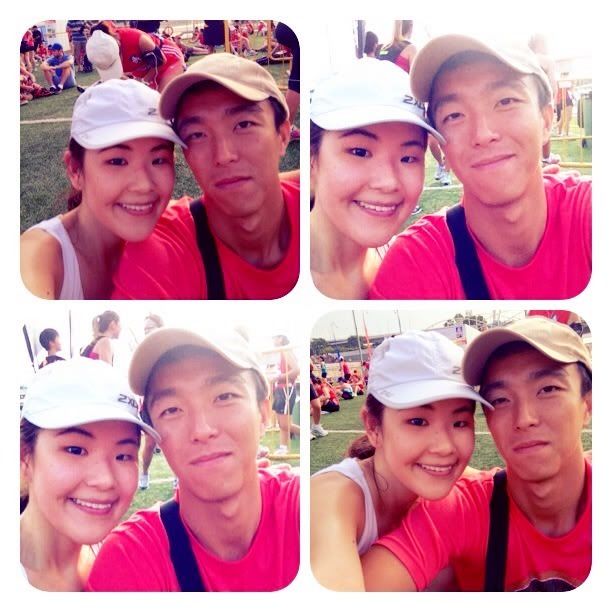 I will continue to improve, seconds by seconds and not let my mind stop me :)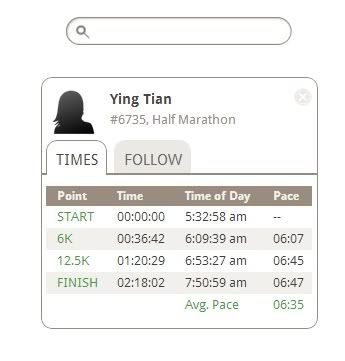 Your life, Your run, Your turn to shine - ran the 1st GE half marathon!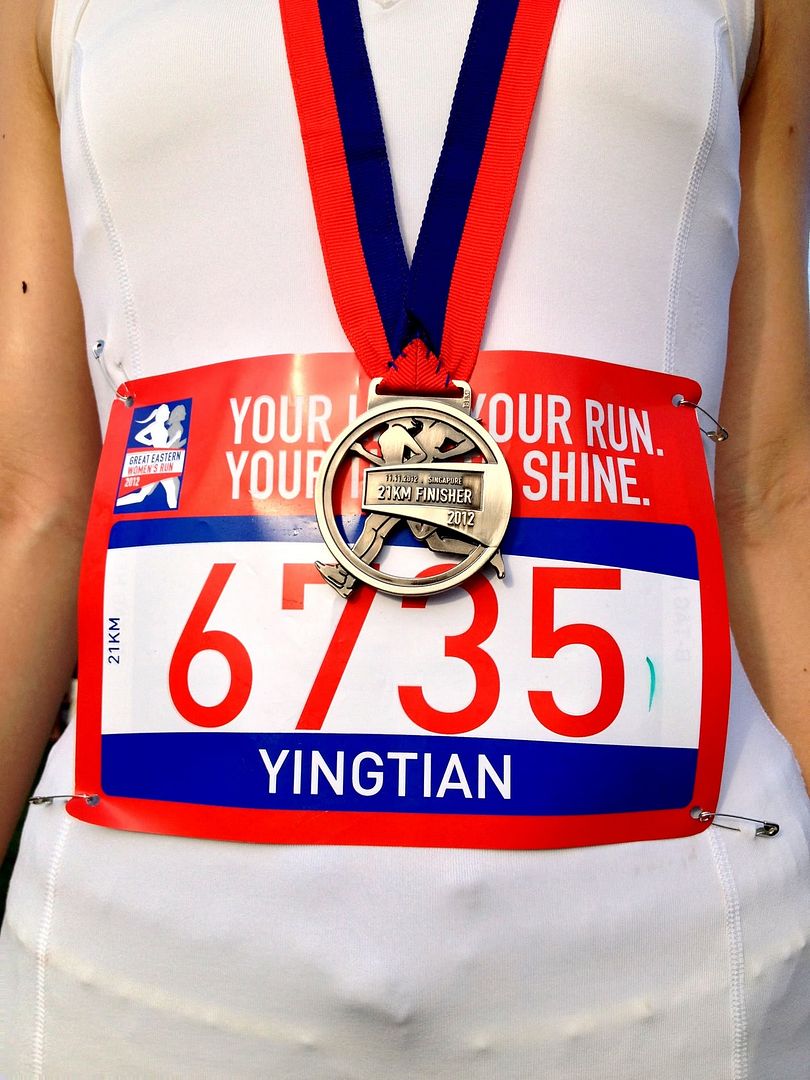 So the medal above marks my 4th Great Eastern Run and first all-women half marathon.
This Great Eastern run has been jotted into my running calender for a compulsory run annually!
Till the next Standard Chartered Full Marathon in two weeks time! <3
Remember, the sky is the limit for yourself, mind over body! GIRL POWER FTW!
What guys can do, girls also can do, if not better :)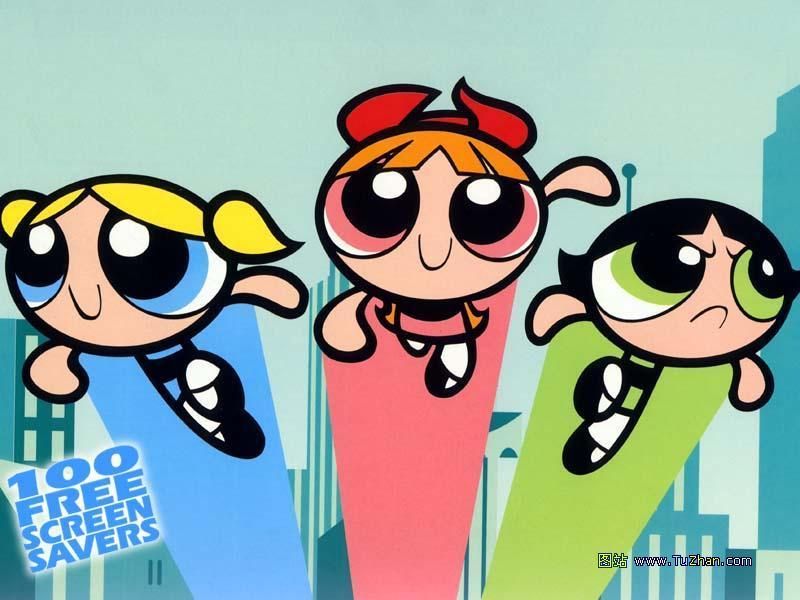 very apt picture lol