Hada Labo has always been a popular Japanese skincare brand. Somehow I have never got my hands on any of their products simply because I have too many skincare products.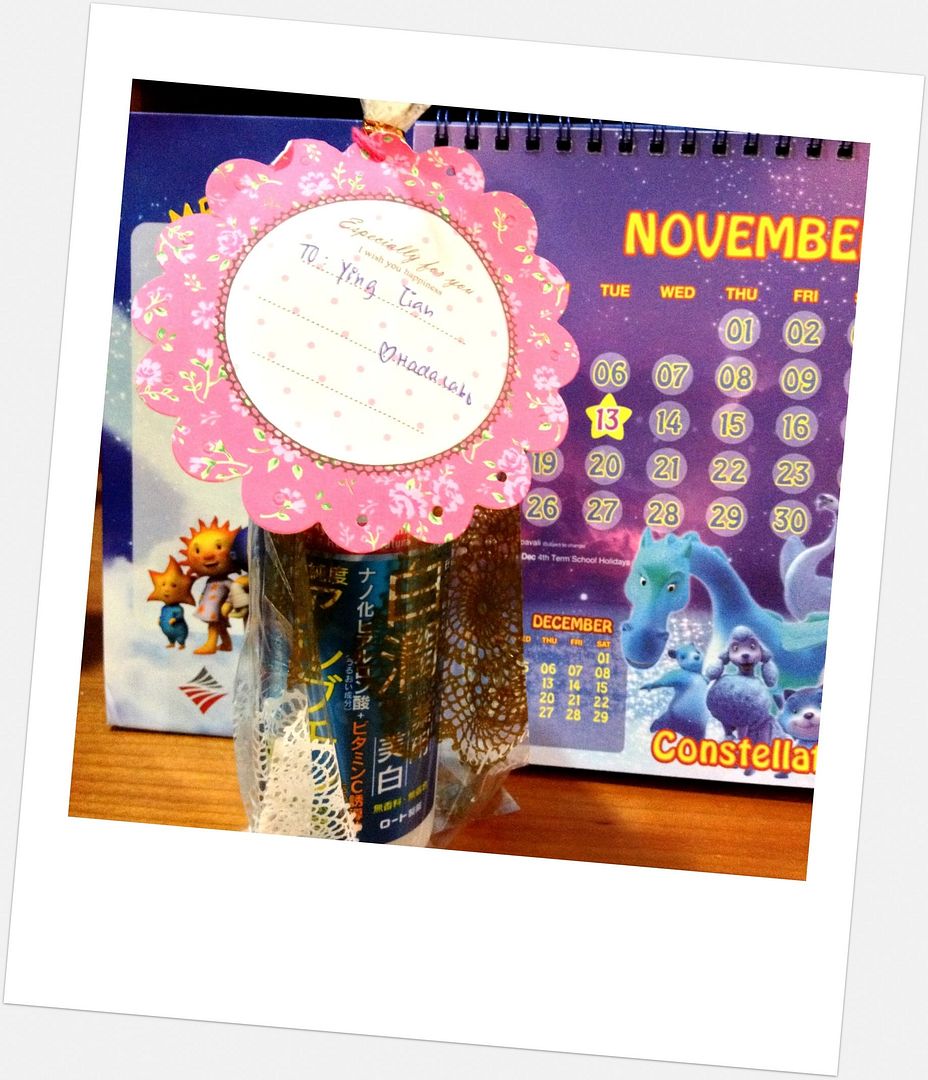 Hada Labo has kindly sent me this Hada Labo Arbutin Whitening Lotion with Nano Formula product for a product review. I was keen to try this product especially after hearing so much raves about its whitening benefits and seeing it on television advertisements for quite some time.
Usually once I find something that suits my skin completely, I can a convert and stick to it stubbornly even if it's discontinued.
Most importantly, this product is the Number 1 selling whitening lotion in Japan and there must be a reason for that right?
I used to be very into tanning when I was younger simply because tanner skin makes me look much slimmer. I can soak myself into the pool for hours twice a week and spam all the tanning products without using any skin-block. It was pretty much the IN thing to do at that point in time. I am pretty lucky not to get any freckles or dark spots. So in recent years, I started appreciating the need to have clear and fair skin instead. I think it does not matter what skin tone you have, most importantly it has to be glowing and hydrated. For whitening products, it does not mean that they "bleach" you into a pale white colour. Instead, they help to make your skin look brighter and reduce the appearances of dark spots, so you look younger.
The only whitening and brightening product I am using right now is the SKII Cellumination Essence which I apply after the Facial Treatment Essence. I'm glad to have another product to try to complement my current skincare regime. This review was written after a whole month of trying so that I can review it better, which explains why it came slightly later. For skincare products, I believe that it takes at least two weeks or more to see differences so I have been diligently applying it twice a day after the SKII FTE.
Product:-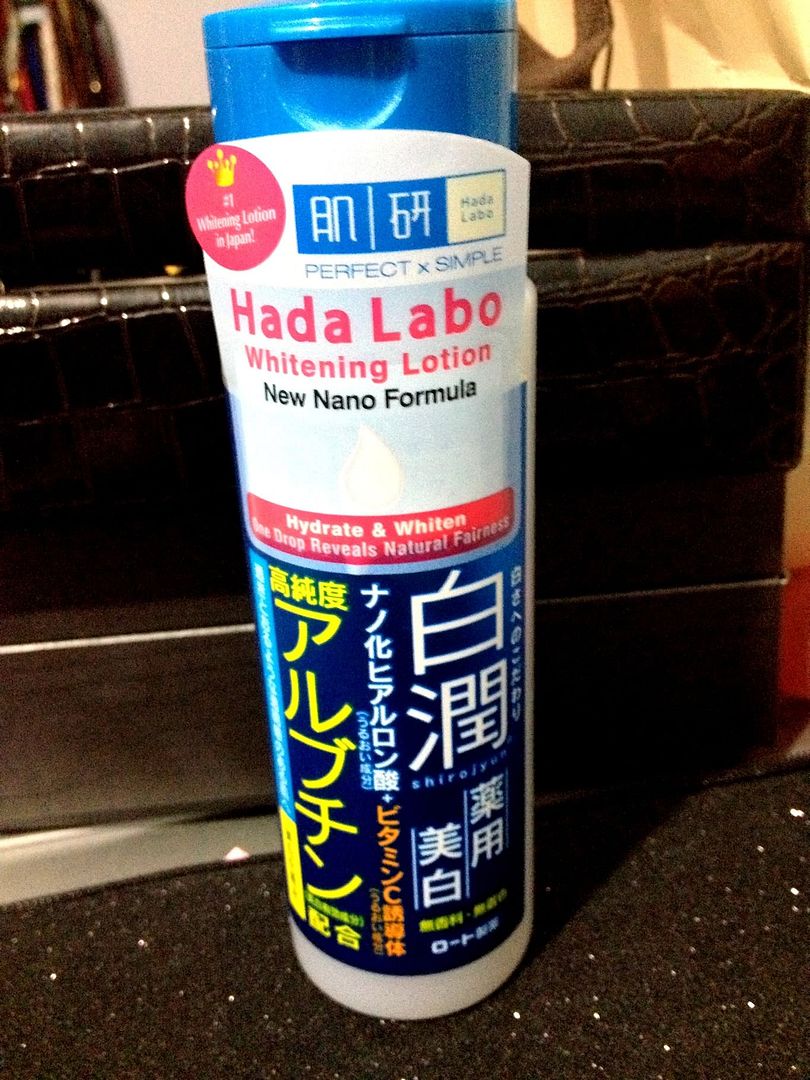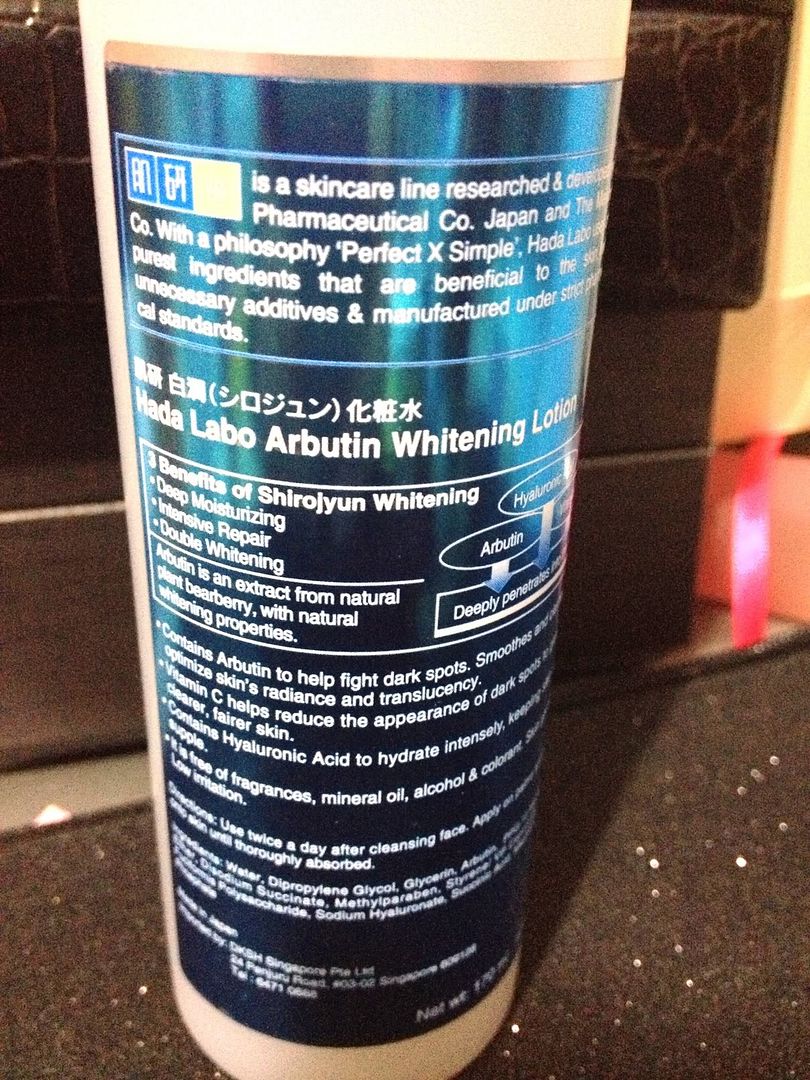 Back to this whitening lotion, it has 3 main benefits in one step.
It contains Arbutin, Vitamin C along with Hyaluronic Acid so this whitening range allows users to gain fairer, moist and bright skin.
Contains Arbutin to fight dark spots. Smoothes & clarifies to optimize skin's radiance & translucency.

Vitamin C helps skin recover from accumulated sun damage while reducing the appearance of dark spots to give clearer, fairer skin.

Contains Hyaluronic Acid to hydrate intensely, keeping skin soft & supple.

Skin pH balanced. Low irritation.

Free of fragrances, mineral oil, alcohol & colorant.
Here is the full range of whitening products to try out if you are into whitening range. As seen, the whitening lotion is the key product and well loved by Japanese girls! :)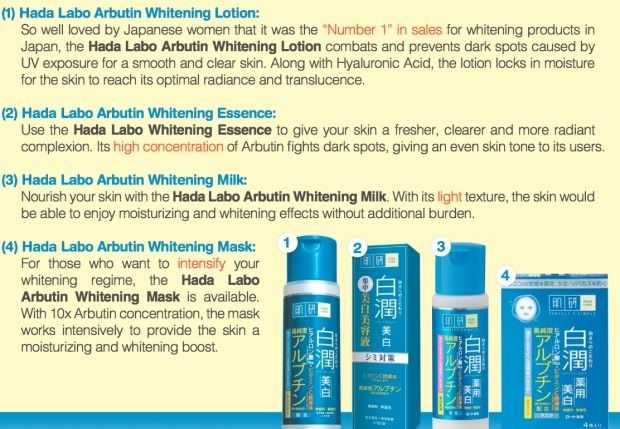 Application:-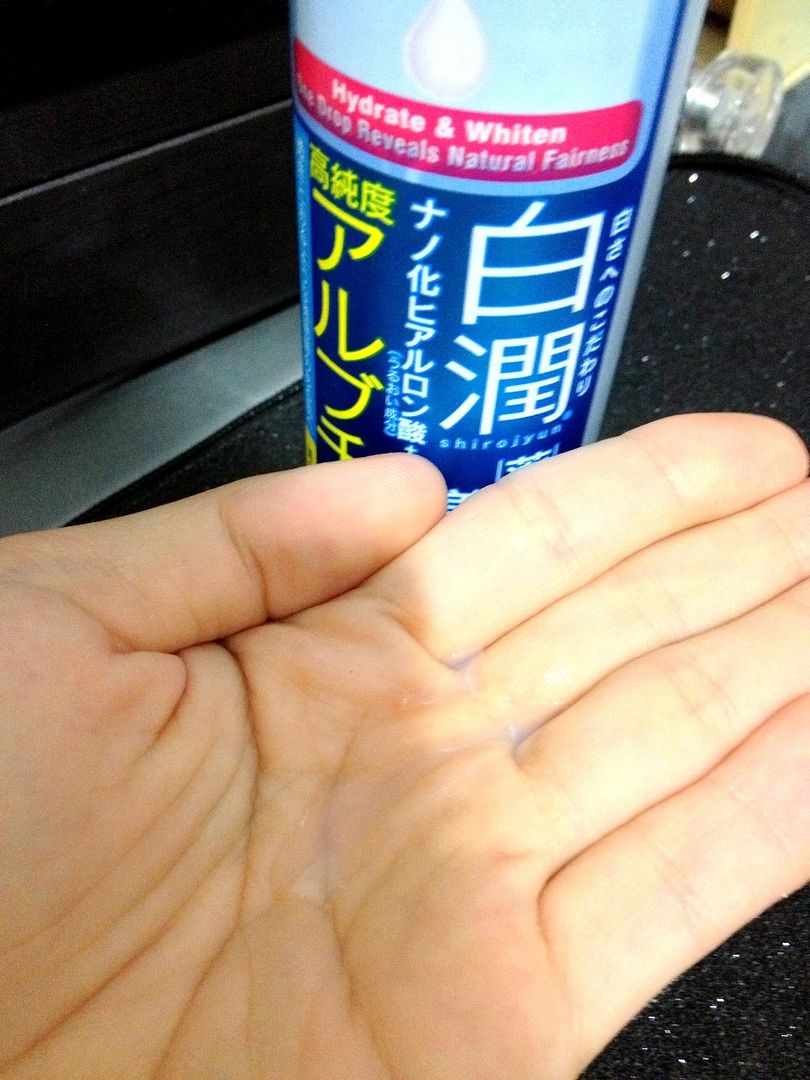 I used this product twice a day after toner and cleanser. Apply on palms and gently pat onto skin until it is fully absorbed. Otherwise, you can use a cotton pad and dab it to your cheeks, do not pat it down!
Review:-
What I love about this product is that it is super well absorbed into the skin within a minute. I hate products that are oily as my skin is more towards dry-combination.
After using this for a whole month, my skin is much softer and more hydrated. As for the lightening part, I am unable to see a huge difference yet as it needs more application. However, my skin is definitely clearer and fairer. Basically, it helps to lighten your skintone and prevents you from getting darker. Also beside using this whitening lotion, it is a must to apply sunblock with minimum SPF30 as well before you head out.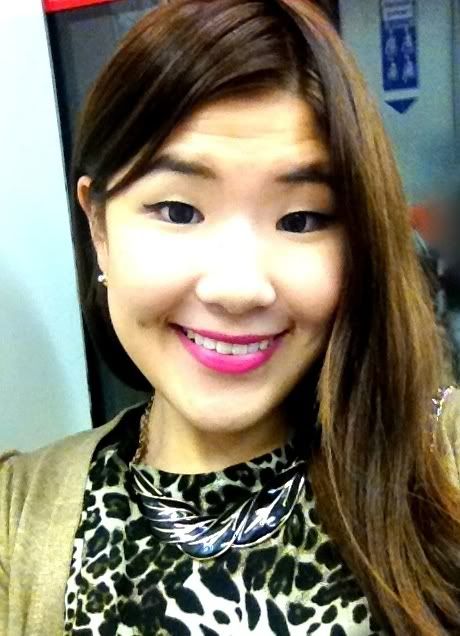 Where to get & Price:-
The Hada Labo Arbutin Whitening Lotion is available at Watsons & Guardian for $22.90.
Unsure if the product will suit your skin? You
gonna try it out for yourself!
Good news - You can redeem a
Free 20ml travel size bottle of Hada Labo Arbutin Whitening Lotion at Hada Labo(sg)
now.
*Simply like Hada Labo Facebook page
HERE
.
*Click on the "Free Sample" app on the top right corner and enter your mailing add for the sample to be mailed to you for some whitening magic!
*Redemption starts from 1st November 2012.
Yes, absolutely free so redeem it today & pamper your skin today! Who knows, you might like it!