Went for my last race last Sunday and I was actually feeling relaxed the night before. Slept really early at 8am, had a very early Carls Junior dinner and by 3am, I am all prepared to go.
As usual before any full marathon, TC would tape up my toes to prevent the toe nails from dropping. Didn't do that for my first full marathon and I'm regretting till today, no pedicures for me! :( I also put some tape on my sports bra, shorts band and shoulder strap to prevent blisters. We forgot to tape my big toes, big mistake and it kinda hurts right now. :(
Desmond drove all of us to Cityhall at 4am and we took the train down. Really happy seeing all the runners gathering at the train and I knew I am not alone on that.They had the extended train service as it was a big scale event. Here's me feeling really nervous.
Here we are all at Orchard Road by 4am and look at the very pretty Christmas lightings above our heads! Love is indeed in the air!
With the super fit guys who were there for the full marathon. It was Leon's first that day!
Waiting for time to pass and what can I do except to take pictures! :)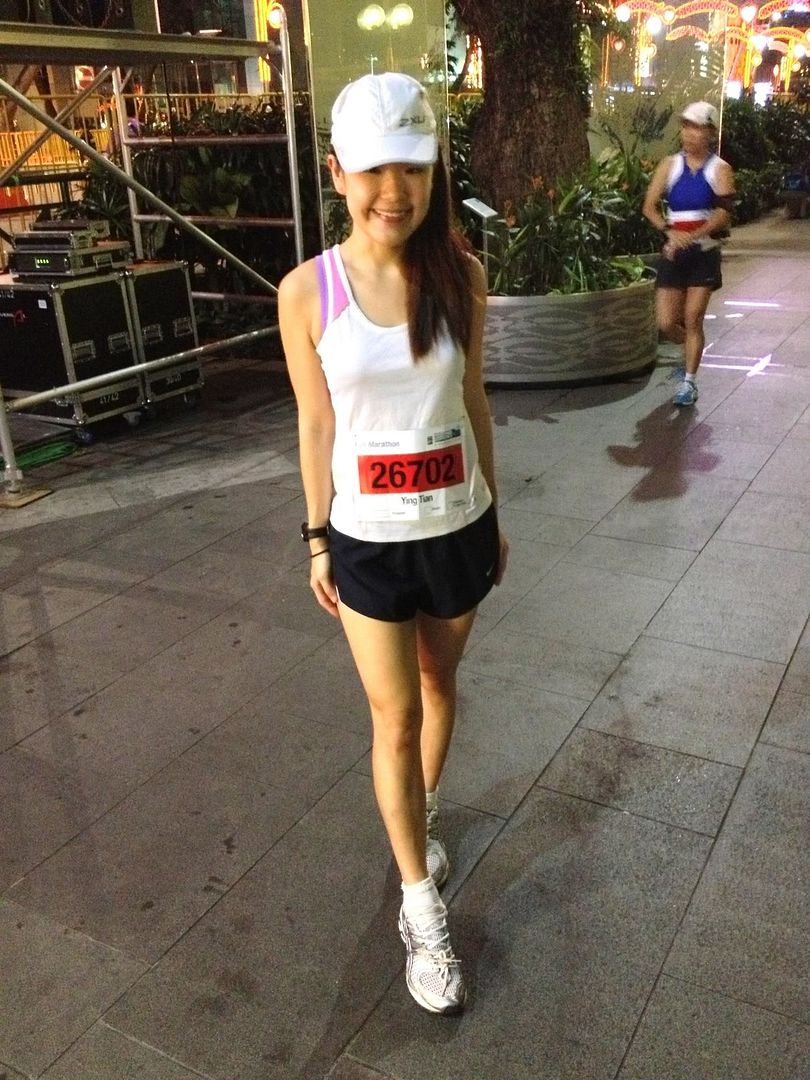 There were so many guys there and the girls participation rate was less than 20%. :(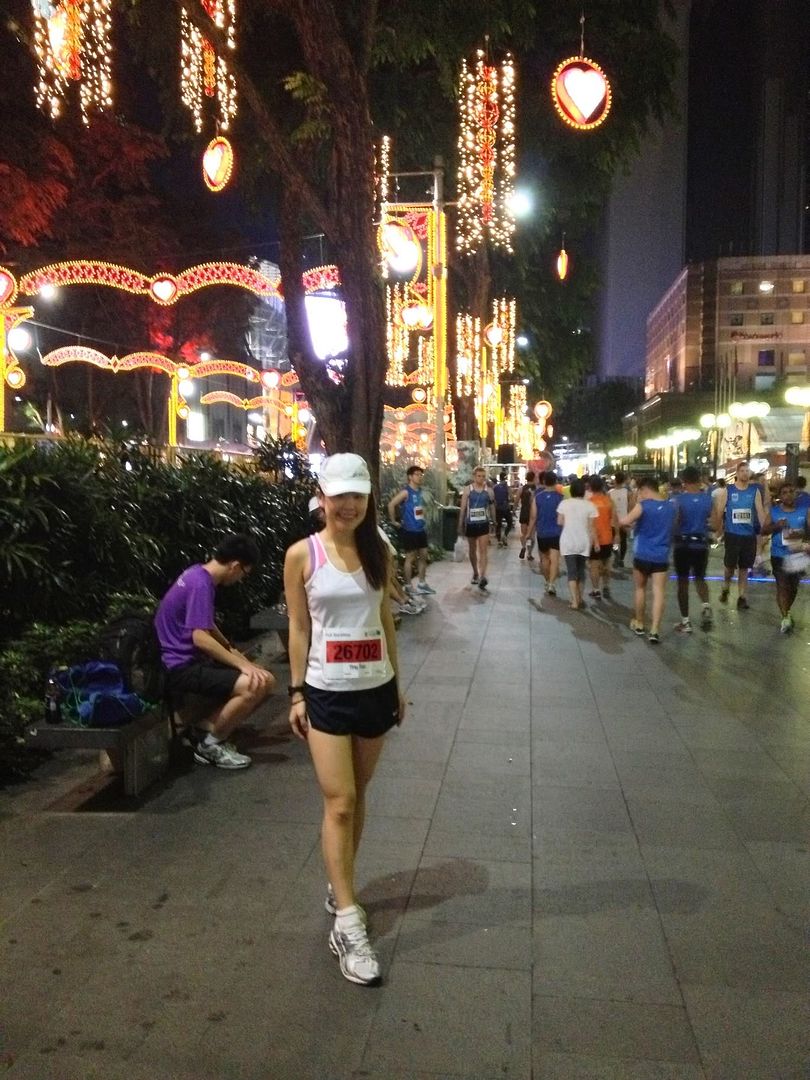 Walked to the starting line and here's a parting shot taken by TC. I remembered he said "All the best baby I will be waiting for you but do try to go for 5 hours okay? Remember what I told you and visualise yourself at certain points and certain routes". After a quick kiss, I was left alone and I was on my own during the whole race.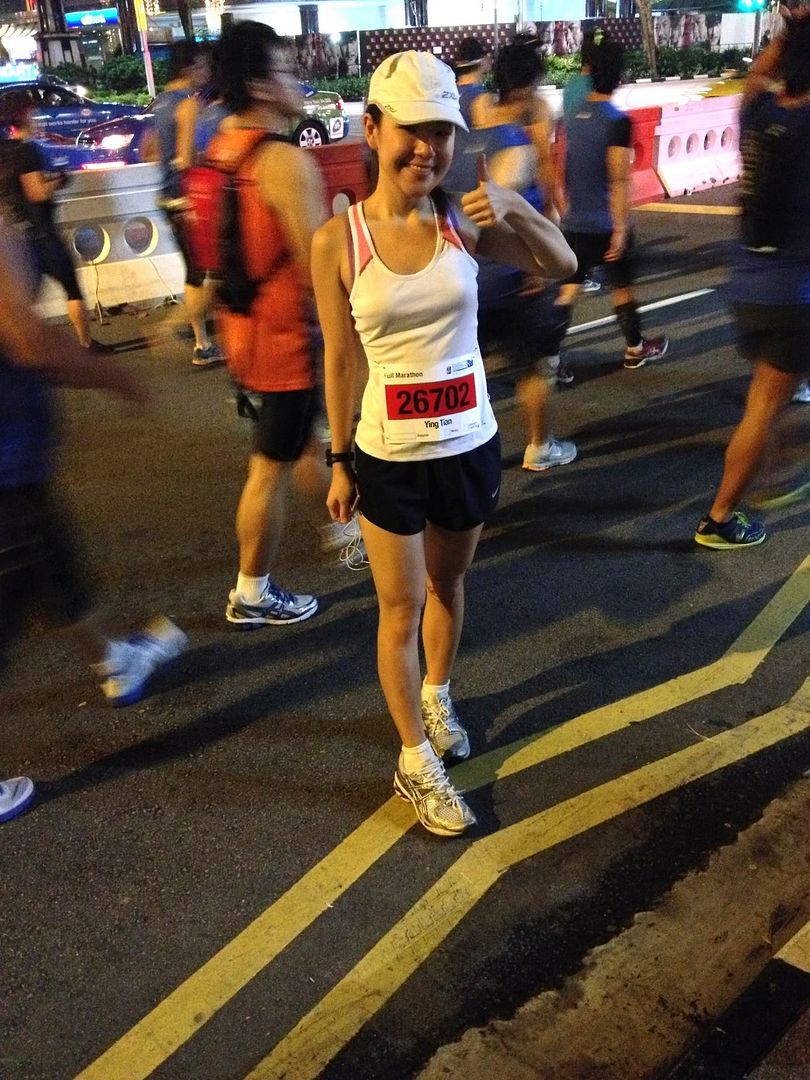 The gun went off! Somehow, the first 5km is always most exciting when your legs are warming up. Here's me at the highway looking high on drugs and remembering to pose! Credits to fellow runner, Tan Kim Lai :)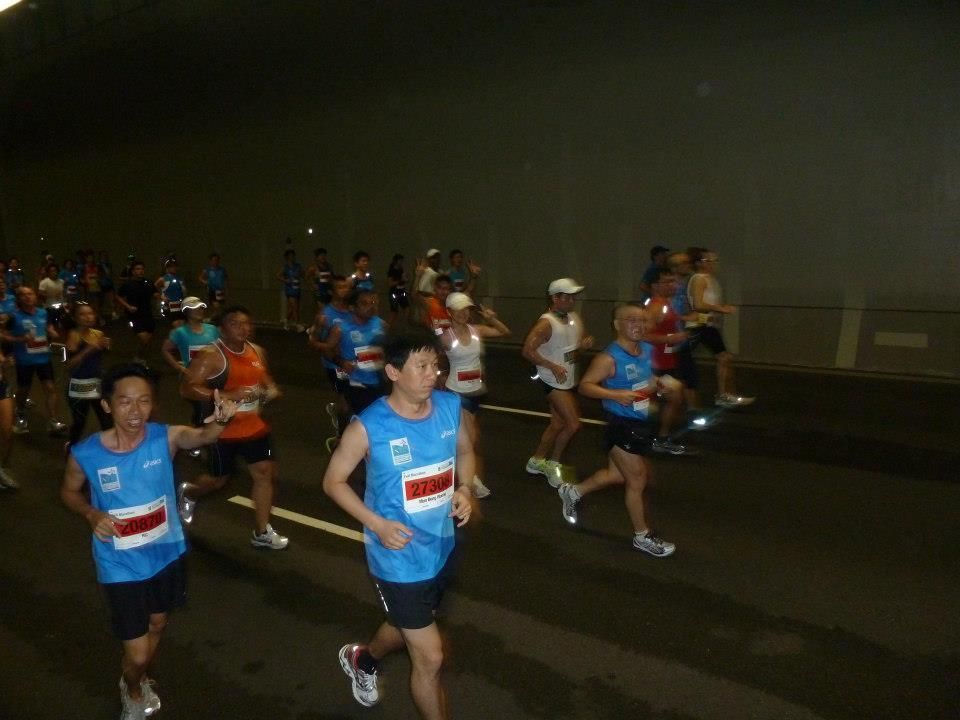 Soon, we were at 18km and then there came the dreadful East Coast Park (ECP) route. I do not really like ECP route because the gradient is flat with u-turns. The comforting part about the route was that you get to see the sunrise, skyline, blue calm sea and there were plenty of cheer leaders/family members / band performance. Last year, I did the Newton 30km and basically it's 2 to 3 loops around ECP and I was dying of boredom really. I was super happy to see Patricia as she was one of the cheerleader volunteers and she screamed so hard for me!
Super love this quote - Run with love, because love never runs out of energy.
credits to david
In 2 hours 30 mins, I was at the 21km mark and I thought a half-marathon had been completed, so what was left was just another half marathon. Not so bad if you think like that right? I continued running together with the 5 hours pacers but at 30km, I started to feel the pain and soreness in my knees. Drank like plenty of water along the way and decided to not follow these pacers and I started to stretch my knees and legs at the side. I was super glad to be out of East Coast Park and there came the long way via the construction to City Hall. I remembered last year, that route almost killed me so I was really determine to improve my performance this time round. My motivation was the banana point at 30km mark Say Yeah!
Forcing a smile at the ECP route!
Here's me at 33km mark at Gardens by the Bay. I was feeling pretty stone already due to the scotching sun that has already been out!!! I knew all I had left was just a 10km run and imagined it to be Shape Run. It was not so bad and if I can finish it in 1 hour, I can hit my targeted timing of 5 hours? All I thought was food, TC and sleep! :( My thighs look so muscular eeks.
There were so many things along the way that kept me occupied beside my music. There were the super awesome runners who dressed up for the race in Avengers, power rangers, Michael Jackson and Wonder woman etc. There were a guy who ran with a tyre tied to his legs for the whole marathon. The oldest man that day was 101 years old, how inspiring.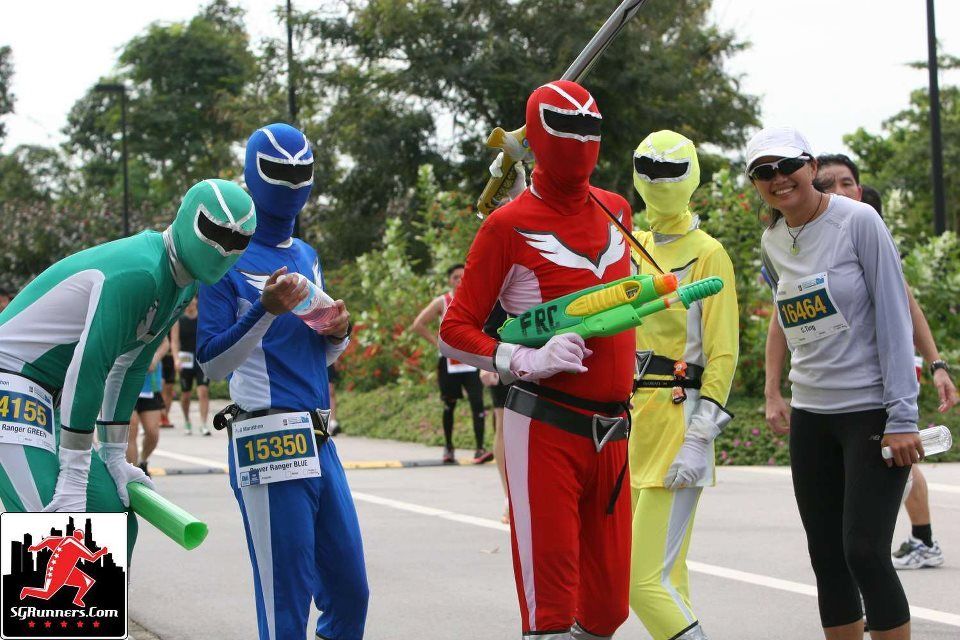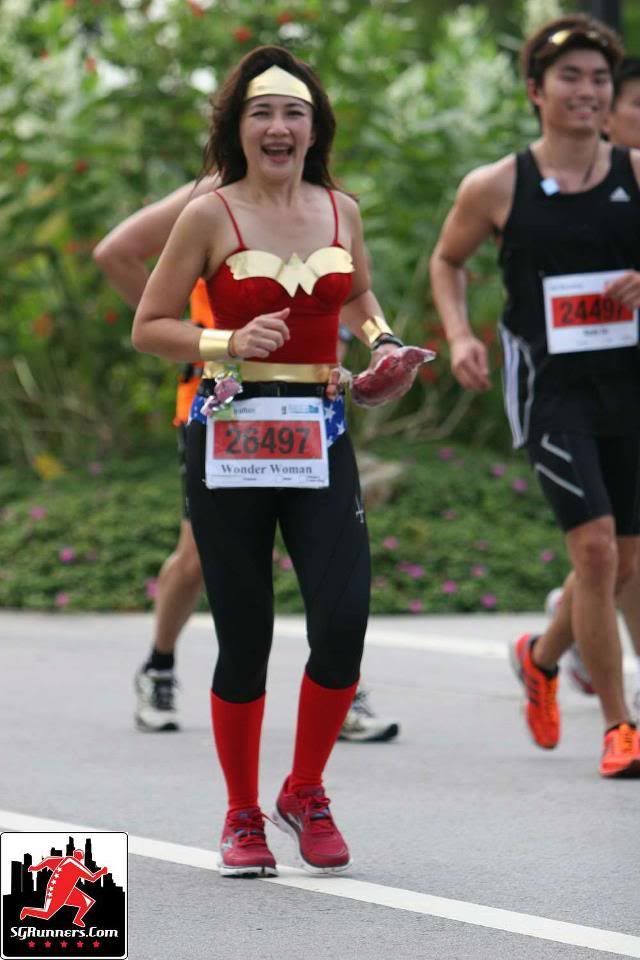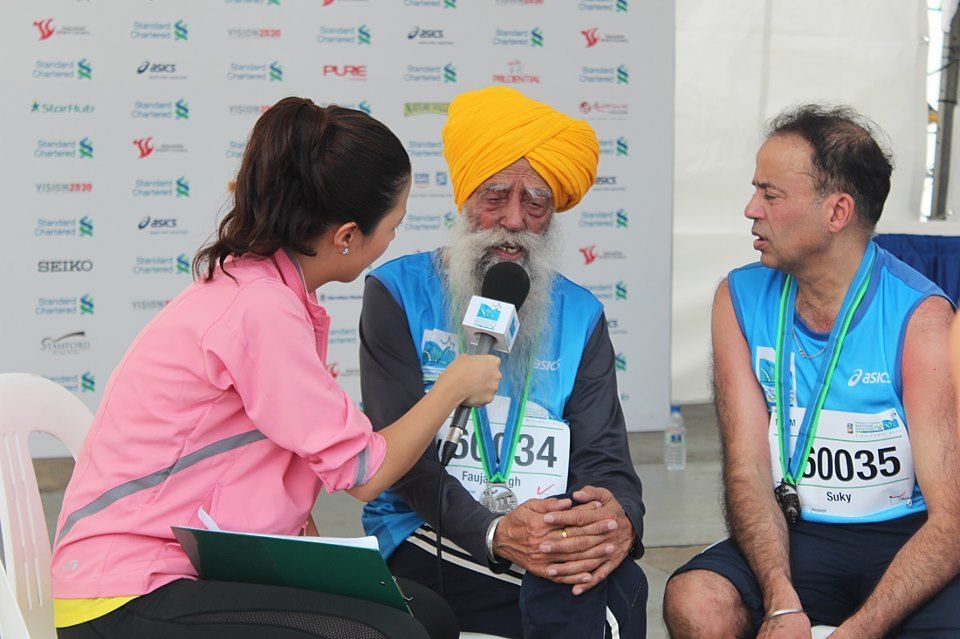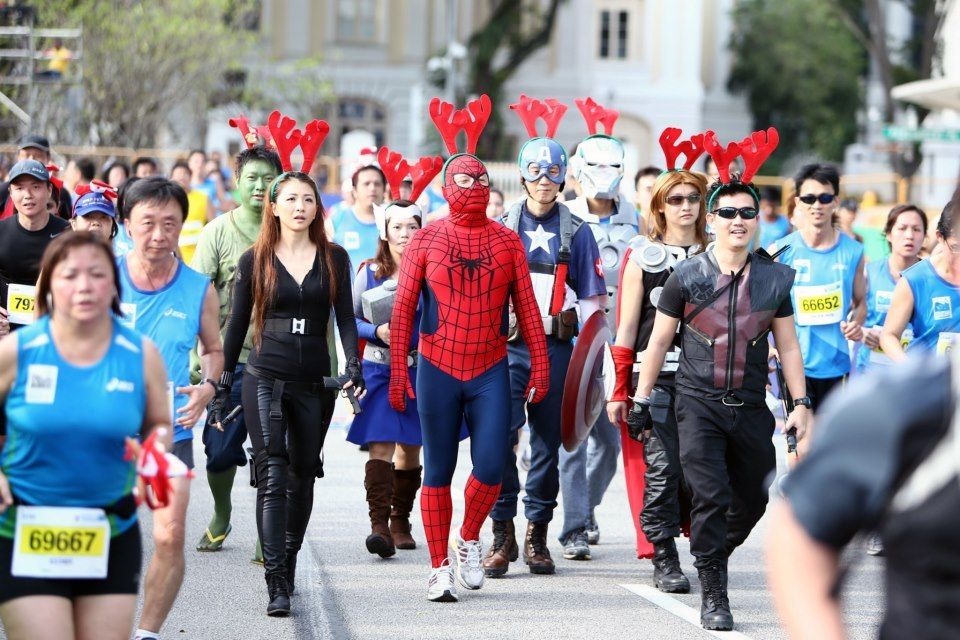 credits to sgrunners & gabchua
At 35km, I started to stop running because the headache and aching legs were shouting for attention.
I was with the 5 hours 15 minutes pacers and tried my best to follow them as hard as I can. I started to walk-run till 37km, hoping that the headache will disappear. It was so bad that the thought of quitting came to me, but what I was left is just 5km more to go and I had to complete it by hook or by crook.
However at 37km mark, I started to black out when I was running.
It scared me alot as this was the first time it was happening in my races. I thought it was probably due to the hot weather, lack of water the night before and not enough training. I tried running but vision was extremely blurry so I tried closing my eyes. I'm so glad I decided to lie down straight on the grass patch at the side and let the blood circulate to my head. In ten minutes, I felt well enough to continue running the next 5km. So I started walking to the 40km mark.
Upon seeing the 40km mark at City Hall, I felt alive again and my watch reflected 5 hours 18 minutes. It was just 2km to go so I just tried my best to run as fast as I can to the flyer. It will all soon be over and I will go back to TC and get my rest!
So finally, I reached the last 50m mark and the finishing line was just in front of me!!!!! Seriously, that was the happiest moment and the smile came from the heart. I have never felt so happy seeing the finishing point and I knew all my hard work, muscles ache, sweat and effort were worth it. Good things don't come easy which makes victory even more bitter sweet.
I completed my last race of the year! Held on to the medal, finish tees and food and I spotted TC at the finishing end with Alvin. I was MAD HAPPY to see the familiar faces! #lonelygirlnomore
TC was so sweet to remove my shoes and gave me a leg massage after so many hours of waiting. He has been there for all my races and this was his first race for me as my fiancée no more bf status ;) I love you so much b!
Honestly, it was one of the toughest race so far. I guess it was the pressure of keeping up with the pacers and pushing myself a little too hard. Still, I was really glad to finish in 5.5 hours and improved 15 minutes from last year's SCM even though I did not get my personal best this time round.
The girls were extremely sweet to wait for me for an hour. Here's a pic with dear Valene & Shermaine who finished their 10km. Well done girls and I'm so glad fate brought us together :)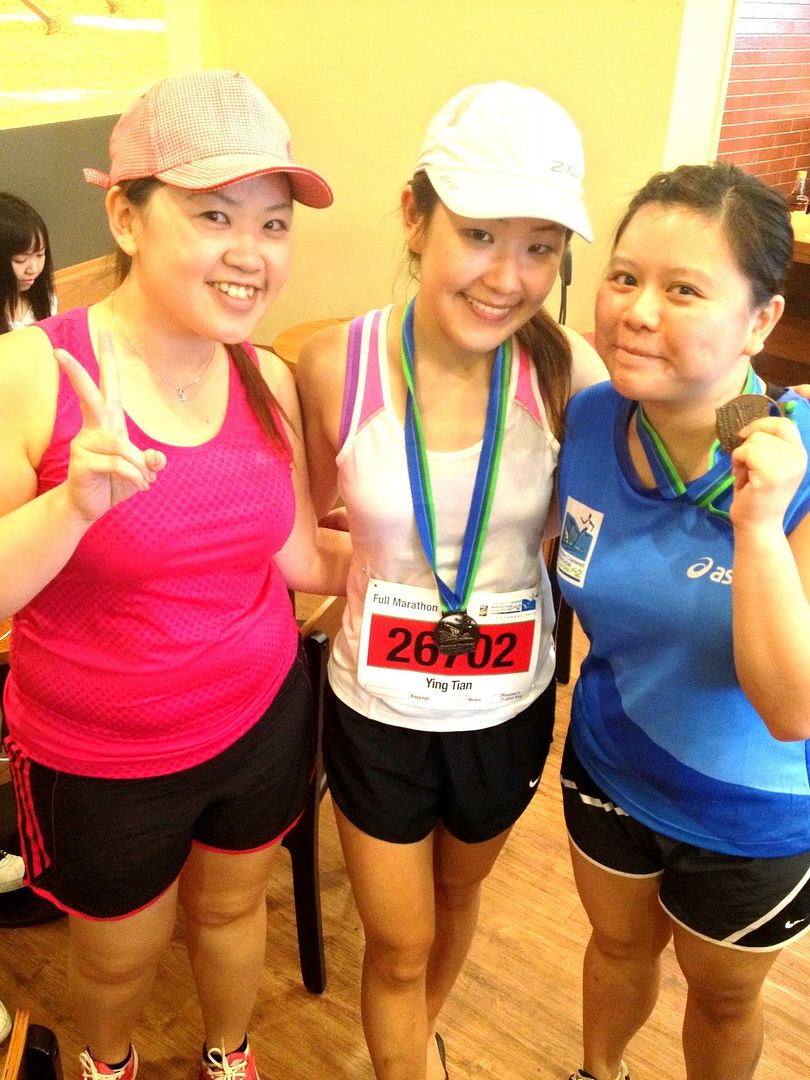 After the whole race, it felt like a battle won after going through the blacking-out obstacle and humid weather. The medal and finisher tee didn't come easy and I'm glad I persevere throughout and listened to my own body. That is extremely important as life is definitely more important than any personal best timing. There's many races next time to go but only one life!

Here's the beautiful medal and finisher tee. I really like the finisher tee this year as the font is more sleek as compared to the boring designs last few years.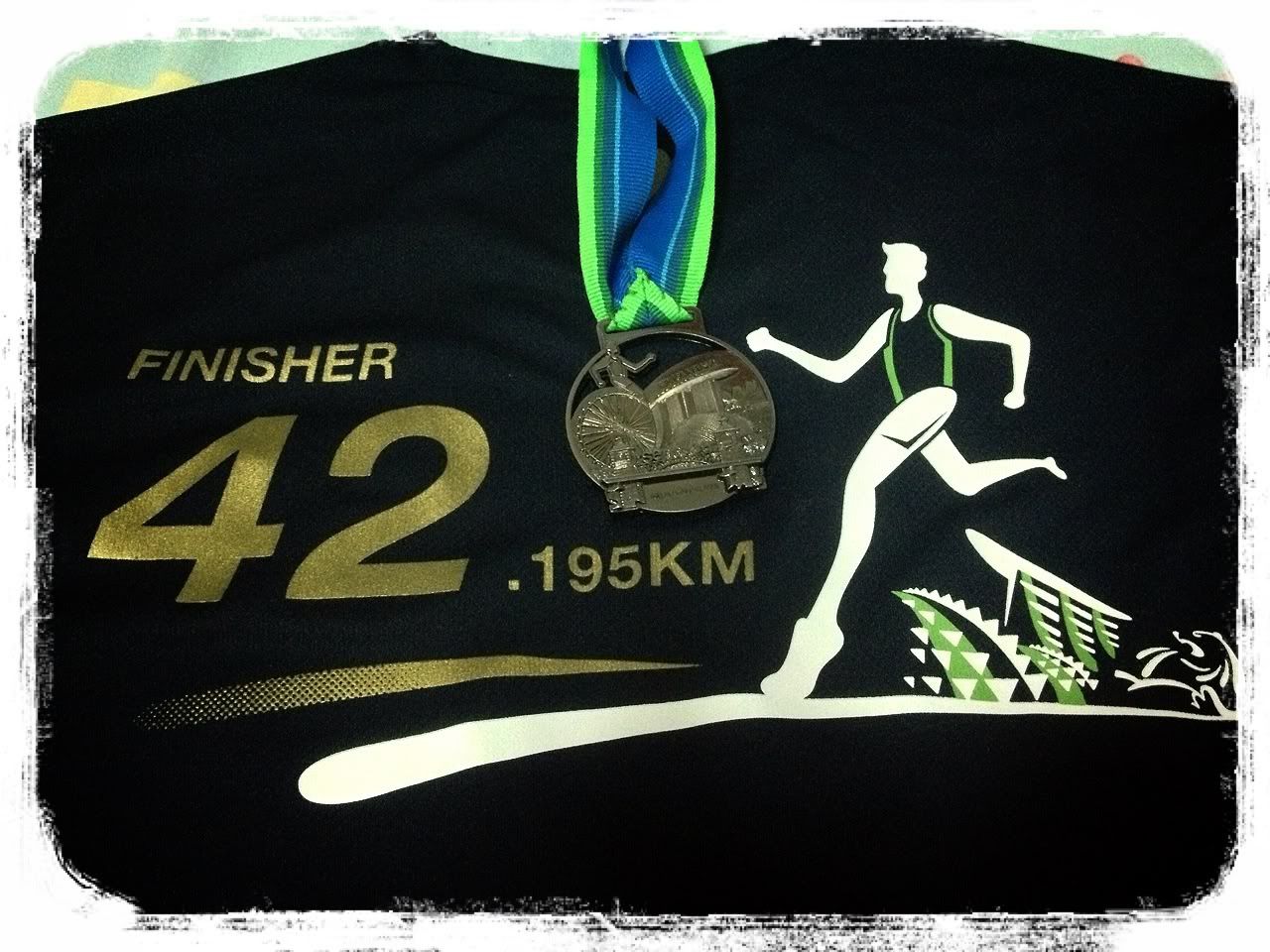 This marks my 5th full marathon and it was a really emotional process as usual.
My legs took me through the first half but my mind took me through the second half.
Each experience is memorable on its own as my thoughts and encounters along the way differ. I have became a stronger and more determined girl after the race and I hope to apply this to my personal life as well.
So this year, I crazily went on a running high with 8 races and 180km distance combined.
Dashing and limping pass the finishing line is indeed addictive.
Yes your legs hurt during and after the race, but like SCM's tagline, it hurts so good indeed.
Till the next race next year and first race overseas. 2013, please come soon! :)