Jotting down this memorable experience for my very first overseas race! :)

Running is an alone sport yes, but having good friends standing together at the same starting line made running more fun and turning up for the race less difficult.

---

Here we are at the race pack collection at Victoria Park, located near our hotel!
The runner's pack collection was for all foreigners as the locals have collected theirs a week before. It was at the park and scotching hot in the afternoon I recalled. Collected our racepacks in less than 15 minutes! The tee was way too huge and the guy was very kind to let me exchange on the spot.
Very organised, just like Singapore's!
With sis, who will be doing/have completed her half-marathon!
---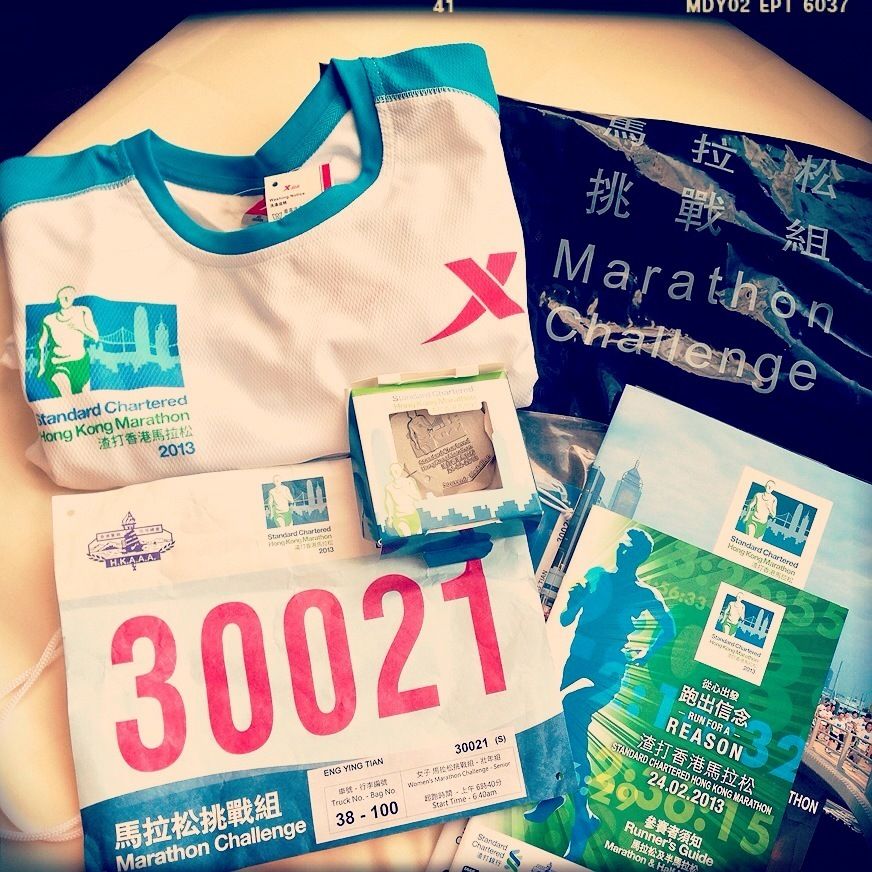 So here it is, the marathon racepack which consists of - souvenir medal, race tee, race bib and handbook. Nothing more, nothing less, unlike the usual vouchers, pamphlets or samples we usually get. One odd thing was that the souvenir was actually given way before the race, but upon close scrutiny I realised it wasn't the medal actually.
Weeks before, I have expected myself being extremely excited to receive the race-pack like it's the best thing ever! However sad to say, looking at it made me rather disappointed that I have to skip my first ever overseas race because I was ill. It was so sudden and occur just one day before the flight. Not the monthly cramps, but serious stomach flu and having an extremely high fever. Was feeling so weak that I could not eat at all, vomited my meals, stuck in toilet & the bed for but still insisting on joining the girls for shopping. It was so bad that on the flight to Hong Kong, I felt like taking an immediate flight back to rest on my own bed.
This came as a blow after the trainings and anticipation. For the sake of my health and loved ones who were texting me non-stop not to risk it, I decided to listen to them. They are right, there will always be other races out there, but I had only one life. My parents and TC were extremely sweet and advised me non-stop.
I managed to persuade TC to give me the green light to walk a 10km instead and promised I will walk throughout. I desperately wanted to go, get a feel of the whole atmosphere and to cross the finishing line like what I have been thinking about for months.
Despite feeling worse the previous night before, I decided to proceed for the race and take it really easy.
Here we are at the starting line at Causeway Bay
Temperature was 16 degrees that morning
Starting line!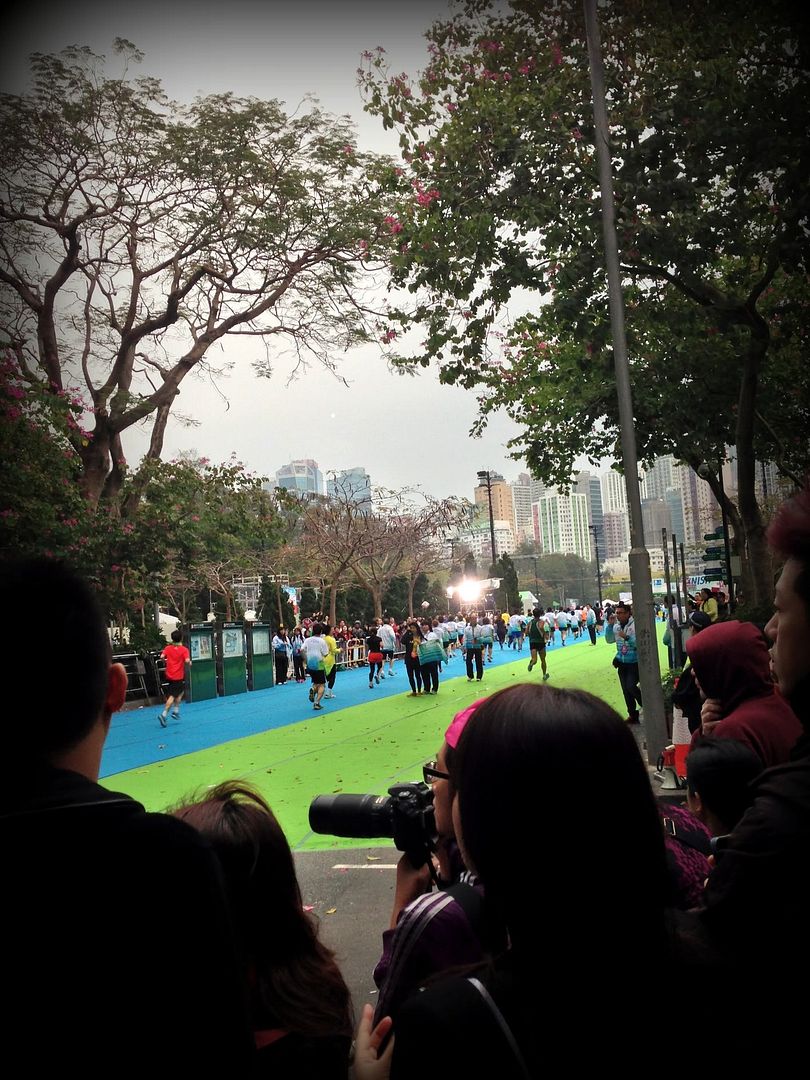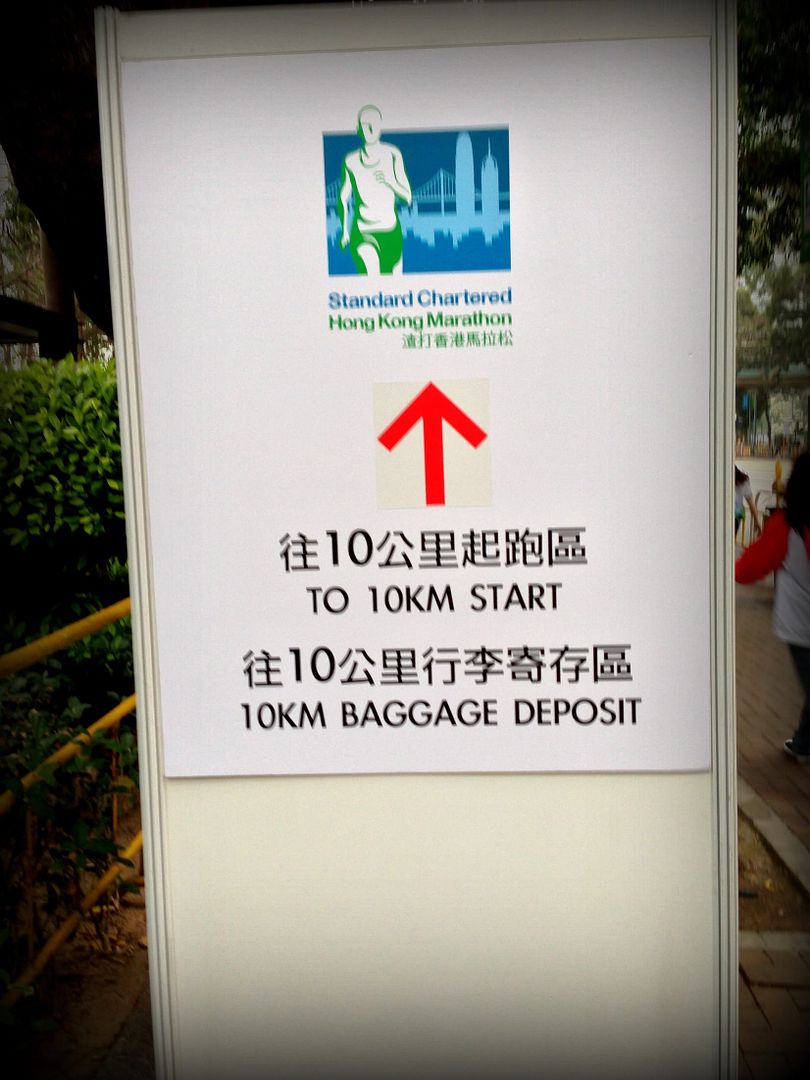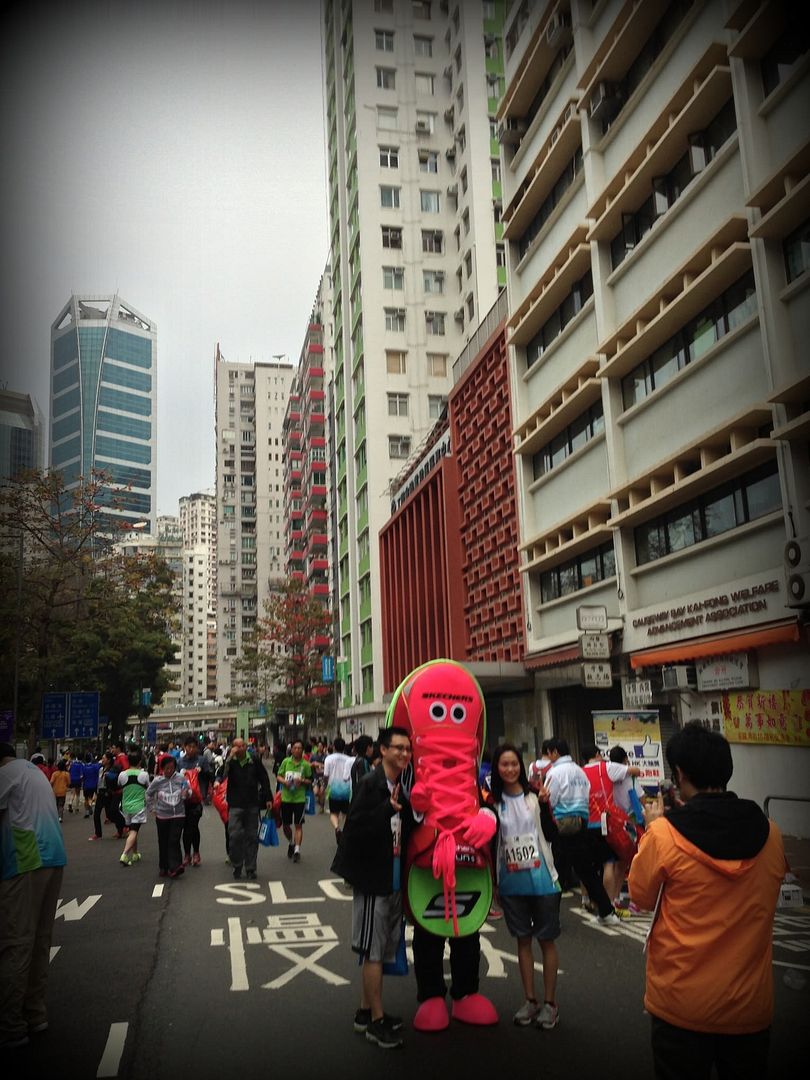 Love this quote ;)
Dearest Emmy & Nic - all smiles!!
The awesome BFFs running together!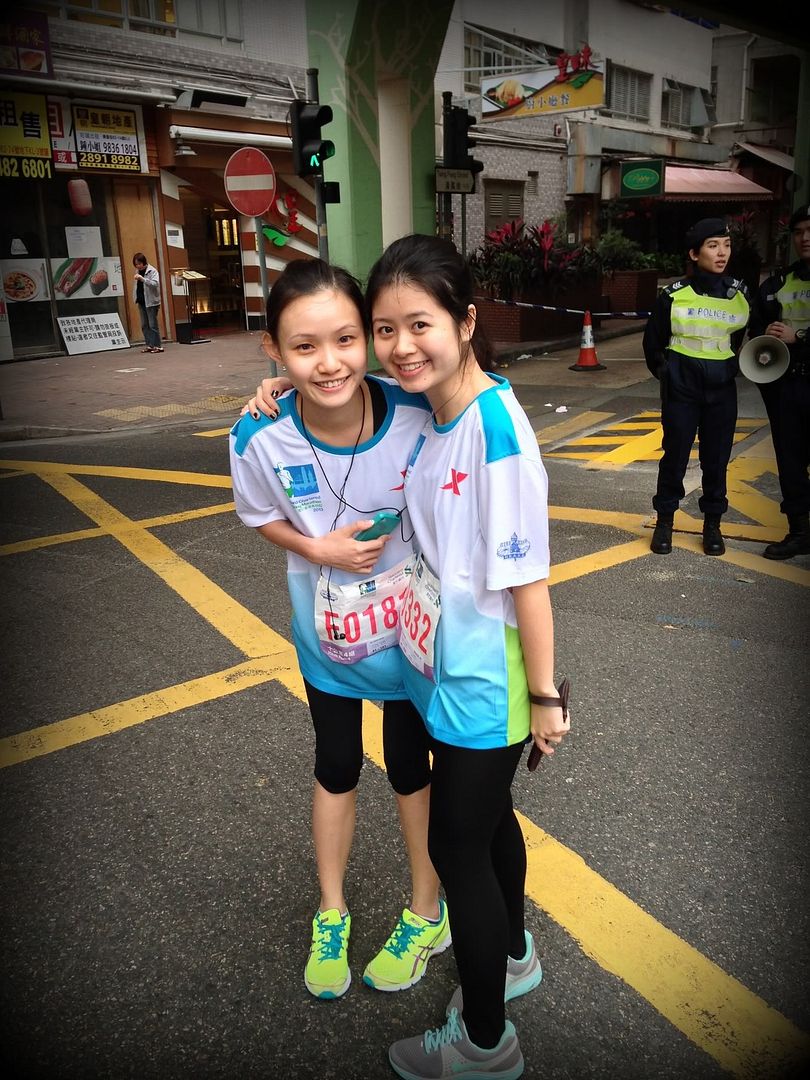 Too pale like I'm going to faint any moment hahaha.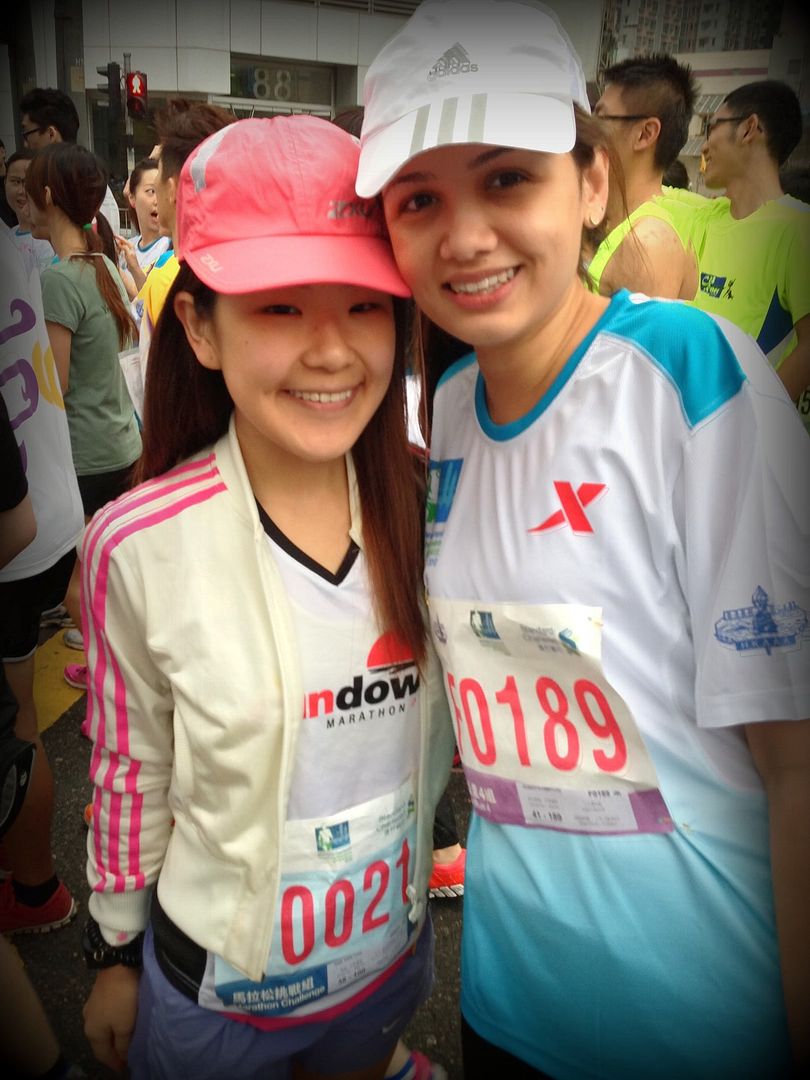 Sneaking in illegally with the other runners. I got stopped by a lady informing that I'm at the wrong location because the full marathon was supposed to start at Tsim Sha Tsui at 6.40am!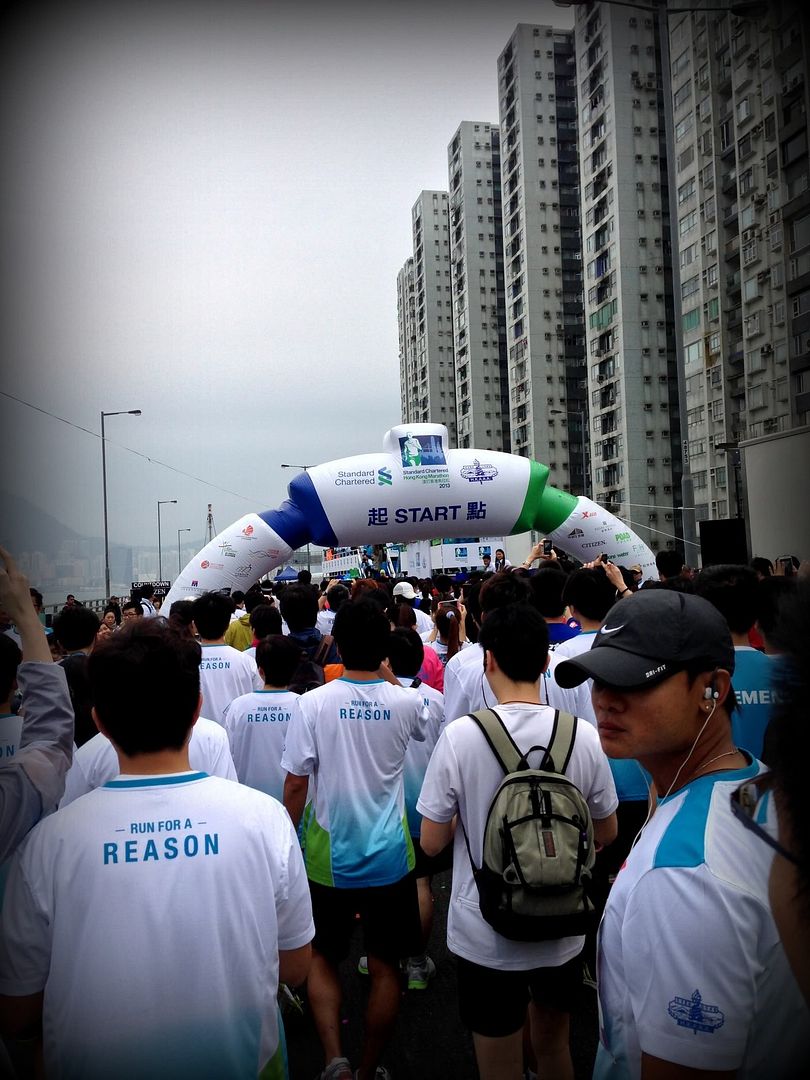 Gun went off woo! Slow jogged for the first 2km but it got so unbearable that I had to stop immediately. Walked and took pictures of the scenery!

Water point at 4km mark.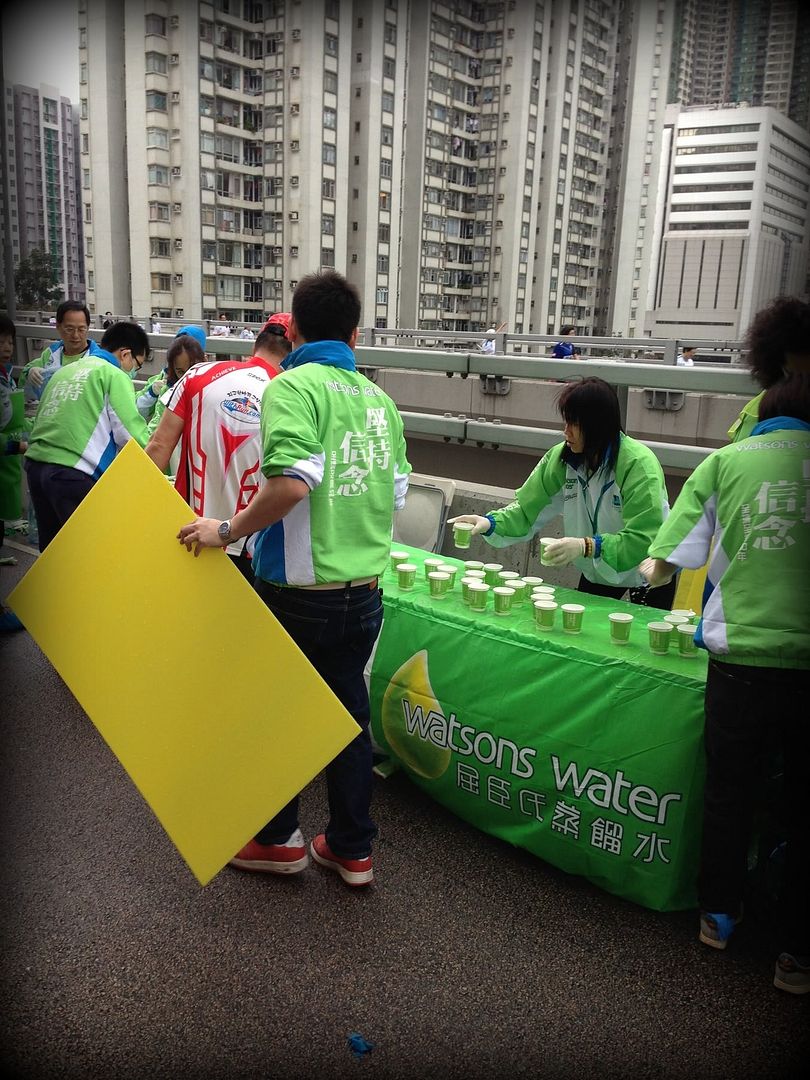 Banners and supporters to cheer us on!
I didn't see the 40 TVB actors/actresses who attended that day.. but I saw this rilakkuma bear who became my best friend during the run hahaha. Walked together with him and found out he's a 17 year old boy inside the mascot. So cute! Kept up with him and walked faster when he jogged abit. I must say he definitely kept me going and company during the run and made the pain more bearable :)
And of course, a picture with my best friend haha.
Crossed the finishing line in 1 hours 20 minutes, the longest ever for a 10km.
I COMPLETED!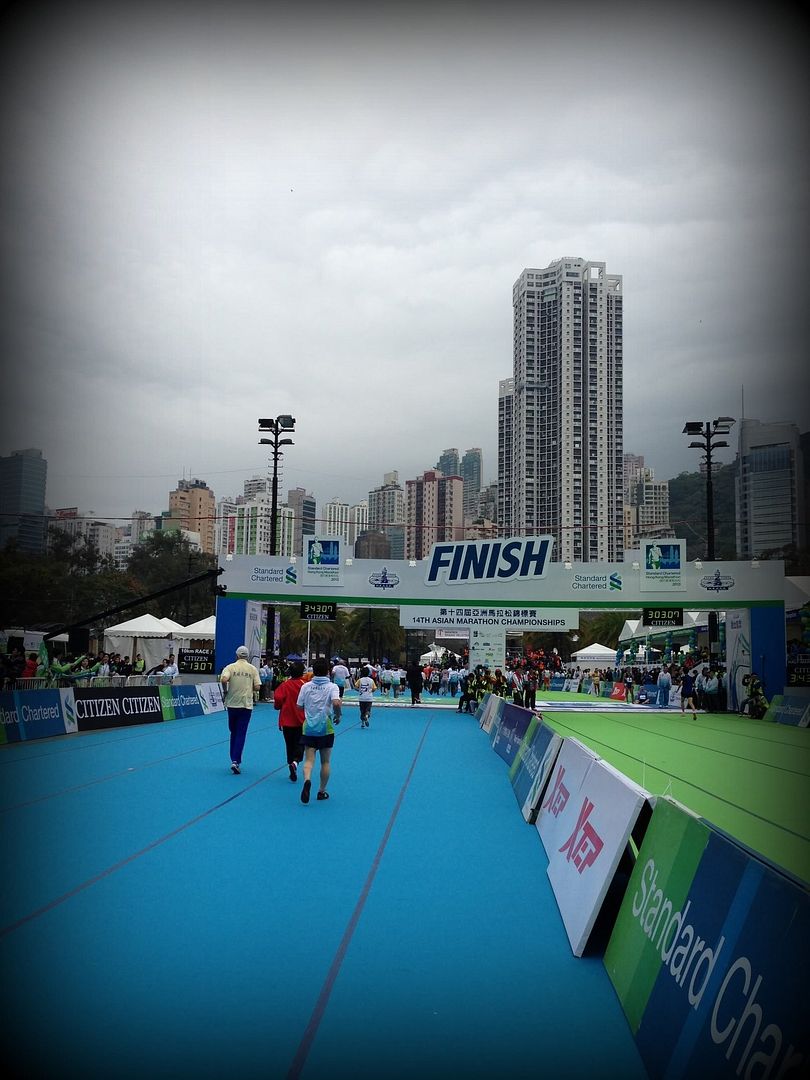 With the dearest friends who have completed as well, while MH & Veron were doing their half-marathon at TST.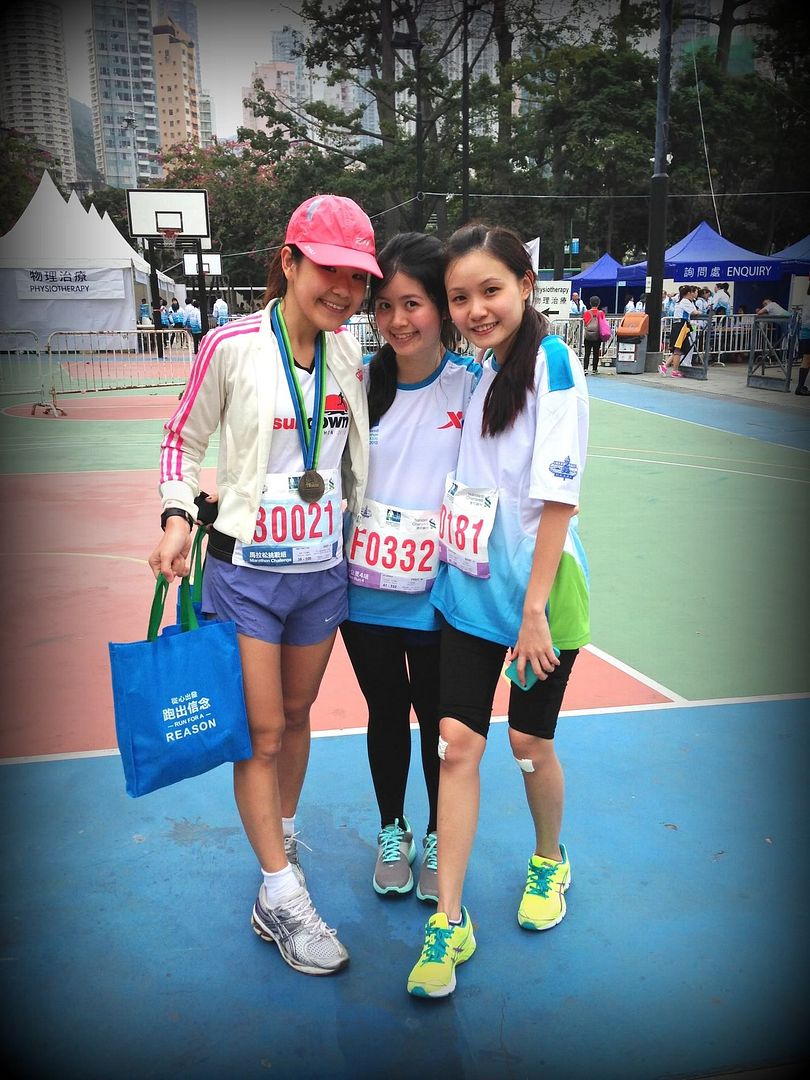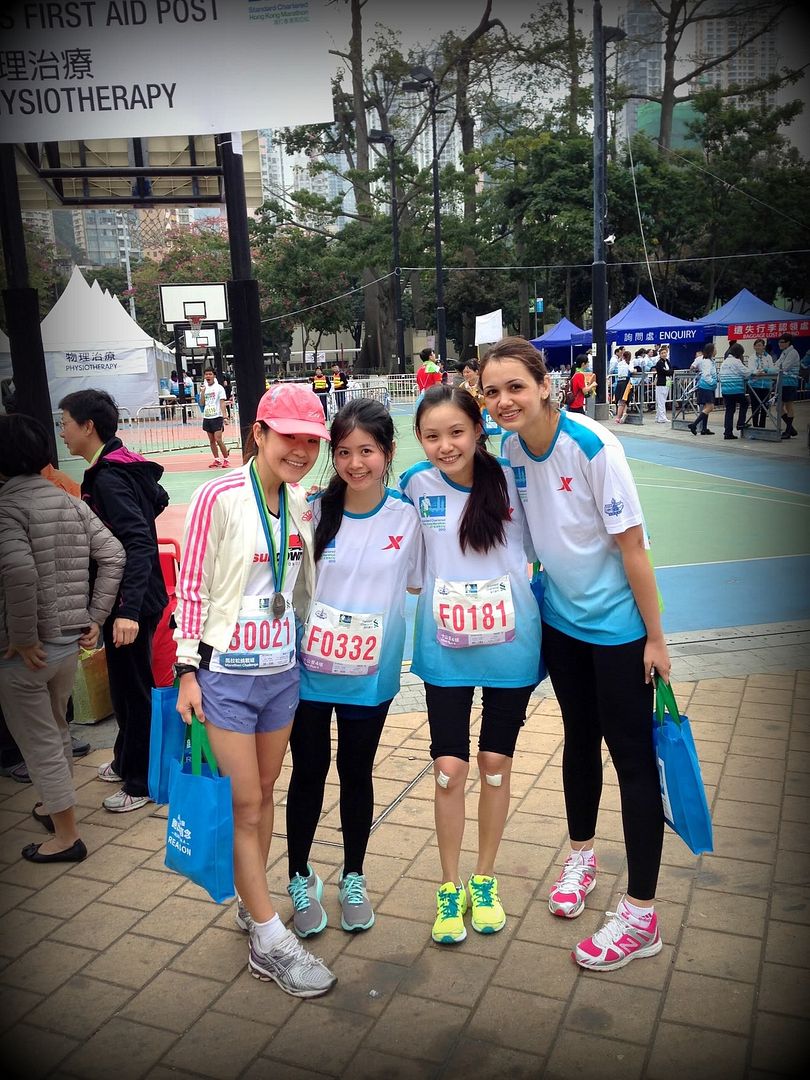 En route to the hotel to rest! Feeling so much better after the race ironically haha!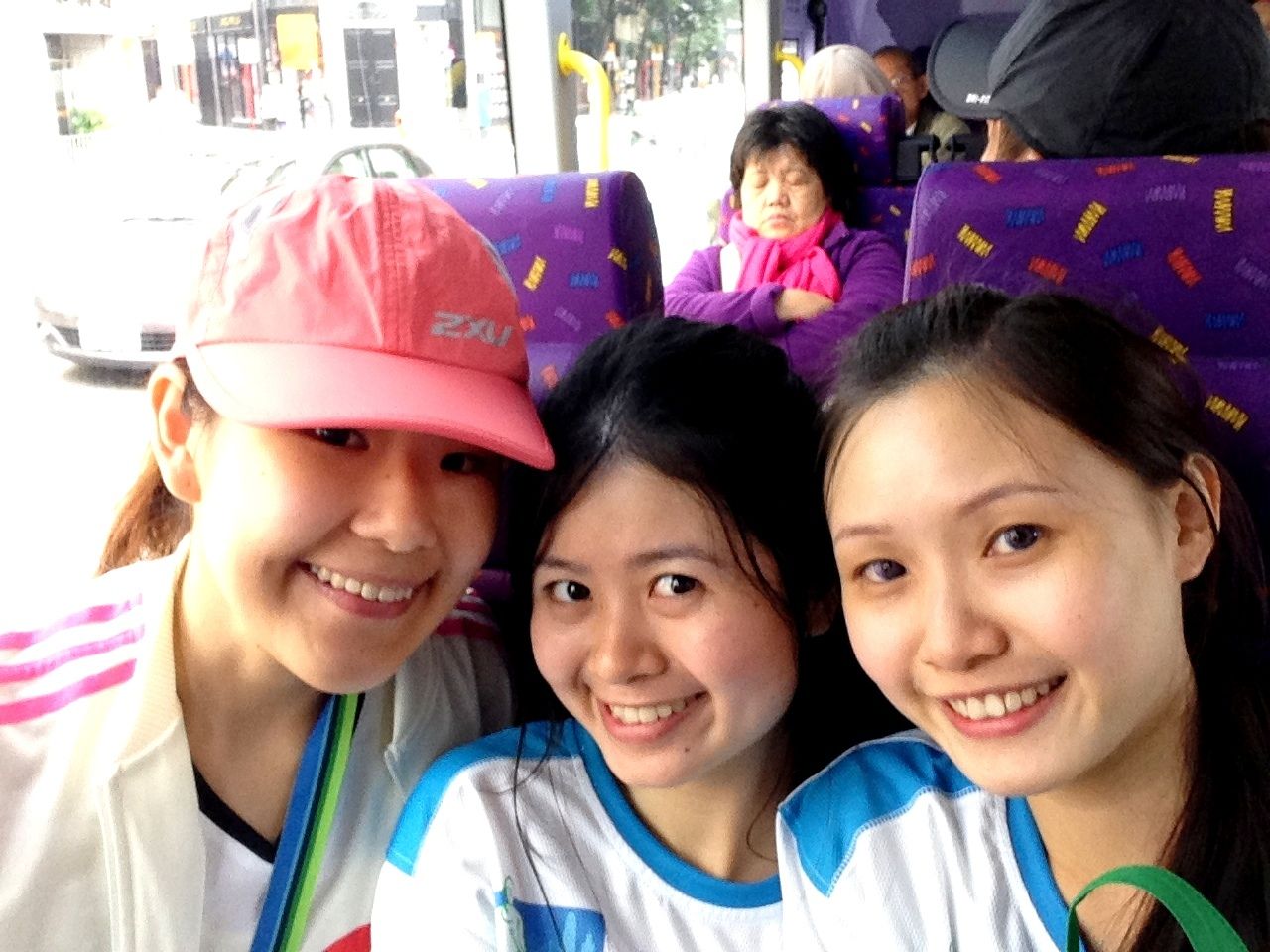 And so, this medal marked the end of my first overseas race.
I didn't deserve this medal as it was distributed only for the full marathoners and not the other categories. They ushered me to the full marathon lane and hung this over my neck. Thank god I didn't take the finisher tee because I want to be back really soon and run my own race to take it!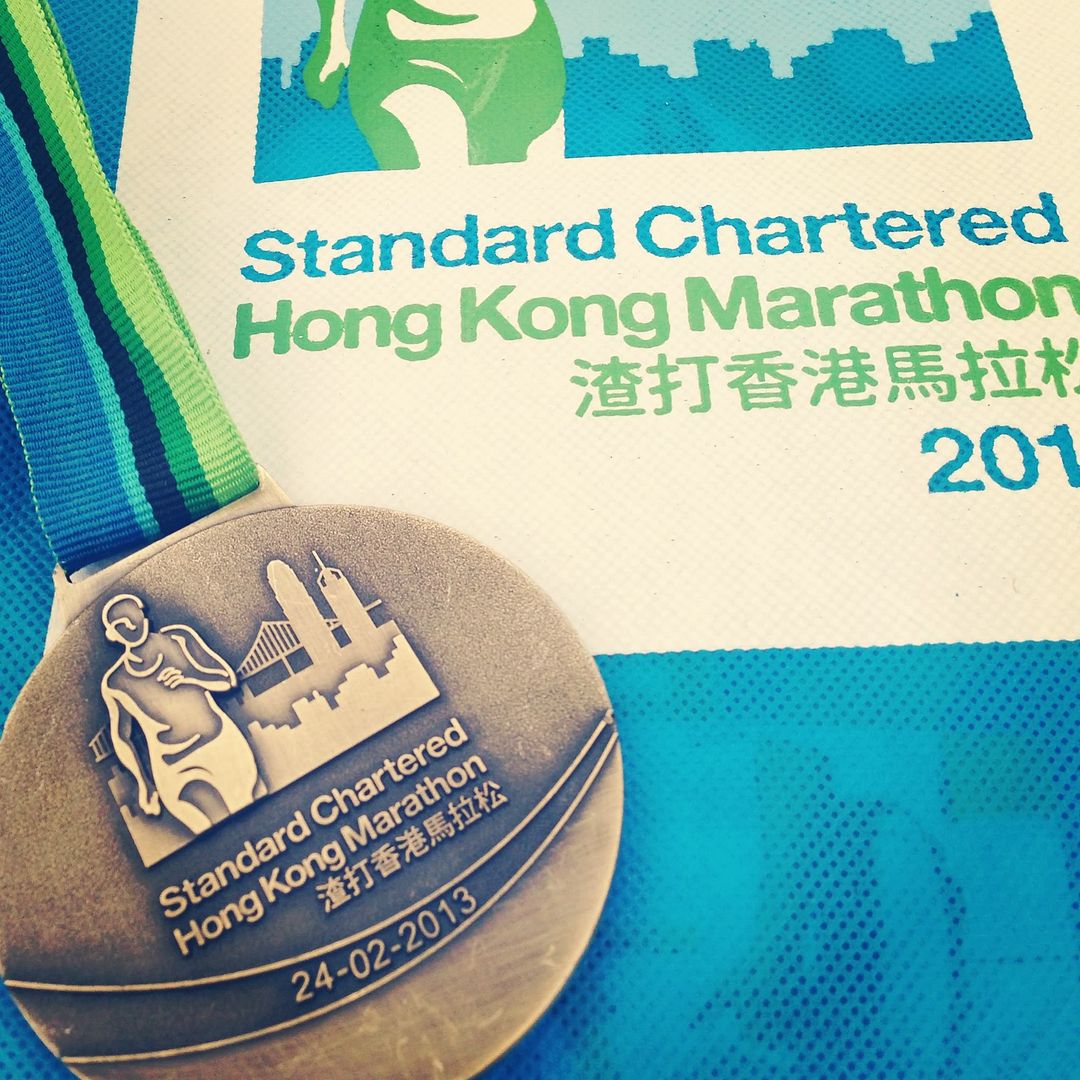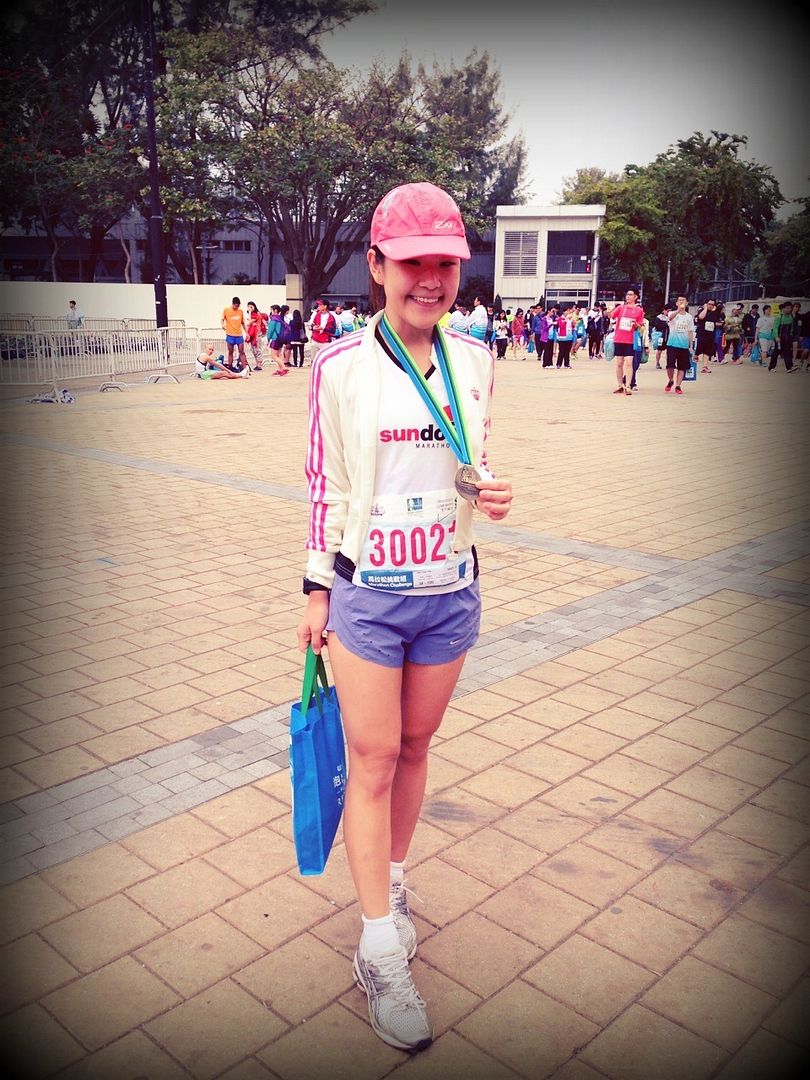 Think of why you took the first step and don't give up till the end.
Thank you HK SCM for the memorable experience and to marathon-photos for the not-so-glam picture to record the moment.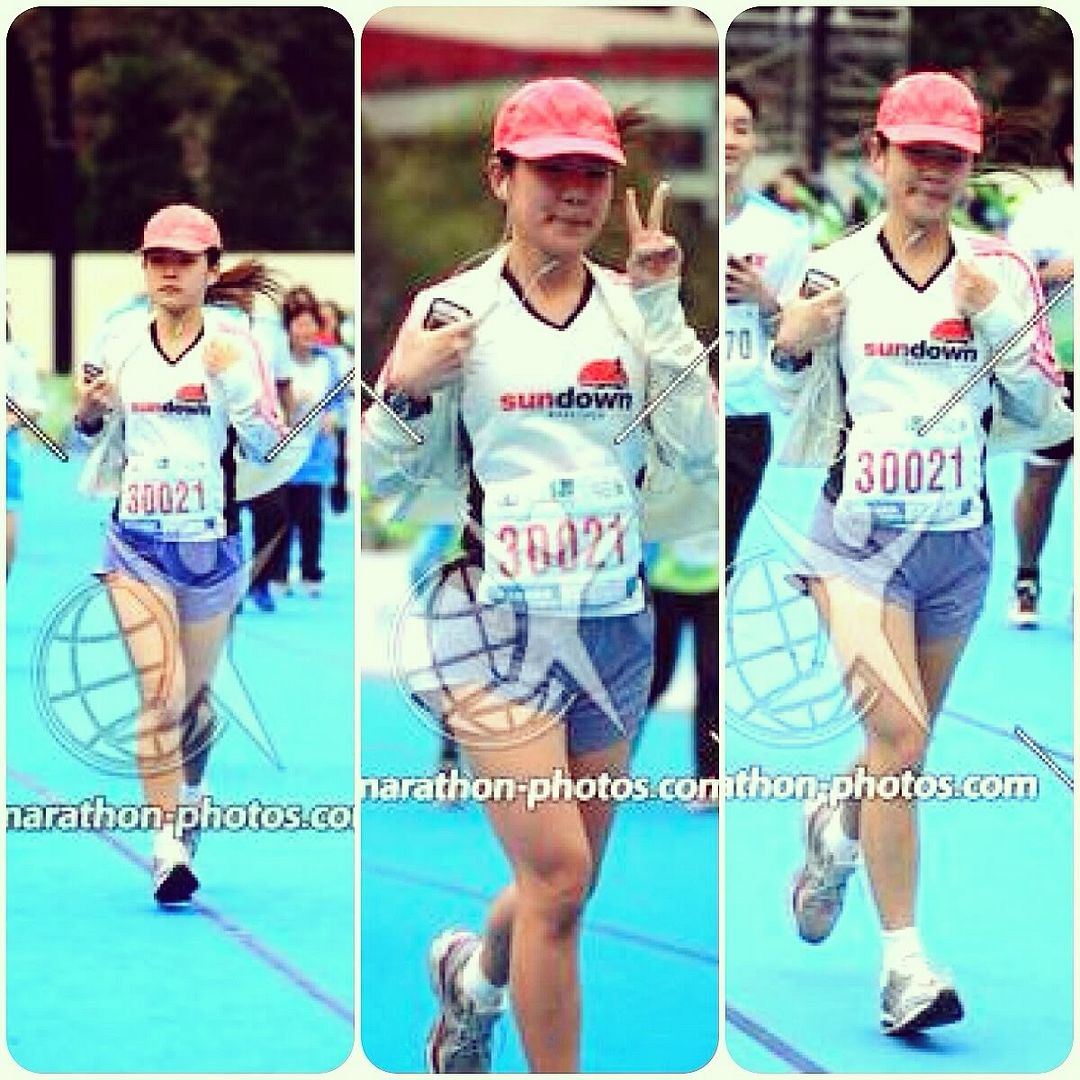 Definitely a race I won't forget as it tested my endurance in a different way unexpectedly.
It could be a blessing in disguise as well, for me not to take my health and legs for granted.
There were several blind runners doing their half and full marathons and that itself is extremely inspiring. What excuse do we have really?
Being able to run is a gift itself.
Run for a reason, run for yourself, what's your reason to run?
More races to come this year & I can't wait for end March's 2XU Half Marathon already!