It has been a year since the last 2XU Compression Run and how time flies really!
I'm really glad I started this humble blog which allows me to backtrack as and when I like especially on running posts which is a topic especially dear to me!
This was the first year that 2XU Compression Run had its first half marathon! In 2011, I joined its 12km race and in 2012, they introduced their first 15km. I guess this reflects how the running scene in Singapore has grown so much despite our limited land space, with more people joining and organisers trying to meet their needs. I always find it amazing seeing thousands of runners gathering in one small compound before the sun even rises even if it meant squeezier lanes or insufficient power gels.

Arrived at the flyer at 5am on Easter Sunday to run for a good cause for the cancer patients! Lack of sleep (what's new) but still very happy for my first local race in 2013. Wore the new compression guards as well! I bought last year but one side went missing so I had to buy this time round again. It's especially good for long distance and for post-race recovery as well to compress the calf muscles.
Met veron with her chio new cap!
Made our way to the starting line and were in time for the second wave!
Credits of pic to 2XU Compression Run.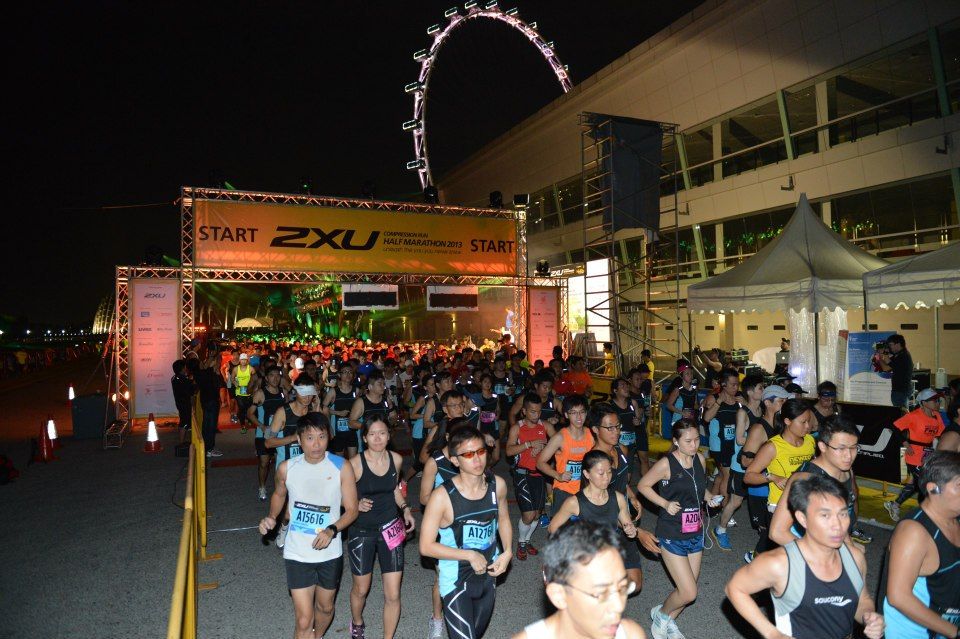 The weather was really cooling and I enjoyed myself in the first 15km. The scenery in the city was breath-taking but I didn't have my phone with me to take any pictures. Nothing to complain except that it was really quite hard to run in the first 8km at least with narrow paths and the human train in front of you. I didn't want to do any zig-zag as certain paths were not lighted at all.
While humming my favourite songs and not looking at my watch, I found myself passing by every distance marker without realising it. It's really relaxing and I felt at peace with myself, not something shopping can even achieve.
Yes, I'm really quite happy despite the sun coming up hahaha. TC says there's no shag look and I can bother to pose for cameras which means I didn't push myself hard. True BUT it's my run so I determine how hard I want to run! :)
Credits to Running shots.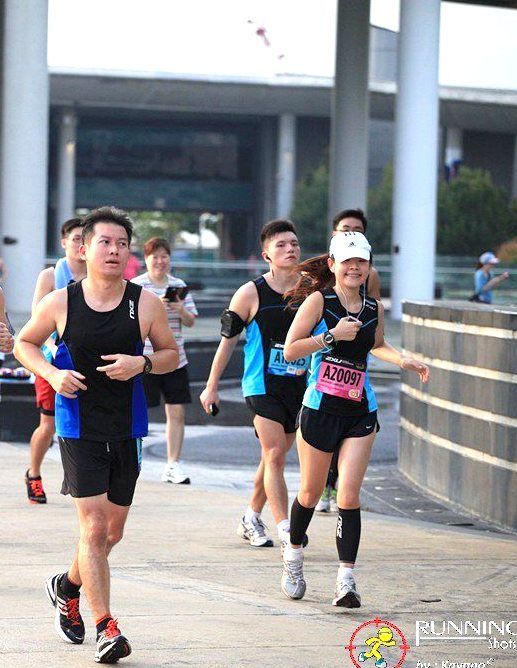 Spotted the 20km sign and happiness is when you know the finishing point is 1km away!
Credits to Runeventshots
Didn't walk at all though I was tempted to slack for awhile hehe. Finished!!!
Credits to Mr Tey
So glad to see TC at the ending point waiting for me! Collected my finisher tee, medal and fruits. 2XU even gave us each a cold towel to wipe our sweat which really makes ALOT of difference after being under the sun for so long!
Best of all, there's non-alcohol free-flow beer from Erdinger, what else to ask for?:)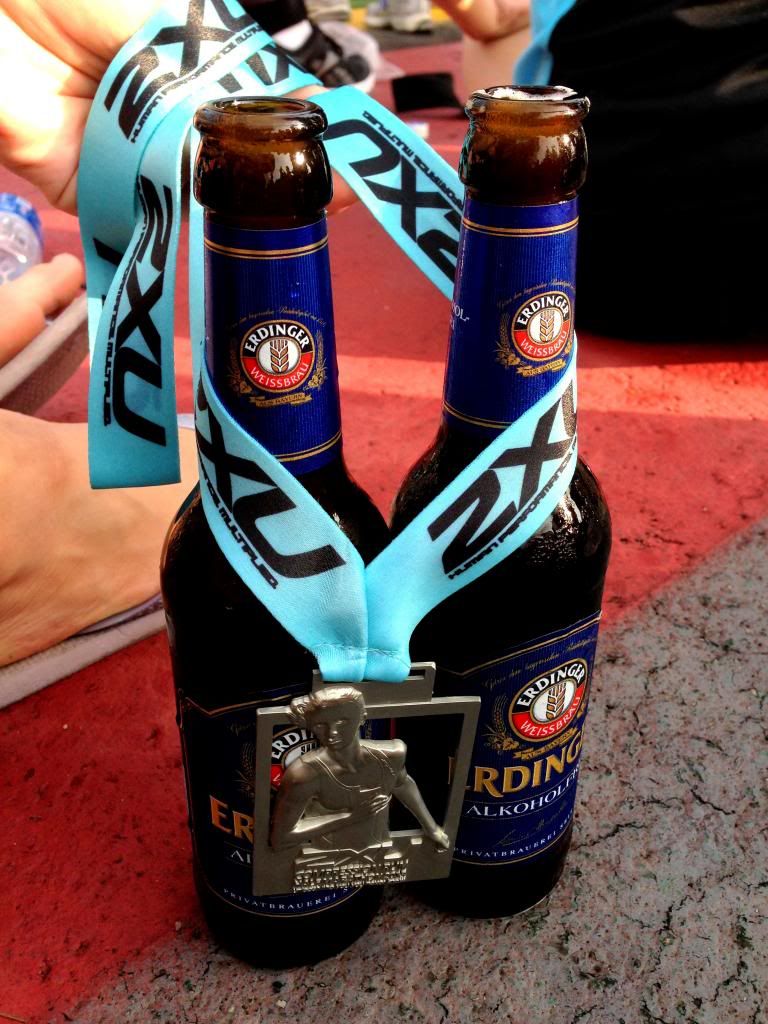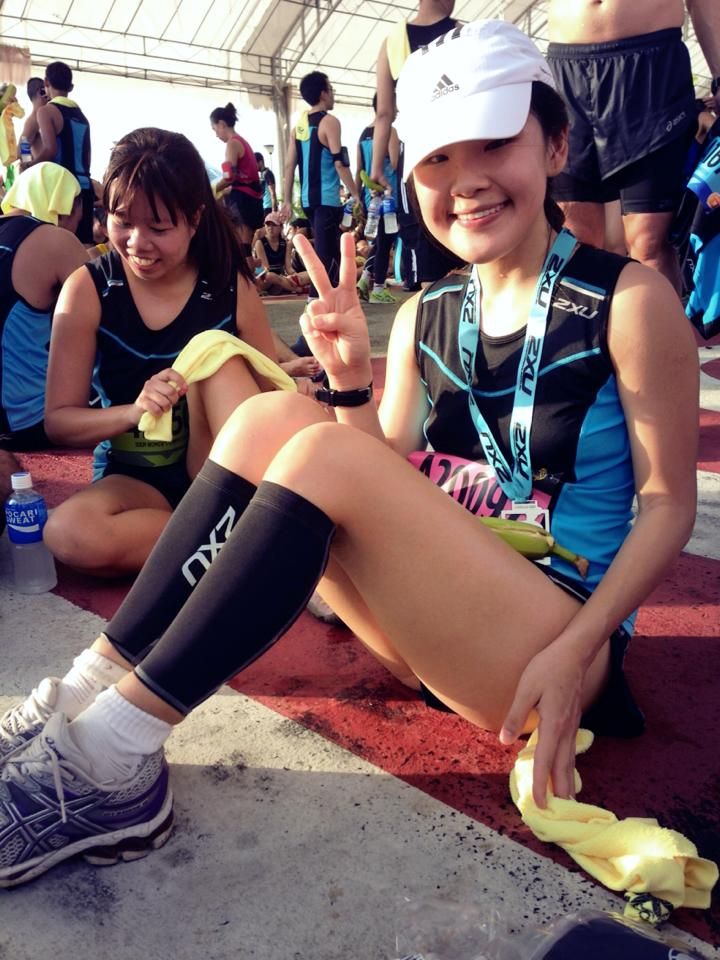 Thank you for waiting once again :)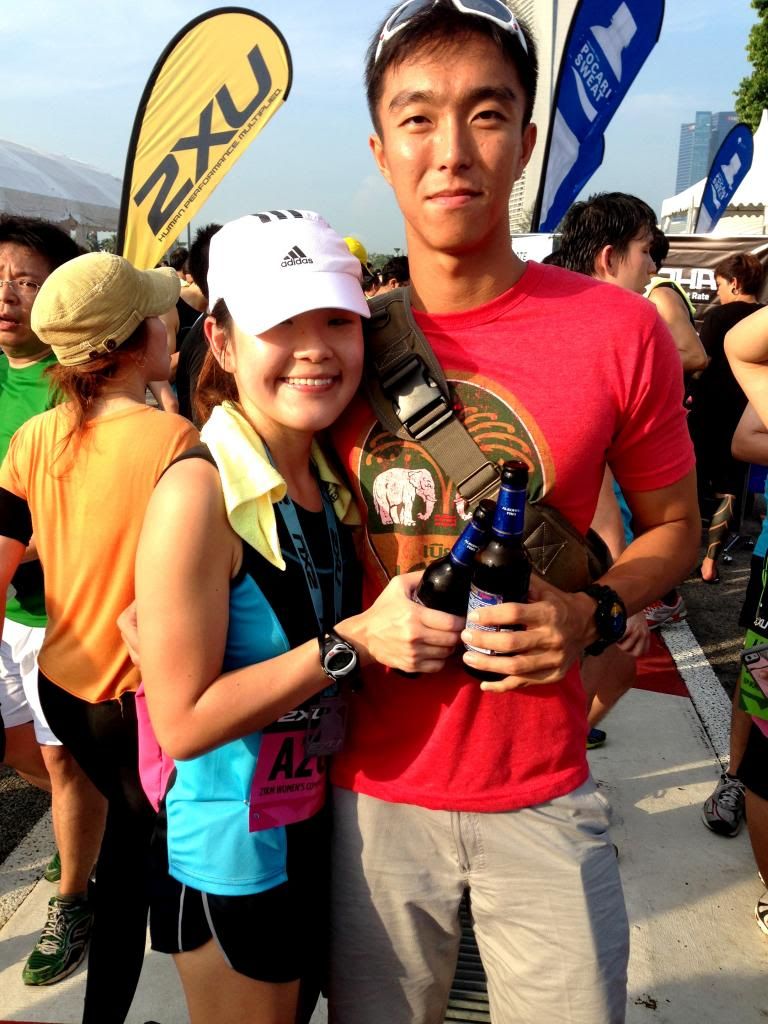 With my dearest god-sister who completed as well!!!!
Reunited with the intimates for our Easter Day's breakfast!
A group who runs together stays together :)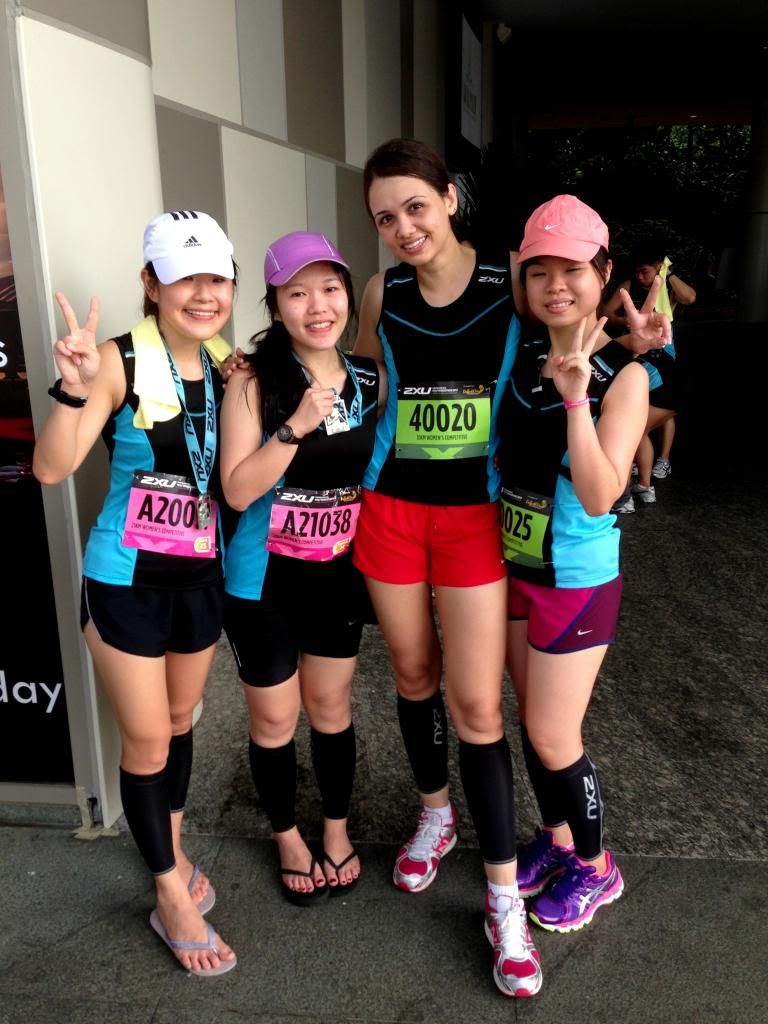 Photographed, directed and credits to TC.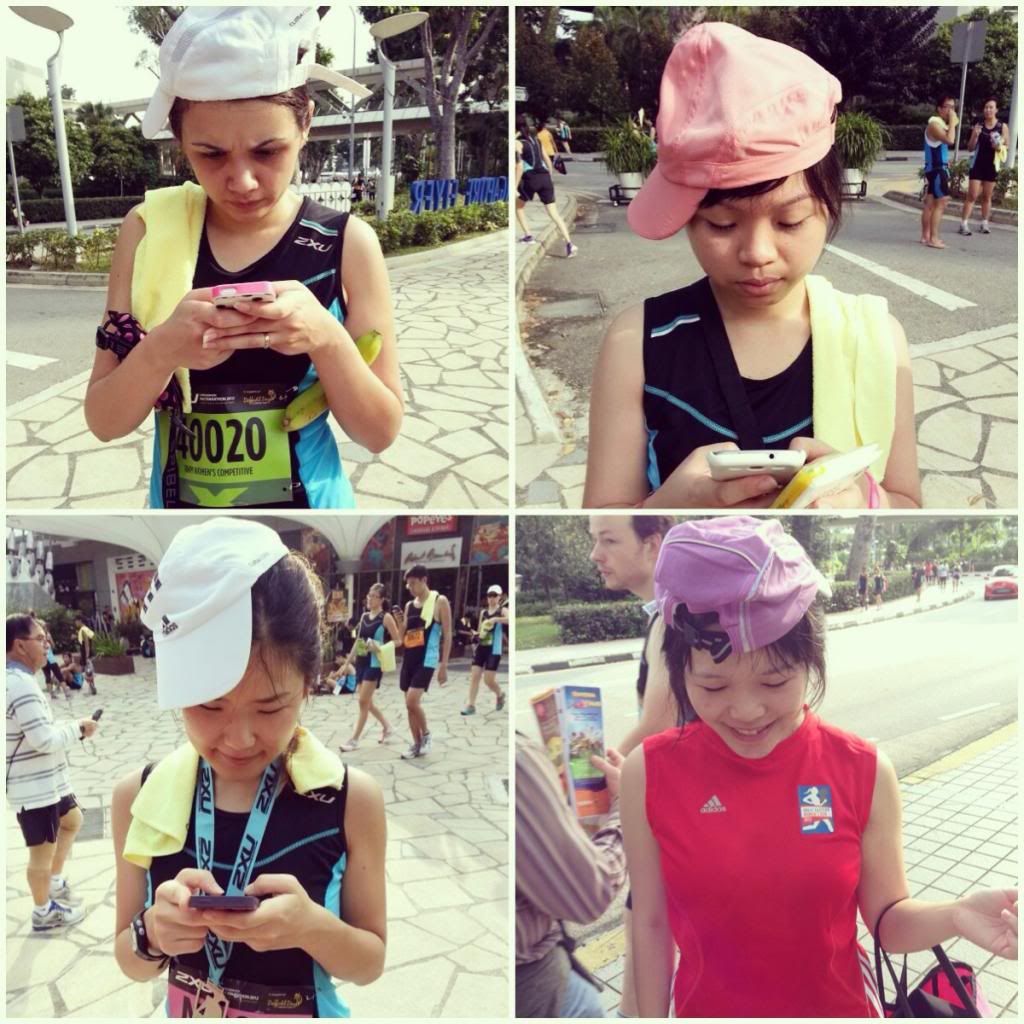 And yeap, my 4th half-marathon completed!!
Didn't get my personal best this time round and timing wasn't good at all. However, I wasn't disappointed since I really enjoyed the race and took my own time. There will always be a next time to work towards that!:)

Loving the finisher tee with its female cutting and the medal as well.
Unleash the you you never knew!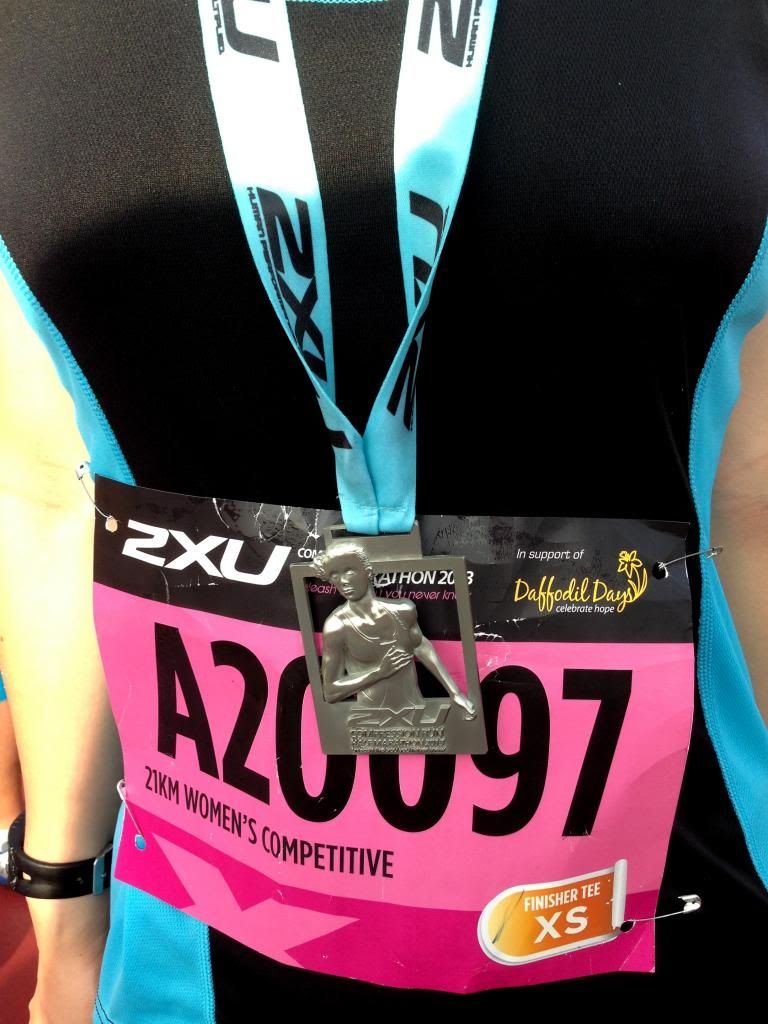 Ending the entry with a poster from Tri-factor Run - running is too amazing.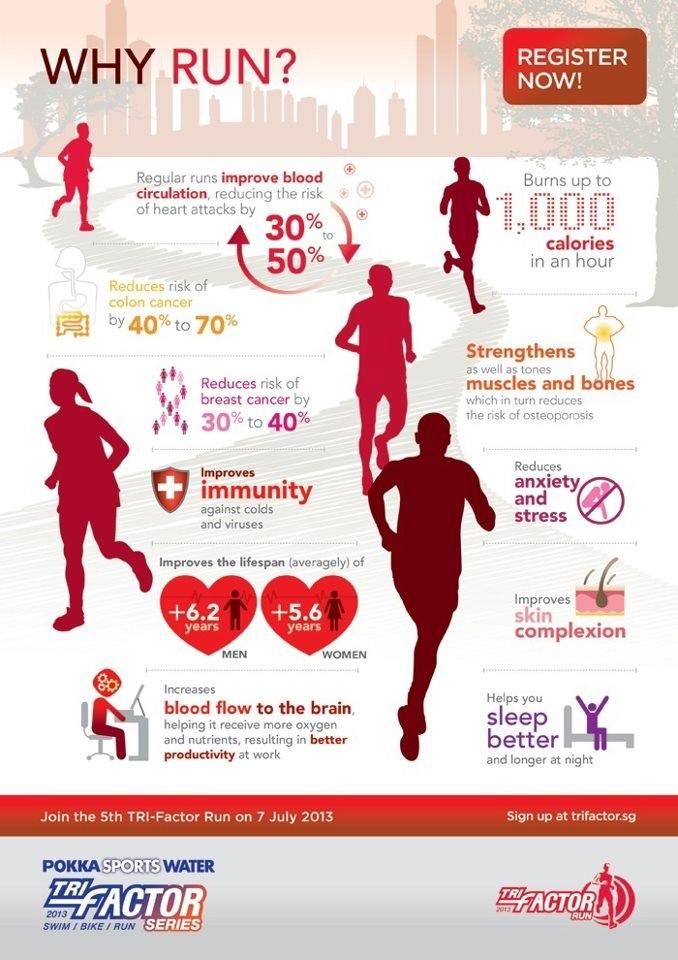 "The miracle isn't that I finished. The miracle is that I had the courage to start."