Woke up to the worst news ever & my heart sunk immediately.
Finishing a marathon is never an easy task and to quality for Boston Marathon is even harder. Ever since Feb's HK SCM, I have always been looking out for more marathons overseas, to explore and to unite with other fellow runners. To make your way back to the finishing line to see your loved ones and yet being greeted by two bombs with your limbs gone is too sick, too cruel. The worst thing ever and not being able to run for their rest of their lives again. The sense of satisfaction that lasts for only one second?? A marathon should never end this way. Why are these culprits so cruel, where's the humanity really?! I have friends going for the London Marathon this coming June and really, I hope that the security measures can be strengthened. Hoping that all the Singaporeans in Boston are safe and my sincere condolences to all the victims of the explosions. Remain strong. xx
---


Finally posting up the not-so-recent & recent outfits ;)
Instagram is so convenient these days for instant photo-sharing so I have been slacking in this space for awhile. (Follow me @ eyeletskirt)

Bought this ASOS dress long time back and till date, it's still one of my favourite. I love its ribbon back and cute buttons! Altered to make it fit back then so I will wear it for a long long time.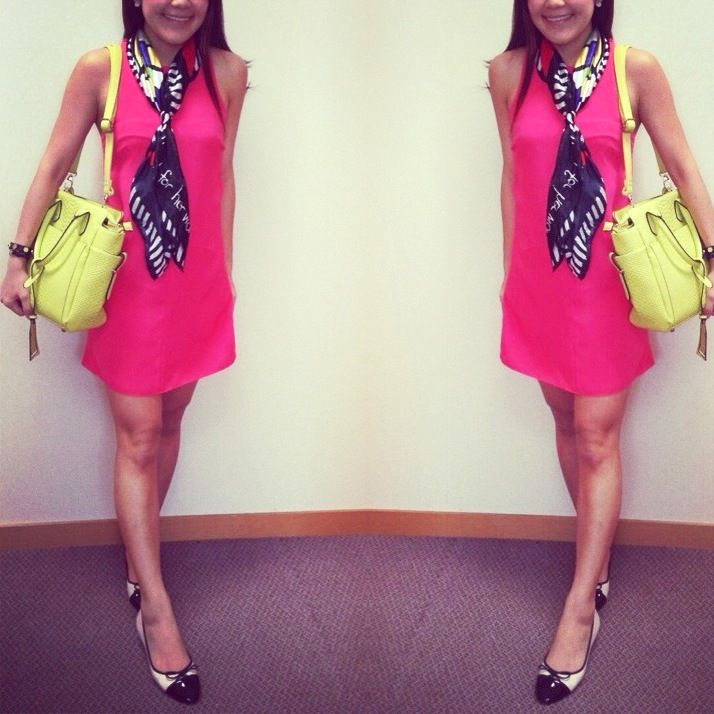 ASOS coral dress // Herworld Scarf // TE Bag // HK flats

In the famous LB Miranda skirt that everyone has. I bought yellow and sold it, then I bought blue during their 20% sale. Fickle-minded to the max.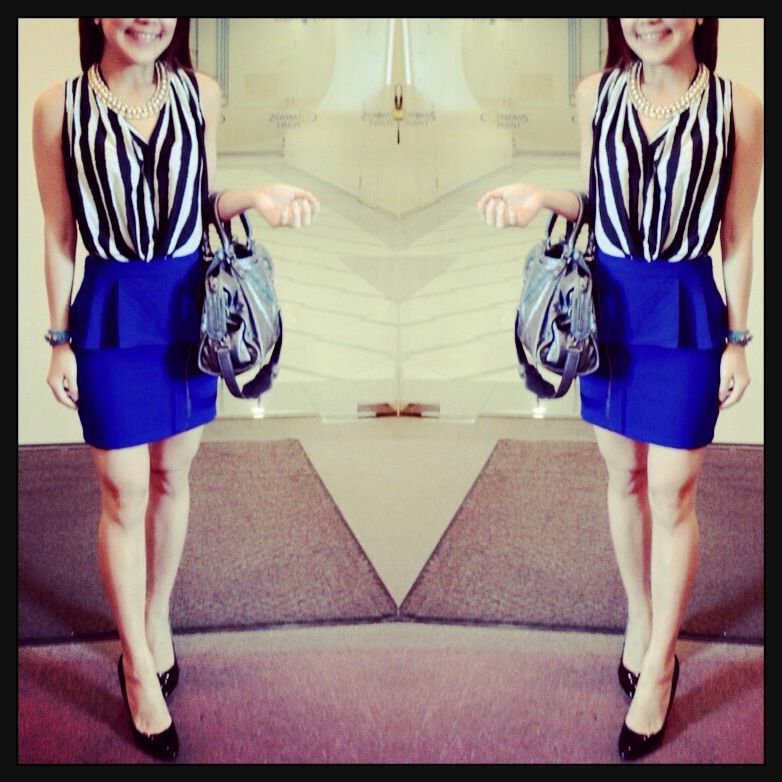 SMooch necklace // TE top // LB Skirt // Zara Heels

Here's my new Prada tote bag from HK. Bought it at The Space at SGD$1,200? Full leather and for the price, I broke my bag ban. Love how it's able to match almost all my work outfits!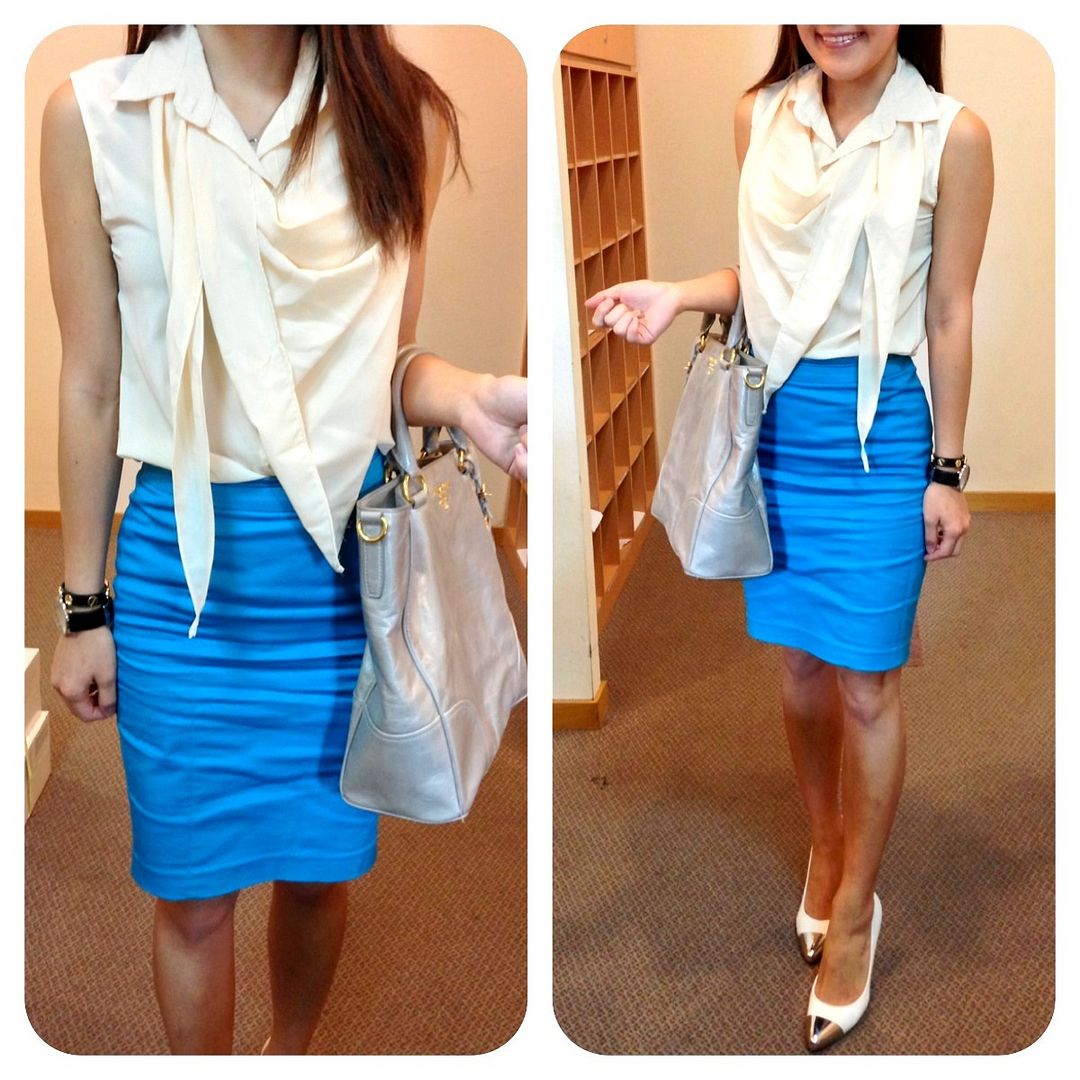 Random scarf top // H&M Skirt // Forever New Heels // Prada Tote
Polka dot shoes to brighten up the outfit!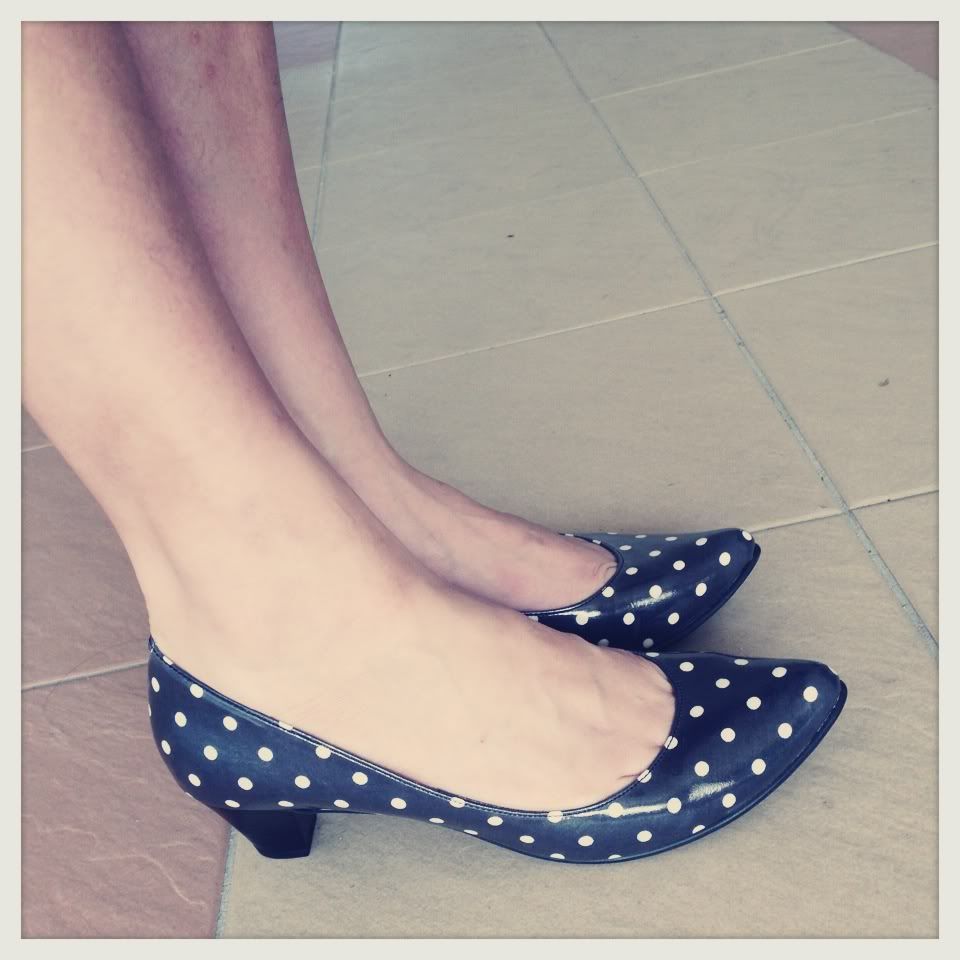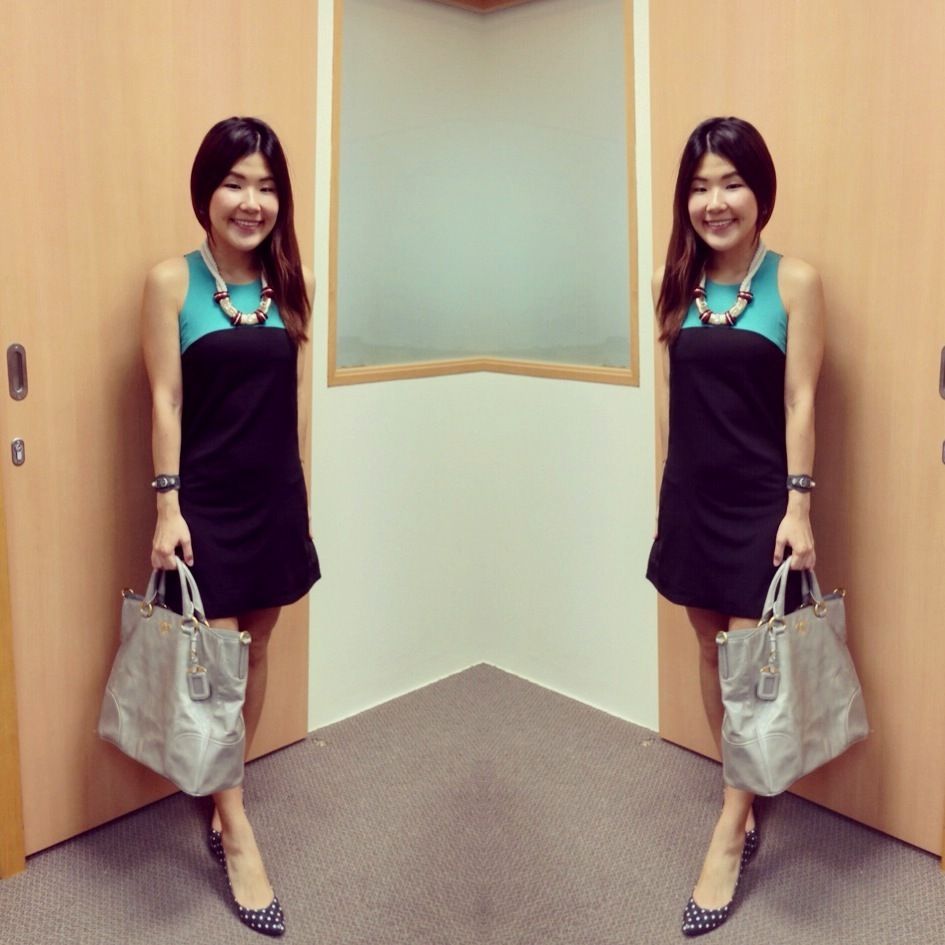 SMooch dress // HK Heels // Prada Bag // TE Necklace
Saving the wardrobe by rewearing my basics over and over again. Mixing and matching can help you to save money and space really.
Zara Vest // M)phosis Pants // AE top // Mango Heels// Bysi Bag
Full black outfit, everything SMooch!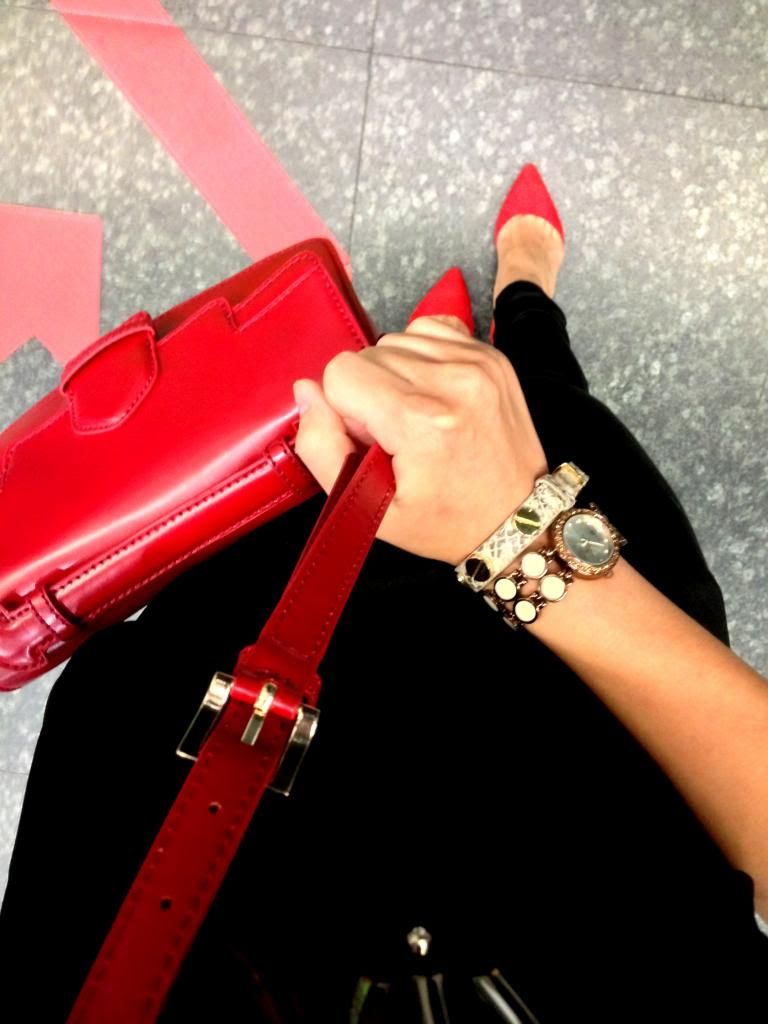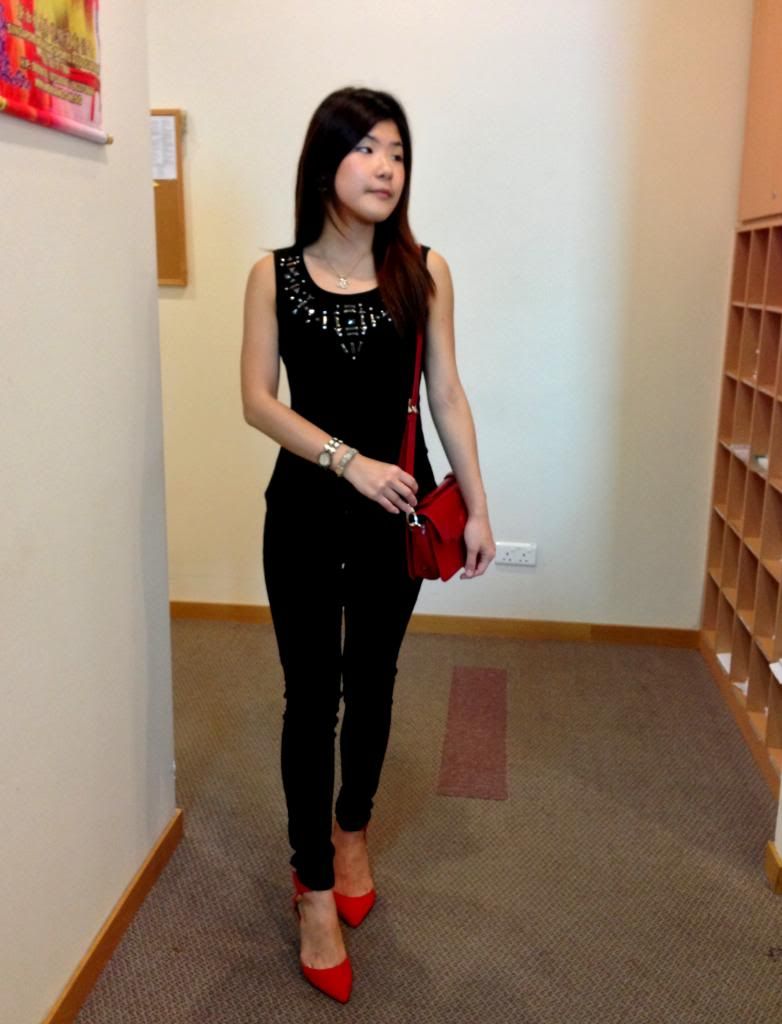 Top & Pants from SMooch // Zara heels // Bysi Bag
Loving the printed pants in the stores these days. Picked this polka dot pants from H&M though I know stripes is trending right now.
TE top // H&M Pants // Prada Bag // Zara Heels
In a BKK crochet dress & louvisa necklace ;)
New favourite heels from C&K. Hardly a fan of their shoes but this is a must buy.
Minimalist outfit in full black. I love my heels!
River Island dress // Zara Bag // BCBG Watch // C&K Heels
I know denim on denim is so-called fashion faux, but I like how the shades contrast each other that day. Perfect for the warm weather out there and the denim jacket helps to keep me warm inside the theatres! Selling this CWC floral top at $12 & denim jacket at $16 btw!;)
CWC floral top // Swivelle denim outerwear// Topshop shorts // Prettyfit flats
Everything pastel. Selling this pretty lilac ruffled dress for $12 & SMooch bag btw! :)
Lilac dress // SMooch bag // Melissa flats // Marc Jacobs Bracelet // H&M Earrings
One of my favourite outfits among all. Bought this nautical top from Hollister in HK and I love how versatile it is! :)
Hollister Top // LB Skirt // LB Belt // BCBG Watch // Zara slingbacks
Dug out another peplum dress in my wardrobe and first time wearing this peach dress out! Selling at $20 shipped btw. And yes, I crazily bought this heels in two colours coz it's too pretty!
Intoxiquette dress // Zara Heels // CC Skye armswag // Prada Bag
Received this Hollyhoque black wedges from BO and it goes well with jeans. Super comfty and stable as well, love it! :)
Crochet x crochet
Louvisa Necklace // H&M dress
Crochet x denim, perfect for the weather now!
HH crochet top // Topshop shorts // PS1 bag // Bal bracelet
On a gym day.
LRH blazer // River Island dress // TE bag // Bal Bracelet

Okay now you can sigh in relief because it's officially the end of the outfits flood! :)