Last weekend was too good that I'm STILL suffering post-weekend blues (along with muscle ache and flu). It's a refreshing change to avoid the usual shopping malls to catch our weekly movie. Somehow, running on threadmills and spinning in the gym aren't the same as running and cycling outdoors. It's awesome to get in touch with nature, inhaling in the fresh air around, seeing kids run around and hearing the birds chirping around you.. that's priceless. Felt so calm, carefree and almost like a child once again.
So last week, I impulsively signed up for Tri-Factor's 40km cycling race. It has always been on my TO-DO-LIST, or rather TO-TRY-LIST in 2013. So I thought, not now then when? The event was just a month away and it happens to be ONE WEEK after my Sundown's full marathon. I hope my legs survived doing 82km in two weeks seriously.
My pink bike (which was a present from TC) has been under-utilized for the longest time as it has always been used for leisure cycling to get supper haha!
For running, I have been clocking 40km-50km weekly and sticking to the training schedule so far. As for Tri-Factor, it is pretty last minute so ho
pefully I can cycle outdoors at least once per week to get enough confidence on the road to finish the race. Fighting fighting mind over matter! -brainwashing in progress-

It wasn't easy persuading him to let me join since I'm new to the sport and he said it might be dangerous as well. He is extremely protective over me as I have always been the clumsy and impulsive sort haha. However being a typical scorpio and being ultra stubborn, I clicked on the button before informing him. However, I was really touched when he immediately offered to bring me out for a trial ride to familiarize myself with the roads and bike mechanics. Throughout the journey, he gave me tips, watched out for pedestrians and cars for me, gave me hand signals and non-stop encouragement when I was doing well. It wasn't easy since his speed was usually twice of mine so yes, I felt pretty loved haha. Thanks baby!

When we left ECP, it was about 28km clocked and there came a thunderstorm. The rain was really heavy and there were no shelter for so to hide so we pedalled as fast as we could back home. That's a first and really memorable experience to cycle under the rain for an hour. He made sure that I was safe and I stopped a few times as the rain was affecting my vision. Still, we made it back in one piece and clocked 48.27km. Didn't fall down at all too teehee!
Here we go! He pumped the tyres with air and adjusted the seat higher.

So not used to the helmet initially (which was compulsory in the race) as it felt comfortable but after awhile my head got used to it haha ;)

The toilet break at Changi and only cam-whoring session haha.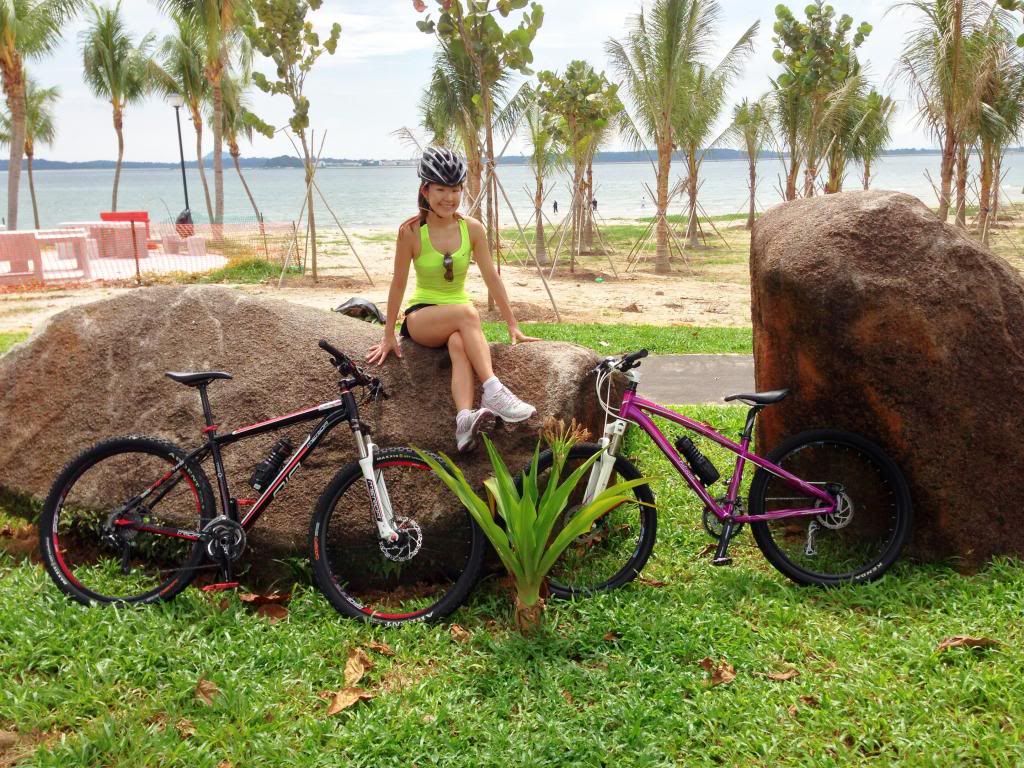 Mileage clocked, 48.27km done BUT at snail speed. Gonna try harder this weekend!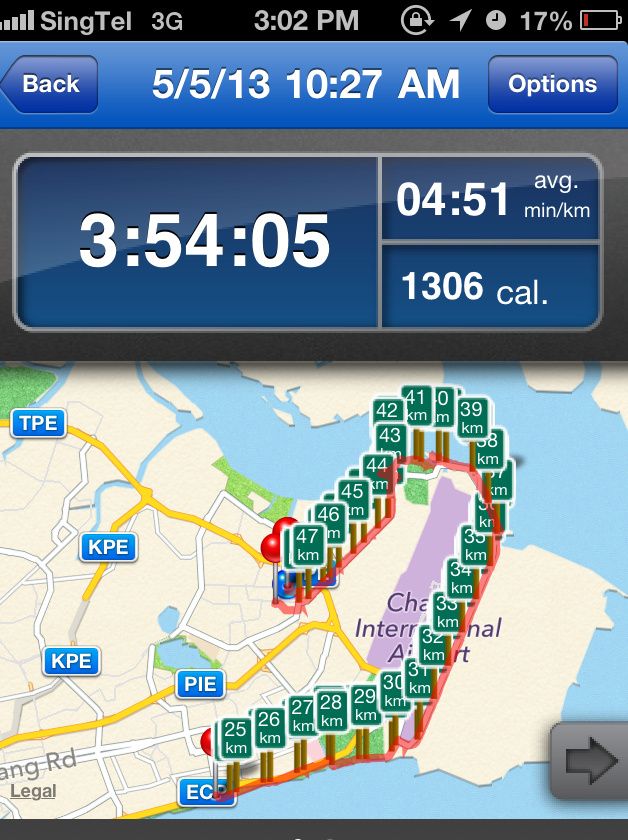 ---

Headed to Jurong for Sher's birthday party immediately after that. Daniel cooked all the food by himself and he's an amazing chef. Thank you for inviting us and we love your dog, Scraffy!

Banana and apple tartin dessert made, with vanilla icecream served. Yums!

The star of the night! Cute is an understatement really.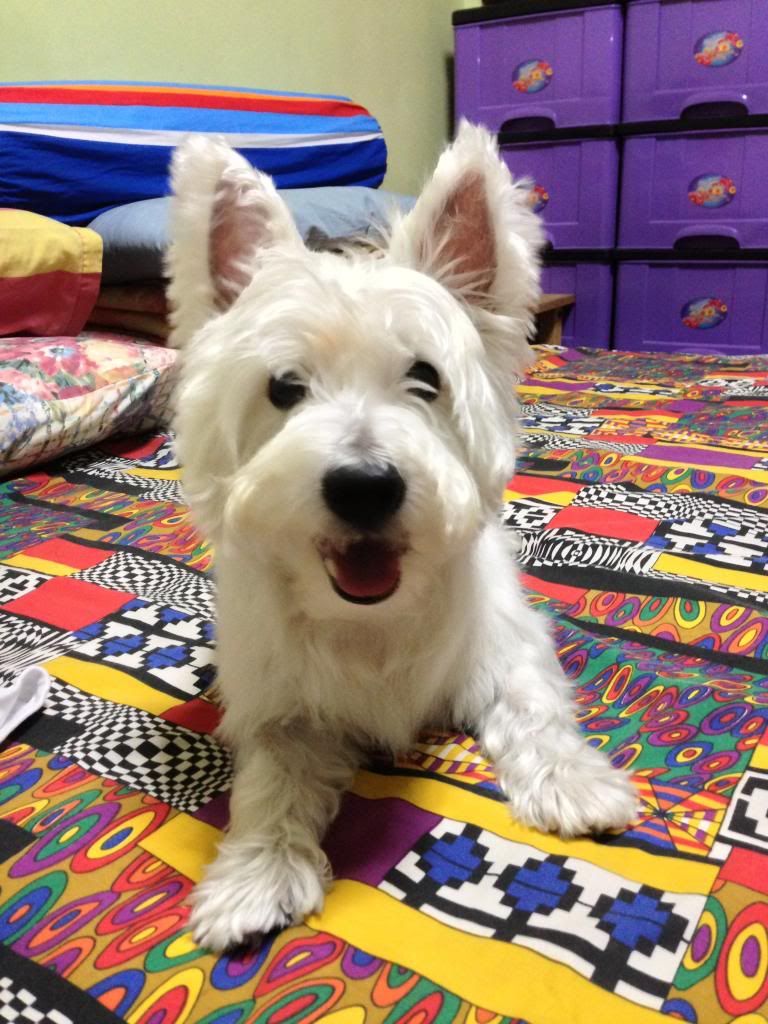 Scraffy went beside me when I was reviewing the striped skirt. SO CUTE. I will buy you a nice outfit for your ootd soon okay Scraffy? :D
Ending with a group picture with the girls! ;)
Happy birthday Sher and once again, I'm so glad fate brought us together with Valene! ;)
Psst/ Anlene has picked the winners themselves and they will be sending you the Gift of Strength shortly. Congrats to Xin Hui, Priscilla, Jessica, Shirley, Jing Xian, Kenny, Melissa, Jeanette, Peck Wan, Jinglin, Vanessa, Eileen, Jia Tao, Val, Sue See, Danli, Miya! ;)