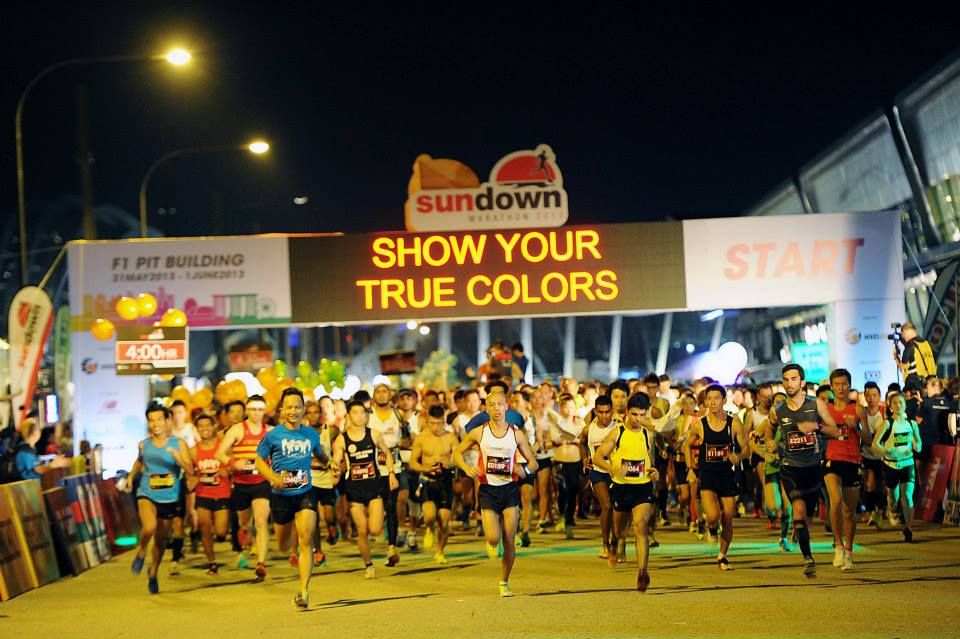 I love running at night more than in the morning, so Sundown Marathon has became one of my favourite compulsory runs yearly.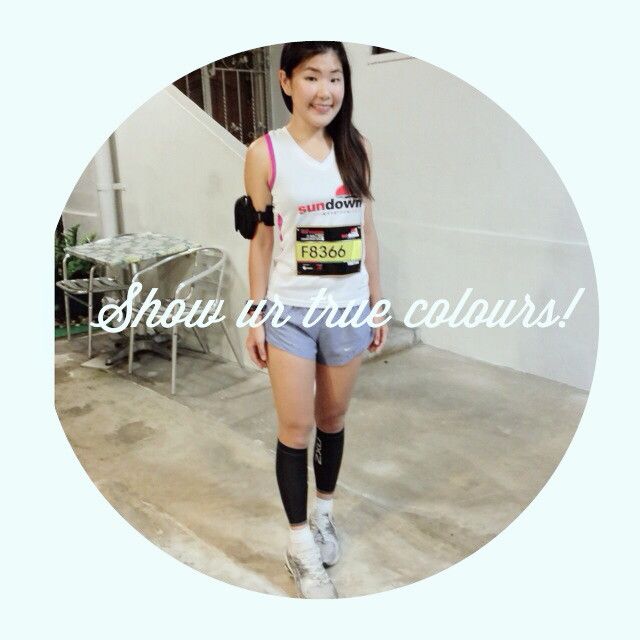 I was feeling extremely nervous this time round after missing the last full marathon in Hong Kong. Super worried and paranoid about falling sick, having cramps and whatnots when the date came closer day by day. Up till Saturday morning, I was still having jitters but watching "Hangover III" in the afternoon with my favourite people made everything better. TC was assuring me that it was my 6th full and I would be fine. His assurance made me felt better but I had problem falling asleep before the race. Still, it felt like my first and I realized that prior to every full marathon, I will be worried about my mind & legs being too weak to overcome the pain/external factors and not being able to endure till the very end.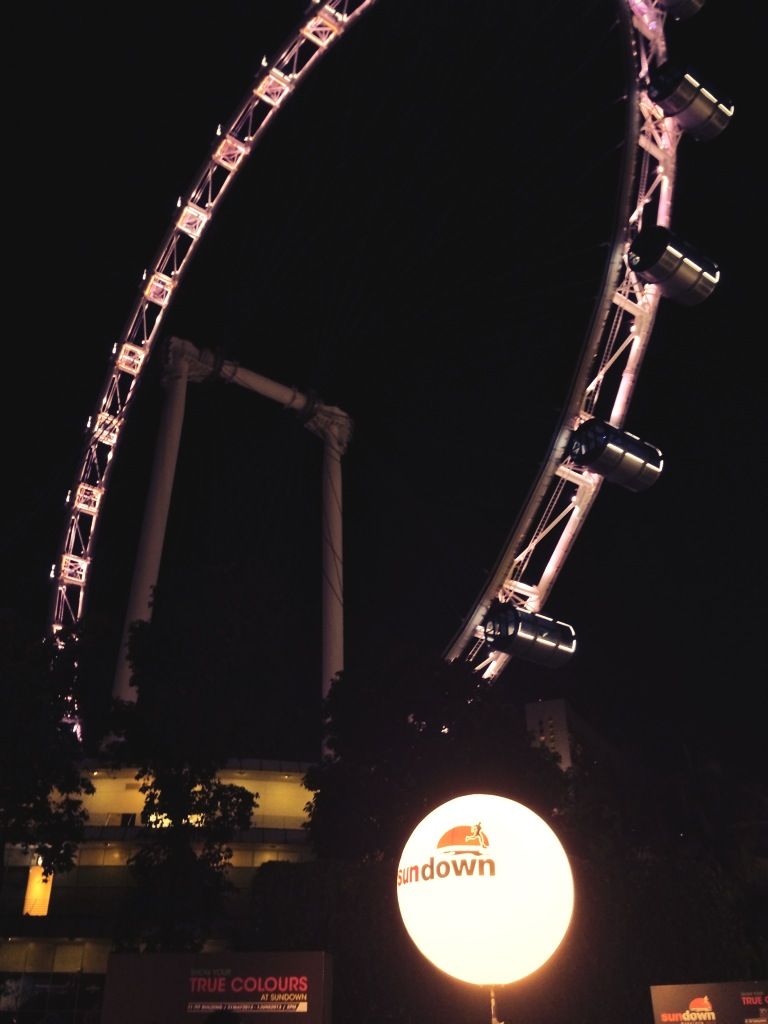 Headed to the starting line on my own and this newly independence seems really foreign since I'm too used to having my supporter going with me ALL THE TIME! He wasn't feeling too well and putting him through the long wait would be too torturous really. I'm on my own today.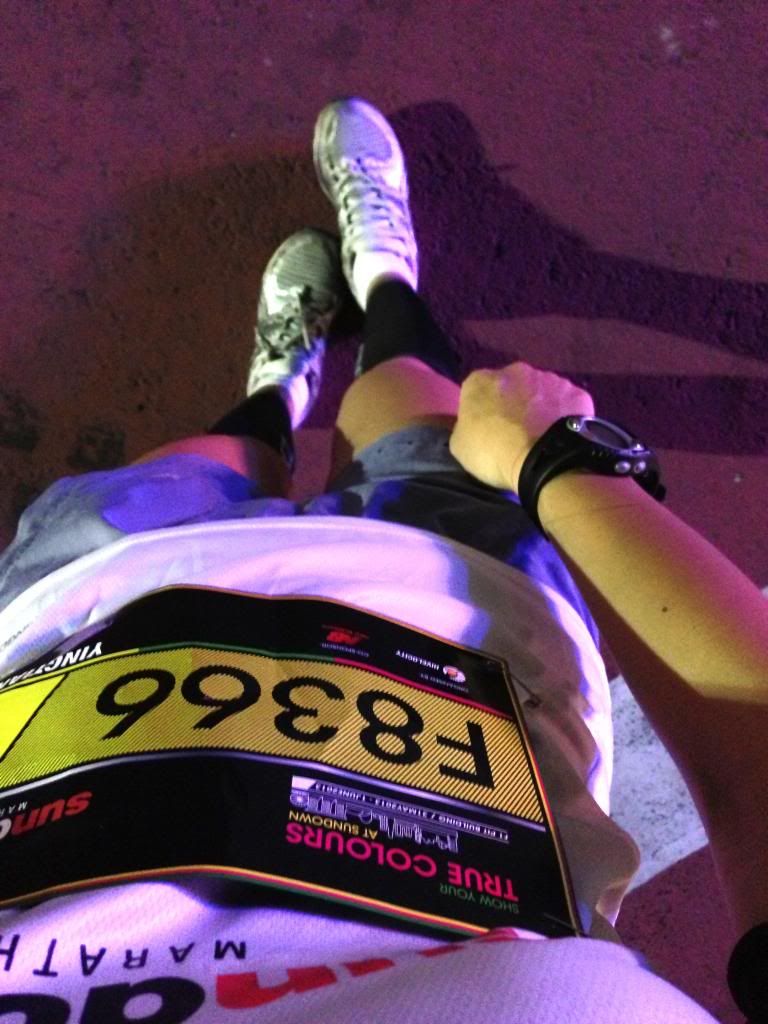 We started the race with a minute of silent prayer for the Boston Victims. I was feeling quite emotional by then, at the thought of what these elite runners had went through with some of them having their precious legs blown up at the ending point. Too too cruel and imagine the trauma that the others runners felt even if they are not injured? Will they even feel scared to go for another race again? Running should always bond people and never tear people apart. I felt really thankful to be healthy and have a good set of legs. My legs may not be long or fast, but they have tided me through all my races and the ability to run is already a gift. I was determined to run with pride, finish strong and to show my true colours, as per their slogan this year.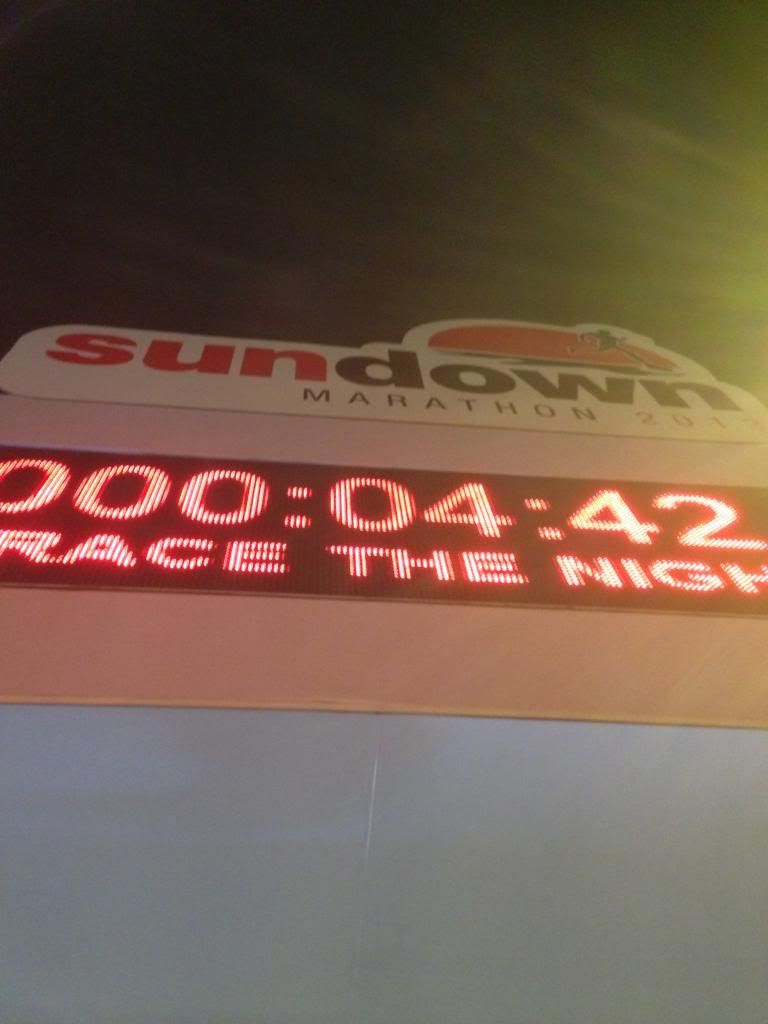 Flagged off at 11.30pm and off we go!
The weather was really good and extremely cooling after the slight drizzling in the afternoon. Super thankful for that after remembering how I ran in the thunderstorm for hours during the last Sundown Marathon 2012. How time flies.
I was experiencing slight cramps initially which thankfully went away in the first 5km. I hummed to my usual music, stepped into the darkness, followed the 5 hours pacers and allowed my legs to take me through the night. I was enjoying myself and my legs didn't felt heavy so I could sprint faster than my usual long distance pace. The enthuastic volunteers were super awesome, screaming and cheering us on with their banners and loud voices. I was reminded of the encouragement I got from my friends & fiancé and pressed on. The thought of Sher coming all the way down and waiting for me at the ending point made me very happy as well!
After 2 hours 15 minutes, I was at the 21km mark and encouraged that I was half-way done! I was really happy and made up my mind not to slow down or walk, never mind if I get my PB or not. I was slightly ahead of the sub 5 pacers and for the first time, I didn't get any ache or cramps that I usually get during the 20km-30km. Every full marathon taught me something and I was encouraged by the improvement made over the years, big or small. 3 years ago, I was alternating between walking and jogging from 15km and TC led me to the ending point for my first full marathon. Somehow, the next run would always be better than the last and every small milestone & improvement deserves a pat on your back. Never say never. This time round, I worked on improving my core and leg muscles, beside the usual interval and long distance runs. That really helps in the long distance race and my legs & core felt stronger than the last run.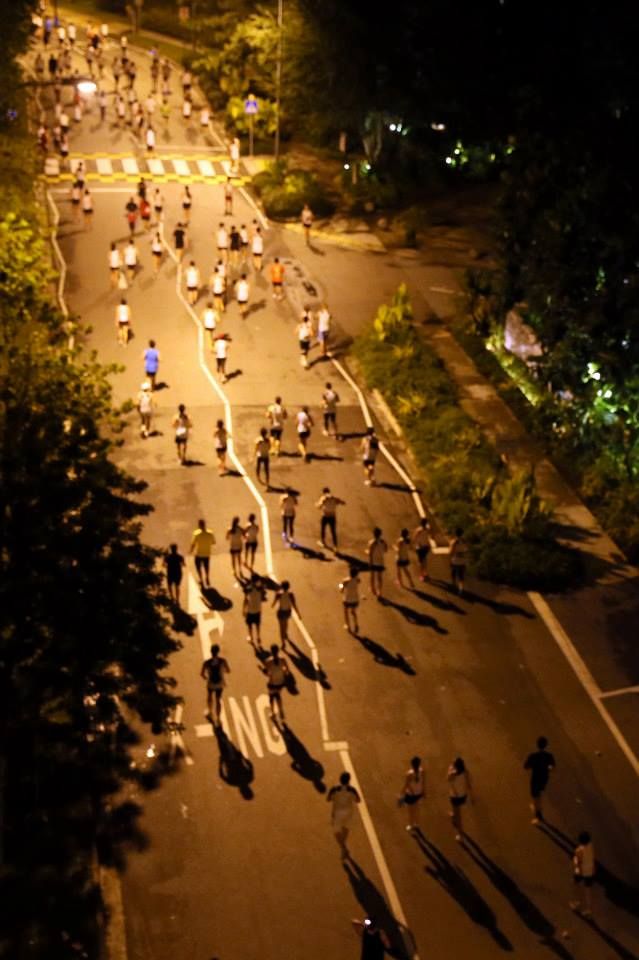 The 12km ECP route was as usual the most daunting part, being extremely flat and having to run from one end to another with a U-turn. I spotted several familiar faces at ECP from the running community who were extremely encouraging. Supporters went all out as well with their loud voices, where did they get their energy from at 3am? The marathon would NOT be the same without these volunteers.
At 35km mark, I was beyond tiredness with the lack of sleep and brain-washed myself that I was just a short 7km away. What is about 7km I thought, but it means another 45 minutes at least. I was visualizing the image of crossing the finishing line, collecting my medal & finisher tee and heading back to my bed. Singapore Flyer was just ahead but the route seems never ending after the numerous turns. Every km seems 10 times harder than the usual km and it didn't help that my stomach snitch came at that crucial time. It was out of my control and I decided not to follow the pacers anymore and listened to my own body.
These pacers were really amazing by the way and you could feel their dedication for running. Not for their own timing, but to help fellow runners reach that target timing. That is another level up as you are guiding people and not doing it for your own. It's not easy to run at a constant pace during the whole route and they did it up and down the slope. Amazing or what? They had to give encouragement to runners and kept telling us "All the way guys let's not give up we could all reach this!" Extremely selfless and having the whole group running together made me feel less lonely that night. Perhaps one day if I have gained enough experience I would really want to go for the pacer trials and make a difference. Maybe 5 years later. Another goal in future!
I was feeling really disheartened at the thought of giving up the timing that I have looked forward to after working so hard for the past hours. Decided to take a short break, do some stretches and regulate my breathing before walking-jogging back.
That helps a little to alleviate the pain and I pushed myself all the way to the ending point after telling myself "Pain is good and only temporarily". It was really a test of mind over body especially when the finishing point was not in sight even at 40km.
Tasted the sweet glory when I passed the finishing line and teared a little at the end after feeling a tad emotional to have come so far on my own.
Nothing worthwhile comes easy and yes, I have completed and conquered Sundown Marathon 2013!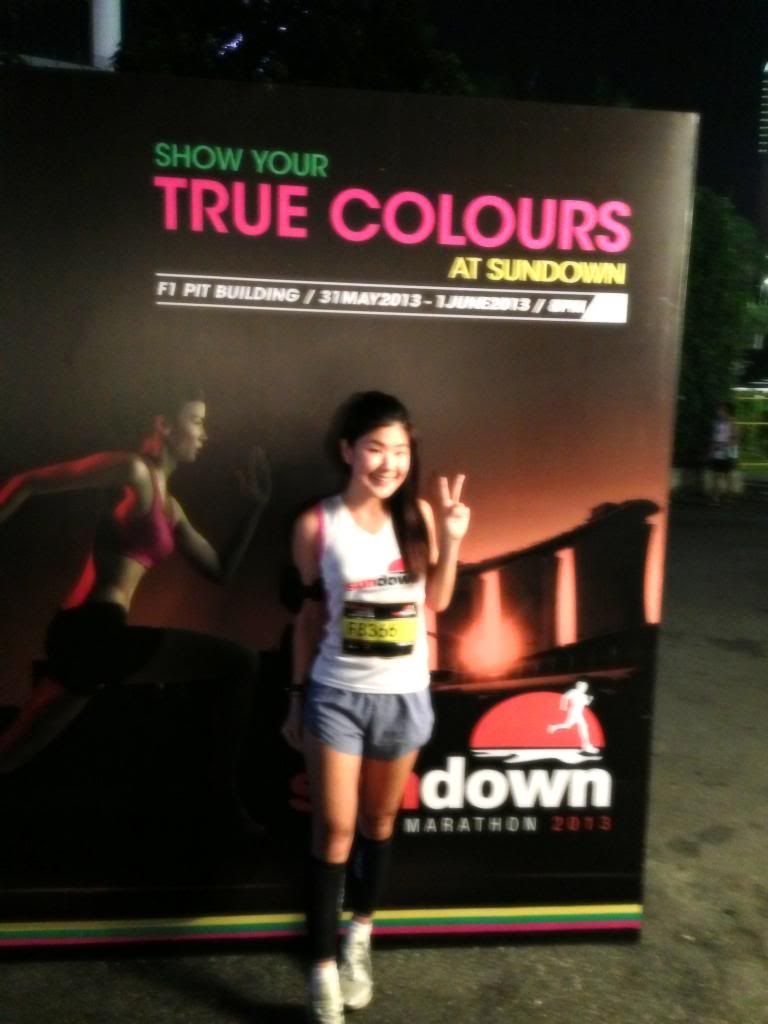 Overcame the ache, tiredness, resisted the urge to walk and have shown my true colours!
Thankful that I still managed to get my PB timing at 5:19 and shaved 6 minutes off the last PB at Sundown 2012.
Still, I was really disappointed about not achieving a sub 5 this time round. There will be more races I guess and time to work harder!
Good job to all the fellow runners who did it and congratulations!
Gonna love the colourful finisher tee & medal this year ;)
Went home to breakfast on the table prepared by TC which was really comforting! :*) Got myself blisters and fallen toe-nails as usual since I didn't tape myself this time. Hopefully my legs could recover before this weekend's Tri-Factor Bike Challenge. My first bike race and I'm super excited to tick it off my 2013 resolution list!
This won't be the last Sundown this year because there is still September's Ultra-Marathon to say hello to.
I have absolutely no clue what I'm in for since it will be 2.5 times the distance of this and ten times the pain. Still, I'm gonna take a leap of faith and train as hard as I can, even if I cannot complete it.
Till the next run, can't wait for July's Shape with the girls & Race Against Cancer already! :)