I've
blogged
at the start of the year about wanting to complete a triathlon which has been on my to-do-list for quite sometime. I randomly slumbered onto Tri-Factor's website just a month before the race and decided to take my first baby step by joining the Bike Race first. Somehow targets would always become targets if you don't take your first step. Joining was the first step, the next would be training, the third would be attending and the last would be completing.
I'm super glad I t
ook this impulsive move even though TC was extremely worried about me falling down and hurting myself. I have always been the "click-first-think-later" impulsive sort and I thought to myself "not now then when?".
I have been doing indoor cycling/spinning in the gym close to 2 years but biking outdoors is just a totally different ball game.
After which, my dearest bike trainer brought me out on the roads for just 3 times to train me and to boost my confidence. The first time on the roads was a pretty scary and stressful experience for a noob like me. I had to look out for vehicles and stay clear of passengers while concentrating on my gears. There were lots of concentration and multi-tasking involved and it was so so different from running. There were several times I almost clashed with other cyclists since I've the habit of focusing by looking at the road instead. I was chided by him and his repetitive advice was "Don't look at the roads. Look in front, behind and beside. You do not endanger yourself and other people around you. Focus Focus!". It was different from the usual leisure cycling at East Coast Park and I could not relax at all. My bum and legs hurt and I felt so tired after the 50km ride. Running was so much easier and less hectic, I kept repeating to myself. After the first, I was super worried but decided to hang on and not to give up. The next session would always be better.
The second attempt was done together with my cycling khakis, WJ & Kat who stayed at the same area as us! The session was smoother and I was more in control of my gears and slightly more confident. Still, I'm rather accident-prone especially at narrow lanes but my personal trainer said I was improving. I'm still rather bad at sharp turns and had to brake. The fun company made up for it as well and it didn't felt as tiring as the last.

We cycled from home to Changi which took 20 minutes and I was feeling nervous about my virgin bike race already. I was glad that my legs have recovered from the previous week's marathon.
Greeted by the sunrise at 7am and I immediately felt much calmer.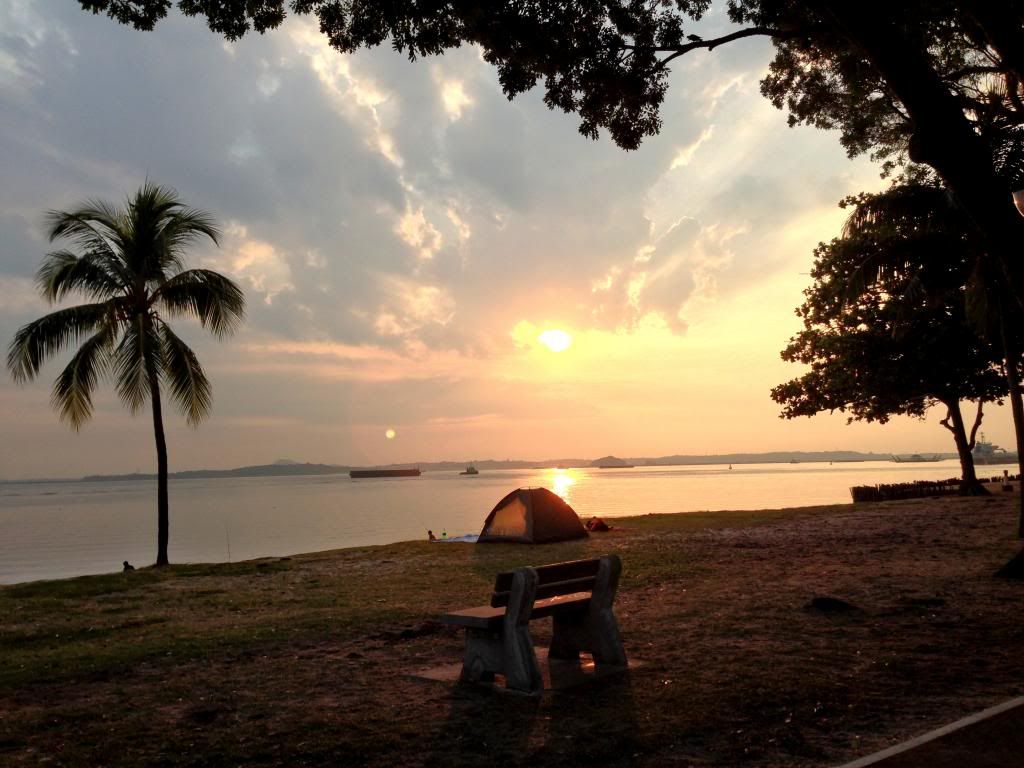 Reached Changi Coastal and there were alot of experienced cyclists with their professional bikes!
Before the race and a pic with my favourite cycling khakis!
TC wanted to get a pink helmet for me but it went OOS so I'm using his!
With my personal trainer cum supporter. All he said was to tell me NOT TO GET HURT and never mind if I go super slow and ended up last hahaha.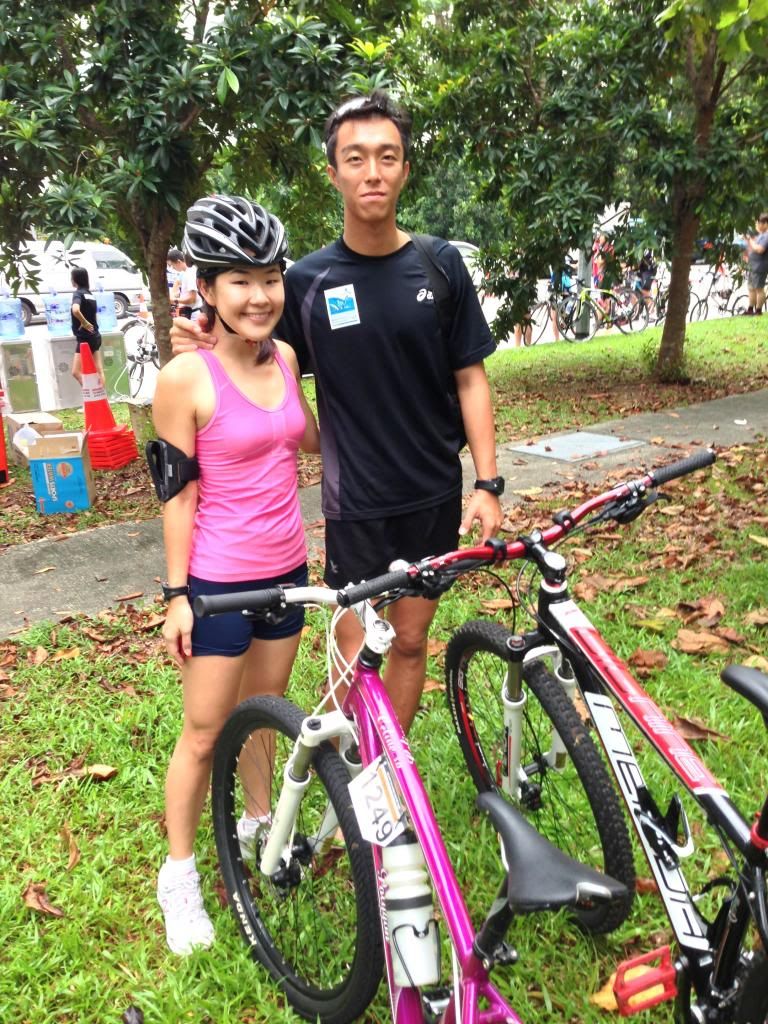 At the pavilion taking sheltering as the dark clouds were approaching.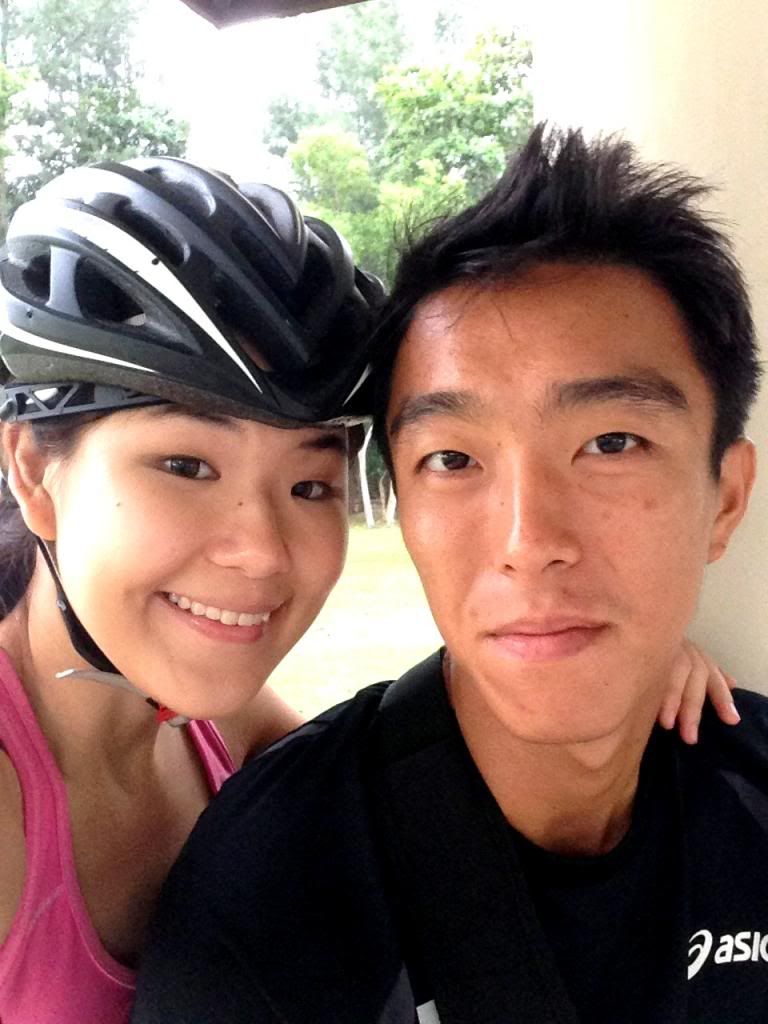 The 40km female open category was the fourth wave at and we made our way to the starting point with the other female riders.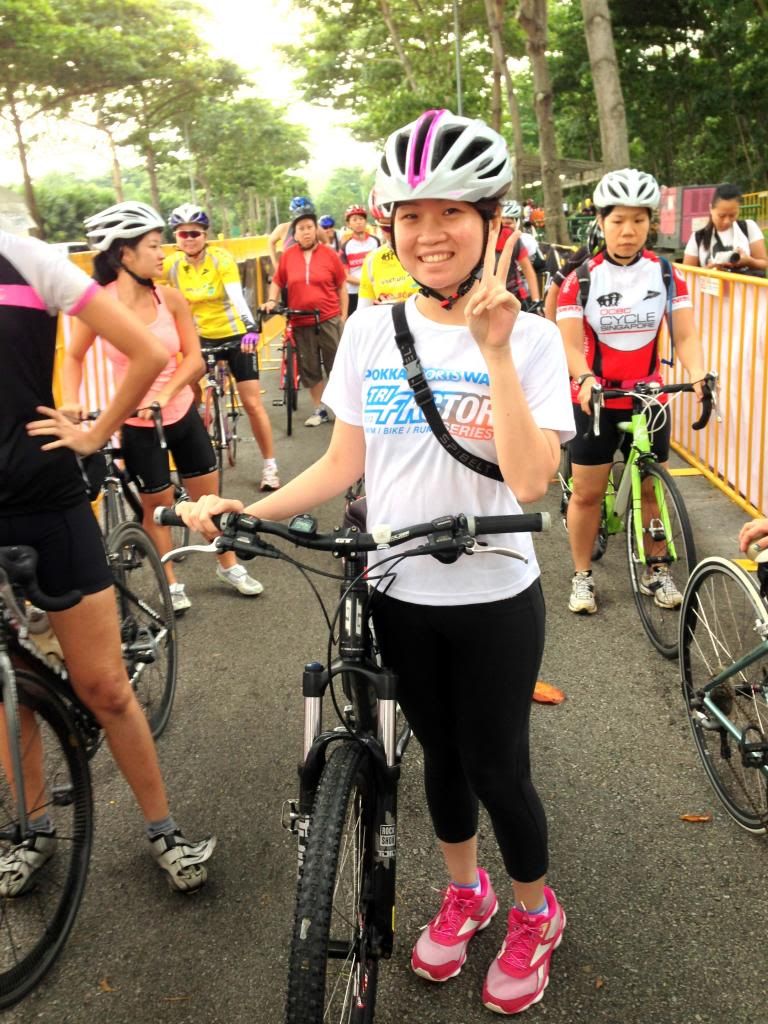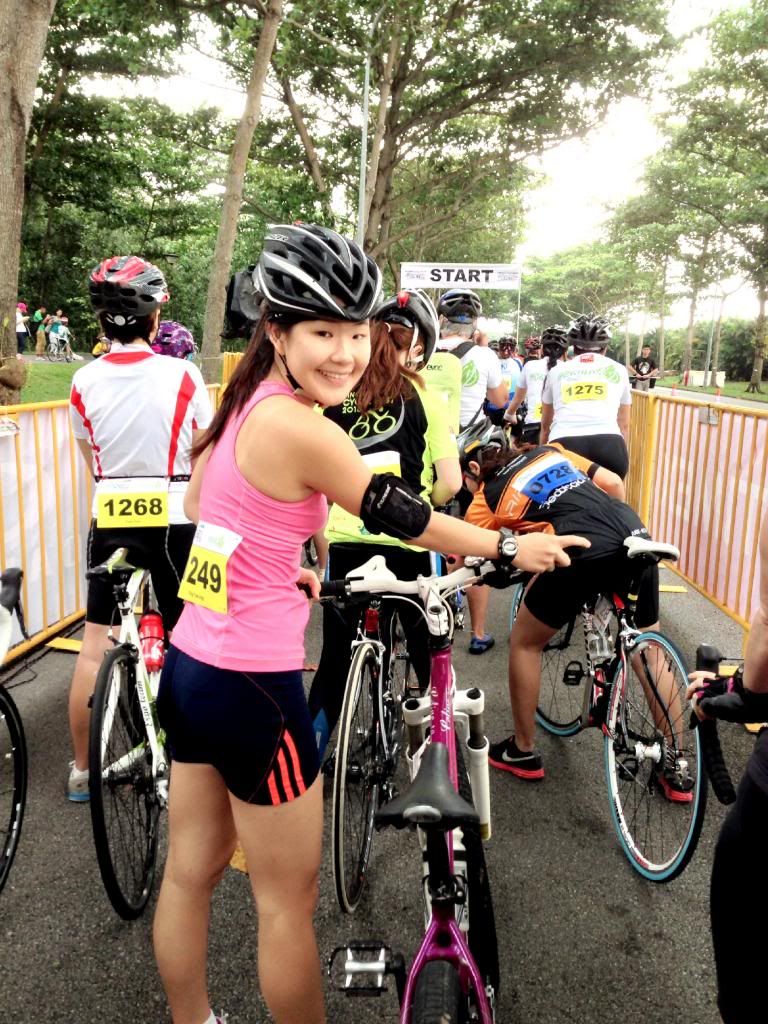 For 40km, we had to make 4x10km loops of Coastal Road. There were a water point at the end of the loop but almost all the cyclists brought their own waterbottles.
There was a very strong head wind when heading out which made pedalling even tougher. The rain did not make it any better but thank god it was just a passing shower for just an hour. I was trying to prevent not to get the water from entering my eyes but it was rather difficult. The water droplets splashed from the back tyres and my legs were all wet. Still, it was rather fun cycling in the rain and going over puddles of water.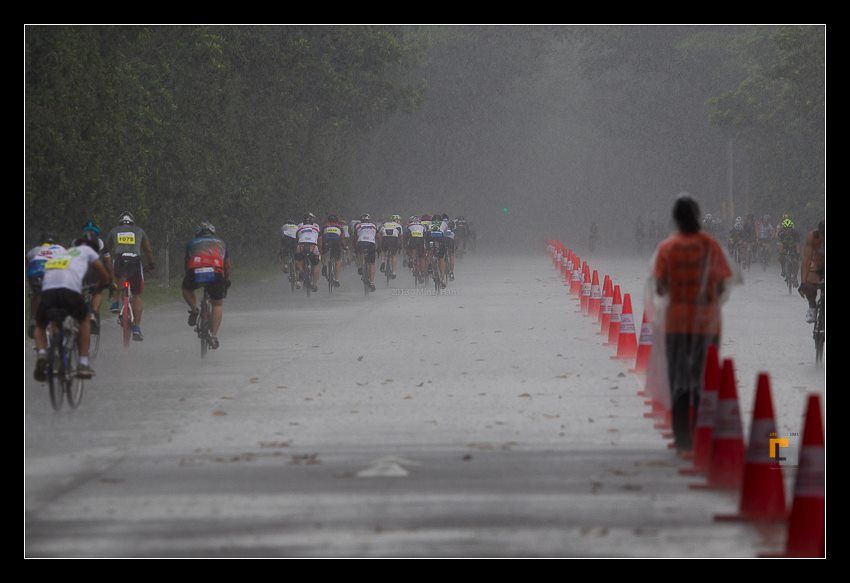 credits to Lifestyle1991
There were handicapped riders as well who were really fast and inspiring. They were led by helpers who made sure that we kept to the left lane for their safety. What excuse do we have really?
I took 26-30 minutes for every 10km and watched out for merging lanes/turning point signages. Really slow as the professional riders took about 20 minutes for 10km. All I did was just concentrating on the slippery roads and visualising myself riding past the finishing point.
Turning point for the last lap!
I was feeling rather exhausted and was so tempted to just head back after 30km. But I decided to whack the last lap and complete the race. WJ was super sweet to be my pacer for the last 2.5km even though he has already finished his race!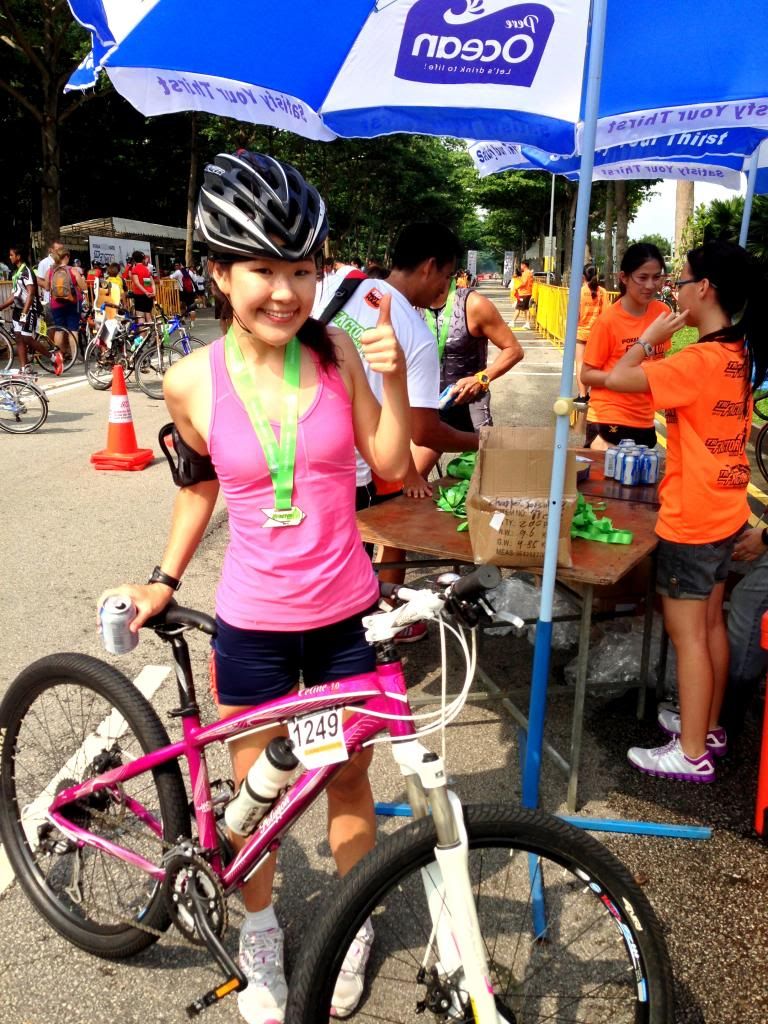 The compulsory medal shot of course.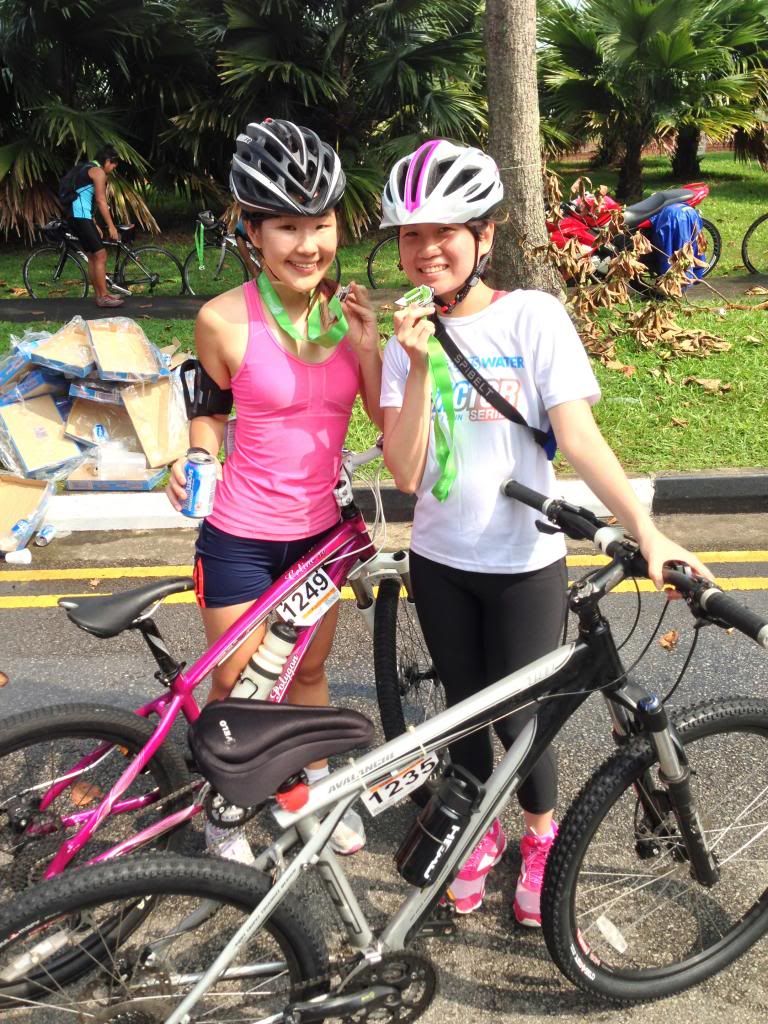 The Tri-Factor Series Bike leg race was really well-organised with visible distance markers and clear instructions on where to turn down or slow down. The faster riders were experienced and maintained their line when drafting, even though there were still a couple of accidents or clashing points.
It was a superb experience for me and I'm glad my stubborn mind took me to the ending point. I took 1 hour 59 mins for the race which wasn't fantastic. Still, the first virgin race would always be the PB timing hahaha! It was almost the same distance as the marathon but I felt ten times more tiring on the wheels than on my legs. Noob indeed!
First bike medal and wonderful experience which have taught me so much ;)
And of course, we whacked all the meat at the Korea BBQ that night! ;)
Trying something new is not easy especially when you have to take the first step out of your comfort zone.
You can fall, can fail and can get hurt but what matter most is that you have attempted and done your best!
That itself is an amazing feeling that cannot be brought! No pain no gain and good things never come easy!
Exciting weekend ahead with an outdoor yoga session and an impromptu adventure next week! Whoop. Have a good weekend guys :)