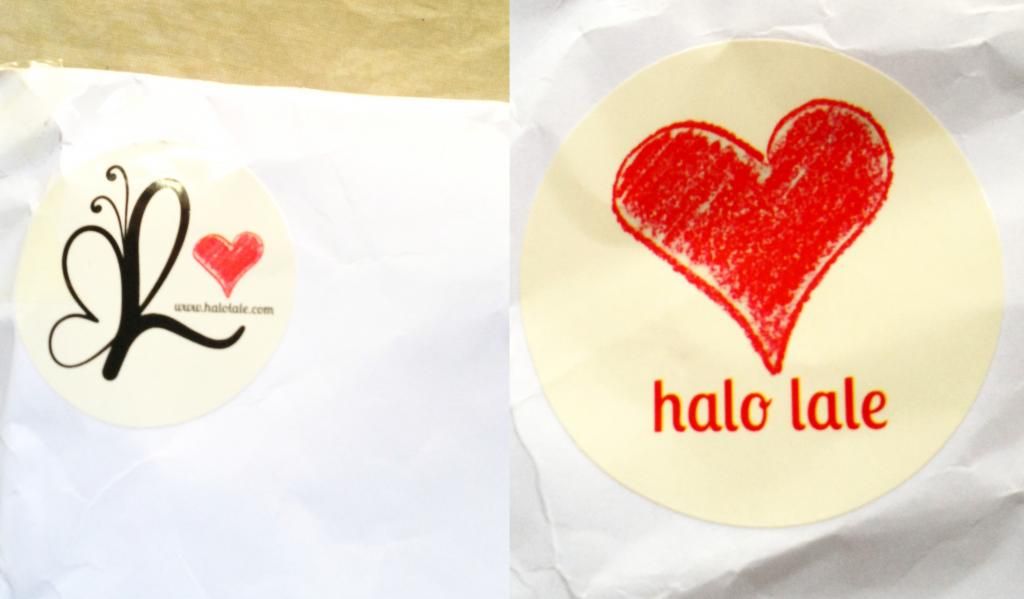 I got some love mail from
Halo Lale
the other day which came with cute heart-shaped stickers on the parcel! We all like receiving parcels and such details can make customers feel extra happy!
I picked these two tops as I was looking out for basic yet chic tops to match my office skirts on weekdays and denims on weekends. What I like about Halo Lale beside their friendly replies was that they offer sizes from XS-L to fit all customers. Very attentive as we all know that there is no apparel which is "one size fits all" as no two women had the same body measurements. Both tops were of good quality and looked even better than pictures so I wore them to work this week! ;)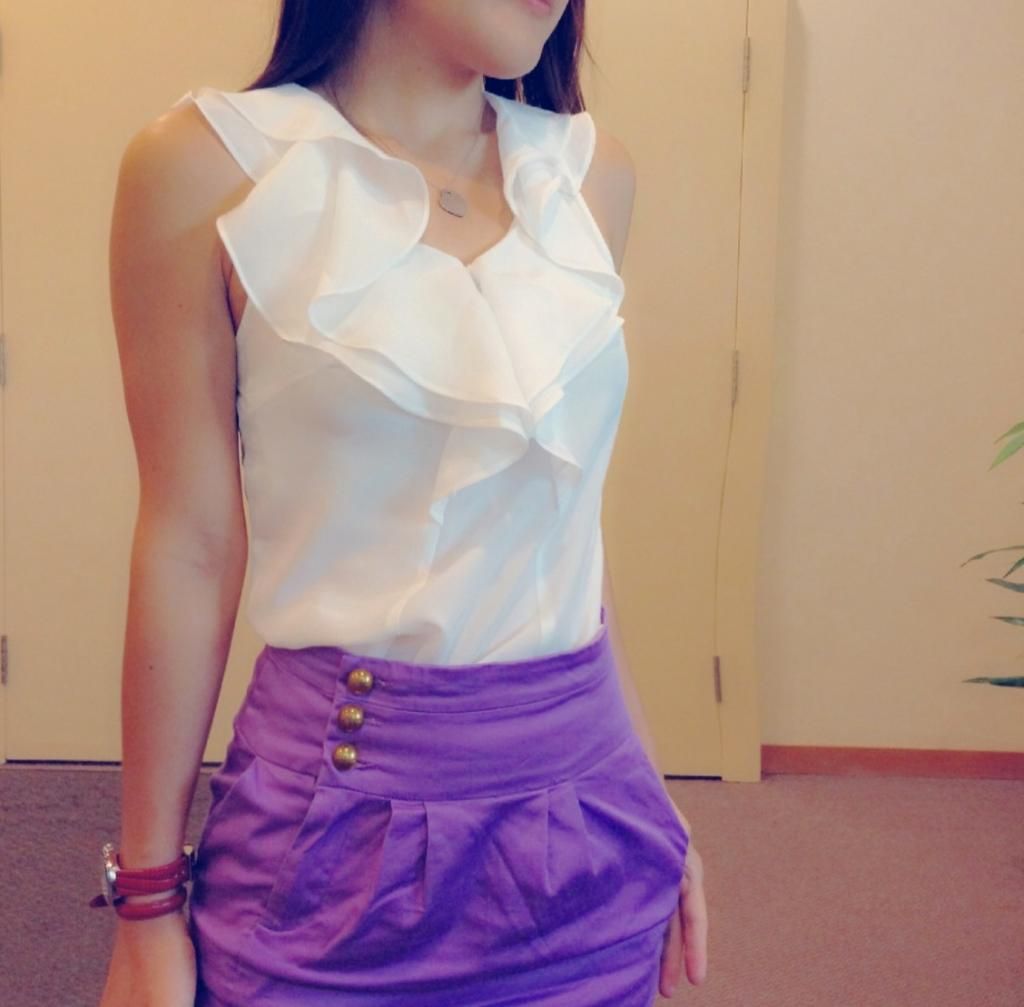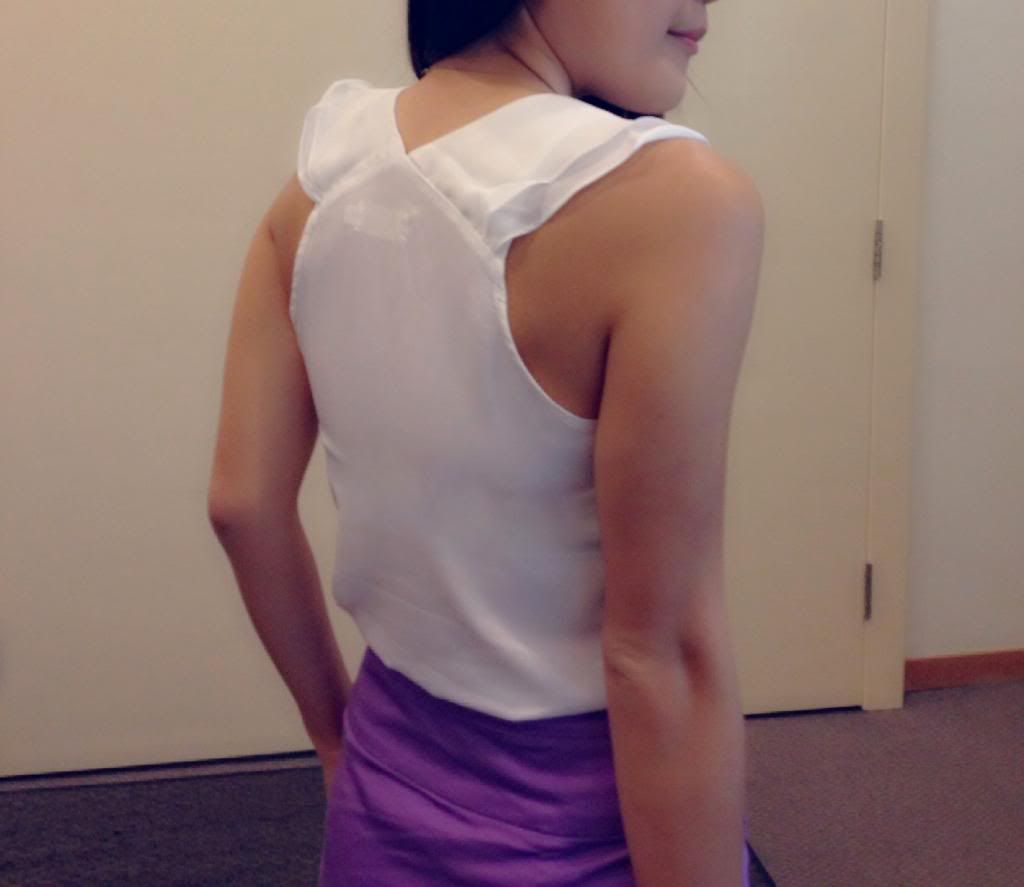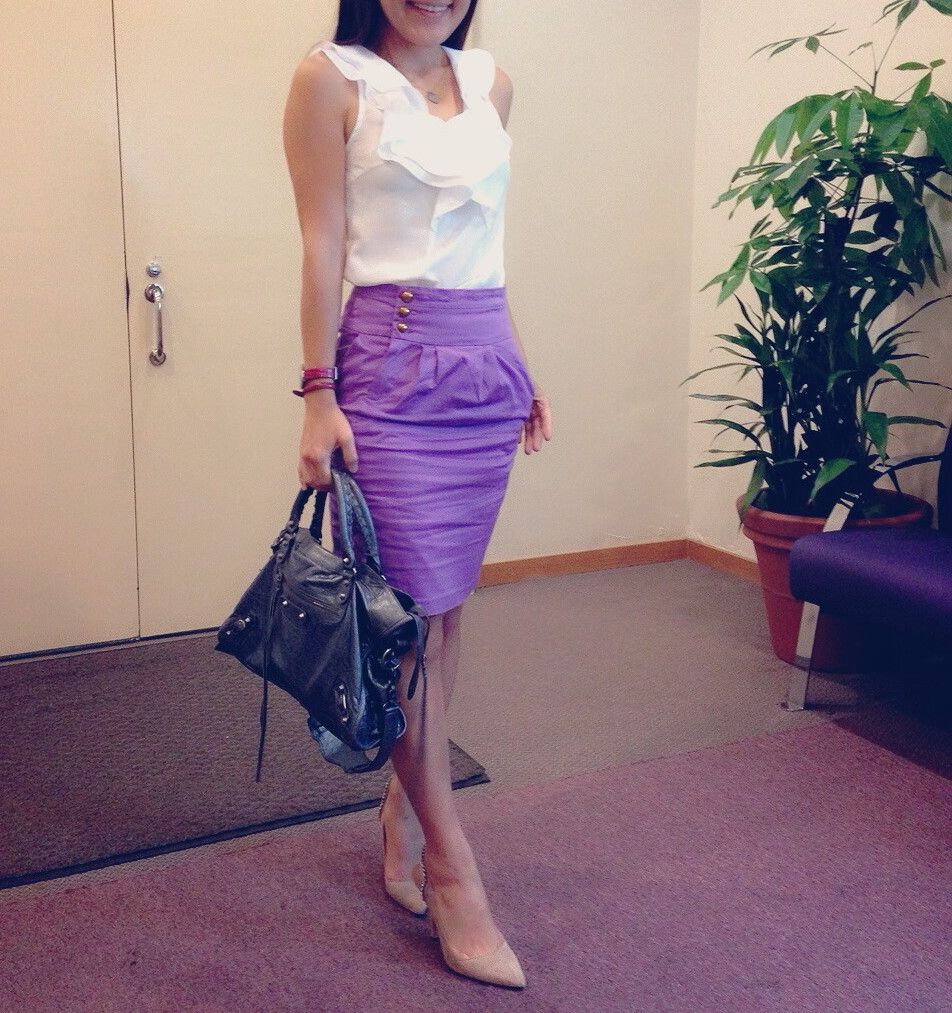 Halo lale top // Bysi skirt// Zara Heels// Kenneth Cole Watch
I am a fan of anything ruffled and white, so this top was an obvious choice for me. Stripes and ruffles are trending this summer season and it's not that different to pull them off really. These cascading ruffles details are feminine without being too bold and act as your own accessories at the neckline, so there's no need to trot out your jewels. Show these soft ruffles by pulling your hair back in a sleek style so it doesn't interfere!
I matched the slight v-neck top with a Bysi purple pencil skirt and Zara slingback nude heels for work. What I like about it is the slight cut-in
shoulder at the back which made it even more feminine.
The material is so soft and comfty and feels like silk on my skin. I took XS for this piece and it fits me nicely! The white piece is slightly sheer so wear nude garments if you are picking this colour like me.
It's the kind of basic you need to have that you will keep wearing due to its versatility of dressing up or down. I can picture myself wearing this on weekend as well with a high-waist floral shorts and wedges!
Comes in 6 colours (White, Blue, Pink Coral, Fuschia, Light Pink, Red) so it's a basic everyone needs to have!
Extremely price-friendly at $24 so get yours today.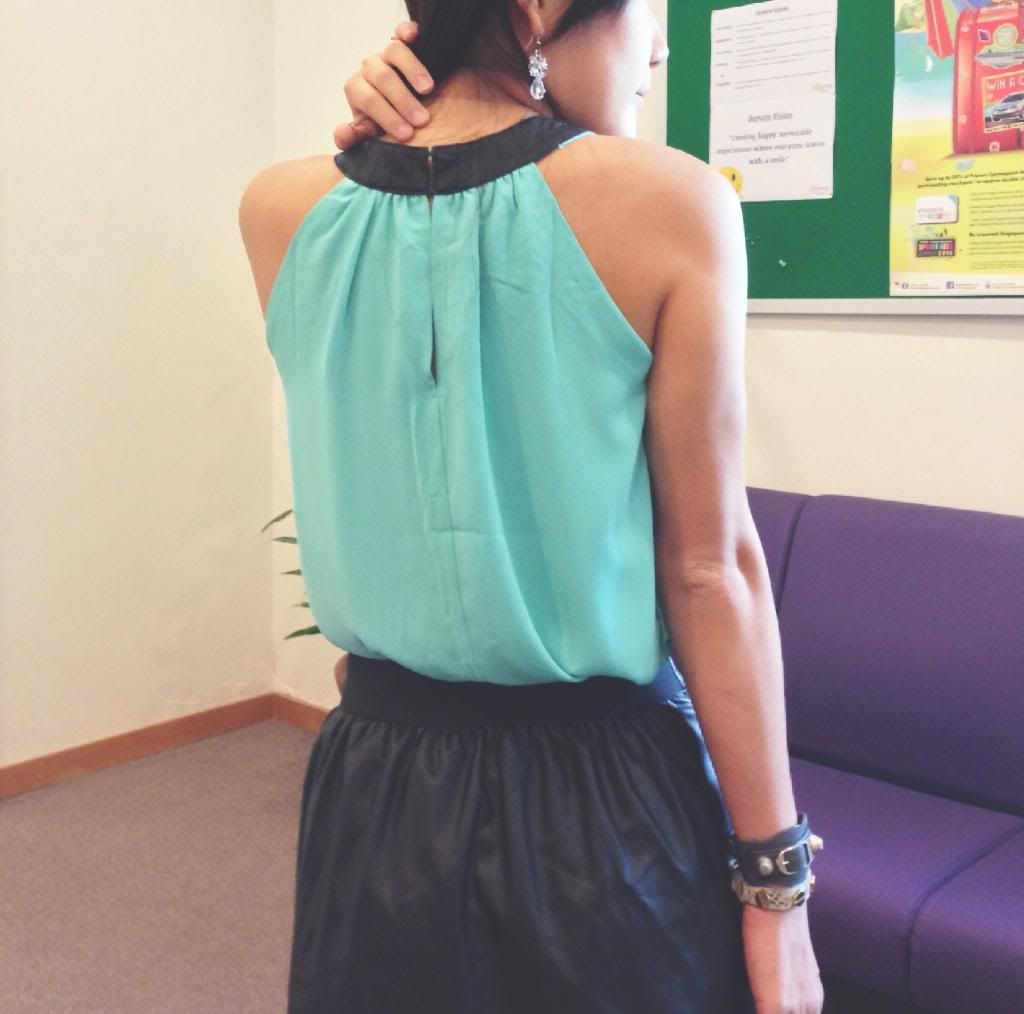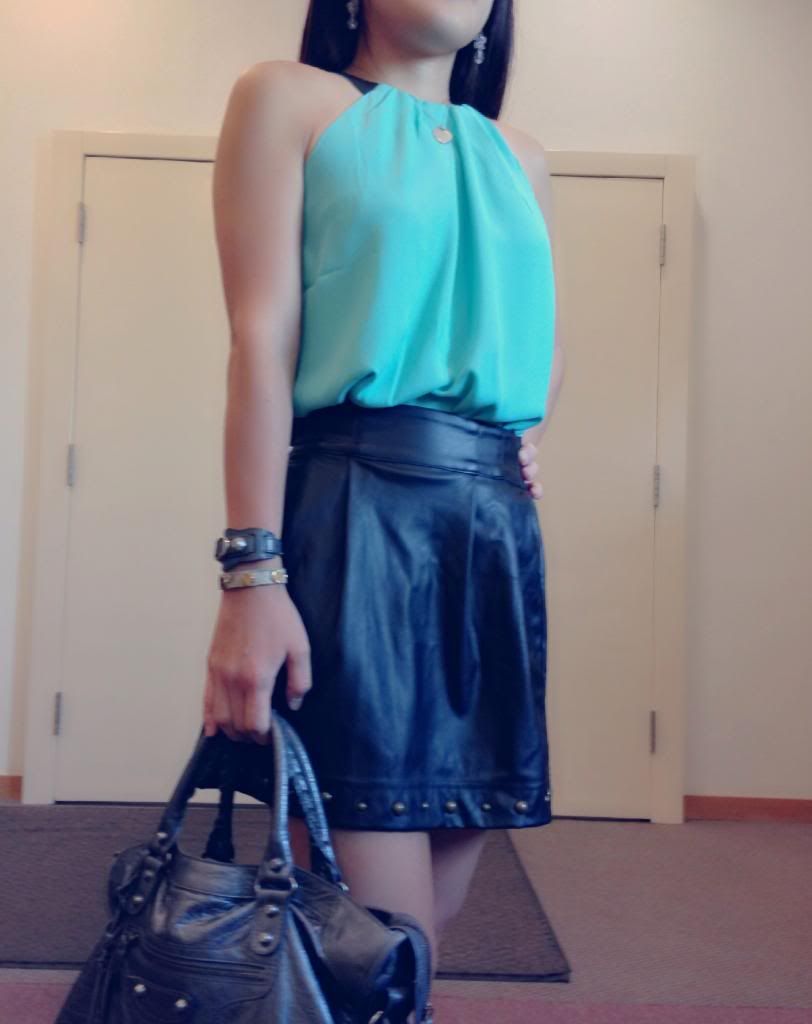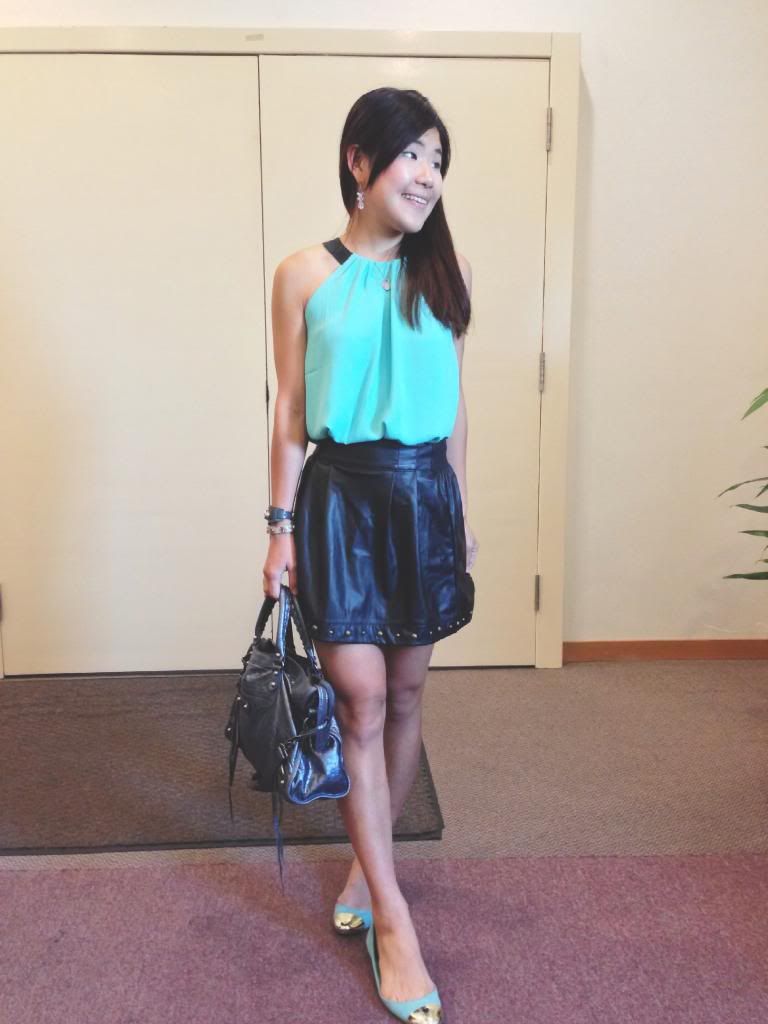 Halo Lale top (sponsored) // Zara skirt & flats// Balenciaga bracelet & bag // CC Skye Bracelet//
I couldn't resist picking this self-manufactured top as it's the combination of rough and chic. It features a simple chiffon number with a faux leather collar and a cut-in design that shows off your collar bones. Leather details always add a rocker chick vibe to your outfits and this was subtly done. I picked the aqua shade for its contrast against the black collar to add some colours to my wardrobe.
Match this top with your favourite denim shorts and layer on your favourite leather pieces like me. Initially, I wanted to match it with a black studded pants and studded heels. However, it was a casual errands day so I wore it casually with a
Zara leather skirt, leather armswags and the trusty Balenciaga leather bag.
Comes in
3 colours
: Apple Green, Aqua and Coral red
Halo Lale is also one with the friendliest price tags, on top of dedicated customer care.
Quote "eyeletskirt" for 10% off for all items.
Valid till 31st July! ;)