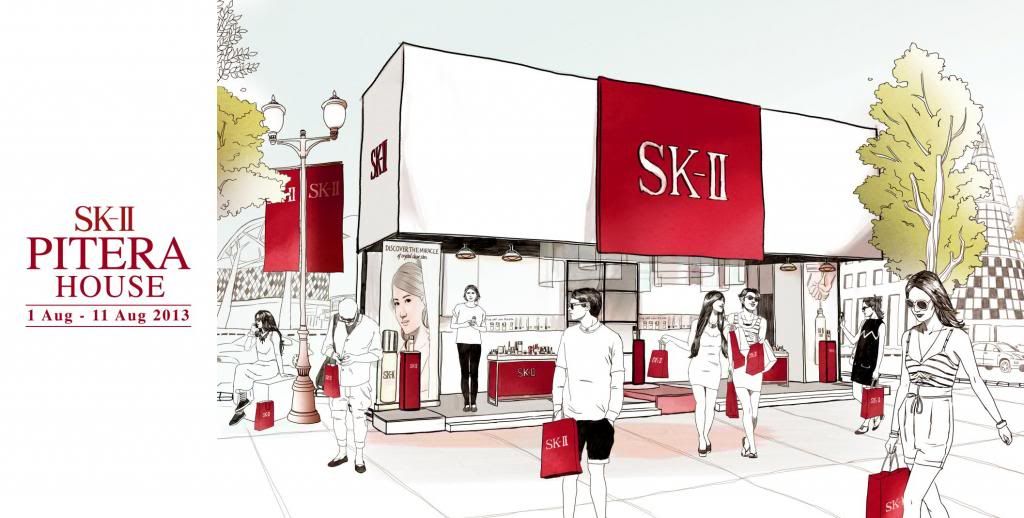 Have you visited the SK II Pitera™ House event

at

TANGS

yet? The last day would be this coming Sunday, 11 August so drop by if you haven't! I will be sharing the SKII Pitera House's special promotion at the end of this post too.
I attended the Pitera House media event at Tangs to view the SK-II's Pitera House which features their products and unique history. Also, I managed to catch a good view of Mediacorp darlings Qi Yuwu & Rebecca Lim who were gorgeously chic and flawless as usual.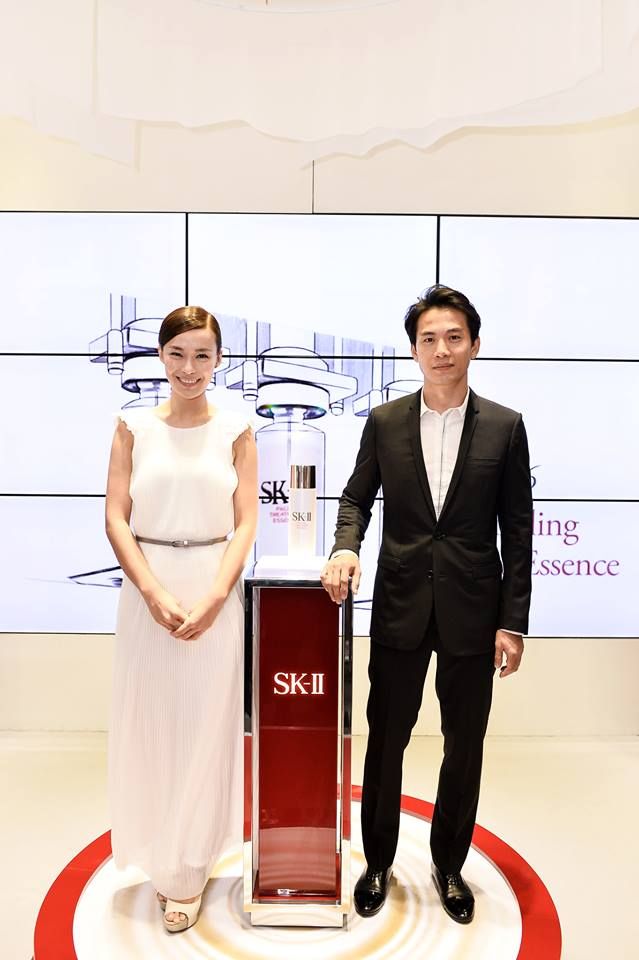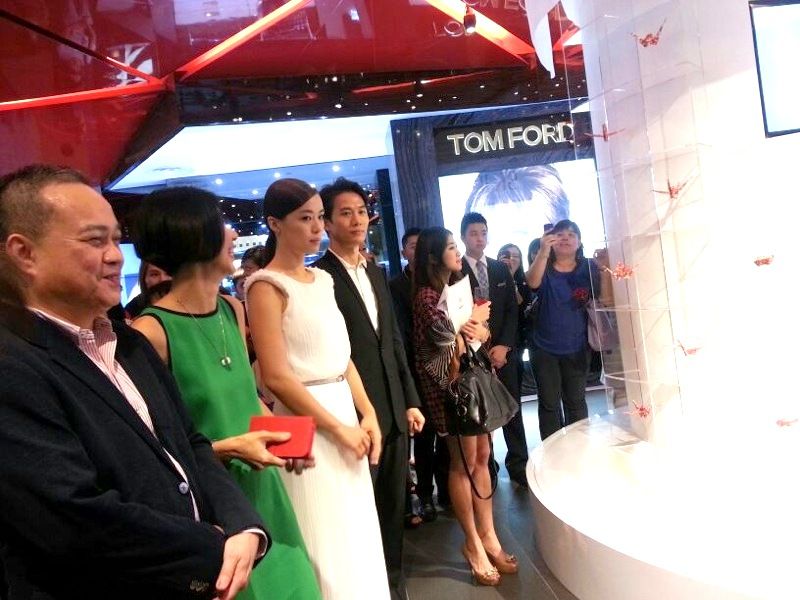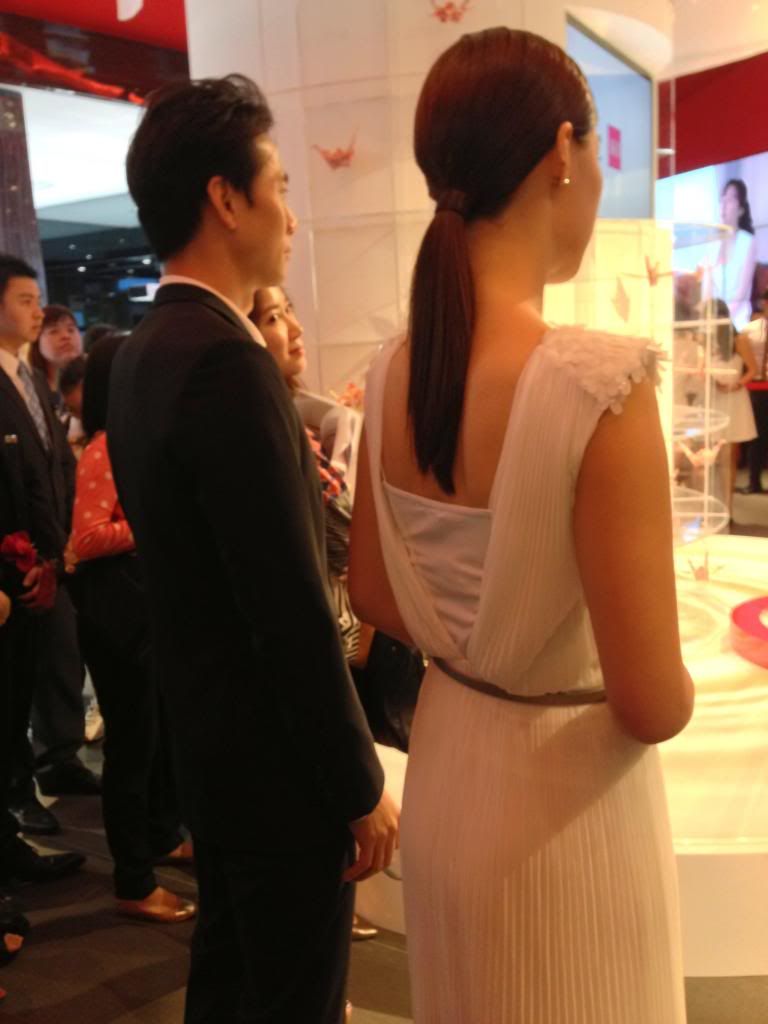 Both celebrities are loyal users of SK-II and shared about their experience with the skincare range. The key ingredient of SK-II's products was the miracle ingredient Pitera, a naturally-derived liquid from the yeast fermentation process. The story of SK-II started at the sake brewery in Japan where scientists noticed the eldery workers had wrinkled faces but with youthful-looking hands.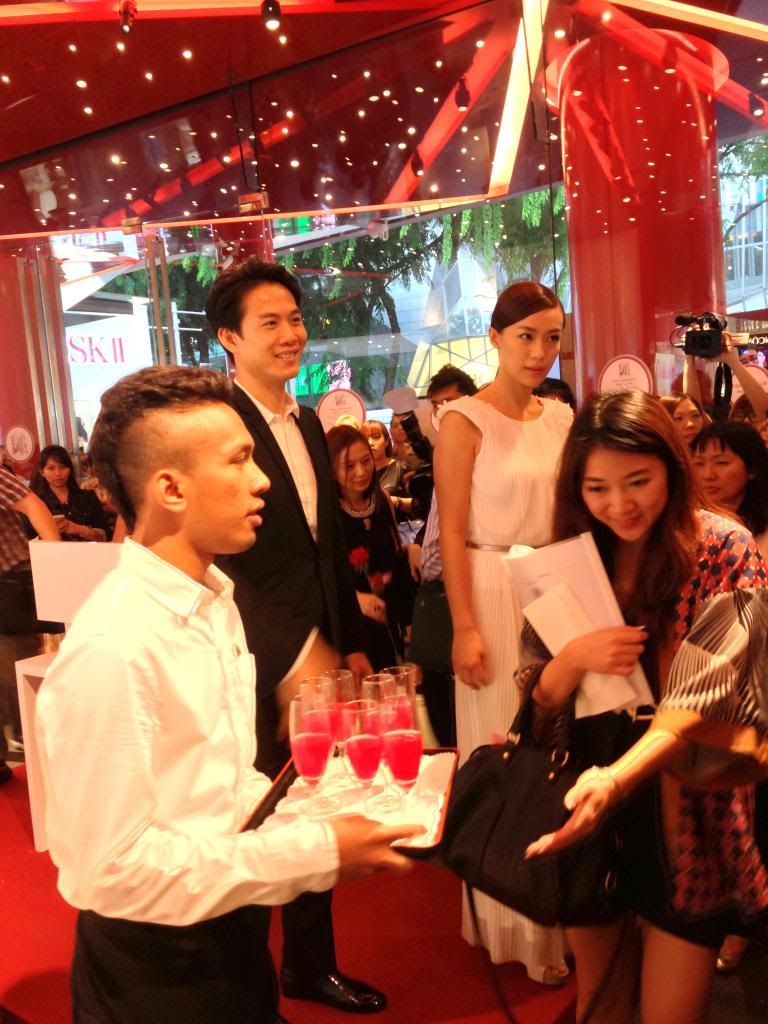 We were served sake as well. Toast up!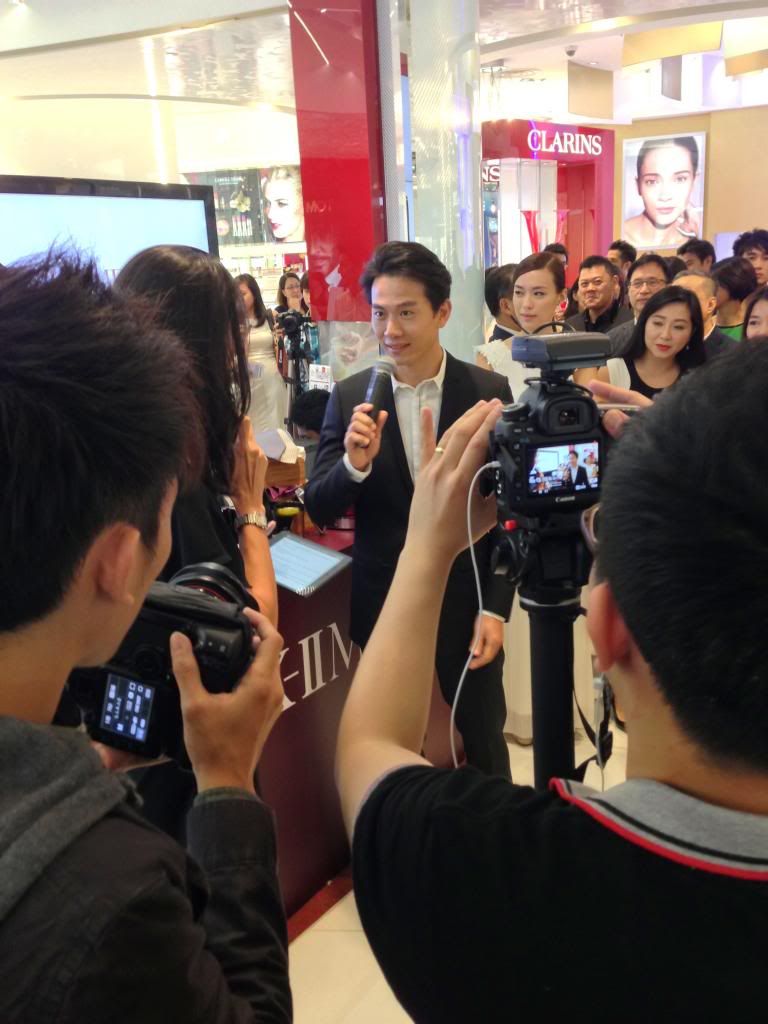 After which, Qi Yuwu took the SKII Magic Ring Test and his test results shows that his skin was fairing much better than his fellow peers. The SKII men range was launched last year and TC is a convert right now!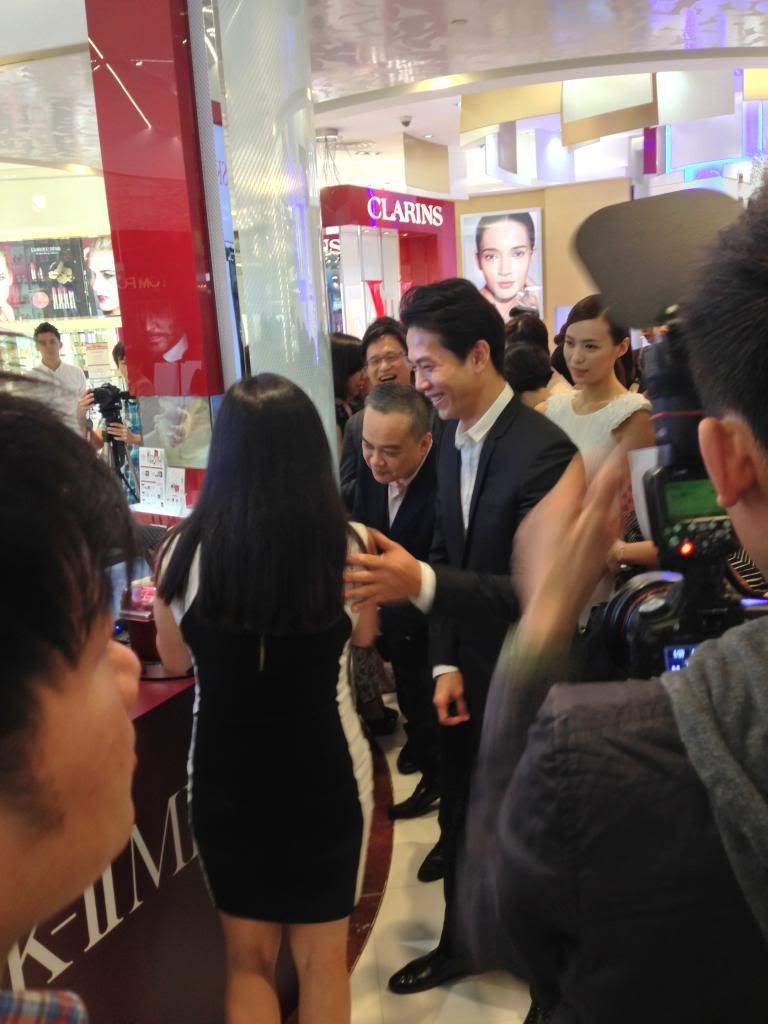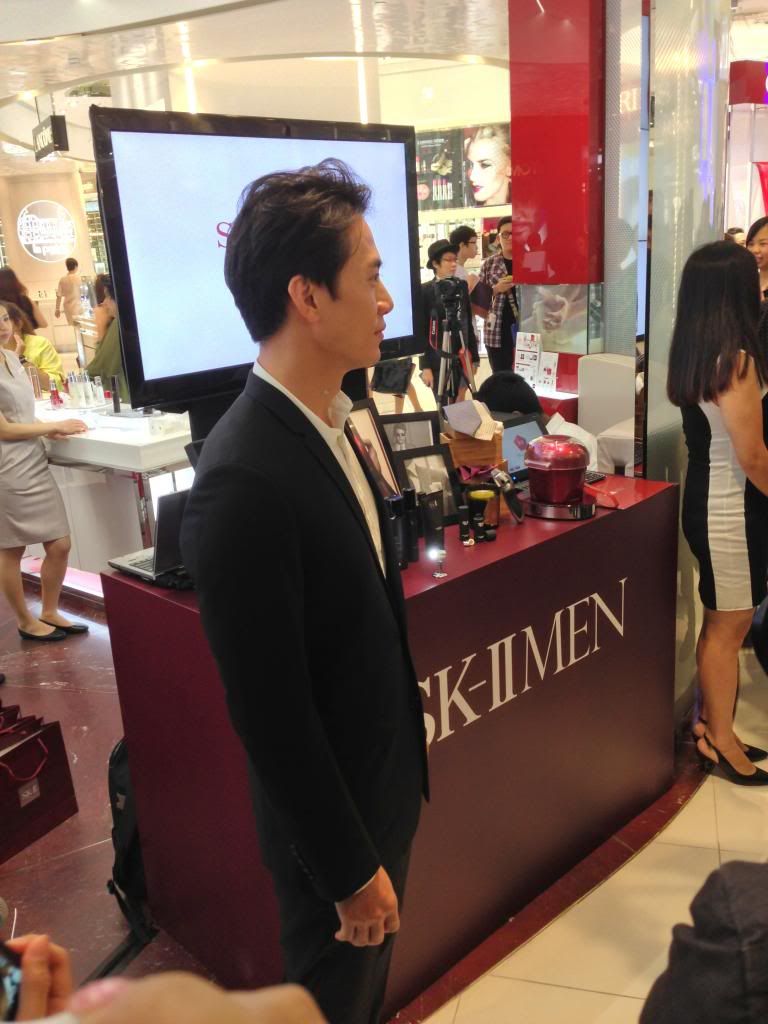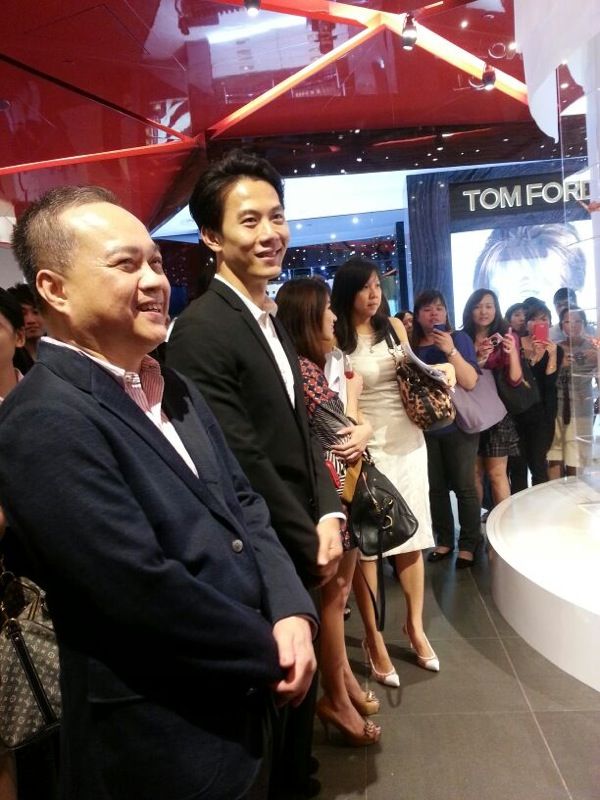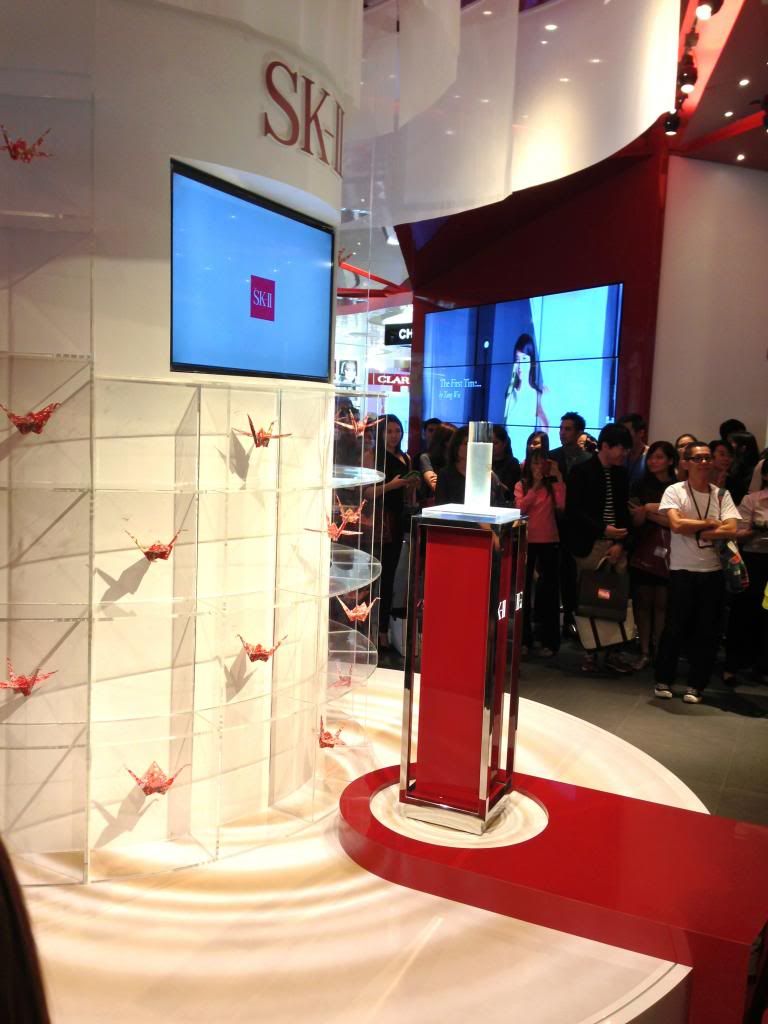 The full men range.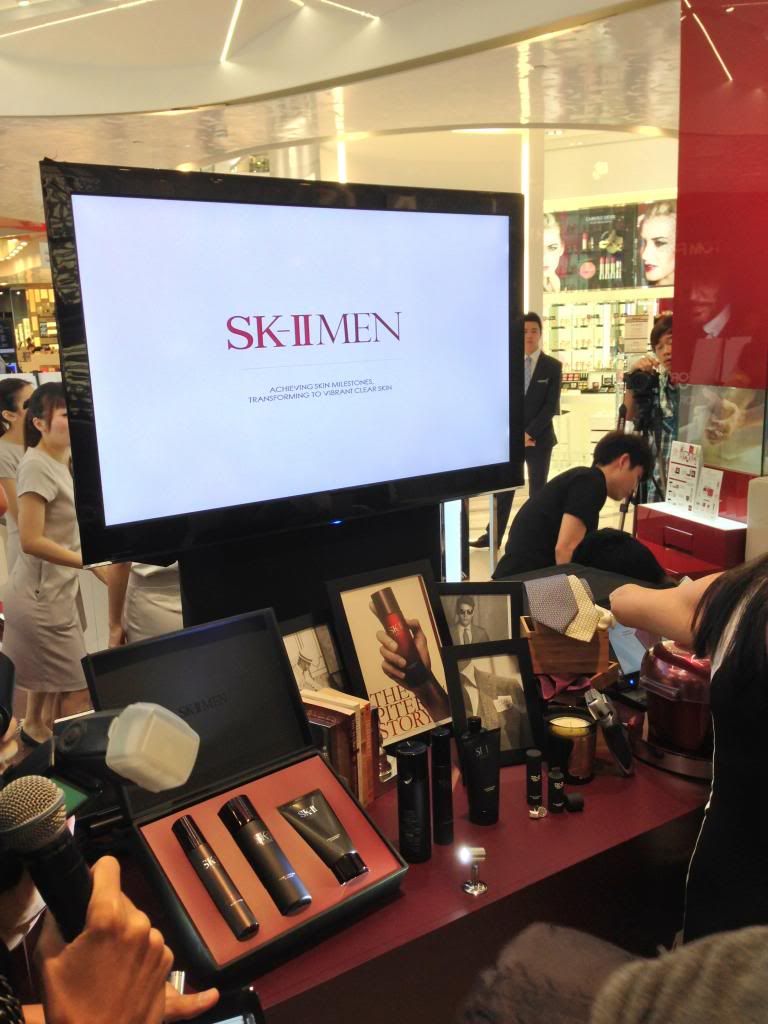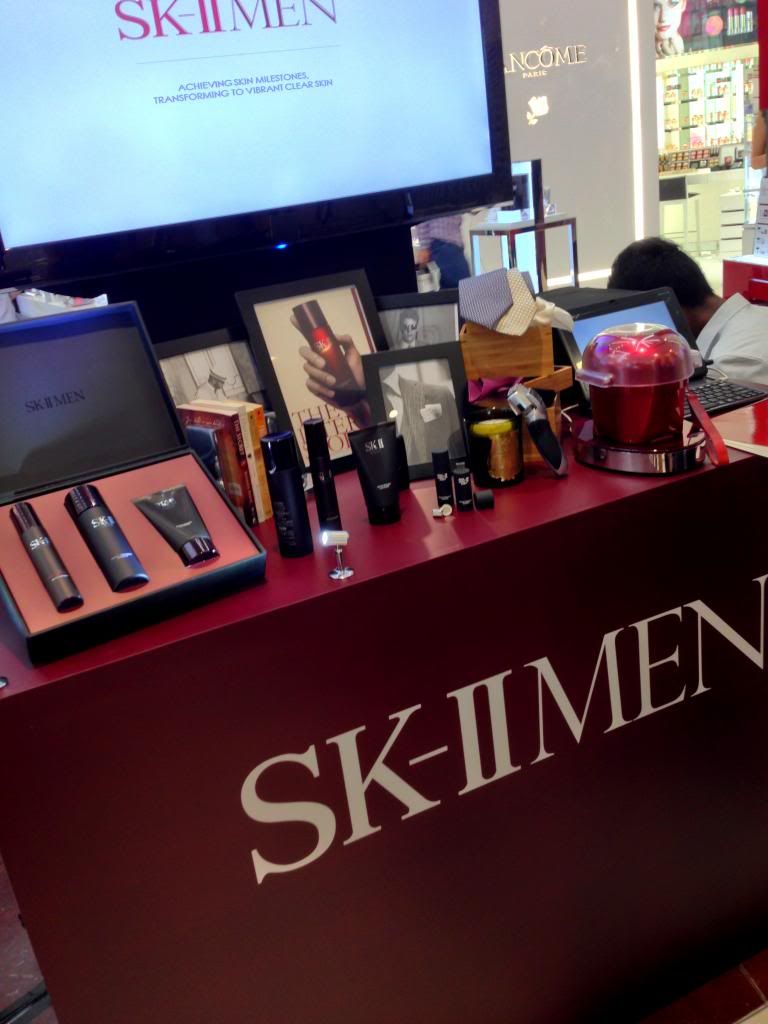 Here's the best sellers of SKII products and my favourite is still the Facial Treatment Essence and Cellumination Essence. I always believe that it's never too early to start on a proper skincare regime to give your skin the attention it deserves. Good skin is confidence and make-up will then help to accentuate your features without covering up your skin flaws. The products have worked for many of my friends but for some, they said that it was too rich and didn't work as well. So, it's really important to find a suitable skincare range that suit you as not all highly-raved products may be suitable for everyone's skin.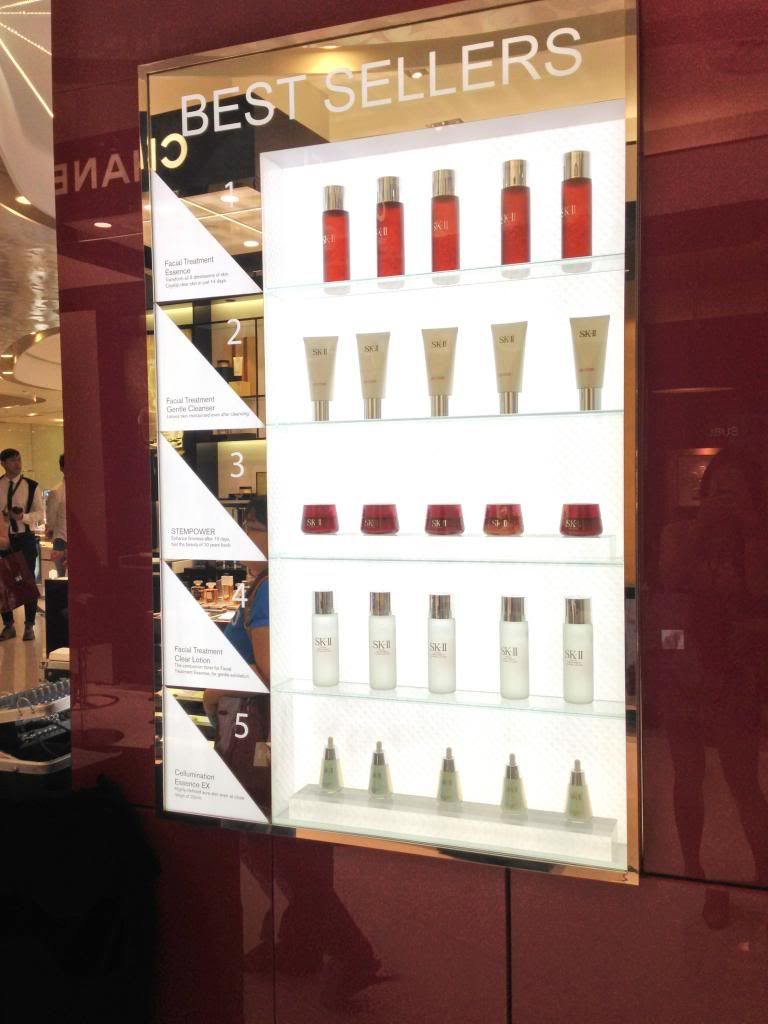 My skin is still far from perfect as it's too dry at the T-zone with blackheads even though I do not experience any breakouts. Here's my skincare regime that I'm diligently trying to follow beside the frequent masking:-
Morning- Biore Cleanser/ Laniege Toner/ SK-II FTE / Laniege Moisturiser/ Sunblock
Night - Maybelline Make-up remover / Biore Cleanser / Laniege Exfloliator (x2 weekly)/ Laniege Toner / b.liv off those blackheads (x3 weekly) / SK-II FTE / SK-II Cellumination Essence / Laniege Night Cream (or Sleeping Pack)
Sometimes I skip half of the steps at night when I get too lazy or come home too late. It doesn't pay to be lazy and I'm still trying to work towards that bride-glow skin.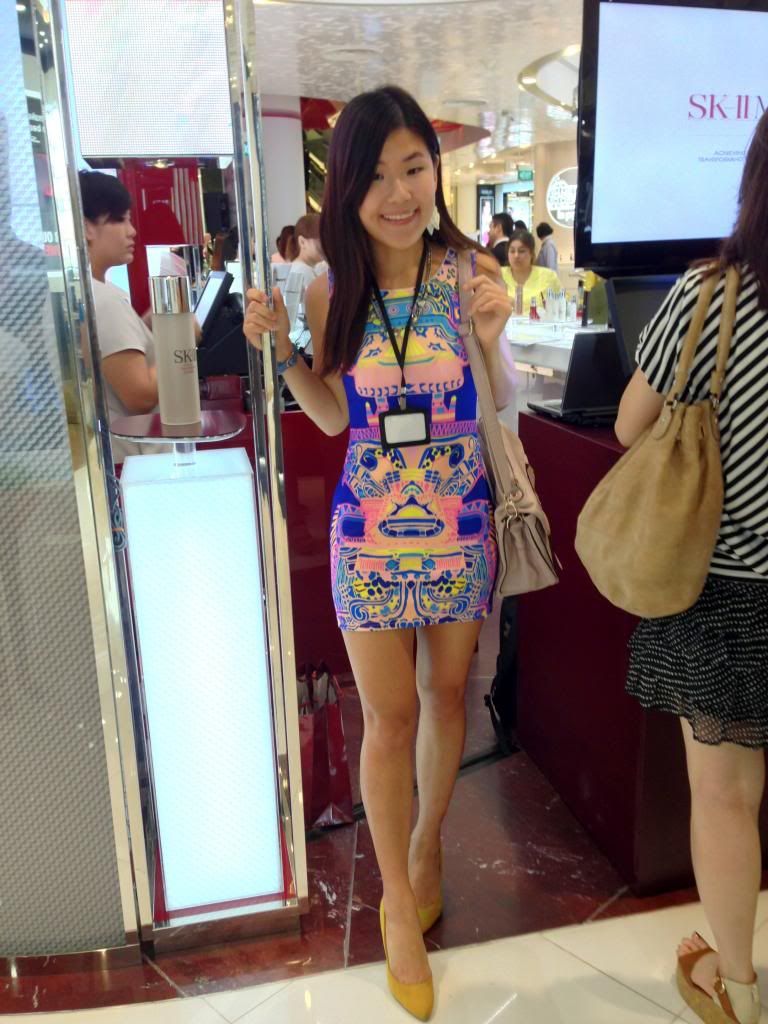 In a Neon abstract dress sponsored by Lachia for the event with Zara mustard heels. I like that it's eye-catching, flattering and you can skip all your accessories. Perfect for weekend! (Take an additional 15% off storewide for the month of August)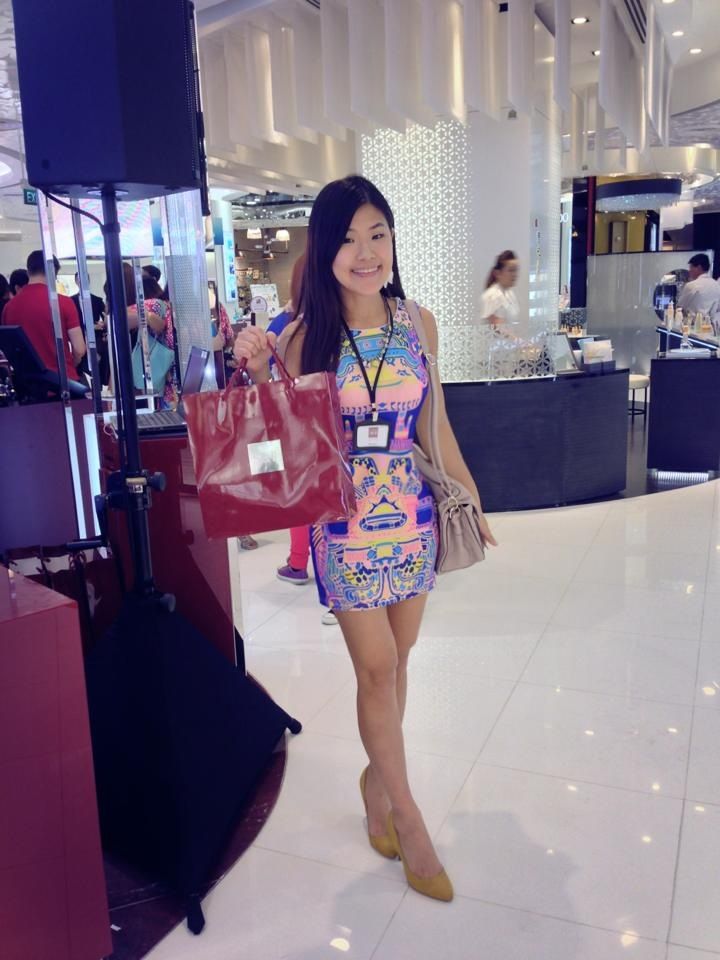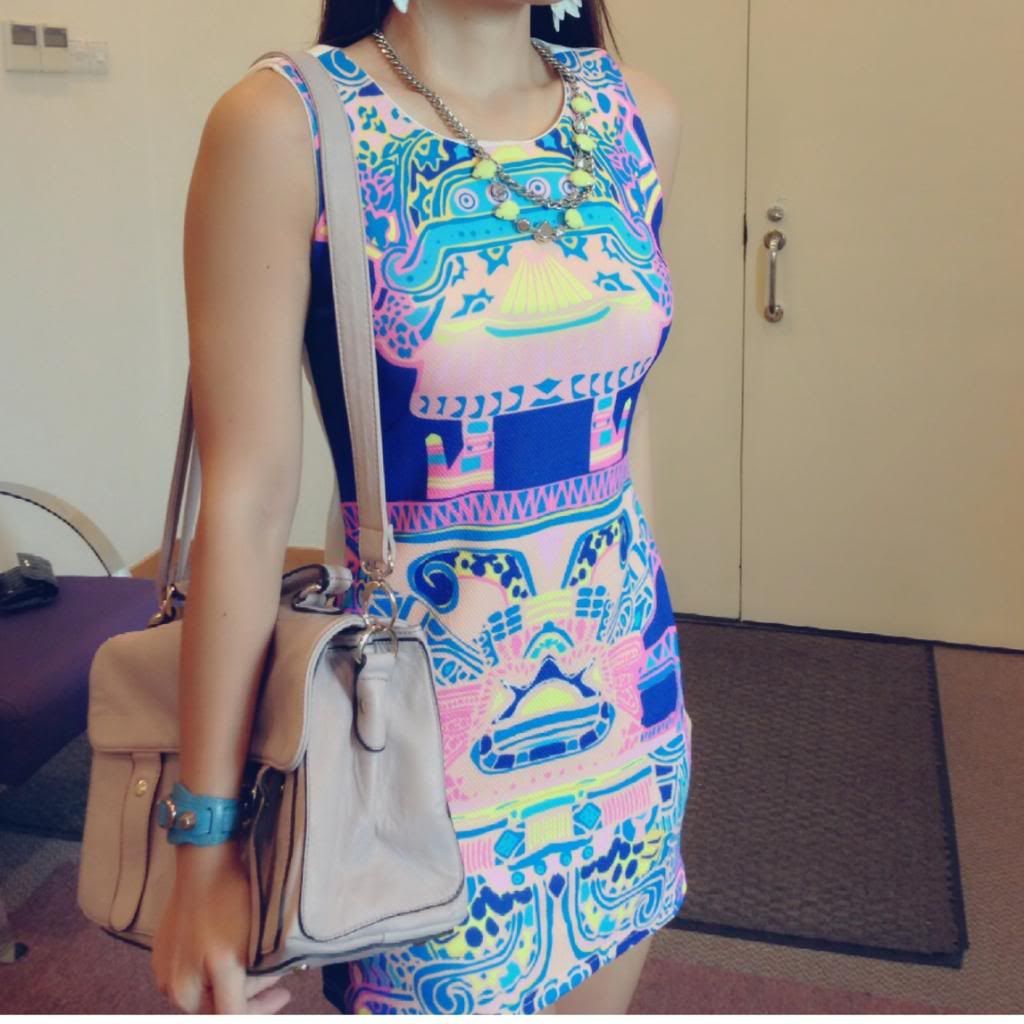 It was a lovely hour spent at Tangs, all thanks to
SK II for the kind invitation and generous products.
Here's the SKII Pitera House Special that is only available at TANGS:-

Besides pampering your skin, we look after your beautiful locks too! When you purchase the SK-II Ageless Beauty Limited Edition Set at the exclusive price of $358 (worth $537), you are entitled to an exclusive Braun Satin Hair 3 Dryer! Offer is only available at TANGS Pitera™ House.
That's not all!
How does a complimentary Magic Ring skin analysis and the chance to walk away with $1,000 worth of SK-II products sound like? Head down to SK-II Pitera™ House at TANGS Orchard today and take part in the SK-II Magic Ring Contest! The top 3 individuals with the highest skin scores will be chosen as the winners. Head down today!