This is going to be an ultra-lengthy post that I wouldn't be able to summarize, so bear with me a little because I doubt I will blog anything similar so soon! I wanted to pen it down for memory sake but I was still feeling extremely emotional days after the episode and had no idea how to start. Reality has sunk in after a week for me to do a concluding post so here goes.
I signed up for the once-every-two-years Ultra Marathon, thinking it was just another extreme race to make me train really hard but I was wrong. People sign up races for many reasons and personally, I didn't really have a strong reason like running for charity nor for a loved one. The main reason was to challenge my mind and I was curious to know how 100km feels like after knowing a couple of male friends who have done so and uploaded their stories online. I told myself, don't be afraid to fail, be afraid not to try. I had nothing to lose even if I do not complete half of the distance. At least, I won't regret not making the first move as we all know, regrets are the worst to swallow. It didn't take me long to convince TC to sign up for it to accompany me just like my first full marathon three years back though he was pretty taken back by my impulsive decision.
Second step : Training Programme
The second step was training for it and all I had was 4 months. I took May's Sundown Full Marathon as part of the training programme to clock extra mileage. Drafting my training schedule on excel sheet took me just 30 minutes but following through requires tons of discipline and giving up of my social life. I started doing my tempo runs, hill work, interval trainings, not forgetting the dreaded long weekend runs. I relied on the internet for tips from other ultra-runners to follow the recommended training schedule, read runners blogs and stalked the running forums. It helps and I was glad to know that I was not alone in the training journey. The hardest part was the time management, especially rescheduling make-up runs due to last minute appointments or unfavorable weather. Still, I was glad to have close friends who were supportive of my training schedule and understood when I said I couldn't make it for dinners. I went for regular body pumps and yoga sessions for cross-training to strengthen the legs and to stretch the muscles, while starting on glucosamine supplements for the joints. That's all I did, which will never be sufficient since the maximum distance I have clocked was only 42km which is barely half of my targeted distance. Still, it gave me a little confidence as during the trainings, I was visualizing myself on the road in pain. This was probably the first time I am so serious and I knew I might not repeat the process again.
I was not in the best of health during the last few months and fell sick on-off due to the lack of sleep and water. On the crucial tapering week, I had a fever and my throat was giving me problems as usual. It was really demoralizing being on medication while the countdown begins. I stopped exercising on the last week as per my doctor's advice to restrain from strenuous exercise for 2 weeks but it didn't get better. On the day before the race, I finally took my first MC in the year to rest at home. I felt slightly better but I knew I was definitely not in any condition to turn up for the race.
On the actual day, TC strongly advised me not to run as he will run on my behalf and bring back the medal. I stubbornly hid the fact that my throat was super itchy, so as to insist on turning up the day. It was really disappointing as I did not want the trainings to go to waste and me to sit at home knowing the run is taking place. He could not stop me and we went for carbo-loading late morning before taking a short nap which I was wide-awake due to nervousness.
the new pizza from pizza hut was actually pretty yummy!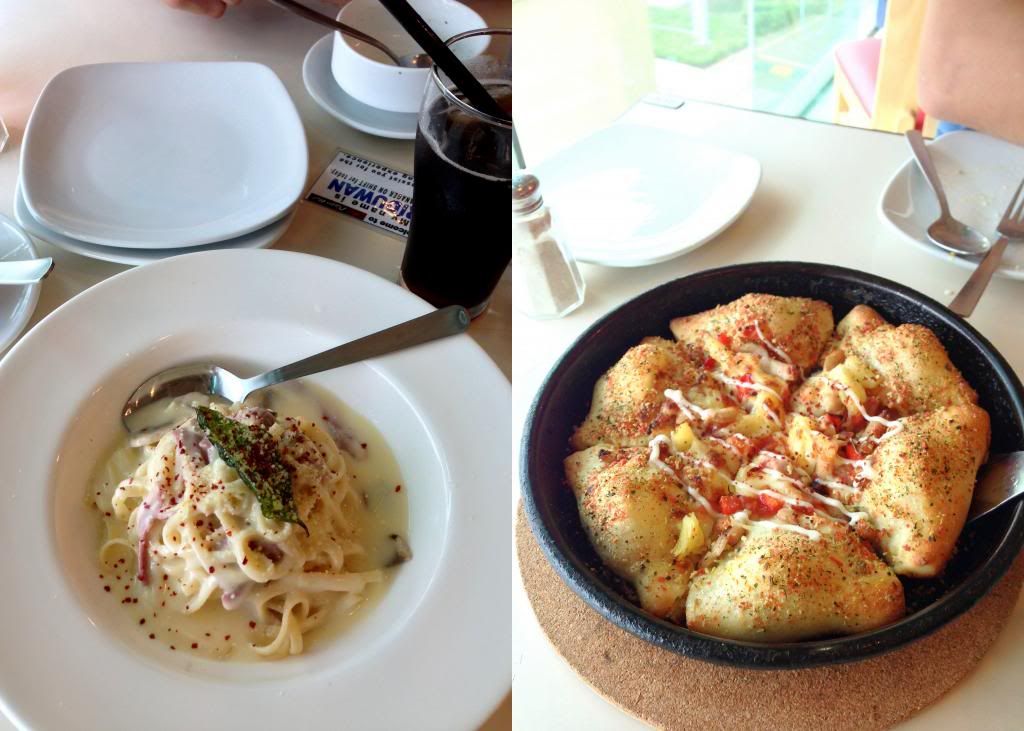 We packed our transition bags for the 50km and 75km points with extra clothes and shoes. Decided to run the first half using my primary Asics shoes while the second half in Skechers Go Bionic shoes (review up next) with my trusty two Lululemon speed shorts.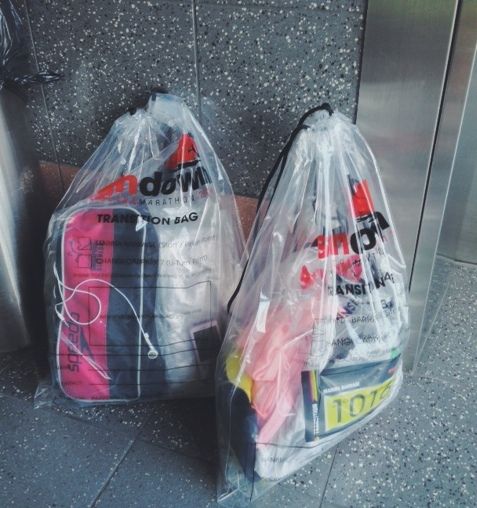 TC taped all my toes with the 3M tape which was really thick and good, to prevent blisters. I didn't want all my toe nails to drop out like the last few full marathons so we made sure we taped many rounds. I also put tape on my shoulders, arm pit area and below my sports bras to minimize abrasion.
Third Step : Arriving at the race site
We arrived at the race site one hour in advance to check in our transition bags and found ourselves surrounded by the ultra-marathoners. It made me feel much better that I was not alone in the journey. My heart was pounding non-stop, exchanging nervous smiles and nods with fellow runners while waiting for 6pm to arrive. I can't wait to start the distance, yet I am dreading the whole process. This is it I told myself. Not in the best condition but heck, I will just target to finish the first loop of 50km with my legs while the remaining half would be a bonus. I was especially encouraged by the personalized smses from close friends with some offering to come down and touched by my family's support. Spoke to my mum on the phone and she told me to take it easy and to listen to my body. That was the same advice given from friends and I had no idea if my body will break down given my weak condition right now.
Took a couple of pictures with TC to distract myself a little. As usual, he looks pretty calm though I knew he was extremely worried about me.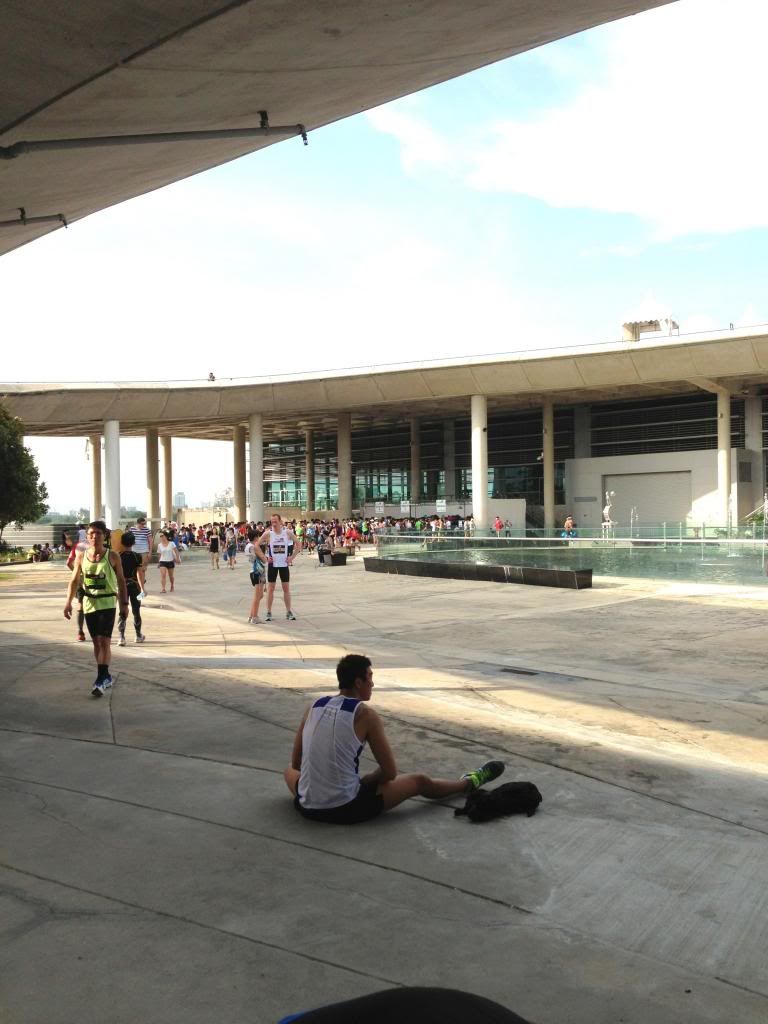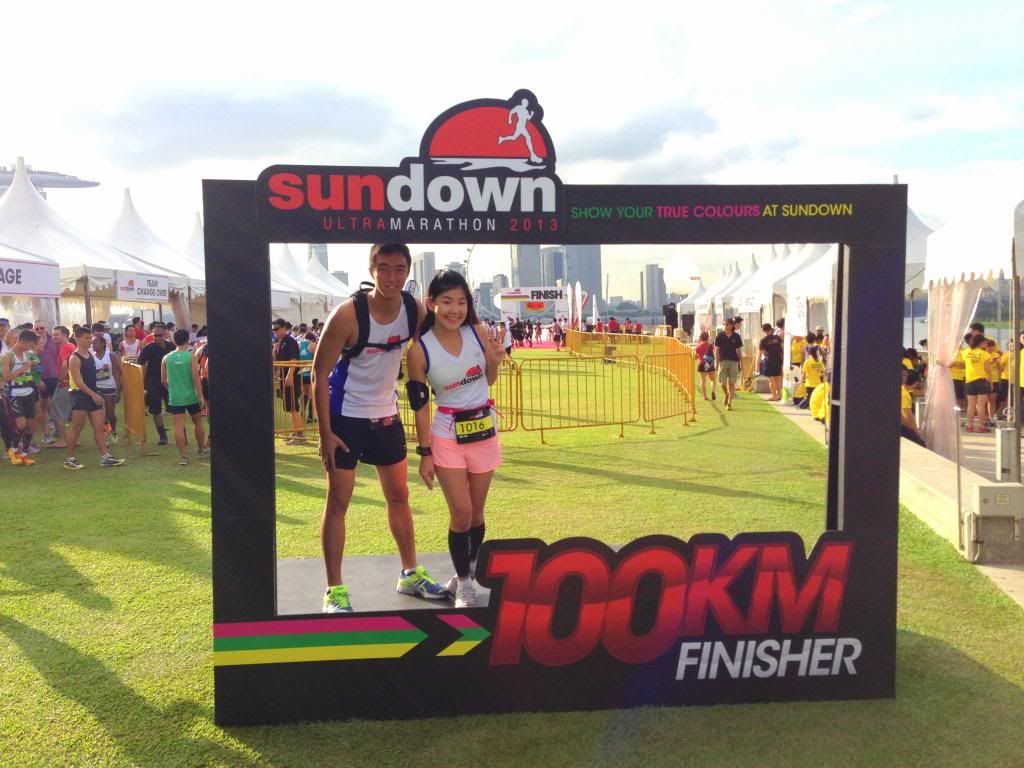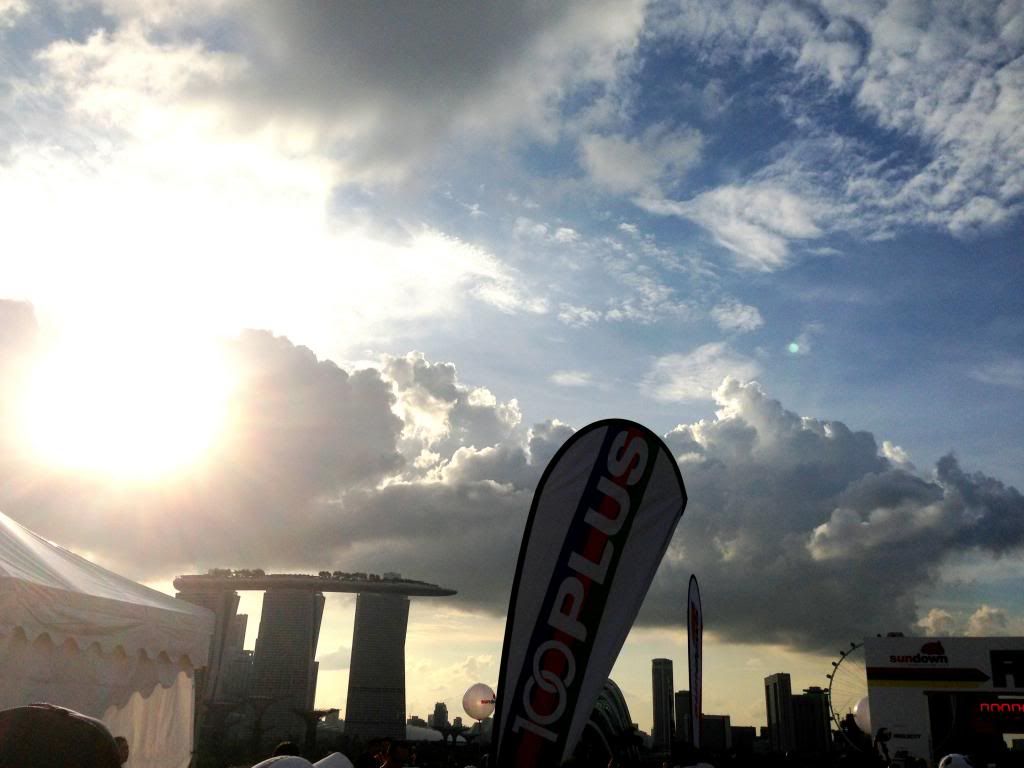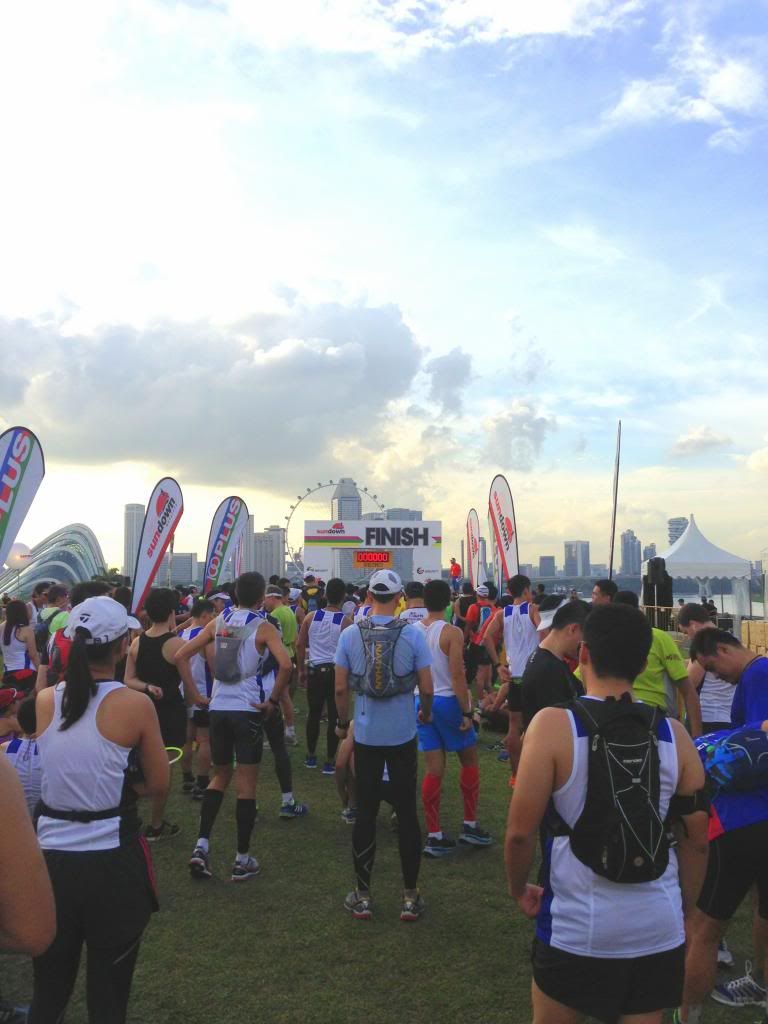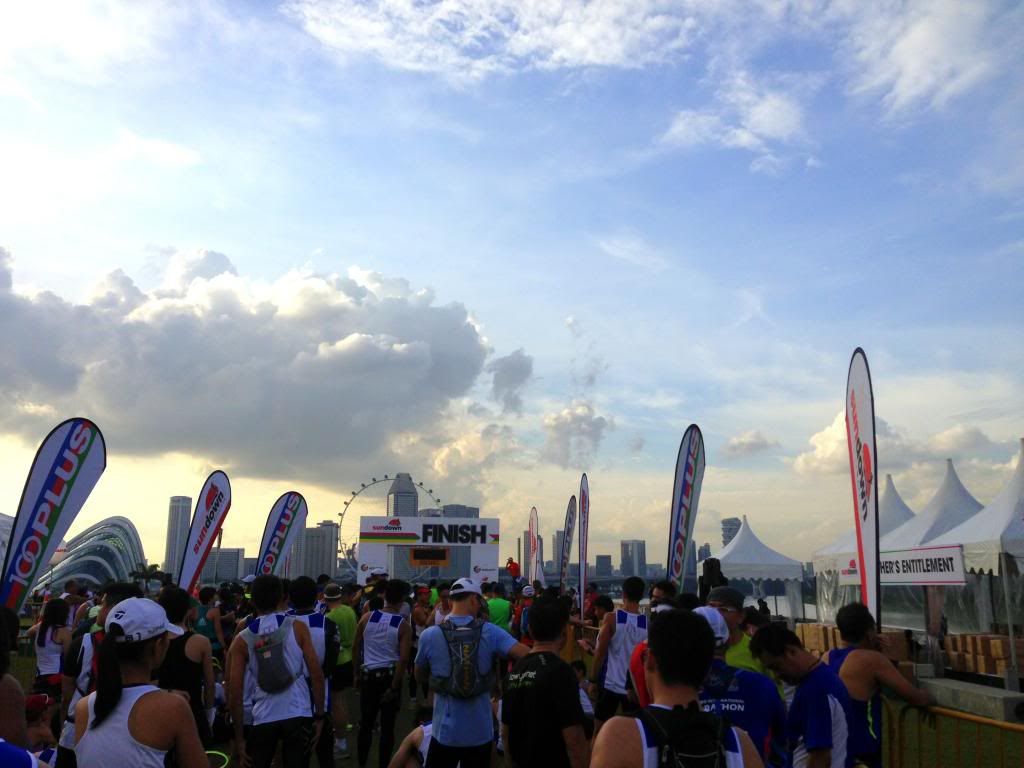 The route was released three weeks before the race and we had to run 4 loops x 25km from Marina Barrage to Changi Coastal. The dark flat route with minimal scenic views was pretty demoralizing while the pitstops were the motivating factors. Most importantly, I was comforted to know that TC would be on this journey with me and I am not alone.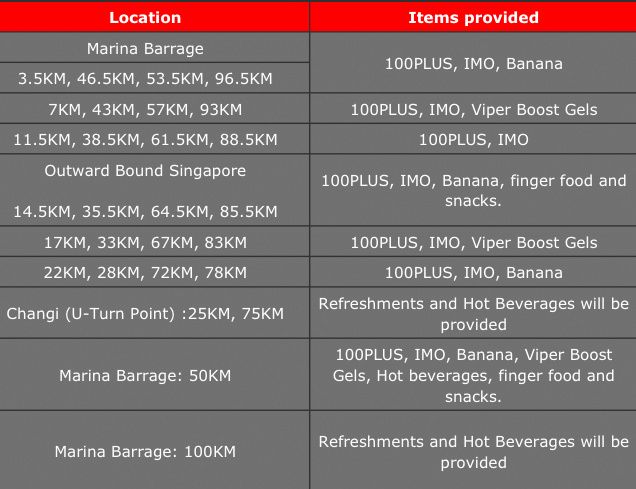 0-14km :
Flagged off at 6pm and off we go after "good-lucks" were exchanged between the runners. It was my first run in the whole week but I was thankful that my legs didn't feel too awkward and my headache didn't kick in yet. I was feeling extremely happy with TC running beside me and it felt good to sweat. We went at an easy 6min/km pace to warm up the legs. The first pit-stop for 14km was located at ECP and we turned in for some food. Grabbed a few energy gels for TC's backpack with some drinks and we continued.
15-25km:
After completing 10km of ECP, we turned into Changi Coastal and it was at least 8km to the end of the first loop. It was uplifting seeing other fellow runners together, pounding the pavement to reach our first turning point. Arrived at the first stop and I was encouraged at the support of my mother who told me to keep it up and go all the way. I grabbed some chocolates, chips and hot soup while we stayed for 5-10 minutes as the chip time was on-going. It was also a happy sight while seeing team categories (of 2/4) changing over and sprinting at this hour.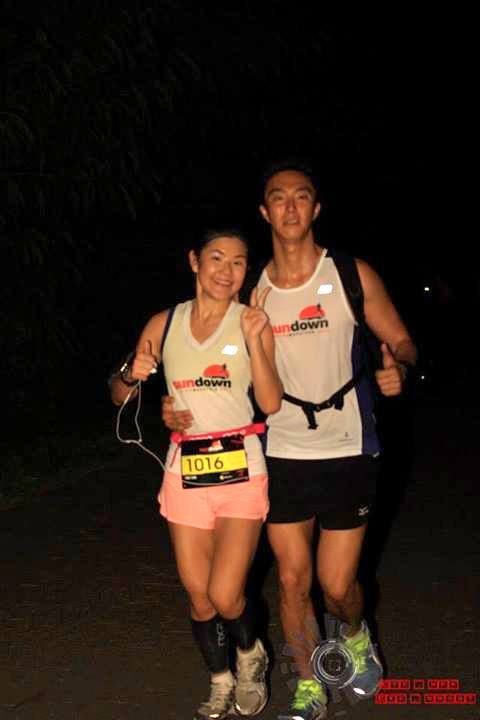 25km – 50km:
The second loop begins and we started to slow down our pace a little on the return journey. This was probably my favourite loop because of the presence of my precious friends! Leon & Alvin waited for us at the 28km mark on their bikes while offering ice tubes (childhood fav) and cold ice-cream. The ice-cream cooled us down while their presence made us feel really happy. I mean not all your friends would be willing to give up their sleep to wait for you in darkness just to give you two minutes of physical support really. We then pressed on and at 32km mark at ECP, they were there again to offer more ice-cream.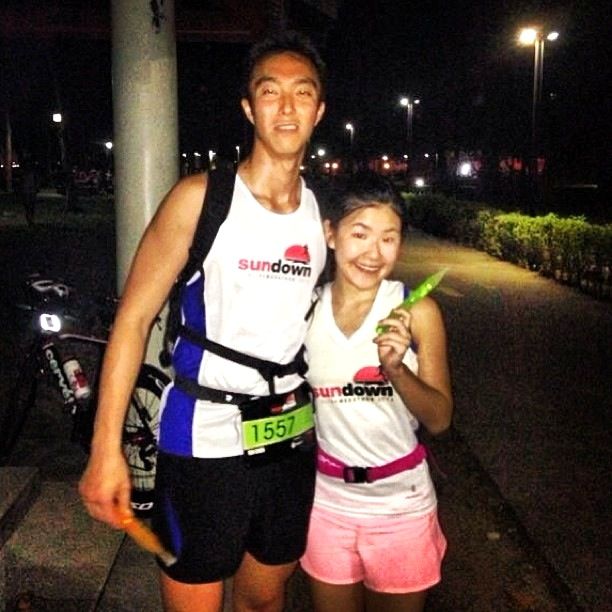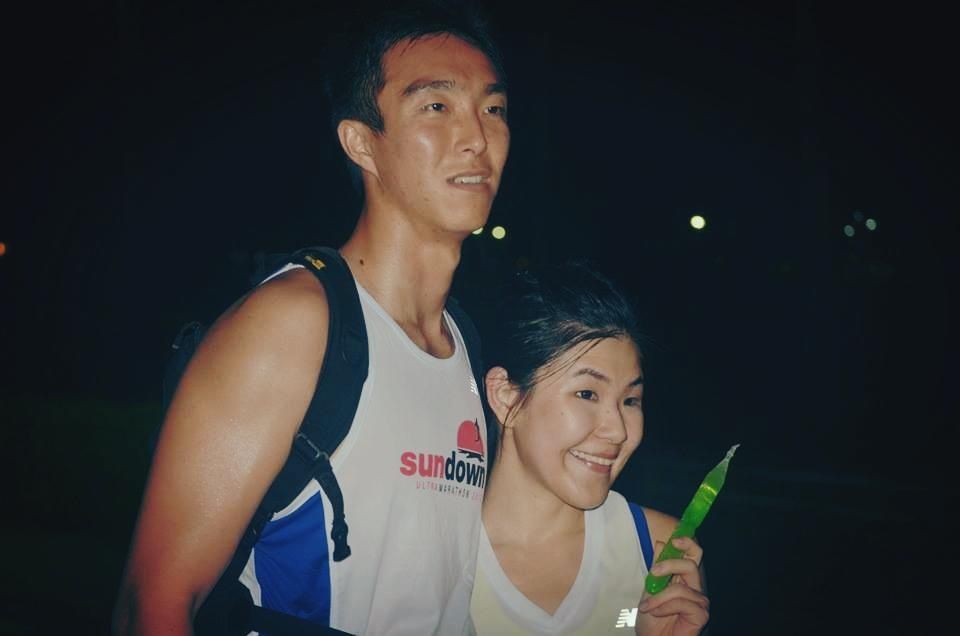 Also, the other couple had informed beforehand that they were on the way to ECP to support us. Texted Kat and she said they were at the 42km mark so we remained motivated to continue the journey. It wasn't easy and I started to feel slightly sleepy, with the surroundings getting really dark. We spotted them at Big Splash and they offered us ice cold 100 plus, which made us feel better. It was the end of our first full marathon (42km) and we had 58km more to go.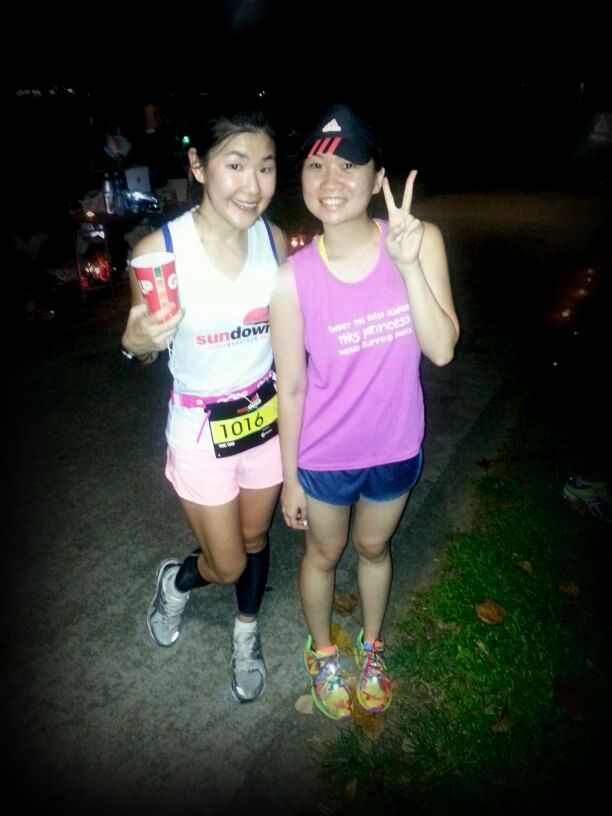 The cut-off timing for 50km was 8 hours in order to proceed and we knew we were on track, with the clock reflecting as 6.5 hours by then. We made our way back to the starting point where we left and all I could think about was food!
50km mark checked. We stayed here for close to 20 minutes at the pit-stop which was well-stocked with food. There was a changing room for females to change and I was glad to get a new set of clothes and shoes. By then, my legs were already feeling achy and my toes feeling numb. The tapes were still intact. I had coffee, nuggets and cup noodles and it was a sight, seeing ultra-runners gathering at the same spot. Some were taking naps, some had to give up the race, some were eating and some were on their ipads.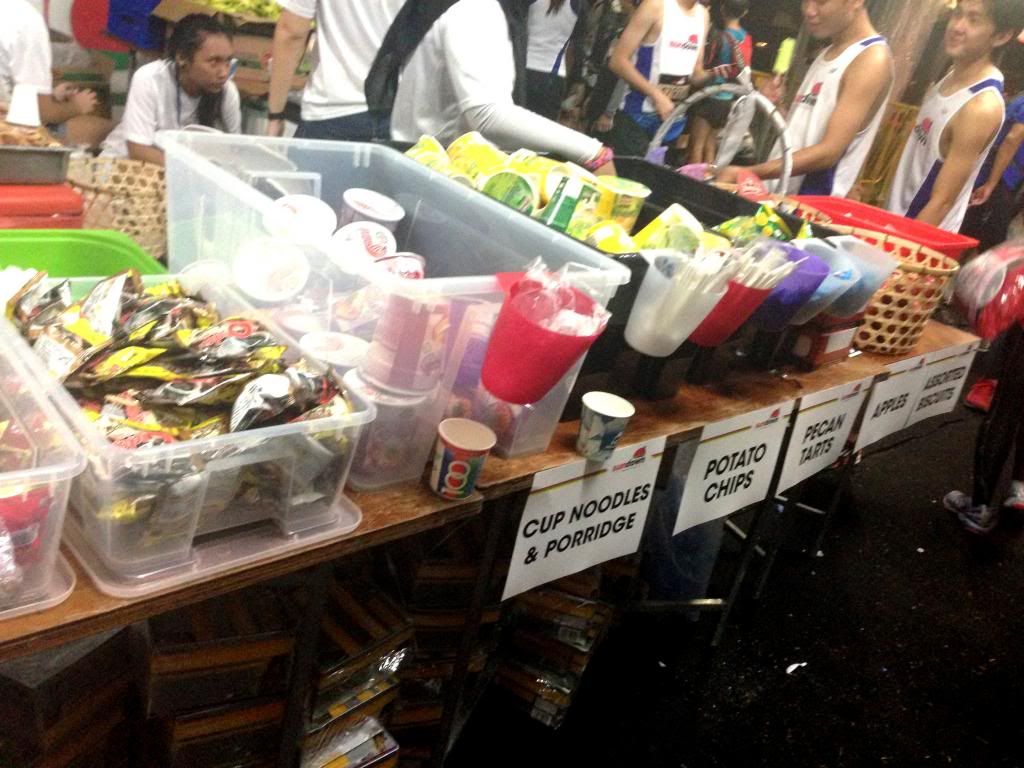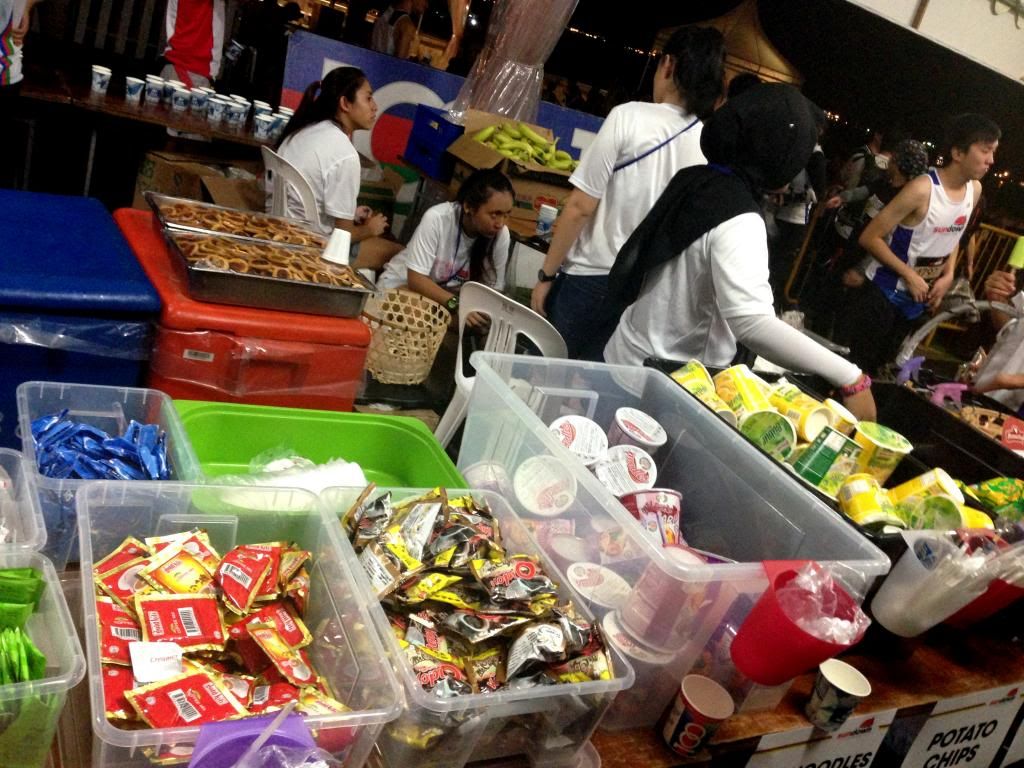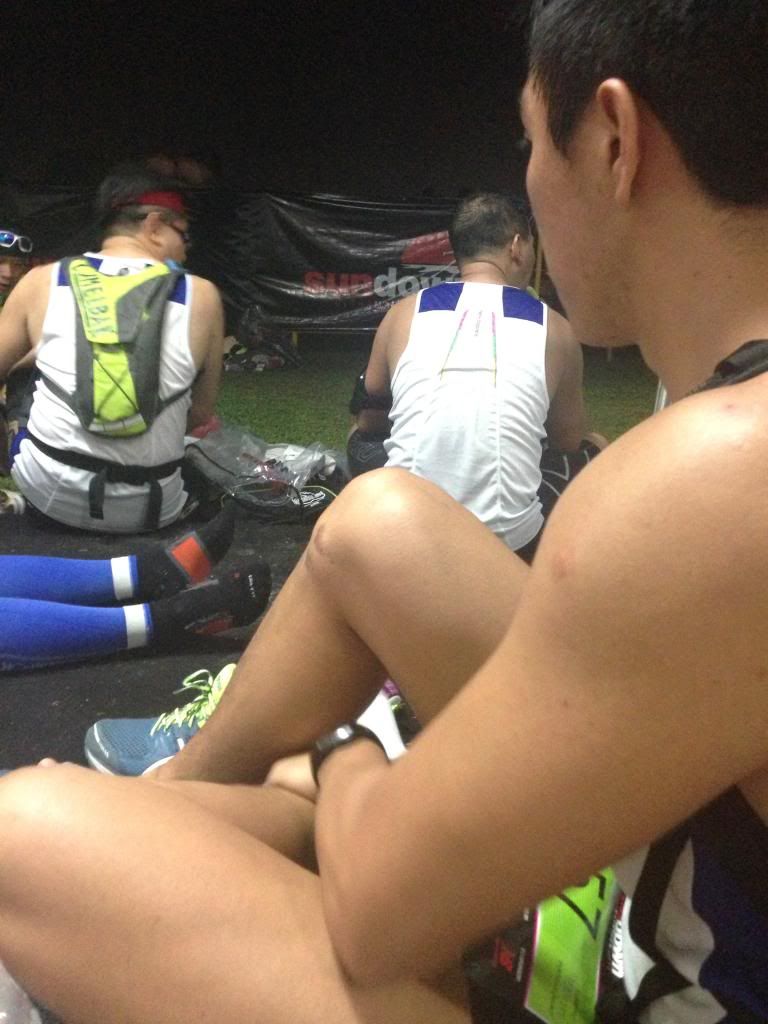 50km-75km:
The second half of the journey begins in my bright orange top. It was quite demoralizing having to embark onto the journey which you have completed 7 hours ago. I was feeling quite upbeat until TC told me "Another 50km to walk through wtf", which I agreed silently but said otherwise "Aiya never mind very fast one" (insert fake smiley face).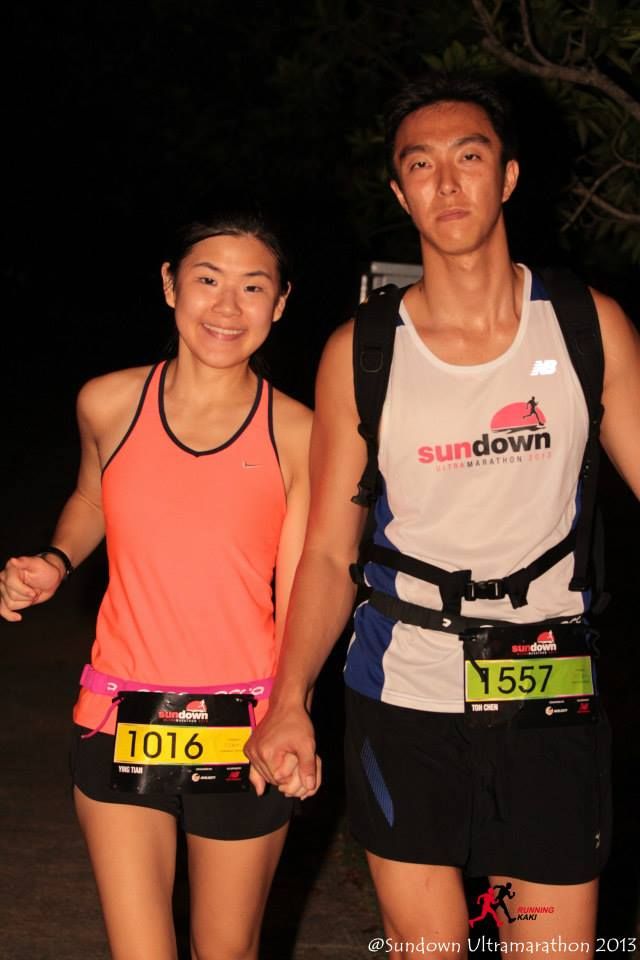 We skipped the 64km pit-stop at ECP to save time. The journey along ECP felt like forever and it was already 2-4am. It was pitch-dark and at certain routes, we could not see any runners at all. We were just silently walking along the path and at certain points, trying to keep talking so as to keep awake.
Me : "Baby tell me a joke leh."
TC: "Two idiots on the roads at 4am with another 40km to go when we could be sleeping at home on a weekend. Your turn to tell now"
Me: "The funniest part is that there are another 900 more idiots doing it with us."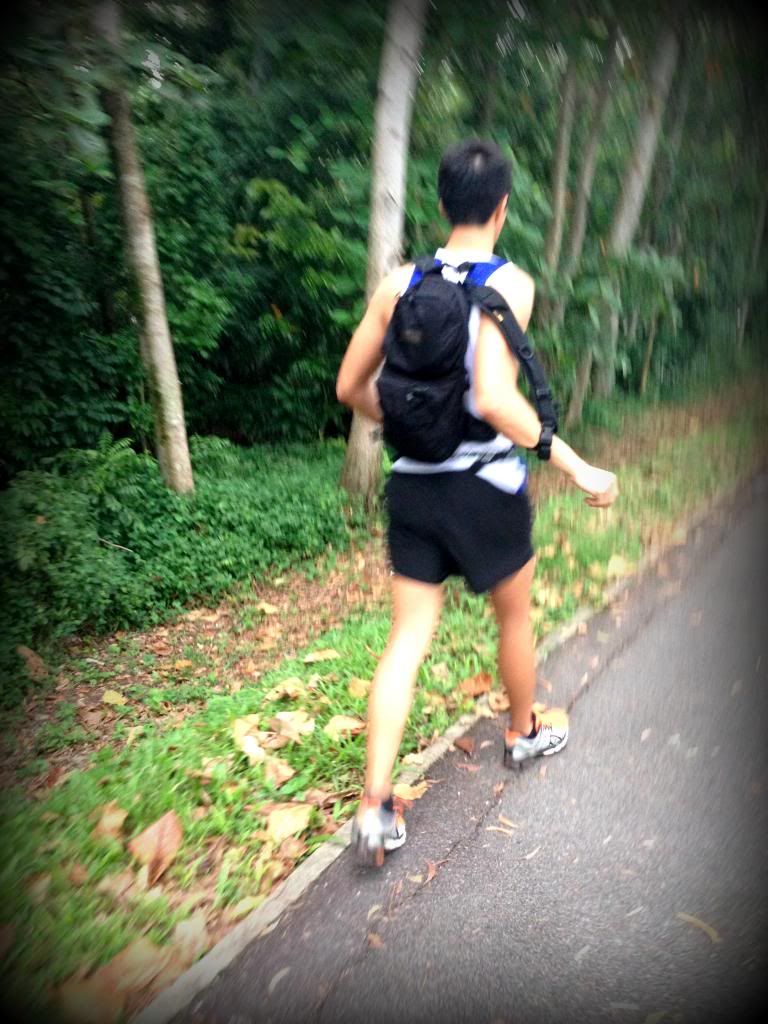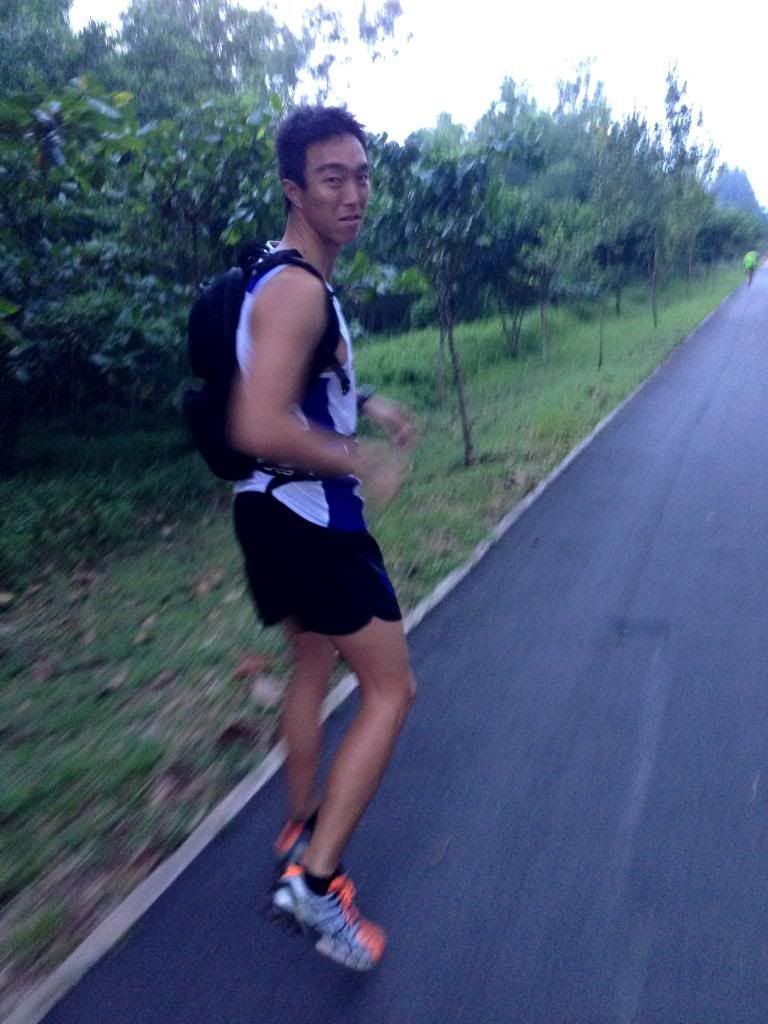 That's how we tried to entertain ourselves, beside singing smurf & minion songs while trying to spot another distance marker. Every km seems eternity and it didn't help when you see runners giving up along the way due to health reasons. I read that the hardest part to endure would be the wee hours so I thought to myself, endure and after the sun is up, all would be fine. Easier said than done really and even at 70km, I was drained but TC kept telling me we were 5km away from the next pitstop. Usually 5km would seem like a 30 minutes run but in situations like that, it would mean another 50 minutes at least with fatigue and muscle aches kicking in. My knee, ankle and soles of my foot hurt and every step forward was really painful. The last 5km was the longest ever in my life and after spotting runners coming in another directions, he knew we were reaching.
75km checked. This time round, I loaded on the mint mentos sweet and junk food to keep me awake. We didn't have much time left so we walked and ate consecutively, on our last 25 km back.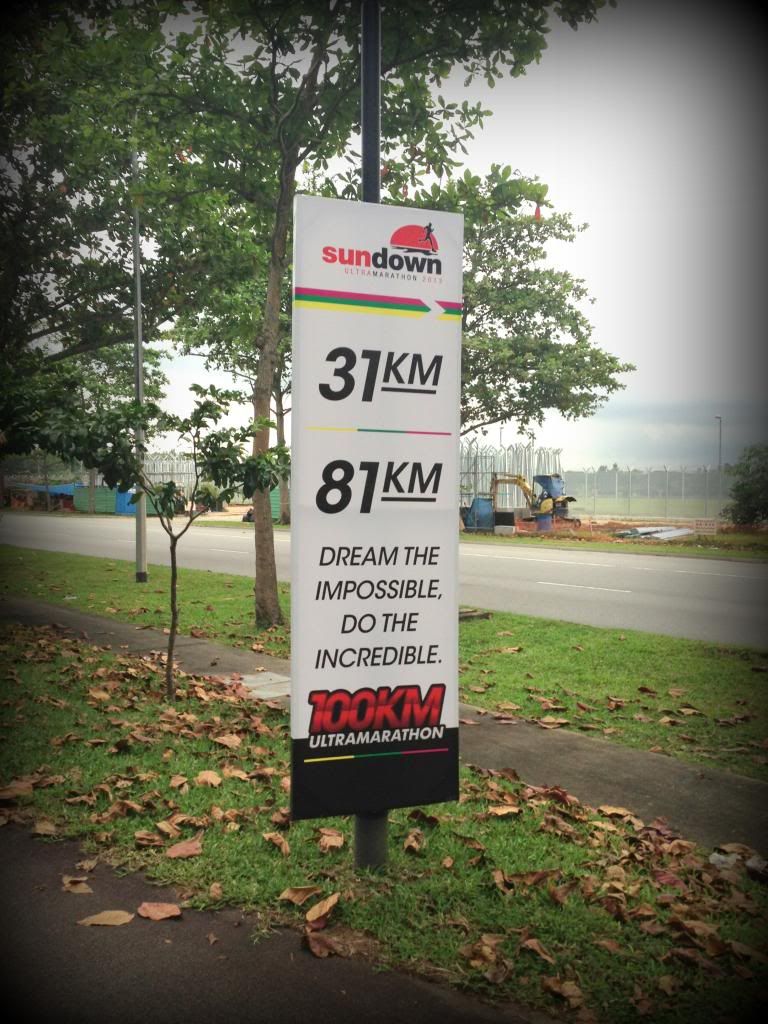 75km-85km:
We spotted a couple of ultra-runners speeding up by then on the last lap. TC started looking happier and told me "Last one already. We can do this!". I wasn't feeling happy nor relieved, as 25km seems like forever to reach back in one piece. The shuttle buses at 75km were waving at me but I knew I had to complete. Giving up wasn't in my dictionary yet, I have survived so far.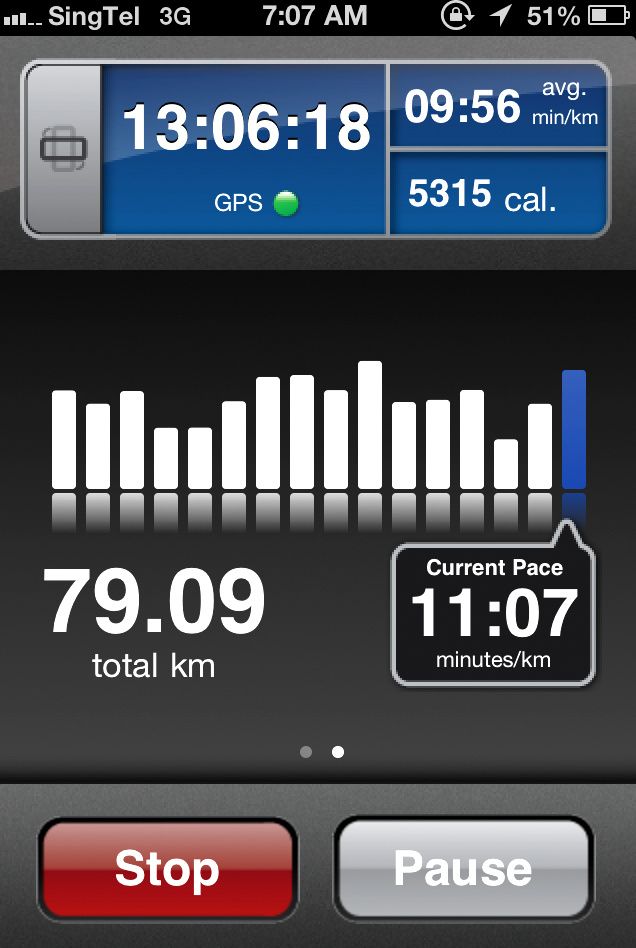 My legs were giving way and I limped non-stop. It was so bad that there were a few kind runners who stopped and asked "Are you okay?" Super thankful for this lady who gave me a helping hand who advised me to stop doing stretches but just keep walking. She then stopped to talk to me again and passed me several salt tablets and electrolyte pills. They were apparently to replenish the energy in my body and to minimize the legs cramps. Not sure if it was effective but I was extremely touched by her gesture. At the next water point, I shared the pills with TC as his knees were hurting really badly.
Sent a text to my mum "77km already", to which she replied in Chinese "I knew my daughter can do this". Almost teared at that point especially when I was feeling emotional and freaking tired with the lack of sleep over the last 12 hours.
The good part was that the sun was up but it didn't lift my mood any further. I felt like my battery in my body was draining right till 0% soon. I knew 100km was going to be extremely painful, but I didn't expect it to be THIS agonizing for the mind and body. It seemed that I have totally over-estimated my own body even if my mind is strong.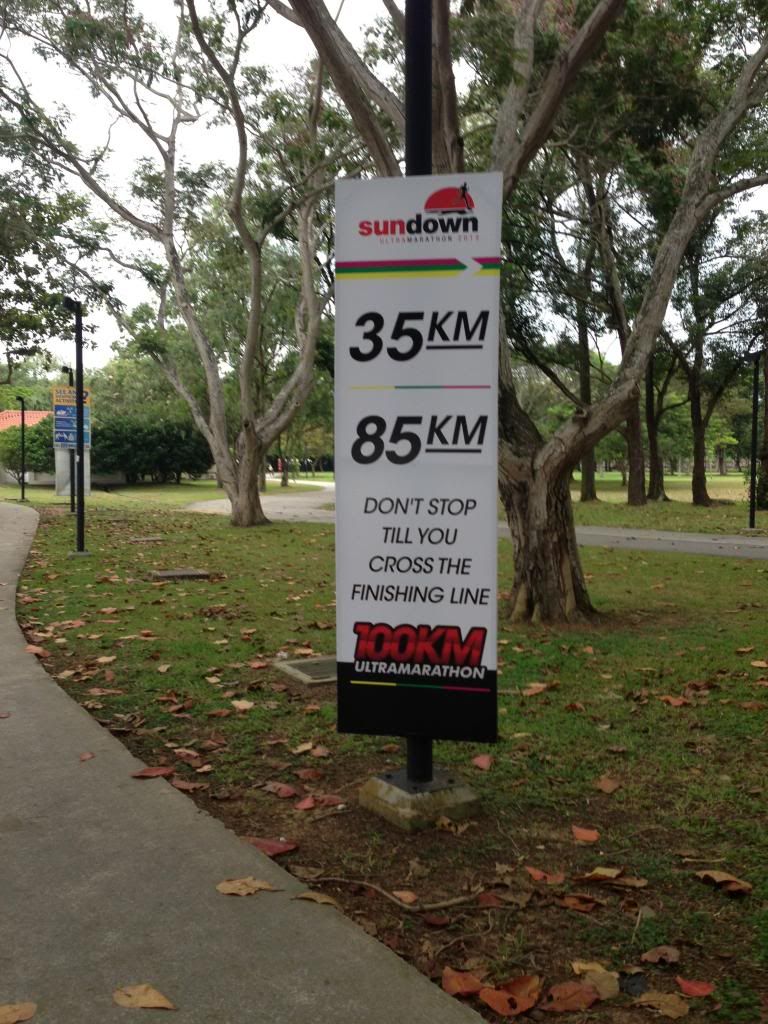 85-92km:
At the 85km mark, I was an emotional wreck after hitting the wall with confidence plunging to zero. I barely knew myself, I teared several times, vented my temper and all my positivity vanished. I knew I was hours to ending the pain, but yet I could not take it any further. This was the first time I felt like that and not even my past six full marathons could match this feeling. My races and life so far have been pretty smooth despite the slight obstacles, nothing could be compared to this dejected and despaired feeling. I considered throwing in the towel but at the thought of all the encouragement from my friends and family, it stopped me.
TC on the other hand tolerated all my negative emotions and temper silently with a frown, while motivating me to perverse despite his pain and fatigue. He fed me my mint sweets, resorted to using the camera to make me smile (didn't work) and made sure I had enough fuel & energy gel.

Also, he kept track of our pace throughout to make sure we had enough time which wasn't an easy task. He had done two 84km on his own so he was definitely more experienced than me in this aspect. He gave me 1 minute break every hour and said "Nothing more than that. Please stand up. Tight timing right now already".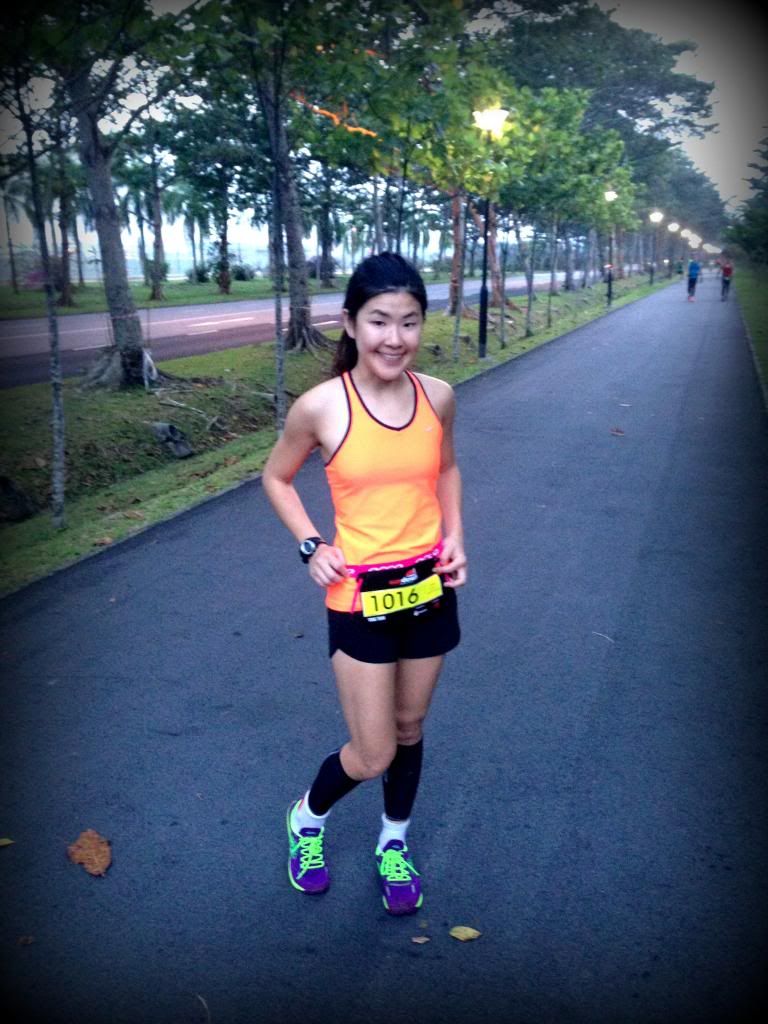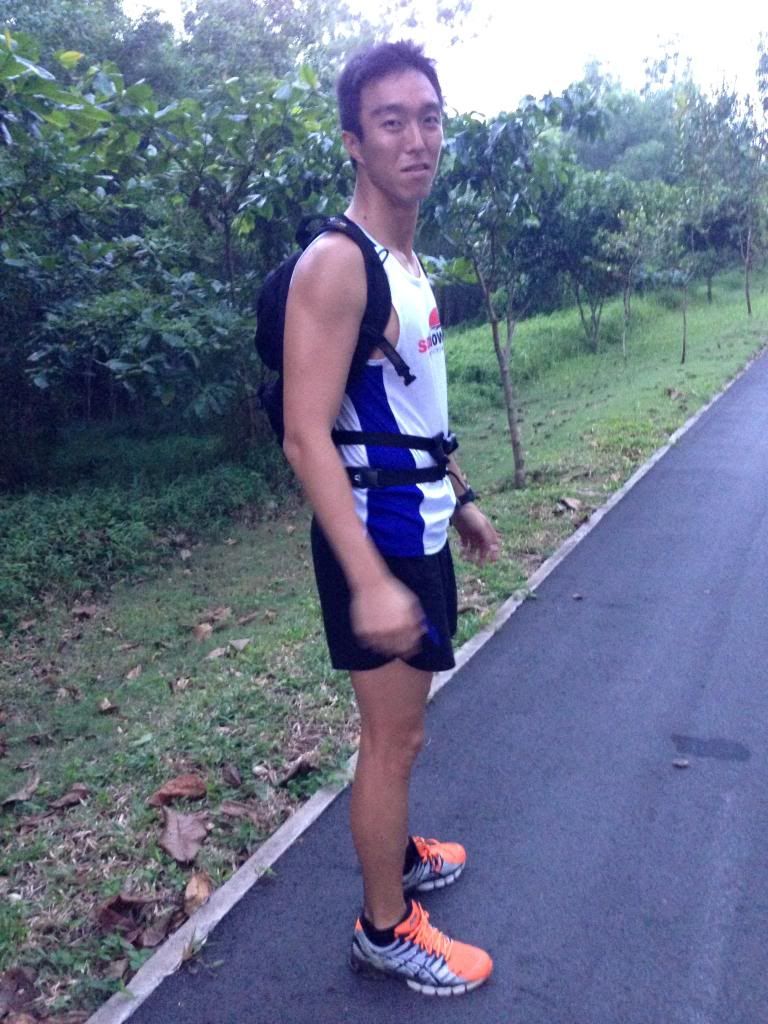 However, nothing seemed to really work and this how most of our conversation went. The candid photos below were credited to Joe Cheung which were the most unglam marathon pictures so far, but still memories.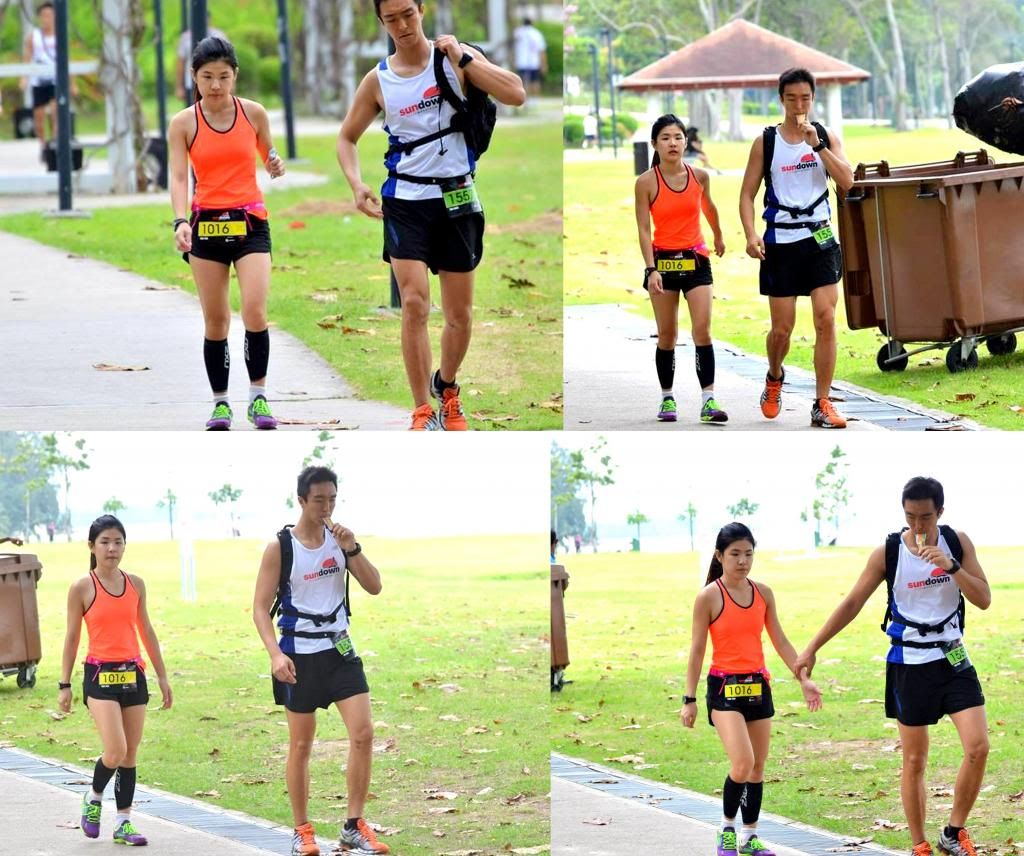 TC : "Faster, walk faster. Not enough time already."
Me: "I walk very fast already. My legs really damn pain I cannot walk any further. You walk yourself okay don't care about me."
TC: "Cannot. We start together end together. Faster."
Me: "You don't disturb me okay? No medal then no medal I really want to faint already"
TC: "It's you who wanted to do this okay? Hold my hand you follow me walk"
Me: "You are walking too fast for me la I really want to faint already"
TC: "Okay you hold my hand. *sigh*"
Not an easy task having a very negative girlfriend at the back I must say.
At 95km, we were finally out of the ECP beach. I will never look the ECP and Changi Coastal the same way again.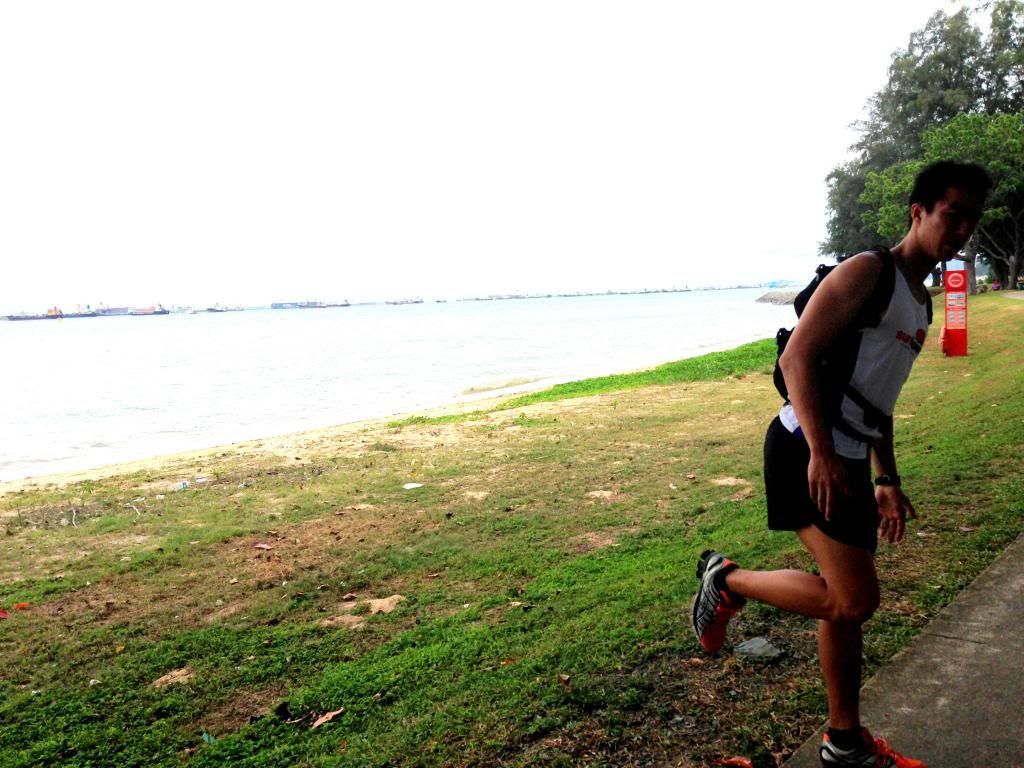 TC was feeling more motivated but as usual, I was feeling as down as ever despite a glimpse of Marina Barrage ahead. I kept repeated to him "I want to die already I want to faint already" which he silently held my hand tightly to continue. At 93km, we had to do another U-turn of 5km and we realized that most runners were skipping that portion. 5km to me was at least an hour.
Me - "Let's just skip the last 5km also since we know there's no tracking system forward. I beg you please. I cannot take it any further. Anyway time is running tight if we skipped this we can make it in time." E
TC - "We cannot cheat. Even if no one knows, we know and we will regret. We sign up for this 100km, we have to finish this 100km."
Expected answer.
That was the man I am proud of and have fall in love with and I was silently reminded that his righteousness was one of my favorite traits about him.
In front of us was an 70 year old man who was smiling all the way and he was doing the U-turn all on his own. I then realized he was the famous and inspiring Oliver Kher that I've read on facebook. It motivated me to do the last 5km U-turn and limped my way up the road. At the last point, TC made me touch the cone at the turning point and like as expected, there were noone there nor any tracker. I realized TC was right. I made it so far and even if I'm dying, I could not take the short-cut as I knew a 95km victory would not be the same as a full 100km distance.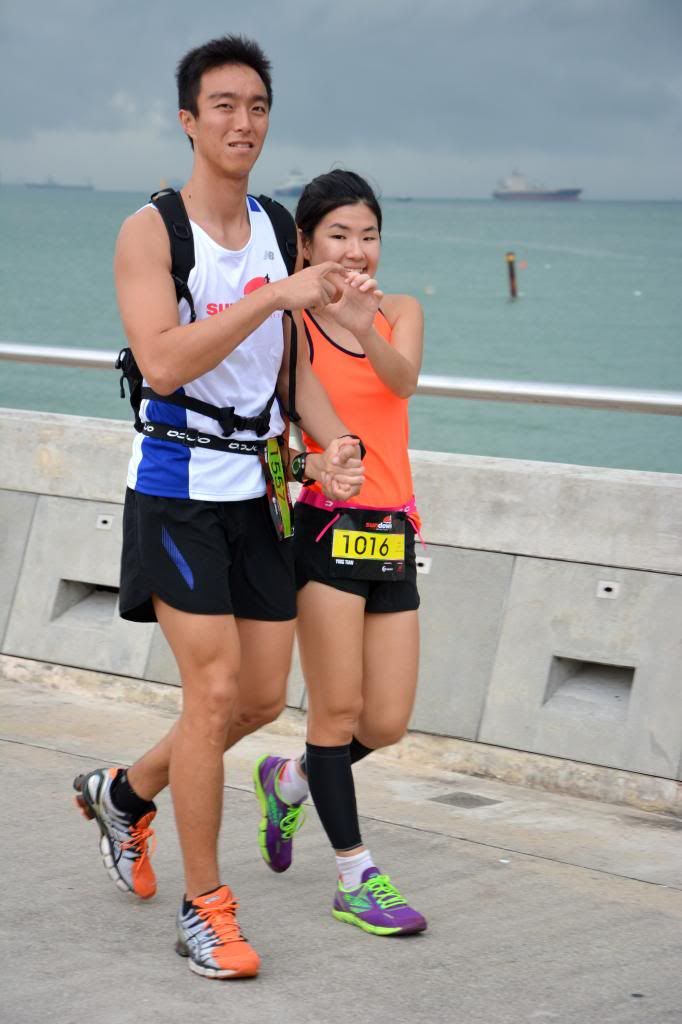 It was the final 2km lap and we knew that we were in time before the 18 hours cut-off time. That was probably when I finally smiled while lifting my legs with my hands to move forward.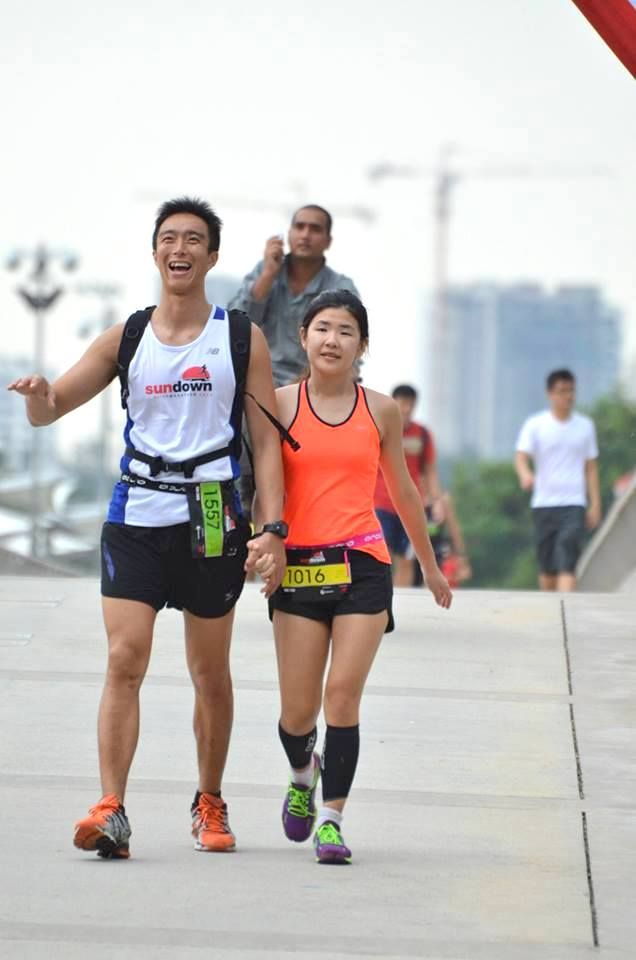 Volunteers – "Faster! 150metres more to go!"
TC – "Relax la we still got time."
LOL moment while we slowly walked towards the finishing line, forming the cheesy heart-shape for the cameras. That was the best moment in the entire journey which cannot be put in words and victory is sweet indeed. I AM AN ULTRA GIRL!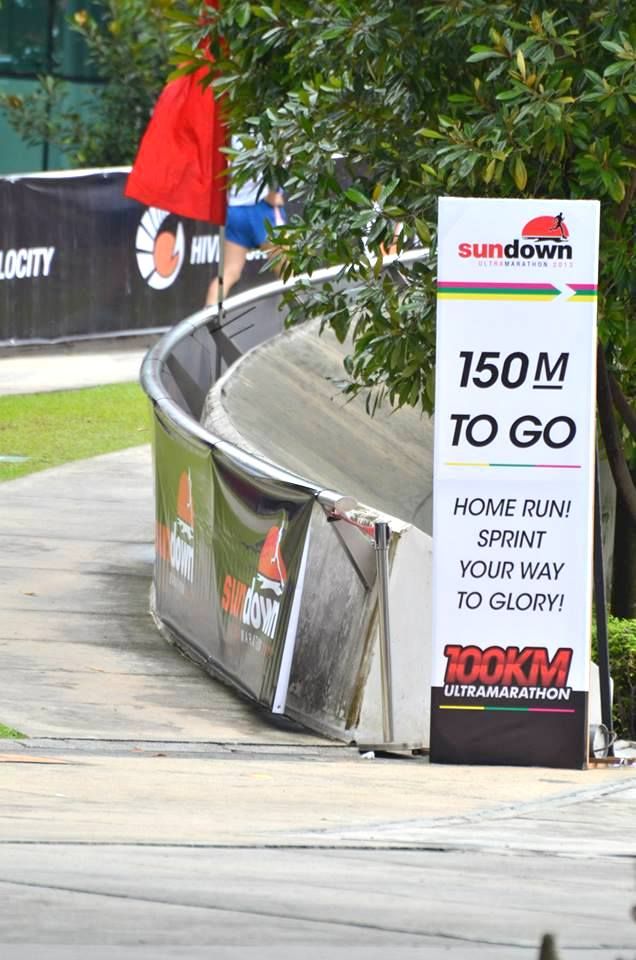 Aftermath Ultra Thoughts:
We managed to return minutes before the heavy downpour which was so heavy till the stage, buffet table and chairs were all toppled. That's when our transition bags could not be retrieved due to the unpredictable circumstances so I had to collect it the following week.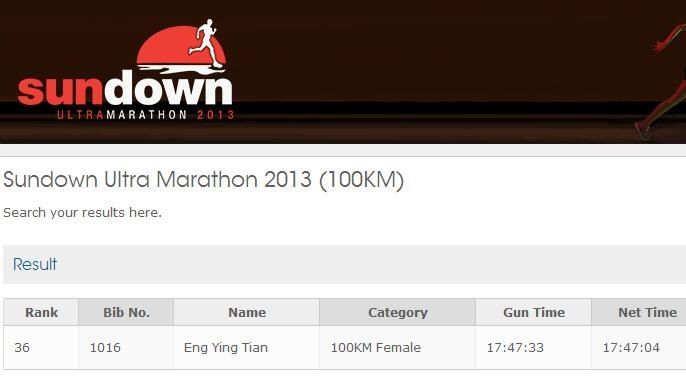 Nevertheless, we were extremely lucky to finish it in 17:47 to scrap it through the cut-off timing with the other 360 individual ultra-runners. It was my first attempt and the longest distance so far. I never thought I could finish in this condition, but I made it back with TC's support. Congratulations to the other 40 females for finishing, we are heroes in our own ways!
J
This wasn't just any race, but a turning point and priceless journey for a lifetime. From Sundown right to Sunrise, the journey has uncovered love and an array of personal emotions beyond description. What I gained were not the medal or title, but the personal glory and priceless experience for life. I didn't regret a single bit of it after reality has sunk in as the journey of 100km with my life partner will be something I will remember for life. Sundown's tagline was "Show your true colours". Indeed, true colours and behaviour show during crunch time and his love has far exceeded my expectations. It affirmed my decision and I am an extremely blessed girl to have him and my family with me. Also, I wasn't as strong as my vulnerability was something unfamiliar. I will definitely keep this in mind to be calm and press on when meeting other obstacles in my life. I am also extremely thankful for the support from friends, family and even the kind emails from strangers.
For runners who are keen to try, I would say go with your heart in 2015. Do train as hard as you can, listen to your body and the rest is up to your mental strength! It really wasn't easy but hey, if it was easy no-one will sign up already. It will be a life-changing episode and no words can describe that feeling, not even this blog entry is enough.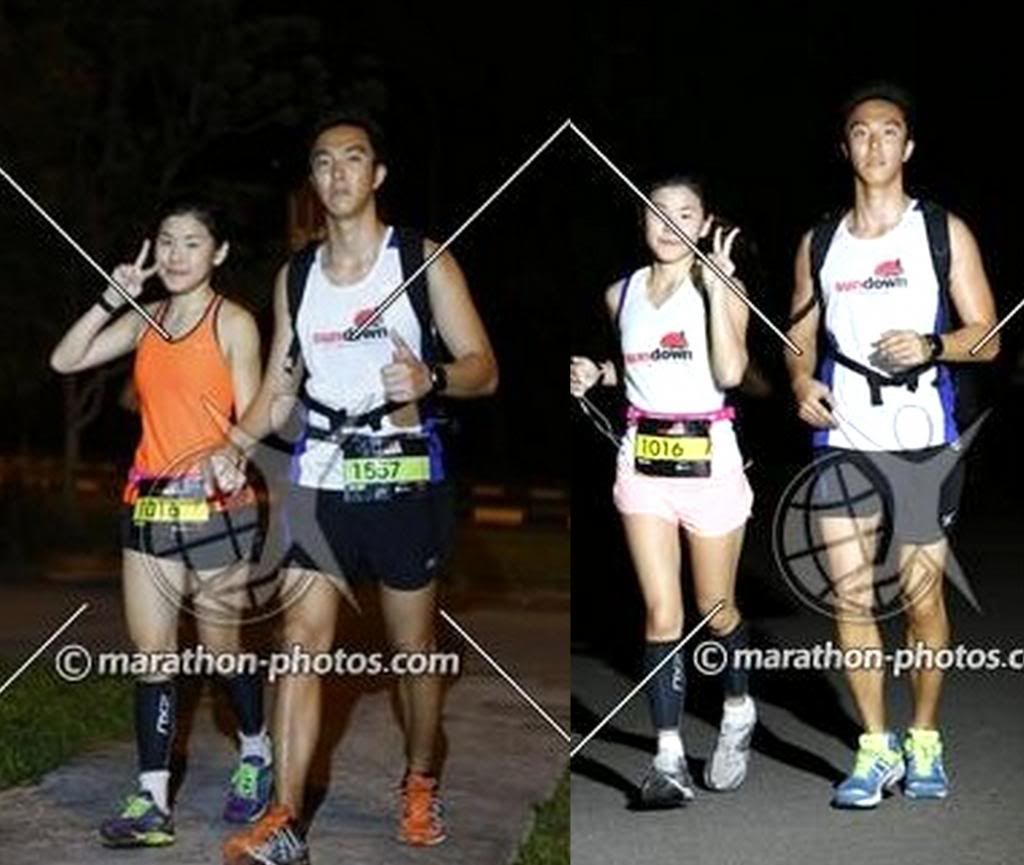 100km is never a race but a journey. It's safe to say that this is going to be my last ultra-marathon for a long time. However, never say never so I shall not use the word "never" in case my craziness kicks in again. We are only crazy once and I was glad I made this impulsive decision and went through everything from signing up to completing the distance. Thank you love for making this possible and fulfilling my dream with me to tick this off my bucket list. This will be our last race before embarking on our life journey officially next year and I can't wait. We are officially an ultra couple!
Mind over body has always been my mantra but now, I realized that Impossible is really nothing and love conquers everything. And I know this weekend will definitely be more relaxing than the last ultra weekend.
Every ultra-runner has their own personal tale and this was my humble experience, and rather an ultra long indeed. Thank you for reading! :)