It's amazing how situations always turn out better than expected with a positive mindset. I didn't intend to participate in this Newton Challenge 2013 at all but I was glad I did so. Two years back, I did my first Newton Challenge alone which wasn't a good experience as the continuous loops of ECP were a challenge to the mind and legs.

Just few weeks ago, I decided to take up the 32km challenge as part of the training for December's Standard Chartered Marathon. The quick decision was made just a week after I swore "never to run at ECP in awhile" at Sundown Ultra so really, never say never.

This year, the race tee came in a vibrant mix of pink, yellow and turquoise along with a pair of socks.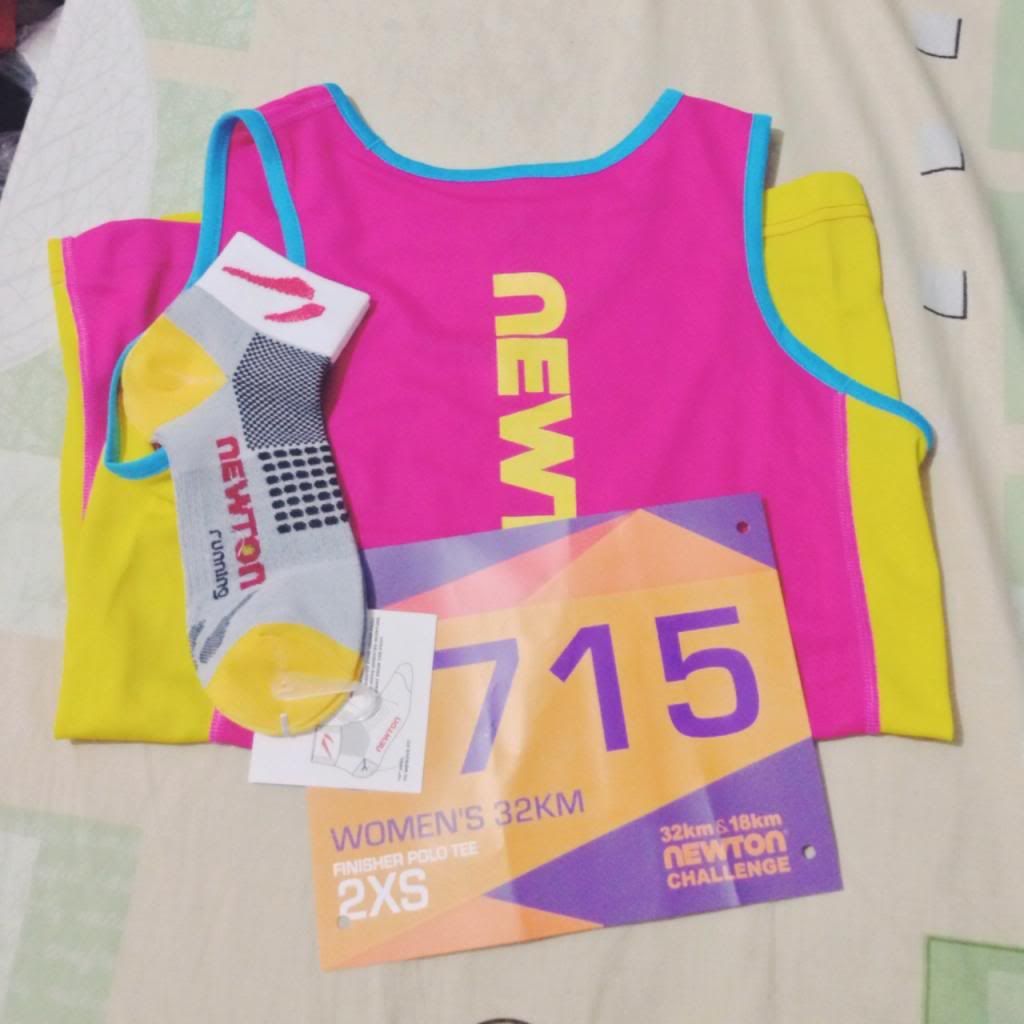 I arrived at the starting line at Big Splash in East Coast Park at 5am with three hours of sleep, all thanks to my sweet dad for waking up at 4am to fetch me there. Was very touched on the silent support that he has been giving me in his own ways and always putting my interest before his. The weather was extremely cooling and I was glad to start the race early before the sun is up. Somehow, I felt rather excited for the long distance ahead with no expectations. Think positive, think positive, I told myself that.
The sleepyhead at 5am and surrounded by pink runners & enthuastic pacers with balloons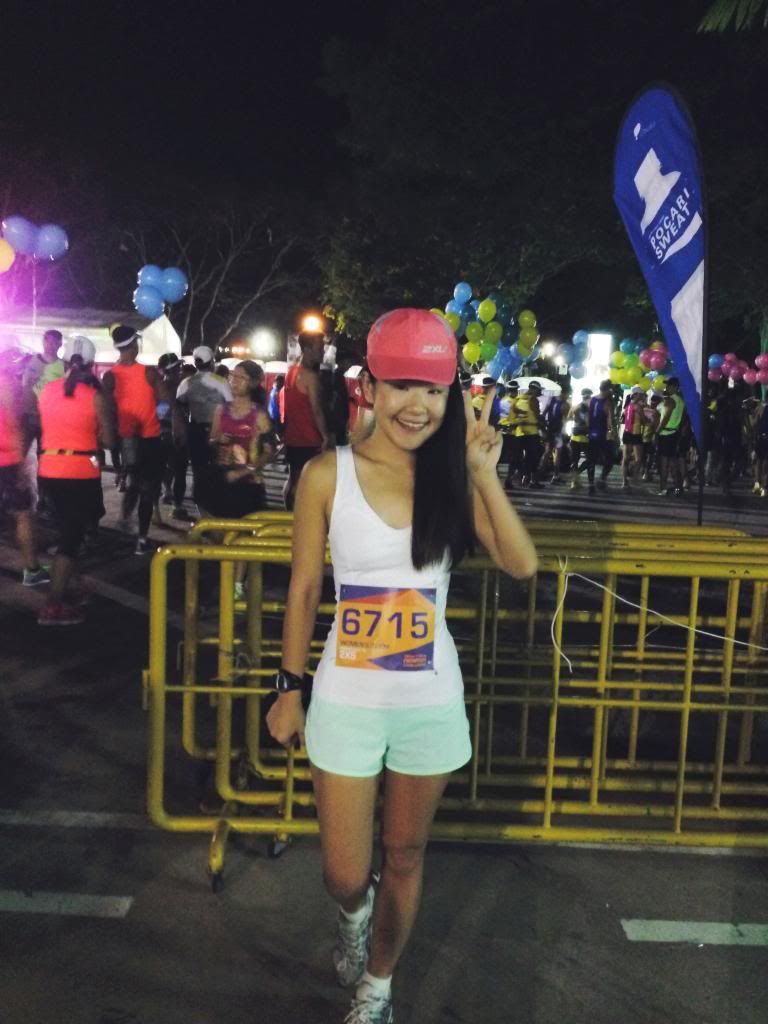 Joined the second wave at the starting line and off we go at 5.30am!
It feels good to pound the familiar pavement again, this time round without TC. My mind was free of everything, no pressure nor worries nor stress. That's my favourite part of running and joining races - you do it for yourself and no one else. The banana and gel point at 7km came as a pleasant surprise and I was glad to fill my empty stomach with some food to take me through the other distance. There were distance markers for every km with plenty of water points. Also, the colorful balloons held by the Newton pacers were a lovely sight, together with the bright yellow jerseys of the SCM pacers who were doing their trainings at ECP.

My personal target for the distance was 3:30 so as to work towards a sub 5 during the coming full marathon. I decided to go at my usual half-marathon pace for the first 22km and was surprised that my legs could somehow maintain the speed and even speed up a little for the last 10km. This is unlike the sluggish and "not-so-fresh" feeling that I experienced for my long distance races and it's all thanks to the mileage clocked from the trainings.

Despite two distances taking place concurrently, there were no bottlenecks at any point. The usual ECP route felt okay and I didn't feel bored surprisingly. The glares and heat from the sun came to me at the last 5km and that's when the "sumptuous spread of food" as promised by the organisers via sms became my main motivation to cross the finishing line strong. Run with your legs and then it's running with your mind!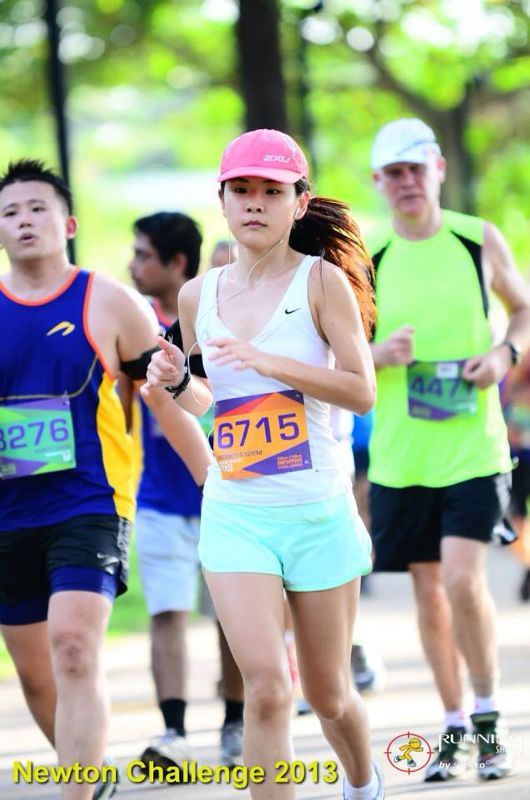 Pic credited to Running Shots. Taken at 25km, with the last 7km to go!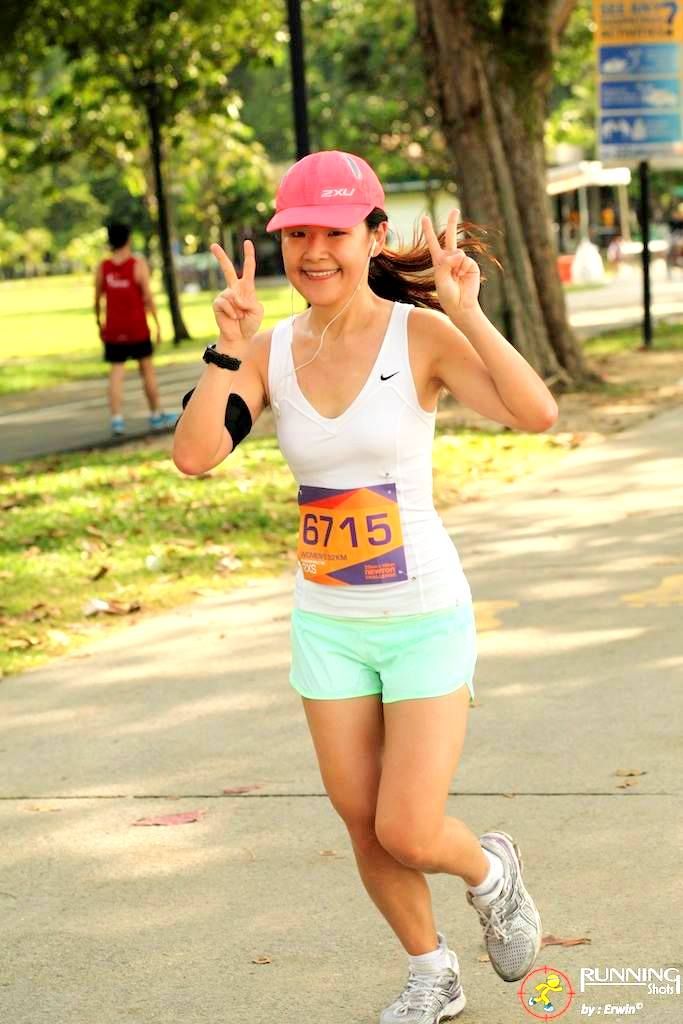 After crossing the finishing line, we were welcomed by volunteers and given a cold towel (such bliss!), medal, bananas, drink and a blue finisher tee. Every race is different and the sense of satisfaction deprived from crossing the finishing line makes everything so worth it.
True enough, the array of food choices didn't disappoint. There were subway sandwiches, subway cookies, beancurd, nasi lemak, oreo cookies and even cold ice-cream!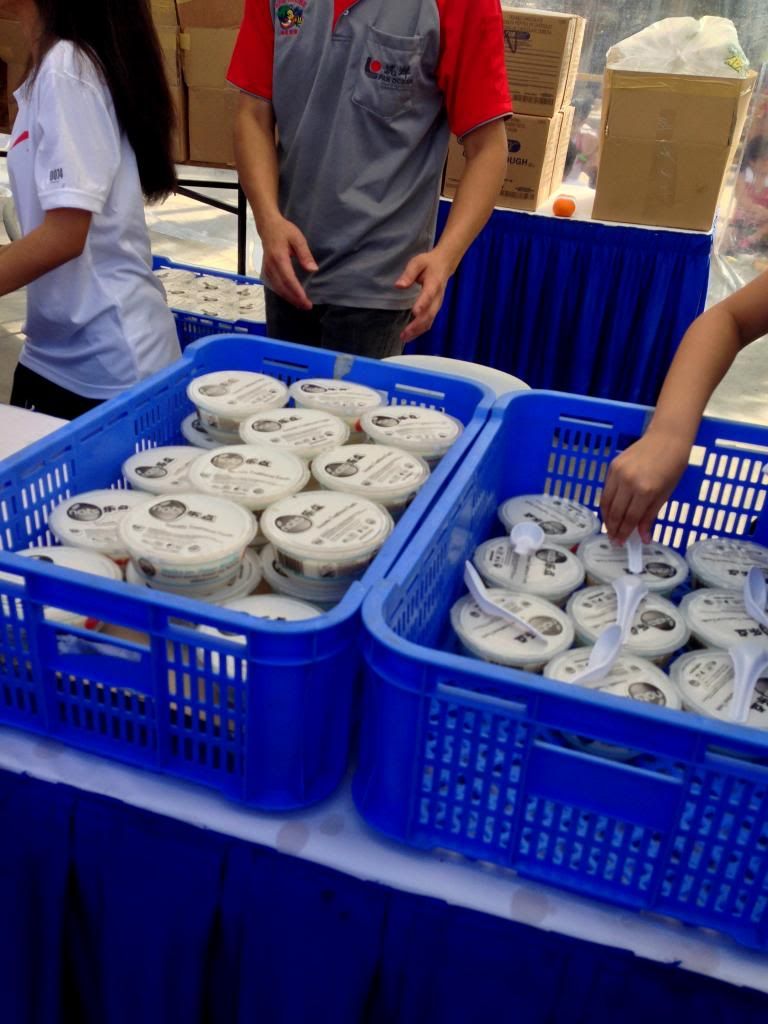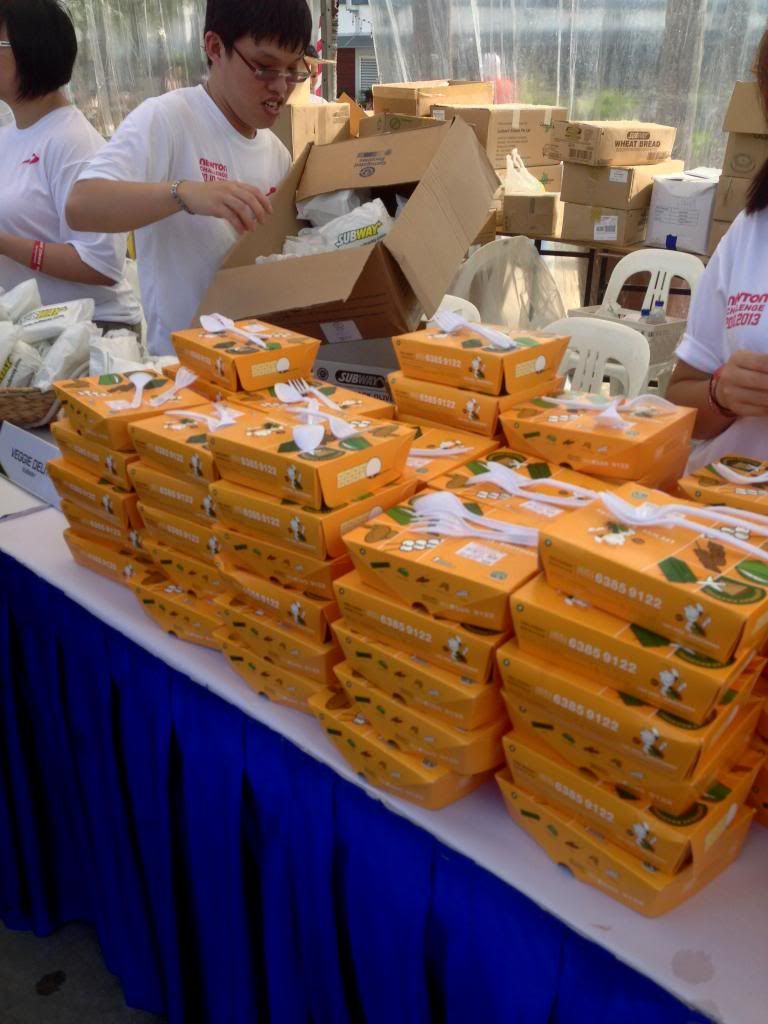 Here's a shot with Zorro who was a common face at races and he's amazingly fast despite his attire.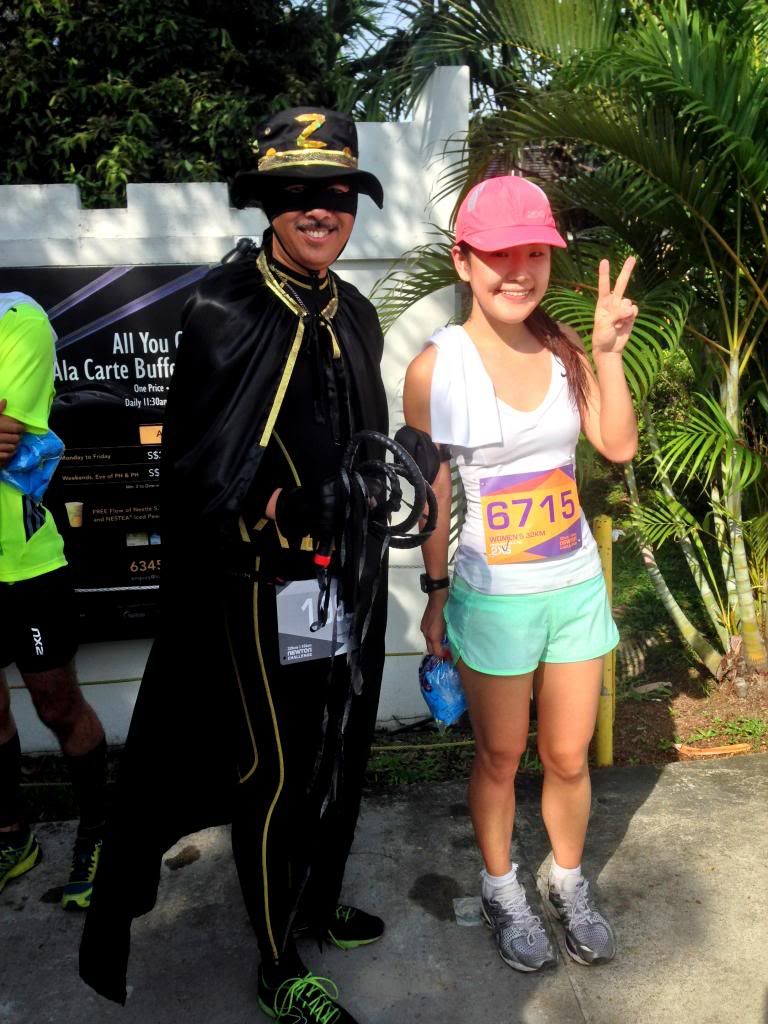 I've conquered the distance! ;)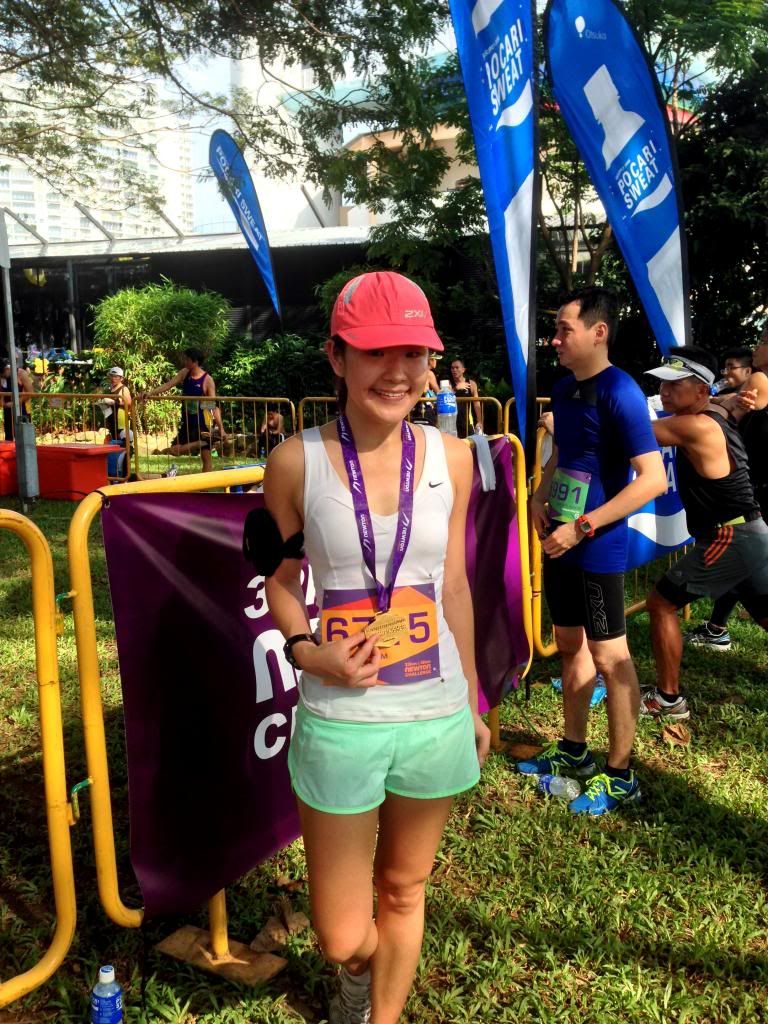 Finished the race 8 minutes past my target but still, very proud of myself for waking up early and putting in my best effort for the timing!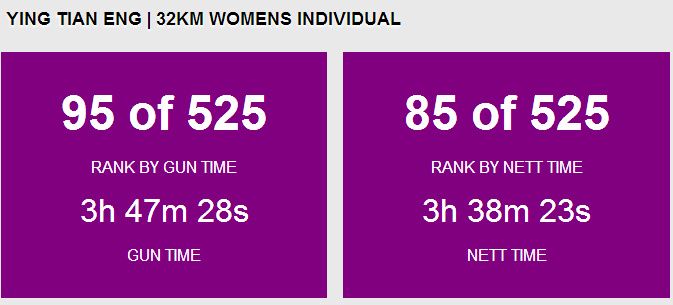 The beautiful medal!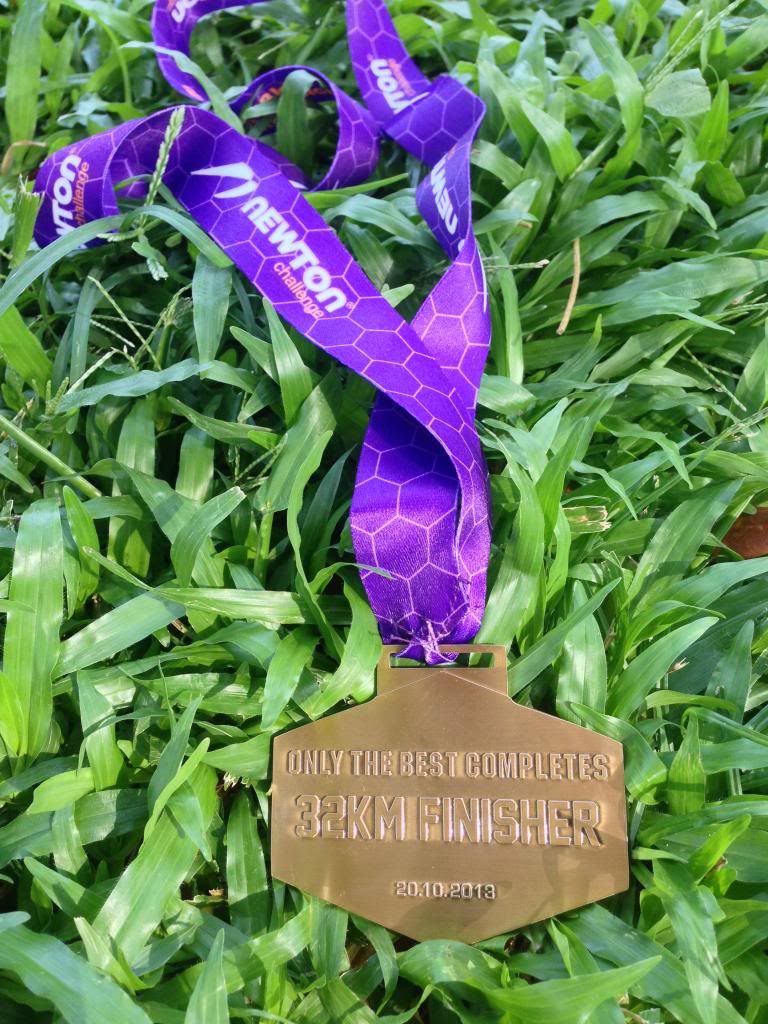 "
Only the best completes"
was the tagline for the run that day which was so apt because everyone IS a winner for finishing the 18km/32km.
However, it won't be possible without the best race organisers as well.Thank you
Pink Apple
for the race slots and making the race so enjoyable and I can't wait to be back next year for another round of Newton!