-This entry is catered for the ladies but for the male blog readers, feel free to read on for your other half-
Being a female IS awesome because there's so many things we can do/buy/use BUT face it, monthly periods can be rather annoying especially with the inconvenience and nasty cramps. I used to suffer both pad woes and severe cramps during my school days but thank god it got better with age after I picked up exercising years back and found the right sanitary pad. However, I still get pretty moody and avoid socializing for the first few days of my period. #antisocialatheart
I'm the kind of girl that NEEDS to do some exercise or running at least once every three days otherwise I will get really cranky. I've learnt not to let my monthly periods come in the way but instead, light exercise (short jog or yoga) helps in making my periods so much more manageable. Sweating just has that amazing effect and I always sleep so well after that, not forgetting my trusty comfort food like chocolates and hot drink. How do you usually manage your periods? :)
Somehow or rather, most of my races just HAD to coincide with th first or second day of period which made long-distance running much tougher. Beside the drop in energy level and morale, another major fear was that the
pads may not stay in place which will result in restriction of body movement.
That should really be the last thing on your mind during running! On those days, I usually opt for a night-wing pad with wings that gives me the comfort and security.
Another period woe that may interfere with exercising is the standard pad issues -
leakage, uncomfortable shifting or bunching, rough feel
against the skin that can cause unnecessary stress.
PRODUCT!
I was recently introduced to
WHISPER COSMO
, came up by Whisper to solve all these difficult issues.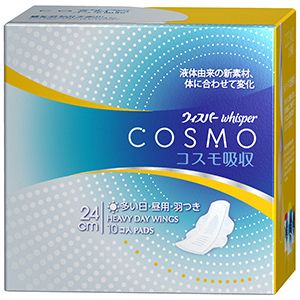 These are the key features of Whisper Cosmo:-
1)
3D fit
- Absorbent material and new liquid-based material "Lactoflex" helps keep the pad stay in place without shifting or changing shape while you move.
2)
360° Freedom
- The asymmetrical grooves at the back end of the pad stay fitted, keeping in perfect shape with your body shape.
3)
Double-curved, stretchable wing design
- Follows the curve of your underwear for a constant fit and less shifting of the napkin.
4)
100% Comfort
- The resilient material of the napkin retains its elasticity even when damp, due to sweat or menstrual flow.

Basically, the latest innovative pad, Whisper Cosmo will give you the full support for a comfortable day, fitting well, synchronizing to your body and is gentle on the skin. It's all thanks to the new liquid-based material "Lactoflex" that keeps the pad in place and absorb three times the average amt of flow.
Review!
The Whisper Cosmo pads came in handy for a holiday and so, I was eager to find out if it was as good as what it claims.
I have been using Whisper and Kortex pads since forever after pledging my loyalty since young all thanks to my mum. Somehow, these are the only two brands that could match my expectations as the other brands that I've tried just fall short in terms of either the fitting, leak or comfort level. For me, the "ideal" pad for me should be thin and feel totally invisible, like you are NOT wearing anything and yet there's zero leakage or shifting issues.
And true indeed as per its claims, these new pads didn't disappoint and throughout my holiday, I didn't feel that uncomfort nor experience any leakage. I could have fun without worrying about any leakage nor skin irritation. Best of all, I didn't have to keep visiting the toilet to "check" on the flow nor change my napkin that often.100% comfort and 0% leakage - what else to wish for?
The only gripe that that the the wings portion wasn't as sticky as what I've like to, but thankfully the pad didn't shift at all!
Give-Away!
We all know product reviews can be rather subjective and the BEST way would still be trying out the actual products. Now you have a chance to try out the actual one, all thanks to Whisper & Cozycot!
Whisper would like the share the love of this awesome product to my blog readers so that you can try to! The
box of 10
is valid for the
first 50 readers only
so just fill in the form below.
Say yay to full size samples, you can review it at cozycot as well!
---

You can purchase a box 10 Whisper COSMO's heavy-flow napkin (day/night) at $6.50, available in all pharmacies and supermarkets!
(Not the cheapest napkins ever, but definitely worth it to exchange your pads woes for extreme comfort!)
With Whisper Cosmo, there's no excuse not to do your favourite exercise! :)