Started the first day & Sunday of December on the good note all thanks to the annual Standard Charatered Marathon, the biggest running event of the year!
How did one year pass so fast seriously? I could still vividly remember the last
SCM 2012
not too long ago where TC came down to support me throughout. This year, I registered for him at the last hour so he could clock the extra milege as training for his upcoming New Zealand Ironman next year. It was actually part of the birthday present (so weird a gift I know haha!) and I figured running is less mundane than waiting. Ironman is an impossible mission for me, seriously to run a full marathon after 10 hours of swimming and long-distance cycling?!?!
The starting point was at Orchard Road and the route was exactly the same as the last two years. It means that we get to enjoy pretty festive lightings at the starting line! And so, we woke up at 2.45am and made our way down to the starting point at 4am. I was feeling really sleepy and nervous with just two hours of sleep but the lights, atmosphere and enthuasiam perked me up a little. It was also one of my least prepared full-marathon ever with the wedding preparations taking up my weekends and the last long distance I clocked was at Great Eastern for 21km? And it's true that if you do not train hard enough, you pay for it on the race date just like exams.

I told myself at the starting line to just enjoy the route, give my best and take it as good training for the Toyko Marathon next year.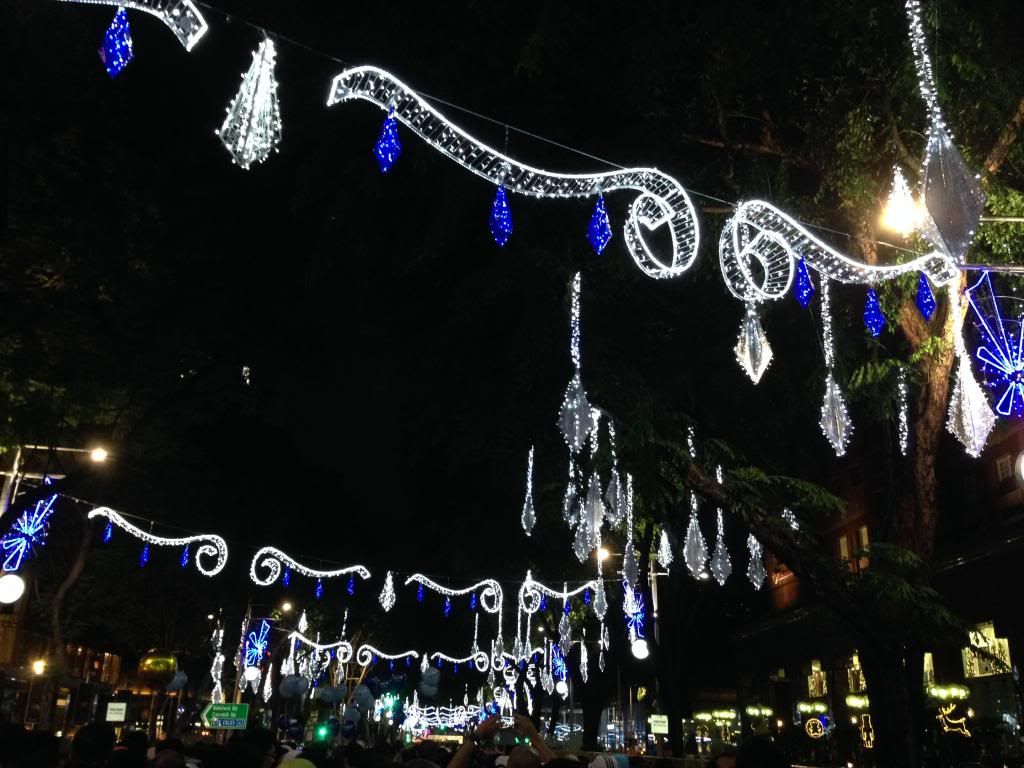 In town at 3am with total lack of sleep.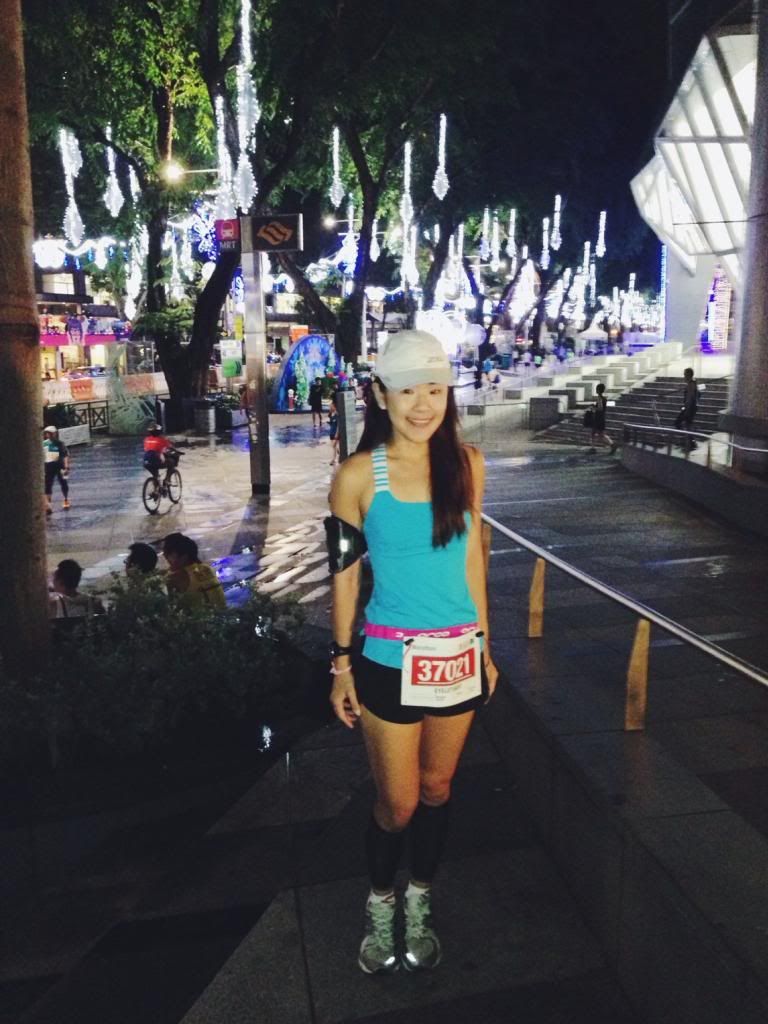 At the starting point and we were way in front because we arrived an hour in adv!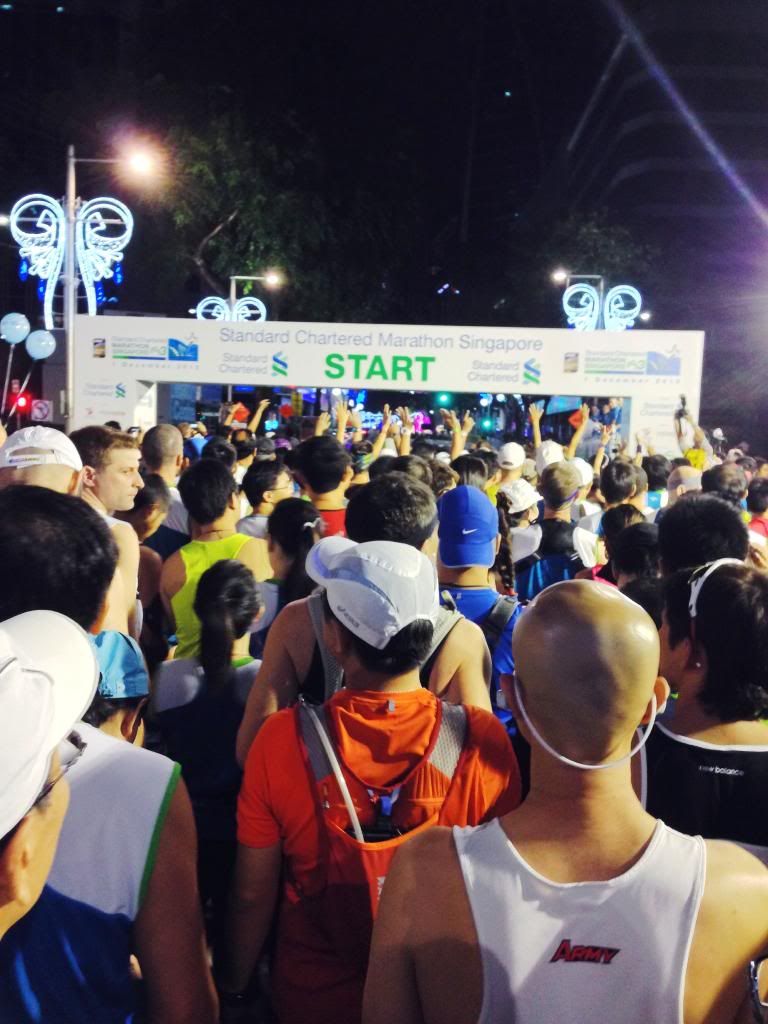 And here we go! :)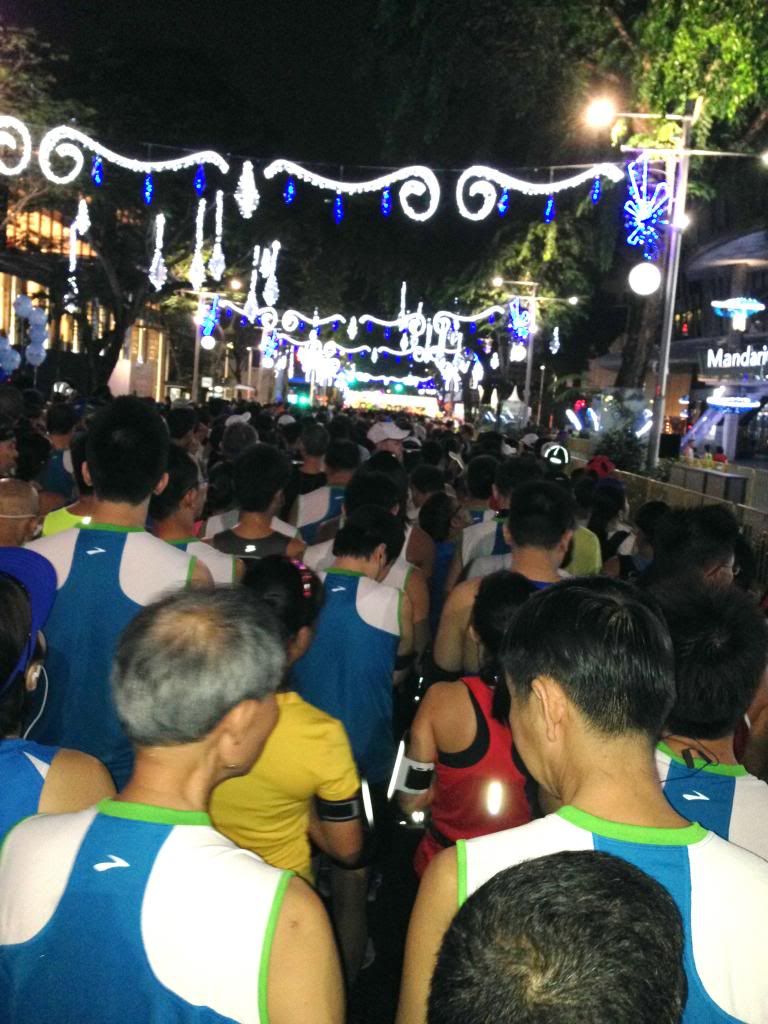 There were several runners who were cladded in full costumes like Santarinas, Batman, Power Rangers etc, spicing up the event and making it more light-hearted. I was extremely touched to spot a blind runner along with the assistance of another man, doing her full and wearing a smile on her face all the time. It was the exact same scenario that I witness during my Hong Kong marathon this year. They have shown us that nothing is out of our reach if we set our minds to it with full determination and zero excuses.
"Brave through the pain and celebrate after"
That was the exact quote that was printed on most of the distance markers. This time round, I didn't get much physical pain or ache, but it was mostly the mental pain and mood swings that I have to put up with which was driving me crazy.

For the longest time, I've been pondering whether to run with or without music for the race since I found myself concentrating better without from the last two races. Simple decision but the thought of running 42km without anything seems rather torturous to me. And so, I finally decided to run without music, at least that's what that happened for the first quarter. However at the 14km mark, I was feeling really cranky and restless with fatique kicking in due to the lack of sleep. Is that hitting the wall? My mind drove me nuts with continuous thoughts to give up which I finally resisted by pulling out my mp3 to tide through that crazy phrase. It wasn't easy combating all the negative thoughts to replace with happy ones but I tried my best to. I visualize myself passing through the finishing line, a happy breakfast after that, meeting up with TC & other running mates and all sorts of quotes. It definitely helped. I felt calmer, less tired and the soothing music helped to get me out of the moody phrase. Throughout the years, I've realised that the mind actually play a far more important role than the legs to tide you through the distance right to the ending line.
The experienced 5 hours pacers that I was running with were extremely motivating as well. It's definitely not easy being one, running at a constant pace and leading runners towards their ideal timing.

I was extremely relieved to get out of ECP at the 32km mark with a last 10km to go. Just keep going, just keep running since your legs are fine, I tell myself.

At Garden by the Bay, last 8km to go!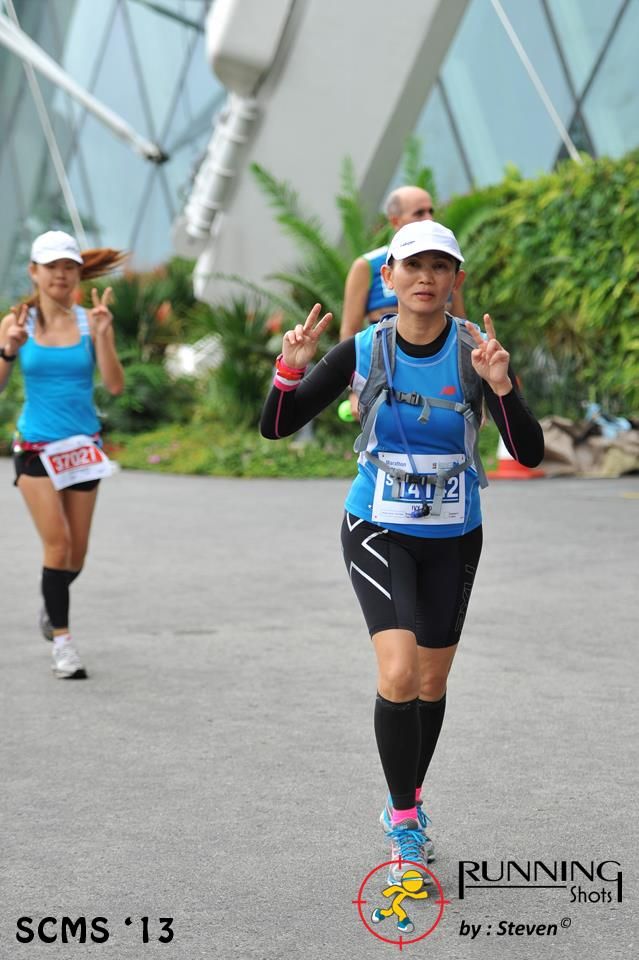 Credits to Running Shots & Run Capture for the pics.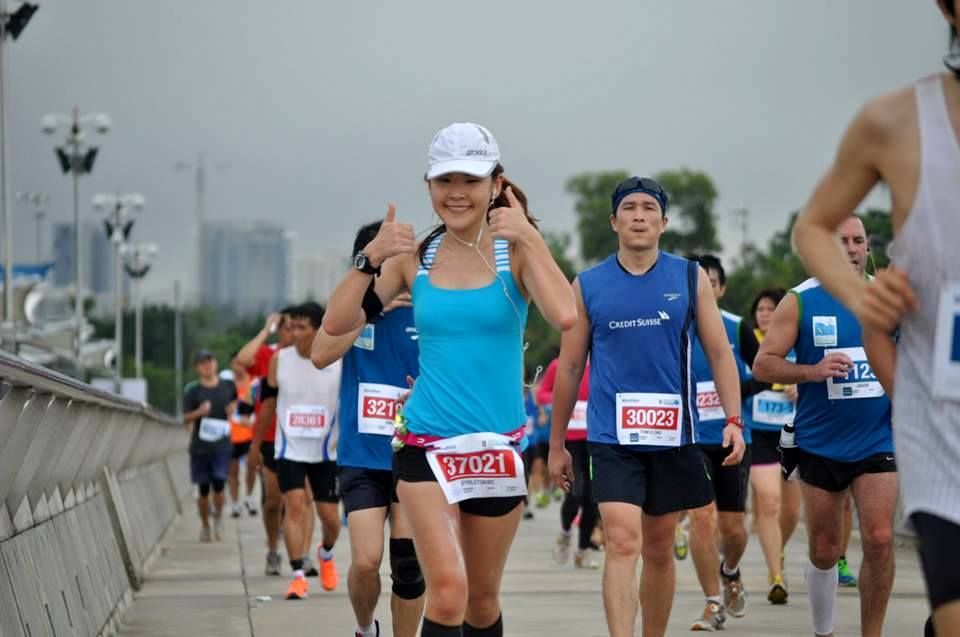 Literally stoning haha!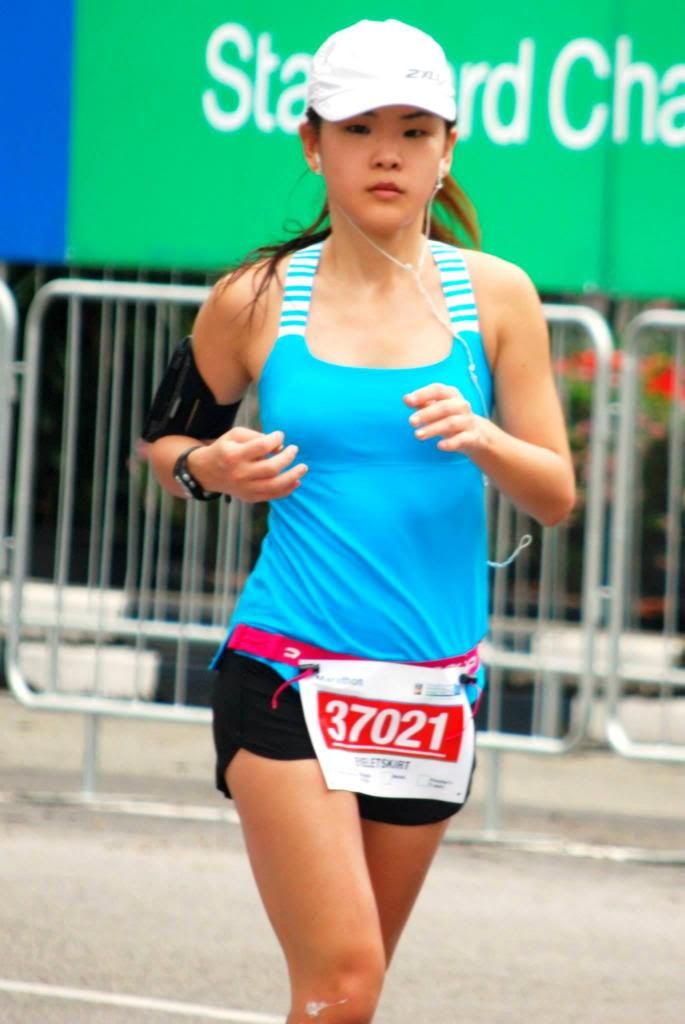 The rain came at the right time and the weather was extremely cooling without any sun. It was the best weather I've experienced at SCM definitely. The muscle rub provided by the volunteers were a god-sent as well to keep me running throughout.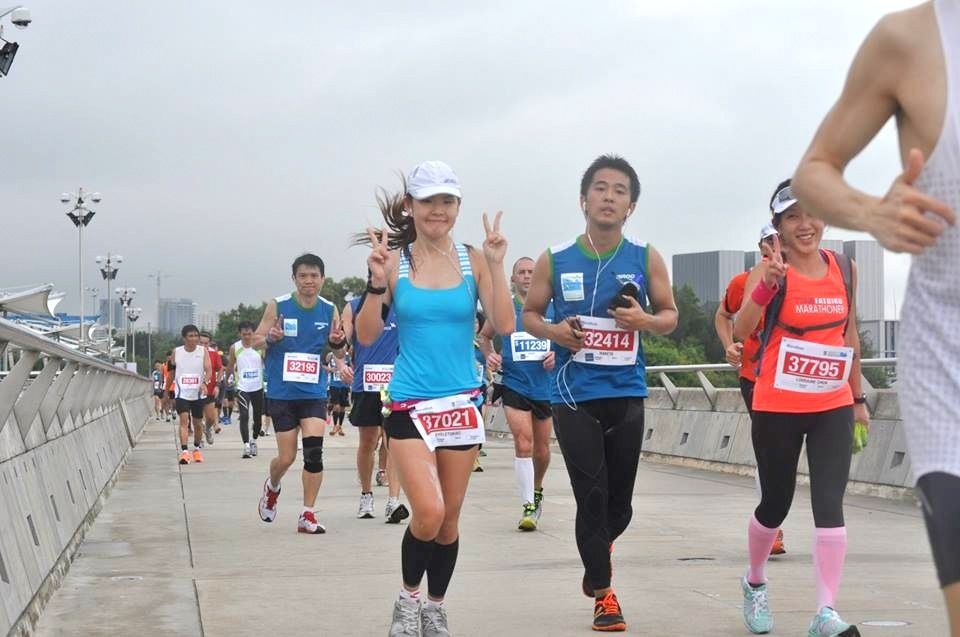 Nothing can beat the feeling of crossing the finishing line with your own effort. Every full marathon always feels like the first, with the mix of immense satisfaction, pain and joy!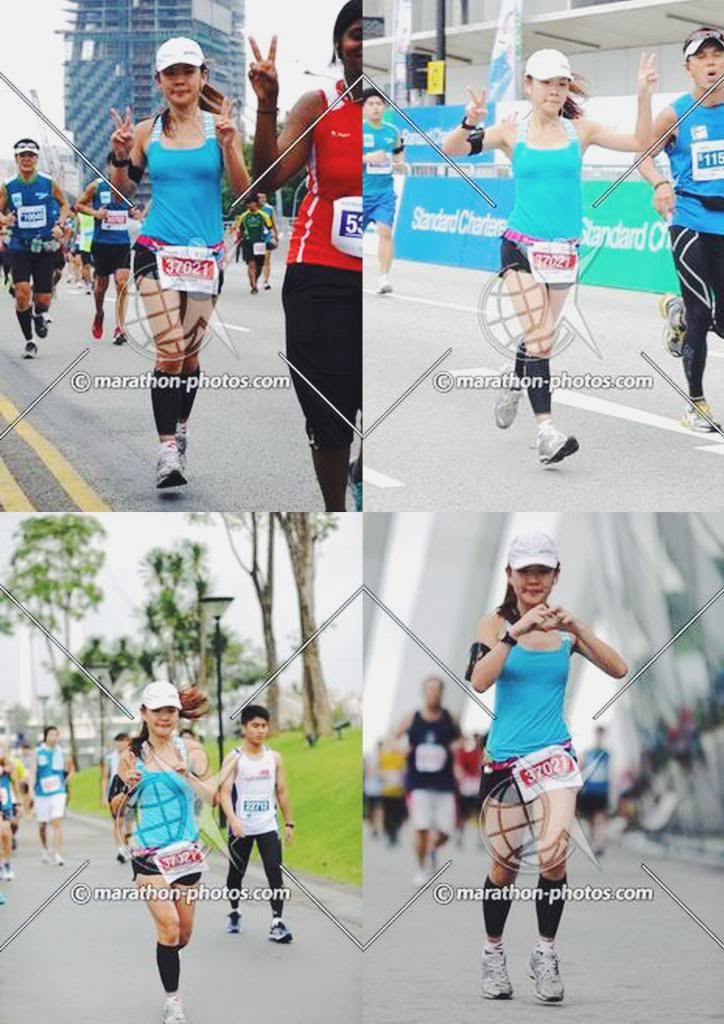 I didn't manage to get my sub-5 hours target nor my personal best this time round. Missed my Sundown pb by a minute but still, I'm glad to beat all the odds and mental pain to make it back in one piece in 5 hours 20 mins. Every race taught me something and this race has made me a stronger person and runner.
We ran seperately and I was so happy to spot him after collecting my finisher tee!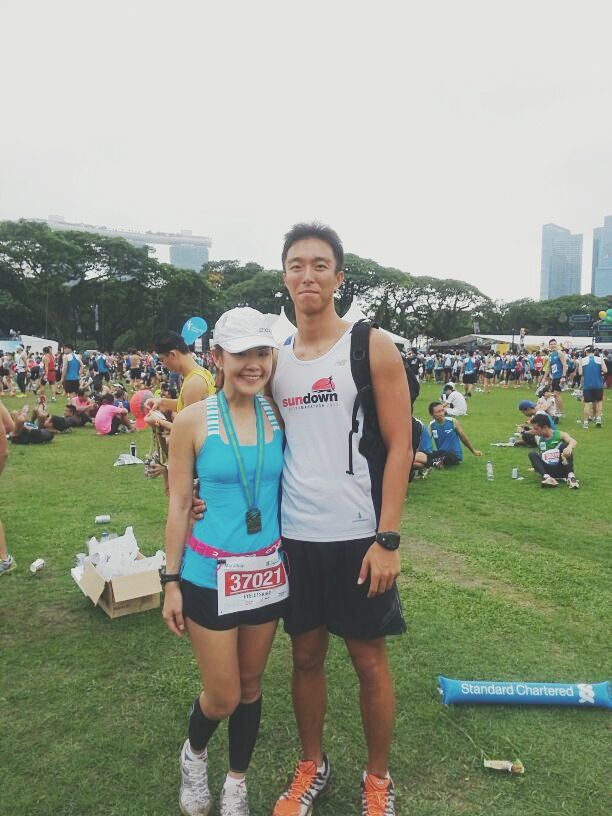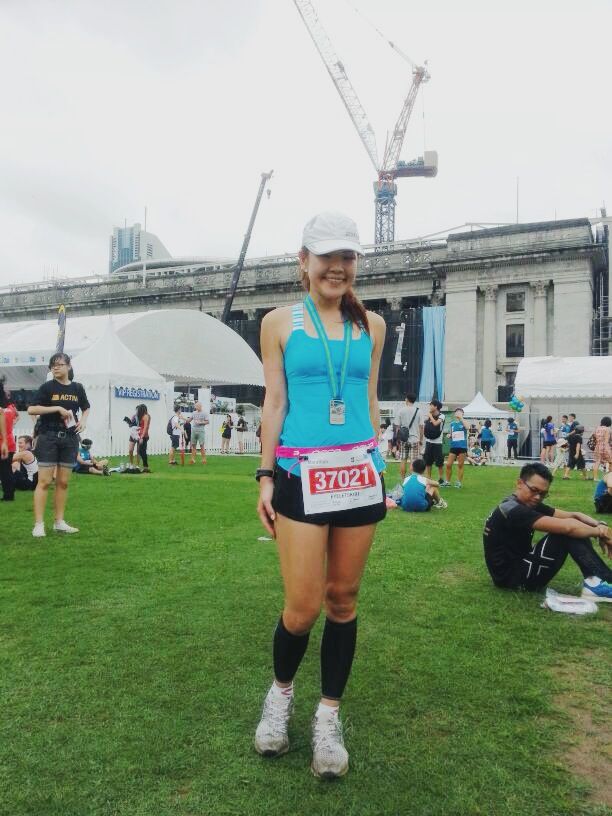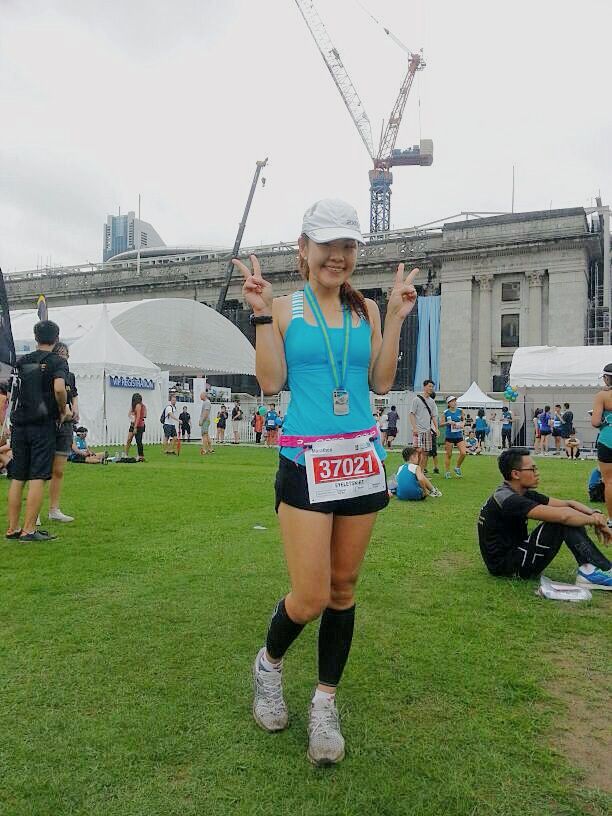 Another medal to add to the collection and this is the story behind my medal this year.
And so, this marks my last race of the year for the legs to take a little break before the next Marina Run! :)
What is your reason to run?