Thought I will share a review on a sports gadget received in November which I have been using for awhile, especially for those who are keen in GPRS watches for sports use.


Garmin Forerunner 110 GPS-Enabled Sport Watch with Heart Rate Monitor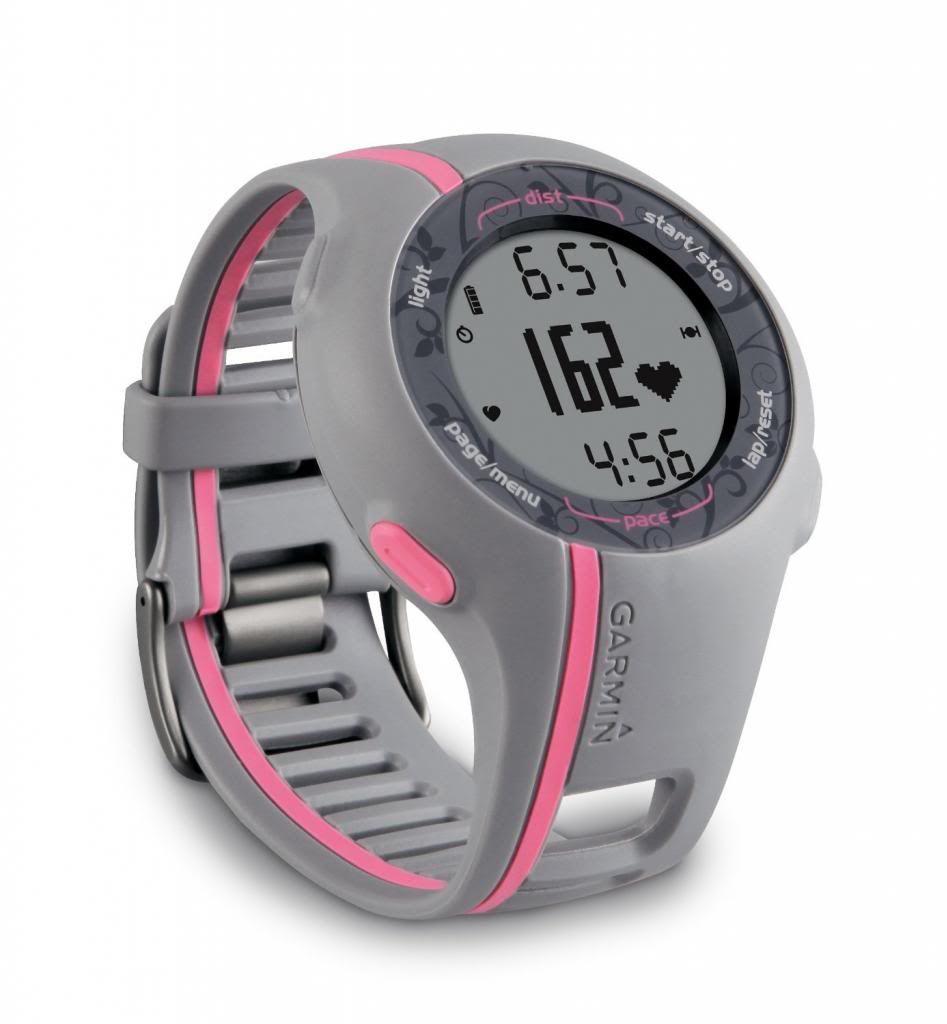 Colour : Pink
Price : USD229
In the box: Heart rate monitor (pink), AC Charger
Features:
1) GPS-enabled trainer watch accurately records your distance, time and pace
2) High-sensitivity GPS receiver stays locked on satellites, even near tall buildings or under tree cover
3) Rechargeable battery provides 8 hours life in training mode, 3 weeks in power save mode
4) Upload data to Garmin Connect site to view workout summaries, create goals and more
5) Includes heart rate monitor for heart rate-based calorie computation
First Impressions:
I've been searching for a GPRS watch for workout purposes after relying on my Timex stopwatch (which only tells me the time) and RunKeeper app for years. Run Keeper is a fuss-free and FOC application in iphones/androids which I absolutely love, except that the location service is giving me a headache and draining my phone battery far more than I desire. This can be a frustrating problem for weekend long runs or any full marathons where my phone is usually dead even before you reached your destination. I've tried all sorts of methods to conserve the battery (deleting whataps app even) but I always find my phone almost flat. For the ultra-marathon, we had to rely on a 12,000 mah portable charger to charge the phone twice to last through the whole journey. Not to mention that most of the time, the distance recorded wasn't very accurate due to the poor GPS transmission at times. There's also the lack of calories recorded and inconvenience of having to take out the phone from the arm pouch to check on the distance or to press start/stop.
And so with the upcoming overseas race, I decided to get a model to meet my basic needs that could tell me my pace, calories, distance, time and pace. I also wanted it to be as light as possible without any bulk. The deciding factor was the high accuracy for the distance and calories due to its high-sensitivity GPS receiver and heart rate monitor.
Reviews:
The Garmin watch came in a box with a heart strap monitor and charger. It was in a lovely shade of grey along with pink trimmings and buttons AND I would have rate it higher if it has more pink in it haha! It was extremely light like my Timex stopwatch and Baby G watch.
Prior to using, I had to charge it for a few hours with the AC charger and to adjust the setting. It's super user-friendly and fuss-free process, just keying in your usual activity level, height, weight etc.
On the first three uses, I brought it to the gym and yoga studios to test the "indoor" feature. I went for a back to back Body Pump & Body Combat class while wearing the heart-rate monitor below my sports bra. Basically, it works the same as the outdoor feature except that there's no distance clocked and you could off the GPS feature. I was able to read my heart beat from my wrist at any point in time (could be distracting sometimes). At the end of the two hours, it recorded two hours of work-out with 620 calories burnt. Not too bad I thought and knowing your calories made your effort all worth it, except that the straps were not too comfortable for me especially on the step board. I also tried it in a Bikram Yoga class and it works equally great.
I brought the watch out to hit the pavement on my fourth use excitedly since it was supposed to serve my running purpose. It's extremely easy to use without any complicated process of adjusting - just pressing start and then stop. To be honest, it was pretty disappointing initially since it took me close to 5-8 minutes to get the watch to detect the satellites as per the manual that indicated 1 minute.
During the run, everything worked great and I was able to see my distance, pace, calories and heartbeat at any time. Also, there's the lap function which is good for interval runs. I've been leaving my phone at phone and relying purely on this watch and it displays everything I want to track - Elapsed distance (for run), Elapsed time (for run), Current HR, Average pace (for current lap), Last lap pace (displayed automatically for a few seconds after each lap), Average HR (for run), Average pace (for run).
The best part that I like was that the super duper accurate distance recorded after testing it for several times. I tried running the same route and at the U-turn, it recorded 6.44km on three tries. No worries about being under the shade or areas with poor network.
Also, there's a history function where you can see a summary of all your runs or choose to upload data to the Garmin Connect site to view workout summaries and running maps. My only complain was the slow satellite detection and I will need to stand outdoor to make sure it's all done before pressing the start button. Another problem will be that the battery life could only last for an 8 hour run and I will have to charge it several times a week.
It works for cycling and swimming since it's water-proof but I've yet to test it out yet. Maybe next week. For now, I will be relying on this baby for awhile before upgrading to another one next time. No more runkeeper and bulky phone for now! :)
Pros
1) Superior GPS chip
2) Close to 100% accuracy in distance, pace and calories burnt
3) Super light and small for the wrist
4) Able to be used indoors
5) Water proof
6) Extremely user-friendly
Cons
1) Short battery life (8 hours run), 3 weeks in power save mode
2) Takes awhile for the watch to detect the satellite prior to the run
Hope this lengthy review helps! :)
Keep running, there is no such thing as a bad run. Fit is the new black!