Despite the long day preparing for our wedding, I was really looking forward to Marina Run 2014 that Saturday night with TC. It was my first run of the year after the last SCM run two months back which seems like ages. That urge to run with the other runners, the urge to cross the finishing line, I miss that satisfication that cannot be bought.

There is also something special about running at night, especially when it is complemented with the scenic Marina Bay riverfront and quaint waterfront communities.
The half-marathon that evening was our last long distance training to clock the extra mileage and I was happy to cover the race for Run Society as well. [Race review link
here
]
It was my first time doing Marina Run and honestly, I didn't had any high expectations that night due to the poor logistics at the race collection the week before. I did not encounter such a problem even at the bigger races like Sundown or SCM. There were only two counters to manage the long snaking queue with runners stuck in the rain. Fortunately, the security guards managed to lead us back into the building to avoid the rain and I got my race pack only after an hour later. It was a really frustrating process just waiting with the queue hardly moving.
The starting point was supposedly at Garden By The Bay. However, we were informed by the staff there that the starting point was at least a 40 minutes walk away and so, we quickly boarded another cab to reach just five minutes before the flag-off.
Sea of red and light sticks at the Marina area
Quick picture before joining the queue!
The weather that evening was unusually humid with extremely still wind. We ran together for the first 8km before TC dashed off and went out of sight. I felt bad as he insisted on running despite having to to run with a worn-out pair without soles as his other shoes were not at home.

Despite the disappointment in the race logistics, lack of signages and hydration, it was an enjoyable training session with the other runners who were holding colourful lightsticks to "light up the night".
Completed yay!! :)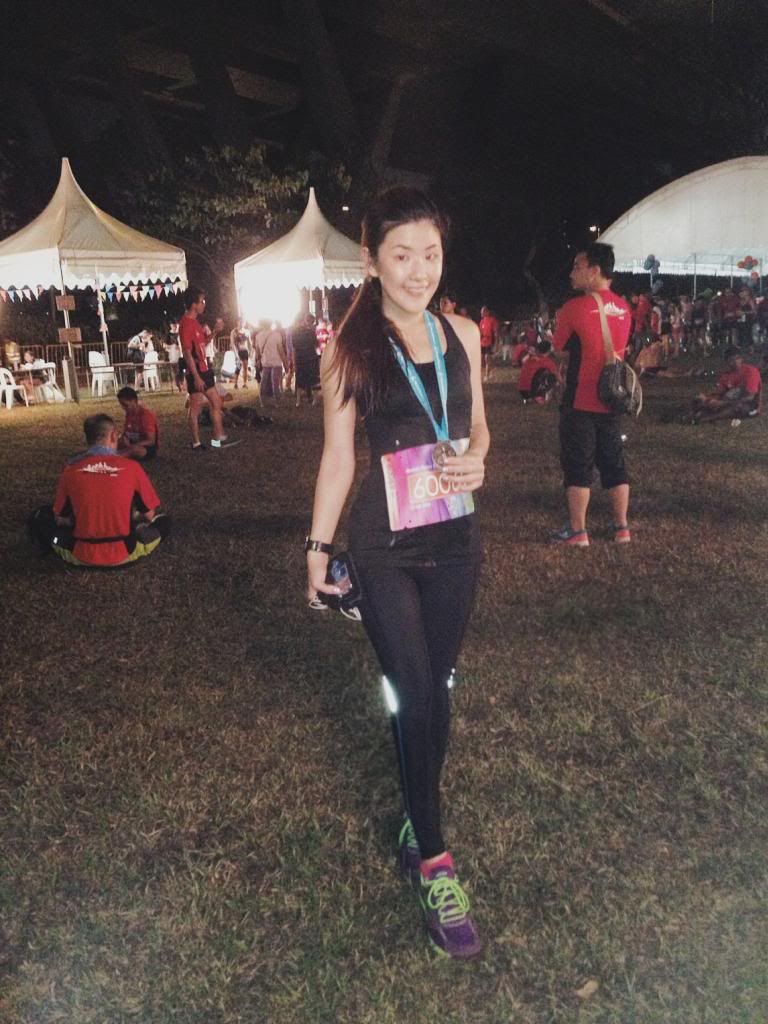 No pbs but we were quite happy with our timings. He managed to get a sub 2 as well! :)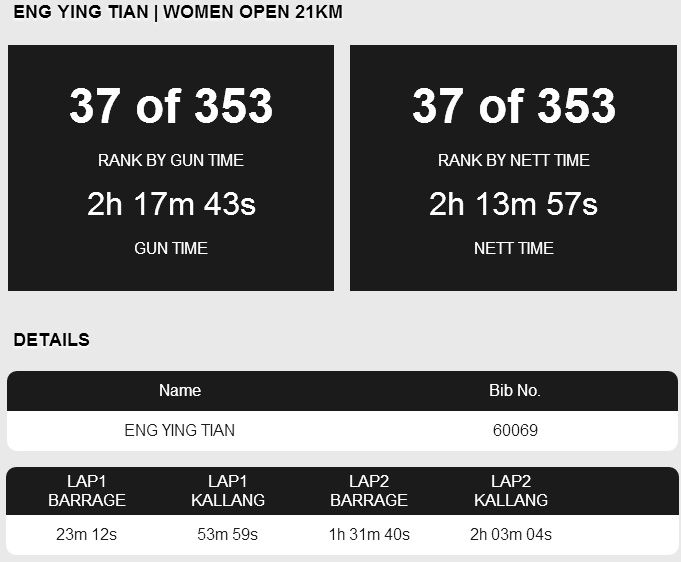 Good things come in a pair - our 6th couple medal hehe.
----
In a couple of hours, I'm flying off to Japan to attempt to tick off another item on my bucket list - the Tokyo Marathon. I've heard tons of raves about the run- the smooth logistics and out of the world crowd.
It's probably just another excuse to travel, just like the Hong Kong Marathon last year. I've never stepped into Japan before despite Japanese cusine being my top favourite food choice. Running in a World Marathon Major race has always been a far-away dream and I'm thankful to be given this rare opportunity to try it out and enjoy the whole process.
For this race, I'm just hoping to complete it within the cut-off timing especially in such cold climate of 5 degrees and enjoy the scenic journey along the way (Tokyo Tower!). I've been checking the weather almost everyday and it is still snowing right now. My first winter holiday to see snow, but yet ironically praying frantically that the snow can halt this weekend. I've packed along lots of winter clothings and hopefully this will be enough, at least for the run. Legs please maintain and head, please stay sane. Mind over body all the way.
Like last year, I will doing the run myself without TC since he will be traveling to New Zealand for the Ironman race with his friends. Five years ago, I would have cancelled any thought of doing it and just tag along with him as a "supporter". This time, we have decided that we were independent enough to attempt our last race before our wedding seperately but with the full support for each other and staying bonded. He's pretty worried about my health but I have promised him to stay safe and in the event of any discomfort due to the weather, I will just stop half-way and try it out another year.
I will try to update my journey on dayre/instagram - @eyeletskirt. Wish me luck!!

We can be crazy if we want to and I've always believe in chasing your dreams, even if it seems impossible to others. Live life with no regrets.
人的一生要疯狂一次,无论是为一个人,一段情,一段旅途,或是一个梦想。