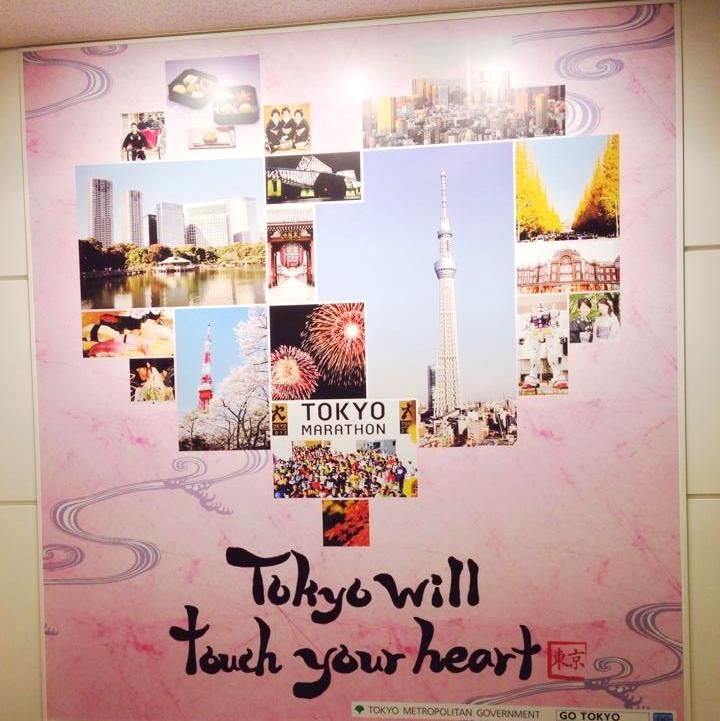 I've briefly jotted down bits & pieces of the Tokyo Marathon on my
instagram
&
dayre
but there's nothing like a proper blogpost to conclude this over-whelming race experience that I wouldn't forget this lifetime.
A week before I flew to Japan, I was feeling really excited after reading the reviews from fellow Singaporean runners on how marvellous the experience was like and how different it was compared to our gold standard Standard Chartered Marathon. I wasn't exactly sure what I was in for since it seemed like another full marathon except that it would be done in a foreign land filled with the fastest runners in the world?
At that point, the temperature for Tokyo was ranging between 0-6 degrees celsius which was the coldest winter for most of the countries this year. All thanks to the Facebook group set up by Alan for the Singaporean runners, I was kept updated of all the discussions and tips while we countdown to the marathon date. I was tracking the weather almost daily and there would even be a possibility of the race cancelling if it continued snowing and deemed as "unsafe" for the marathon to take place. I crossed my fingers while sticking through my 3-months long training programme and managed to clock 50km that week just before CNY. That gave me the confidence I needed to attempt for a sub 5 timing and to shave 20 minutes off my last. A week before the flight, the temperature was going down further and I wondered if I was too ambitious after all. I decided that completing it with perfect health was far more important since I've been so comfortably acclimatised to our humid weather all year round to even run in a sub 5 degrees. Mind over body yes, but health over body.
To play safe, I decided to re-plan my running attire and to layer more clothes for the first time in my life. TC gave me tons of advice and shared about his experience since he wouldn't be physically to support me during the race. When Kat and I arrived in Tokyo on 20th Feb, most of the snow were in a half-melted state and accumulated along the side of the streets. It was my first time seeing snow and I was excited despite the freezing cold weather and having to pile on layers.
A day before the race, the temperature was still hovering around 5 degrees. My excitement was converted to trepidation and any slight remaining thoughts of PB-ing the race vanished. However, the carbo-loading routine (my favourite part of any race) calmed my nerves down since Japanese cuisine was my number one favourite! The fresh sushis, ramen, onigiri and finger food were found everywhere, even at the convenience shops and tasted as good as they looked. On that fateful night, our late dinner was a bowl of warm beef rice with egg (280 Yen) at the nearest Yoshinoya outlet which tasted way better than our usual fast-food. Yummy.
My race gear consists of a Lululemon bra-top, a Uniqlo Heat-tech and a wind-breaker with heat-pads over a Uniqlo leggings under my SKINS compression tights. I didn't want to load myself with too much layers for the fear that I might not get used to it and it might get hot once the afternoon sun was up. I also packed along a Lilo & Stitch costume but later on decided not to use it at the very last minute, for the fear that the weight of the outfit and the crotch part might cause me problems during the run.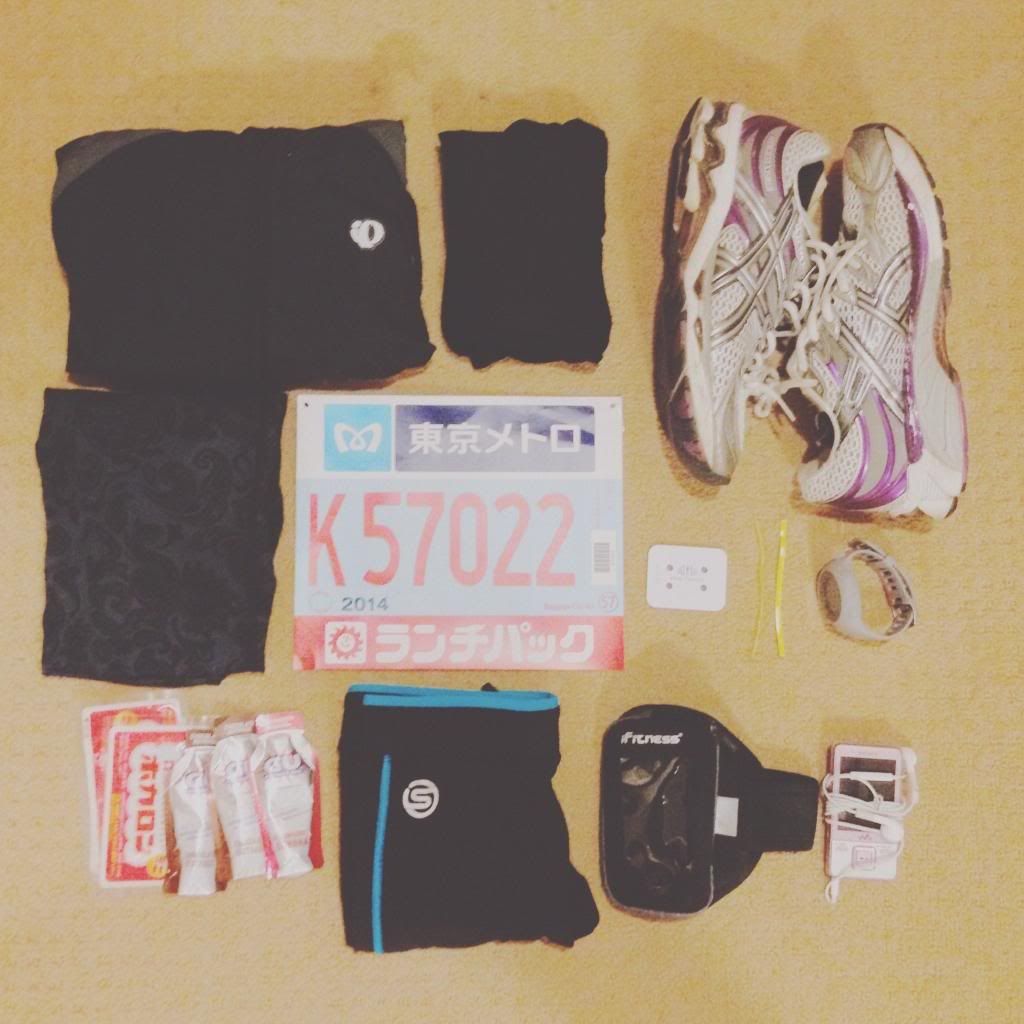 Unlike the local races that were held in the wee hours, the full marathon started at 9am. I could barely sleep the night before and started to think about how I should run on the actual day. Instead of picking up my speed at the start of the race like my other Singapore marathons, I was planning to run a slower but constant speed throughout the marathon. This means that if I was aiming for a sub 5 timing, I would have to reach 21km by 2.5 hours and maintain the same pace throughout. On the other hand, I was doubting if my legs could even bring me to the half-way mark since the coldness might not even be in my favour. Lots of thoughts, lots of doubts, lots of worries and I fell asleep somehow.
Woke up at 6.30 am that morning to get ready for the big day! Here's us in the lift before we went back to the hotel just to wear another layer for our legs. TOO COLD.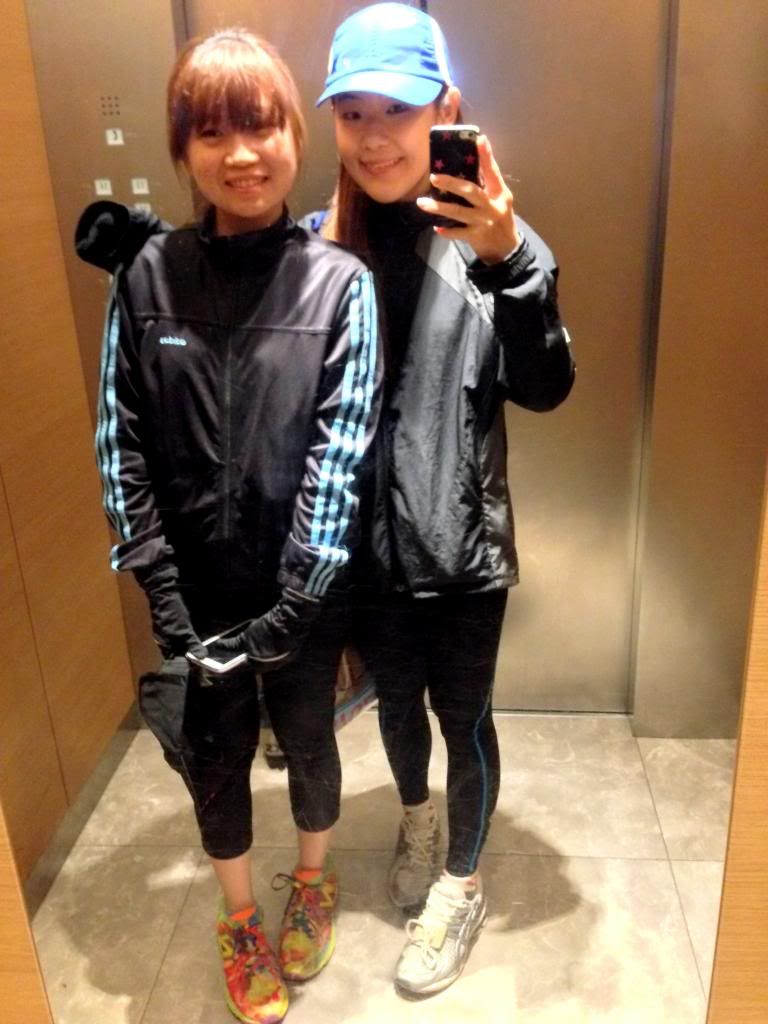 Our hotel (Sunroute Plaza Shinjuku) was within walking distance from the starting point, located at Tokyo Metropolitan Government Building. We were greeted by tons of runners carrying their baggage deposit at the hotel lift lobby and followed them all the way to the starting point.
It was a colourful sight at the race scene, with thousands of runners from different countries queueing up to pass through the systematic scanning points to get to the baggage deposit area. It was done in a very efficient manner and every marathon helper was cladded in a different coded jacket (yellow for course marshall, blue for sports drink marshall, orange for water marshall etc).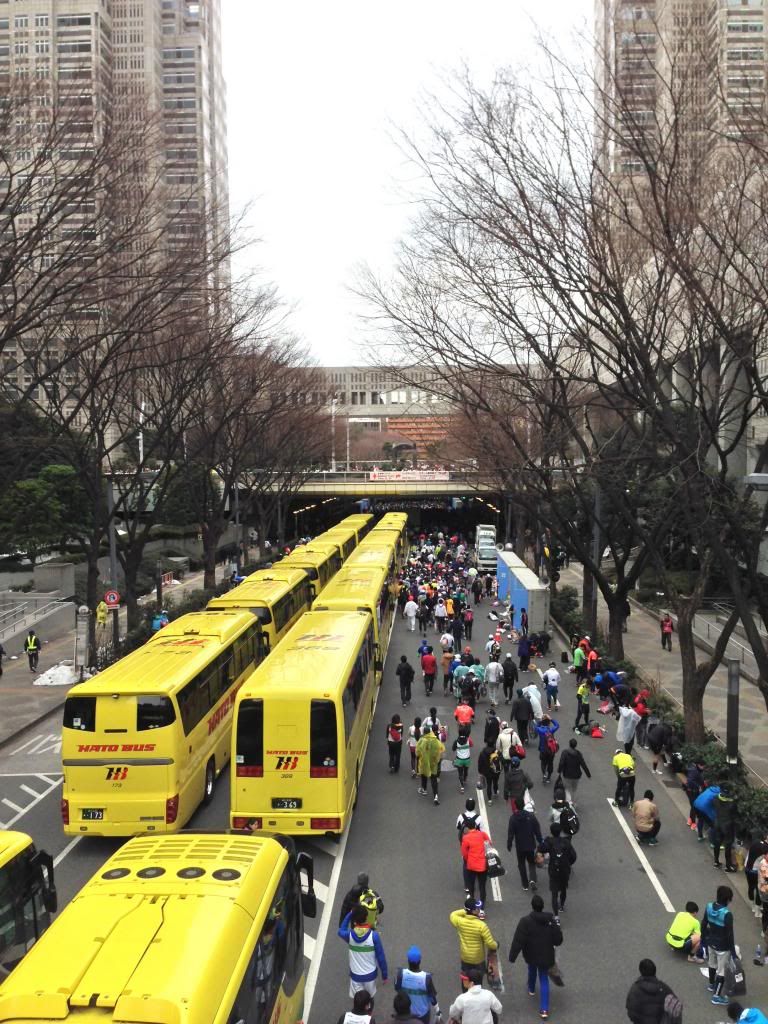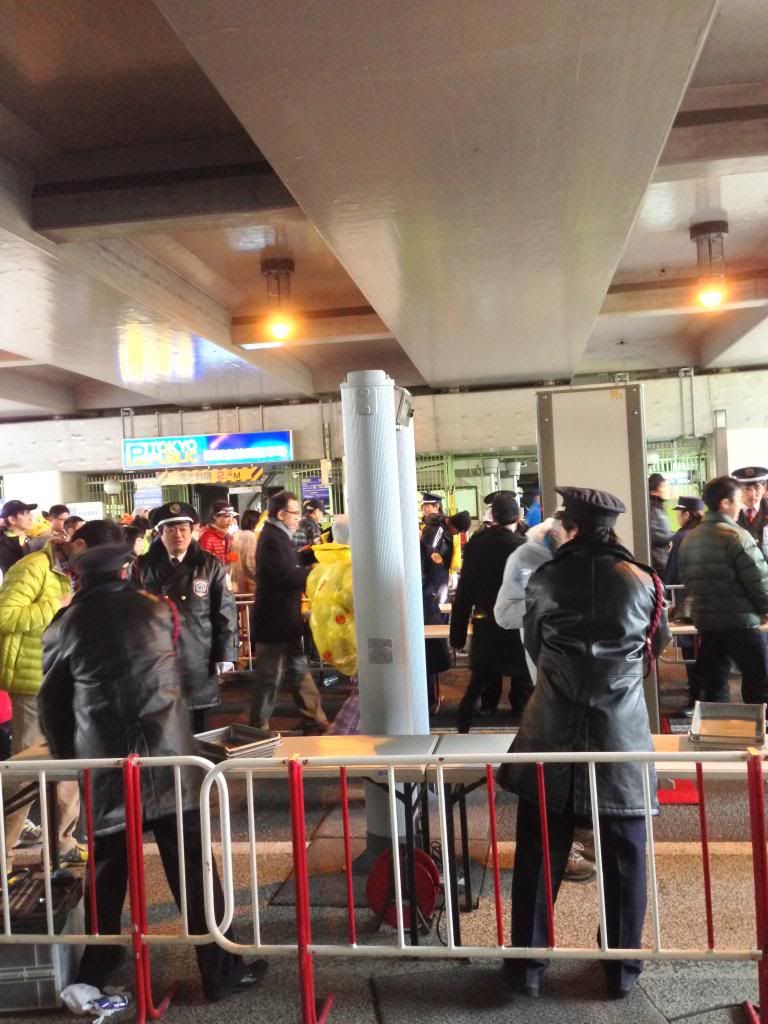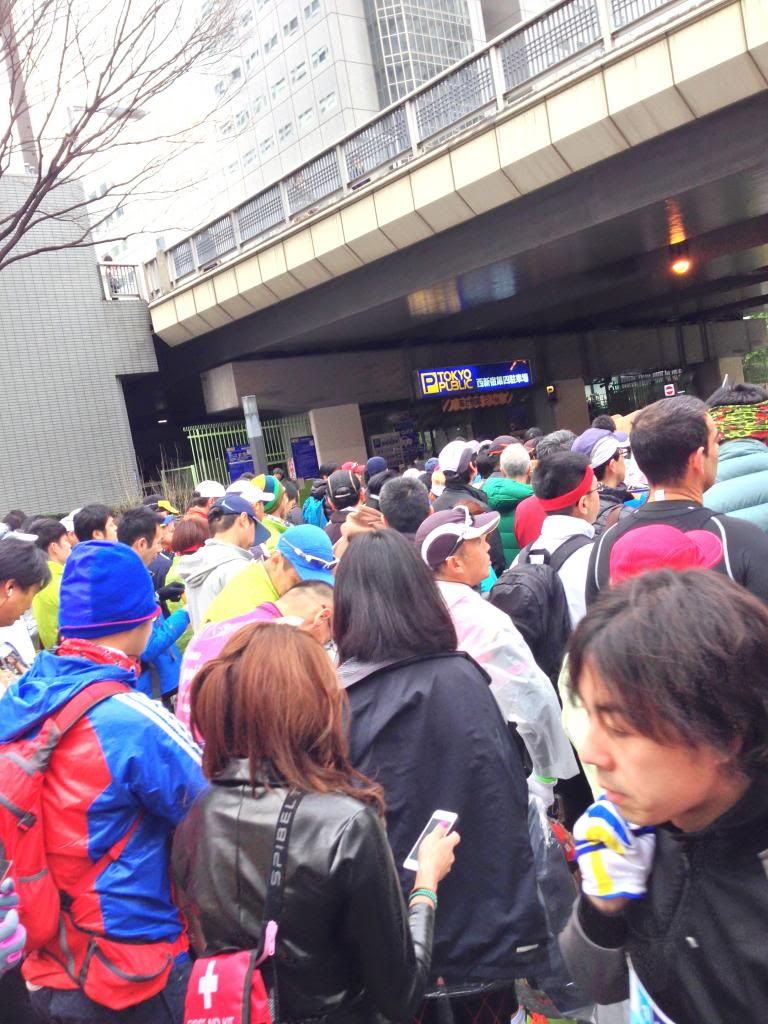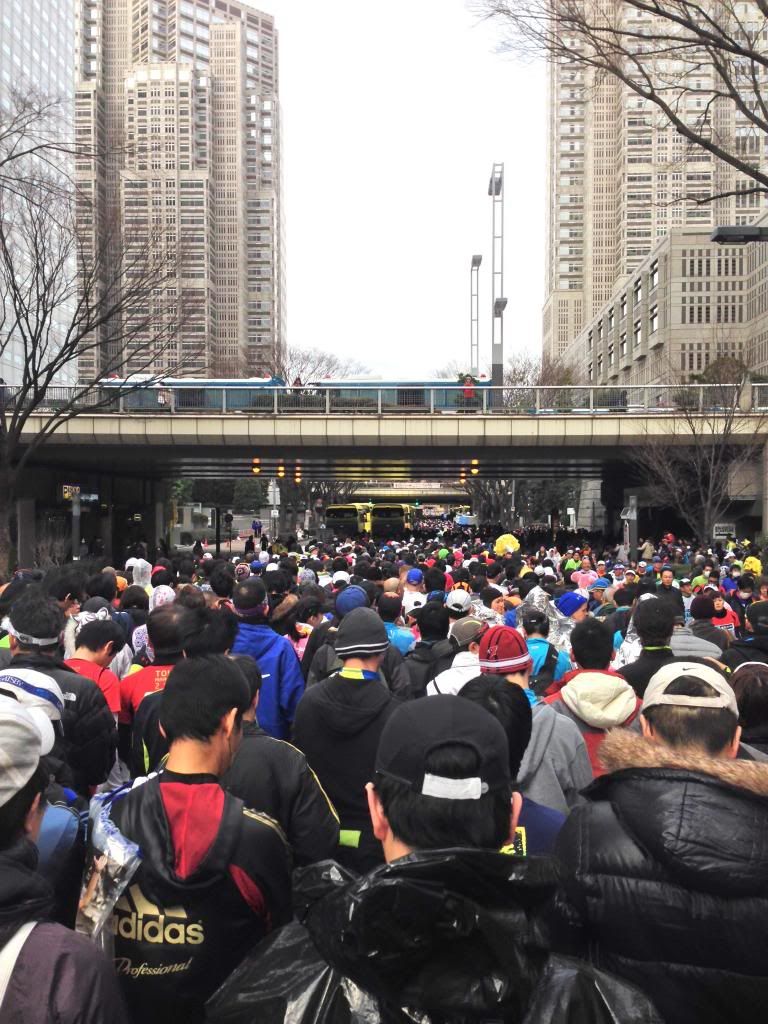 The Japanese runners were extremely creative with their costumes, be it their headgear, painted face or props.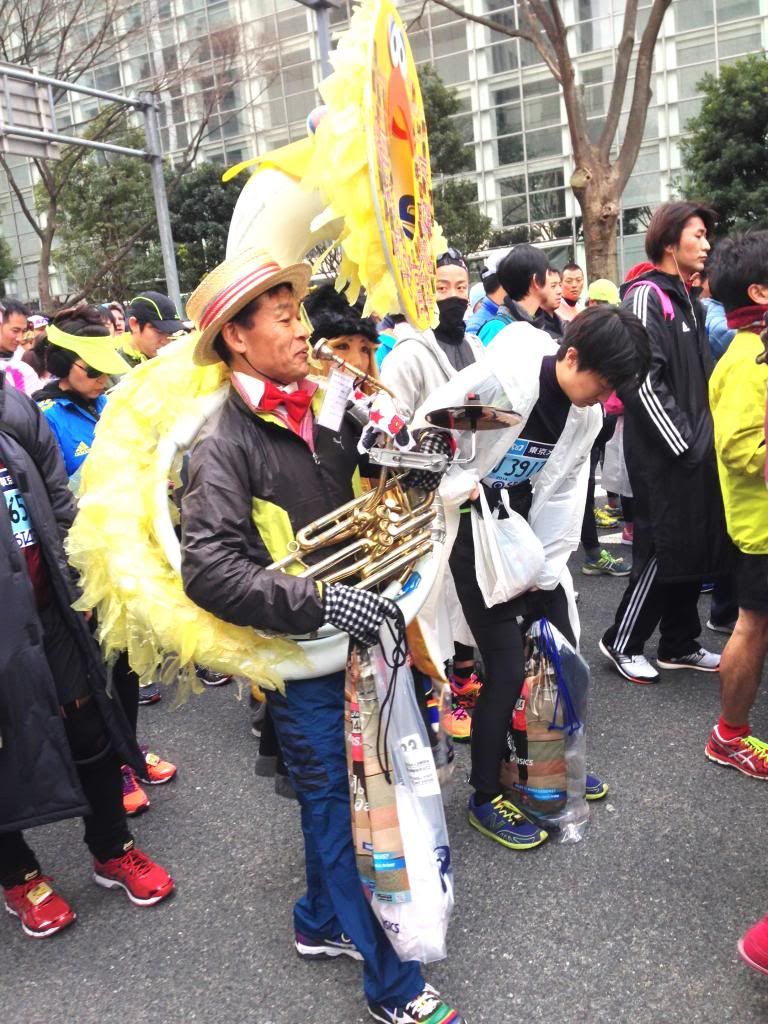 There were 73 baggage trucks with a designated baggage deposit truck (printed below your bib) for every runner that was each manned by close to 20 volunteers. With the directions and maps everywhere, it took me a few minutes to deposit my baggage to slowly make my way to the starting point.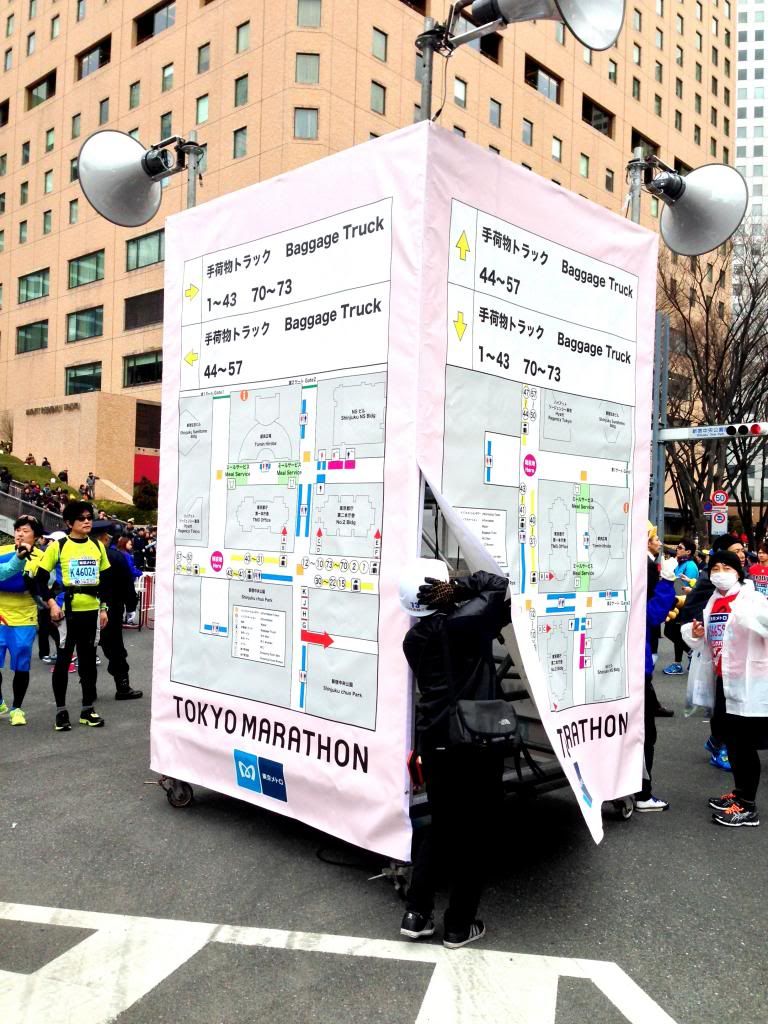 Mobile toilets were conveniently located almost everywhere for the runners as well. I was so happy to spot familiar faces (Jon & Laura) at the toilet areas and talking to them made me slightly less nervous!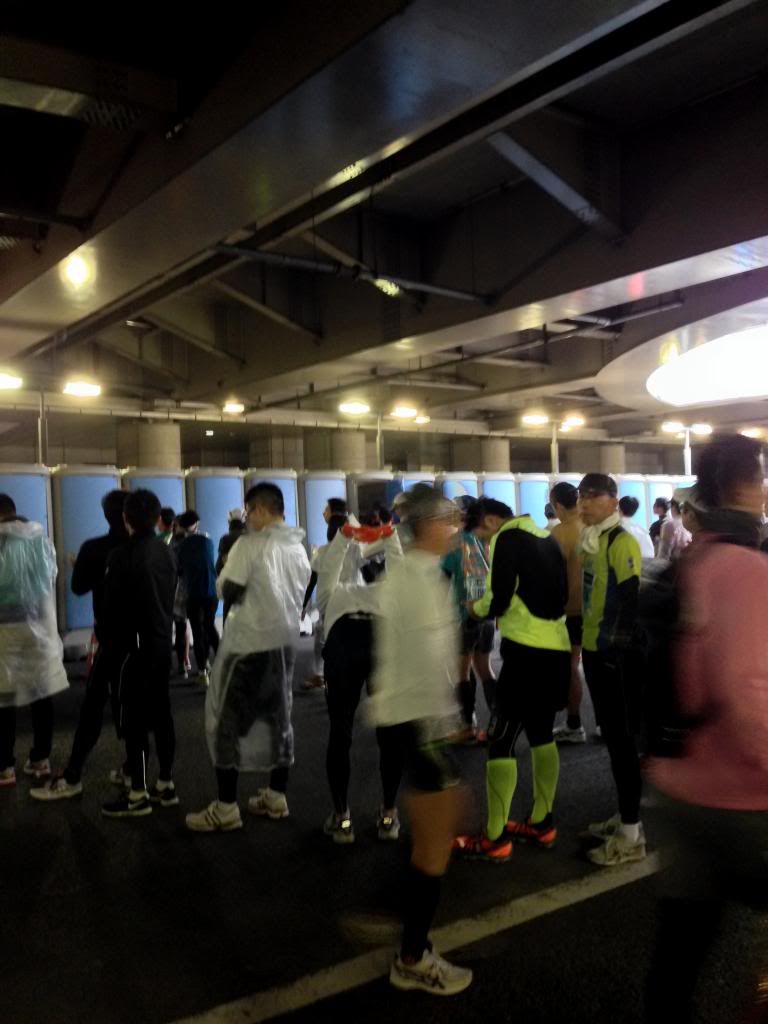 A picture with Laura, one of my running inspirations ;)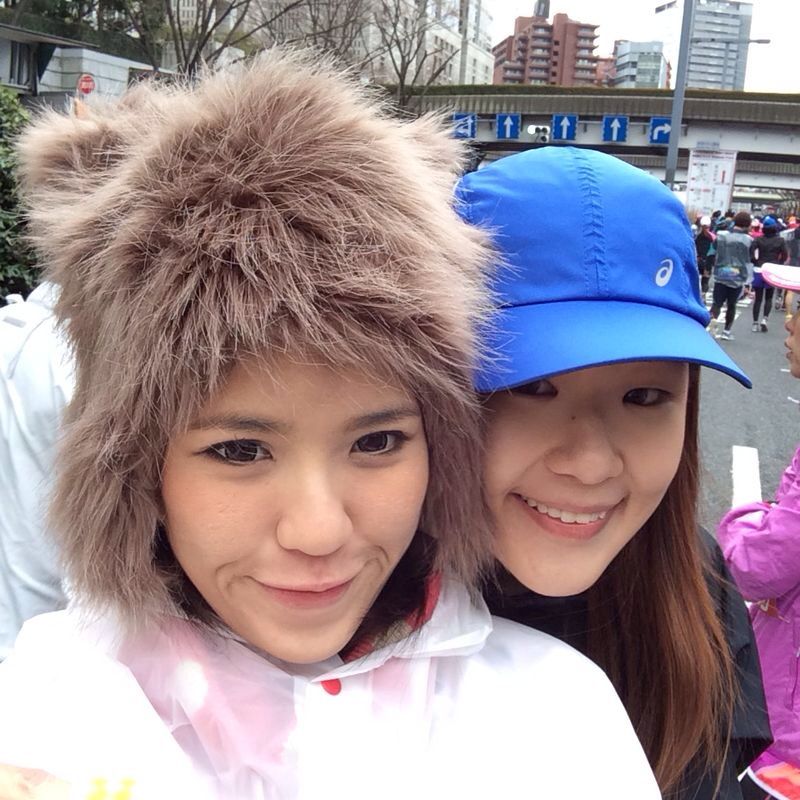 Pre-race picture in my gloves and gears!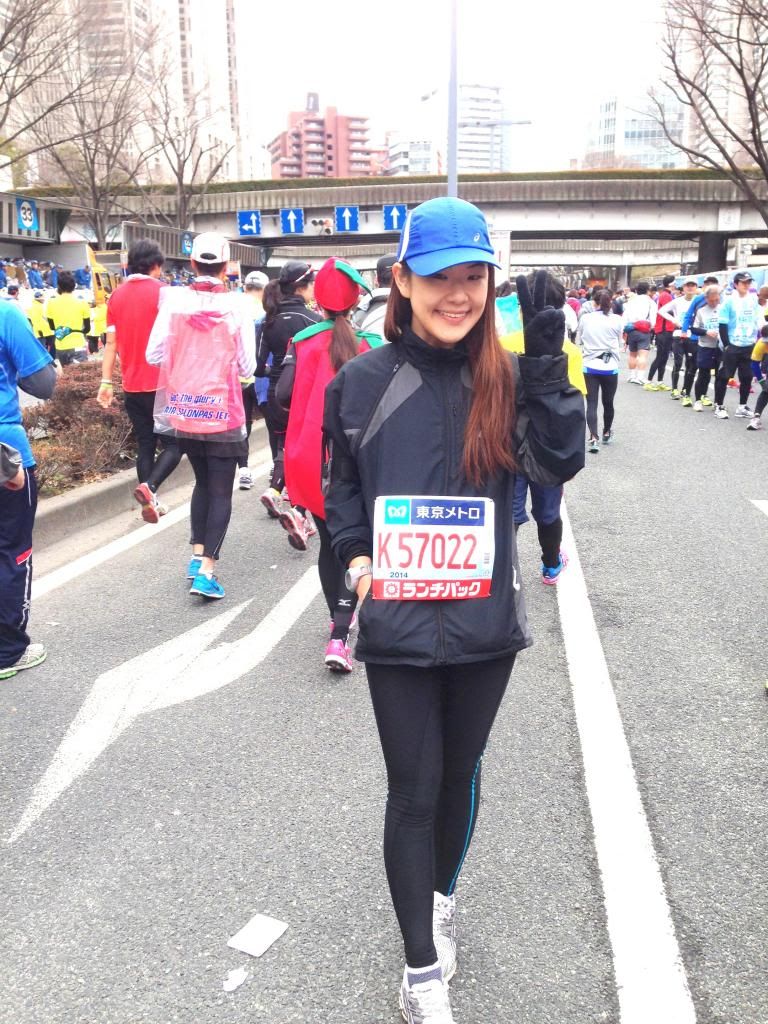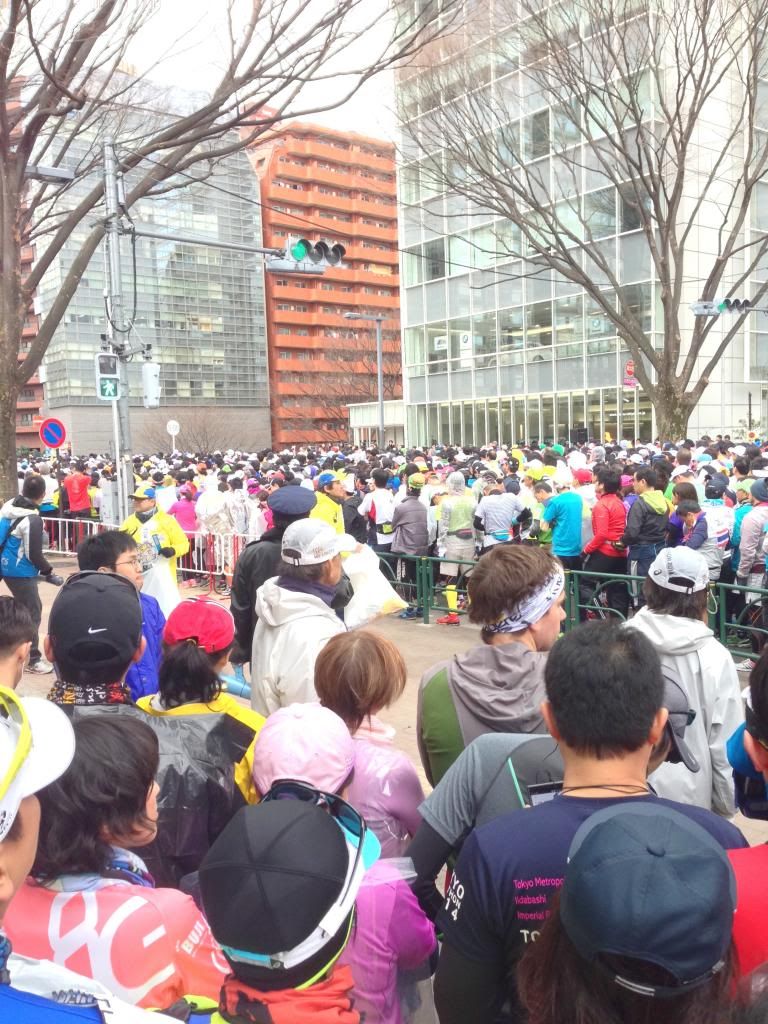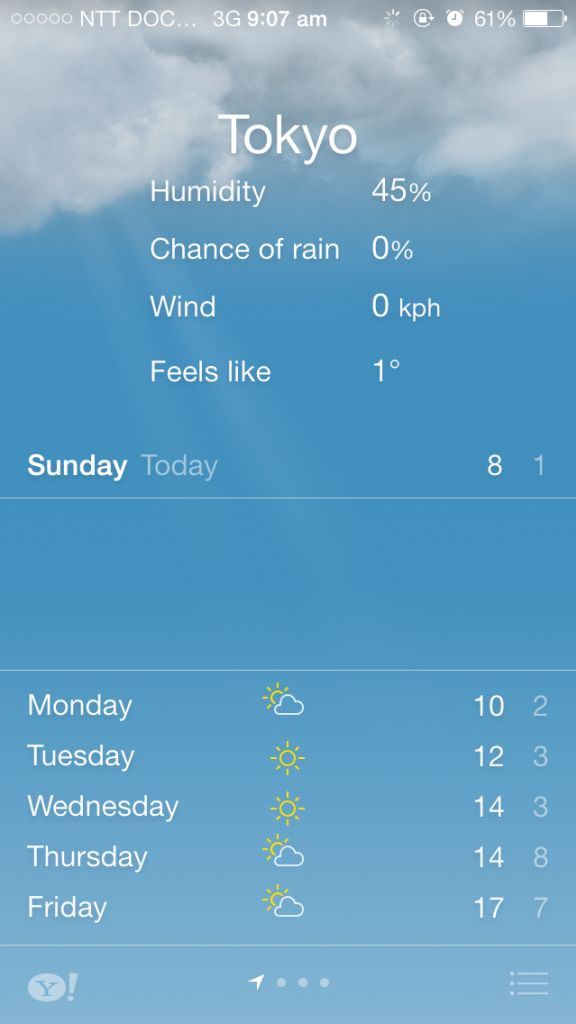 Headed the starting line with Jon while waiting for our flag-off turn. The waiting part was the hardest especially with the wind blowing straight into our faces. The temperature was around 3 degrees but it definitely felt colder especially with the approaching headwind.
1-10km
I was so glad to warm up my legs which thankfully felt okay despite the last run being a week ago for Marina Run. Even during the first 5km route, I was completely swept away by the warm hospitality and atmosphere. On both sides of the lane, thousands of spectators filled the street with loud cheers and support to boost our morale. I pounded the pavement while passing by happy faces at the side and returning them high-fives with my gloves. The loud cheers were continuous without any slight pause and the feeling of the entire city running with you felt extremely surreal. The happiest moment was passing by the Singapore flag at the 2km mark! I later read that there were almost two million spectators (about 15% of population) supporting the race which explains why there was no gap in between that makes every single runner feeling so special. It didn't matter if you are an elite runner or not- everyone is here for the same purpose and that was to challenge ourselves.
I was feeling good but my lips were extremely dry that I had to apply my Laniege lipbalm every 2km or so. My nose was extremely runny as well and it wasn't a glamorous scene fiddling with my tissues and gloves to stop the sniffings. It was also the first time I was taking pictures throughout the whole run but I couldn't resist it since it was my virgin Tokyo marathon. Despite the inconvenience of having to rewear my gloves and stopping every now and then, I wanted to capture down the moment now to revisit it in future.
My legs brought me from Shinjuku to Imperial Palace which was close to the 10km route. It was a breeze running through the wide spacious routes without the need to squeeze through the lanes at any point in time. It was probably due to the fact that it was a full road closure with the marathon just offering one category.
It was impossible to miss the water points and mobile toilets that was scattered along the race routes along with clear directional signage. Loud cheers of "Ganbatte! がんばって!" along with water and istonic drinks were distributed by the rows of orange and yellow marshalls along the race route.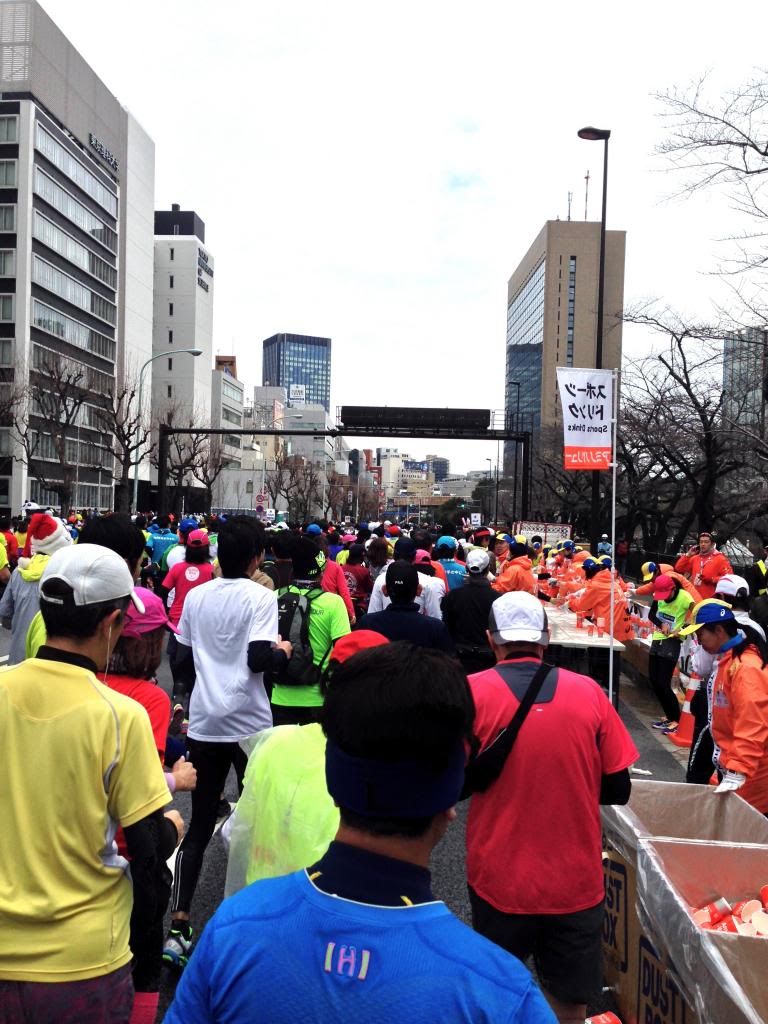 Blue for the Istonic water. They were extremely thoughtful, having water-istonic-water arrangement at the distance marker so that runners didn't have to run to and flo if they require any.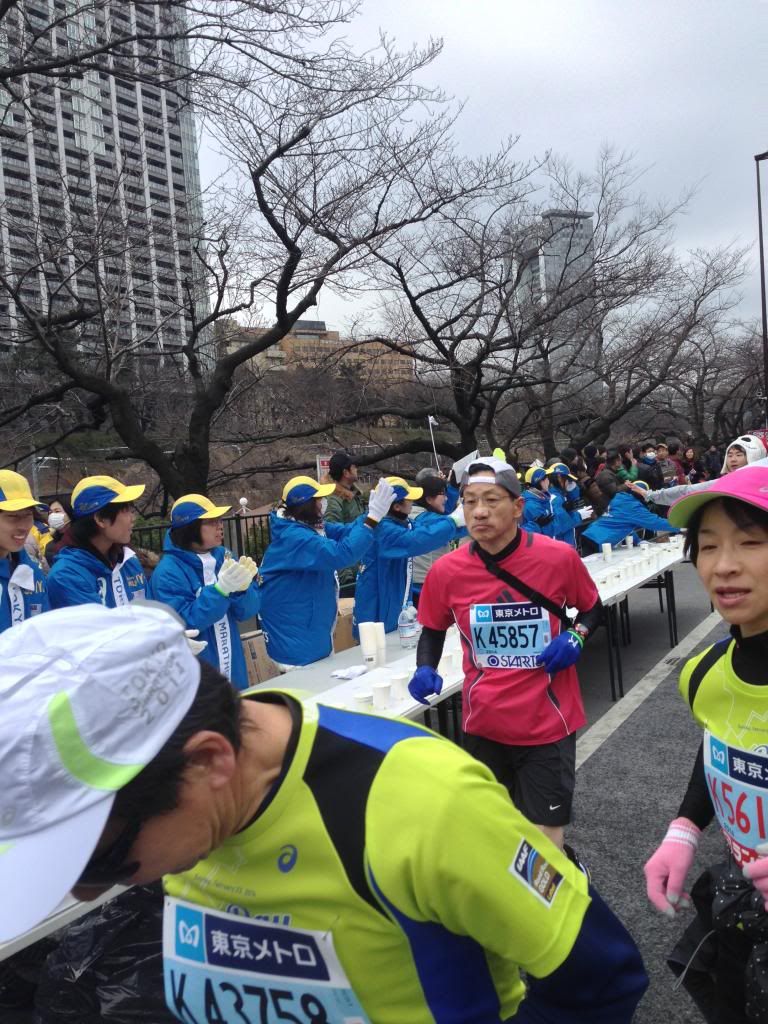 And here we are, at the 10km mark!! :)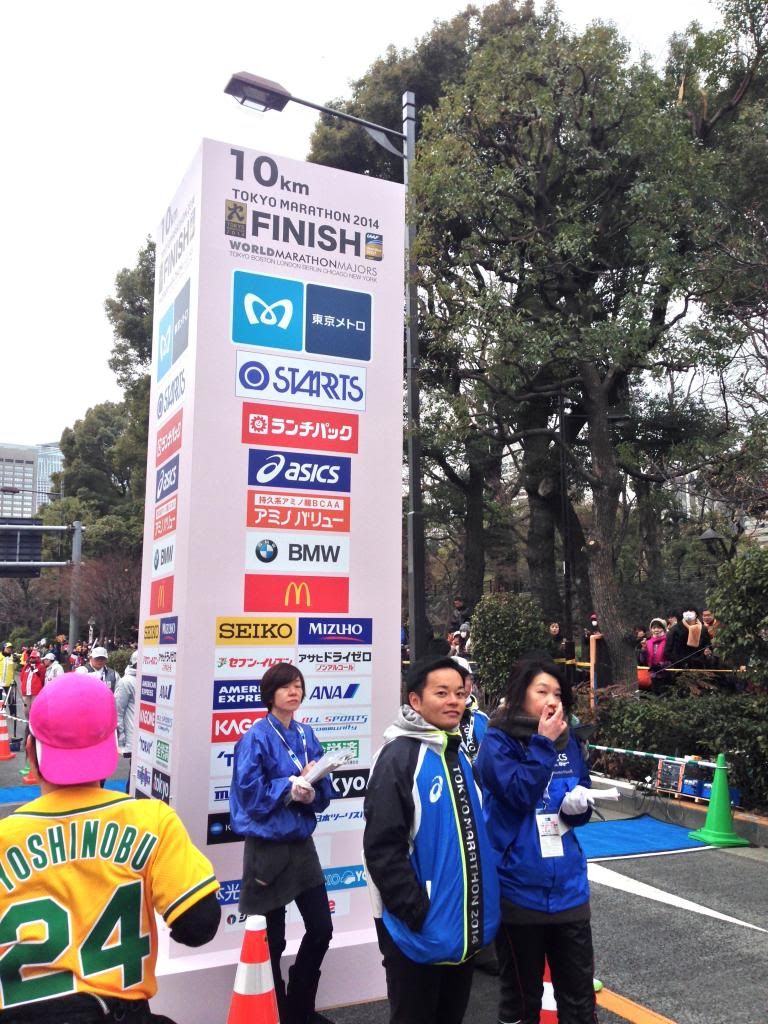 The touristy picture that a supporter took for me! I've always wondered why people pose with the distance markers in the Singaporean races and now I'm finally joined in.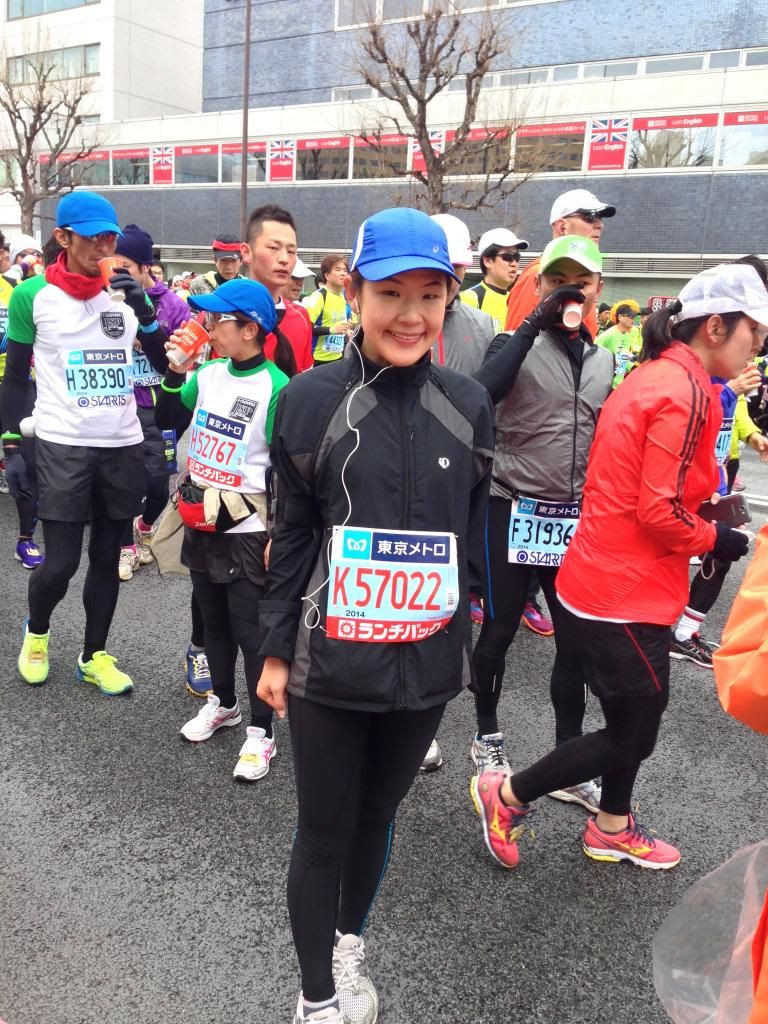 Spotted an extremely cute Japanese family at the side who was so friendly!!!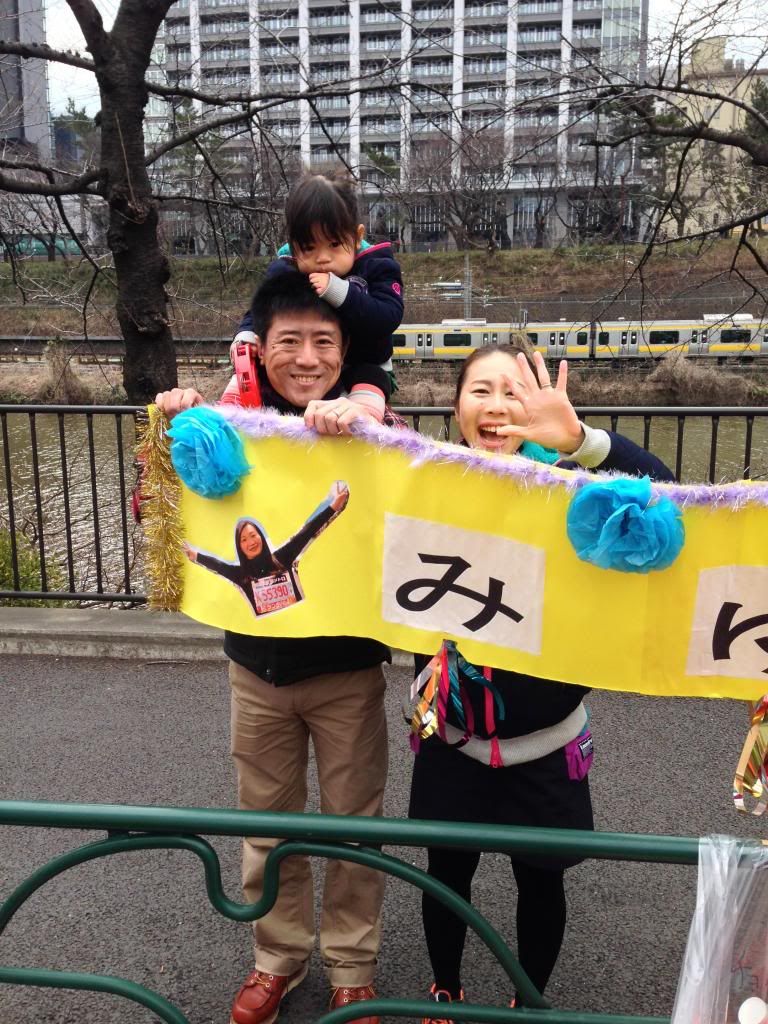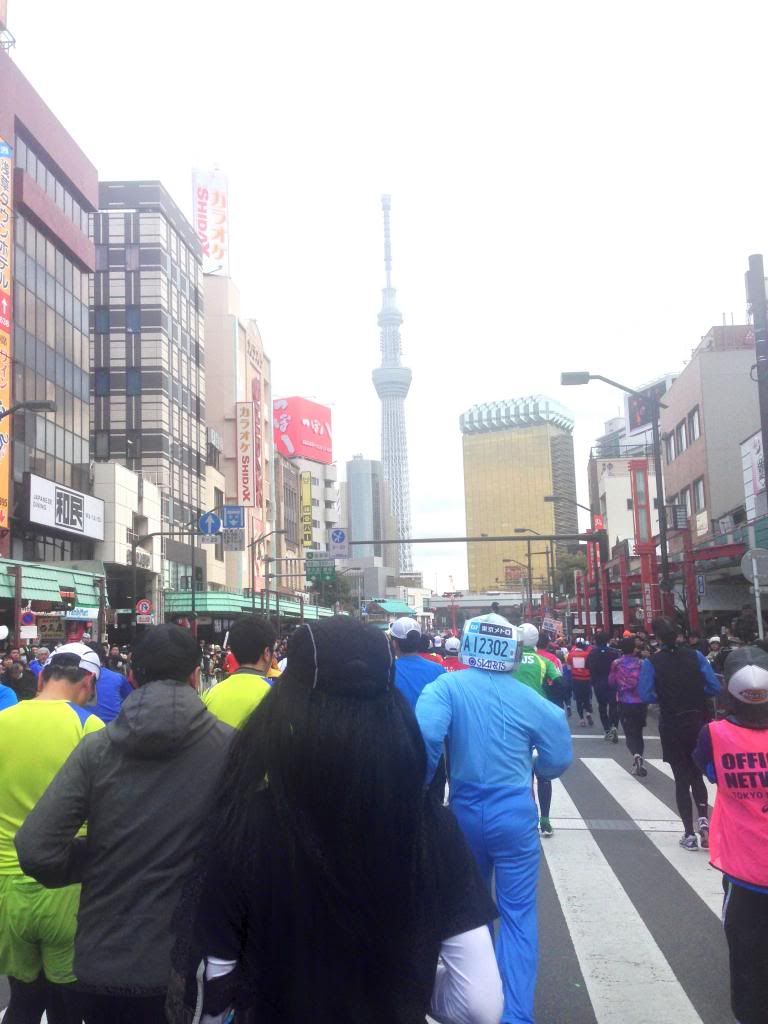 I continued running at a constant pace (6:10) which I thought was comfortable enough to maintain throughout the entire distance. A sub 5 seems possible if nothing happens I thought. Ran by Tokyo Tower at 14km and for some reason, it looked much prettier at night haha!
Another thing about the Japanese was all the cosplays that were happening throughout the run. It made me regret not wearing my stitch costume that Val has kindly loan me since I spotted at least 5 Stitches along the way. They were all so fast and the fact that there were noone walking made you want to pick up your pace even more.
There were all sorts of Super-Heros spotted together with the Cartoon Characters. The most creative would probably be the Jesus who was running topless with a cross at the back, the man dressed with office wear and holding a briefcase, the Santa Claus with presents and the man carrying a huge-ass surf board. It was an amusing sight for the eyes beside touring Japan's landmarks by legs.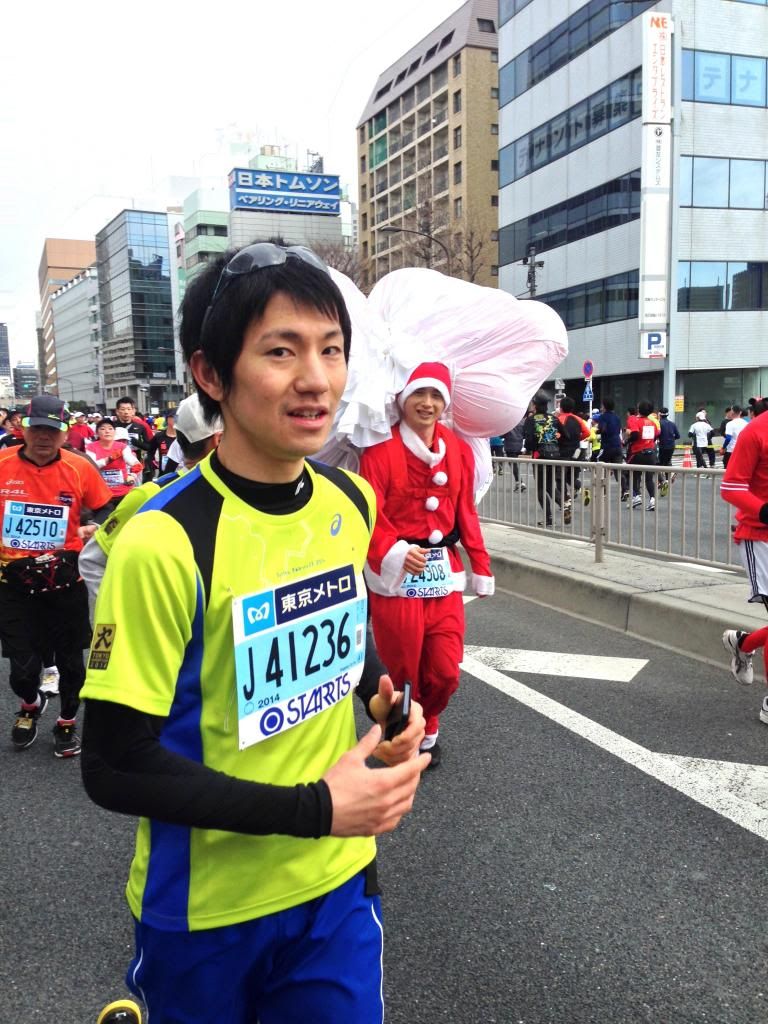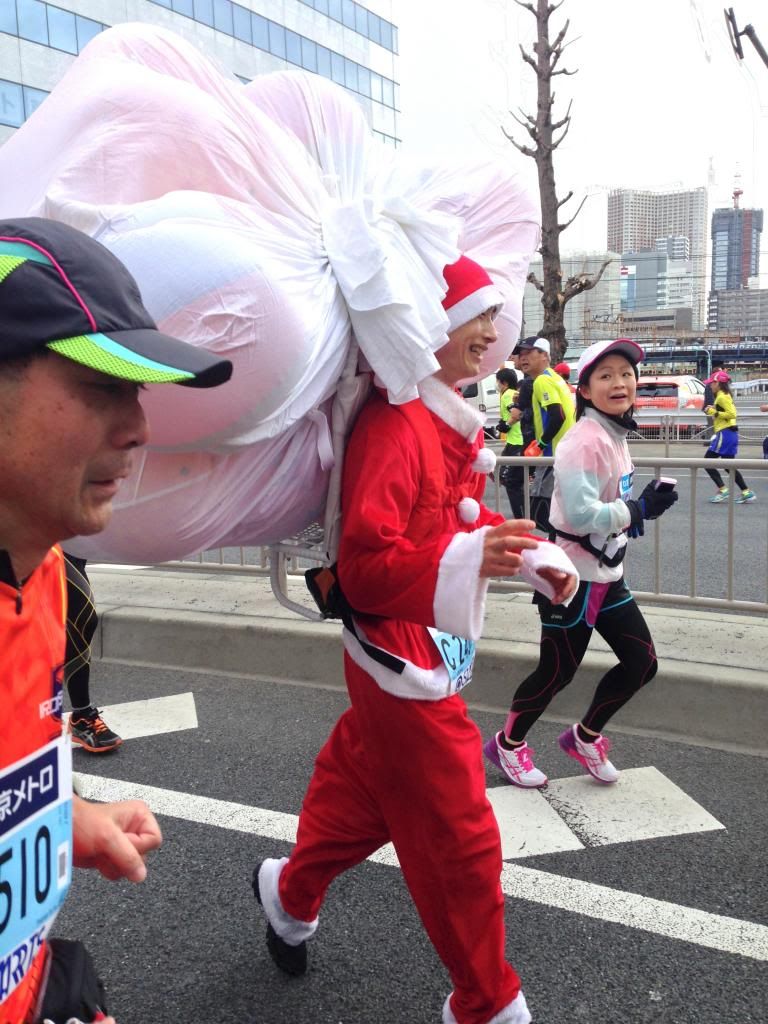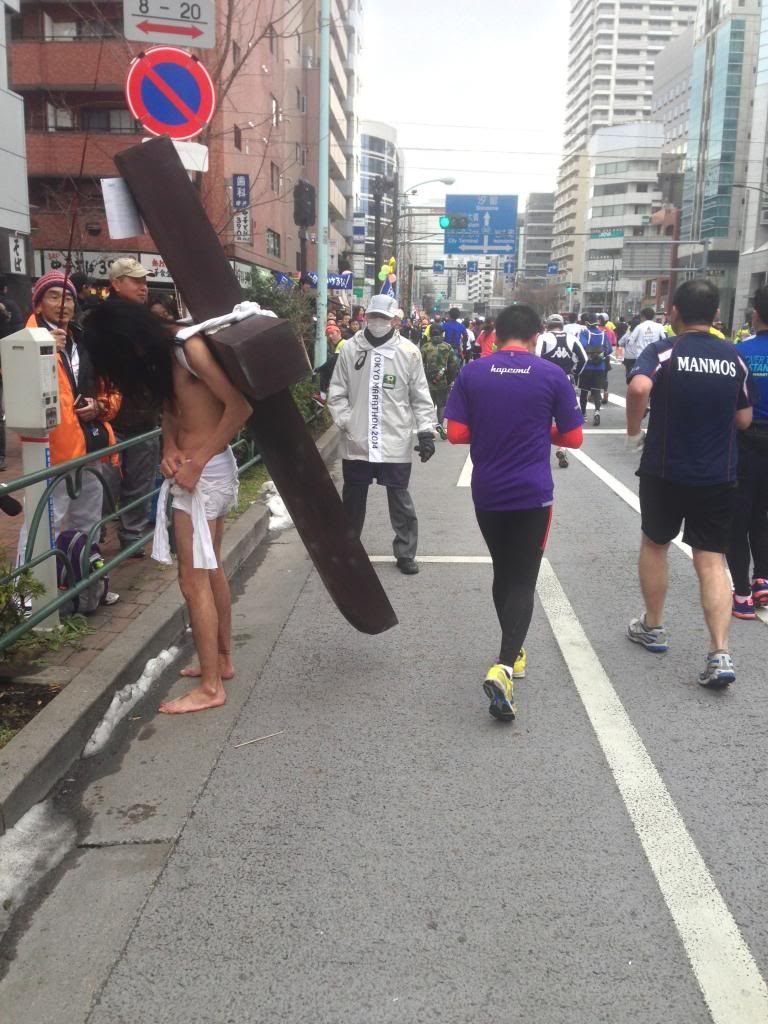 Also, there was the very inspiring handicapped runners that were going on non-stop with an assistant beside them.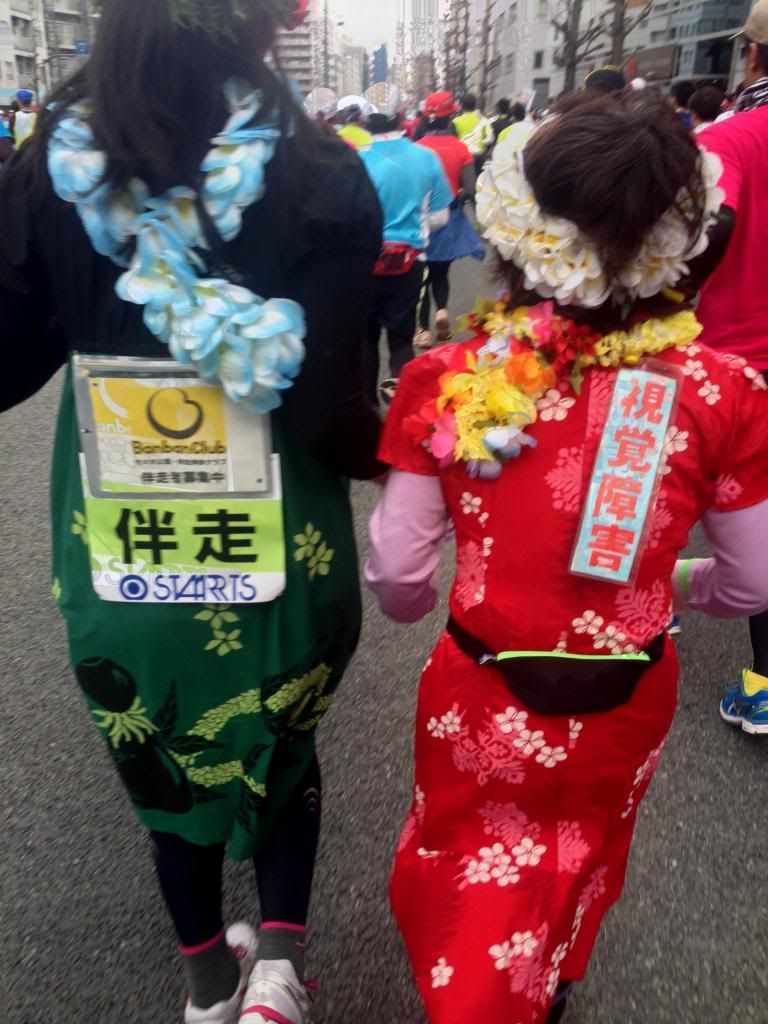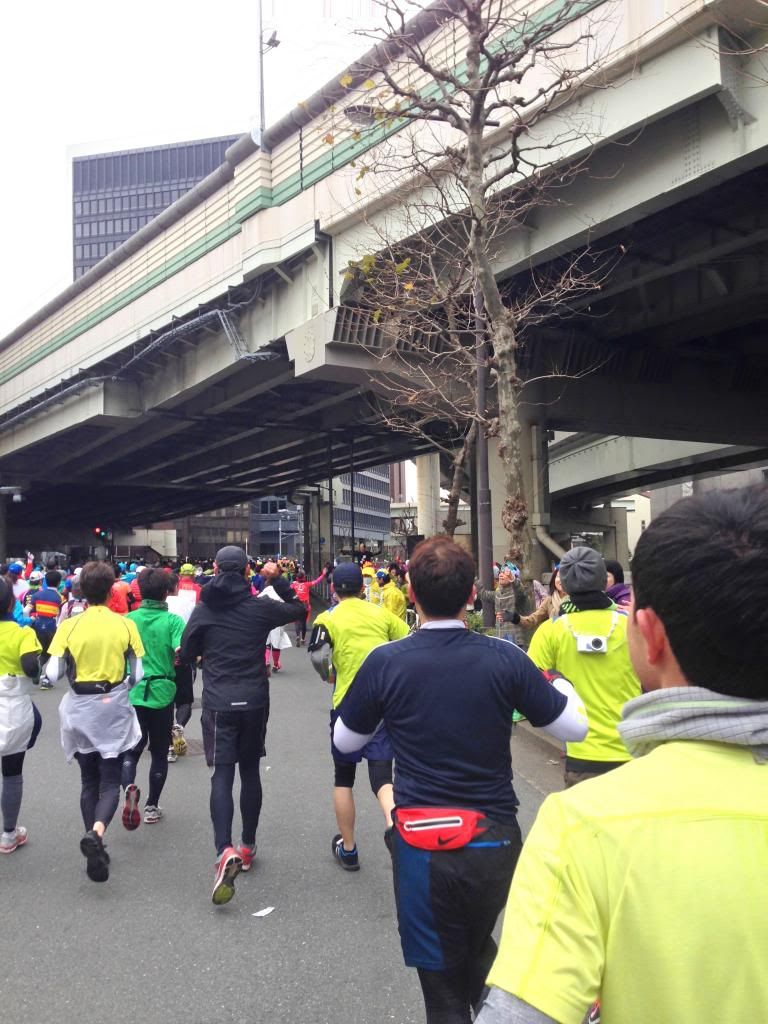 Even the supporters were dressed up to render their support with loudest cheer.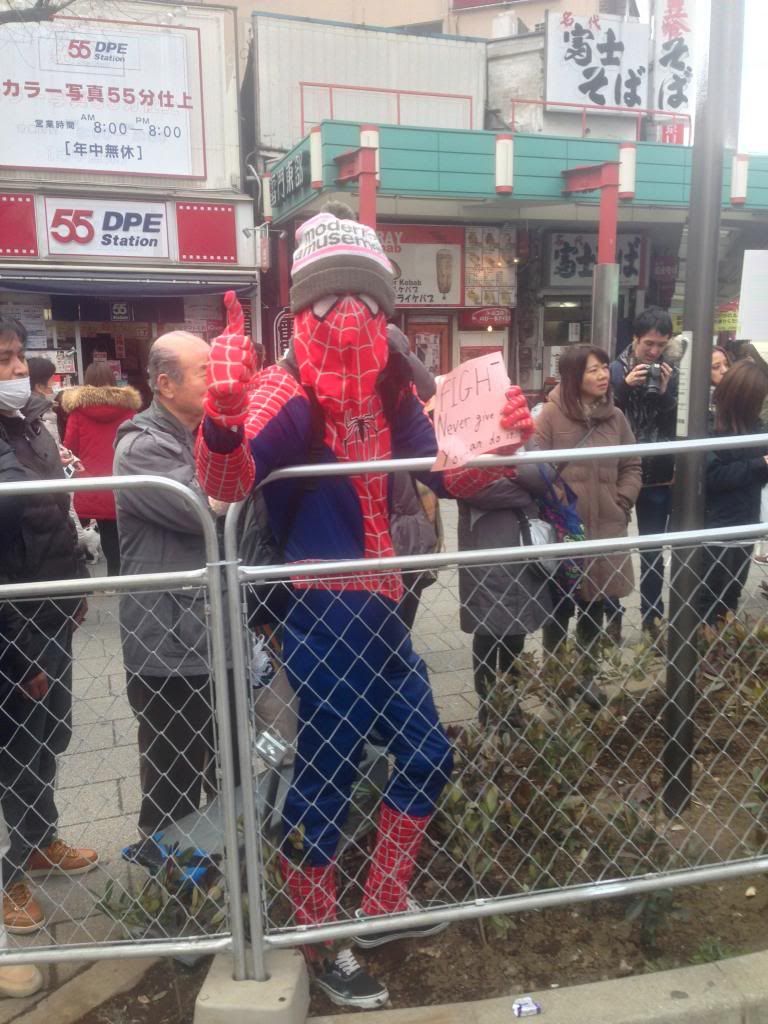 And hurray! After passing by Ginza which was filled with luxury brands, we were at the 21km mark and I was half-way done!! Time check: 2 hours 10 mins.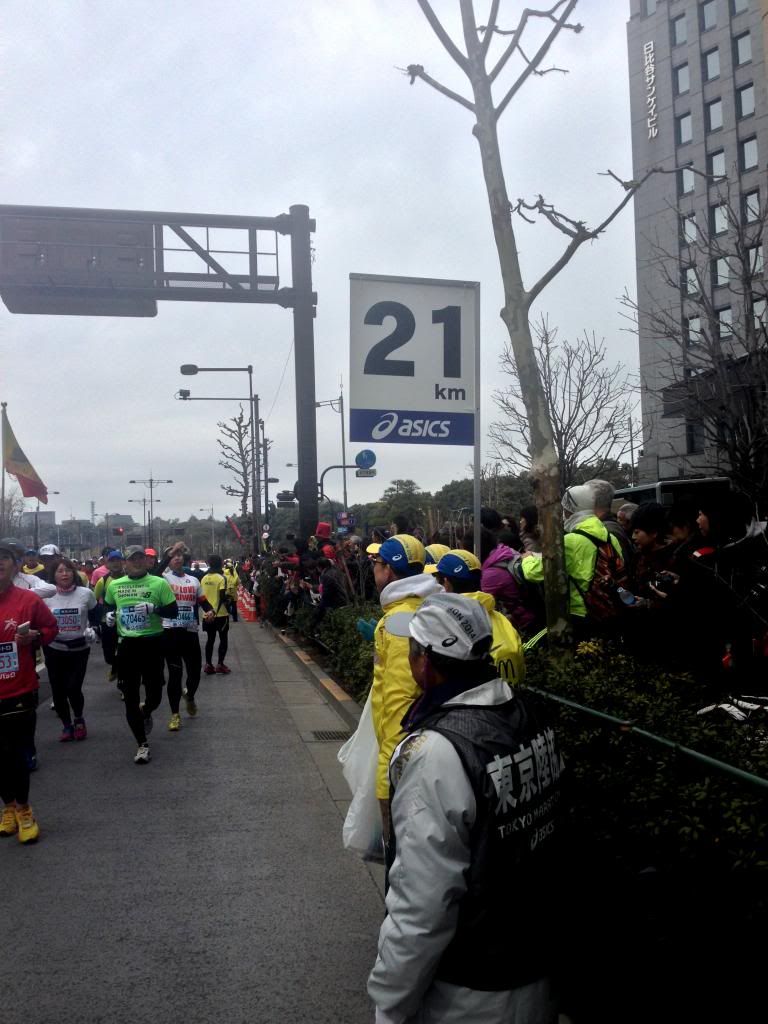 Another touristy shot. YAY!
Despite the afternoon sun coming up, it was drizzling snow with white flakes landing on my jacket. A beautiful sight which just adds on to the whole wonderful experience. I was feeling slightly hot and removed my gloves and unzipped my jacket slightly.
Finger food like sweets, breads, cakes together with bananas were served at various distance markers. One thing was that there was volunteers to peel and cut every single banana so that we didn't have to slow down our pace to do it. No need for any littering of skins on the floor as well.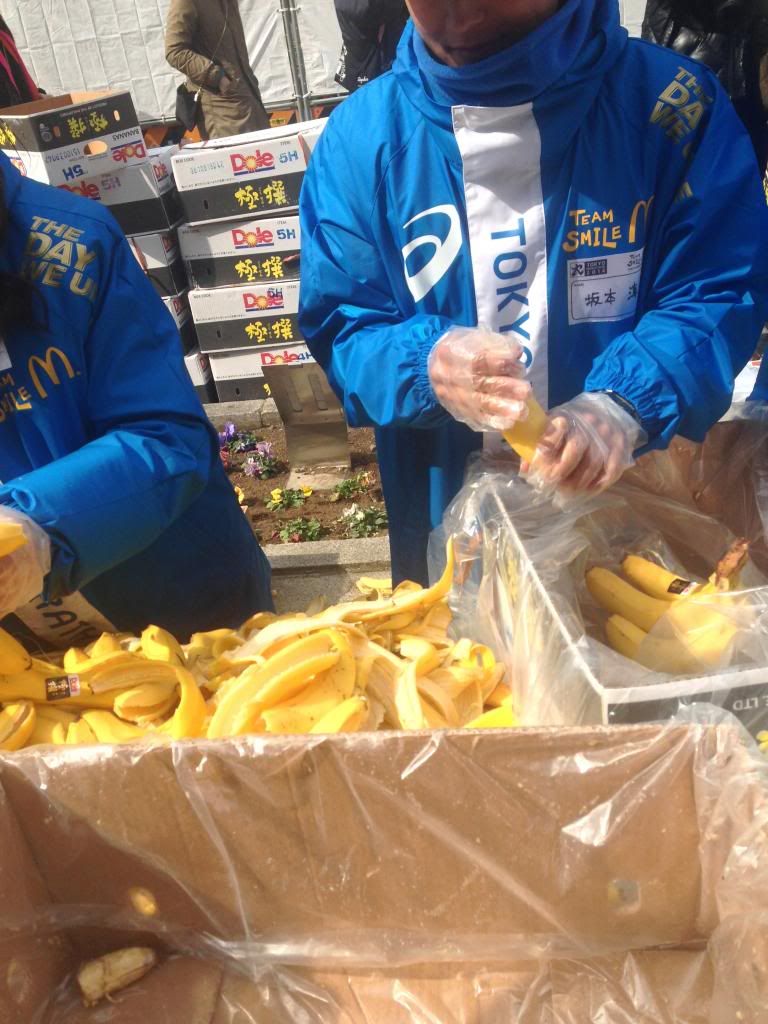 The supporters continued to fill the side of the roads and some even offered their own cooked-food. My favourite was still the sashimi and sushi offered by a family, so yums! Beside that, there was school bands, choirs, singers and performances by the locals that kept us very entertained.
After passing by Tokyo Station at 25km, we reached the Asakusa Temple at 28km. It was the oldest temple with a large lantern with being its landmark.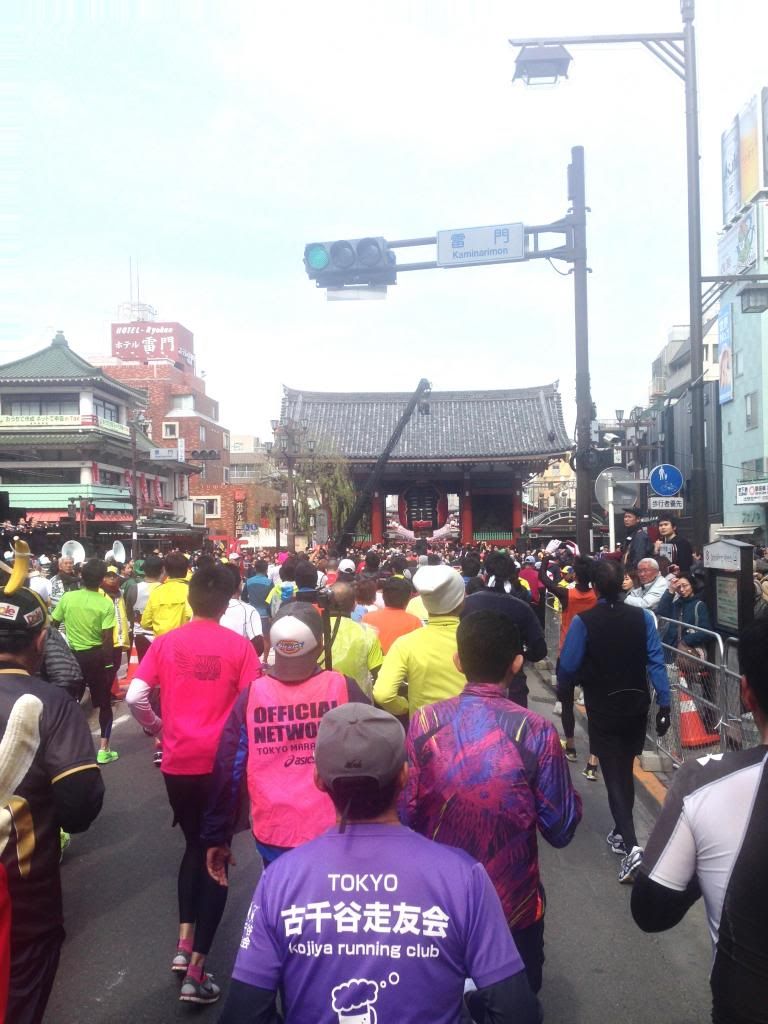 It was then I realised a man cladded with colourful gear was running beside me and somehow, we started talking. The man shared that it was his first full marathon and that he had finally got the slot this year after trying for years. It was dedicated to his daughter who was sick for rather long. Despite our language barrier, he could understand my English somewhat. It spurred me to continue running forward without any thought of giving up or slowing down.
This was how we run. Throughout the run, we were not always side by side but always pretty near. Like the other runners, he was gentlemanly and helped me to get my istonic drinks and food.
It was the last 12km and the finishing line was just ahead! The Singapore flag was spotted at the 38km as well!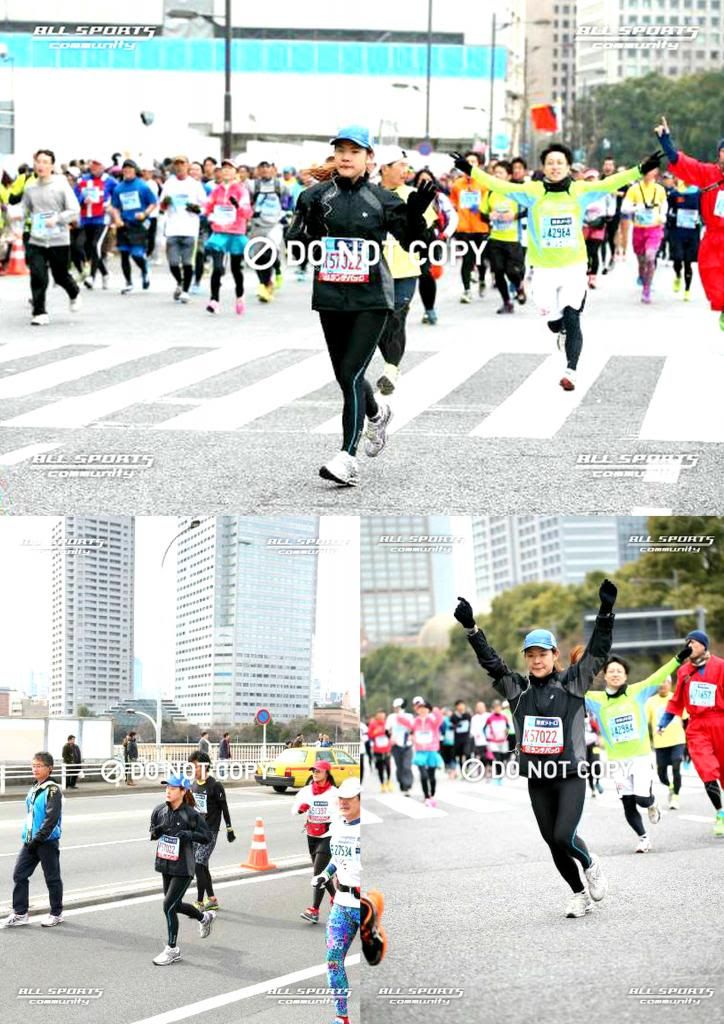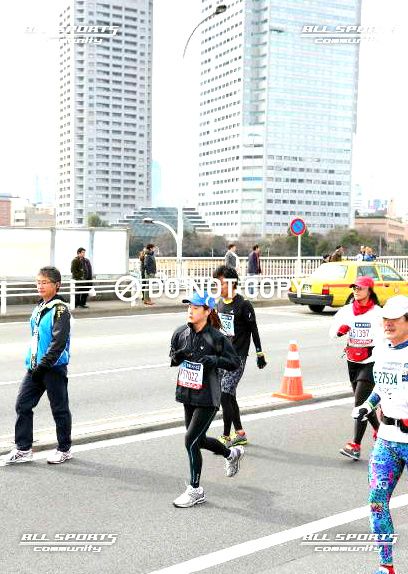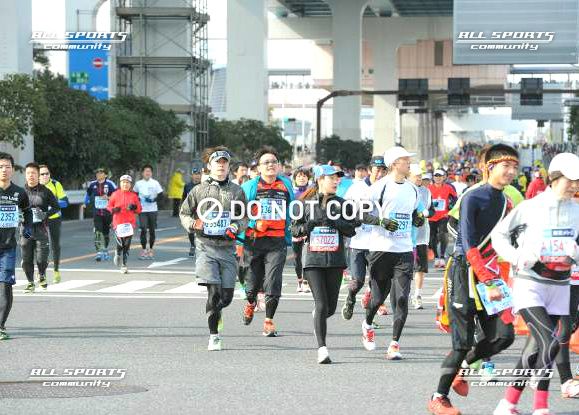 The final 2.195km was the most exciting ever after spotting Tokyo Big Sight. The cameras were everywhere with big camera signs for the runners to pose for. At the finishing line, we passed by the 42km mark with a 0.195km remaining that everyone picked up their pace to pose for the finishing shot.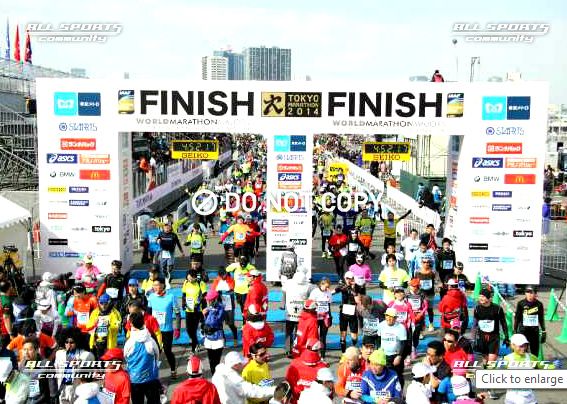 We were welcomed by rows of towels, medals and fruits for us to collect after the whole run.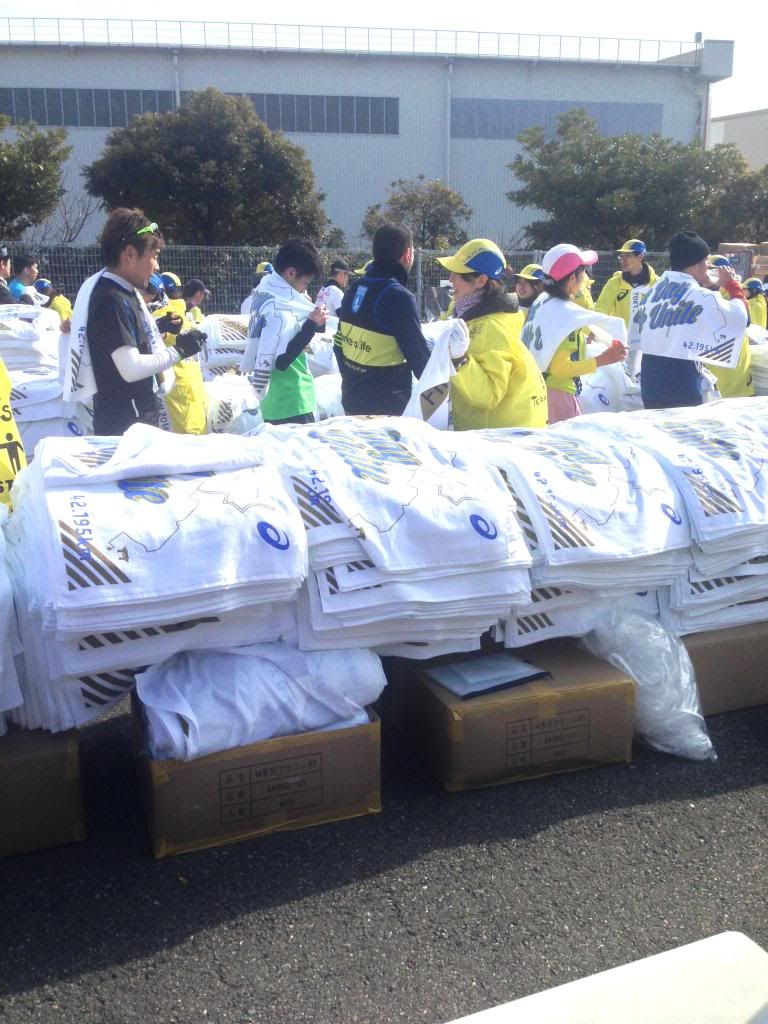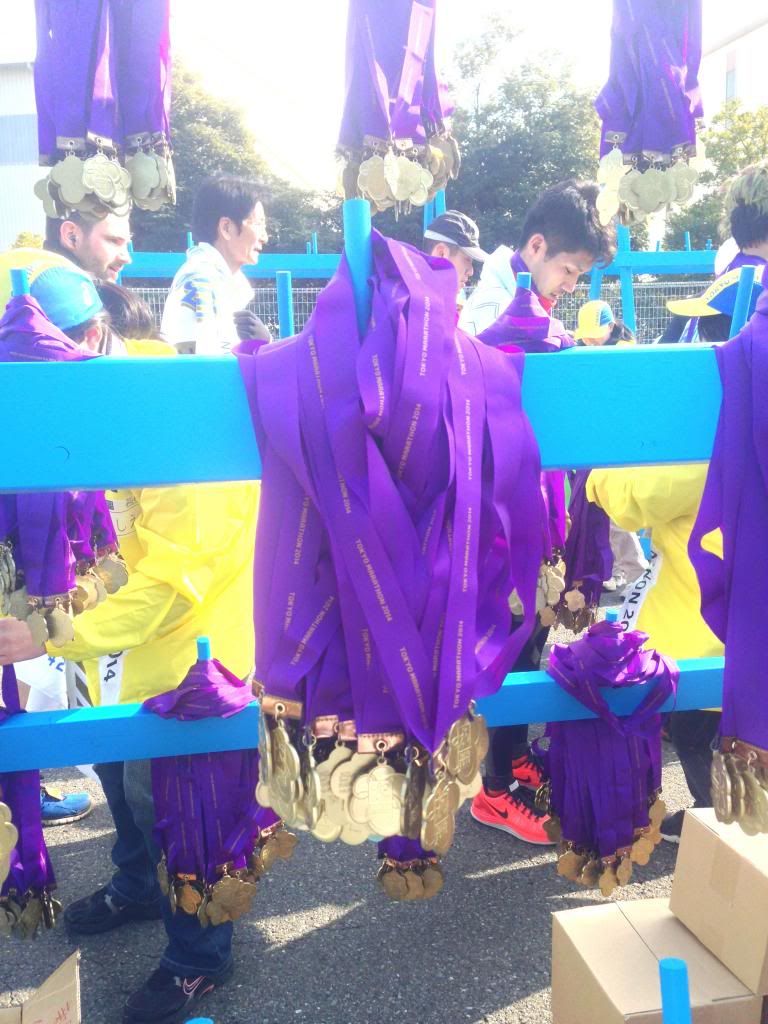 I was extremely happy to achieve my PB during the race to shave 50 minutes off my last. It was definitely unexpected since I was targeting for a sub 5!!
The mandatory finishing shot!!!!!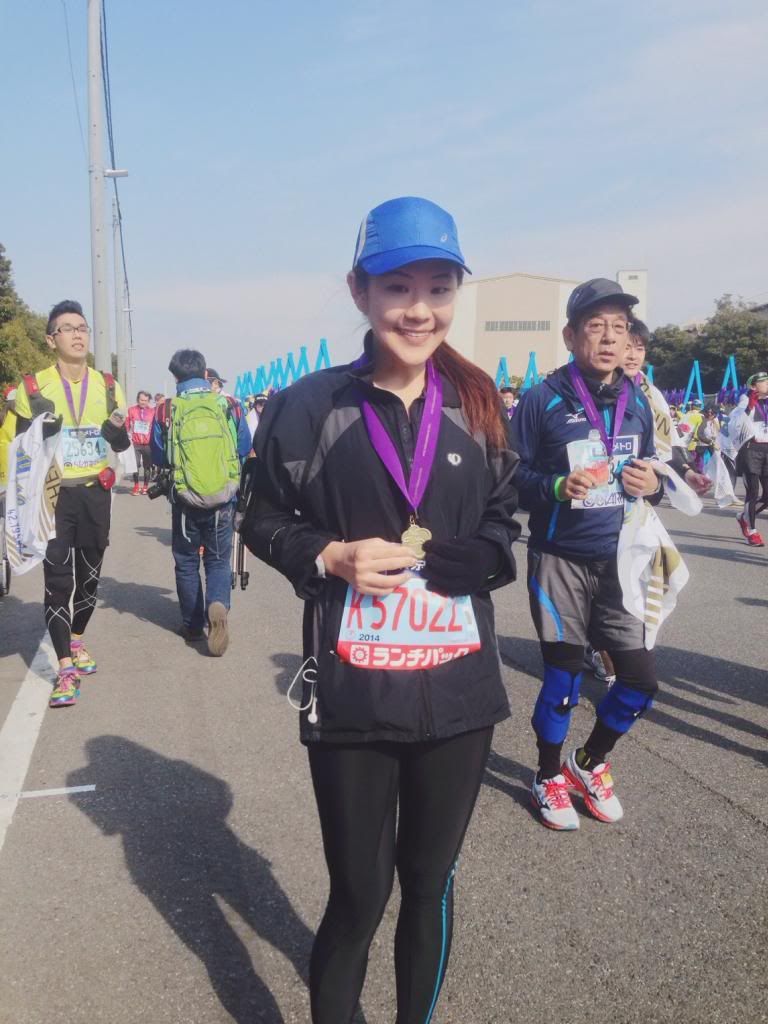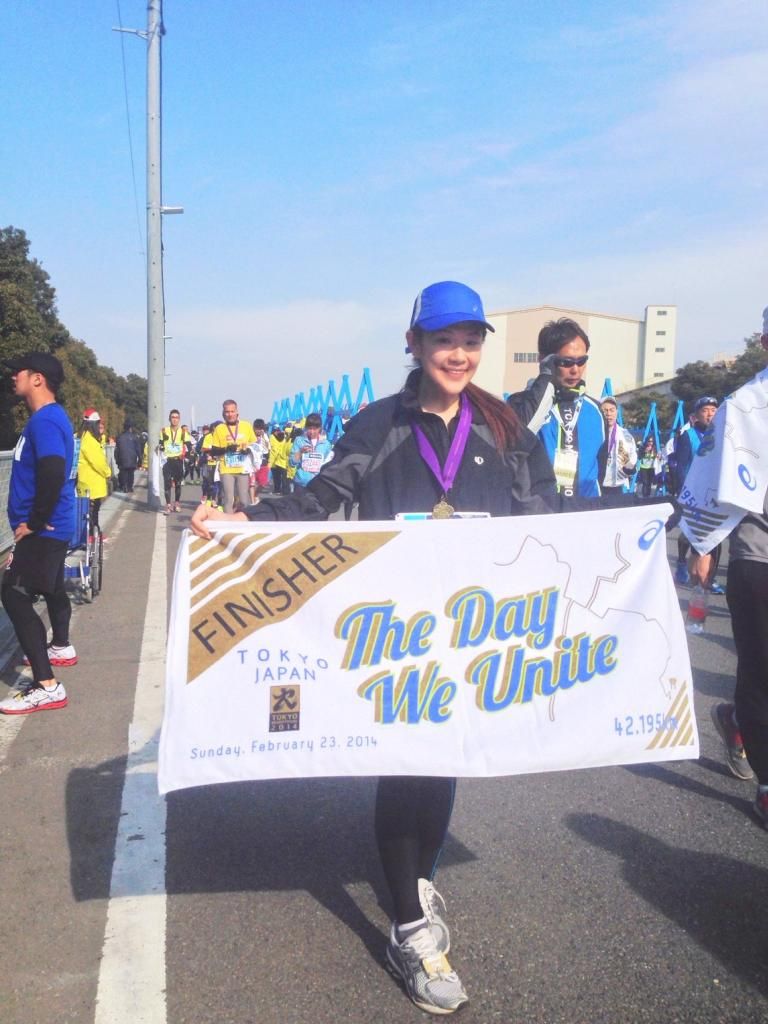 This was their finisher shot with the photographer putting a plant on my head haha!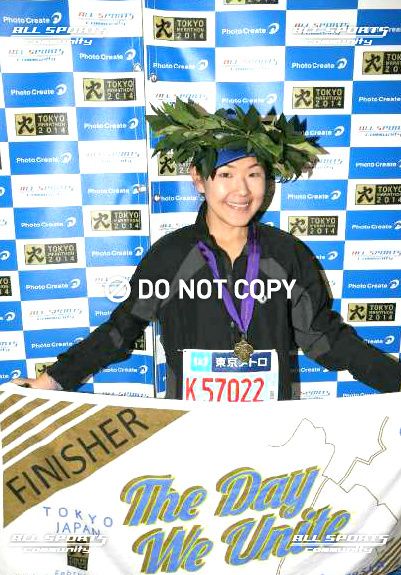 Proceeded to the baggage deposit area to locate my number. As usual, it was very well-organised with people taking care of every section and collection took just minutes.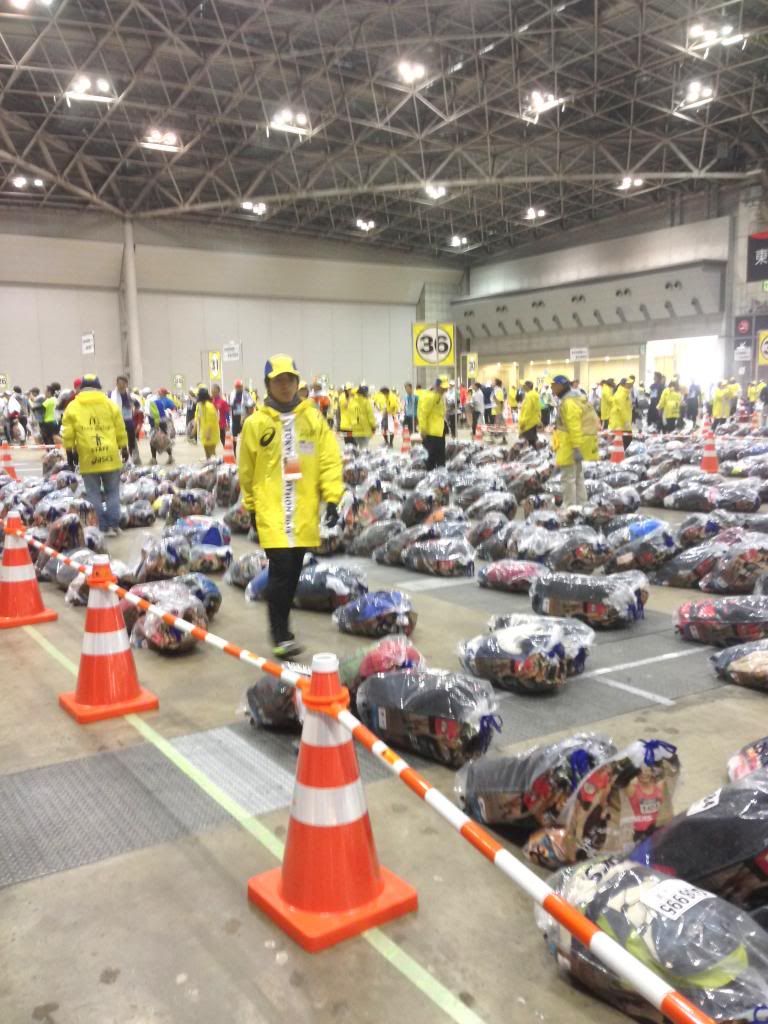 Went to meet the fellow Singaporean runners at our meeting point which was a distance away. It was indeed a heart-warming sight to see familiar and new faces and we were bonded by our nationality and our love for running. It was filled with happy glowing faces because we have all accomplish what we aimed to achieve! Tired but it was all worth it.
Congrats to us for our PB!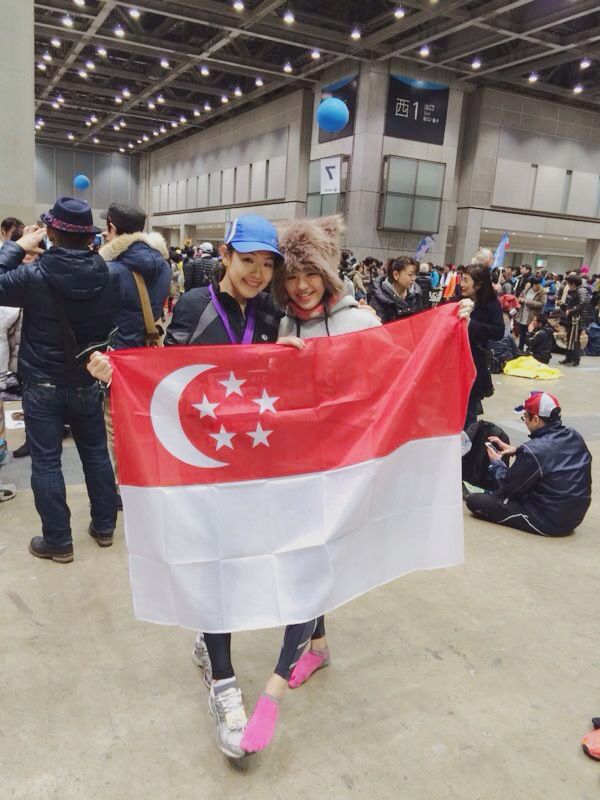 With the supermodel.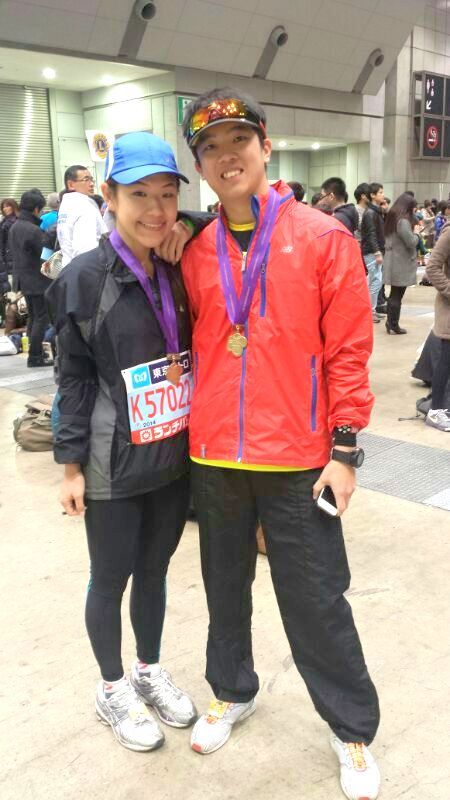 And running inspiration- Dave!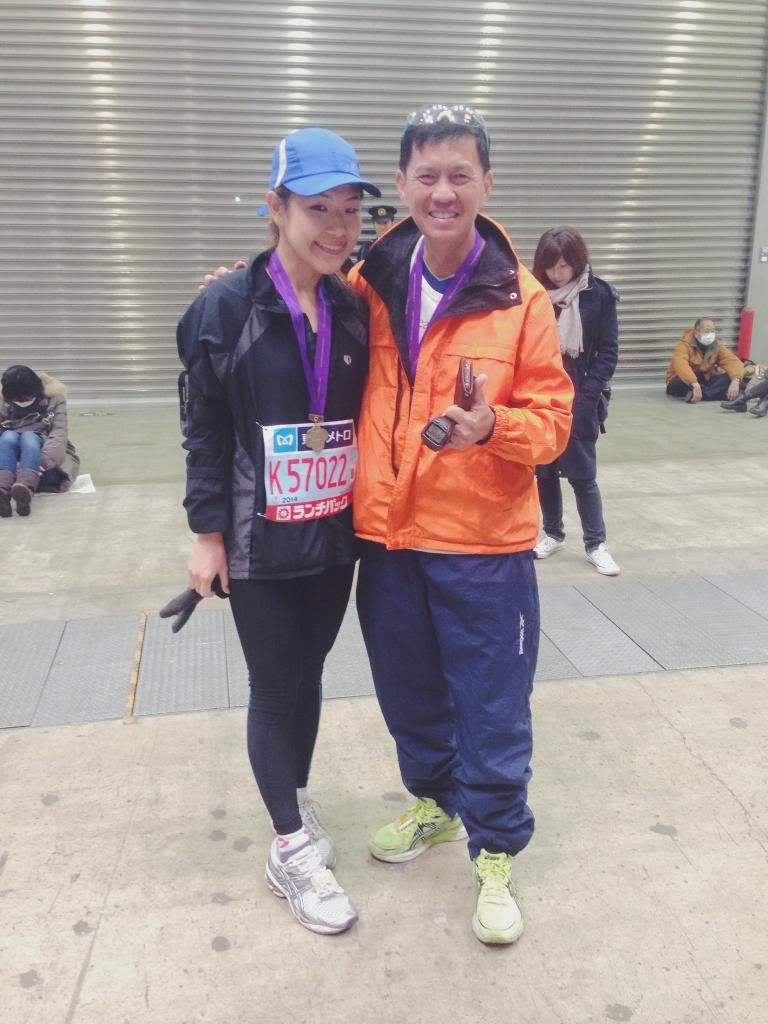 And a big thank you to Makiko for rendering us such support and organising everything!! Everything would not have been possible without her.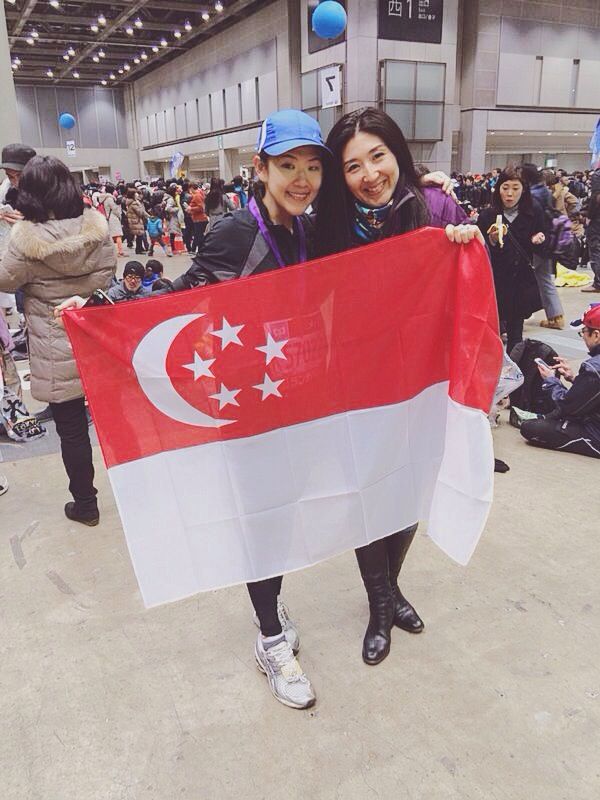 And the solo shot wit the huge ass flag!!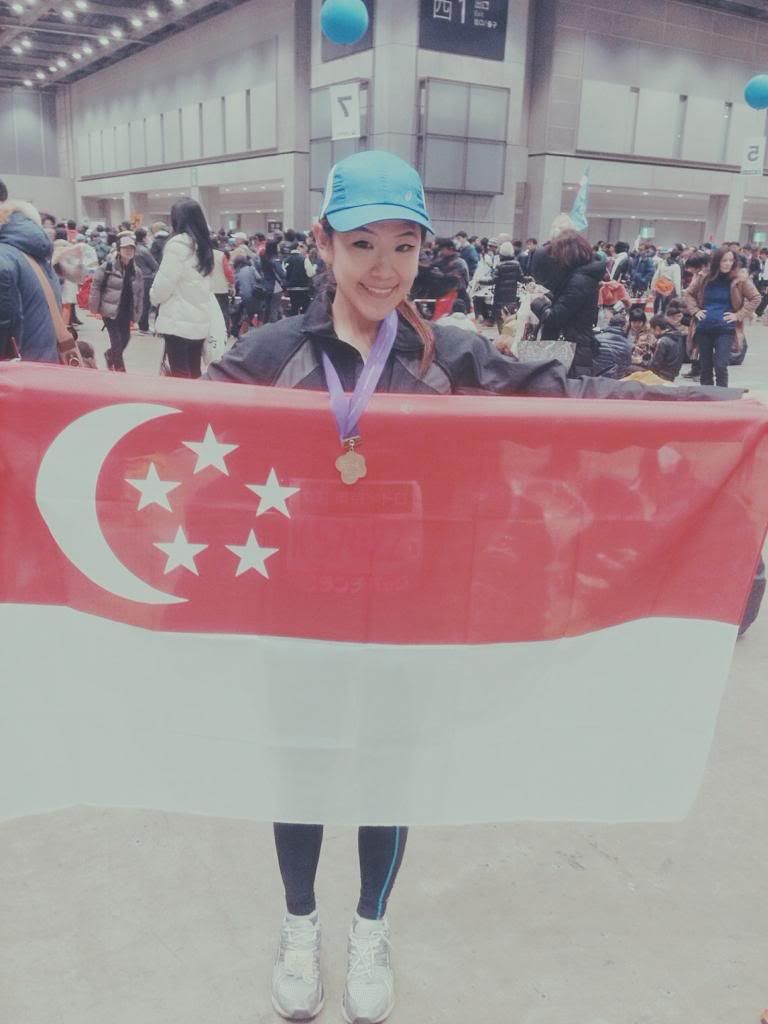 With the huge running family!! :)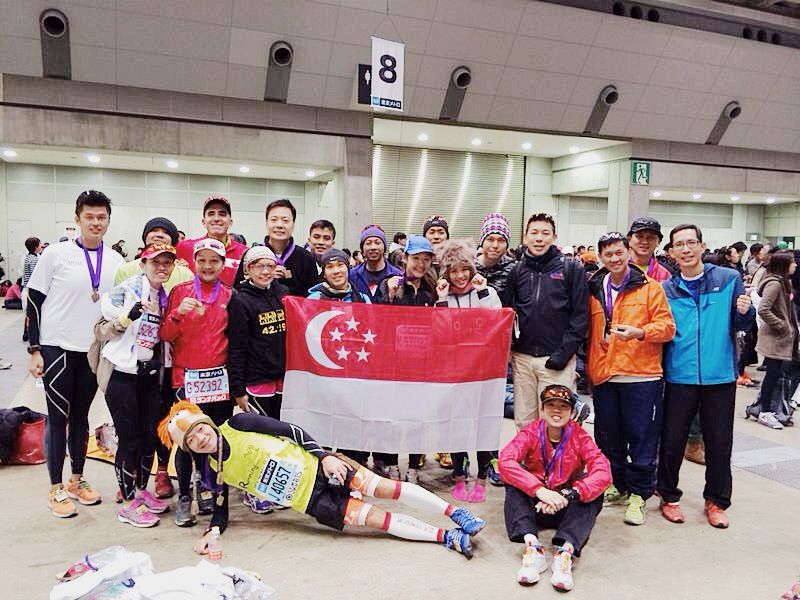 The excitement slowly sunk in during the next few days after the race and I could slowly relax without worrying about it. My ankles and knees were sore but it was worth it for the sense of achievement and pride. It was the best race experience ever and the logistics were perfect with nothing to fault about. The weather was a test to put us through an unfamiliar setting while the drizzling snow assured us to look on the bright side in every scenario.
I didn't expect to get a 4:31 timing especially when I was taking pictures throughout the race and my training wasn't that intensive enough. In the last 3 months, I clocked my usual runs (LSDs, interval and tempo runs) 4 times a week because I knew I couldn't go unprepared. It wasn't my best effort as compared to my last year's training for the ultra-marathon. Thus, it was largely attributed to the wonderful running ambiance and being in that situation to push my mind and legs throughout without stopping.
Also, I've learnt from Laura that before every race, there is a need for a game plan just like in life. In the past, the only plan was to just listen to my body and legs on the actual day with an open mind and see where it will take me. After all, it was just a run, why push yourself too hard? It wasn't wrong yes, but like in life, it would be more optimal to plan beforehand and make back-up plans to pace yourself better without feeling sluggish at the end. A run isn't just a run, it is a journey with an ending point, your goal. We have a target and we have an ending point. During the race, there is a constant need to listen to our body and ask ourselves "Should I maintain this pace? Is my body feeling okay? Or should I rest at this point to pick up later and then finish strong?". There would be external factors that crop up in between, just like in life where you meet obstacles that you are never prepared for. And we KNOW we will do fine and will make it in one piece if our mind is strong enough. Giving up should always be an option if we are not feeling well since there are many races and we can always try again later. That's the best thing I've picked up from running which have changed my life - you get inspiration and seek help/support along the way, but it's you who call the shots what to do (give up, continue or rest) to reach the final goal. Of course, there will be negativity at times from yourself or from your peers, but ultimately you would need to gear up if the end result in all worth it.
Managed to stick to my constant pace of 30-32mins for every 5km and dashed through the last 1km!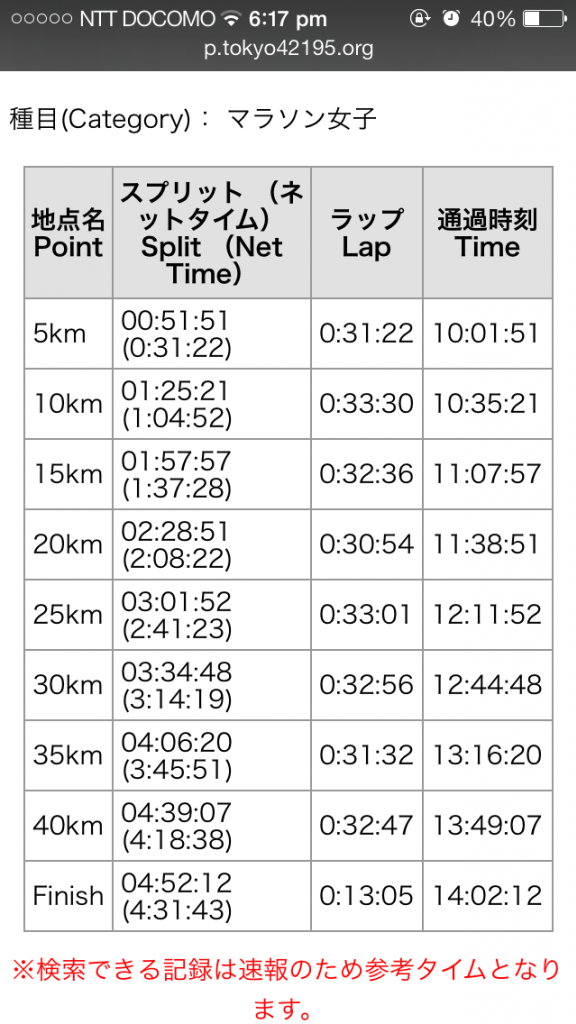 I returned to our local shores not just with the medal and a personal best, but bagged home with memories and lessons learnt from their culture - people loving what they do and treating everyone with sincerity without expecting anything it's return. Their graciousness was shown throughout the whole race with runners and race marshalls loving what they do, putting in so much effort that it rubs onto me in every way.
I have a crazy dream - to complete all the 6 World Majors (Tokyo, Boston, London, Berlin, Chicago & New York) one day to get my name on their
website
, which would probably take me close to 10 years and requires lots of effort to train, time and money. However like what I strongly believe- Impossible is nothing as long as you believe in your passion.
Tokyo Marathon 2014 marks my 8th full marathon and 1st World Major Marathons, made possible to my roomie Kat and the full support from my loved ones & fellow Singaporeans.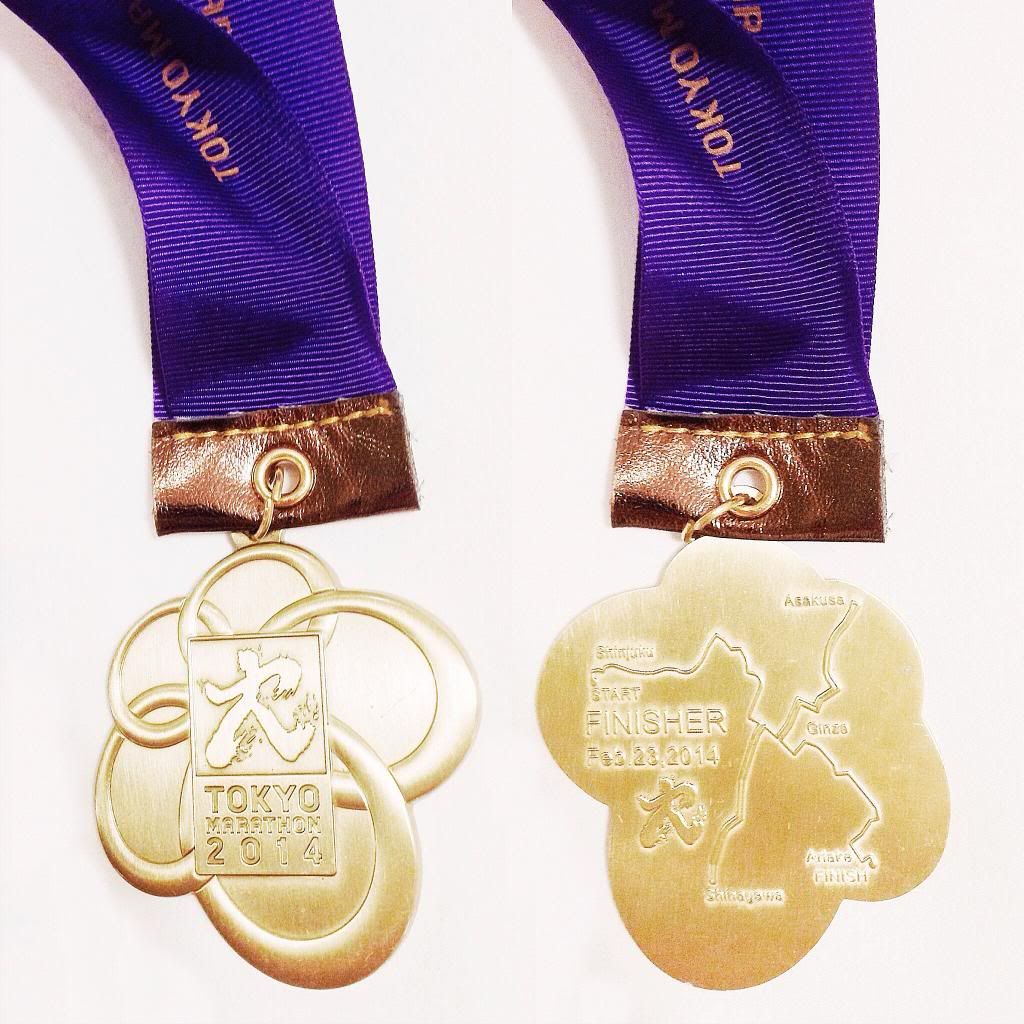 Tokyo I will be back, thank you for the wonderful race experience and hospitality! <3