YES, the wedding is over!! #raceTCYT
Collecting our racepack at the Registry Of Marriage on Friday before the last 12 hours countdown. Lots of excitement, lots of anticipation and not knowing what to expect the next day.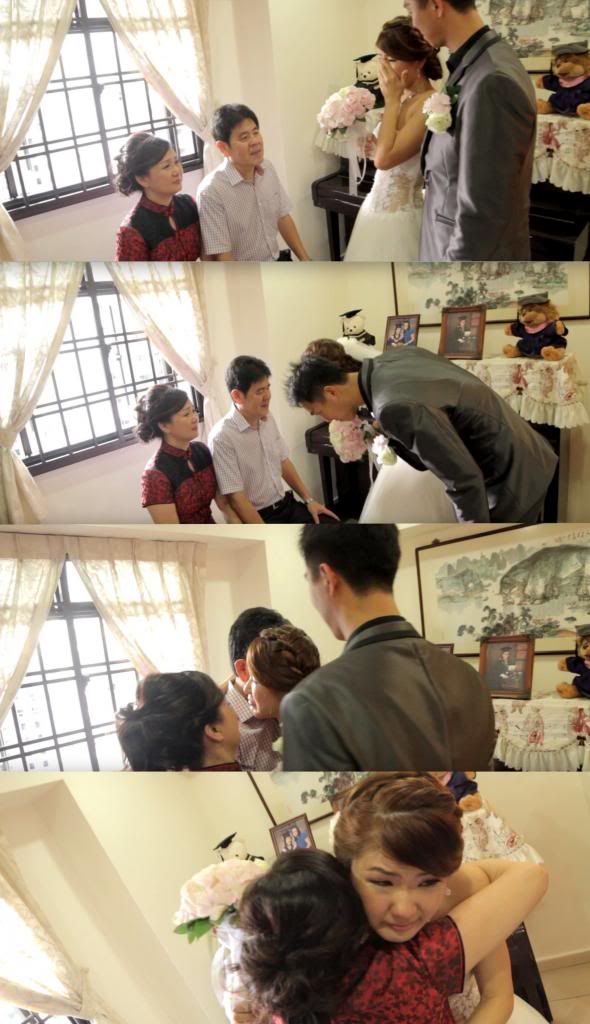 This is the most emotional moment apart from the exchanging of vows for me. It was difficult trying to stay composed despite being super emotional about moving out of a house that has been mine for 27 years. My eyes went red immediately when I saw tears swelling up in my parents' eyes while we bowed to them. It was a rare sight to see my dad tearing and he means the world to me.
On the stage while thanking my parents, I lost it again BUT I'm glad I said my thank yous because no thank yous can make up for the sacrifices they have done for me. I'm never an easy daughter to have - too stubborn, too determined in doing the things I want, too strong-headed.. not forgetting having a truckloads of shoes & clothes that drove them nuts.
On day 2, I went home to get my stuffs over and it was another emotional roller-coaster once again. It wasn't the packing that was difficult despite the massive amount I had to bring which was barely one-tenth, but again it was the emotions of having to meet my parents' heart-warming glaze and to say goodbye in tears.
Happy belated Mothers' Day - forever bonded to you and a daddy's girl.
---
Still, I'm so happy that everything went on smoothly that all my worries were un-necessary. I will do a full post on it after consolidating the pictures and sorting out the emotions.
It was a magical night for both of us which made the one year preparation so worth it and made us realised how lucky we are to get so much blessings from loved ones around us. People who offered to help out, people who flew all the way over just to attend, our sporty brothers & sisters who have helped the whole day and everyone for all the best wishes.
I'm officially a Mrs!
credits to mh, mynt, kat for the pics/video!