What are your daily essentials that you bring along for work or school everyday?
For me, the
Daniel Wellington St Andrew watch
has easily became one of my top frequent pieces that I grab almost everyday. After the wedding, it was a tough battle deciding the clothes/accessories to bring over to my hubby's place and I found myself packing all the classic stuffs - a brown watch, chain watch, shift dresses, nude heels, flats etc. Firstly, I really love how functional and equally chic it is with its vintage brown leather strap, not forgetting how versatile it is to tide me through weekdays to weekends. It's extremely convenient to just stack it with several pieces just like the
Kiel James Patrick 's Vineyard Knot bracelet
featured in the picture above.
On weekend, I take a break from my work dresses and switch to my casual preppy outfits. So yes, there's nothing more convenient that having an accessory with the potential for multiple looks! All it takes is just minutes to switch the brown straps to
Daniel Wellington's Oxford Wristband
, which went super well with
Kiel James Patrick's Lanyard Hitch bracelet
!
By now, you should have heard of our local
JustTangy
who has offered so many exclusive brands at a low price (cheaper than in retail stores). It's a one-stop for pretty accessories with popular brands such as Daniel Wellington, CC Skye, Lucien Elements, Claire Aristides etc! Sign up for their mailing list to be kept updated on the brands that will be bringing in with constant promotions. Yes, you do not have to break your bank or book an air-ticket just to get these American brands on your wrists.
In conjunction with the GSS, it's your chance now to get your hands on the armswag that you have been eyeing on for so long! Good things must share.. and who doesn't love sales? :p
Quote "GSS2014" for 10% off storewide (except for Claire Aristides pieces).
*Code ends on 30 June 2014*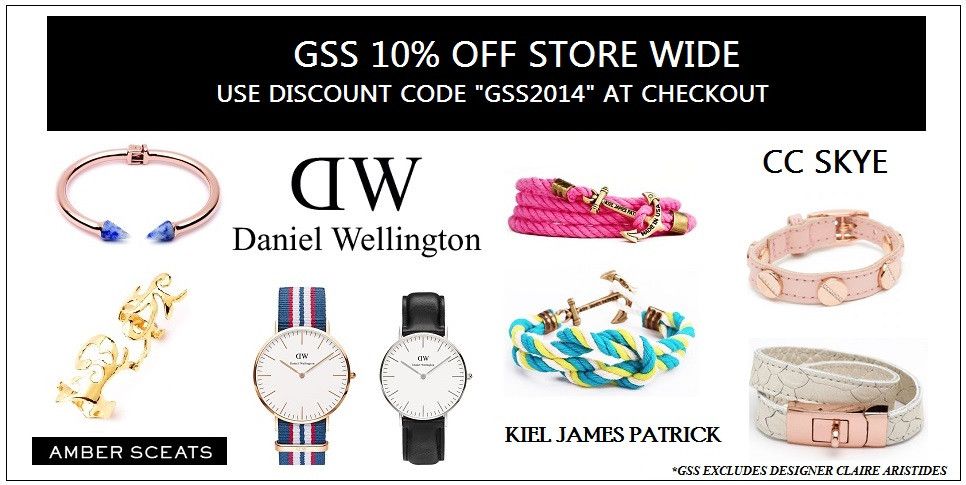 Psst, they have just restocked their site with new colours & designs to choose from...