A month has flown since the day we said "I do" and cycled down the aisle to happiness in front of our loved ones.
And this Saturday, we turn 5 years old together!
The first month has been pretty awesome so far except for the perpetual home-sick and emotional feeling everytime I say my goodbyes. Still, I wouldn't trade it for anything in the world - getting to see each other everyday, waking up and falling asleep together with a smile and catching up at the end of a long day. It could just be for a few hours before we are back to our daily routines, but it means so so much. Other than that, marriage didn't feel that much different from being "together" as equal effort has to be given to the relationship for it to sustain. We still discover new things about each other that we may or may not like but hey, differences can always be a way of complementing each other hahaha!
Not forgetting the bliss and grin whenever I look at my fingers even during yoga and all, ticking married option on form, thinking about seeing the hubby tonight.. things that I can't really explain but it's a magical feeling that is indescribable. It's that sort of security that I get anywhere, anytime which makes me so happy for no reason. Ironically, it still feels very surreal and I'm caught scrolling through picture and video memories of 10 May on-off.
Now, we are working on our new house right now which is even more exciting than the one year wedding preparation.. because it's something physical that we will be able to see and stay in, EVERYDAY!
Highly image-intensive post ahead for the Actual Day wedding highlights after selecting the key pictures to be uploaded. I've always wanted to do a concluding post so that I can read back in future and also, the drafting process brought back lots of sweet memories of the fateful day. I didn't want to split them up into several posts because that will break the flow so here goes! :)
---
MORNING // GATE-CRASHING + TEA CEREMONY

The night before was the busiest day ever for me since he had to work. It was a series of checking various items while we collected our marriage certs, picked up our gowns/suits, settled the car, collected the flowers and by the end we reached his place with the suit, it was close to 9pm. Still, I managed to sleep at midnight (yoga helps!) despite feeling nervous and not knowing what to expect the next day. Will my guests not come? Will my makeup smudge after crying? It's a day that I've been anticipating for the last one year with dozen of excel spread sheets and there is it in a few hours! There were lots of mixed emotions that hit me the night before but I'm glad I didn't become Bridezilla in the process haha!
The make-up artist arrived at 4.30am to do my mum's makeup before my own. It was the earliest I've been up apart from races, this time to get my face painted and hair sprayed! We did the make-up trial few days in advance to save time on the actual day. I guess it's really important to communicate well with the MUA. For me, I didn't want it to be too cakey nor too eyelashes, just glowy skin with features accentuated.
I've been saving the nude Ferragamos since last year, a pair that I bought in HK! The other two sparkling heels were courtesy of Gripz.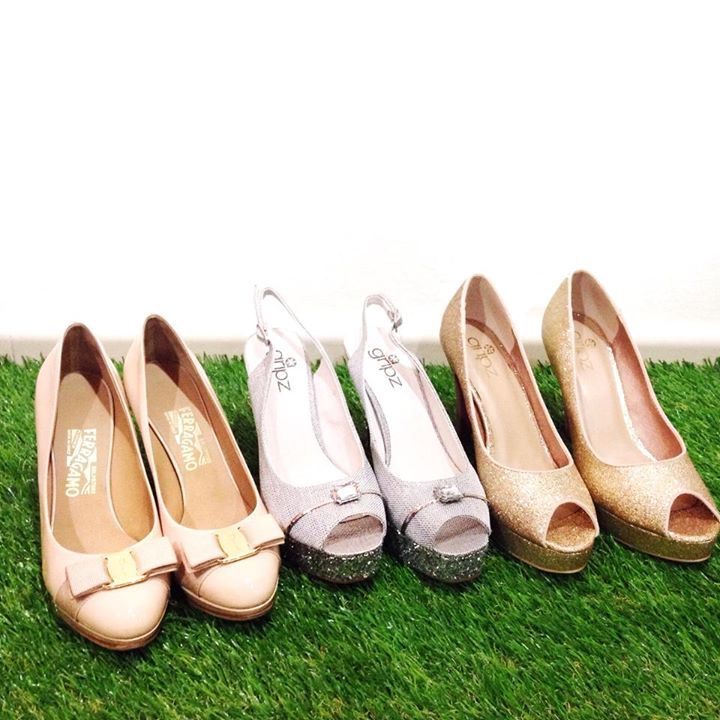 The gown selection was one of my favourite part for the whole wedding. After all, it's a lifetime opportunity to don such a glamorous white dress and not being judged for it! I ended up changing the white gown selection for our AD as the white embellished halter gown (used for the shoot) with a 2metres long train though glam, was too heavy for me to handle. It was good for photos, but a tad troublesome to walk in especially for the long day. And so this was the final one I picked- a M-shaped white tube dress with translucent lace front and back which I really like for its subtly sexy vibes but had to maintain a flat tummy throughout!

For the night cheongsam, it was a huge headache to find the perfect one. As our bridal does not have an ideal one, we spent two months combing everywhere with the help of our friends. I tried FEP, Chinatown and everywhere in town but there isn't one that made me go "it's it!". It's easy to settle for anyone, but I wanted it to be THE ONE. We ended up rushing to customize it just two months before the big day, choosing the cloth and settling the drawn design. It was tedious because I had to make several trips for the fittings and trying for the inner lining but it was all so worth it! The bridal shop took our feedback and request, like giving me some allowance so I could sit on the bike, adjusted the slit so it would be sexy yet not expose myself and also gave the cheongsam a slight train for the elegance factor yet not to hinder my movements. In all, we were really pleased with the final piece worn and that made a huge difference to the entire night.

(To BTBs: Do try all the gowns! What's on the rack that doesn't look flattering might even turn out perfect on you. There's no perfect dream gown but there would be something that you like the most and a dress that suits your body as well! It's important not to settle for anything less than what you like, just keep searching because it's your big day!)
All ready for the brothers! I was glad to do away with the usual bridemaid dresses for a full nike outfit for them in line with the sports theme.

The groom with the underarmour brothers.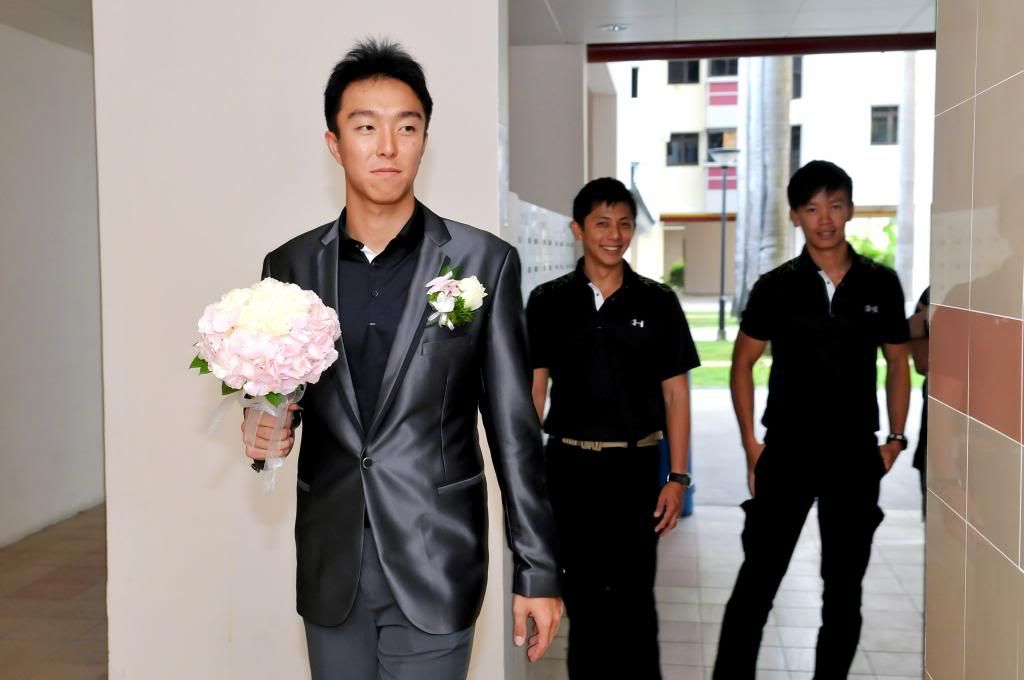 For the gate-crashing, my sisters were really sweet to come up with segments that were very related to my interest - shoes, #ootds and sports basically! Nothing RA at all haha!
The first part was the BINGO shoe quiz that they have designed (shoes from gojane haha!) to match the name of each shoe type with the picture. TC said he actually recognized half of it, all thanks to my training.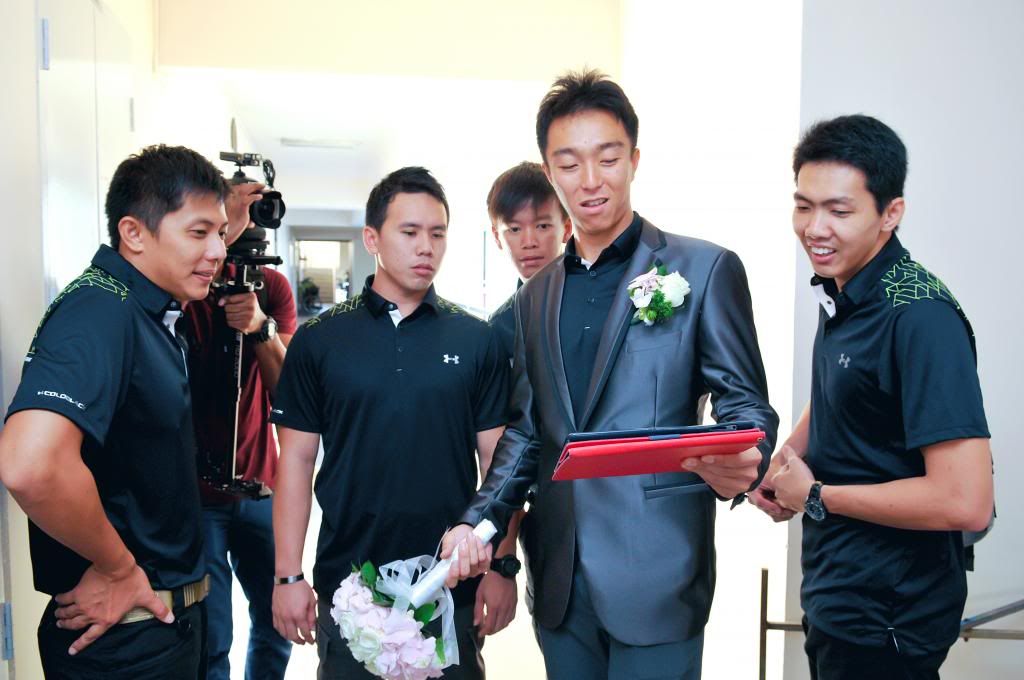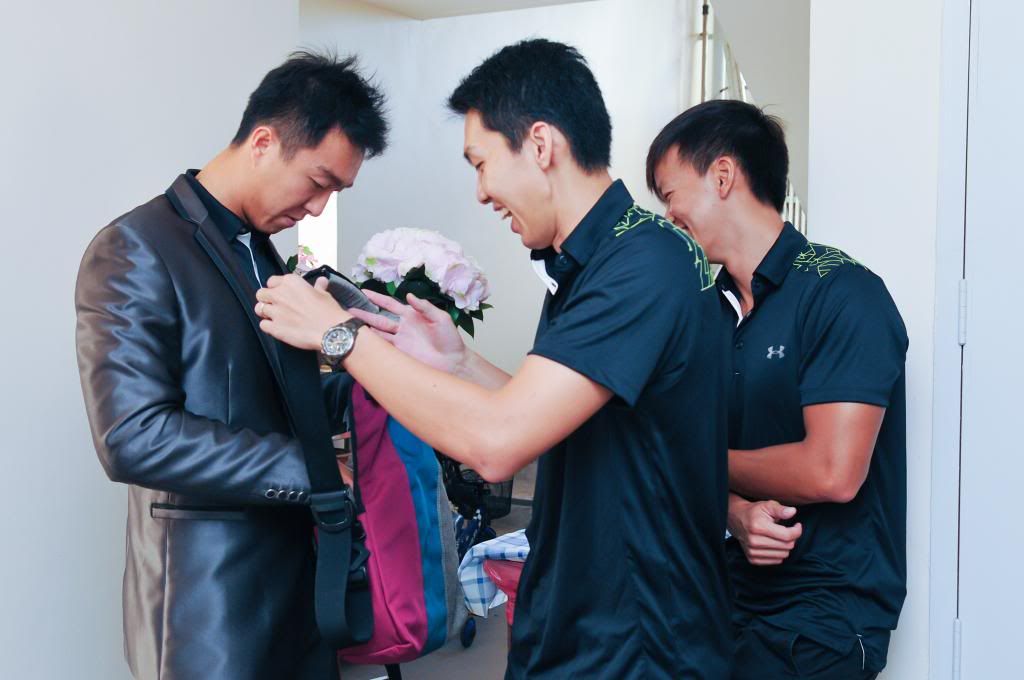 The second part was the OOTD segment which was hilarious, with my clothes and shoes! The brothers had to dress themselves up in the items in the box while TC was the OOTD photographer (as usual).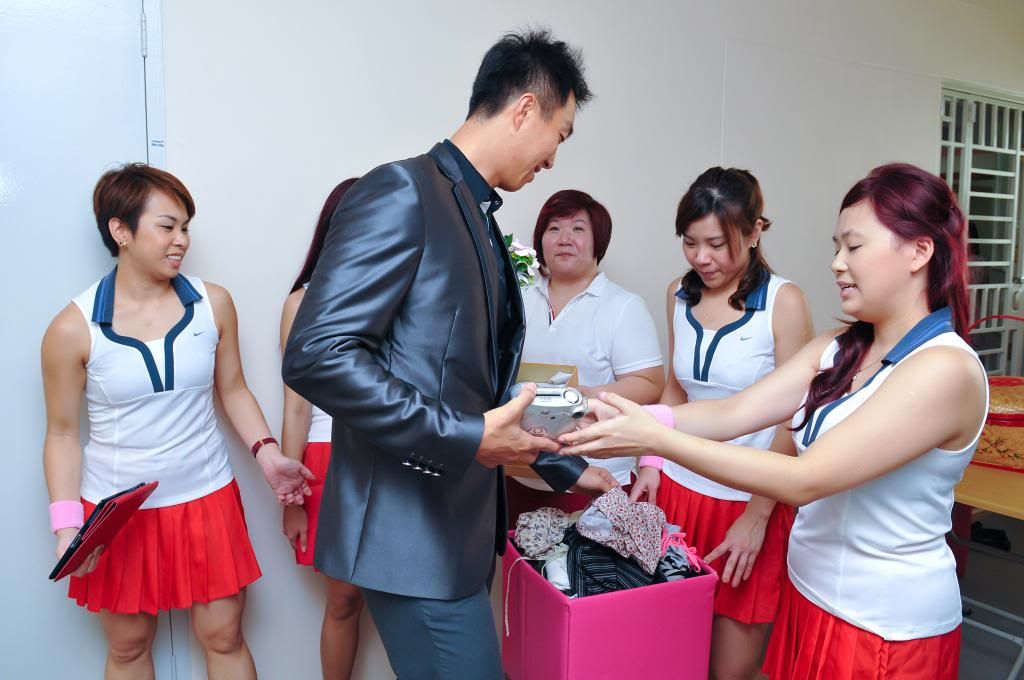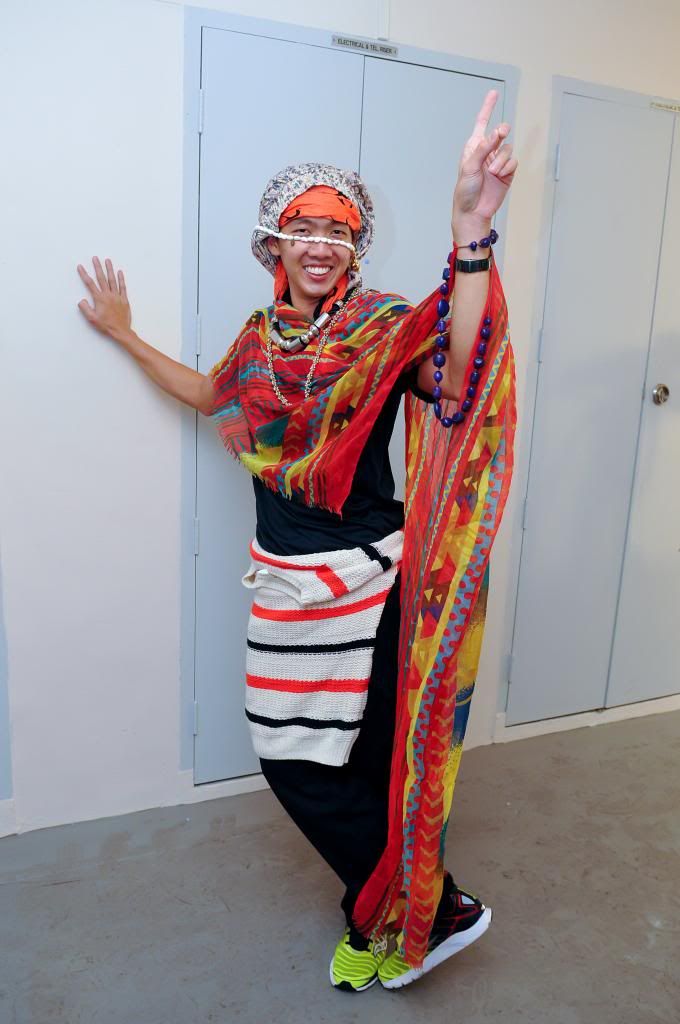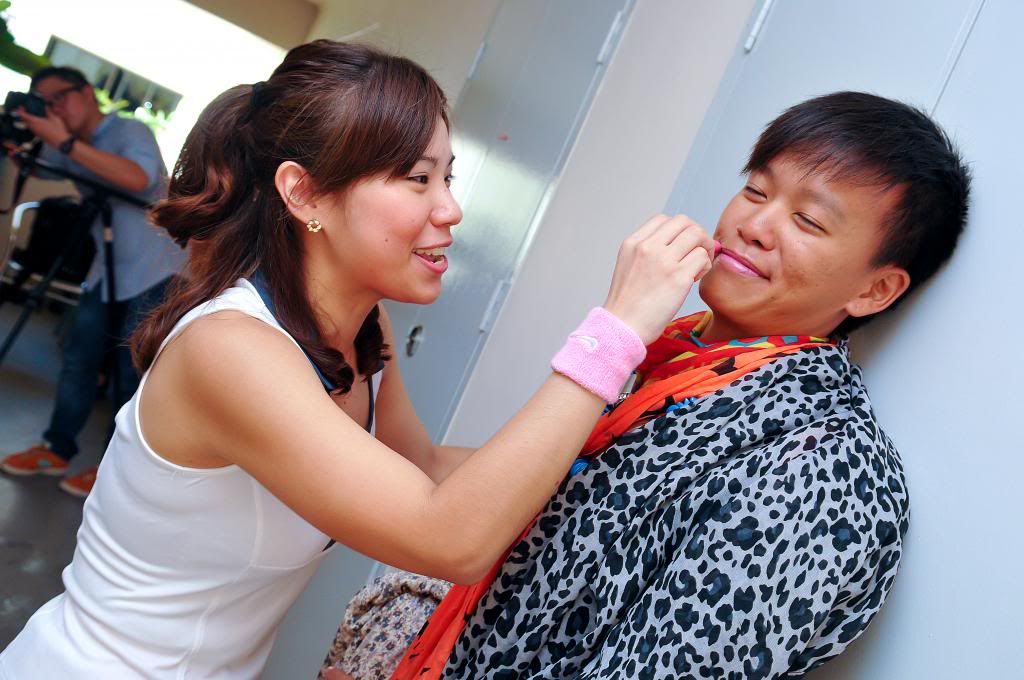 The third part was the TCYT yoga pose that they did it pretty effortlessly!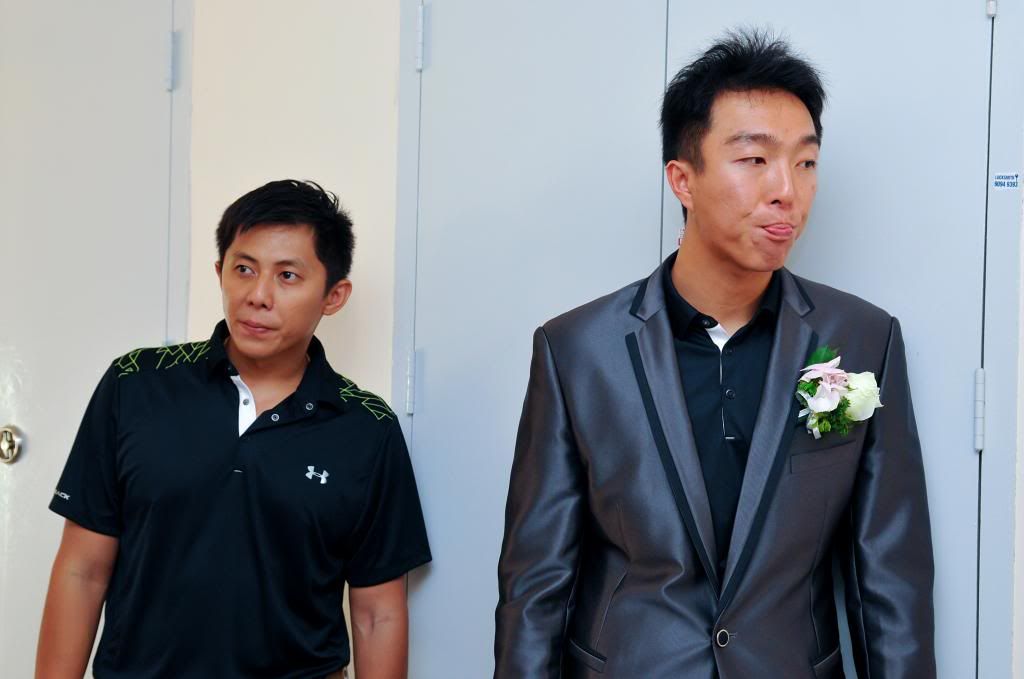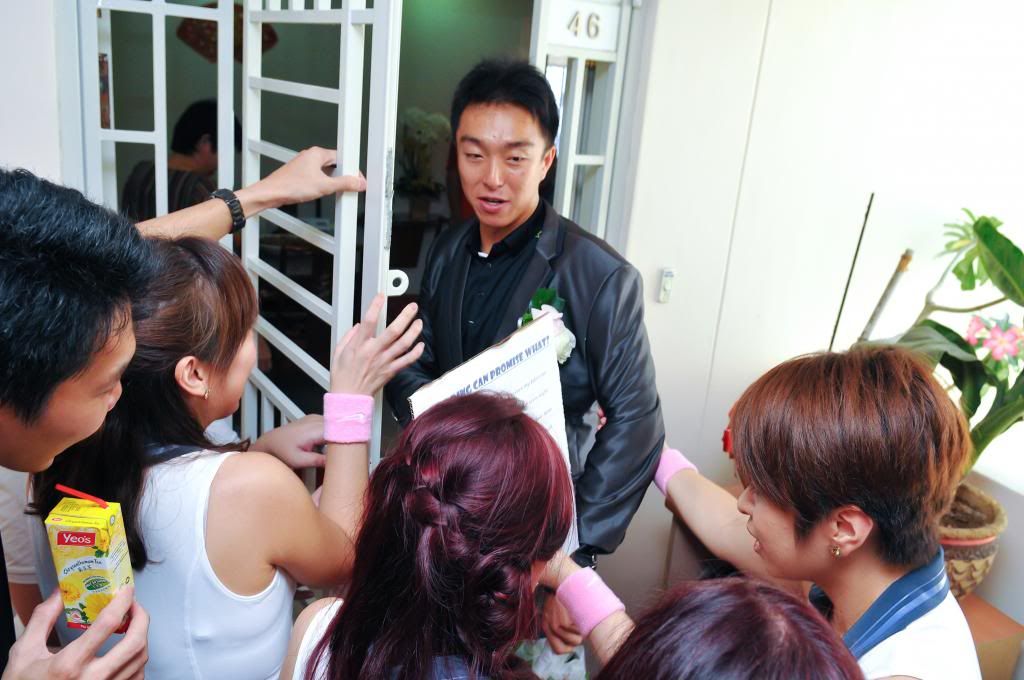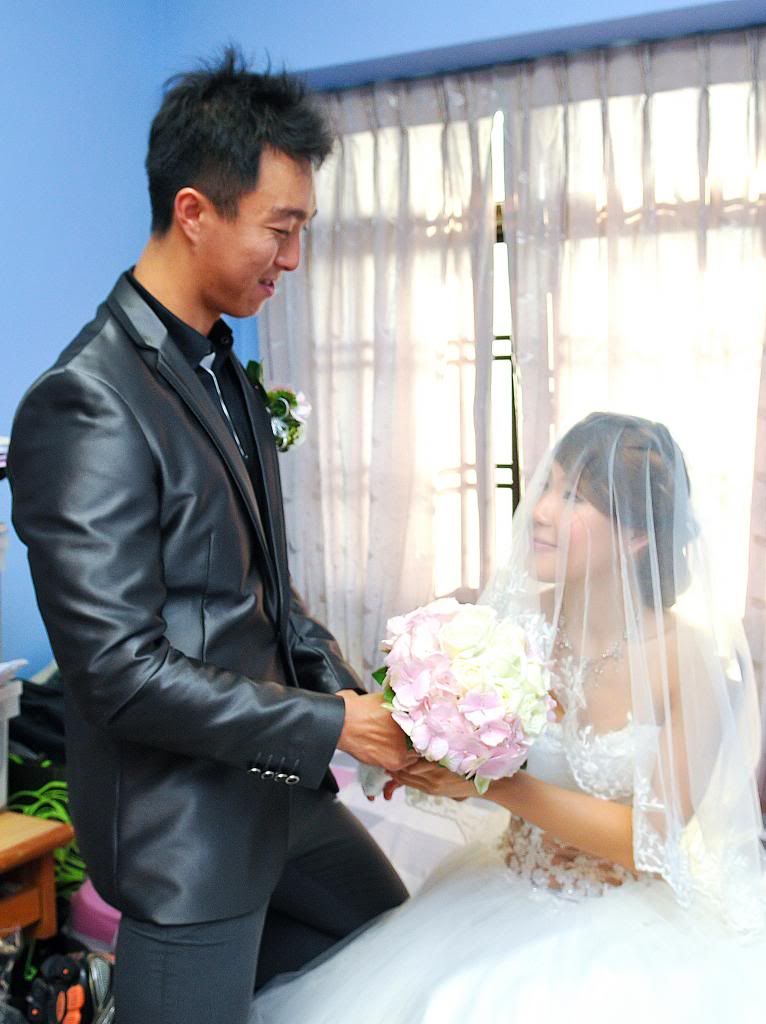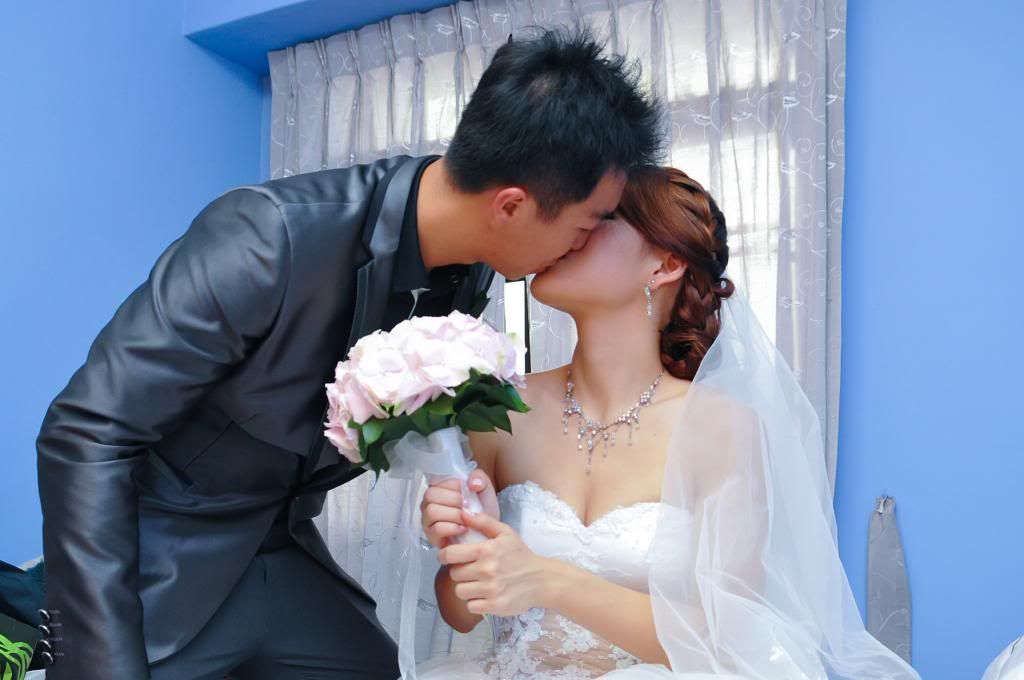 This was the most emotional part of the morning and the hardest moment - having to look in my parents red eyes, bow to them and thank them for everything. I've never seen my dad teared before since he usually show his love silently via his actions and it was a scene that I will remember for the rest of my days.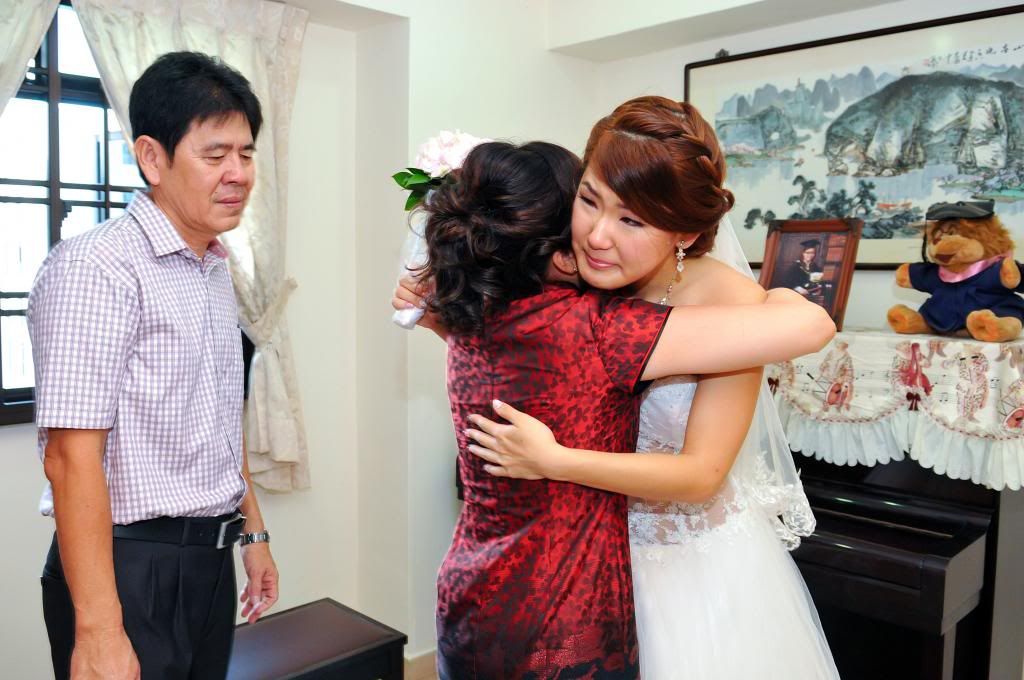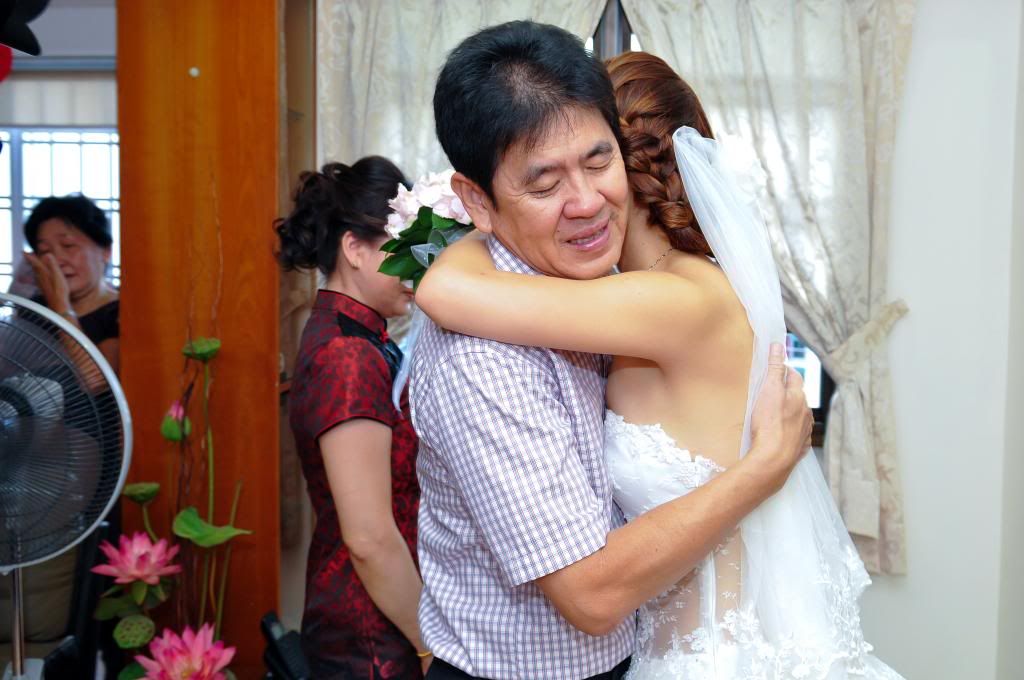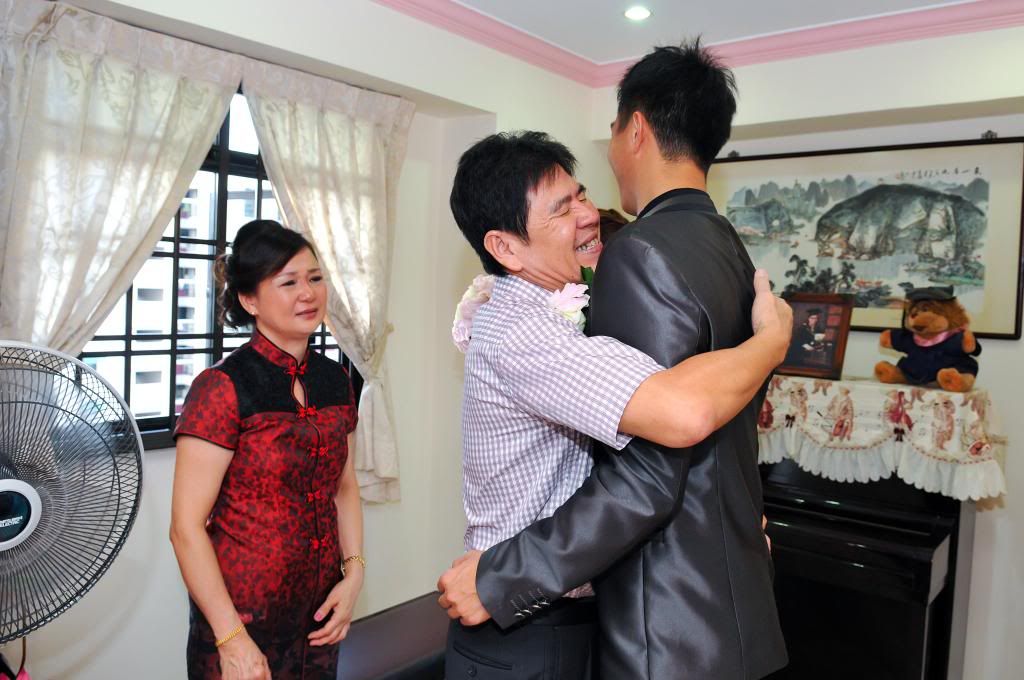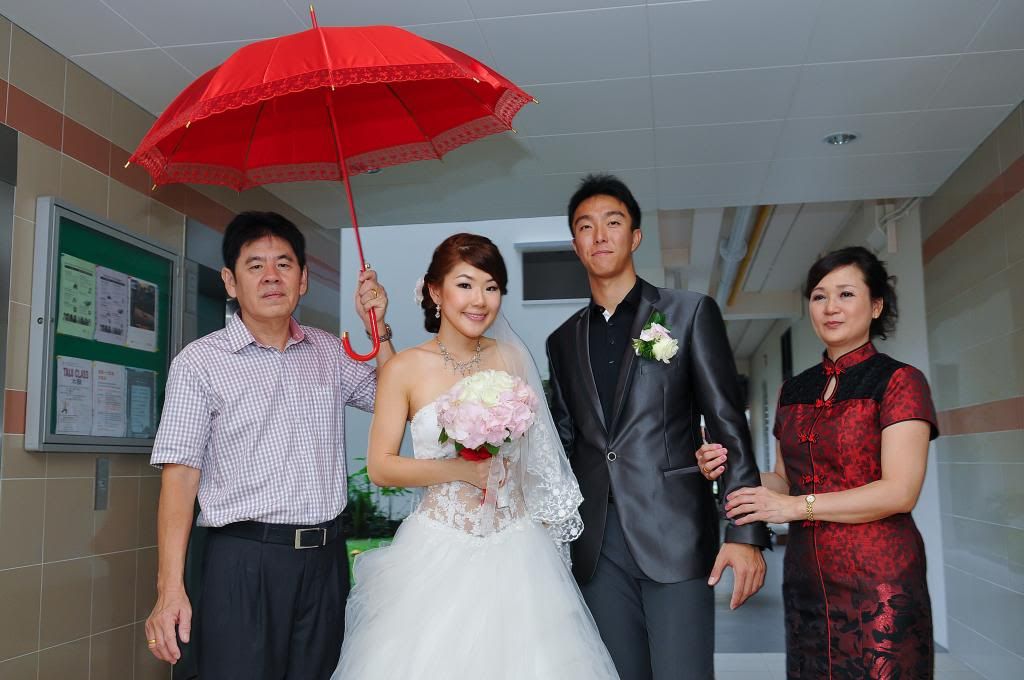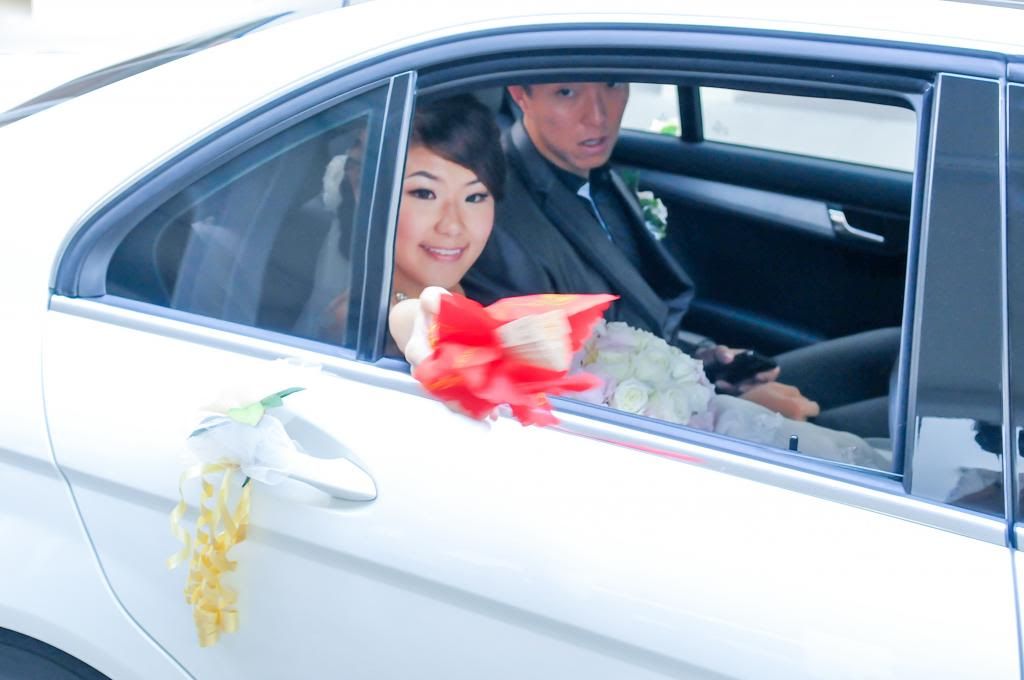 Back to the groom house for a change of tea ceremony outfit, throwing of bouquet and quick video shooting/rehearsal on the bicycle!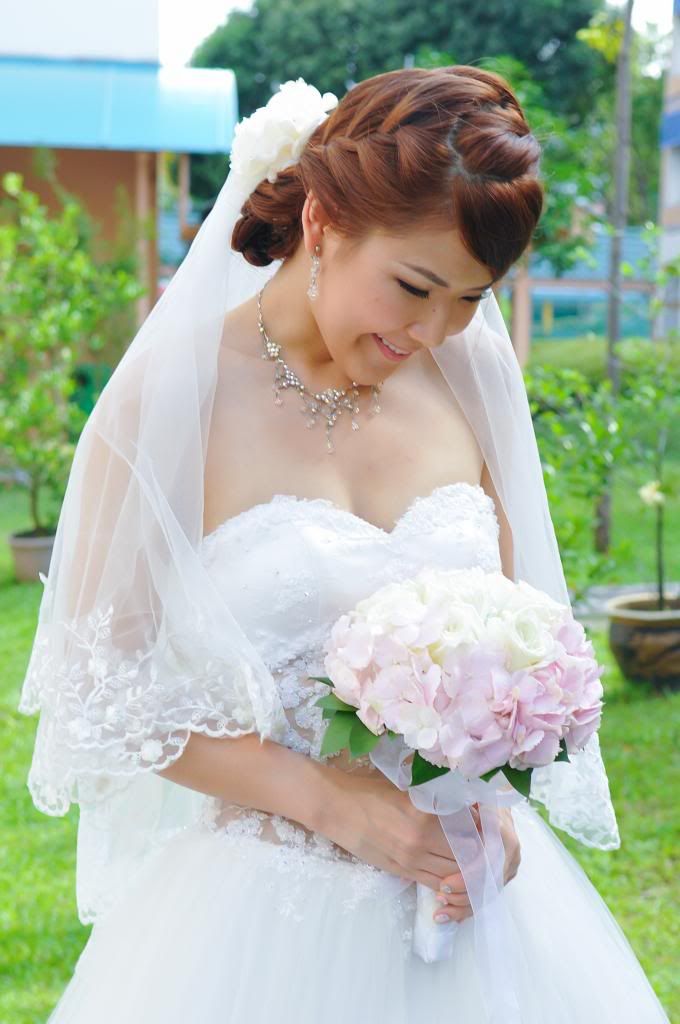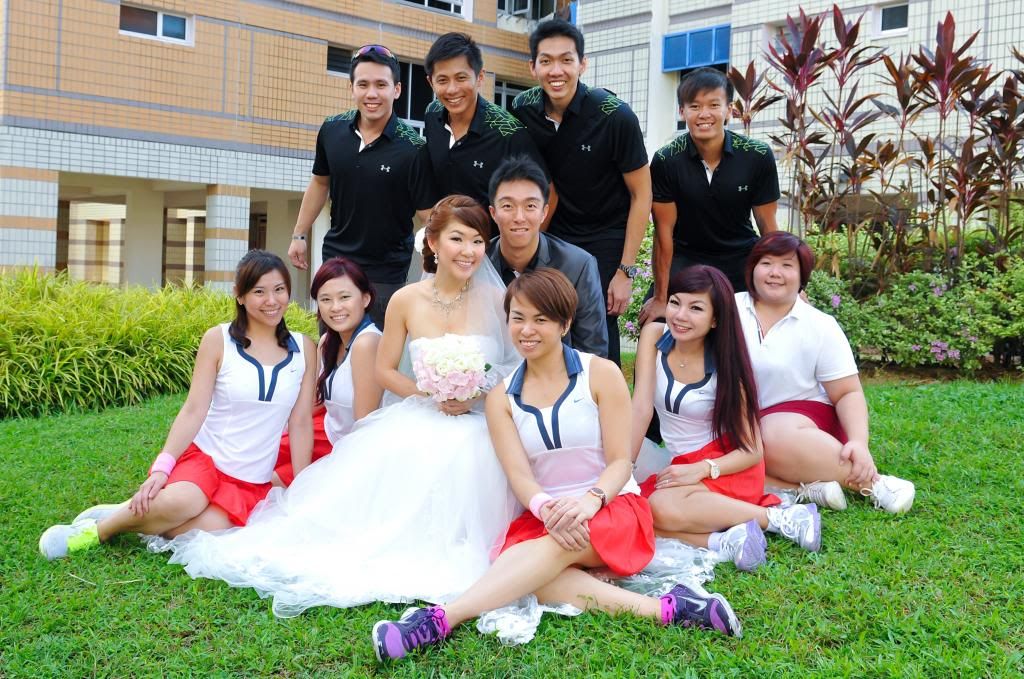 Vintage bike from Onedaywheel with the metal cans at the back DIY-ed in line with our logo.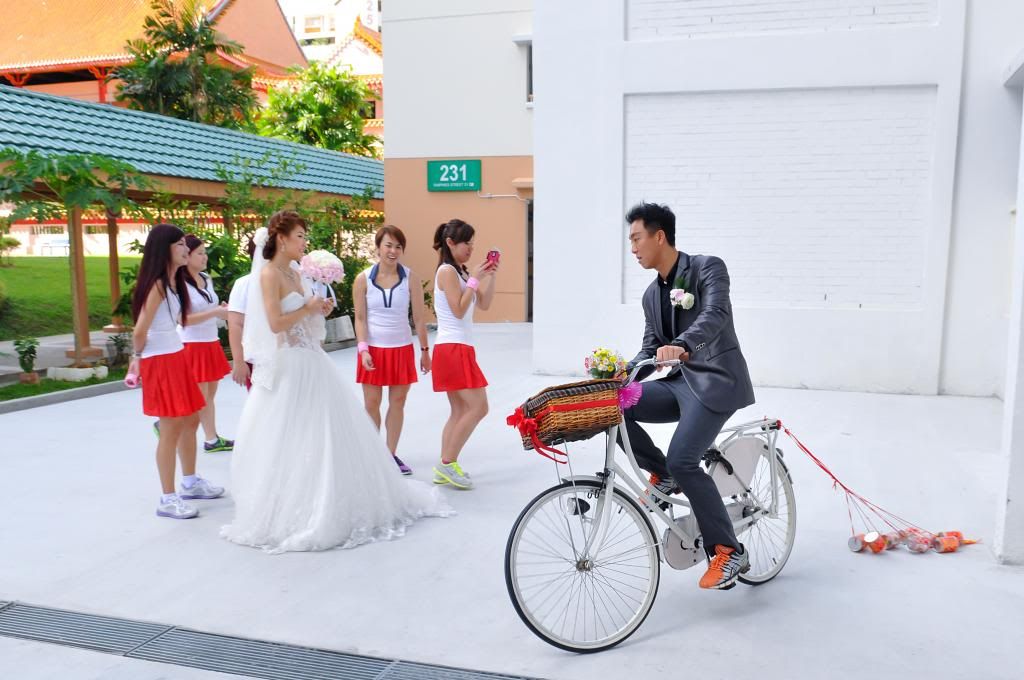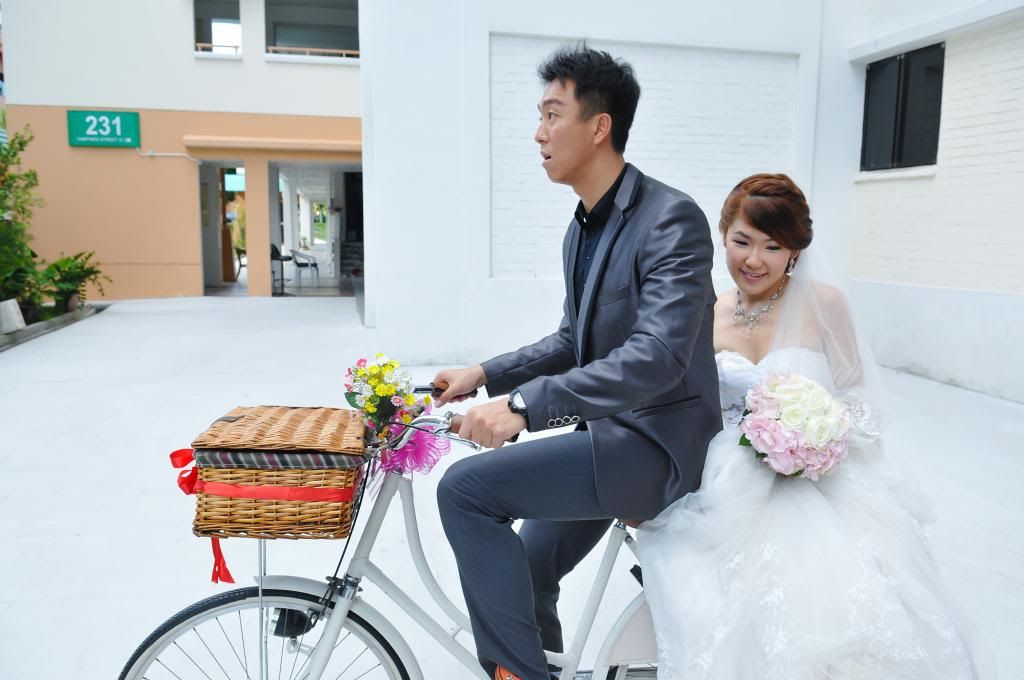 The wooden plate lovingly hand-written by Steph.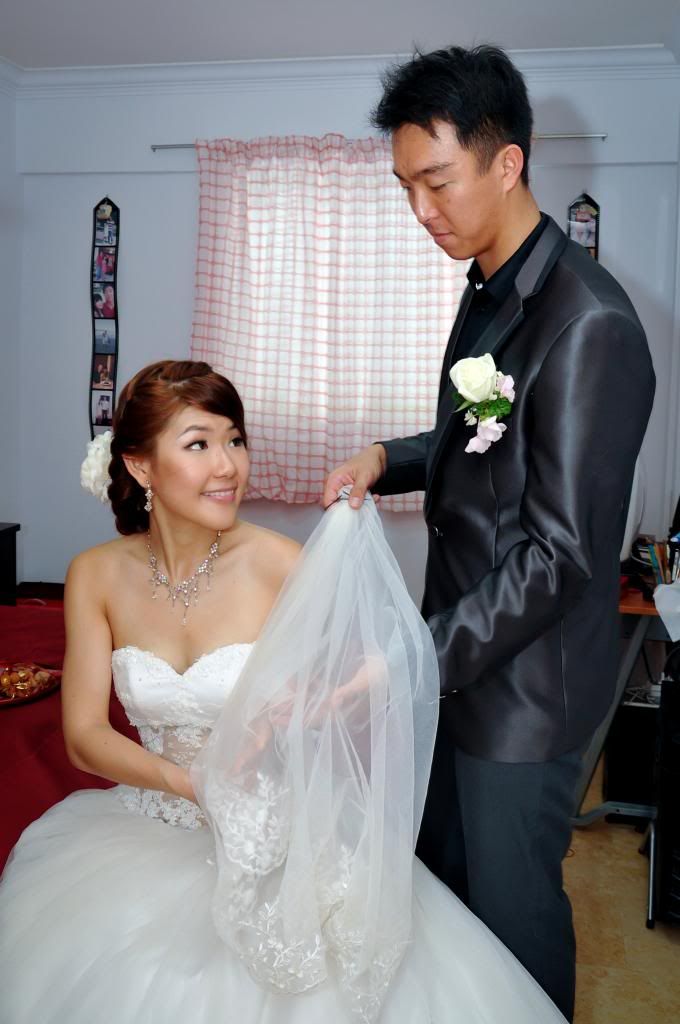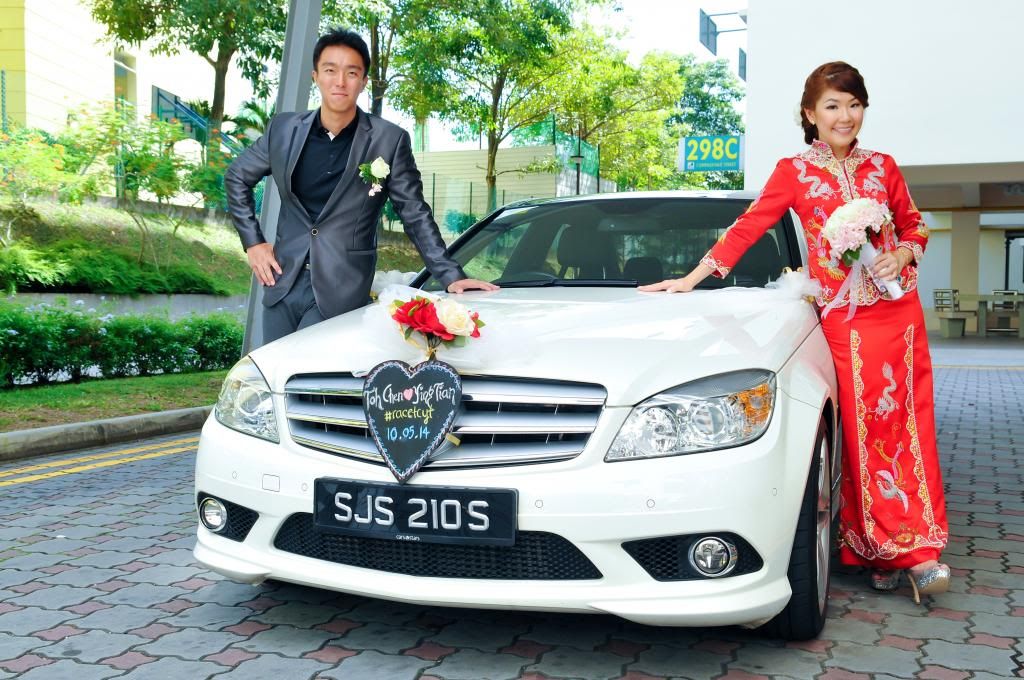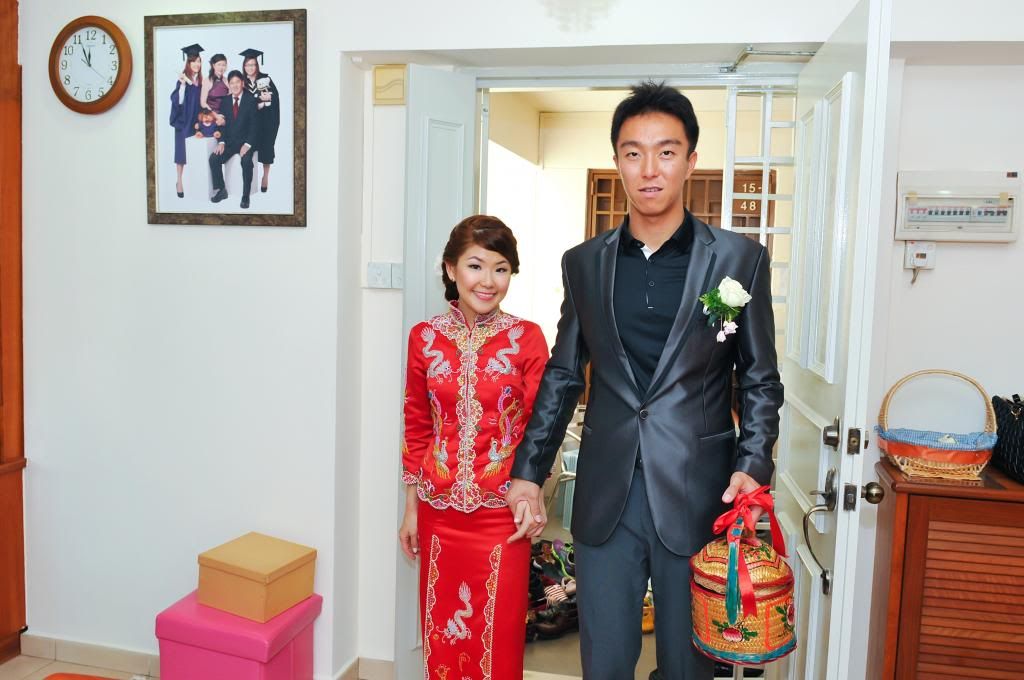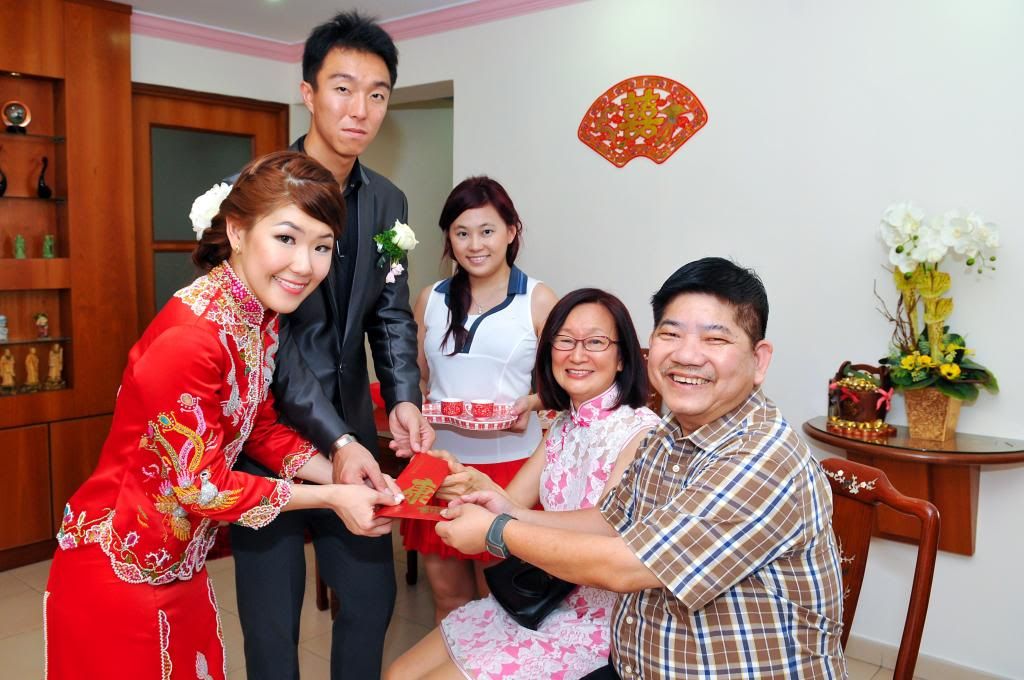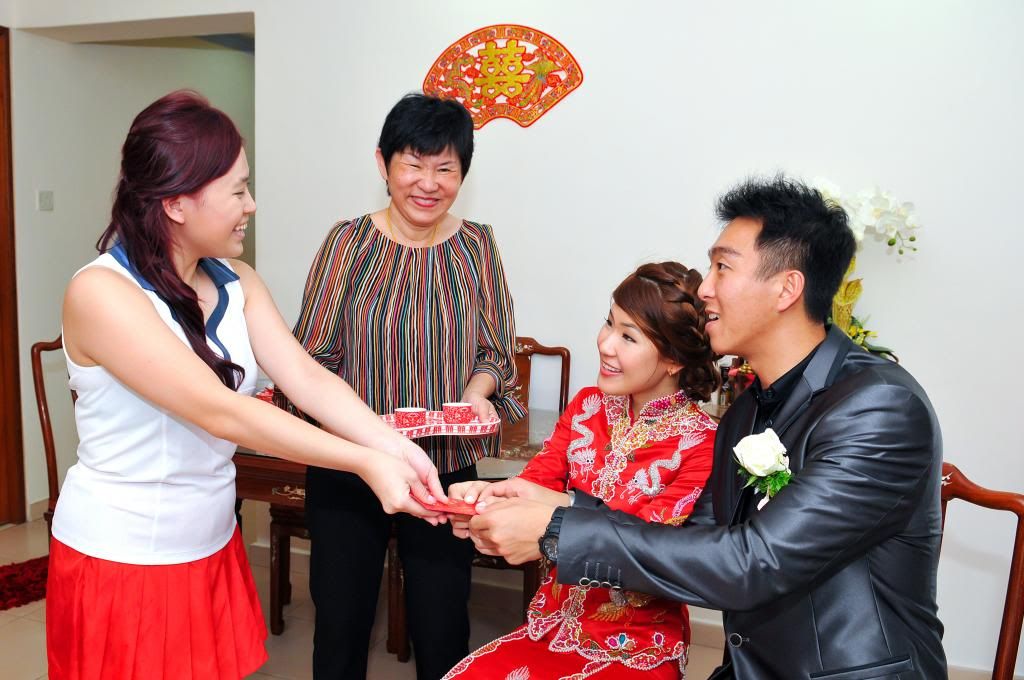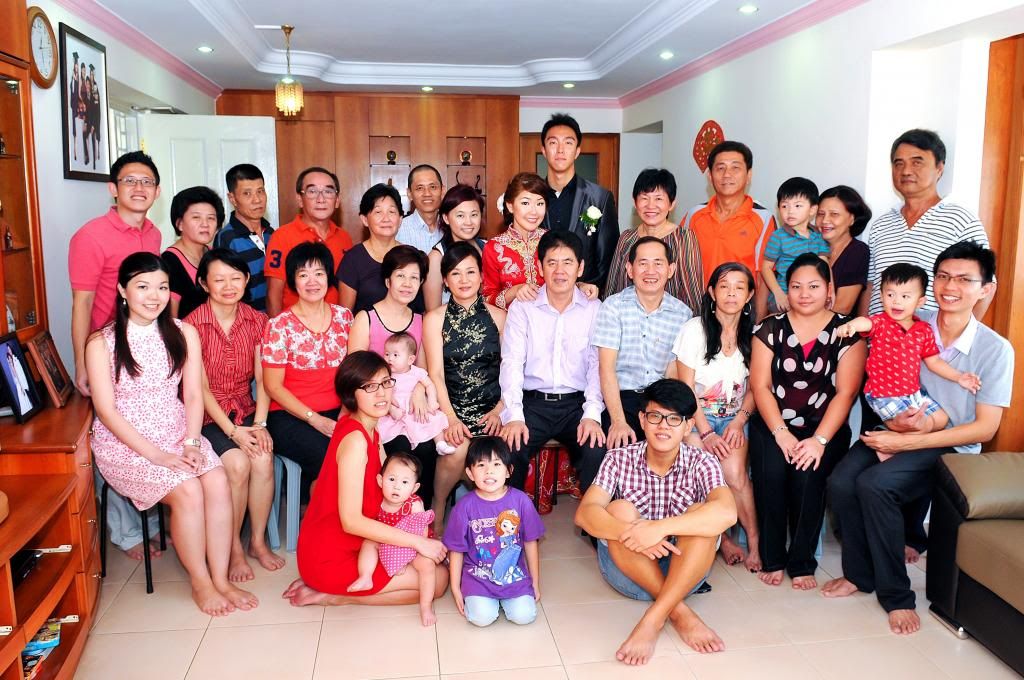 EVENING// SOLEMNIZATION
For us, we wanted everything to be done on the same day for convenience and also, we would just had one wedding anniversary date to remember. Thankfully, the afternoon part wasn't too rush and we had hours to relax in our bridal suite before going down for decorations and to dress up for the night.
We booked our dinner venue at M Hotel more a year ago. It wasn't too difficult a choice because of our criteria - we wanted a really long and straight march-in for the sword bearers and bikes (no U or Y shapes), an area near town and not too far from the train and with a min of 30 tables. After visiting six hotels and two restaurants in a day, we picked this as it fulfilled all our criteria. And of course, having a private jazucci in the room was an additional bonus!
It was a really good experience with the hotel right from the sales talk to the post-wedding service which made coordination very easy. As a bride, the last thing I wanted to do was to chase them for email updates and all which thankfully wasn't the case. I really like how willing they are to go through the extra mile for us, like making sure we had enough space to park our bikes, having enough easel stands and even going to the nearest Macdonald's at midnight to get us supper.
The only gripe we had was the tight ballroom as we made the mistake of under-estimating the number of guests. There were nothing we could do since deposit has been made and all. We both had a huge family with quite a number of friends on our guest list, so it was a very tough choice trying to squeeze them into the confined area.
(BTBs: Have fun sourcing for the right venue and also, come up with a list of criteria before making your way down to look at each of them. Trust your instinct! It's important to do up your full guest list prior to booking so as to have the right space for the right number of people!!)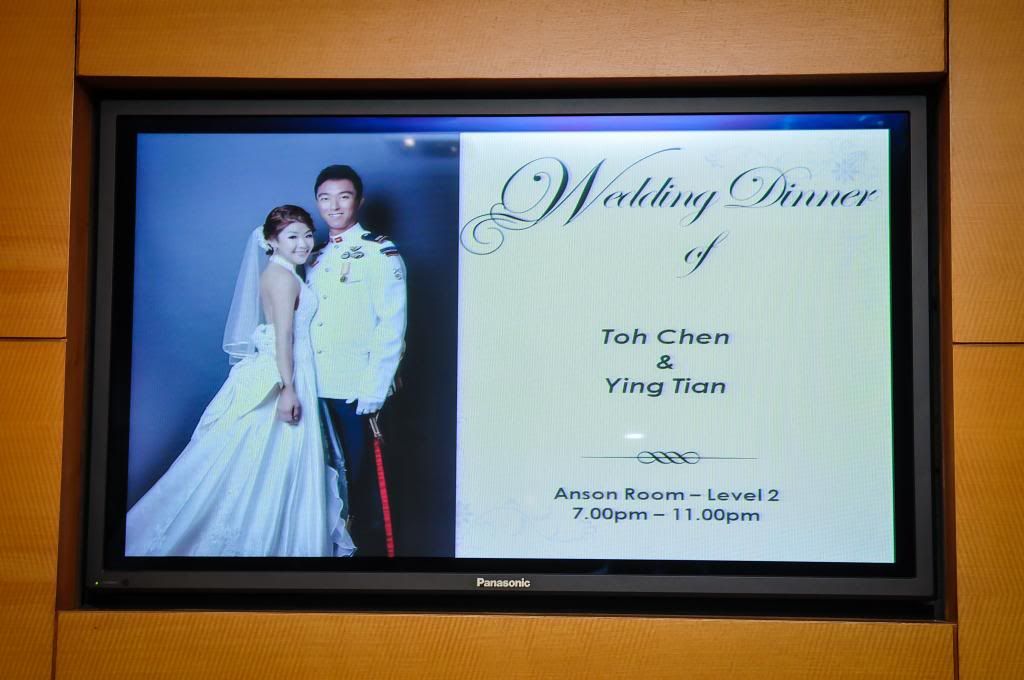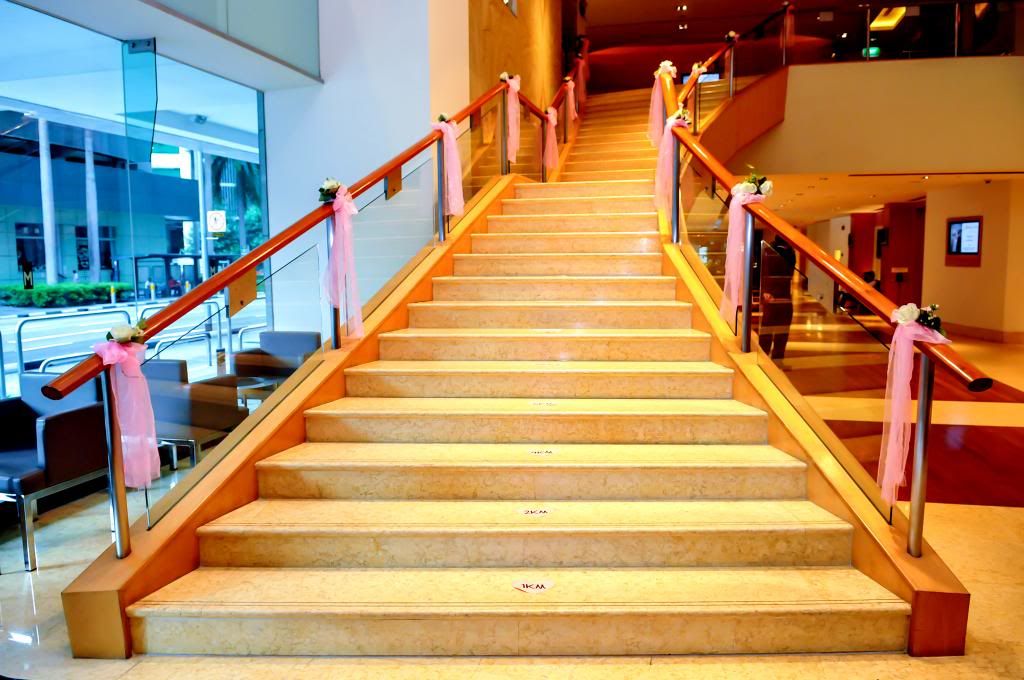 All thanks to G for pasting the distance markers one by one up the stairs to the reception for our race!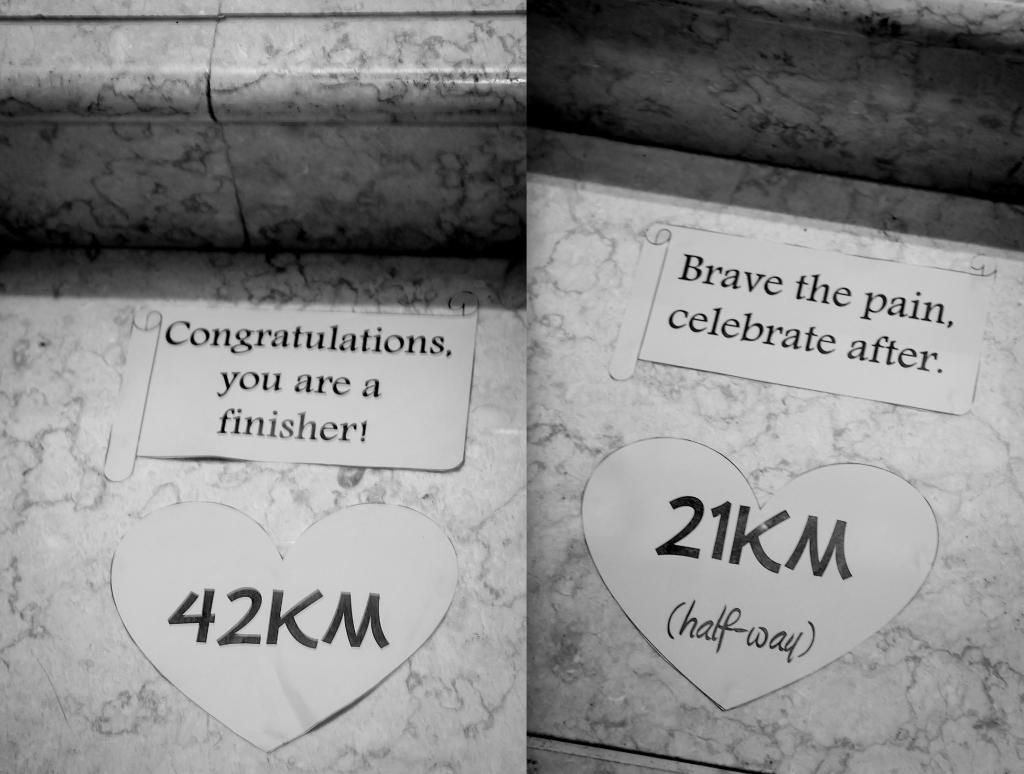 We did away with the usual guestbook for a finisher tee which was more meaningful to us. I designed this on the computer before sending it for printing on a M size tee haha!
The vintage bike has been jazzed up with extremely pretty flowers by Mirage Flowers made it look so much prettier! I contacted them more than half a year in advance to strike an item off my list. It was one of our best decisions as not only were they very efficient in their replies and drafting of proposals, the flowers that day were extremely gorgeous!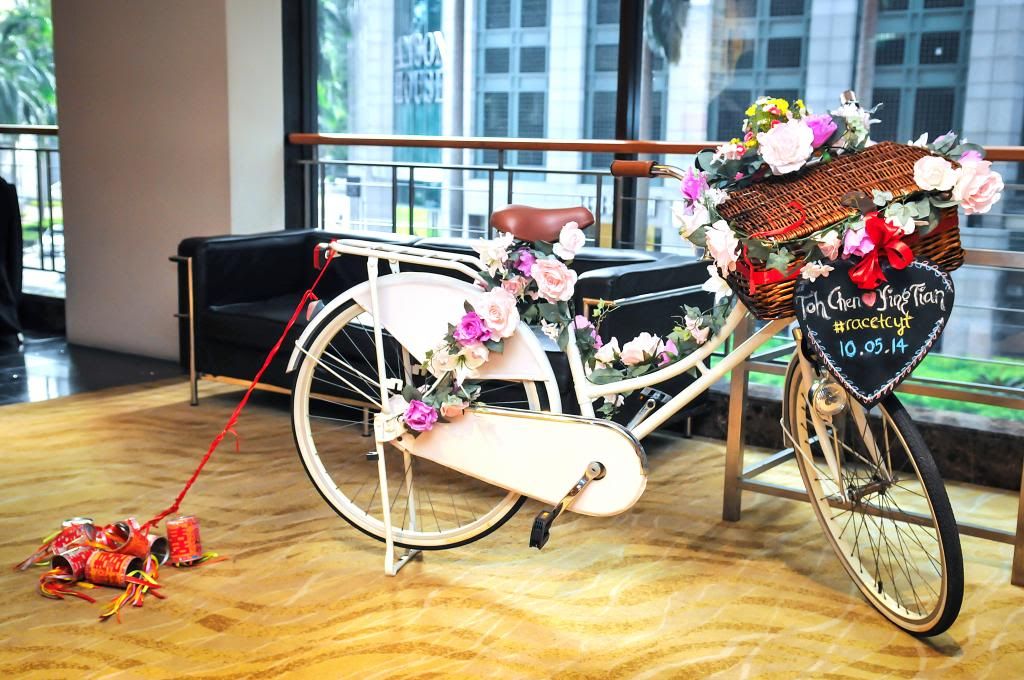 The flower arc by Mirage Flowers with our race logo!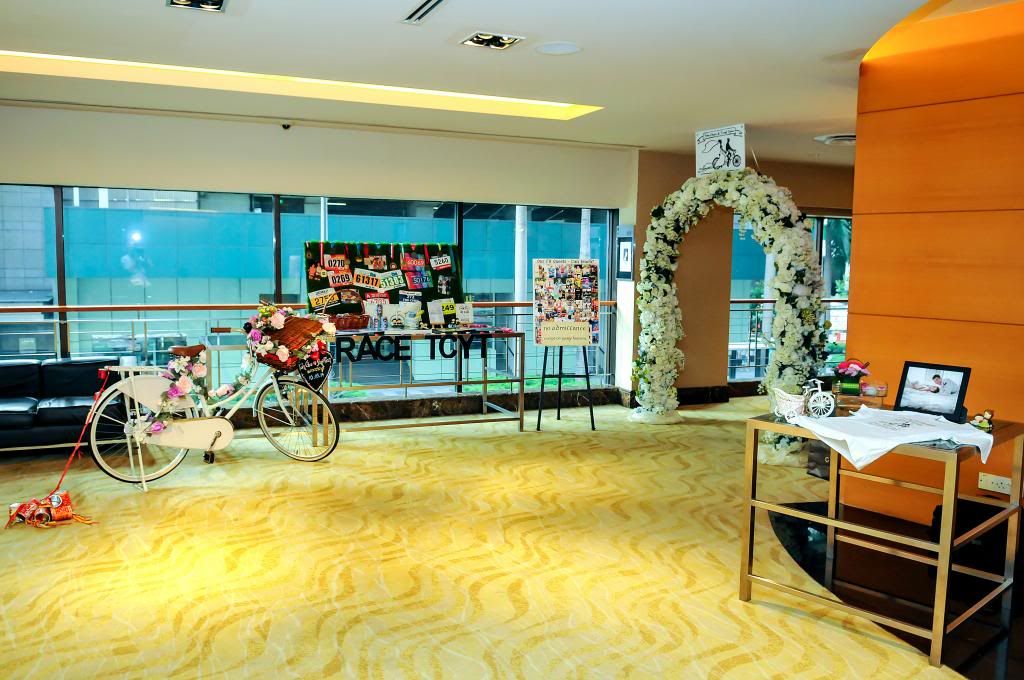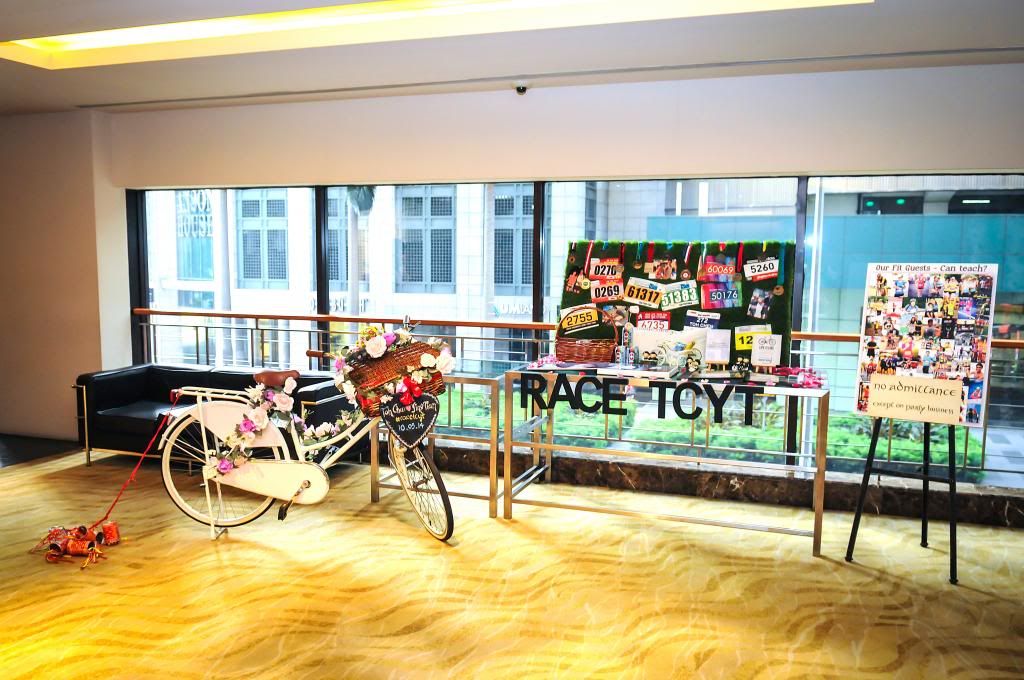 Our carbo-loading table with bananas, H20s and energy gels. All thanks to the dearest sisters for setting up the table so quick with our couple medals, bibs and pictures.

And a print-out of our sporty guests- runners, swimmers, muay-thai and triathletes!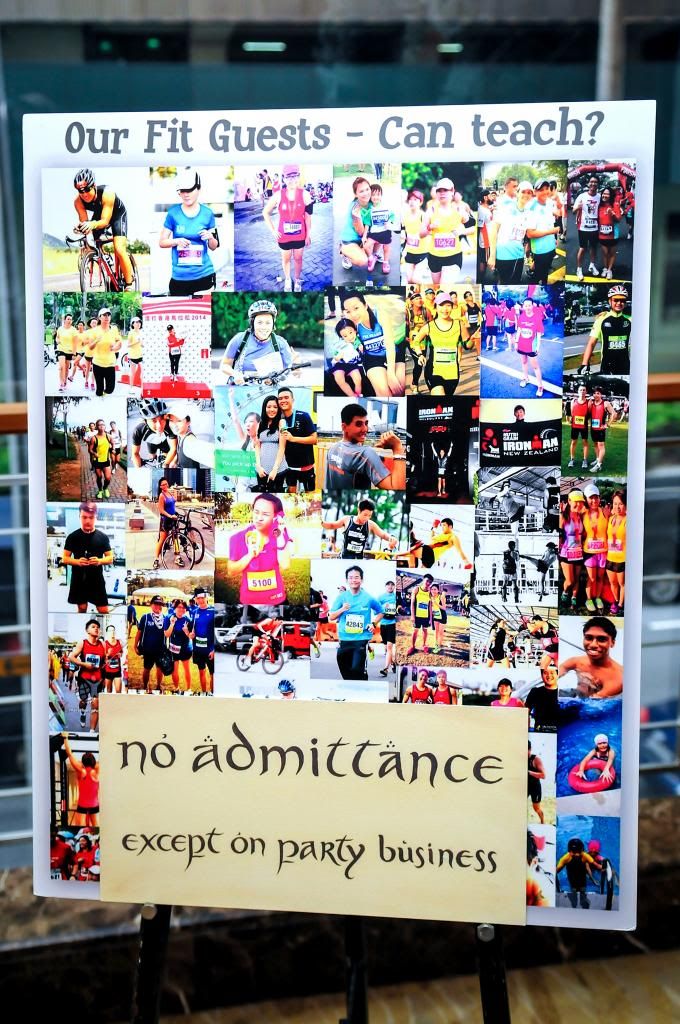 The very lovely DIY angbao box with a mold of his bicycle and my ferragamo shoes (with gold inner lining), by my sisters that was in line with our theme. Super effort!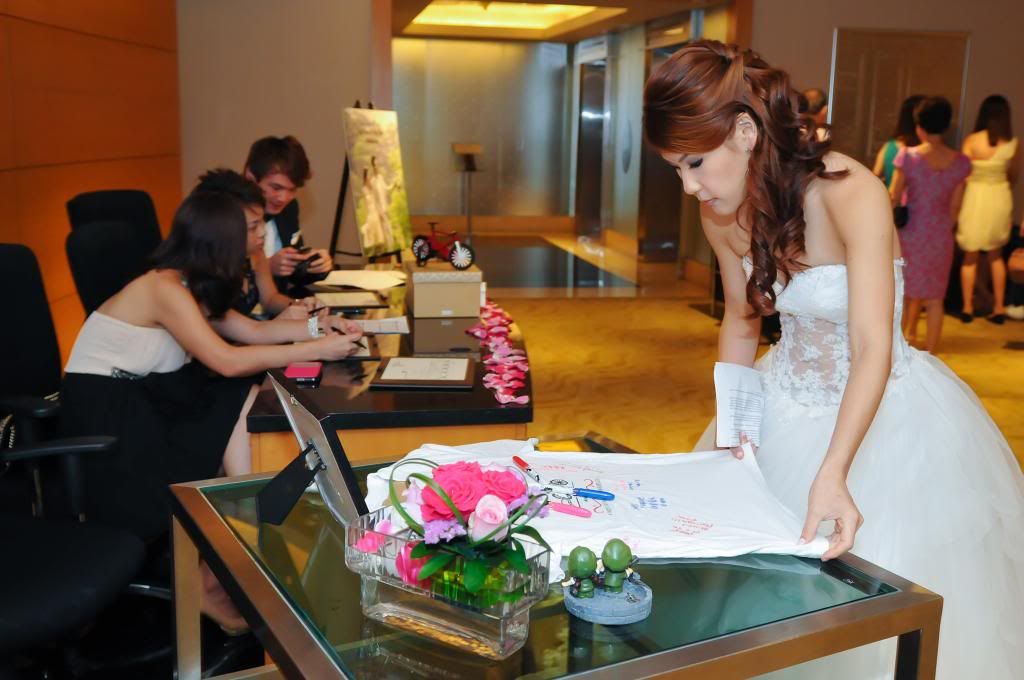 Really, the ROM part was the only event of the day that really gave us a heart-attack. :(
By 6pm, most of the guests were in the room but we could not locate the most important items - our ICS! My dad was nowhere in sight and we had to rush to the room to find the ICs. It didn't help that the MIA bridal suite room cards were perpetually missing which hindered us from getting our stuffs. Thankfully, everything was settled at the end while my dad later on came down.
I was extremely nervous by then, trying to stall the time for our JP who was in a hurry and trying to look calm for the exchanging of vows.
(BTBS: These small gritty items are extremely important so don't make the same mistake as me by focusing too much on the evening portion if you are holding both on the same day!)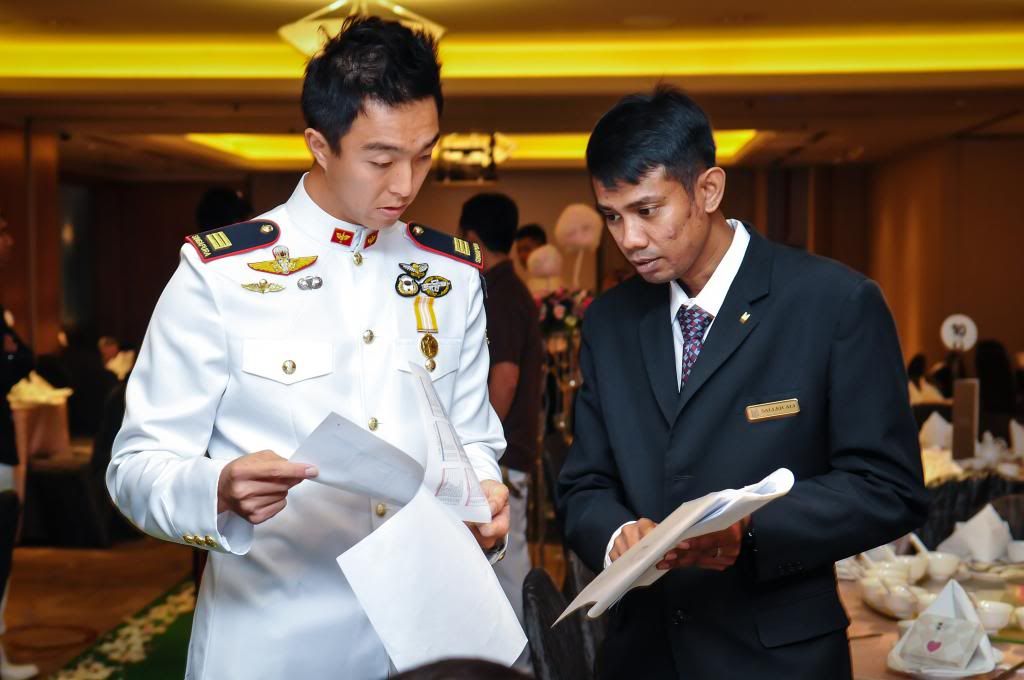 Flowers and bibs done by Mirage Flowers as well

Our bicycle ring holder with bike charms.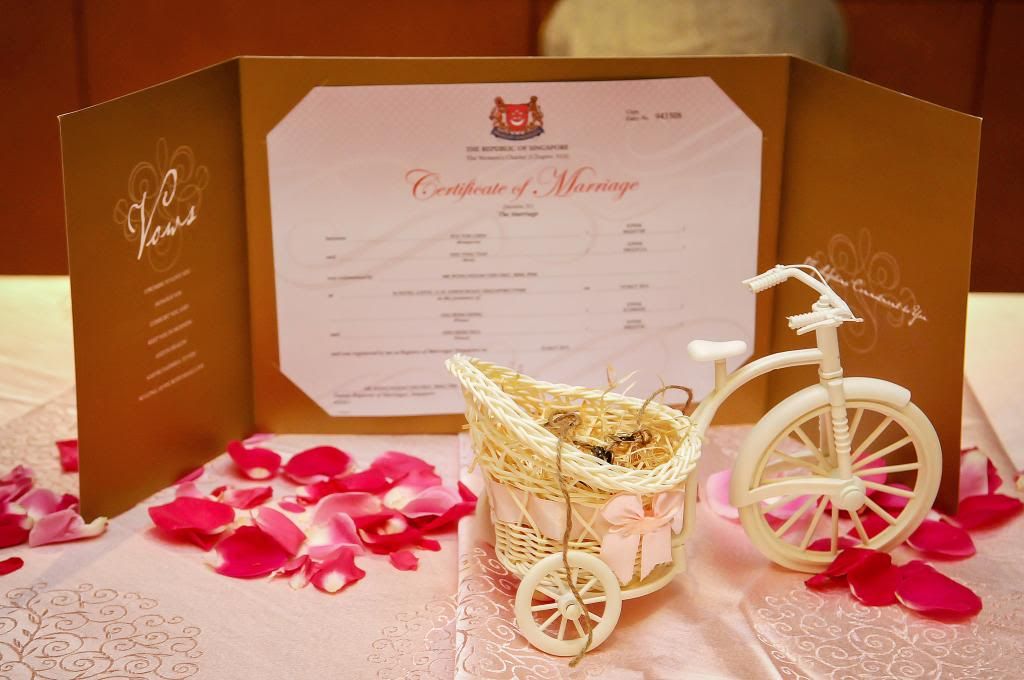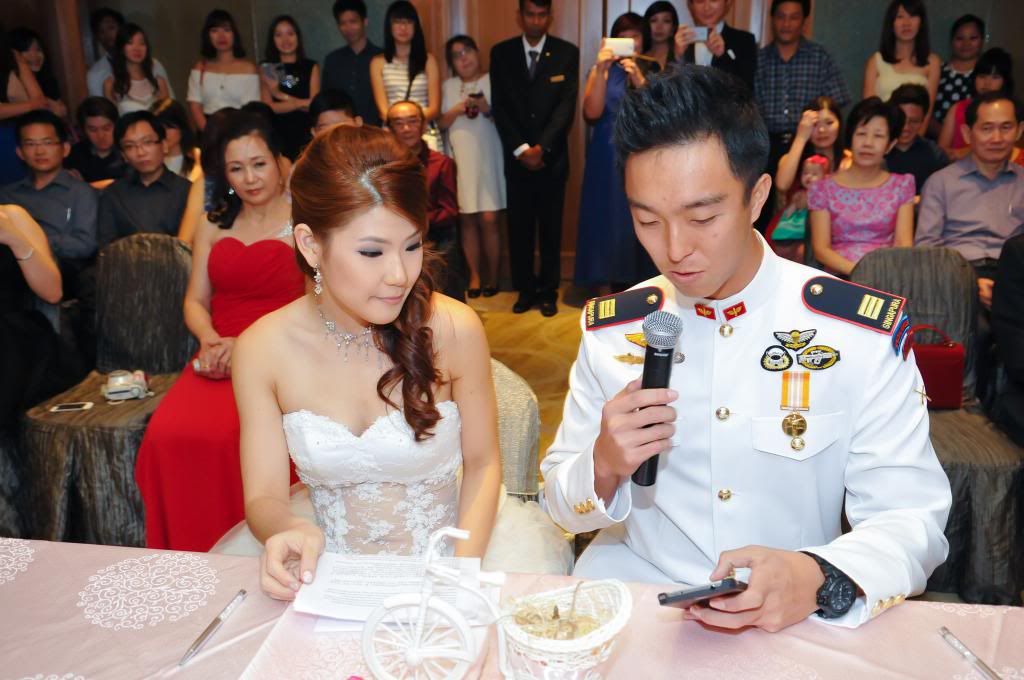 "Ying Tian, my lover, my companion.
From this day forward, I will be here for you.
I will stand by your side through whatever life may bring your way; through good times and bad, I will live with you, change and grow old with you, I promise to cherish you; shelter you, bring food to the table and take more pretty ootds for you.
For as long as I live. I will keep you and hold you, comfort and tend you, protect and shelter you, for all the days of my life.
This is my sacred vow, my equal in all "
This was his very sweet vow and the part on OOTD was pretty hilarious really.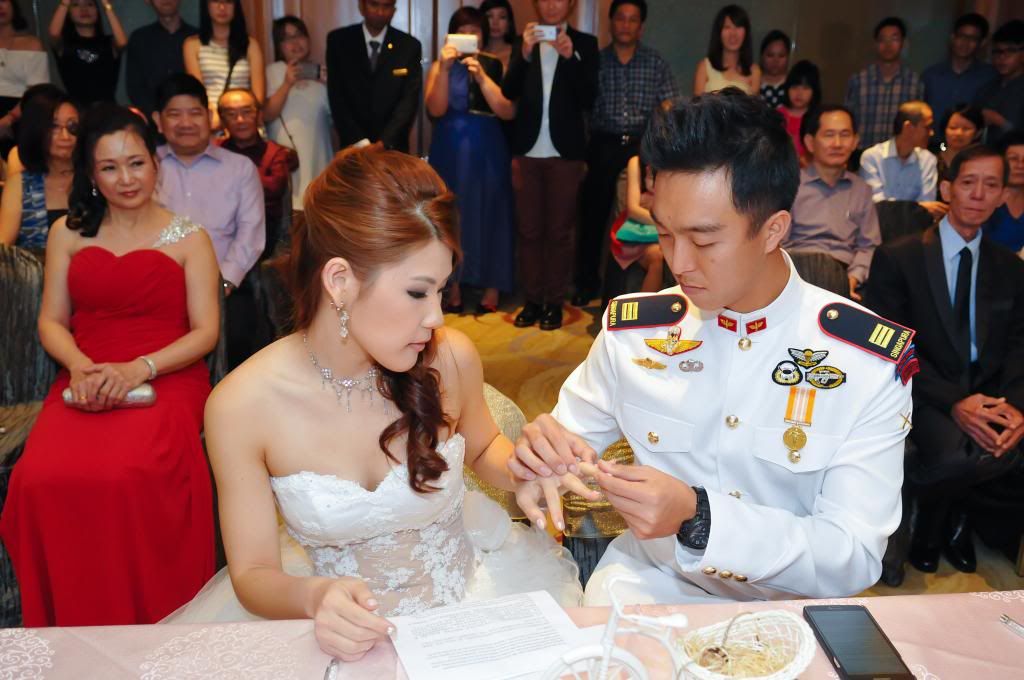 "It's by fate we got together five years ago and you became my best friend, travel companion, playmate and today, my husband.
In the presence of our family and friends, I take you to be my beloved husband and offer you my solemn vow to be your faithful partner in sickness and in health, in good times and in bad, in joy as well in sorrow.
I promise to love you unconditionally, to support you in your career, to honour and respect you and run together hand-in-hand with as long as we both shall live.
I promise you this from my heart, for all the days of my life."
I wrote this vow last year and the part on his job especially was a commitment I have to make, to stand by him despite everything. Not sure why but I just HAD to tear again despite rehearsing to myself during my runs hahaha! Thank god for the invention of smudge-free make-up! :)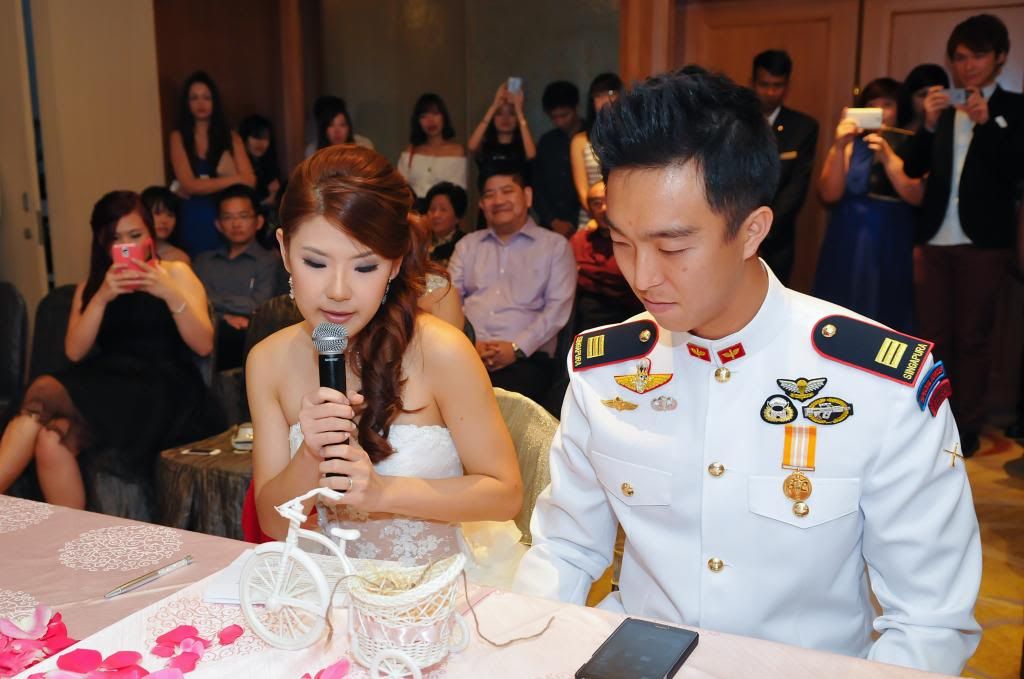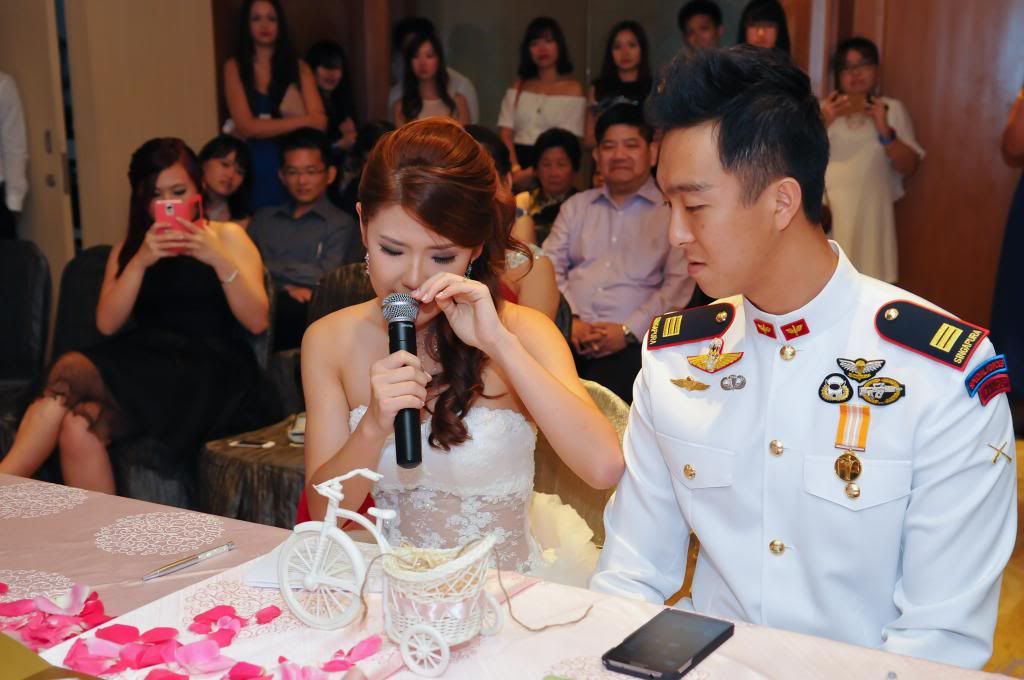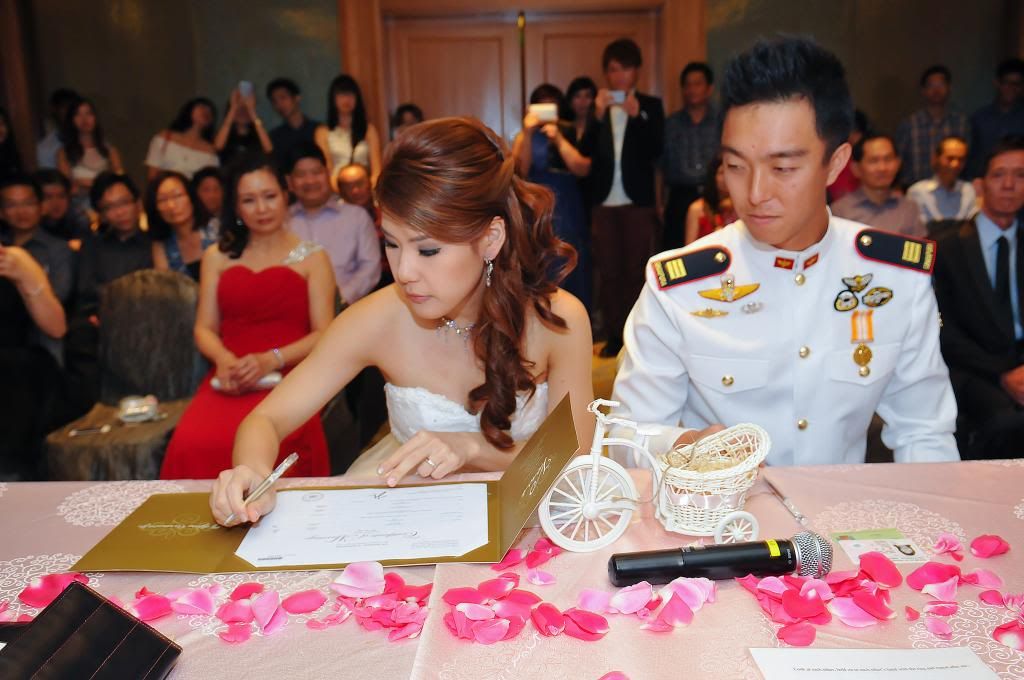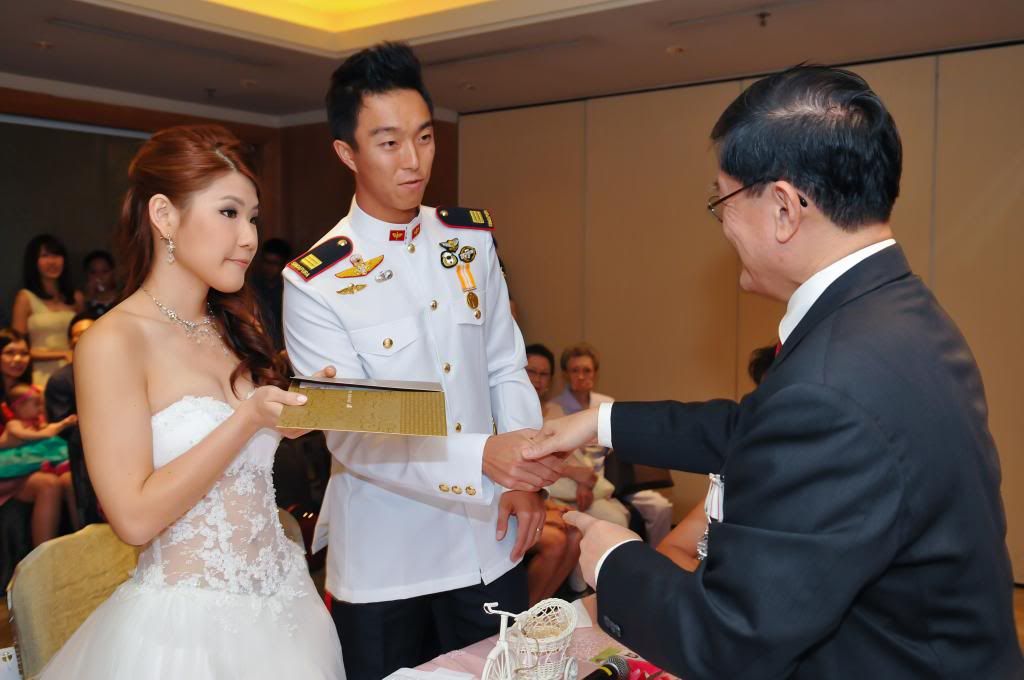 "And now.. we pronounce you HUSBAND & WIFE!"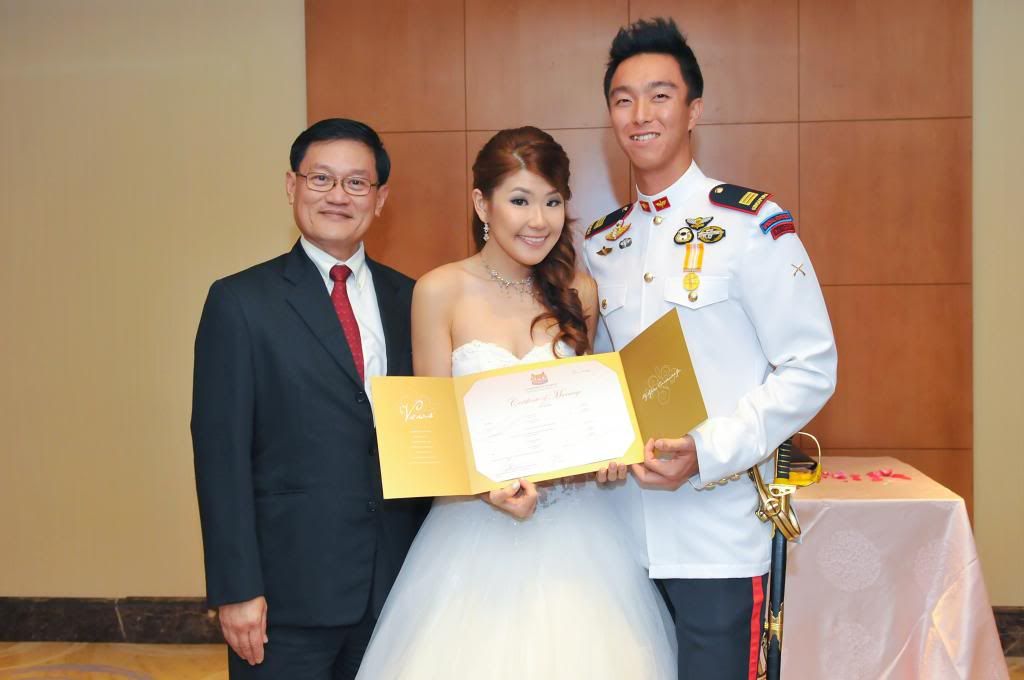 Quick snaps with the guests after ROM! :)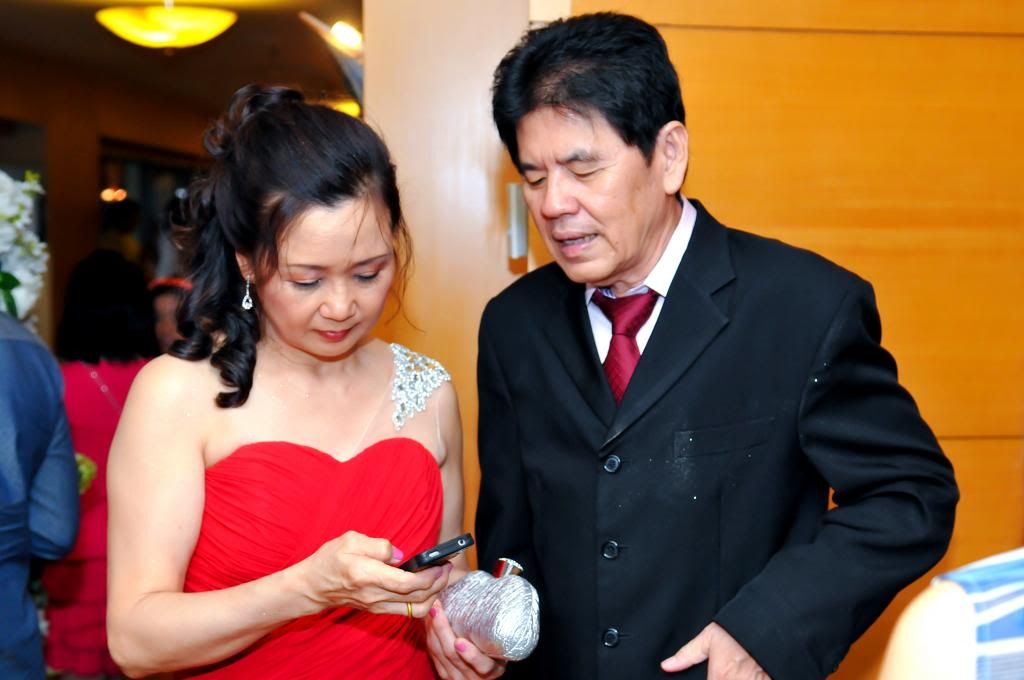 EVENING// DINNER BANQUET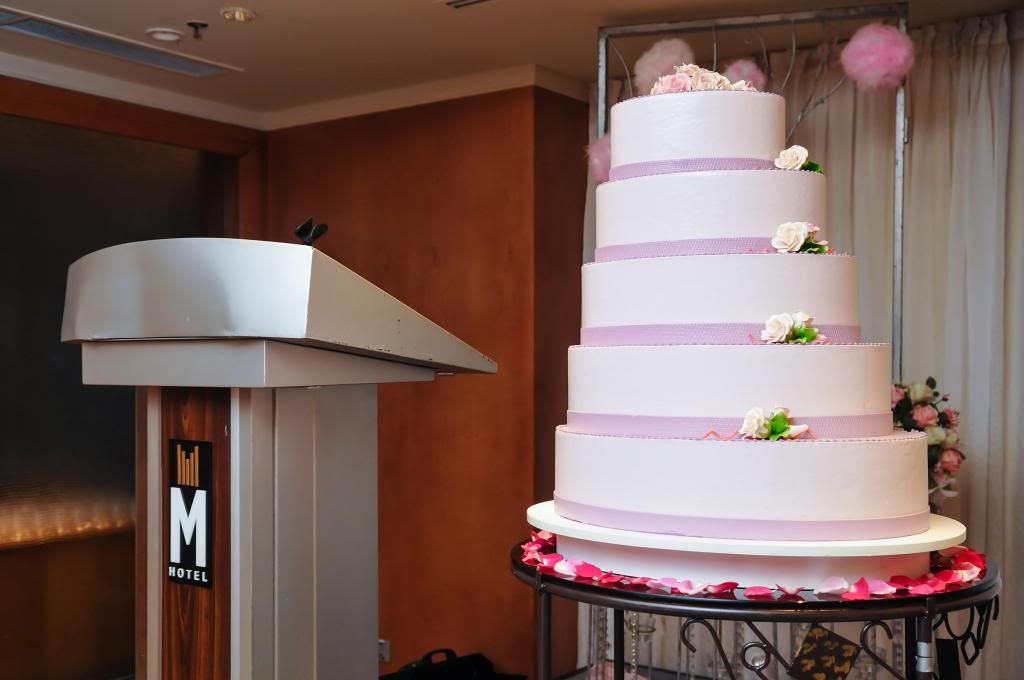 Grass lawn with flowers petals that was lined for our aisle by Mirage Flowers.
I was extremely glad to talk to and take pictures with my guests as well instead of being cooped up in the room. It's a wonderful feeling to see everyone who meant so much to you all being gathered in a same place just to bring you their blessings.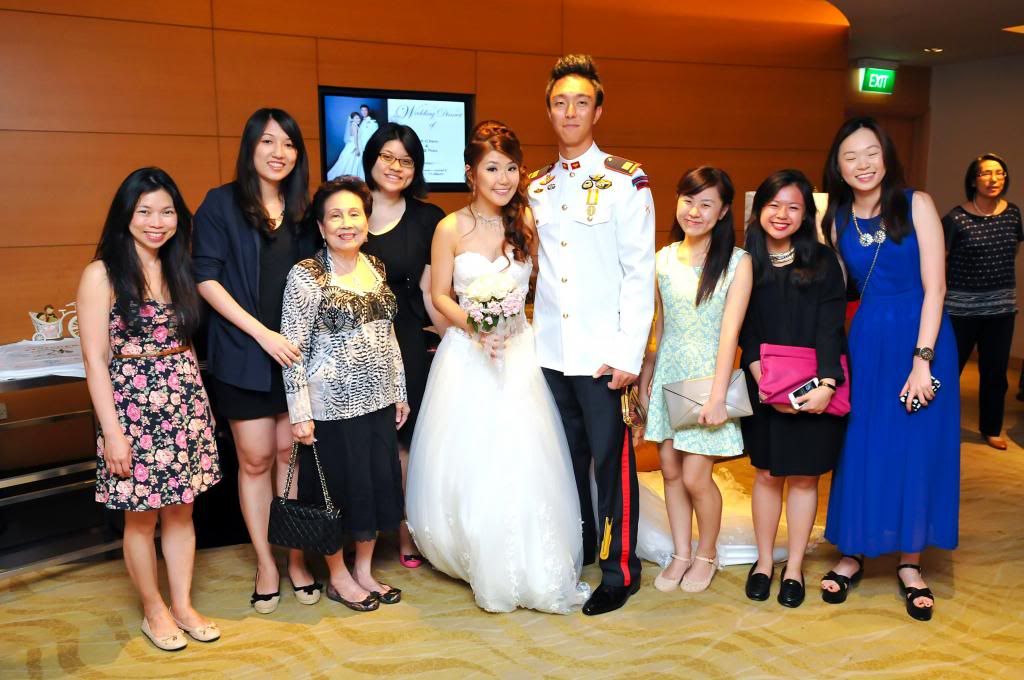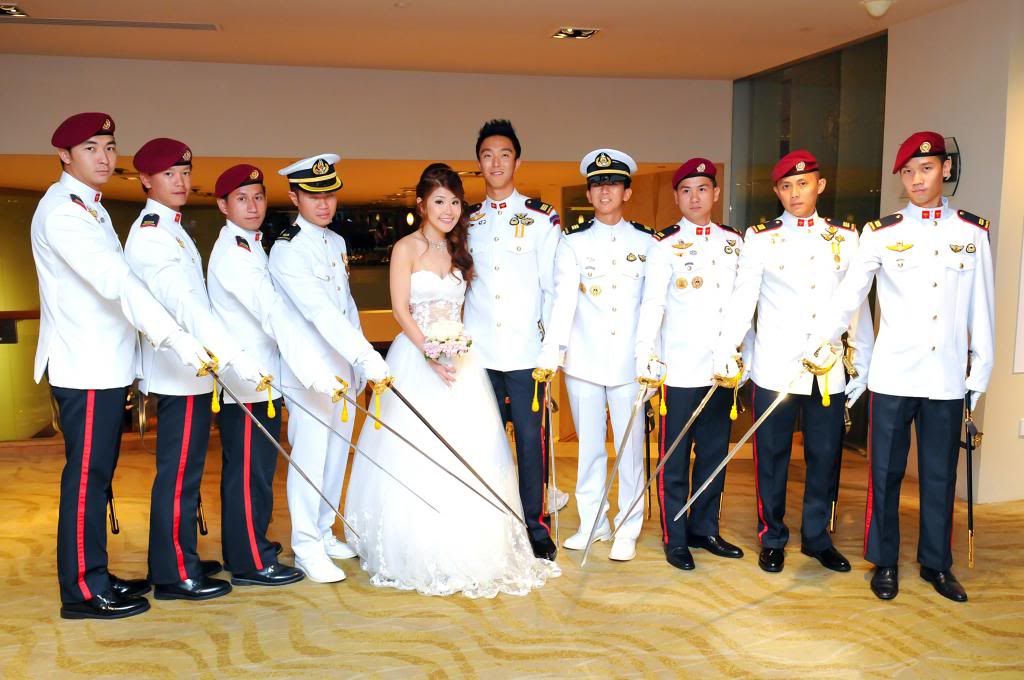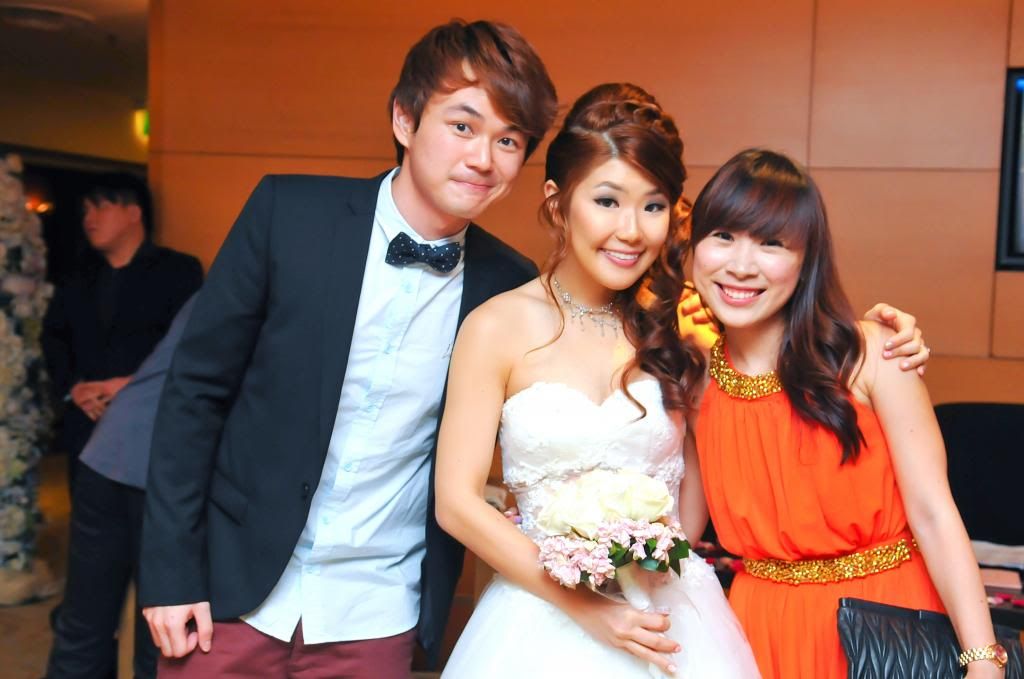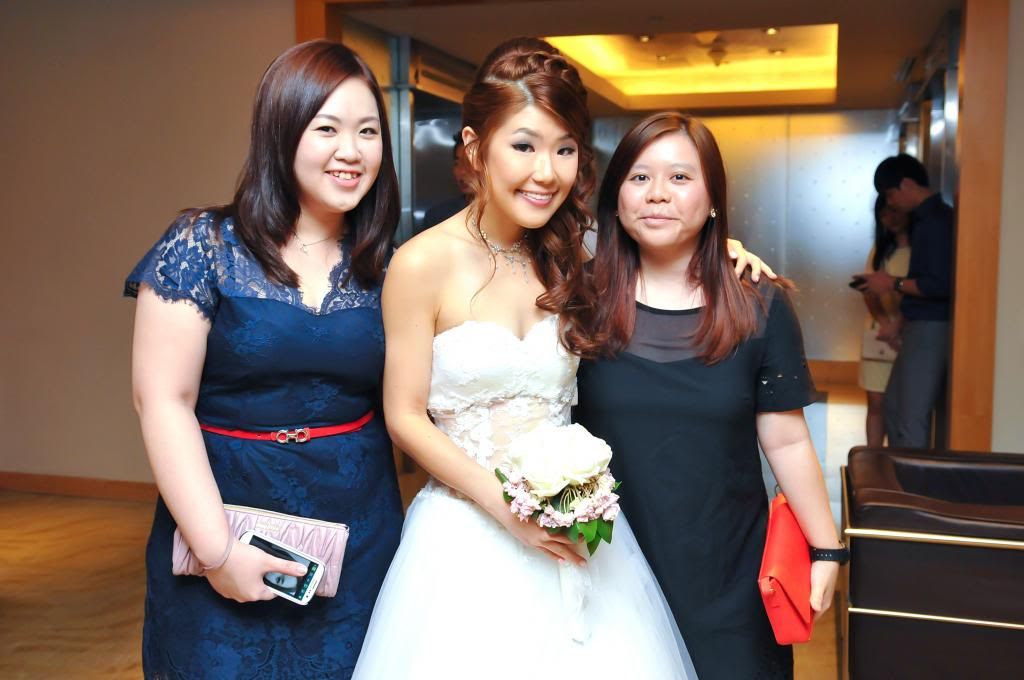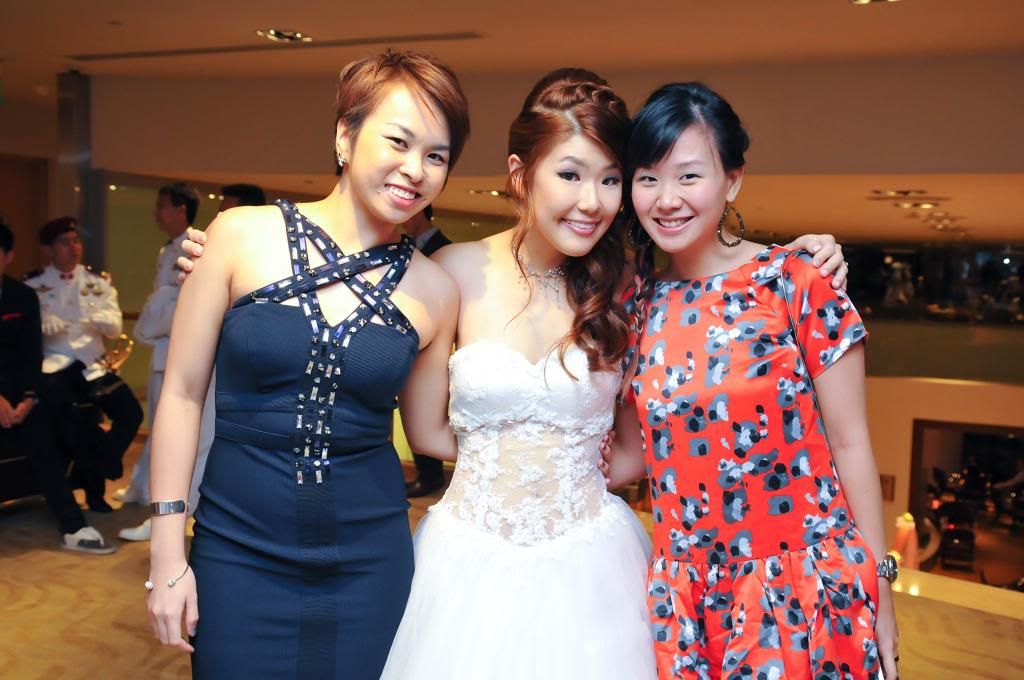 With our favourite emcees and buddies for more than a decade!
Our FIRST march-in, finally!!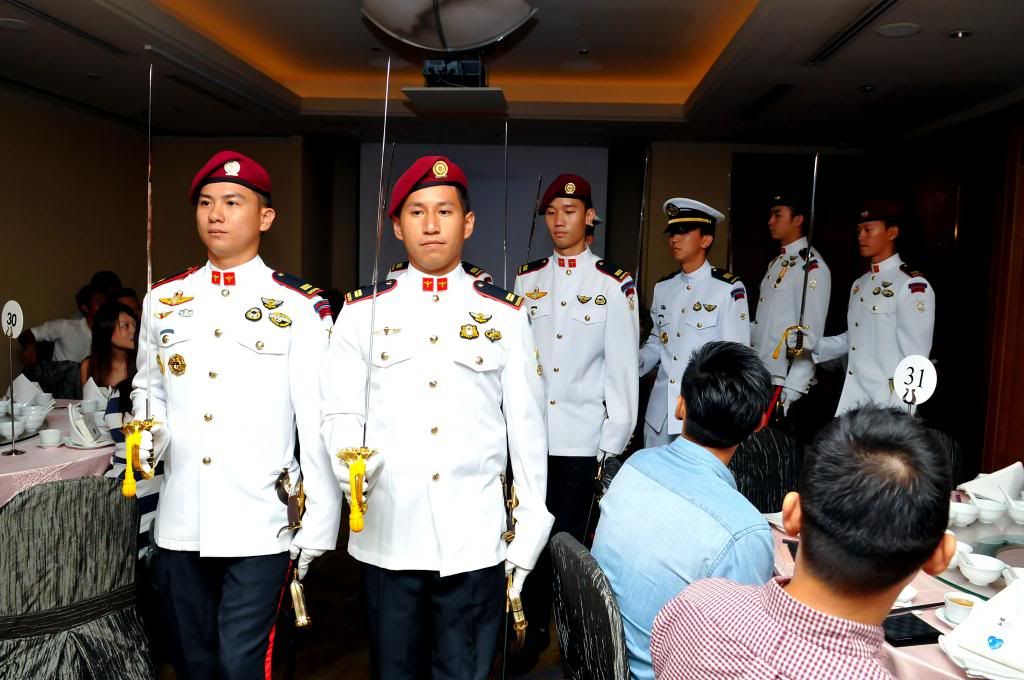 "I have died everyday waiting for you.
Darling, don't be afraid, I have loved you for a thousand years.
I'll love you for a thousand more."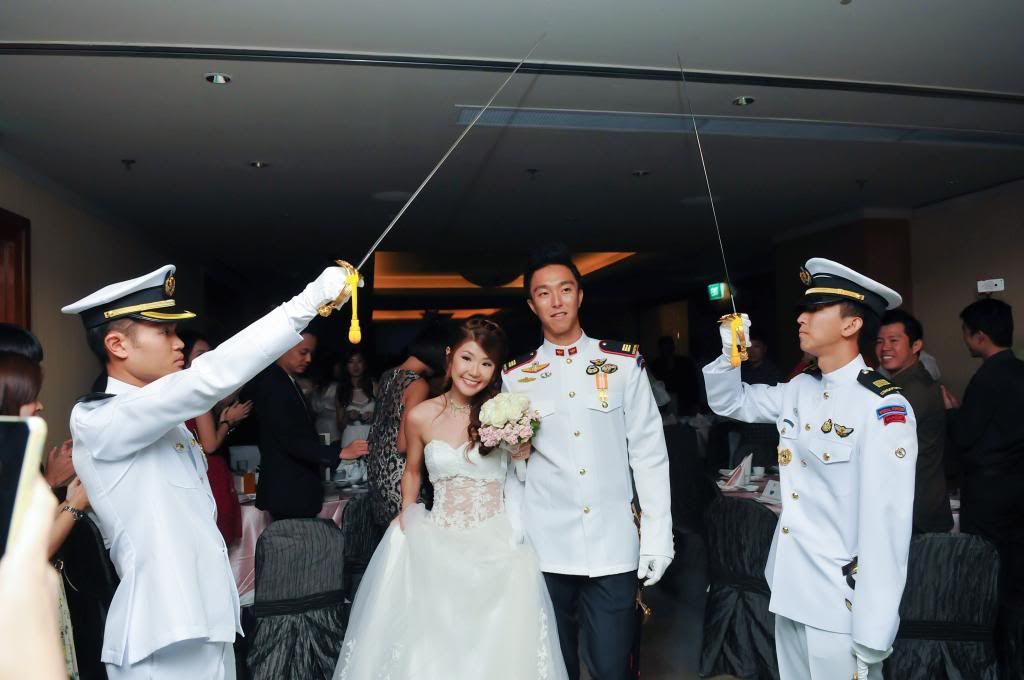 Last picture in the white gown, before our next outfit change.
Our SECOND cycle-in!
只怕我自己会爱上你
也许有天会情不自禁
想念只让自己苦了
自己爱上你是我情非得已
This was the moment that we were waiting for, yet dreading the most! During the rehearsal in the hall, he had trouble cycling in on the grass aisle due to the narrow pathway which requires lots of momentum and balance. On the other hand, I had to hold my gown in one hand and his waist for support, while trying to balance as well. While 情非得已 was played, we told ourselves to just whack and enter. Thankfully, it was very smooth with no hiccups and our guests looked really happy!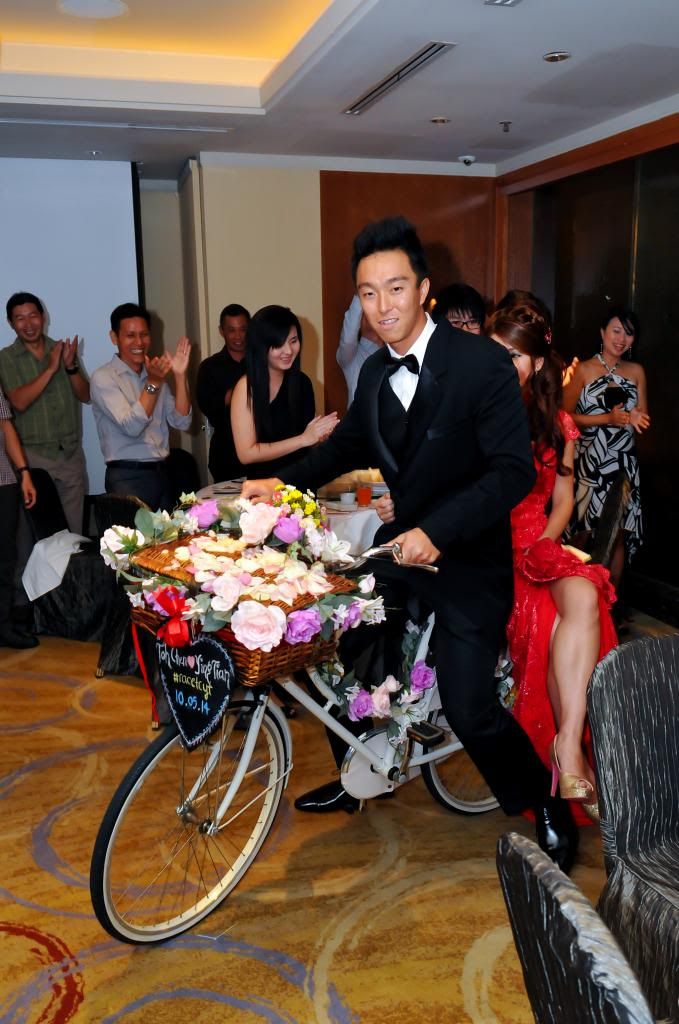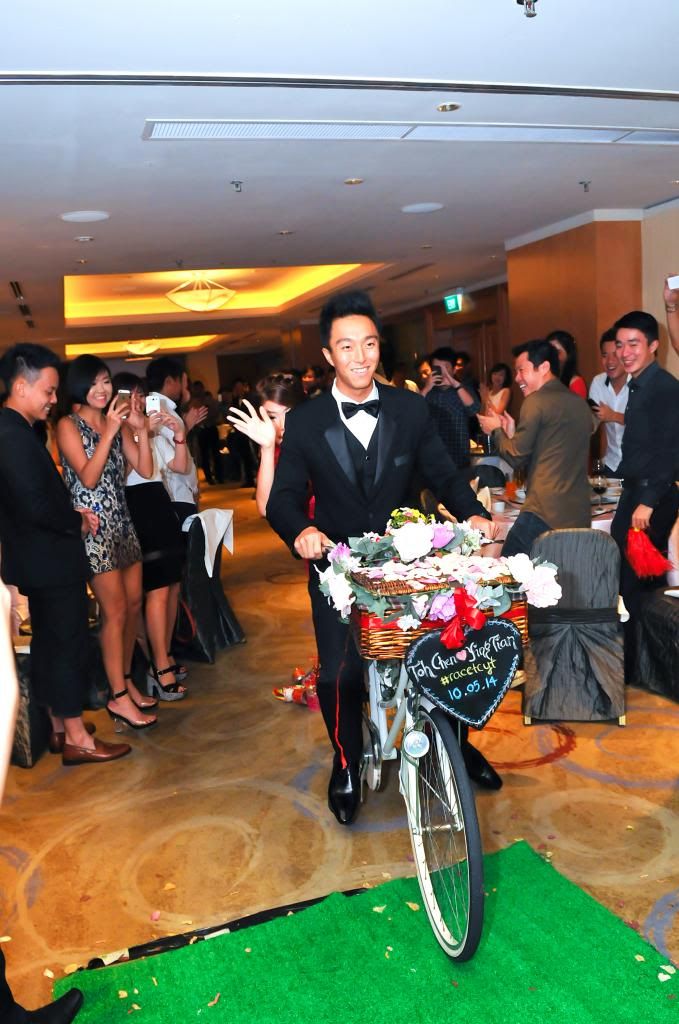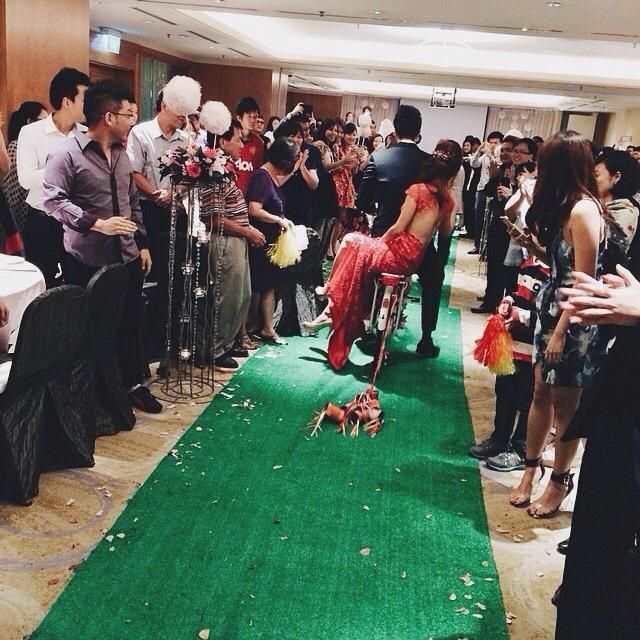 After the pouring of champagne, it was another emotional moment once more, for the speech that I've prepared since last year.

While thanking my mother and wishing her a Happy Mothers' Day, I just had to tear again despite reading them so many times in private. Still, I'm glad I said every word that I wanted to say to my loved ones.
"Lastly, to my dearest husband- married already can do what?
We were complete strangers in JC and it's fate that brought us together after graduation.
Happy 5 years anniversary and you have made me the happiest girl by loving me in your own stone ways.
Just like running a race, a marriage requires lots or determination, trust, perseverance and love, which I have faith in our marriage.
Thank you for making me your FIRST and LAST girlfriend.. and now your first and last wife.
It's going to be an exciting life journey and I love you."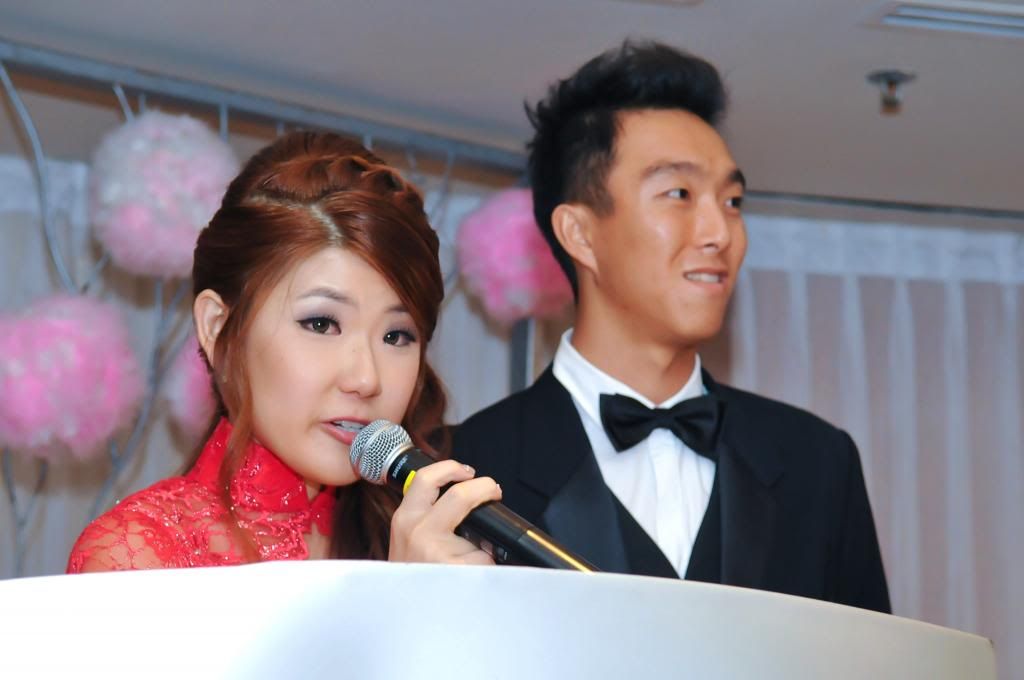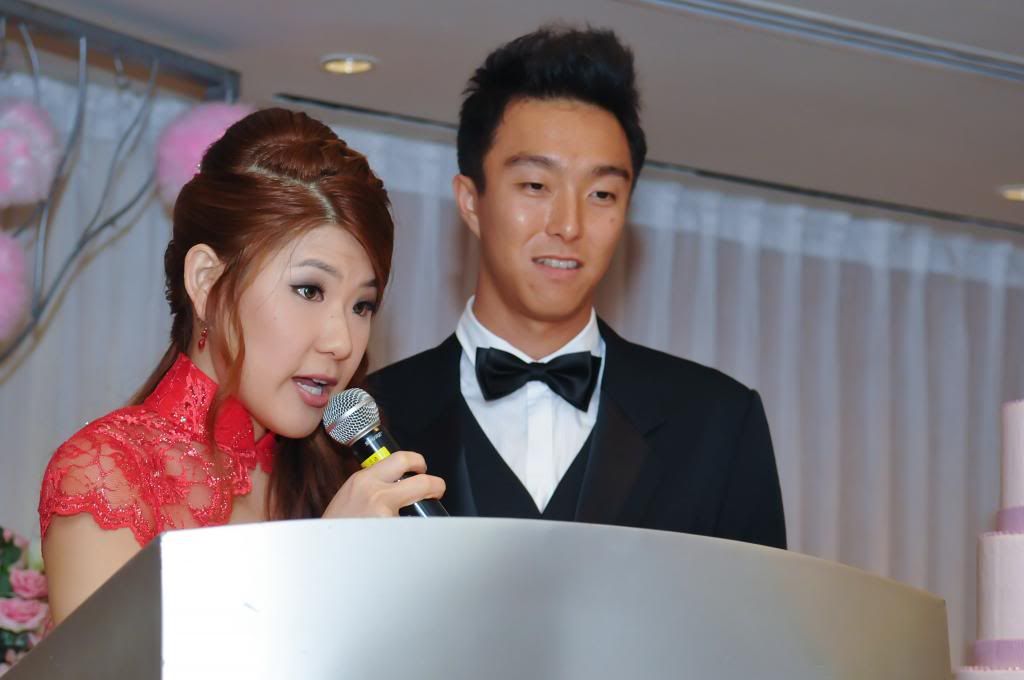 Happy fun times -- group shots and selfies to end the night!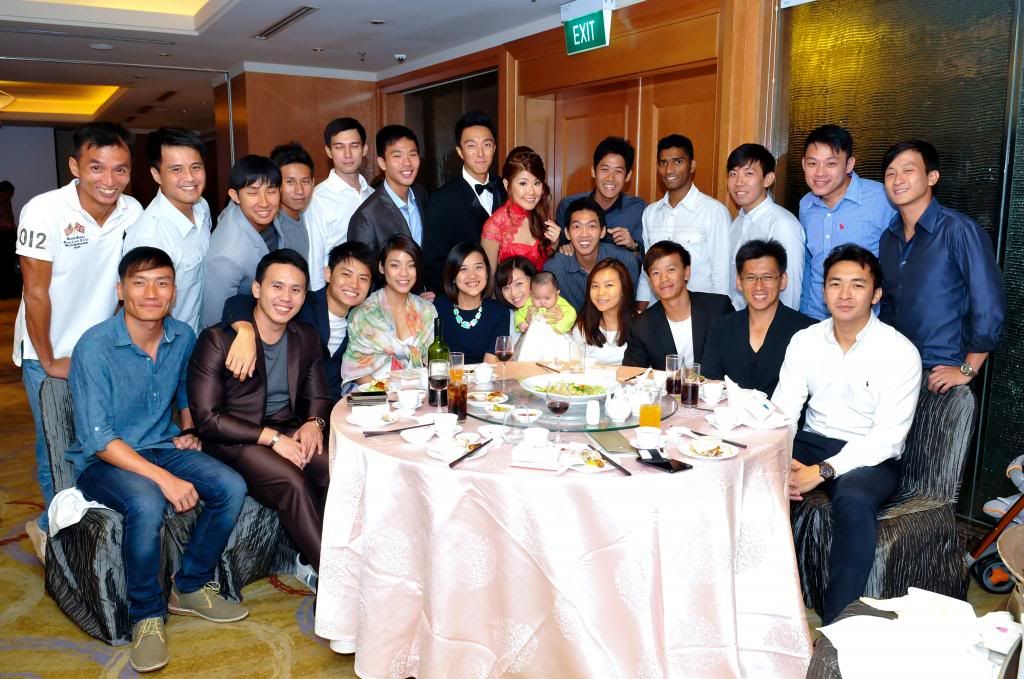 ---
Actual day Video (Morning - Same day edit)
This was indeed a magical night (despite the several hiccups) that will be in our memories forever, a sports-themed wedding that was fulfilled and perfect to us. It's important to have fun while planning the wedding and even though it might be stressful at times, we enjoyed the process considering that we had no talents in art nor designing.
Here's a big thank you to everyone who took the time to attend as well as everyone who has sent us your sincere wishes and blessings (via sms/whataps/fb/ig/twitter etc). That was indeed the biggest present for us and we are indeed fortunate to have all you with us!
A wedding is just a day but marriage is for a lifetime. That itself requires thousands times more effort than running a event, which we will work towards a healthy marriage together and overcome the hurdles.
28.06.09: The day we got together officially
30.11.12: The day you caught me by surprise & I upgraded to "your fiancé"
10.05.14: The success of #raceTCYT.
"Marriage is never a sprint, but a marathon"
Reception Props: Typo & mostly contributed by our friends
Wedding Reception Styling, Invitation bibs : DIY
.
Sporty Angbao Box: DIY
Car Rental: White Mercedes from Acedrive