"Sundown was tough for a reason, to make you tougher."
Indeed.
My fifth Sundown Marathon felt very much like the first Sundown - lots of anticipation mixed with nervousness. It was also my first full marathon as a Mrs (which explains the cheesy bib name this year) which I signed up few months back without hesitation. I knew that I wouldn't be clocking much mileage with the wedding being in the same month, but it was still an annual race that I couldn't miss for good.
26.2 miles can never be a walk in the park no matter how many times you have attempted it before as each experience is always different depending on your training, external factors and body condition that day.
I prepared my race gear a day in advance. At the very last minute, I decided to swop my Japan Asics shoes with a more seasoned Asics shoes as TC told me that it's better to wear what you usually trained in. I'm glad I heeded his advice as my usual shoes gave me no problem at all throughout the race with zero blisters.
An hour before midnight, I arrived by myself to soak up the atmosphere and was glad to meet some familiar faces to soothe my nerves down a little! There were many runners taking selfies and some using the selfie-stick even!
We were all there for one reason, to conquer and brave the night with our legs.
The mandatory selfie with Annie- we did it!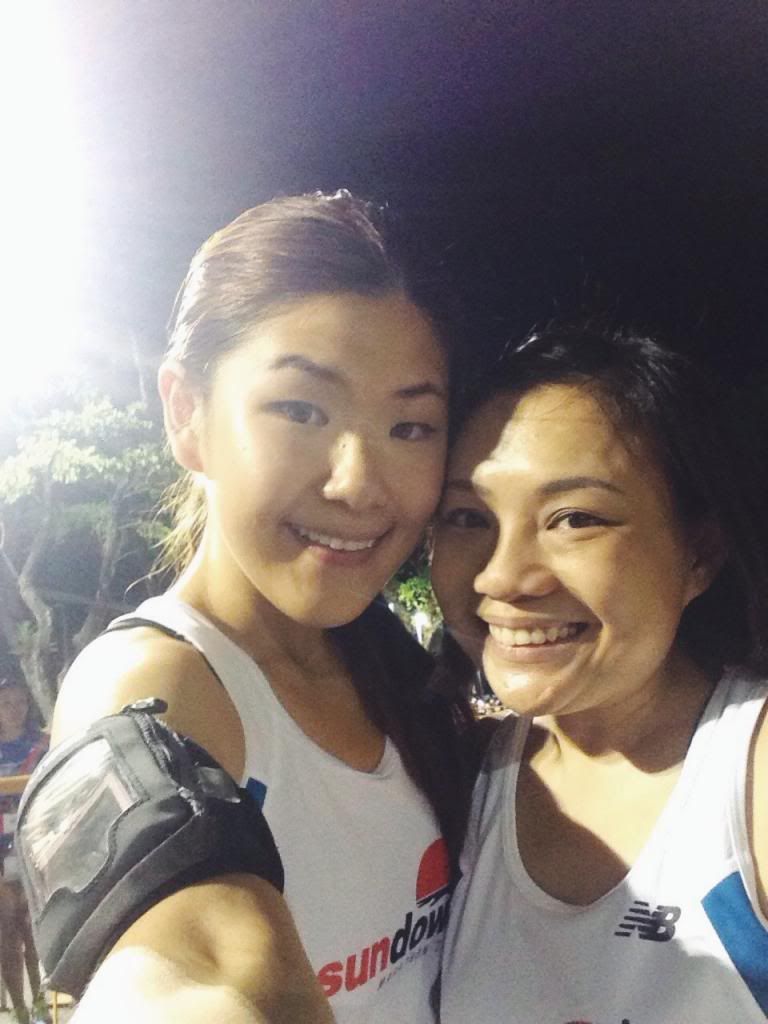 Spot the selfie stick!
The starting line was segregated based on different timing pens for runners to attempt to get their ideal timing. We were standing behind the 4:30 pacers who were holding their light blue balloons. My personal target was just a sub 5 as I knew beating my Tokyo pb would be tough due to the difference in weather, logistics and various factors. Singapore's weather was much more humid even if the race was at night.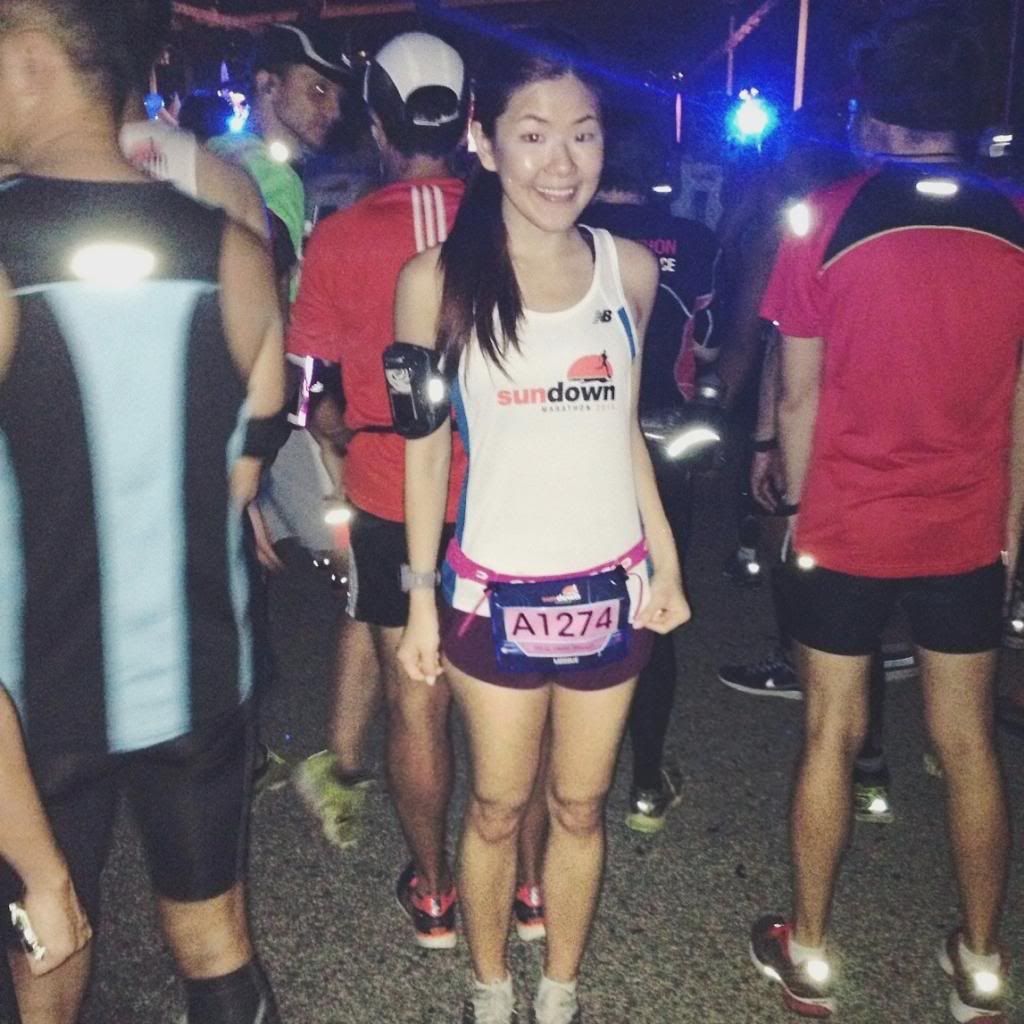 I have always loved doing night runs more than morning runs for its weather and all, but that day's erratic weather made it really tough. That posed as one of the biggest obstacle apart from the killer Benjamin Shears Bridge.
It was an extremely stuffy and humid ten kilometres from town to ECP, with many of the paths being uneven and poorly-lit. Prior to the race, runner friends have said that the chances of it pouring was high and indeed, it started pouring for the next 20km. For me, it was a blessing in disguise to overcome the humidity despite the rainwater that was blurring my vision, which felt like the Sundown marathon two years back.
The constant struggle of navigating safely through the dark and uneven paths and coping with the fatique made it a tough race and at many point in time, I was so tempted to just walk with some of the other runners. It was mind over body, body over restlessness.
Also, my GPS watch decided to die on me after the 21km mark which I forgot to charge the night before, so the second half was purely based on feel without any clue about the timing nor pace. Surprisingly, I actually enjoyed it and it's more stress-free to listen to my legs and body while celebrating the passing by of every distance marker. I had to put my game plan at the back of my mind and just concentrated on completing the race strong in one piece at a comfortable pace.
I guess that serves as a reminder about life: we are often obsessed about being in control of our surroundings that sometimes we fail to look at the big picture.
Very glad to bump into fellow runners at the 25 km mark for a quick chat and drink before I asked "Now what time ah?"
Not the most glam picture and I was almost half-drenched due to the rain
The last 12 km was the toughest to conquer and I was battling evil thoughts to just walk with the crowd or continue my jog. It was extremely humid by then and I just wanted to finish it strong in one piece. I'm glad I ran all the way while trying to recollect all my positive thoughts and reasons why I came for it. I signed up for a reason to challenge my body and I'm going to make it back as strong like how I started . Of course, the change in course route at the last part was pretty challenging especially with Benjamin Sheares Bridge that I decided to just breeze walk before enjoying the downslope.
Grit your teeth and go on!
Crossed the finishing line at 4:39 and looking at the "FINISH" word with the red numbers felt so good. Best feeling ever!

It's not the timing that I'm happy with, but most importantly how my grit and determination have overcame the slopes, dark paths and obstacles tonight. I didn't manage to bag a pb but it was a 40 minutes improvement from my last local pb!


Always very unglam after a run but still the happiest!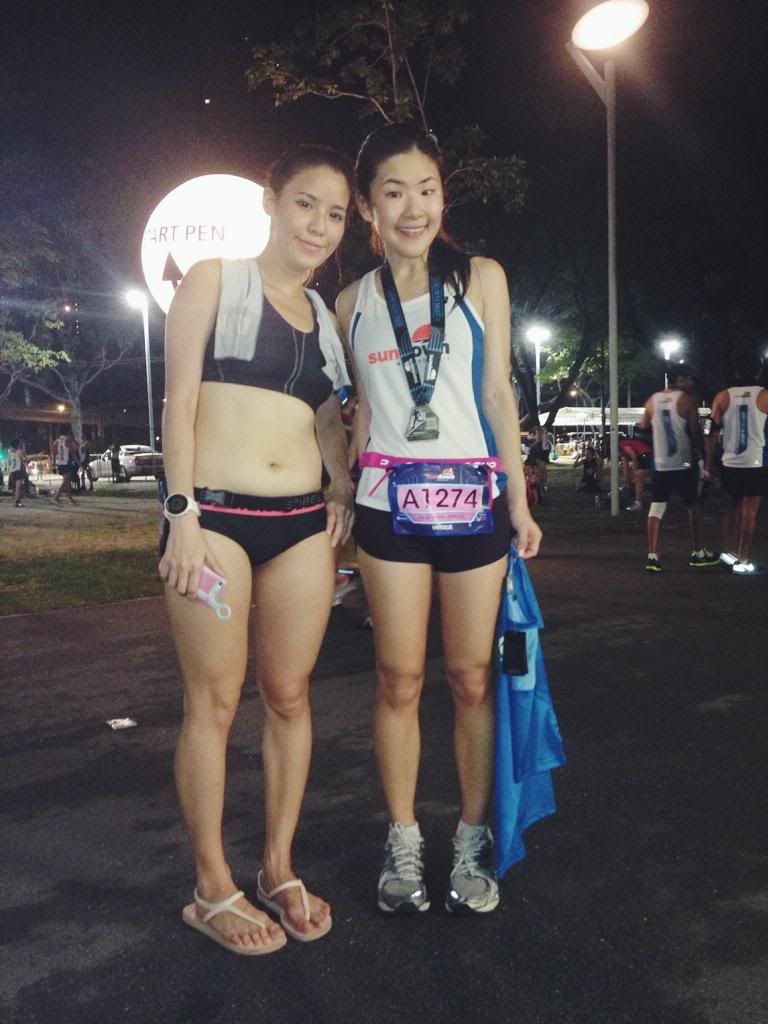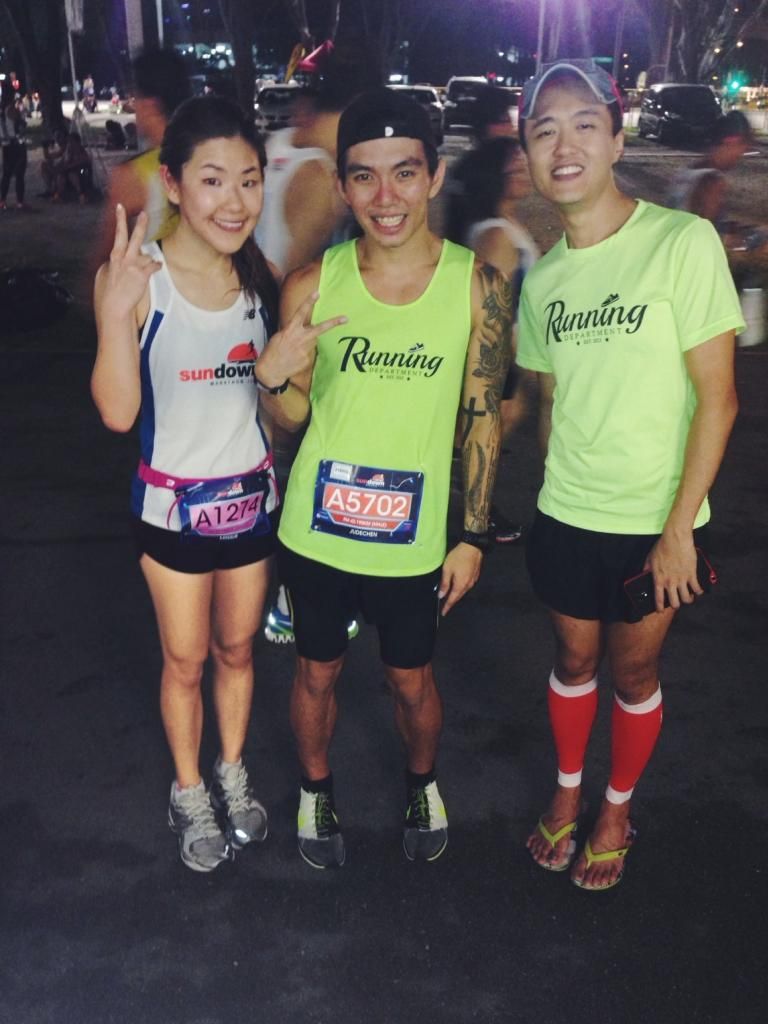 I was one of the lucky ones who managed to get both my gun and net time since there's a glitch that affected thousands of runners. However, the timing was 2 minutes off from what that was read on screen but I didn't bother checking with the organisers coz it doesn't matter really.
It came as a pleasant surprise to find out that I have improved from the last Sundown (rank 265) to
51
this time round, based on the gun timing. Definitely serves as a good motivation for future races and to keep on going no matter what obstacles life throws you.
Running is a lonely sport, just like yoga, but the good thing is that you do not need to compete with anyone but yourself. There's noone for you to prove to, except for yourself. There's good and bad days and it's important to stop to listen to your own body at times and also to give yourself a pat on the back for every good workout done. Not forgetting the small milestones like achieving a straighter leg during yoga, a better 5k/10k timing or even just a better back bend.
These are things that my work cannot fulfil since there's KPIs, rules to follow, people to compete with and targets to meet. Fitness issn't and it's liberation to me. It's just about yourself, your own body and doing what you like, not to please anyone.
Everyone has their strengths and it's impt to recognise your weakness to work on it. Every race teaches me something and this race taught me how perseverance and determination will bring you far if you dismiss all the excuses away.
The sense of accomplishment while crossing the finishing line and the rewarding character-moulding journey is what I will exchange for the pain, ache and time spent training on the roads.
""Start strong, finish stronger."
That's what I aim to do in life/work/relationships, to fight on when the going gets tough and to finish as strong as before.
We braved the night and conquered the rain.


Till the next Sundown Marathon 2015! :)